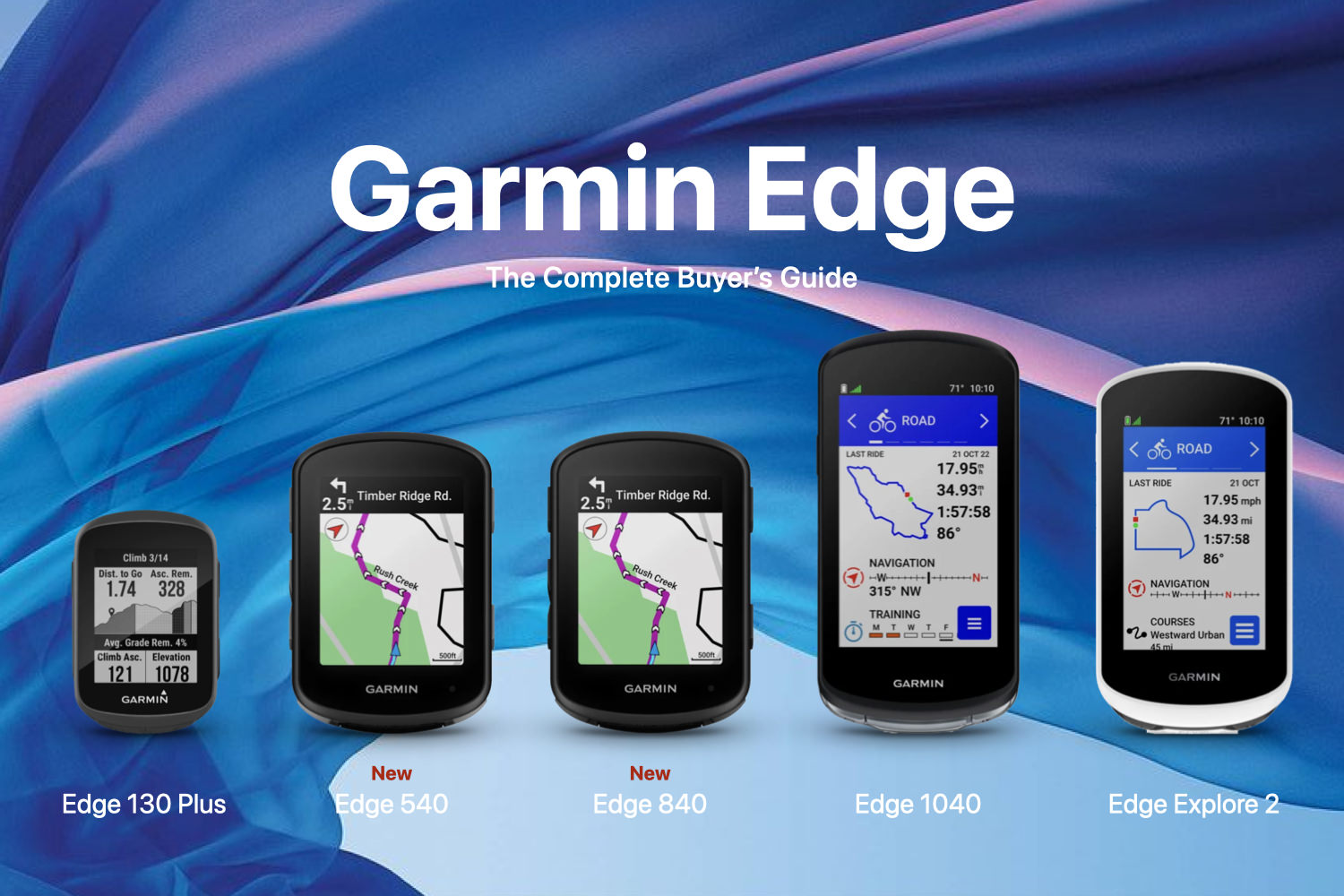 The Garmin pico sound. It is every cyclist's dream, and you can say you are a first-class cyclist only if you can make a pico sound when you stop and look smug.
We will look together at how to choose the right model for your riding style so that every cyclist who is no longer satisfied with a regular cyclocomputer can have the optimal Garmin experience.
text / Tats (@tats_lovecyclist)
1. Why Choose Garmin Edge?
What you can do with the Garmin Edge Series
Garmin's Edge series of high-performance, GPS-equipped cycle computers is the top-selling series in the market, and the Edge uses GPS, altimeter, and accelerometer to visualize the status of your rides from multiple angles.
Key data as seen in Edge
 Purpose

During Ride

Before and After Ride

Navigation

Map

Routing

Route Navigation

Route logs

Grasping Status

Speed

Distance

Cadence

Elevation

Heart rate

TSS

Incline

NP

Power

Strava Connection
In addition to measuring speed, cadence, and heart rate, you can also track your power output with a power meter, set up virtual rivals for solo rides, and manage your hill climb pace.
The Edge series is rich in features to enhance the quality of your rides and training.
The Edge series also has an extensive navigation function that allows you to explore unfamiliar trails, bringing new discoveries to rides that tend to get stuck in a rut of riding the same trails as usual.
Competitive Advantages of Edge series

There are many other multifunctional GPS computer manufacturers besides Garmin, including Wahoo, Lezyne, and Bryton.
Despite the fact that there is not much difference in features among the manufacturers, Edge's price is a bit higher than other manufacturers. Still, the main reasons why many cyclists end up with Garmin are the large number of users and the high level of functionality.
A large number of users = a large amount of information, which eliminates concerns when purchasing.
Furthermore, Garmin, a pioneer in the development of GPS computers, is unrivaled in GPS accuracy and has taken the lead in providing the features necessary for training. Other manufacturers have followed suit (e.g., map functions and Strava integration), so Garmin has the advantage in terms of stability of each function.
Of course, other manufacturers' GPS computers are superior in these respects, but Garmin's pico sound is definitely unique.
2. Specification comparison of all 5 models
Garmin's high-performance GPS computers come in models: Series 100 / 500 / 800 / 1000. Almost every year, the latest version of one of each grade is released, with the 500 and 800 series being modernized in April 2023. Also in 2022, the navigation-specific model, Explore, was introduced.
Garmin Edge Specs Comparison Chart
Models

130 Plus



 NEW 


540 /
540 Solar



 NEW 


840 /
840 Solar

1040 /
1040 Solar

 Explore2
Year of release

 2020

2023

2023

2022

2022

Specs

Dimension

41x63x16mm

57.8×85.1×19.6mm

59.3×117.6x20mm


106.1×55.7×20.6mm

Display Size

1.8″

2.6″

3.5″

3.0″

Weight

33g 

80.3g
84.9g (Solar)
84.8g
89.9g (Solar)

133g

104g

Touch Screen

–

–

Yes




Memory Storage

Yes

16GB

32GB

64GB

16GB

Battery Life

13hrs

26hrs
+ Solar6hrs
35hrs
+ Solar10hrs


16hrs

Features


Maps + Navigation

Yes

Yes

Yes

Yes

Yes

Training Features

Yes

Yes

Yes

Yes

Yes

GroupTrack

Yes

Yes

Yes

Yes

Yes

Incident Detection

Yes

Yes

Yes

Yes

Yes

Messaging

–

Yes

Yes

Yes

Yes

Popularity Routing

–

Yes

Yes

Yes

Yes

ClimbPro

Yes

Yes

Yes

Yes

Yes

Bike Alarm

–

Yes

Yes

Yes

Yes

Realtime Stamina

–

Yes

Yes

Yes

Yes

Power Guide

–

Yes

Yes

Yes

Yes

Cycling Ability

–

Yes

Yes

Yes

Yes

Price

Unit

$199.99

$349.99(Standard)




$449.99(Solar)

$449.99(Standard)




$549.99(Solar)

$599.99(Standard)




$749.99(Solar)

$299.99

Bundle

$249.99

$449.99(Standard)

$549.99(Standard)

$749.99(Standard)

–

Forte
For Entry Users
Multifunction
Multifunction,
Touch Screen
Big screen,
Multifunction,
Max Battery Life
Navigation Specialized
Link
Amazon
Amazon

Amazon

Amazon

Amazon
*Set: Heart rate sensor, speed sensor, and cadence sensor included
3. Garmin Edge Key Features
Features on all models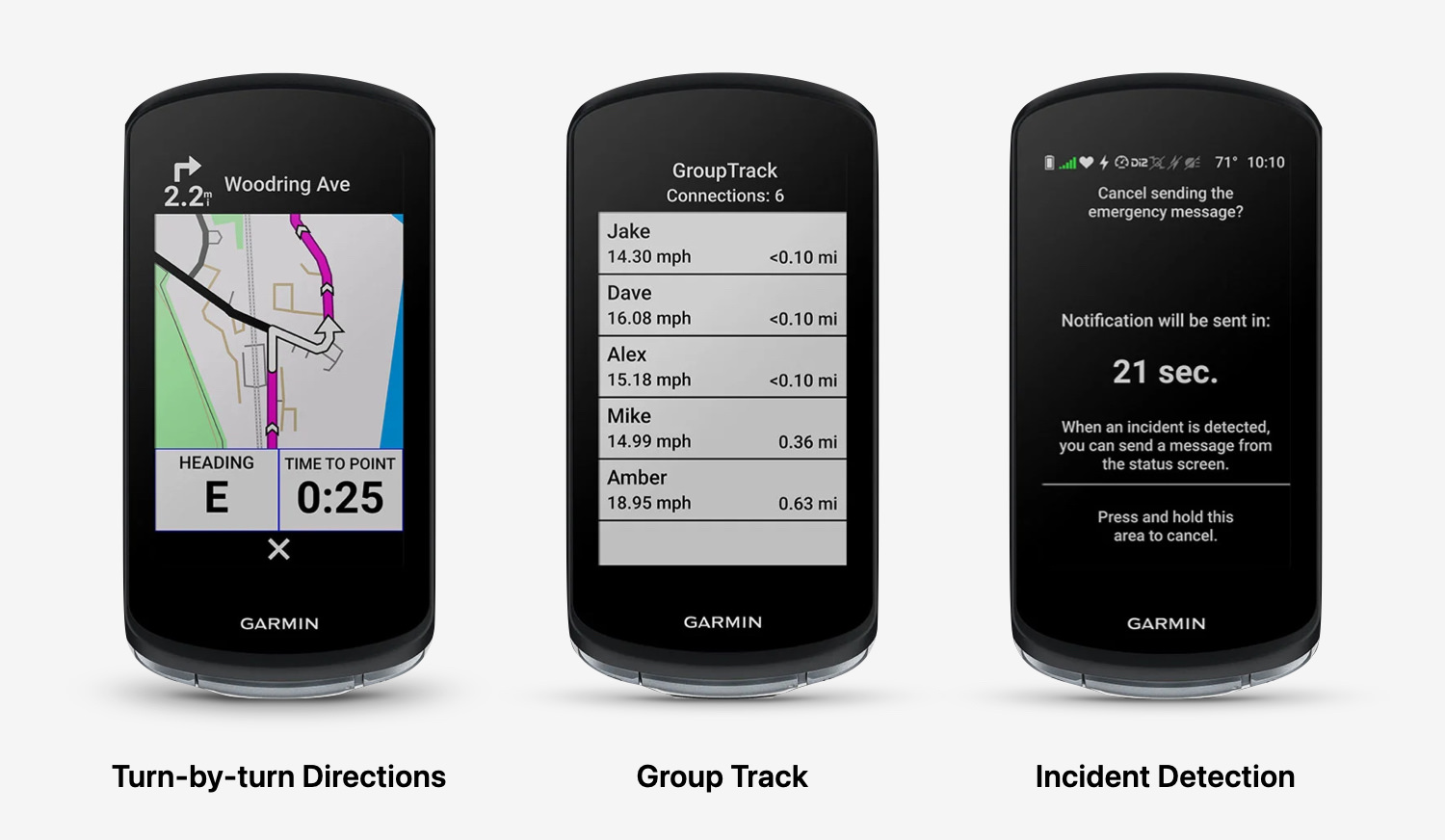 Map + Navigation
The Edge 540 / 840 / 1040 / Explore2 are equipped with road maps and can set up routes to destinations based on those maps.
The 130 plus cannot display detailed maps, but it can transfer routes via Garmin Connect and has a navigation function that shows turning points.
The built-in barometric altimeter also displays the slope of the road you are currently on, although there is a time lag of a few seconds.
Training data measurement (function excerpt)
– Segment support for Strava and Garmin Connect
A feature that allows users to compete online for the time they have run a specific segment (section) set on the course. This can motivate you to train even if you cannot run with your friends.
– Virtual Partner
By riding together with a pre-set speed or your own speed recorded in the past as a virtual partner, the system displays whether you are ahead or behind your partner.
– FTP + VO2Max measurement
The power meter can be used to display the FTP value (W), which indicates power output.
The power meter and heart rate monitor can also be used together to display VO2Max (maximum oxygen uptake), which quantifies your endurance, to determine the current load level.
Group Track
The Edge can display the location information of other Edges that have the same GroupTrack function on the screen.
Even when a group is split up during a ride, you can see where your friends are now.
Incident Detection
The device has a built-in accelerometer that automatically sends location information to emergency contacts when it is determined that the device has been impacted by an accident.
Equipped only with 540 / 840 / 1040 / Explore2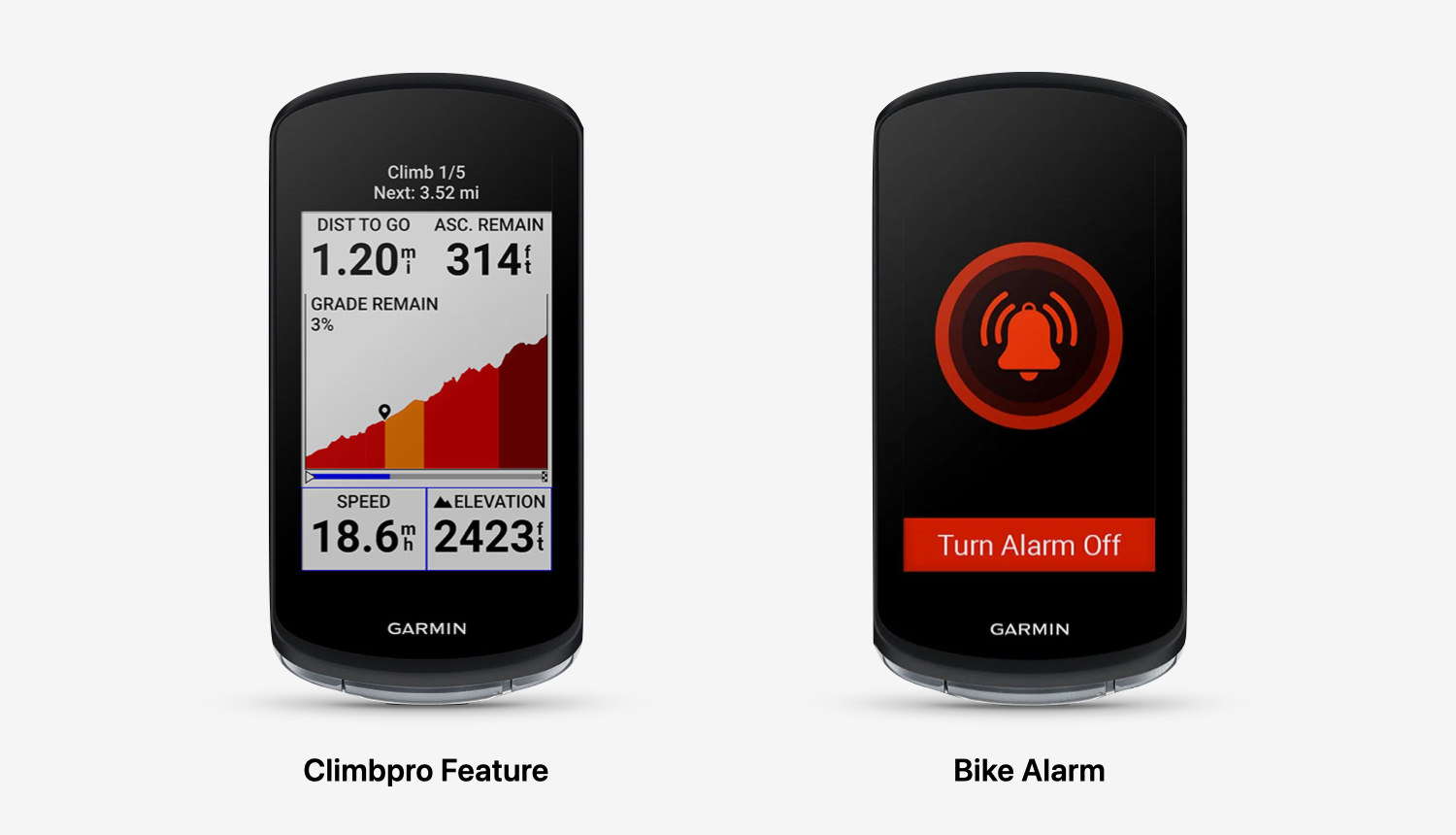 ClimbPro
A feature for hill climbers. When the course navigation is executed, the remaining distance to the summit and average gradient during a hill climb are displayed in real time based on the built-in map data. This is useful for hill climb pace management.
Bike Alarm
When an alarm is set, the main unit emits a warning sound by detecting vibrations. This allows you to spend your convenience store break or lunch time with peace of mind.
Equipped only with 540 / 840 / 1040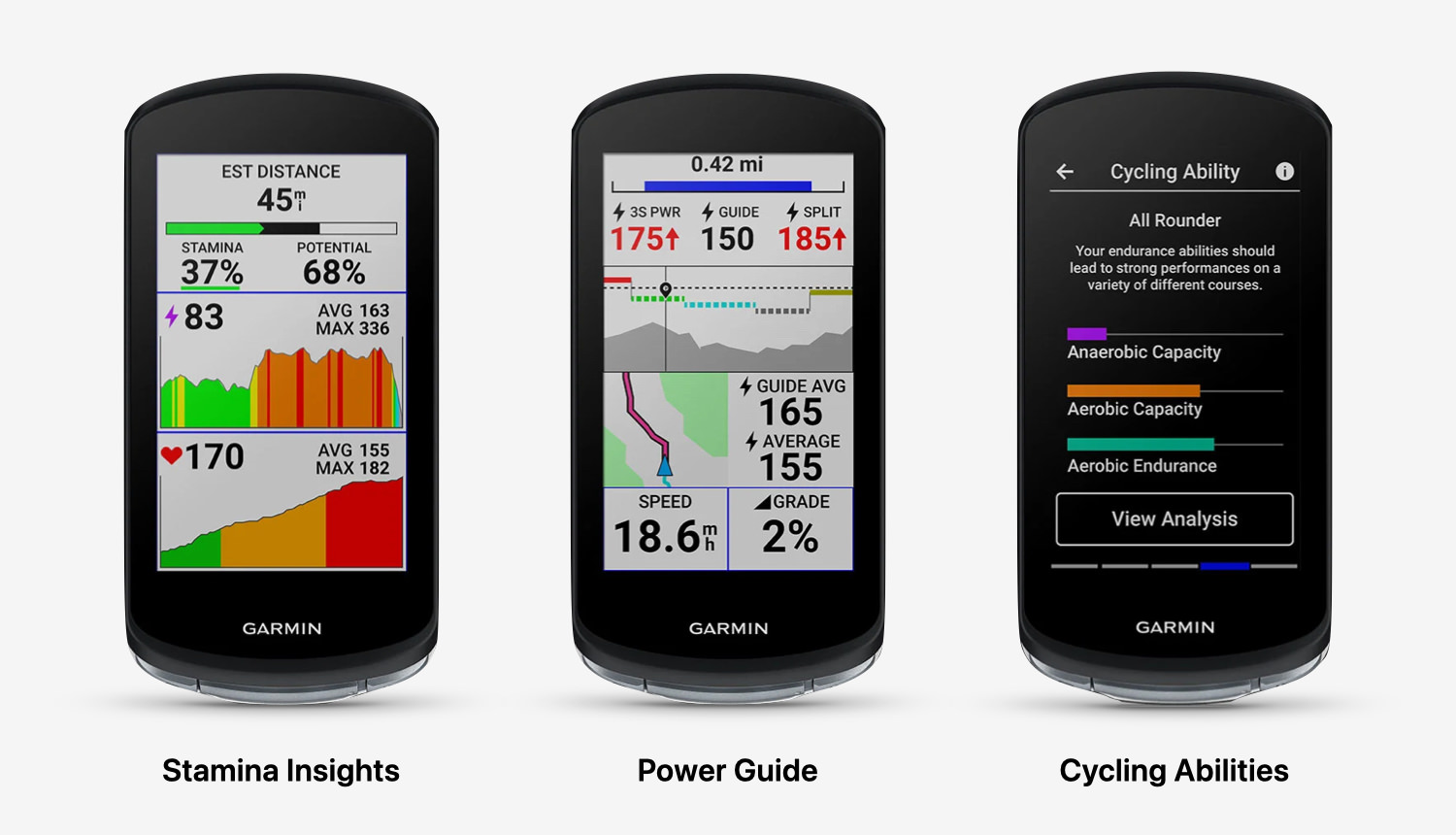 Realtime Stamina 
NEW 
A function that displays what percentage of your remaining strength you have based on your previous training data. This function is useful for preventing hunger knock and managing the pace of long-distance rides by displaying a rough estimate of output power.
Power Guide 
NEW 
A function that assigns power targets to courses based on your power curve and FTP data. It displays the power output for each section according to your power, allowing you to power through to the end.
Cycling Abilities 
NEW 
This function determines your leg quality based on your running data. Leg types include endurance specialist / climber / sprinter / challenger / puncher, etc. It shows your strengths and weaknesses, and provides a training plan to improve each of them.
3. Which Edge is best for you?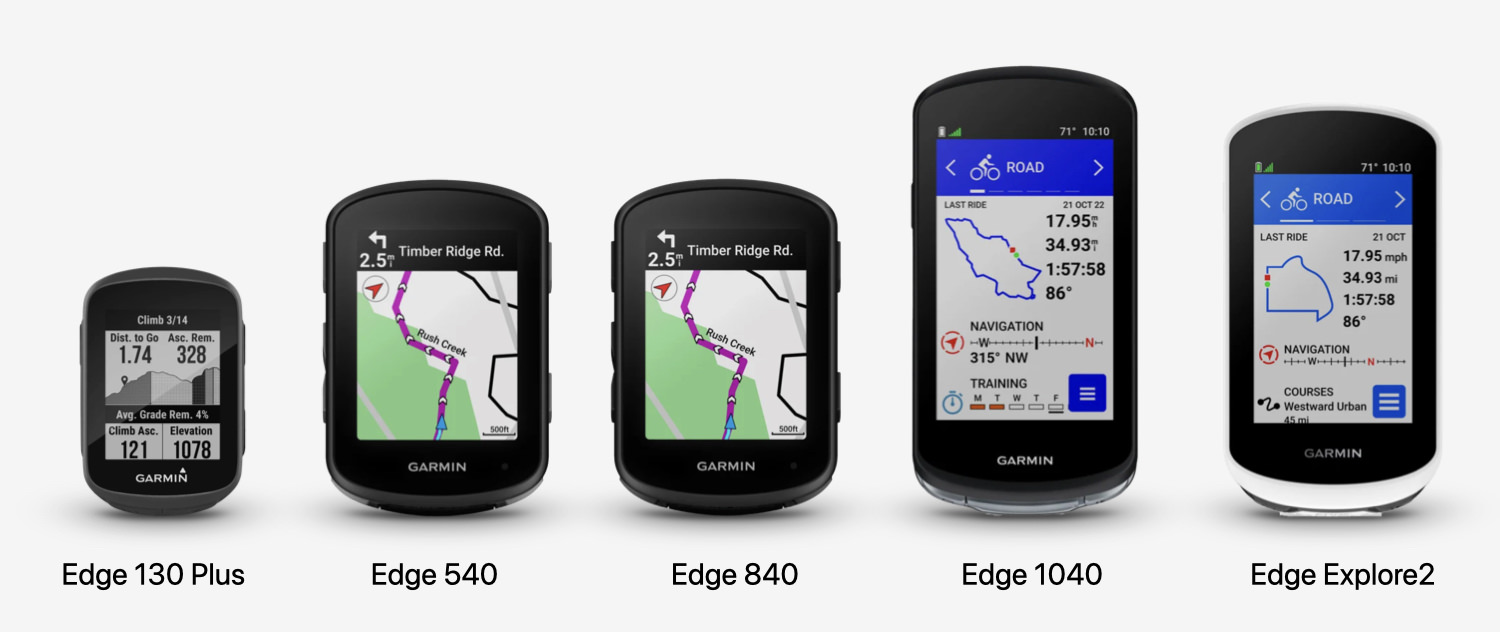 Edge130 Plus – A superior Garmin experience close at hand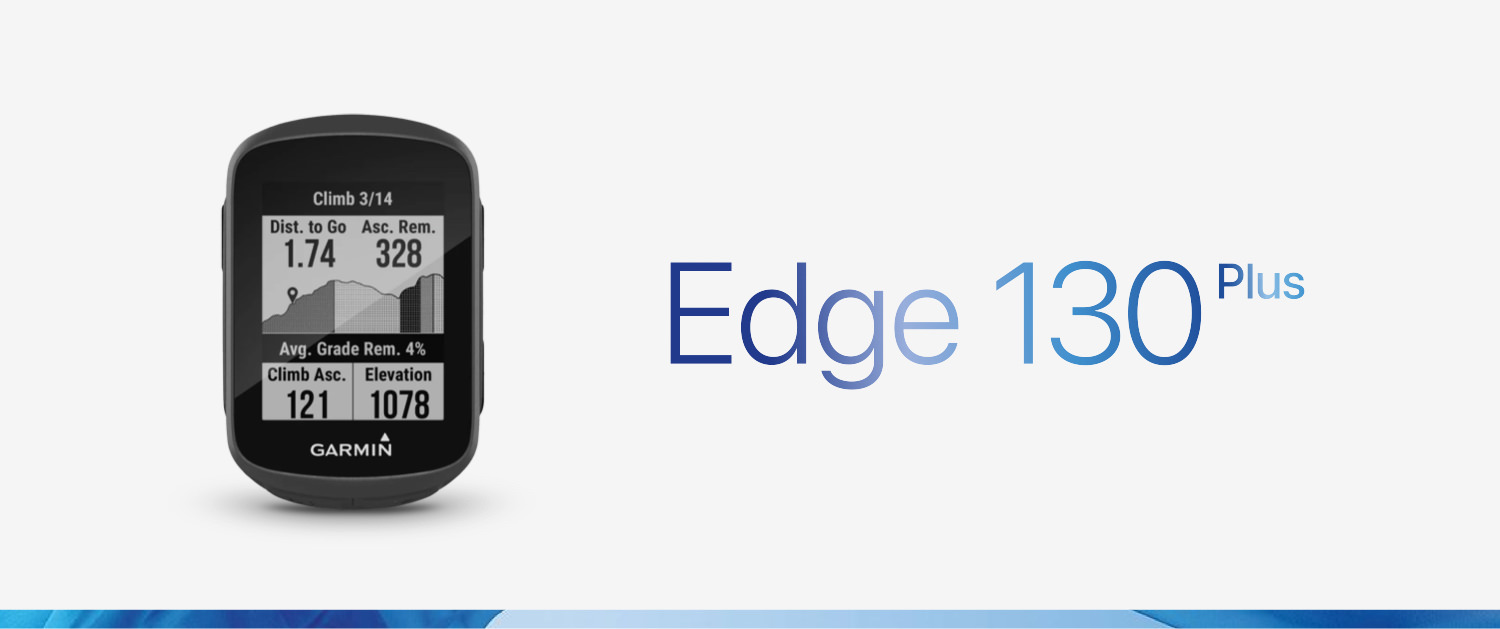 The 130 Plus ($199.99/unit) is a high-performance model for entry-level users.
There are two advantages to choosing the 130 Plus among the Edge series: price and weight. In other respects, it is still narrowed down in terms of features and performance, but it has enough functions for most cyclists.
If you want a Garmin product with high GPS accuracy, the 130 Plus is the first choice.
Edge 540 – Basic model with the latest features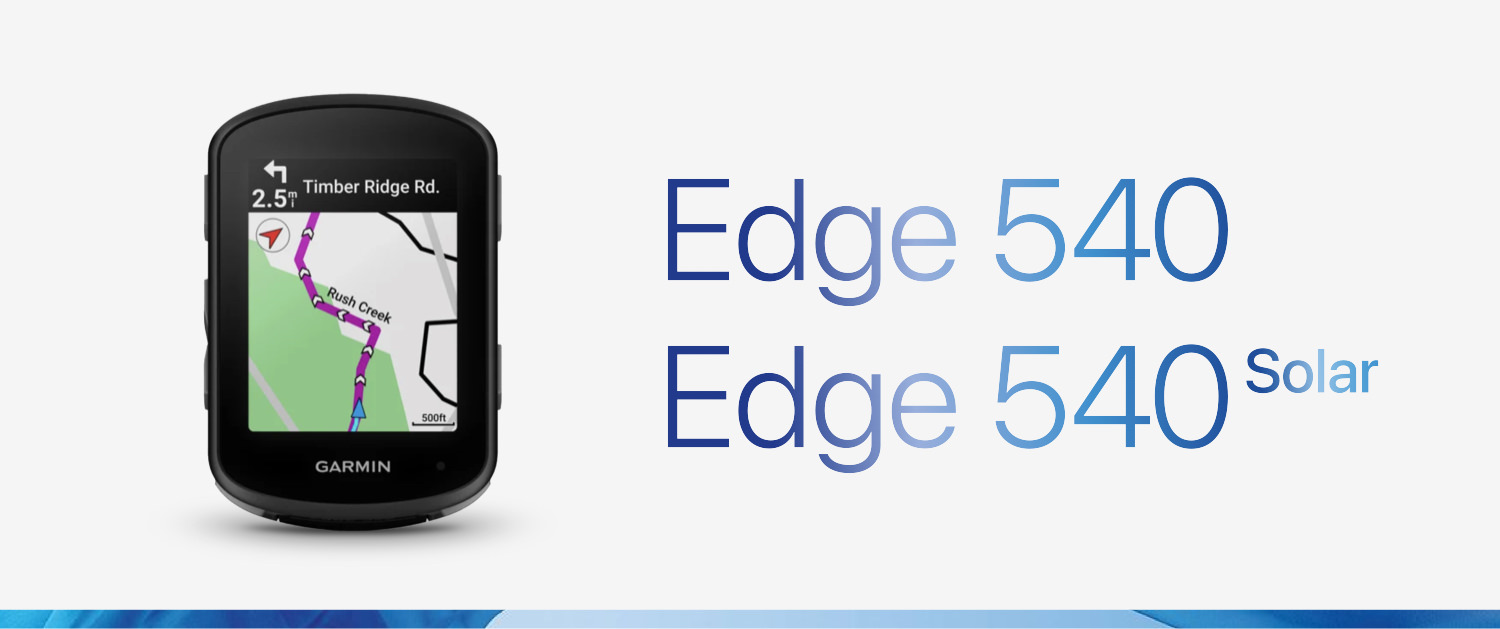 Edge's standard 500 series model will be joined by the 540 in April 2023 ($349.99-).
The lineup now includes a solar-powered model, with a significantly longer operating time of 26 hours on the built-in battery and 6 hours on solar power. The functions are now equivalent to those of the 1040, which was introduced in 2022, and the performance is more than sufficient for a standard model.
There are three differences from the higher-end 840 model: the presence of a touch panel, internal memory storage (540: 16GB, 840: 32GB), and weight (5g difference). For users who rarely use the navigation system in their daily rides, the 540 is sufficient in most cases.
Major changes from 530 to 540
Battery life: 20 hours -> 26 hours + 6 hours solar
Cable terminal: microUSB -> USB-C
Improved positioning accuracy: GNSS multi-band function
Significantly enhanced training functions: real-time stamina, power guide, etc.
Increased body size and weight: Height +8mm, width +3mm, weight +5g 
*Display size and resolution remain unchanged.
Edge 840 – Flagship with no blind spots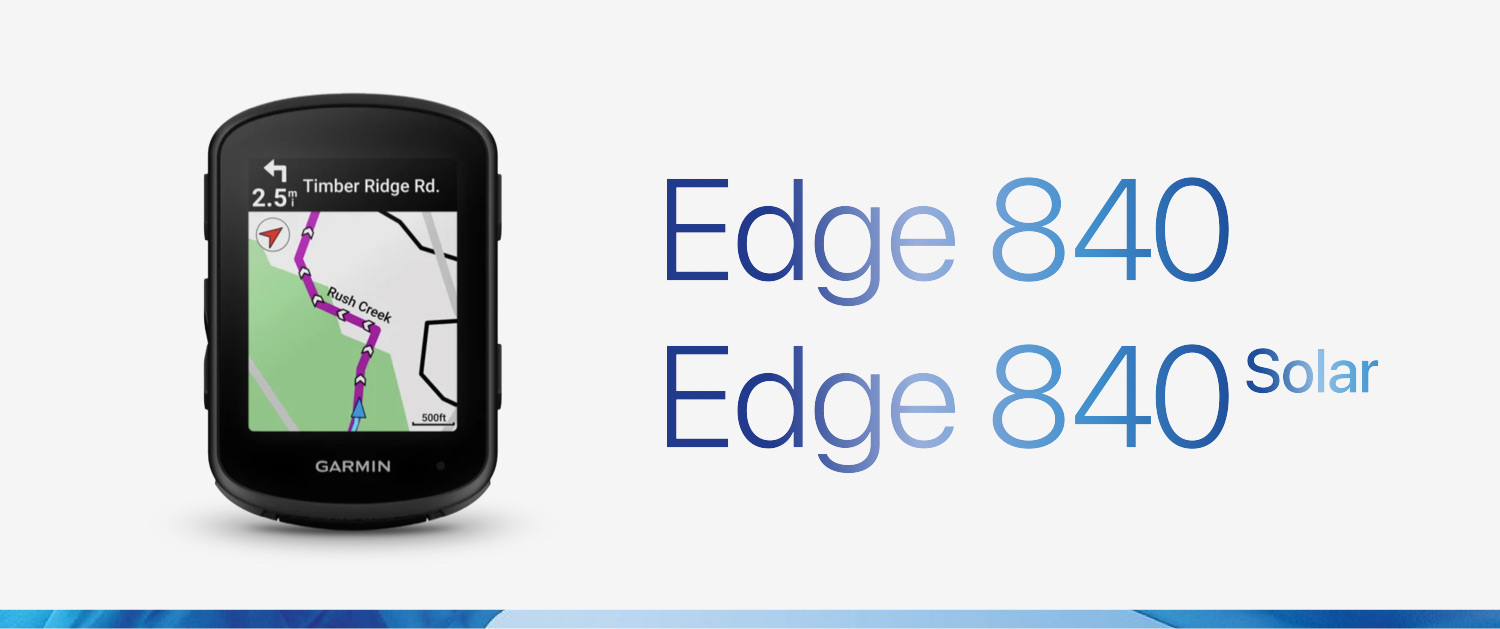 The 840 ($449.99/unit) is Garmin's flagship model with a highly sensitive touch screen.
Like the 540, a solar-compatible model is lined up, and its functions are equivalent to those of the 1040.
The 840 has a touch screen that can be used over gloves for crisp operation, making the 840 a better candidate than the 540 for cyclists who place importance on ease of use or who often use the navigation system.
Major changes from 830 to 840
Battery life: 20 hours -> 26 hours + 6 hours solar
Physical buttons added: In rough weather, touch panel can be turned off and only physical buttons can be used.
Cable terminal: microUSB -> USB-C
Improved positioning accuracy: GNSS multi-band function
Memory Storage: 16GB -> 32GB
Significantly enhanced training functions: real-time stamina, power guide, etc.
Increased body size and weight: Height +8mm, width +3mm, weight +5g 
*Display size and resolution remain unchanged.
Edge1040 Solar – Continue to explore with super long-lasting batteries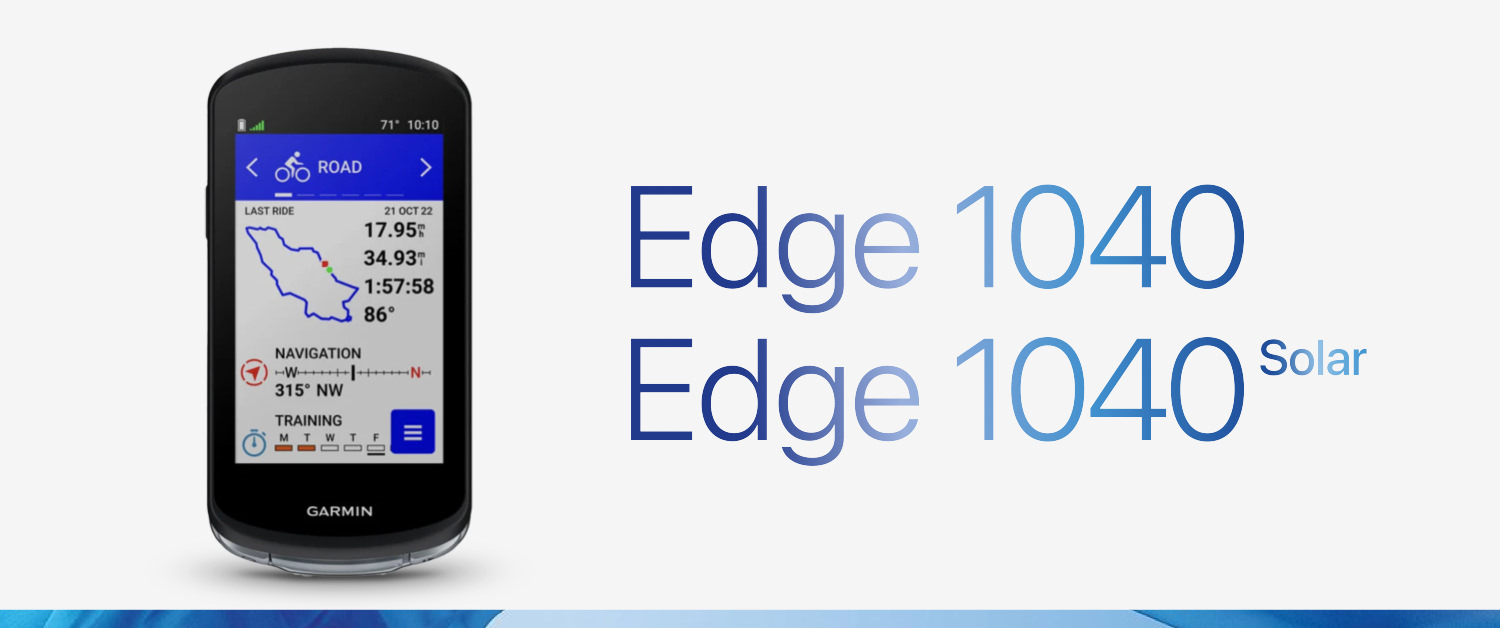 Edge's high-end 1000 series will evolve from the 1030 Plus to the 1040 Solar in 2022 ($749.99-/unit). 1040 has greatly improved in both specifications and functions, and is worthy of the name "high-end" among all GPS cyclocomputers.
Notably, the battery life has been increased from 24 hours to 35 hours, and the display itself has been converted to a solar panel that charges itself during the daytime while running* (up to +10 hours). This makes it the perfect companion for cyclists who want to explore new terrain, including ultra distance rides, which have become a popular challenge in recent years.
*Model without solar panel is also available ($599.99).
Major changes from 1030 Plus to 1040 Solar
Battery life: 24 hours → 35 hours + 10 hours solar
Cable terminal: microUSB -> USB-C
Improved durability of mount: plastic → metal
Improved positioning accuracy: GNSS multi-band function
Memory storage: 32GB → 64GB
Significantly enhanced training functions: real-time stamina, power guide, etc.
Edge Explore 2 – Road exploration model specializing in navigation functions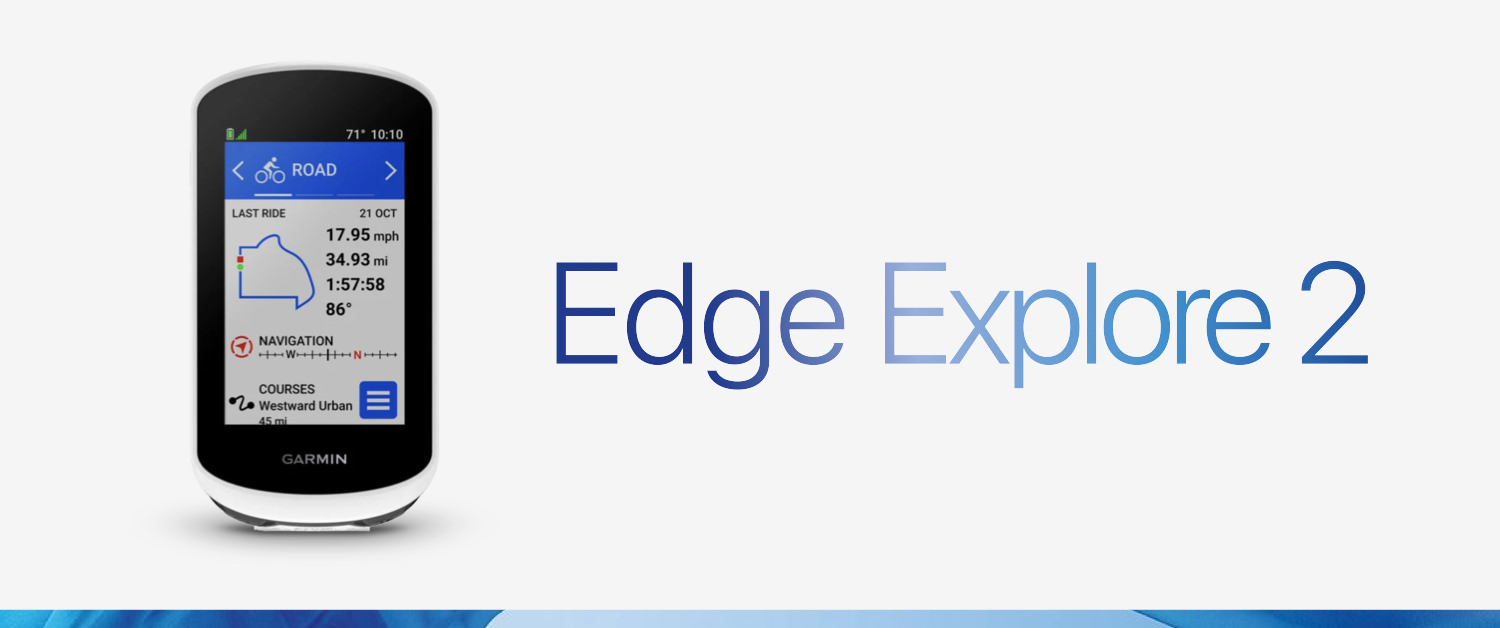 The Expore 2 is a new model for cyclists who prefer touring/cycling. The price is similar to the Edge 540, but the larger display (3.0″) enhances map readability. The user interface has also been revamped, similar to that of the 1040.
However, in terms of training-related features, it has standard functionality, but features such as workouts and virtual partners found in other models have been stripped away. This model is designed for the purpose of enjoying the ride, not for getting stronger.
The lineup also includes the Edge Explore 2 Power, which is eBike compatible and can be charged by connecting to the bike's battery.
Compare with other brands of GPS Computers
Author
Tats Shimizu(@tats_lovecyclist)


Editor in Chief. Having been riding sports bikes for 10 years. He likes to unravel the trends in the sport bike industry, especially road bikes, from a marketing perspective. At the same time, he has extensive friendships with cycling apparel brands from around the world and proposes various styles through the media. His main bikes are Factor O2 (road) and LS (gravel).