The S-Works Tarmac SL7 is still considered one of the best bikes available more than two years after its launch.
While a lot of review content already exists, this article will take a closer look at the history of the Tarmac, including the background and future of the Tarmac, and why the SL7 has caused so much enthusiasm among riders.
Author
Ryuji (@ryuji_ride)
Love Cyclist planner. He has 14 years of sports biking experience. He has been a competitive road cyclist for the first few years of his life and has been on the podium. He is also an industry expert, having worked as an editor for a cycling magazine and for a cycle clothing brand.

text & photo / Ryuji (@ryuji_ride)
1. S-Works Tarmac SL7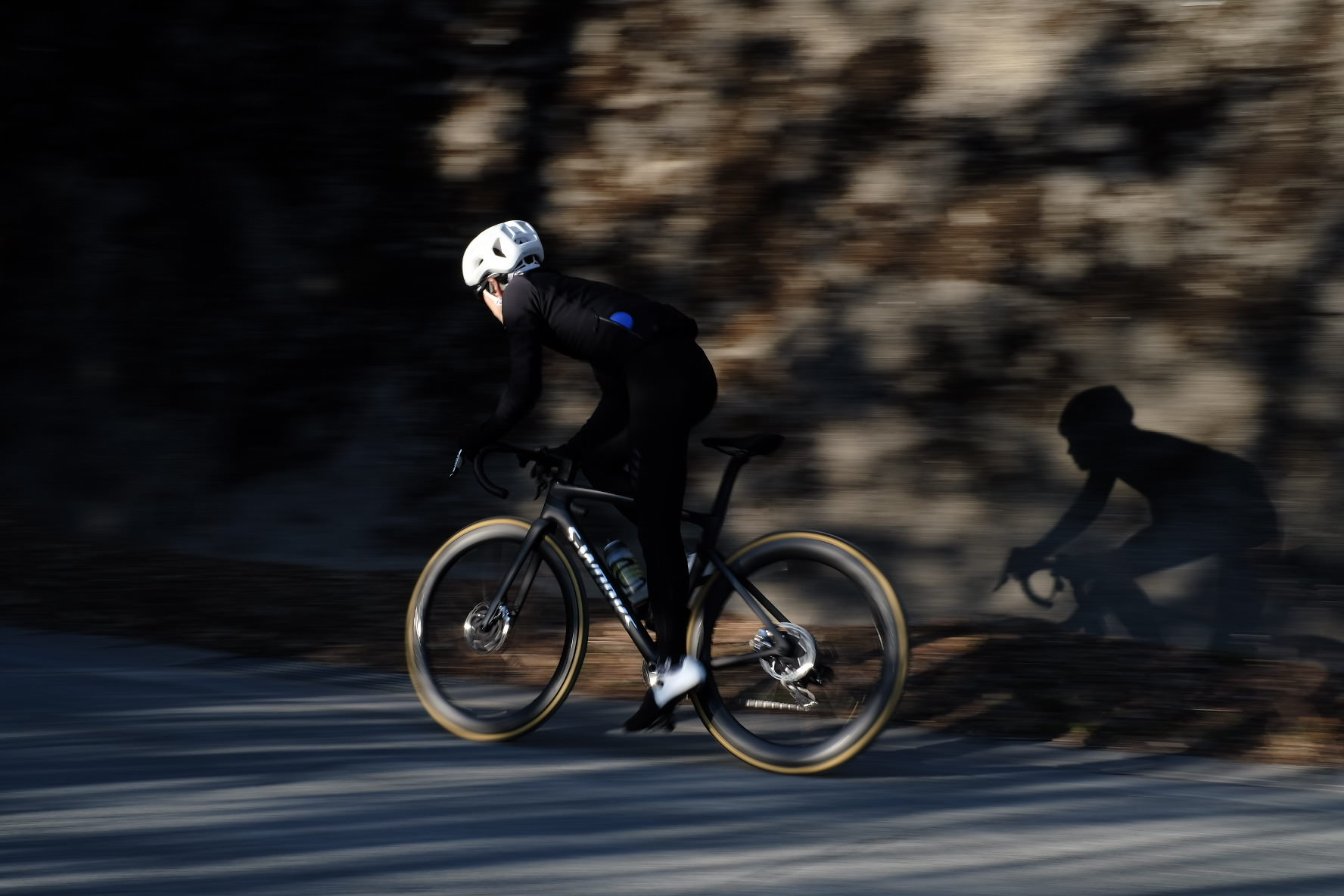 Aero is Not Everything
Specialized is a big brand that everyone knows in the world of sport cycling.
With its high level of engineering, feedback from top athletes, and investment of extensive development resources, Specialized's products are always ahead of the curve.
The company's dedication to not only product development but also market analysis has enabled it to come up with concepts that move users with each new product release.
In 2018, the "Aero is Everything" S-Works Venge (3rd generation) in particular, took the spotlight with its improved aerodynamic performance using the company's Win Tunnel wind testing facility. In addition, the Venge was dramatically improved in terms of weight, which was a concern with the introduction of disc brakes, and in terms of rigidity and controllability, which had been an issue with the previous Venge ViAS. The result is a bike that has been called a "masterpiece" by many.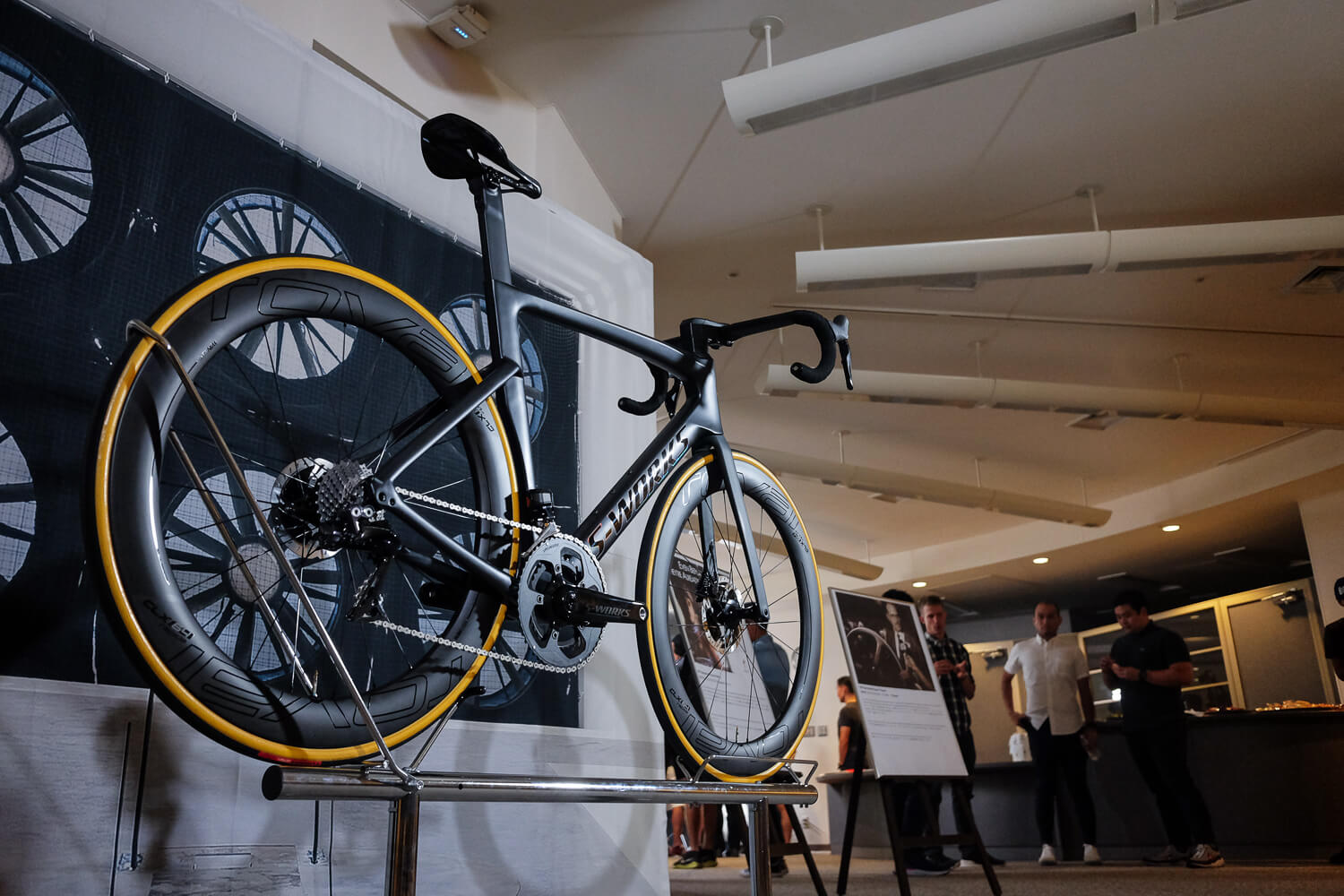 Discontinued Venge
In 2020, however, the Venge was gracefully discontinued with the introduction of the S-Works Tarmac SL7 (hereafter: SL7).
Instead, the SL7 is the ultimate all-rounder, a bike that combines the trade-offs of aerodynamics and weight with high rigidity. Specialized has even gone so far as to say that with the SL7, there is no need for the Venge.
Aerodynamics, lightness, and rigidity – all of these elements are linked to the index of speed, so it can be said that the concept that SL7 is aiming for is a legitimate one. However, there may have been some skepticism at first about the SL7, which until yesterday Specialized had been saying that "aerodynamics is everything," but now they have launched the SL7 as if to say "that is already a thing of the past" (at any rate, we took this to mean that the company is that confident in the performance of the SL7).
However, more than two years after its release, there is no doubt that the SL7 has earned the reputation of being a top-class bike, even ahead of the Venge.
I have had the pleasure of riding all S-Works grade Tarmacs since the first generation, including test rides, and I think that every generation of Tarmac was a fascinating bike that was ahead of its time. I am one of the Tarmac fans who owned the SL2 and SL3 as my favorite bike, even though they are quite old models.
So this time, I was thrice fascinated and decided to purchase the SL7.
S-Works Tarmac SL7 Overview
| | |
| --- | --- |
| Size | 44 / 49 / 52 / 54 / 56 |
| Drive Train | Shimano Dura-Ace R9270 Di2 / SRAM Red eTAP AXS |
| Handlebars | Roval Rapide Handlebar, carbon |
| Stem | Tarmac integrated stem, 6-degree |
| Saddle | S-Works Power |
| Wheels | Roval Rapide CLX |
| Tires | S-works Turbo Rapidair 2BR |
| Price | $14,000〜 |
**Price listed is as of March 2023
Roval Rapide handlebar. The flat bar surface has a textured finish to prevent hands from slipping when wet.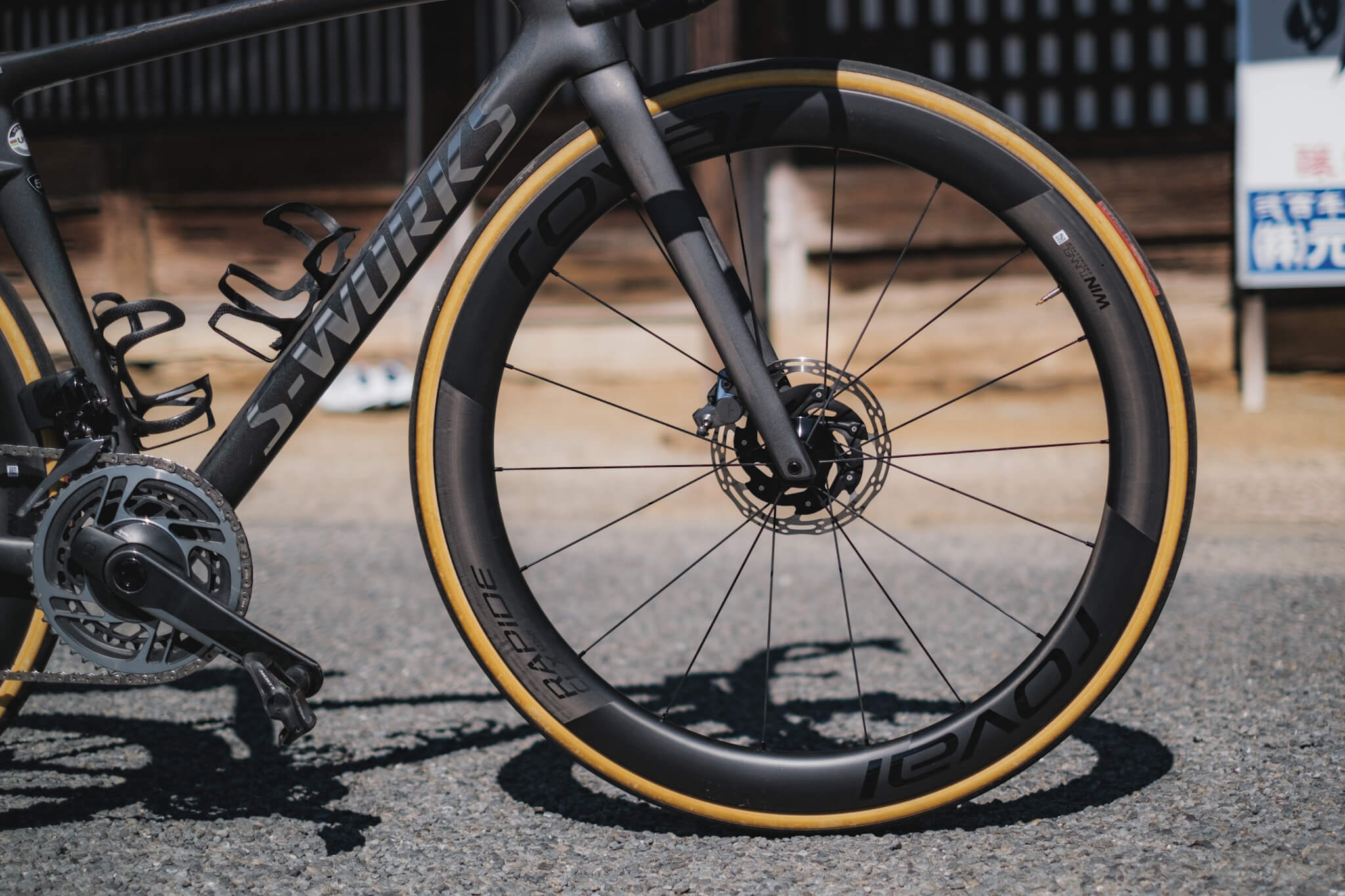 Front Forks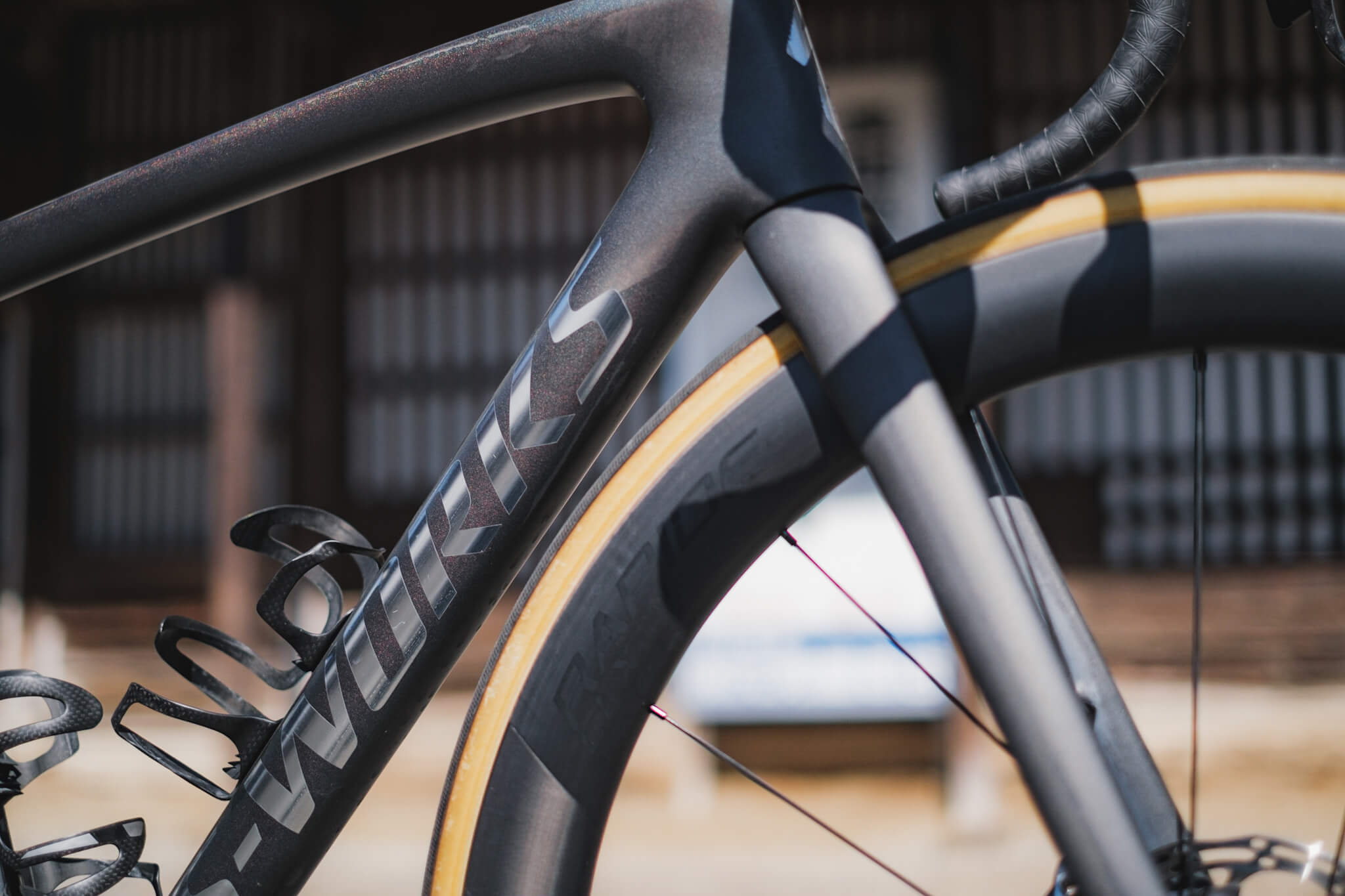 Down tube is not an extreme wing section shape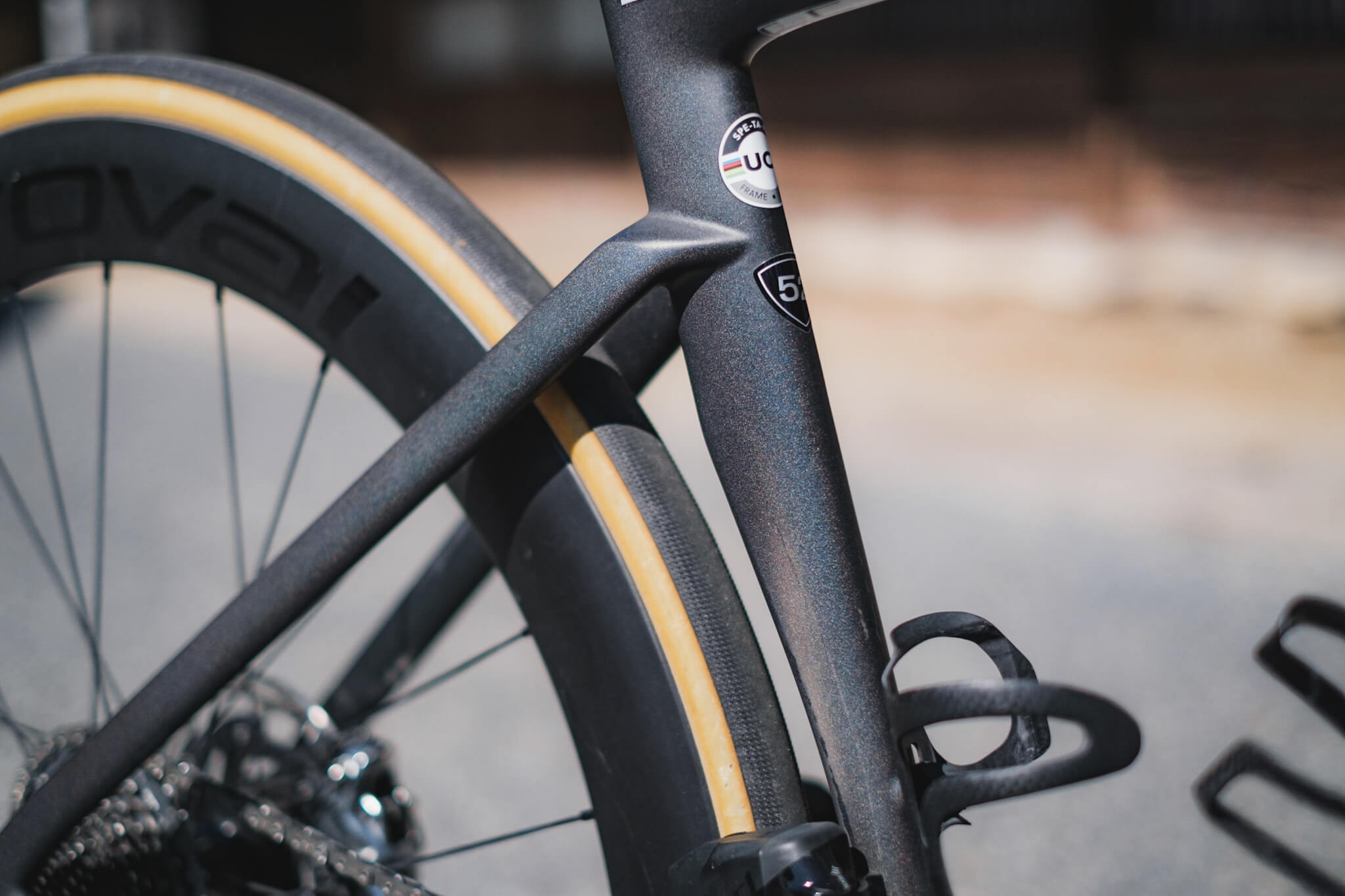 Seat tube has a higher flatness than SL6 and changed to a more aerodynamic shape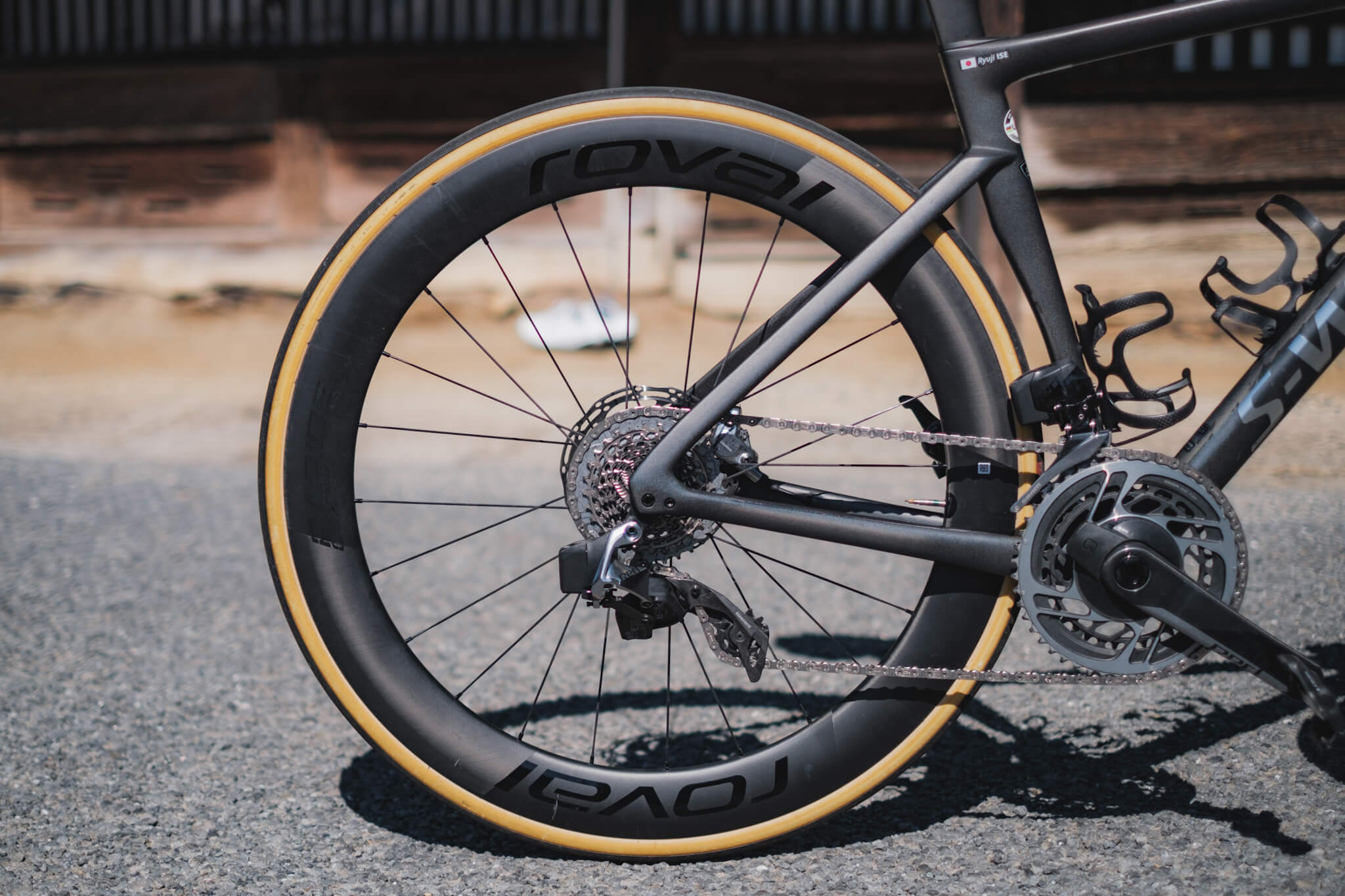 Trendy small rear triangle. Aerodynamic shape at the junction with the seat tube. Wheels have a high rim height for high-speed cruising.
There are only two choices of S-Works grade drivetrains, SRAM Red and Shimano Dura-Ace. Most of the remaining parts are made up of Specialized's highest grade original parts, finishing at 6.8 kg as a complete bike.
I am used to the weight of disc brake road bikes, so when I took the SL7 out of the box, I was thrilled to find that it weighed 6.8 kg, a weight I had not experienced in a long time.
As a pure racing bike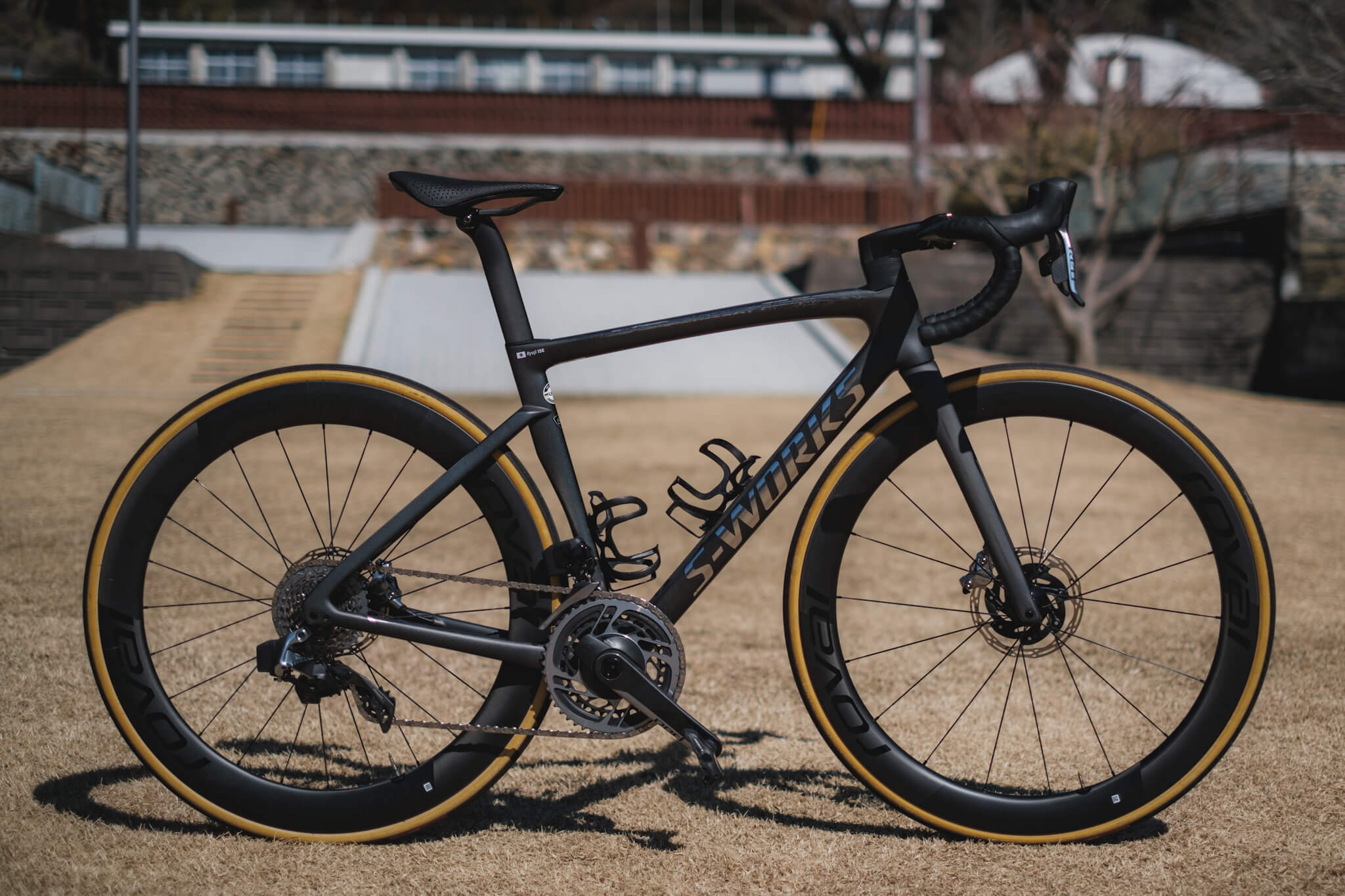 As racing enthusiasts may know, the 6.8 kg mentioned above is the minimum weight for a race bike as stipulated by the UCI.
When rim brakes were in their heyday, various parts were structurally designed to be light, and it was easy to go below 6.8 kg, so it was not unusual to add lead or other materials to increase the weight.
In contrast, recently, as the weight of the bike itself tends to become heavier due to the use of disc brakes, the use of lead on bikes in races is rarely seen, and there is a strong movement to reduce weight somehow.
While many manufacturers are struggling to reduce weight, SL7 has achieved 6.8 kg by aggressively using parts made in-house other than the frame. This indicates that the SL7 is a racing bike designed to perform at its best in professional category races as defined by the UCI.
It is important to understand at the outset that it is not necessarily designed for the diverse applications of us amateur riders.
2. Tarmac History and Concept Changes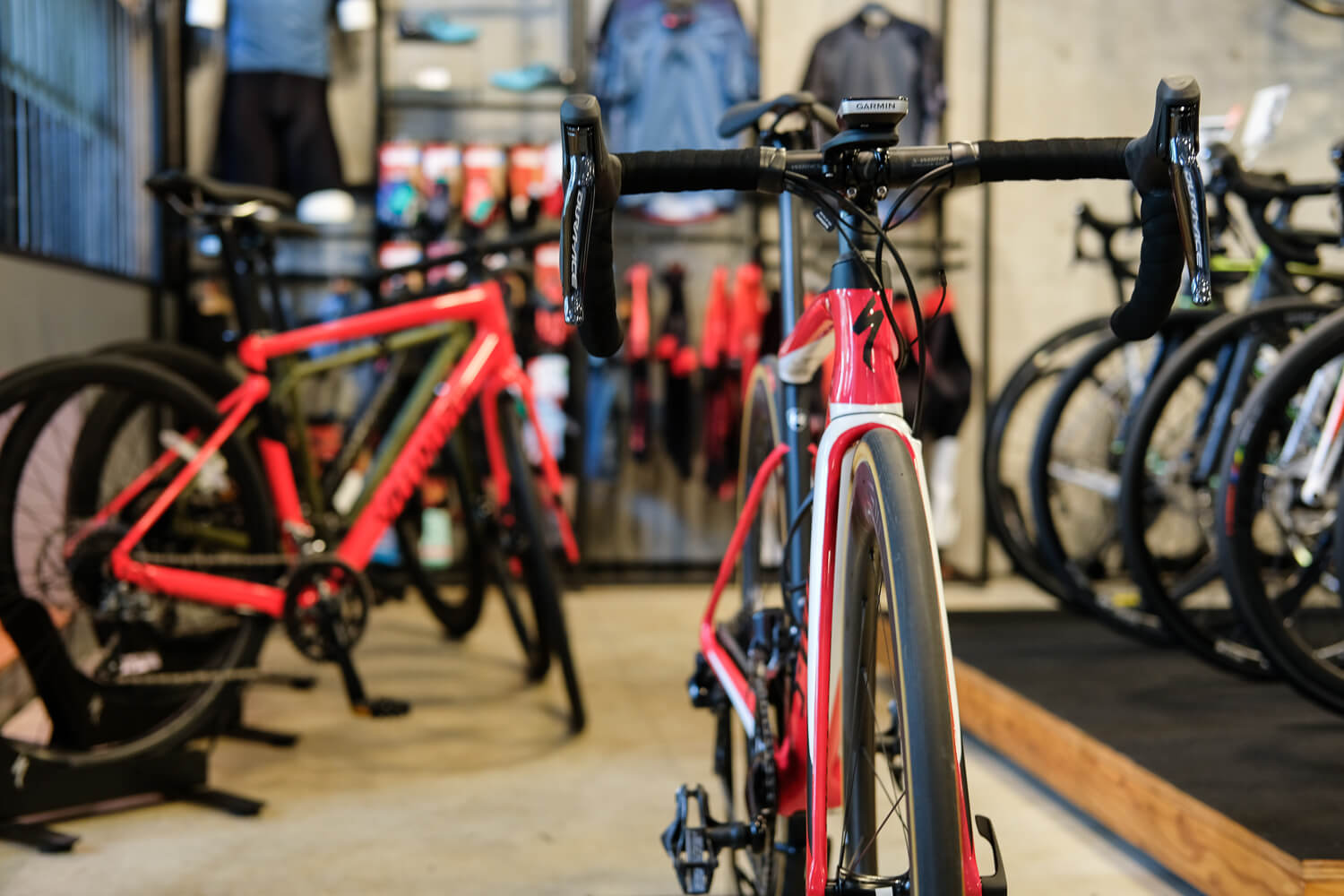 Tarmac with nearly 20 years of history
The first Tarmac was introduced in 2003, and since the direction and concept of the Tarmac has been slightly altered over the course of each generation, we will look back at that journey and unpack the role that the SL7 has been given today.
The Tarmac was originally categorized as a "competitive category" model that covered racing in a broad sense.
The first Roubaix was introduced in 2004 and the first Venge in 2011. With the Roubaix model for comfort and the Venge model for aero, each model was given a clear role, and the Tarmac was developed in the direction of lighter and stiffer bikes, so until the SL4, the goal was a light and stiff bike with "a few percent improvement in weight-to-stiffness ratio.
It is important to note that all models were oriented toward the "speed" vector, even if the role of each model was different.
This is because Specialized's main goal was to build bikes that would win races, according to feedback from the riders (Tom Boonen, Paolo Bettini, etc.) to whom Specialized supplied bikes at the time.
On the other hand, among amateur riders, not all riders are necessarily pursuing race results, and in fact such riders are limited. As the ways in which people enjoy cycling diversify, the demand for bikes that are just light and stiff is on the decline.
Not sure if they are aware of this market trend, but the SL5 incorporates a "Rider-First Engineered" design concept that adjusts the ride feel for each size of bike. While maintaining its position as a racing bike, the Tarmac has byproductively gained a feel that is easy to handle for many users, including amateurs.
In 2021, Specialized added the Aethos to its lineup, establishing a category separate from racing. They offer users the value of fun, not speed.
Venge was discontinued in the third generation, but Roubaix, with its wide range of products, was expected to remain in the market in anticipation of further market diversification.
And SL7 is considered to be at the point where it has become a strong driving force in the racing category again.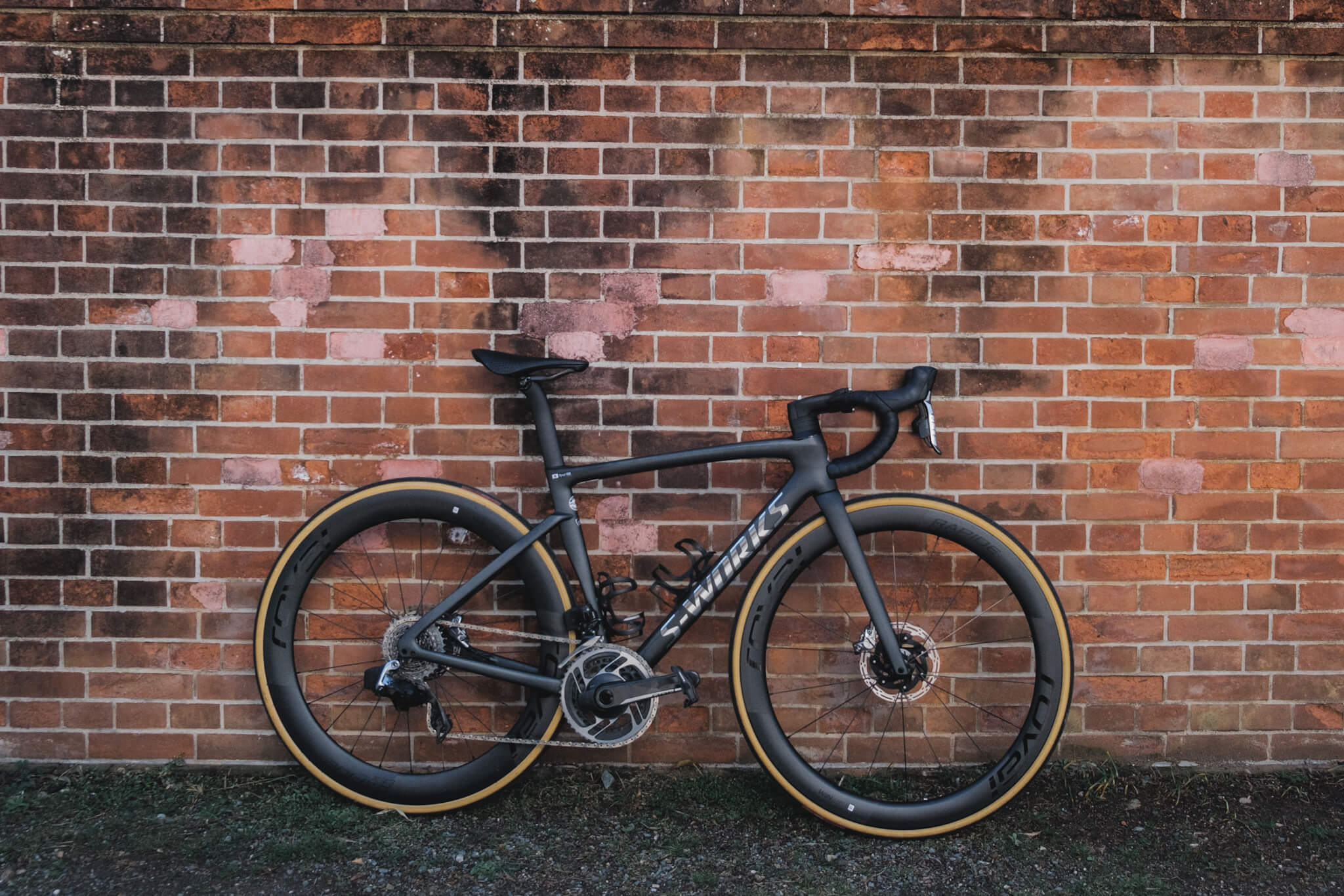 The 7th generation was given a stronger "racing" connotation.
3. Reviewer's Note
Recently, in order to design a bike with comprehensive performance, there has been an increase in the so-called "packaged sales" style, which consists of original parts mainly from big brands.
The SL7 is no exception, and when evaluating the performance of such bikes, we need to separate the evaluation of pure frame performance from the evaluation of packaged sales.
However, since I don't have the resources to replace all the parts other than the frame, I will compare the SL7 in packaged condition to the SuperSix EVO Hi-Mod that I usually ride, and to several disc brake road bikes that I have test-ridden over the past two years.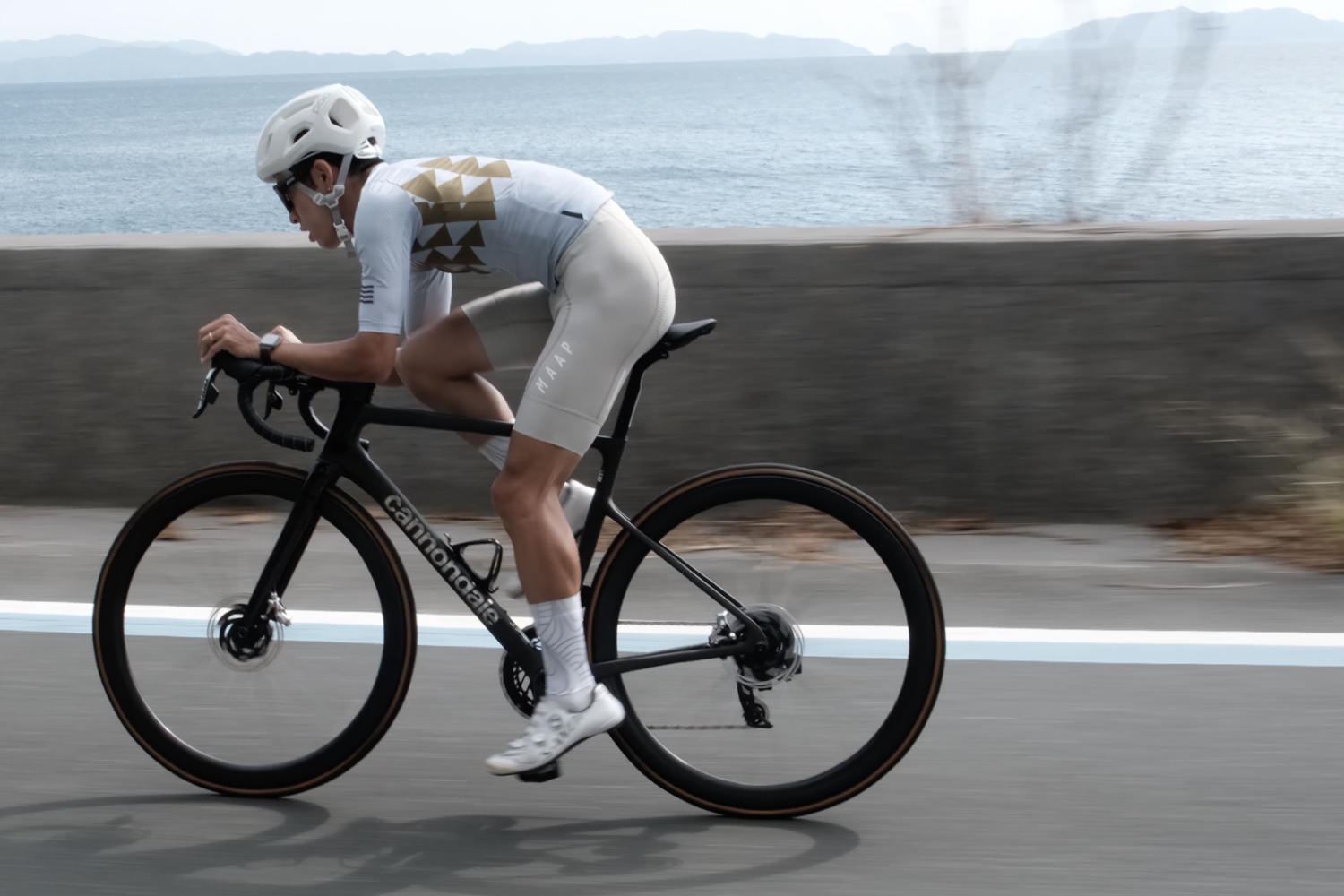 The review will be relative to the SuperSix EVO and other bikes.
4. Purely fast in all speed ranges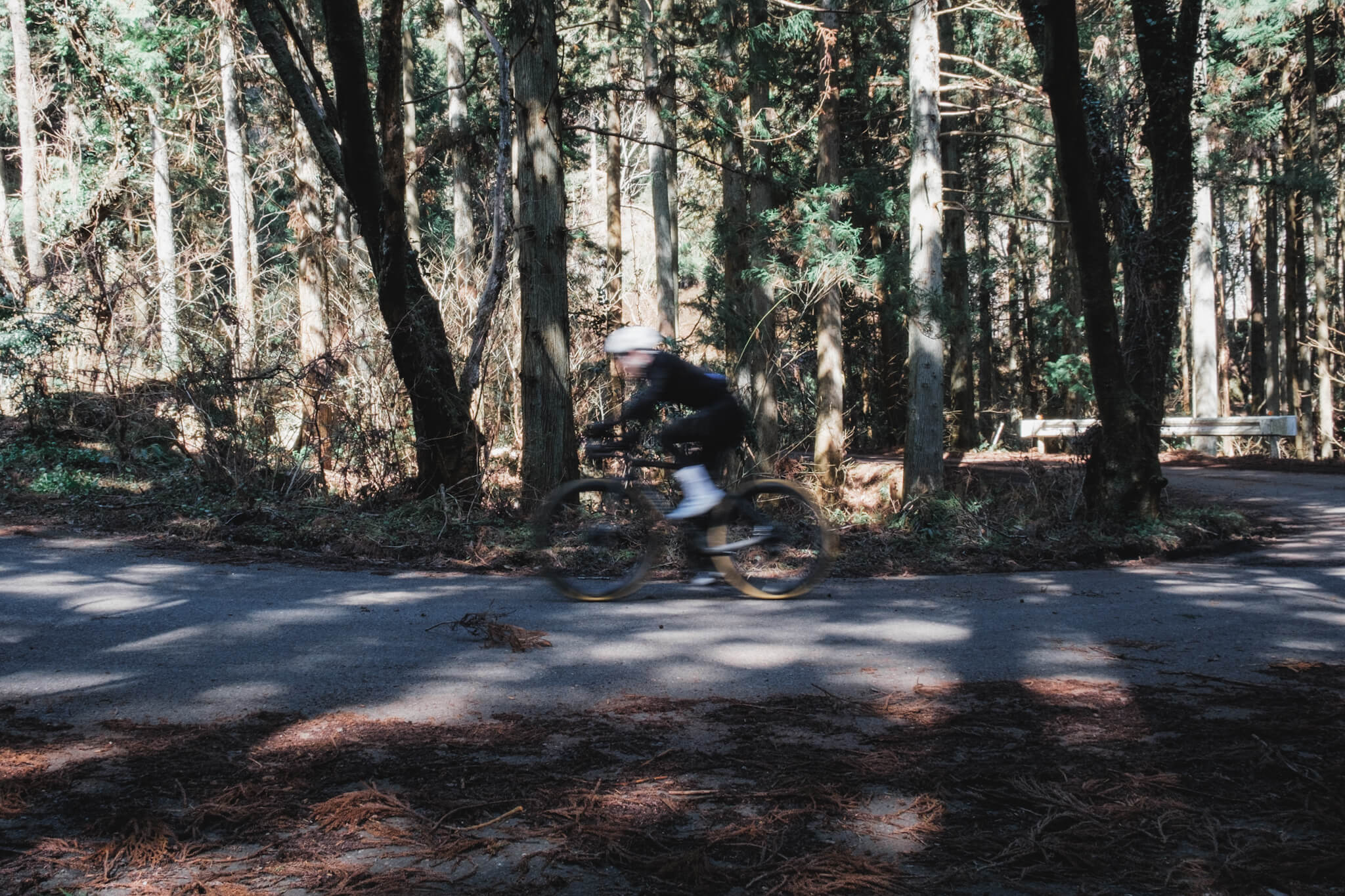 First of all, one of the strengths of the SL7 is that it accelerates well at all speeds and is not unbalanced in speed. There are many bikes that have two choices: one is sluggish at low speeds, and the other is fast at high speeds, or vice versa.
It is easy to imagine that the SL7 accelerates solidly like a lightweight and rigid bike at the beginning of torque application, but as the speed increases, it maintains the speed like an aero road bike, making it difficult to decelerate.
In actual races (especially criterium and line races), various situations such as chasing, acceleration/deceleration by bridging, and high-speed cruising can be expected, so having few weak points in each speed range like SL7 is a big relief for riders.
5. Narrow allowable pedaling angle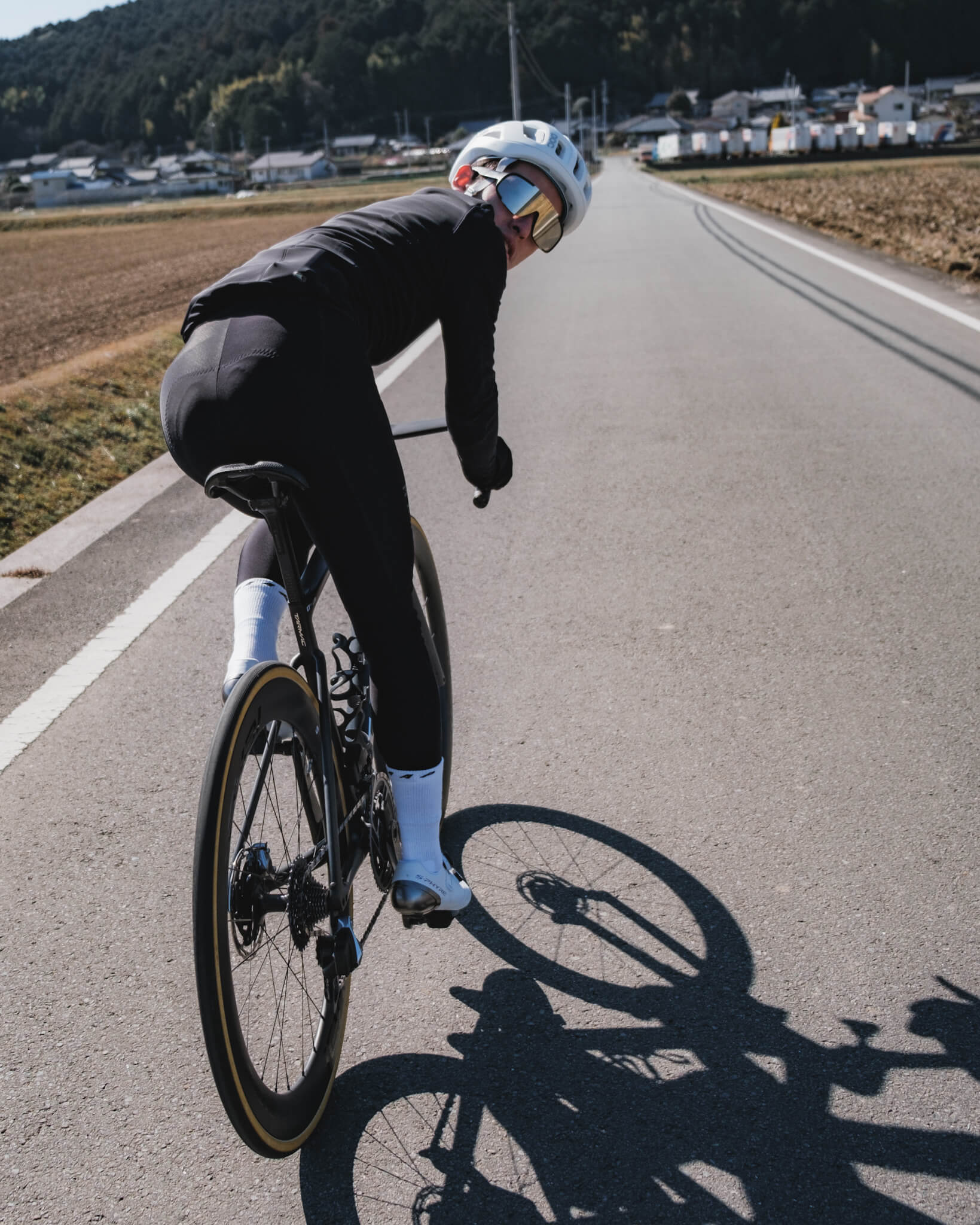 We all get tired and our pedaling can become a chore. Most of the time, in such situations, the leg muscles are exhausted and the whole body somehow tries to input to the pedals, so many people start pedaling with a low cadence and a messy form with heavy gears.
This may sound very sensual, but the EVO I usually ride and the TREK Emonda I recently test rode have a wide tolerance angle to accept messy pedaling due to the bike's easy swing and flex, and I felt the bike was easy to move forward even in such a situation.
In contrast, the SL7's straightness makes the allowable angles seem narrower. When I first started riding it, I found it very difficult to advance due to this characteristic, but after many rides, I came to understand the unique way of advancing it.
To put it simply, the key is to input pedals in small increments while pedaling cleanly. Dancing is not a lazy twisting motion as well, but I feel that it is easier to move forward by swinging the bike in a crisp, small motion (a rider with higher power output may get a different sensation).
6. Requires high skill to control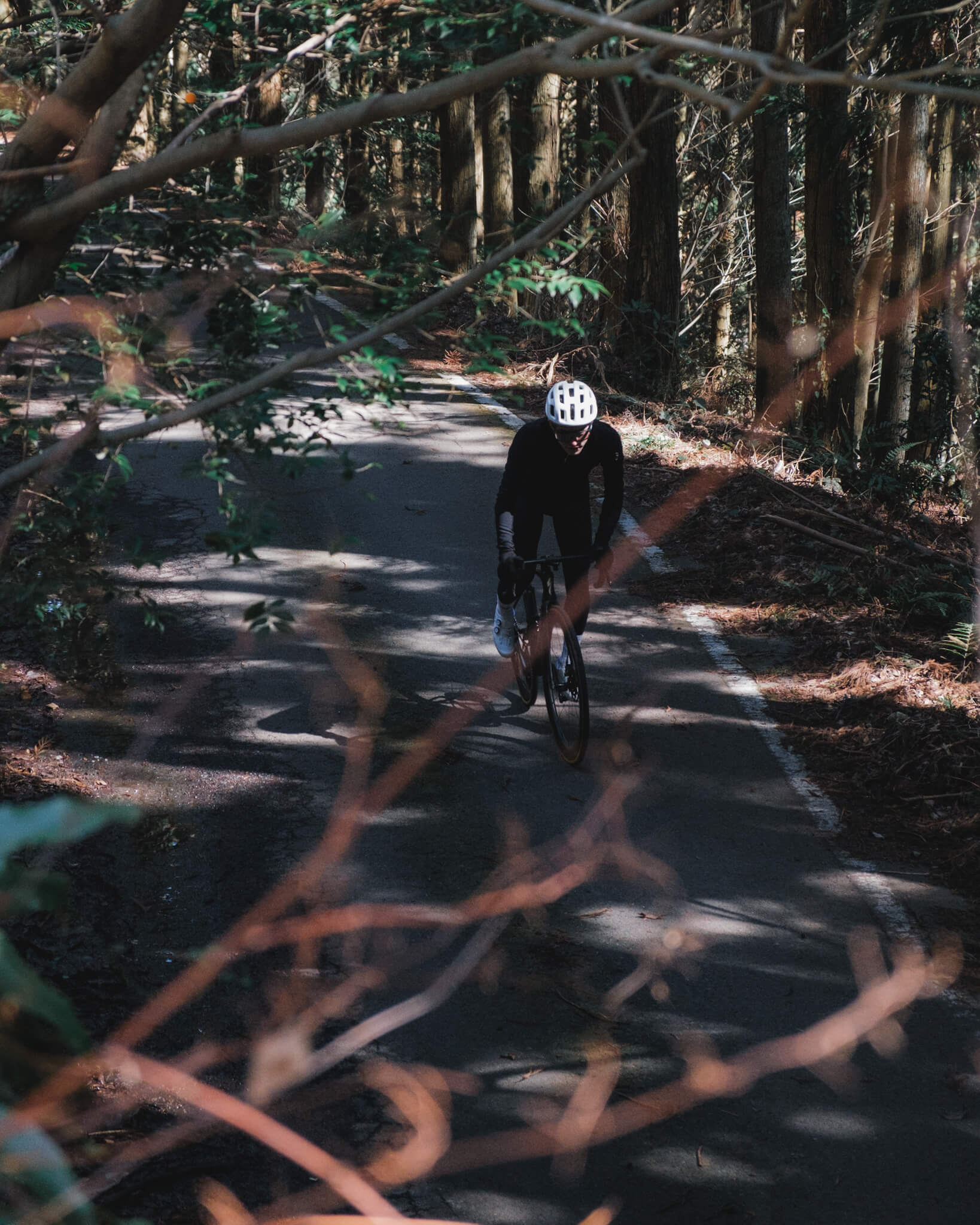 Although some degree of familiarity is involved, the controllability of SL7, with its agility that is almost as agile as it is peppy, is not something that everyone can easily handle.
To use an extreme example, imagine if ordinary drivers like us could suddenly get into an open-wheel formula car and drive it.
When you hear the term "all-around bike," it is sometimes mistakenly taken to mean something that is easy for anyone to handle, but SL7's all-around refers to its versatility in race-intensity situations. In other words, it requires a certain level of skill to demonstrate and experience its true value.
7. Ride comfort is not good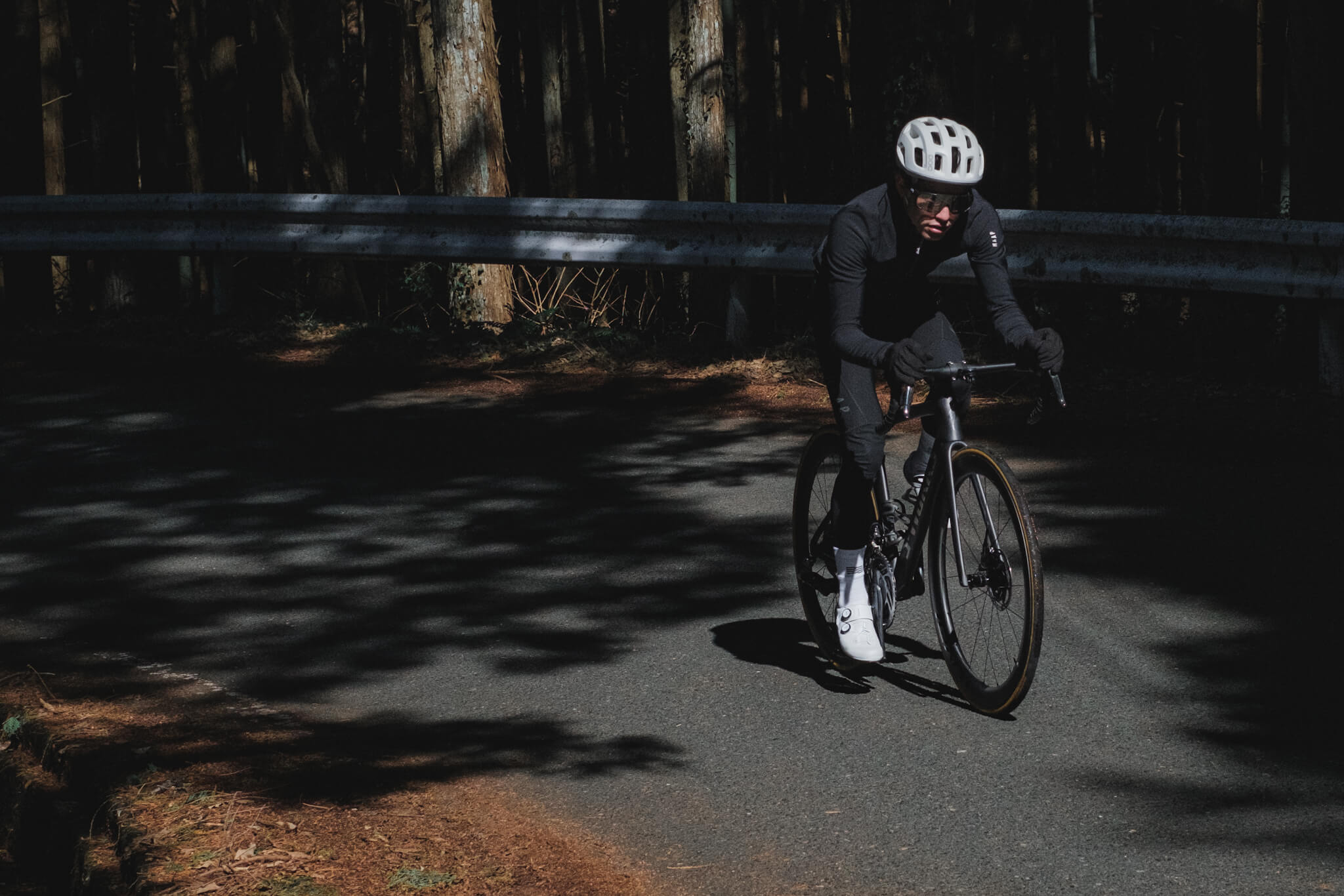 The three main points of contact between the rider and the bike are the handlebars, saddle, and pedals. Among these, the information from the handlebars and saddle has a significant impact on riding comfort.
First of all, vibration transmitted from the handlebars does not give a good impression, to say the least. I think this is mainly due to the structure of the fork and head, but I could feel some improvement when I switched to the SL 45 KNOT wheels that I usually use on the EVO, so it is possible to bring it to an acceptable level by changing the wheels, tires, and air pressure.
As for vibration from the saddle, compared to the EVO, there is no denying the feeling of thrust. In my case, changing the saddle from the default S-Works Power to S-Works Power With Mirror improved it a lot.
8. Insane speed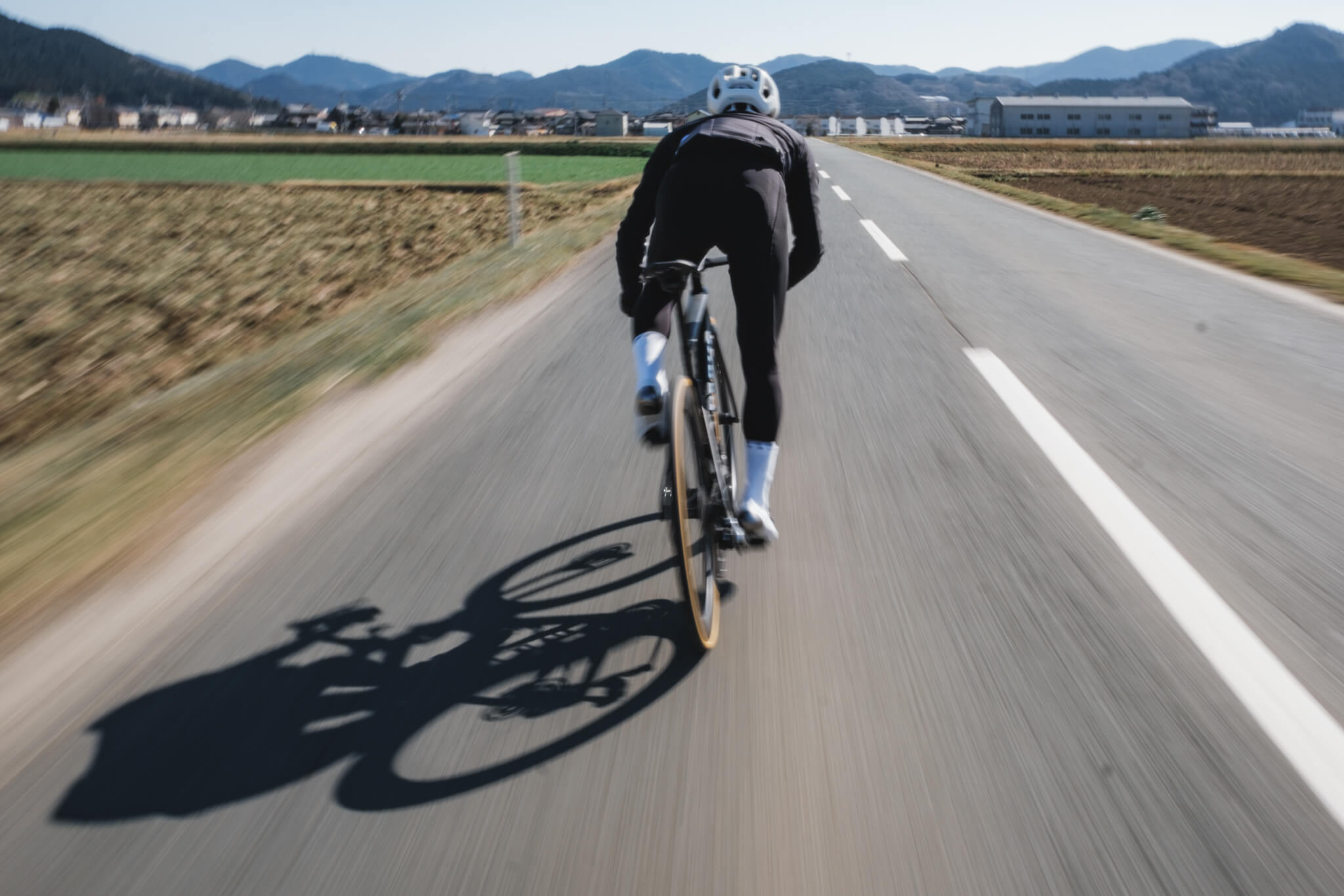 The SL7's character changes dramatically depending on the road conditions, and while its roughness and uncomfortable ride are very stressful on rough surfaces, its speed on smooth surfaces such as a circuit is almost insane. Rather than putting all your strength into the pedals, it accelerates rapidly with just a slight tingle of input.
Even on downhills, you feel fearful even without any pedal input, so much so that you want to apply the brakes to slow down. This downhill speed is almost the same as that of the discontinued Venge.
9. Rapide CLX benefits greatly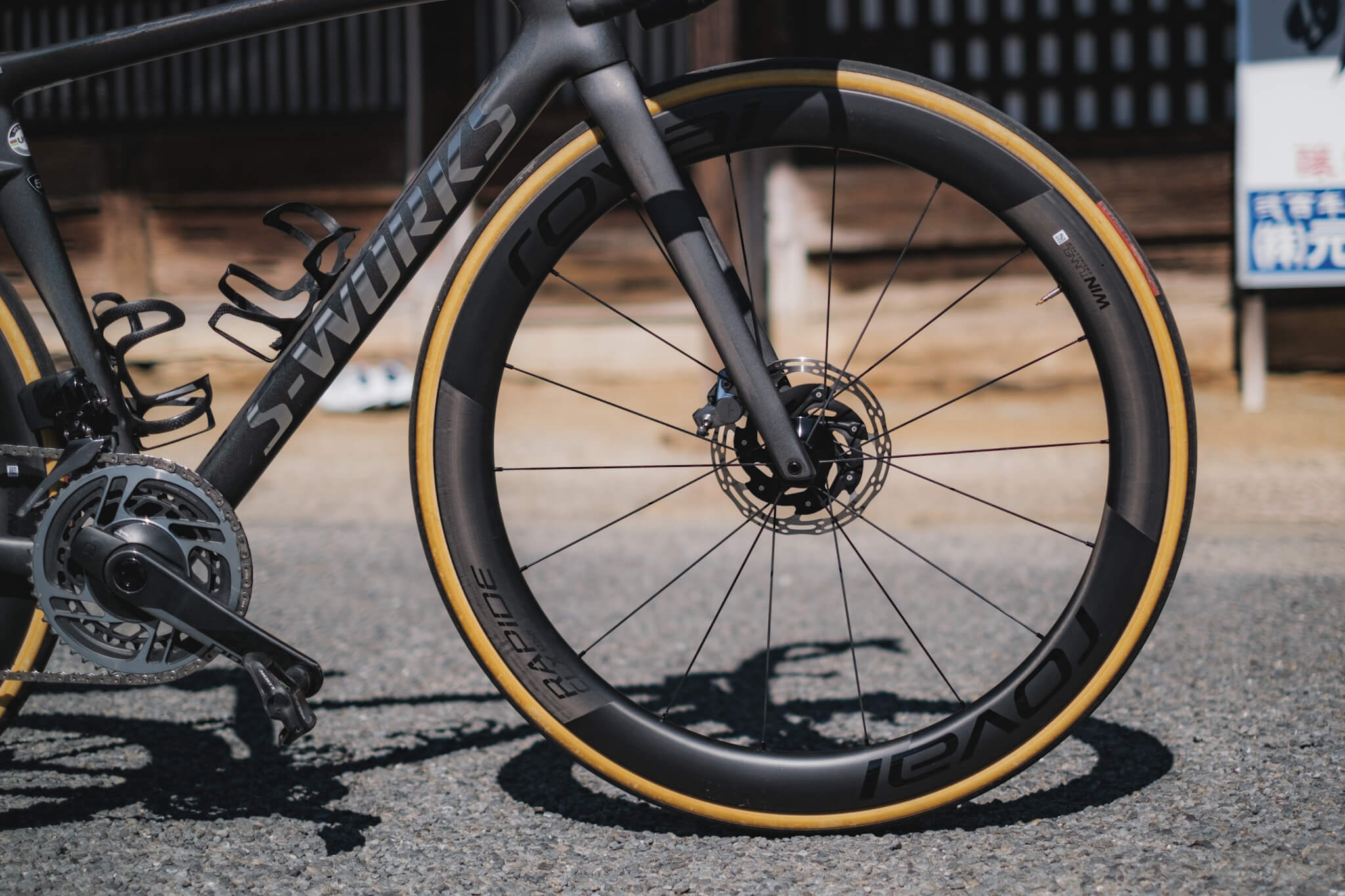 The Rapide series is one of the models that Roval has been working on for many years, and this time the front (rim height 51mm, outer rim width 35mm) and rear (rim height 60mm, outer rim width 30.7mm) are an unprecedented combination of different rim heights and widths. The lightness of this rim height, 1,400g for the front and rear sets, is also surprising.
This style, which pursues overall speed while taking into consideration the effects of crosswind and controllability, is in line with the concept of "aerodynamics, rigidity, and lightness" that SL7 has been pursuing.
And the Rapide CLX actually does exactly what these specs suggest.
The lightness of the bike gives it a nimble acceleration feel, and the rim height allows it to handle crosswinds with ease at high speeds, making it feel capable of running at a high level in any situation.
We also felt that the EXP freehub with DT Swiss-made 36T Star Ratchet was adjusted just right, with the feeling from stepping on the wheel to the actual acceleration being neither too fast nor too slow.
10. The destination of the bike carrying the fastest speed.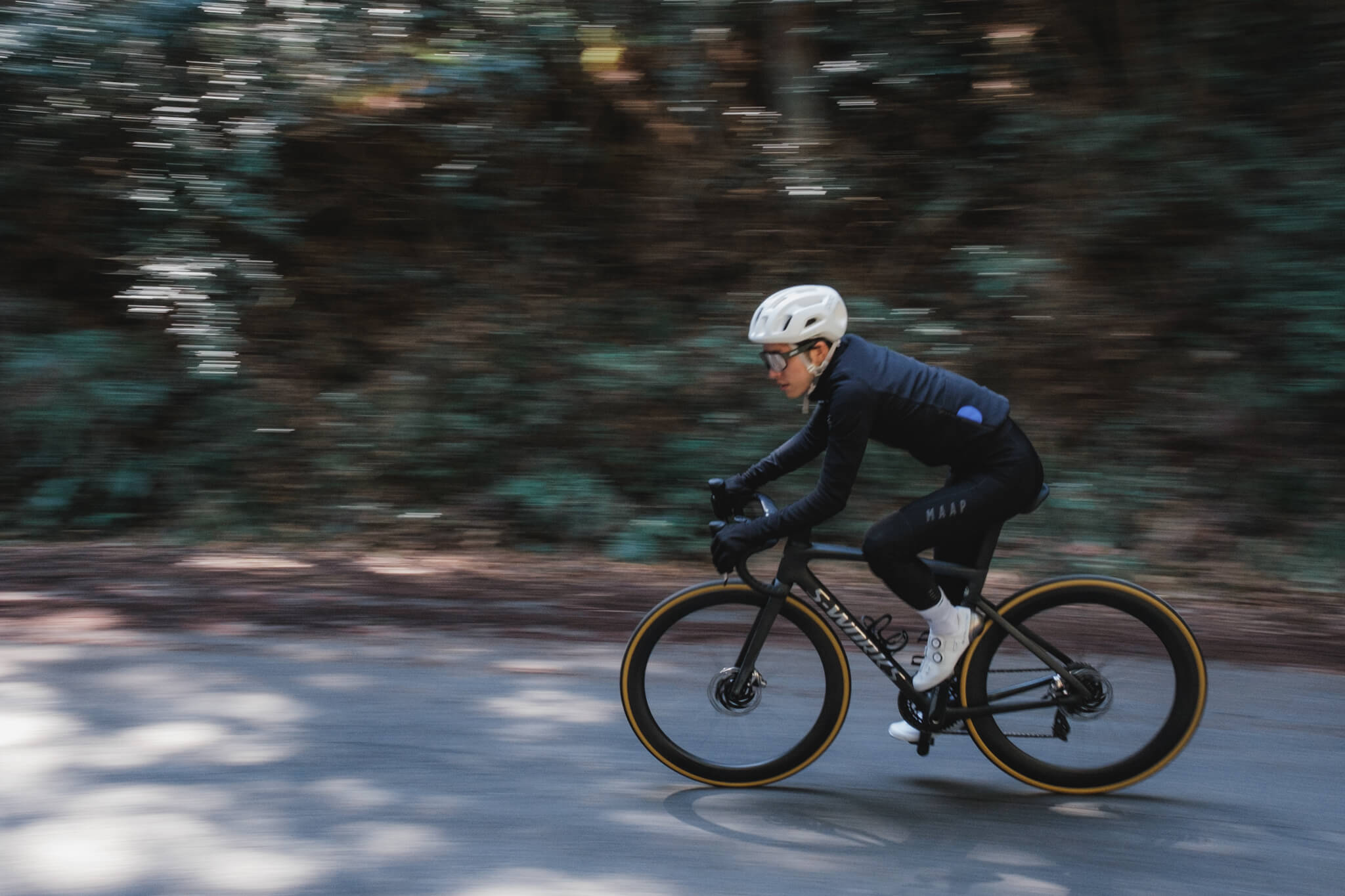 I was able to ride the SL7 for about 3,000 km by the time I wrote this review, but when the bike arrived in my possession, it happened to be shortly after I was diagnosed with COVID-19, and my legs were quite weak.
Perhaps because of this, my first impressions of the SL7 were scattered: "It's a hard bike to ride" and "I can't see any character at all.
As I gradually regained my strength, I gradually began to sense the good qualities of the SL7, but the difficulty I felt from the beginning has not completely disappeared.
I am always afraid of going downhill too fast, and in a state of exhaustion, I bounce back from the stiffness of the bike.
At the same time that I was made aware of how much of a "genuine racing bike" this bike is, I realize that I have not yet mastered the SL7.
The definition of SL7 as an all-rounder definitely refers to its versatility in limited racing situations, and for users who are not aiming for that, the race-oriented SL7 may be a bike with a very narrow range of performance.
However, in serious situations, where the SL7 is immediately put to the pedal, such as cruising at 40 km/h or more, chasing, bridging, accelerating out of corners, and even hill climbing, the SL7 has an absolute advantage.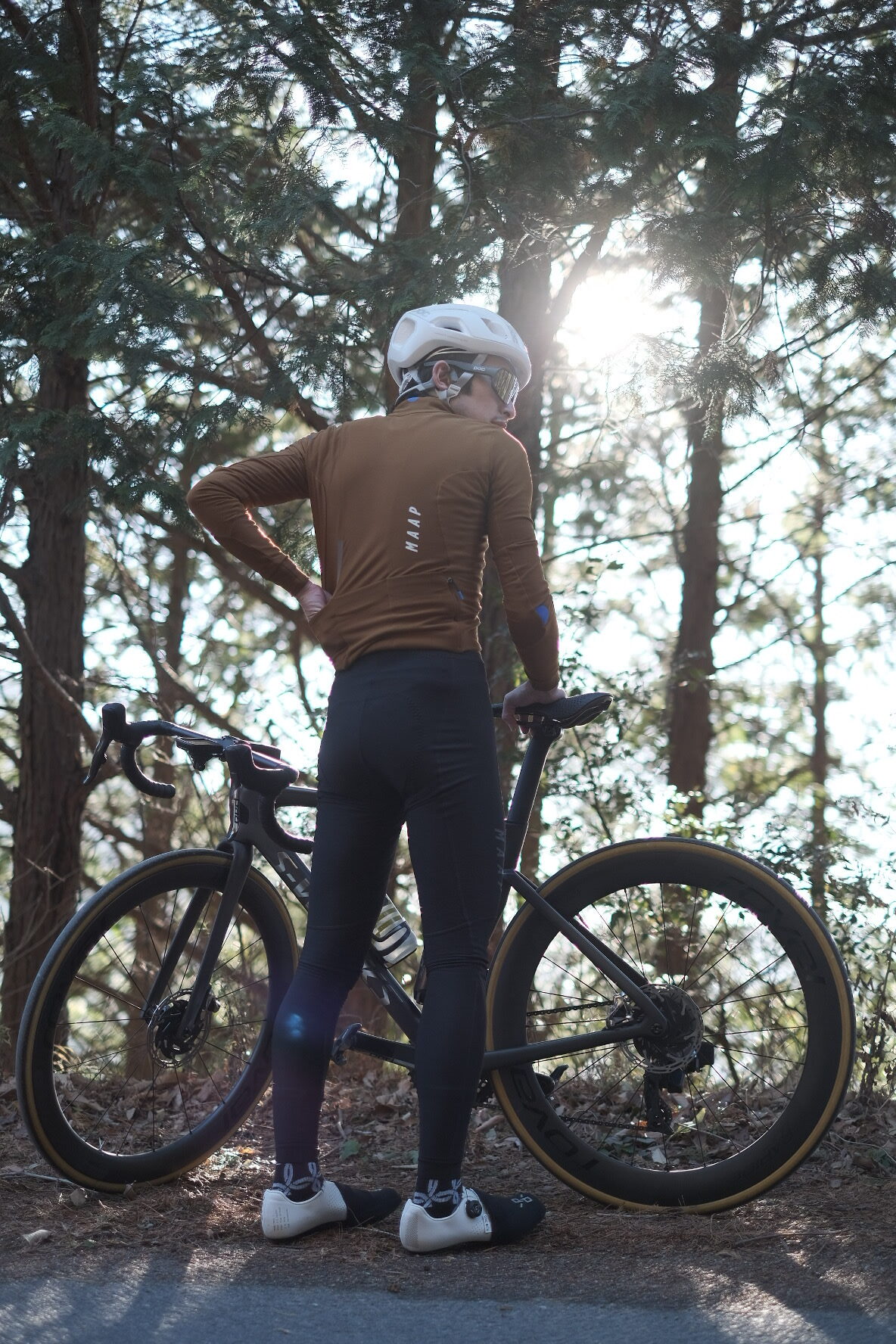 The SL7 is a bike that has been purely focused on speed, and while the role it has played in each era has varied, if you were to ask what Specialized's definition of fastest bike is today, you could say that it is the SL7.
And that fastest bike will change again in the future. And if that bike is called the SL8, I hope that the SL8 will continue to carry on this speed-crazy and graceful concept.
No brand can pursue a single measure of "speed" on a single bike. I feel that they are able to focus only on "speed" because they are a big manufacturer that can lead a wide variety of genres with bikes such as Aethos, Roubaix, Crux, and Diverge.
I feel that the recent all-rounder road bikes are broadening their market by incorporating elements such as ride comfort and ease of use. But it is precisely because we live in such an era that I expect the Tarmac of the future to be a completely differentiated, rugged "pure racing" bike.
text & photo / Ryuji (@ryuji_ride)