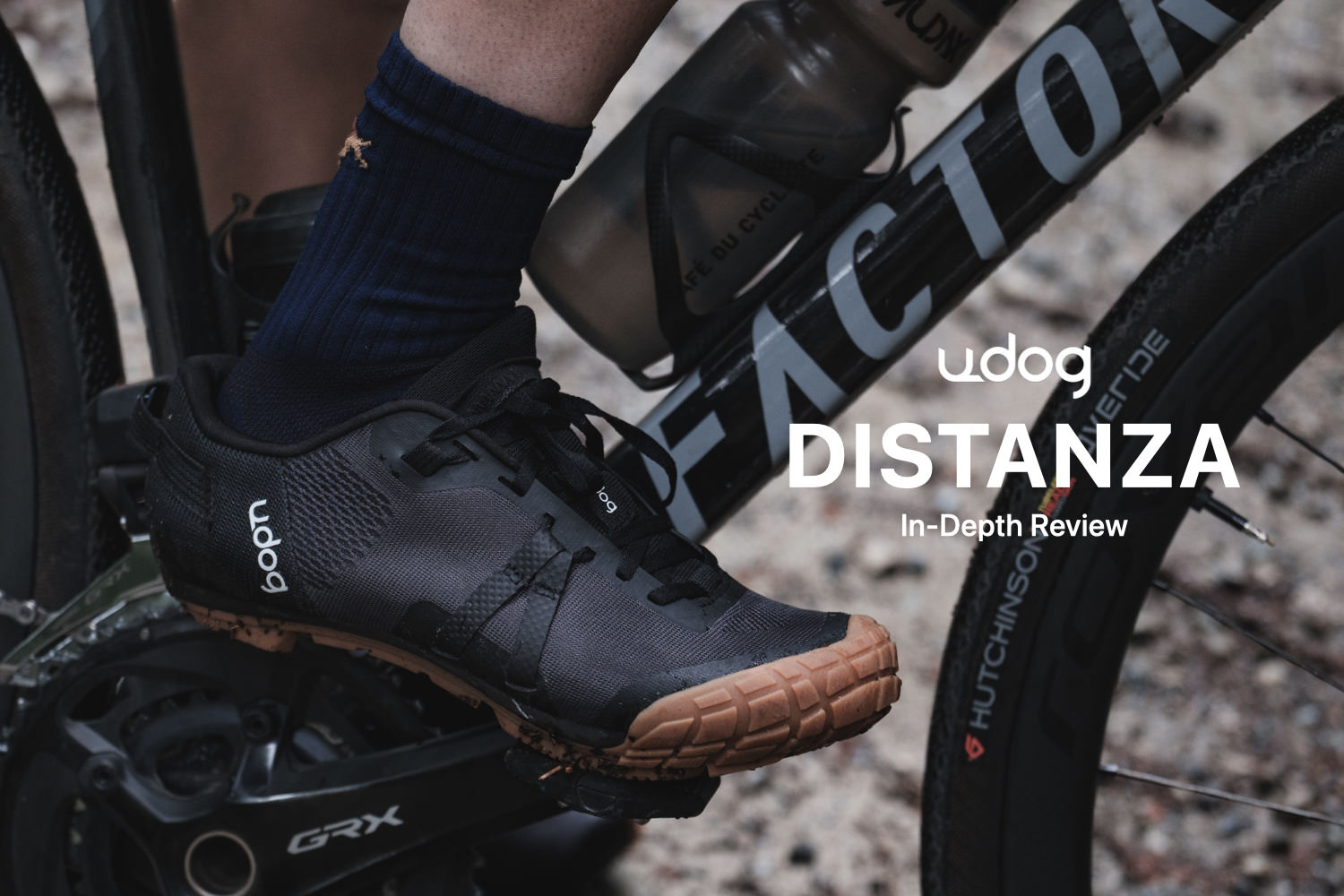 Since I reviewed the CIMA road shoes by the Italian brand "UDOG" a year ago, I have always worn CIMA for road cycling because of their comfort, but in the past six months, when I have been using gravel bikes more frequently, I have been strongly waiting for the arrival of UDOG's gravel shoes.
I was told in advance by the founder, Alberto Fonte, that the "DISTANZA" would be released in March, and I was given the opportunity to hear about and test the product.
In this review, I will describe in detail how UDOG, which has ushered in a new era in road shoes, interprets gravel and how it is incorporated into its products, and how it is finished.
Main style of reviewer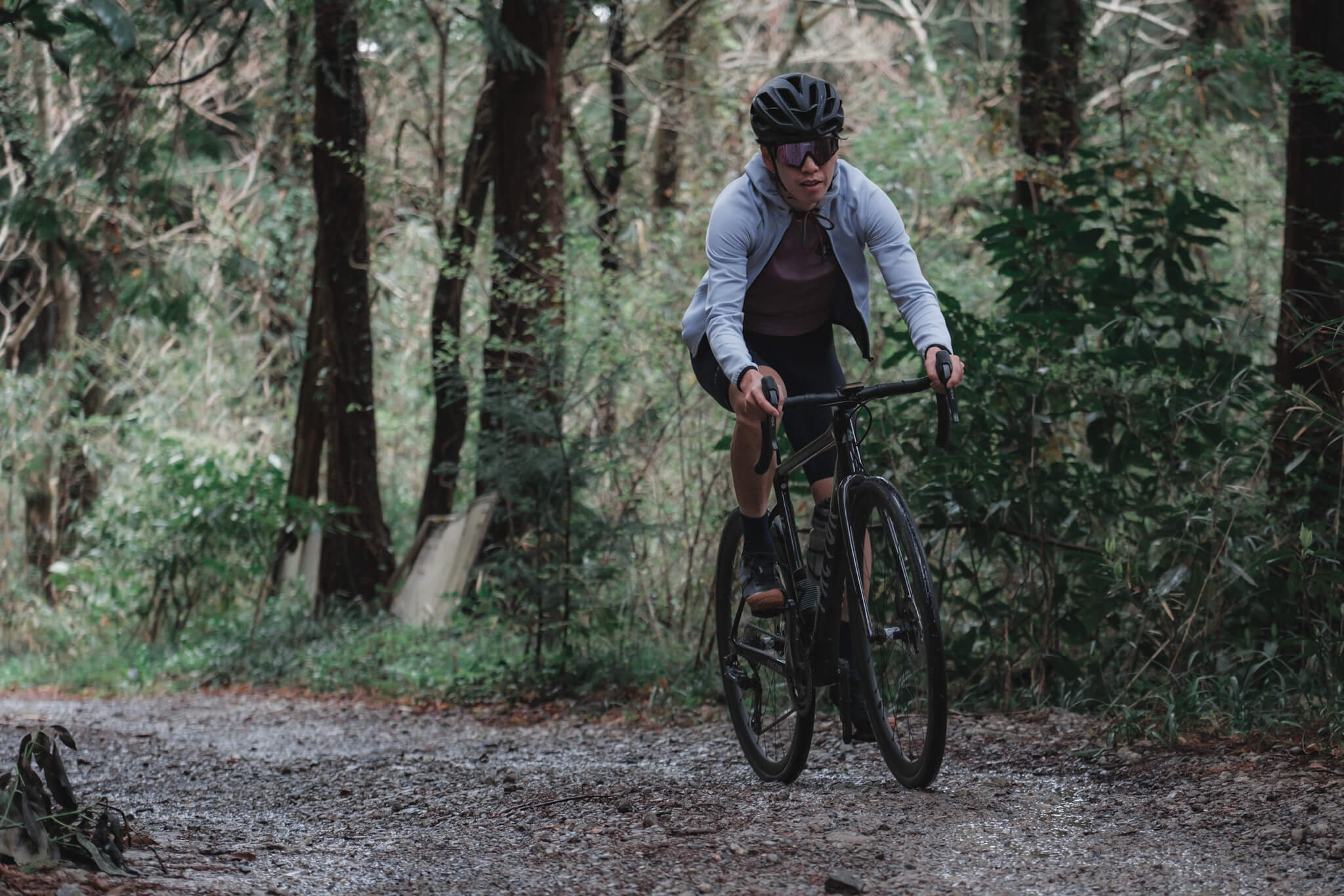 Gear
– Bike: Factor LS
– Tires: Huchinson Overide TLR 35c
– Pedals:Crankbrothers
Riding Style
– I ride a lot with road bikes, so speed is important to me.
– I do a lot of road and gravel riding with the above gears.
– Walking time is high for shooting.
review / Tats(@tats_lovecyclist)
photo / Miki, Atsushi
*The Distanza were provided by UDOG and the review is original and neutral by Love Cyclist.
1. Interpretation of gravel riding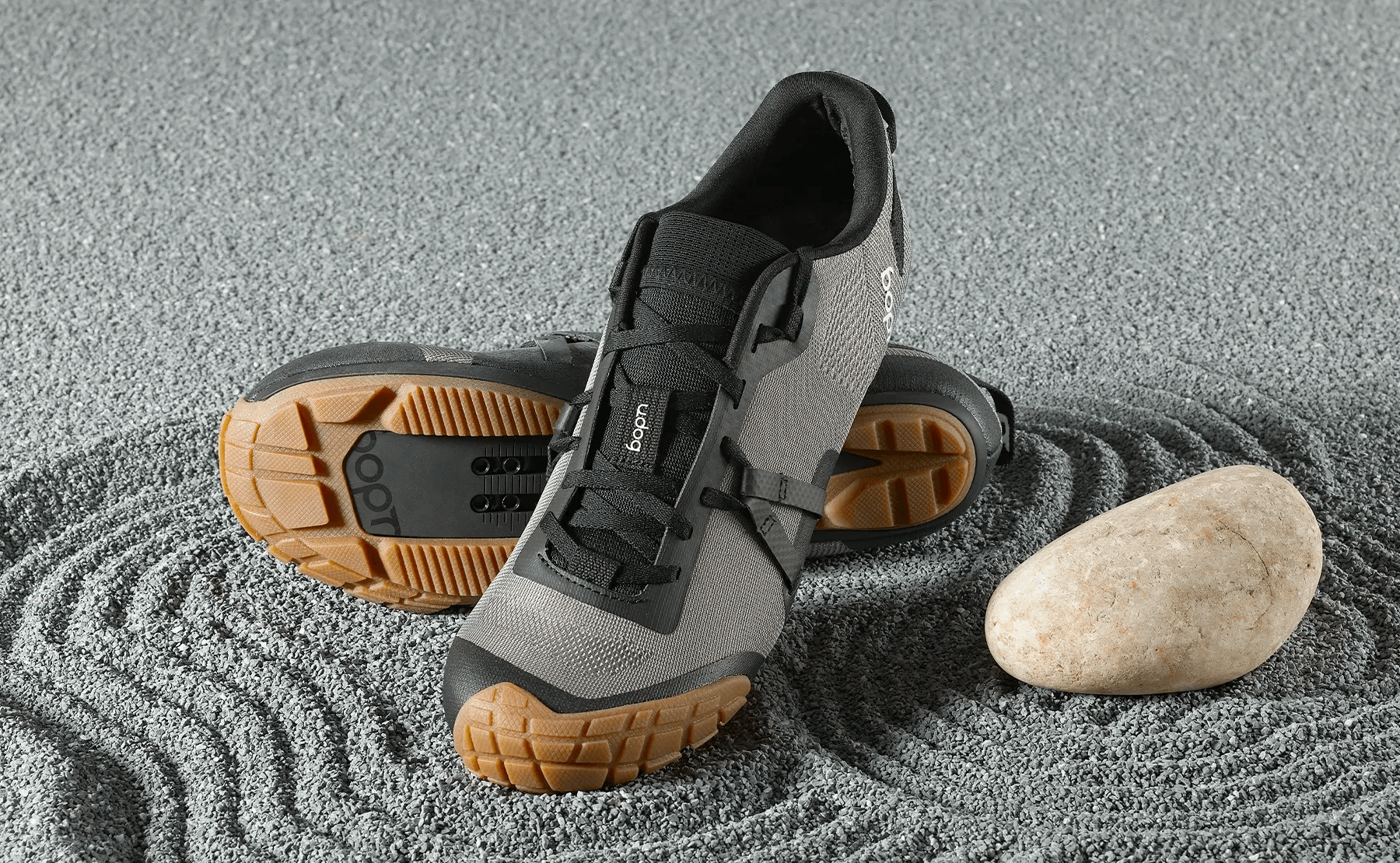 DISTANZA and Karesansui (dry landscape) ©Udog
The shoes used in the official visual for DISTANZA are placed in a "Zen garden. When asked why he used a Japanese Karesansui (dry landscape garden) as a motif, Mr. Fonte replied: 
"Gravel riding is not a competition, it is a means of balance. We believe in peace and stress-free, which is connected to the spirit of Zen."
The sense of beauty and connection to nature expressed by Karesansui is what they consider gravel riding itself.
It is, in fact, a point that many experienced gravel cyclists would agree with.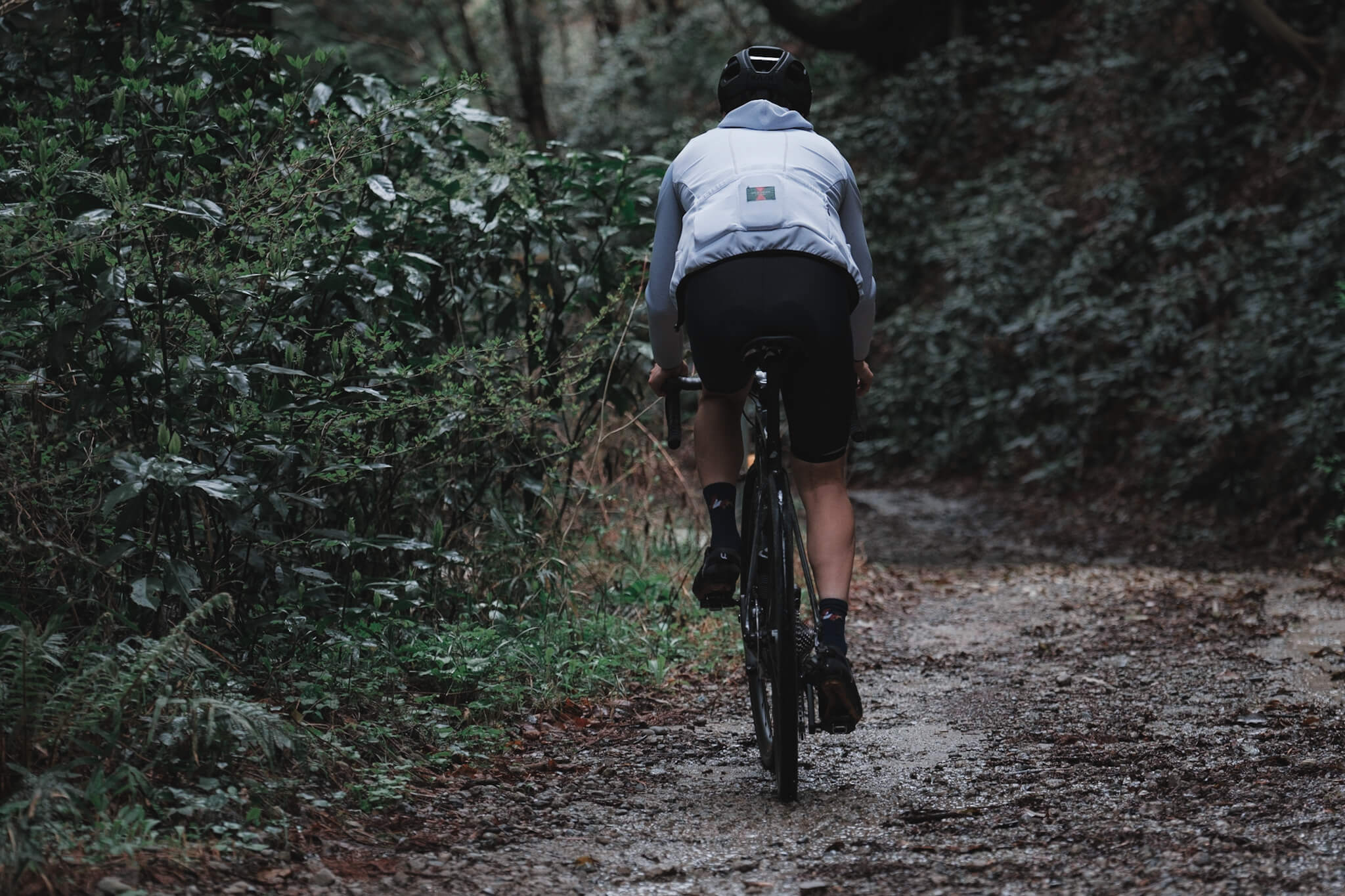 Riding on a fresh road surface with no signs of people, we feel a wild sensation that is different from road cycling – similar to mountain climbing, but rougher. There is no element of competition with anyone else or the altitude gained, but only a sense of placing yourself in a part of nature and making it work.
*
The brand name UDOG comes from the word 'underdog', which refers to a dog that has no chance of winning in competitions. DISTANZA is the result of the rebellious spirit of a brand that is thought to be "never going to win", crossed with an essential interpretation of gravel riding.
2. Aesthetics in Shoes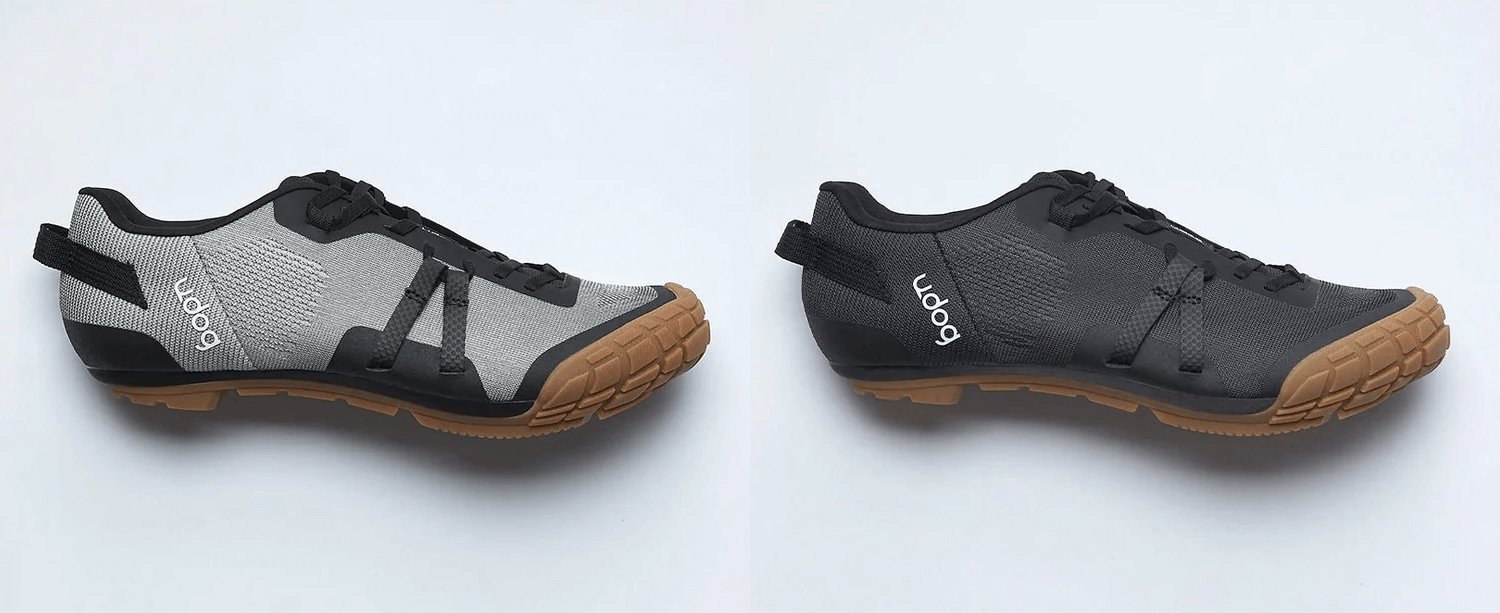 DISTANZA available in two colors, each with a different outsole material
Model

DISTANZA

DISTANZA CARBON

Color

Ash Gray

Cinder Black

Size

38-48

38-48

Outsole

Nylon carbon reinforced
Rubber outsole
Full carbon composite
Rubber outsole

Weight

330g

315g

Price

€180.00

€250.00
Having used CIMA road shoes for a year so far, what I feel is typical of UDOG is the coexistence of performance on par with the top models of other brands with an aesthetic sense that is typical of Italian shoes.
This feeling remains the same when wearing DISTANZA, with a novelty not found in existing shoes and a sense of beauty and rebelliousness packed into the details for surviving in gravel environments.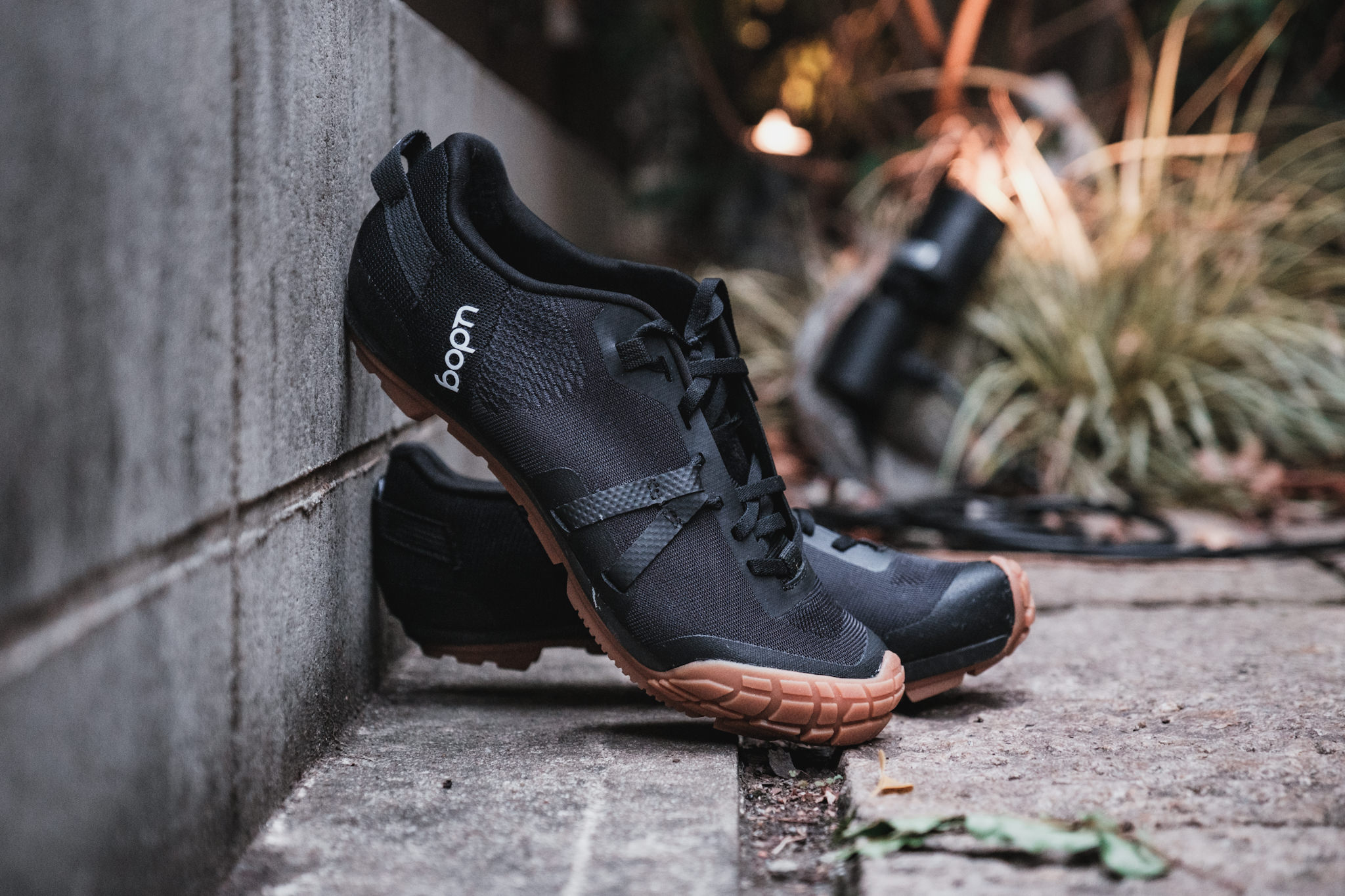 DISTANZA makes its presence felt just by its appearance
3. Dare to use lace-up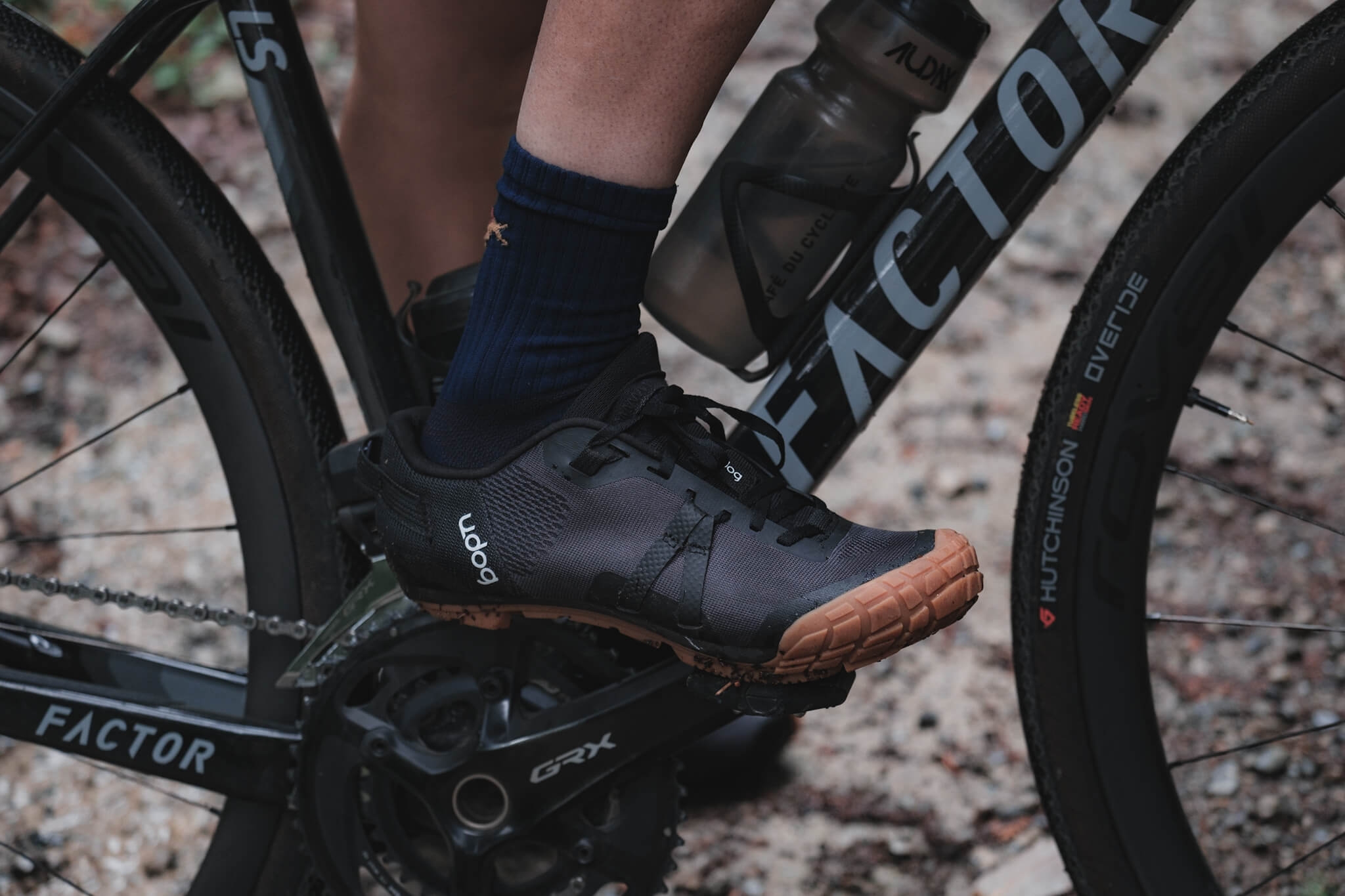 The DISTANZA uses a lace-up. UDOG adopted it because "lace-up shoes are aesthetic."
Certainly, many cyclists know that the "aesthetic" appeal of lace-up shoes is that they make you want to wear them even if they are troublesome to put on and difficult to adjust afterwards, which are negative elements.
Of course, lace-ups are not only aesthetic, but they are also lighter than dial-up shoes, distribute pressure evenly, and are easier to fit, even for high instep cyclists.
Overall, UDOG's lace-up system is so well made, so easy to fit and so difficult to loosen, that once you try UDOG shoes, you certainly won't mind not having a BOA system.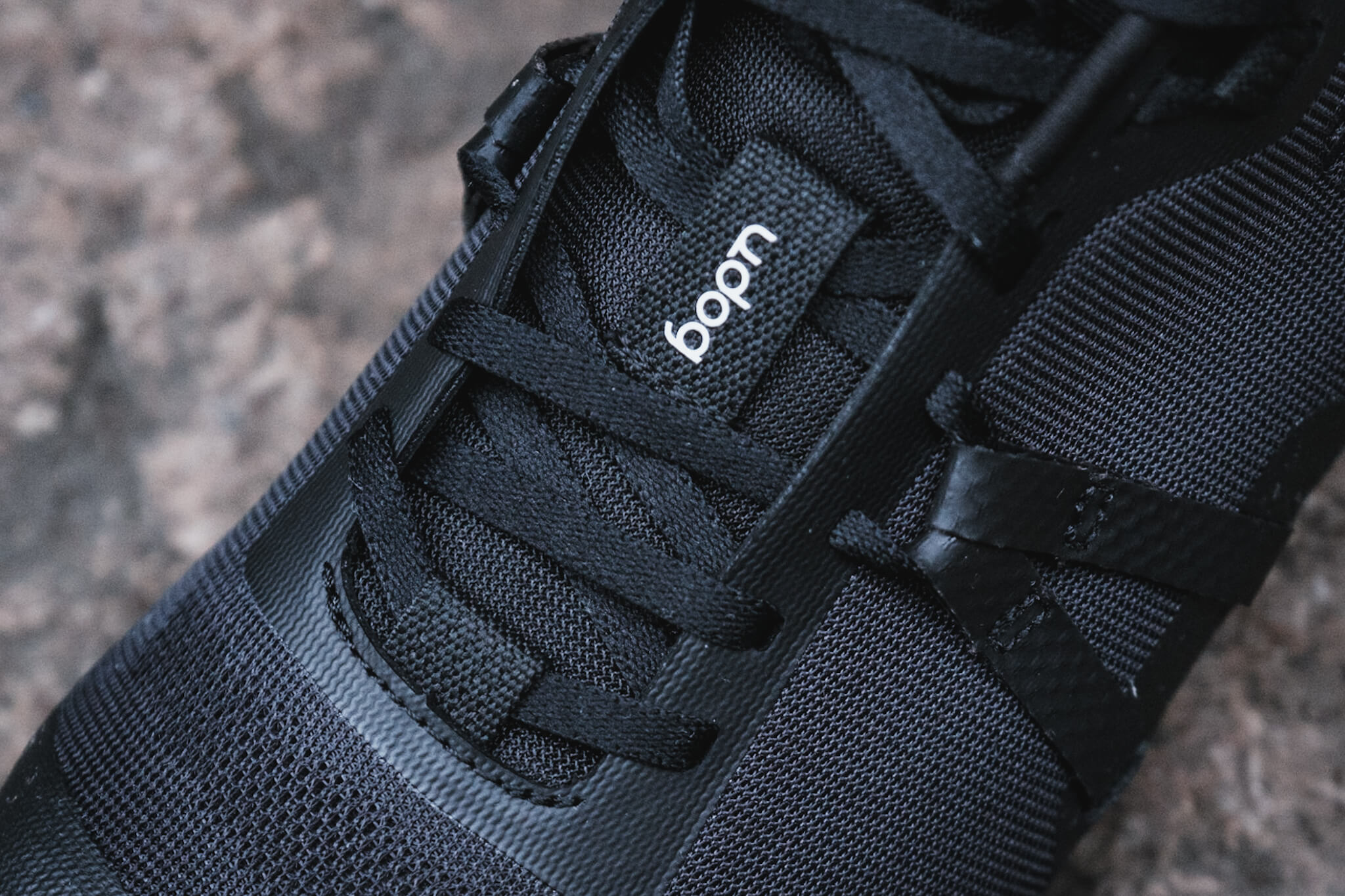 UDOG's original laces are flat and do not loosen during the ride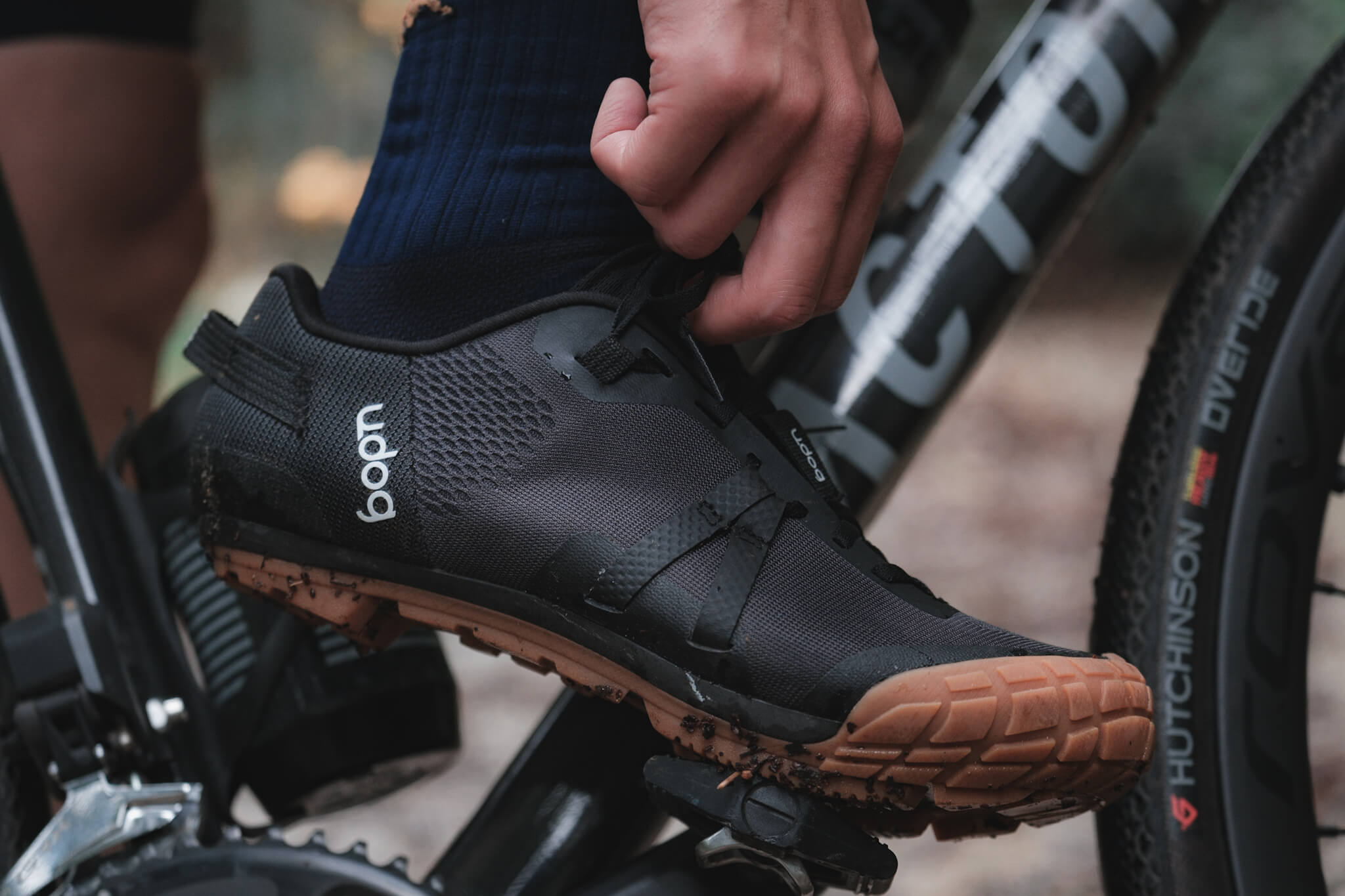 The tied portion is inconspicuously stored in the tan. This is another example of aesthetics.
4. Outsole with presence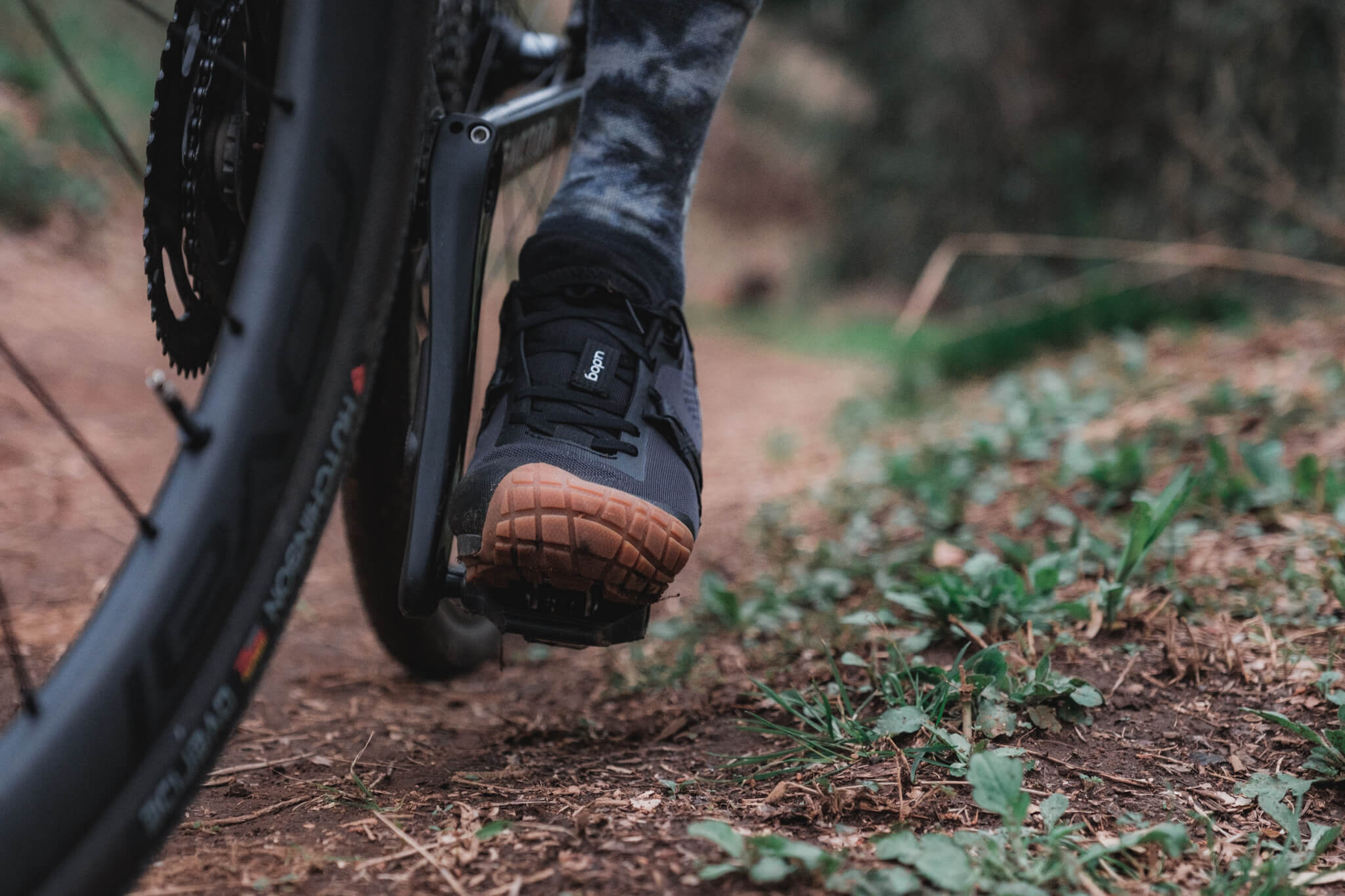 The outsole of the DISTANZA is a bold shape with a rubber sole covering the toe area on top of a carbon sole.
"The design is inspired by the mountain surfaces and rugged rocks you find on mountains," says Mr. Fonte. "We wanted the shoes to be durable and comfortable, so we took a cue from trail mountain shoes."
It doesn't look like a cycling shoe at first glance, and it has the clean look and feel of a road shoe with an added layer of ruggedness.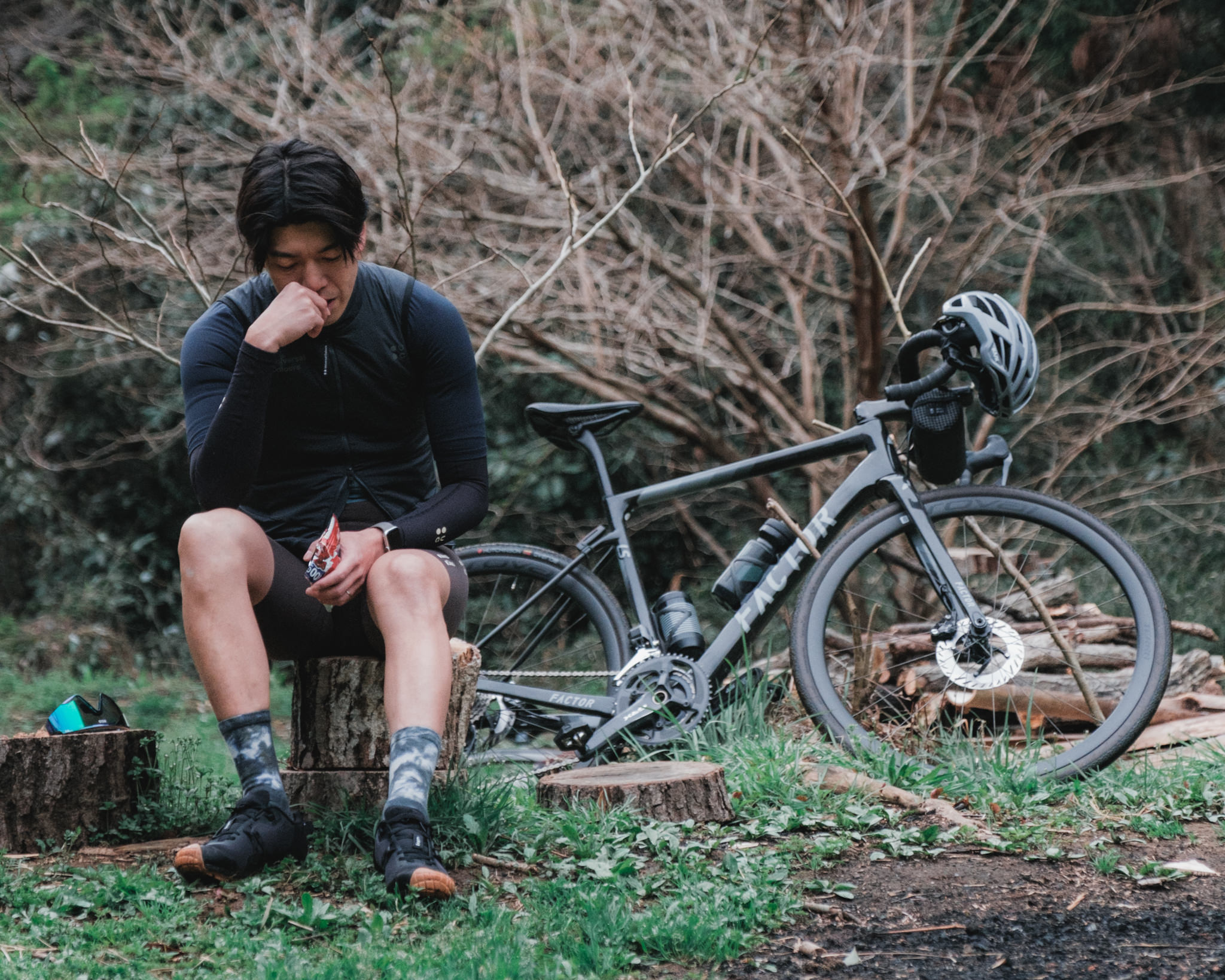 The presence of the toe is even cute.
In gravel scenes, shoe toes are especially vulnerable to pain for walking, but thanks to this shape, there is no worry about damage to the shoes. I myself often have to walk across mountain surfaces for shooting, and even then, the carbon sole is virtually undamaged, so I walk briskly without hesitation.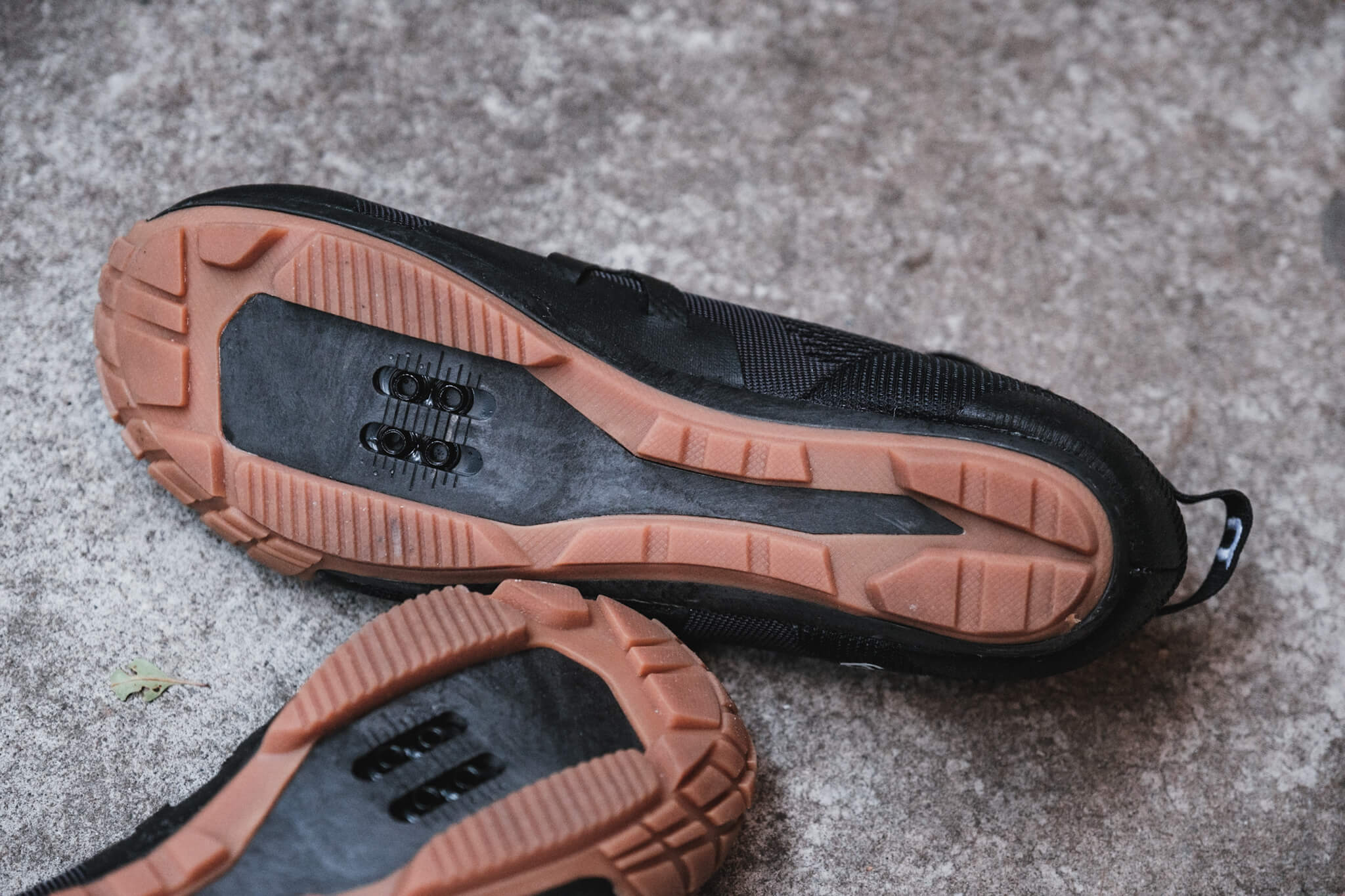 The rubber sole protects the carbon sole, so the bottom is not easily scratched (walking on rocky terrain will leave scratches).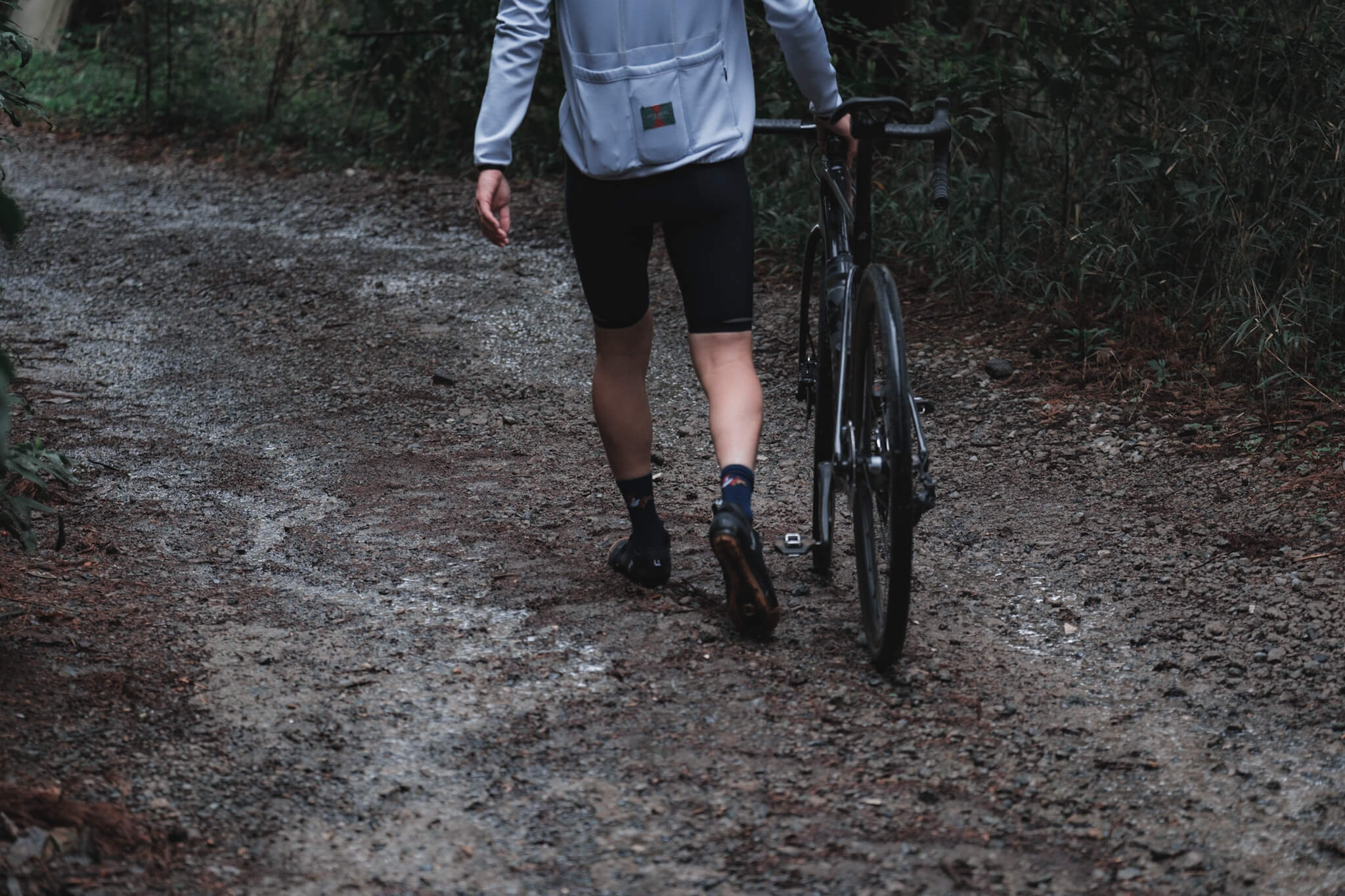 If you wear gravel shoes, keep walking.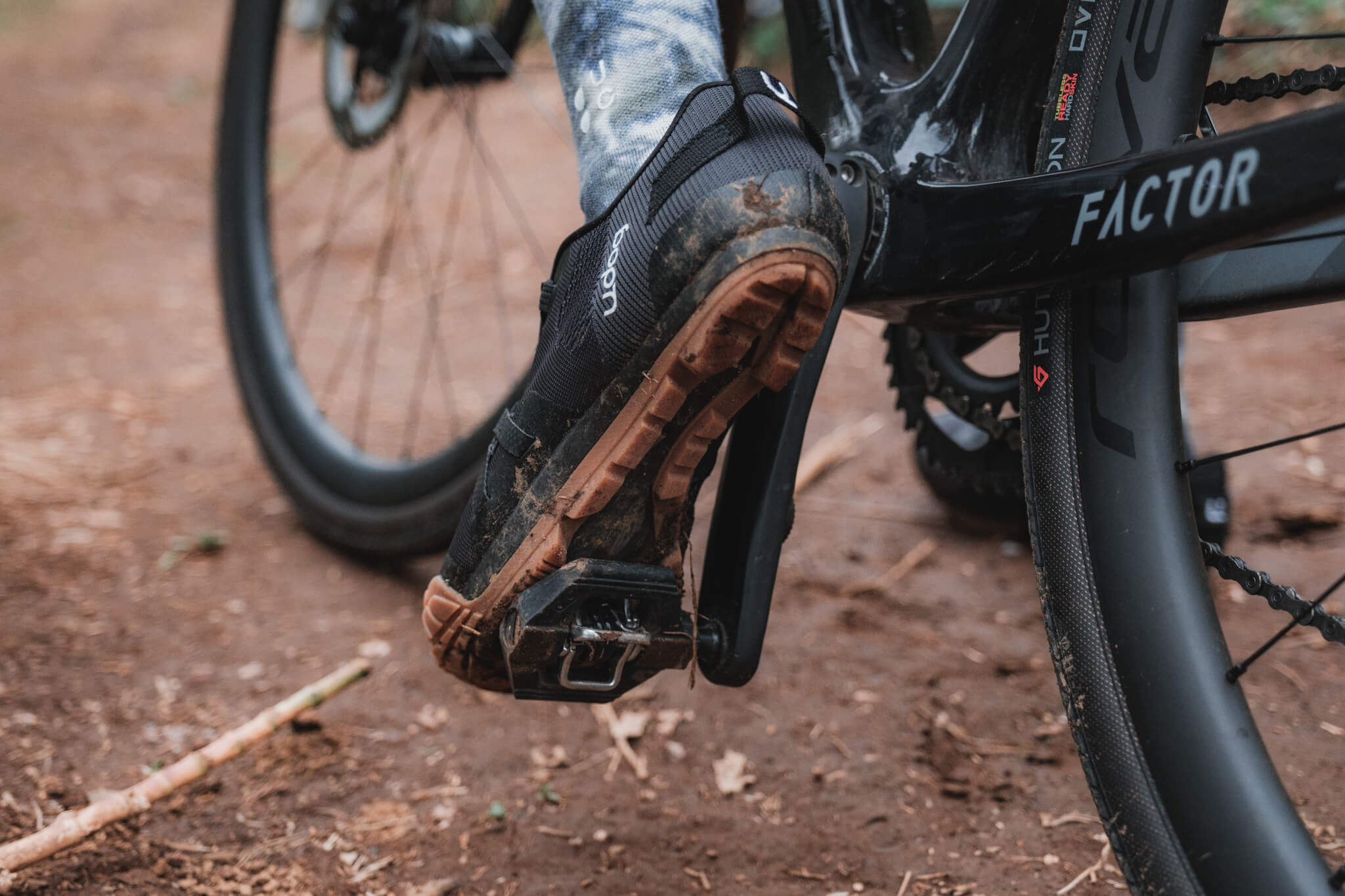 Full carbon sole is rigid enough
5. Easy-fitting upper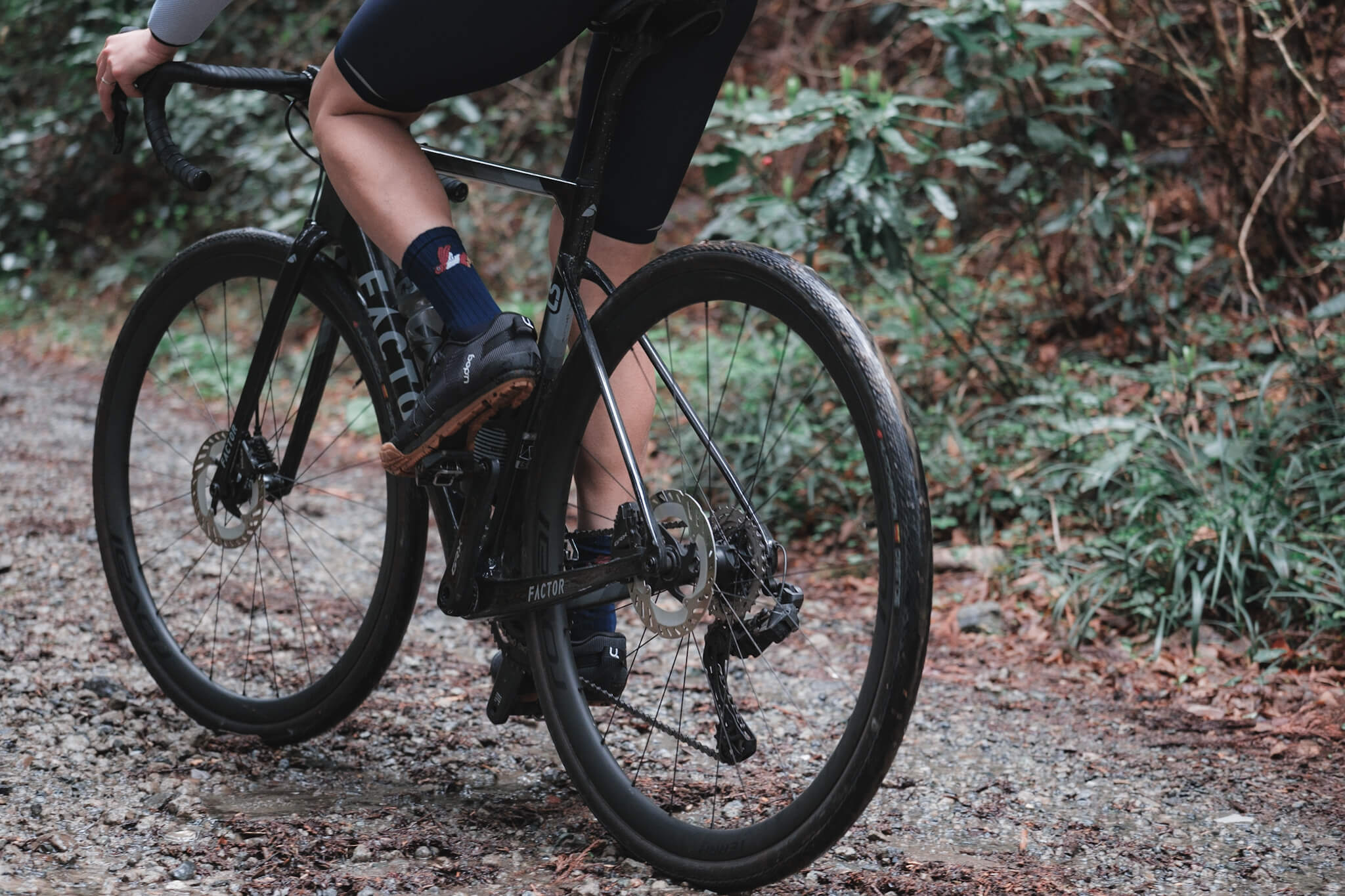 The most important factor that determines whether a shoe fits or not is the shape of the upper. If the toe is too narrow or the instep is too low, the shoe may not fit your foot shape. Italian shoes are often a problem for high instep feet, but UDOG is more in line with the American upper shape.
This is in line with the overall trend of cycling shoes, with a wide toe box and a narrow, high heel cup.
This shape and the knit upper work very well together and feel like you are wearing sneakers. Some shoes from other brands may be tight at first, but after using them, they will adjust to your feet, but DISTANZA will adjust to your feet from the beginning.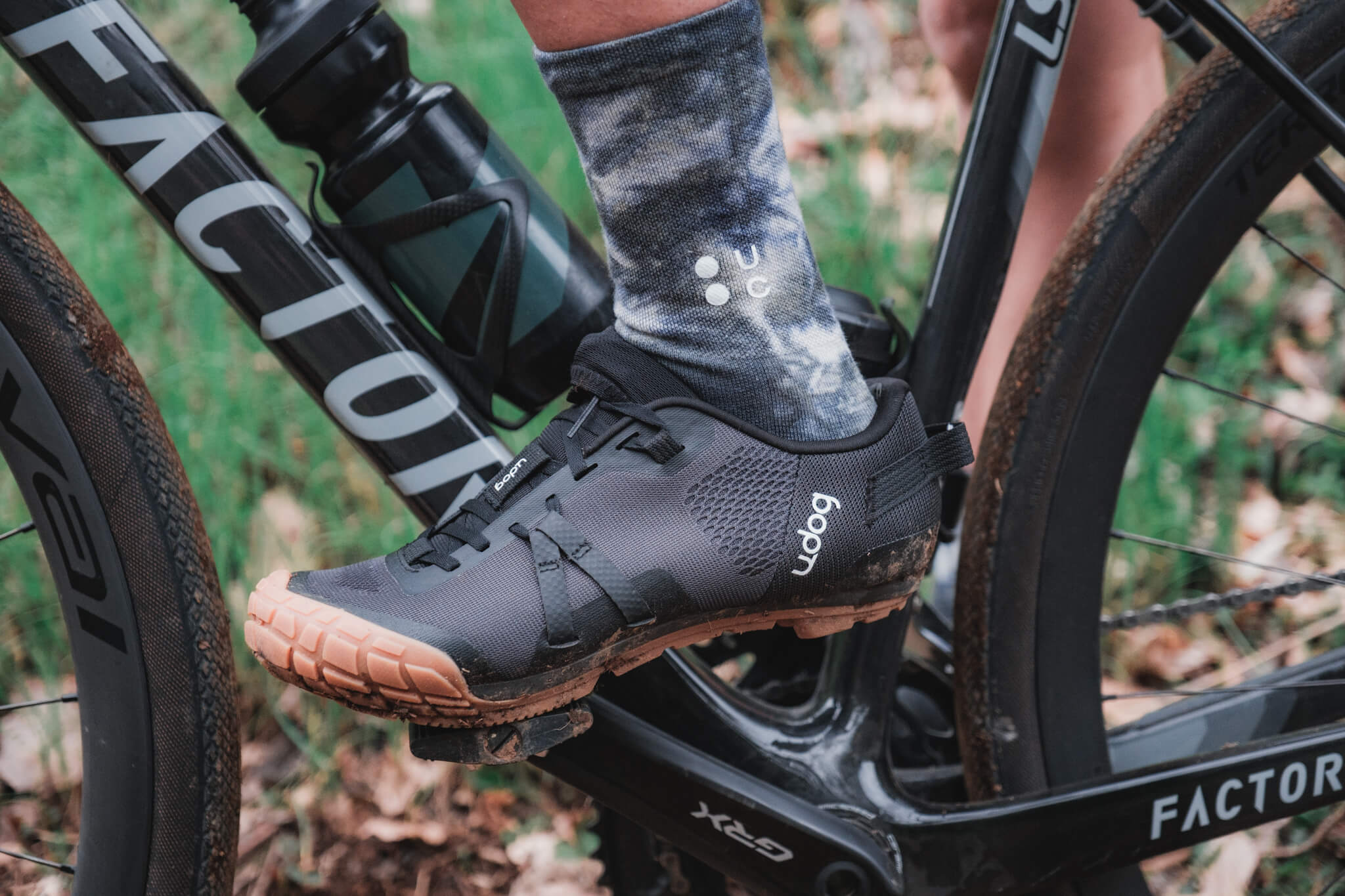 The upper, called "3D engineered mesh," has different weave patterns in different areas. The heel cup is thicker for durability and support, while other areas are flexible for fitting.
So does the flexibility of the knit upper soften even the pedaling response? No. The tension wrap system described in the next section solves that.
6. Tension wrap system is essential.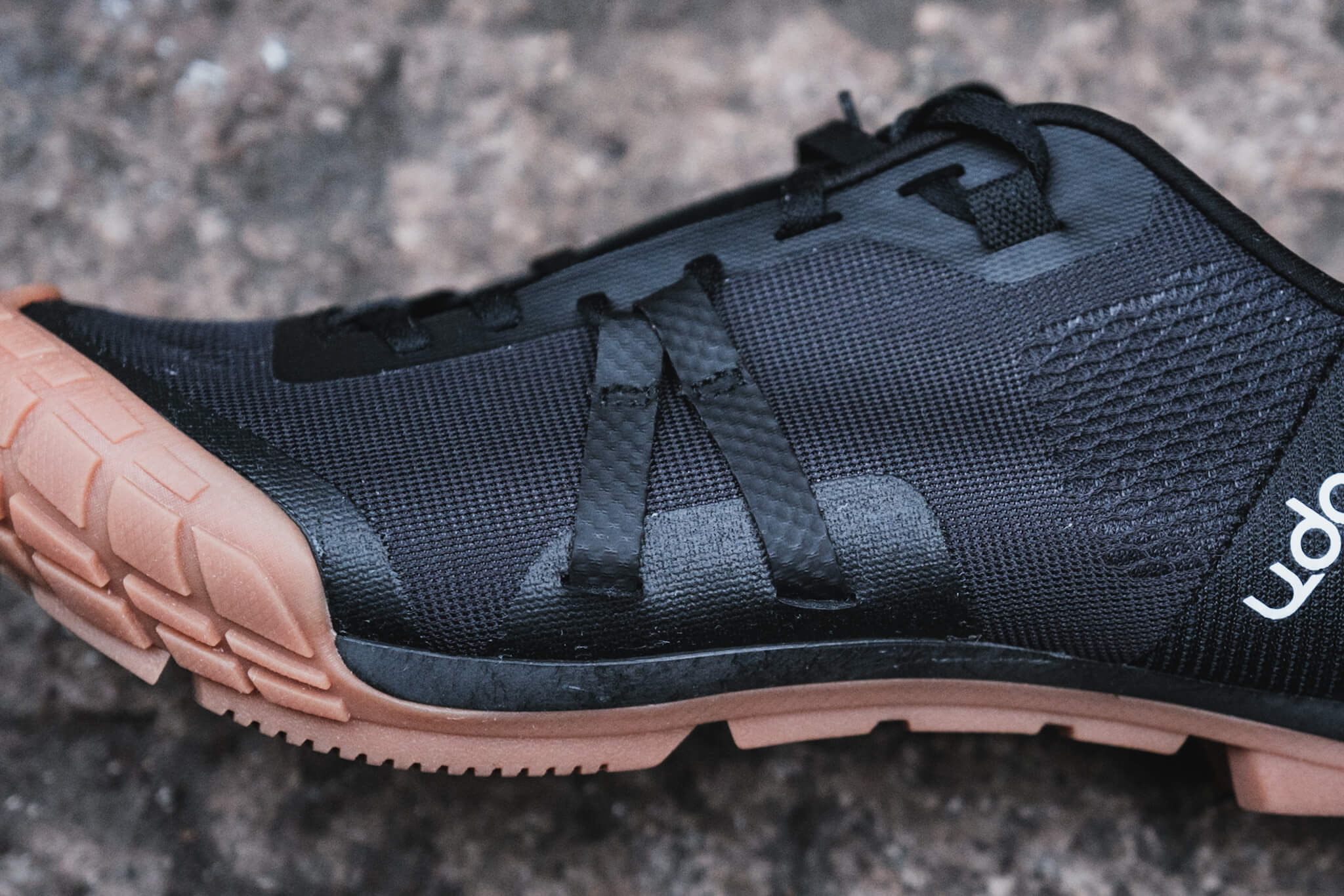 The beautifully designed tension wrap system is the identity of UDOG.
UDOG has developed a mechanism called the "Tension Wrap System (TWS)" to enhance the fixation of the soft upper.
Conventional lace-ups are designed to tighten only the instep of the foot, but the TWS is a novel design that tightens the upper so that it wraps around the entire foot by passing through a special lacing that wraps around the bottom of the shoe. It is as if the spirit of Italian craftsmanship has been fully put into this design.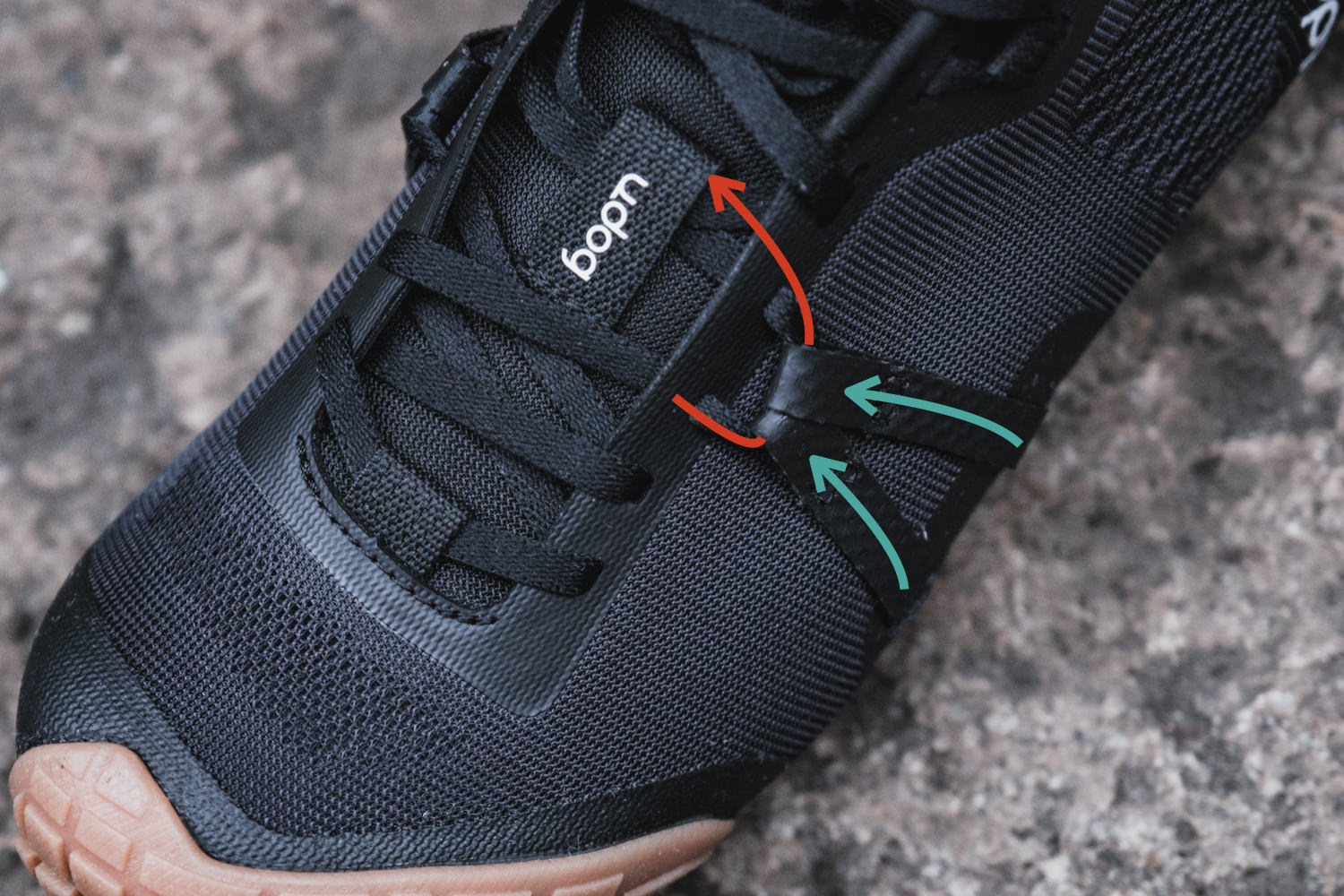 When the laces (red arrow) are tightened, the TWS (green arrow) is pulled up and the upper wraps around the foot
The softness of the upper is what makes this mechanism work, and the feeling of the shoes coming to adjust to your feet is quite comfortable. The ease of pedaling and the lack of fatigue over a long period of time would be unthinkable without TWS.
7. Size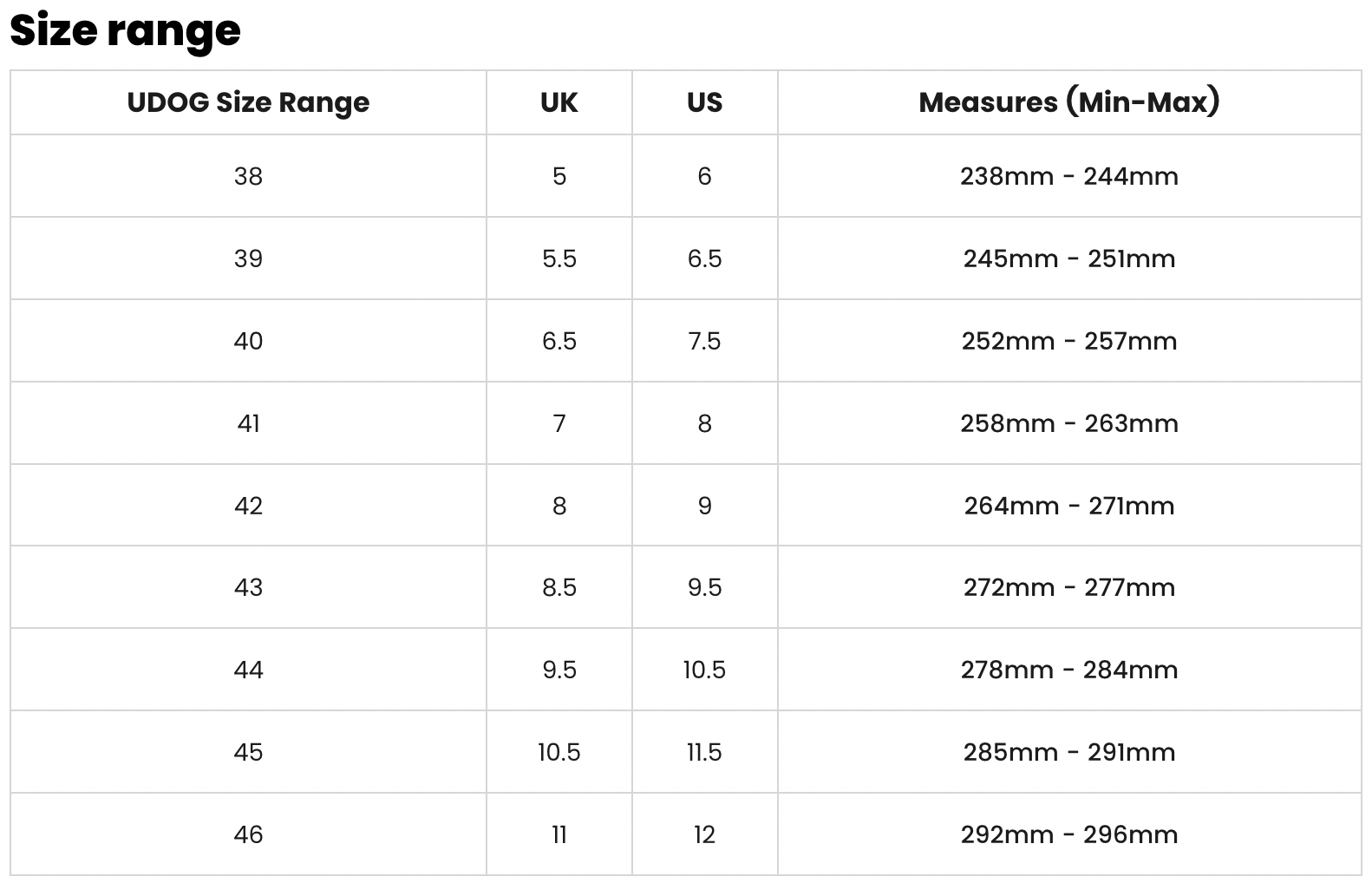 [Table 1] Size range (also shown on product page)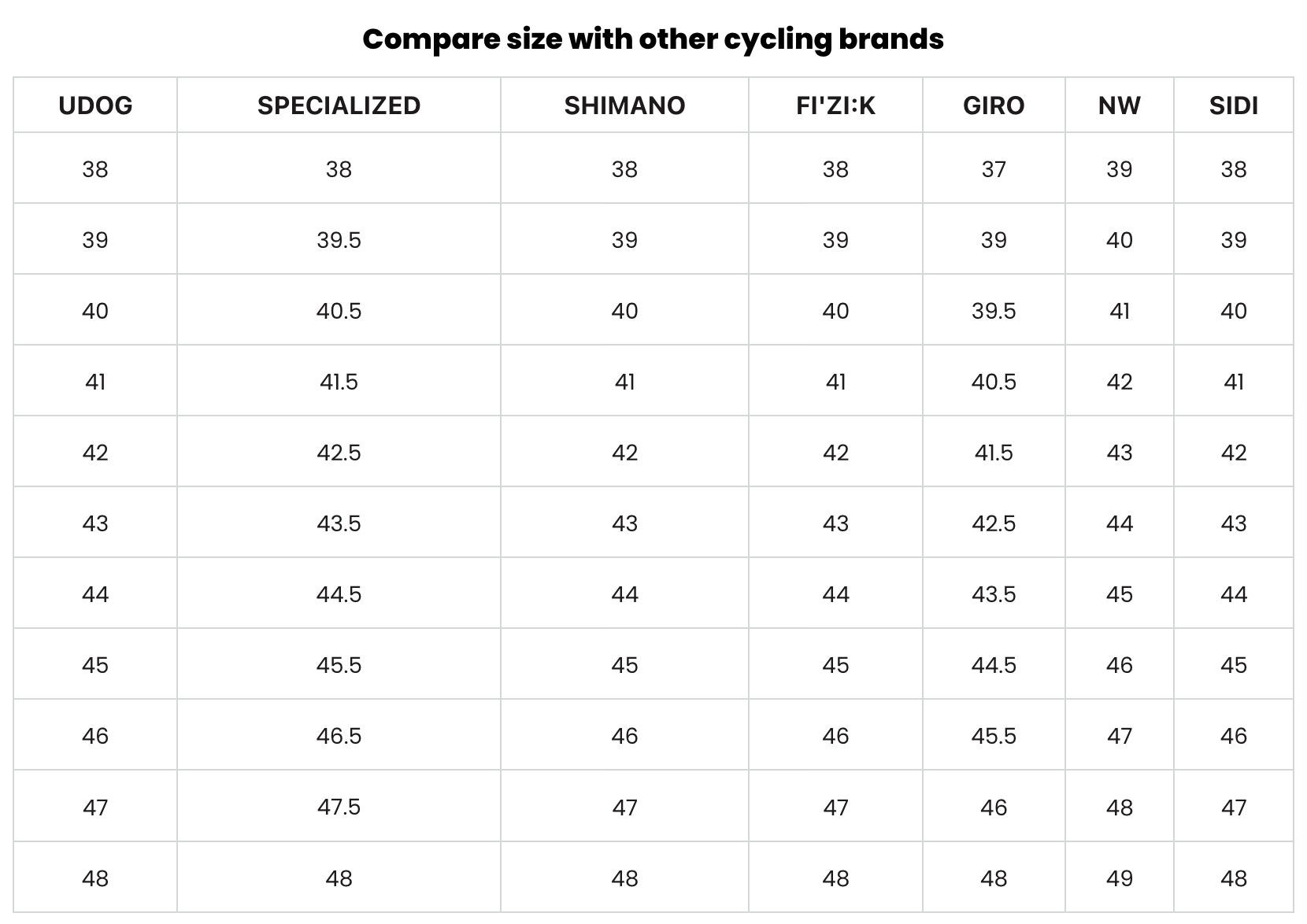 [Table 2] Size comparison of other brands
Distanza is available in 11 sizes from 38 to 48 (no half sizes). There are two ways to select your size.
(1) Measure the length of your foot with socks on and select the corresponding size from [Table 1].
*Refer to the PDF file published by UDOG for how to measure the length of your foot.
2) Select the UDOG size from [Table 2] that corresponds to the size of the brand you are currently wearing.
8. Conclusion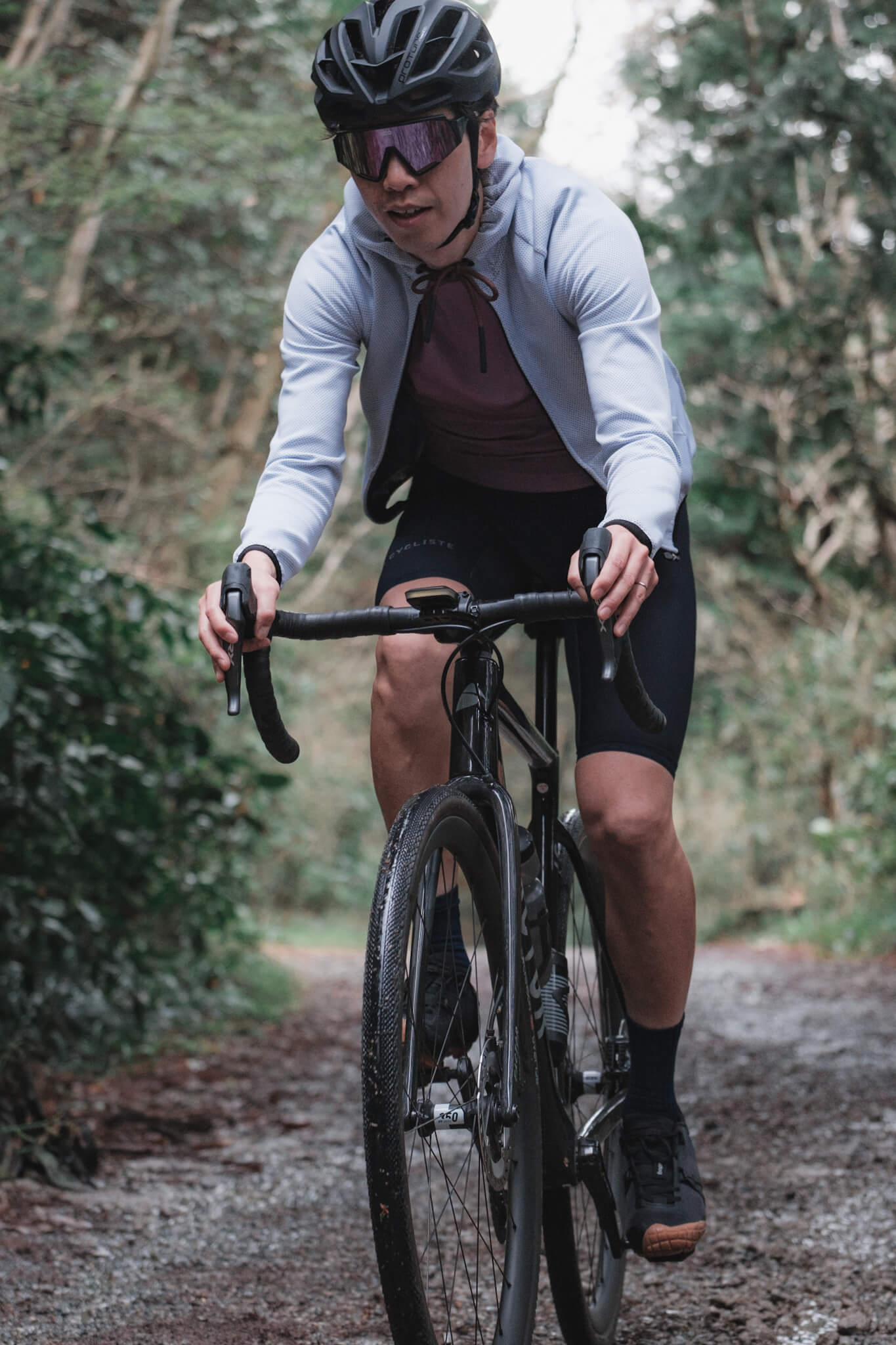 2-bolt gravel/off-road shoes are the hottest category of cycling shoes, with many brands entering the market in the past year. While each of them has characteristics that are more race-oriented, long distance-oriented, or lifestyle-oriented, DISTANZA (= "distance" in Italian), as the name suggests, is developed with comfort for long distances & long days of riding or hiking in mind.
I originally had only favorable impressions of UDOG through CIMA, but after using DISTANZA, those impressions have not changed, and I am delighted to have stepped into a new style of gravel.
The DISTANZA is relatively affordable (€180/€250) for cyclists seeking their first pair of gravel shoes, and the forward-thinking style is well worth the investment.
Summary of Reviews
Suitable for cyclists like these
– Prefer gravel rides
– Prefer riding that includes walking
– Prefer sneaker-like comfort
– Want to own new values & designs of shoes
– Want to support brands with aesthetics, ideas and ambition
Wearability when riding
– Fits like a sneaker from the start.
– Wide toe box provides room for wide feet.
– The knit material has different hardness for different parts of the foot, making it easy to fit in even with a high instep.
Wearability when walking
– Rubber sole makes it easy to walk and prevents slipping
– Toe covers increase durability.
Feeling of solidity
– Full carbon composite outsole is rigid enough
– Balanced for both high and low strength
Other
– The heel strap makes it easy to put on the shoes.
– Black shoes need to be washed each time because mud stains are easily visible.
Price
– Nylon carbon: €180
– full carbon: €250
– free shipping for purchases over €200
Author
Tats Shimizu(@tats_lovecyclist)


Editor in Chief. Having been riding sports bikes for 10 years. He likes to unravel the trends in the sport bike industry, especially road bikes, from a marketing perspective. At the same time, he has extensive friendships with cycling apparel brands from around the world and proposes various styles through the media. His main bikes are Factor O2 (road) and LS (gravel).
Related Post