The world has changed with COVID-19, and the notion that indoor cycling is a boring thing to do only during the winter months has been overturned, elevating it to one of the major sports that can be enjoyed year-round.
This is being driven by the proliferation of smart trainers and virtual ride apps.
In this article, we'll help you get started with indoor cycling with Zwift, the No. 1 virtual ride app in terms of market share, so you can learn everything you need to know about how to choose a smart trainer model, the peripheral items you need, and current trends.
Start here to Ride on! in the online world.
text / Tats (@tats_lovecyclist)
1. Let's install a smart trainer
What is Smart Trainer?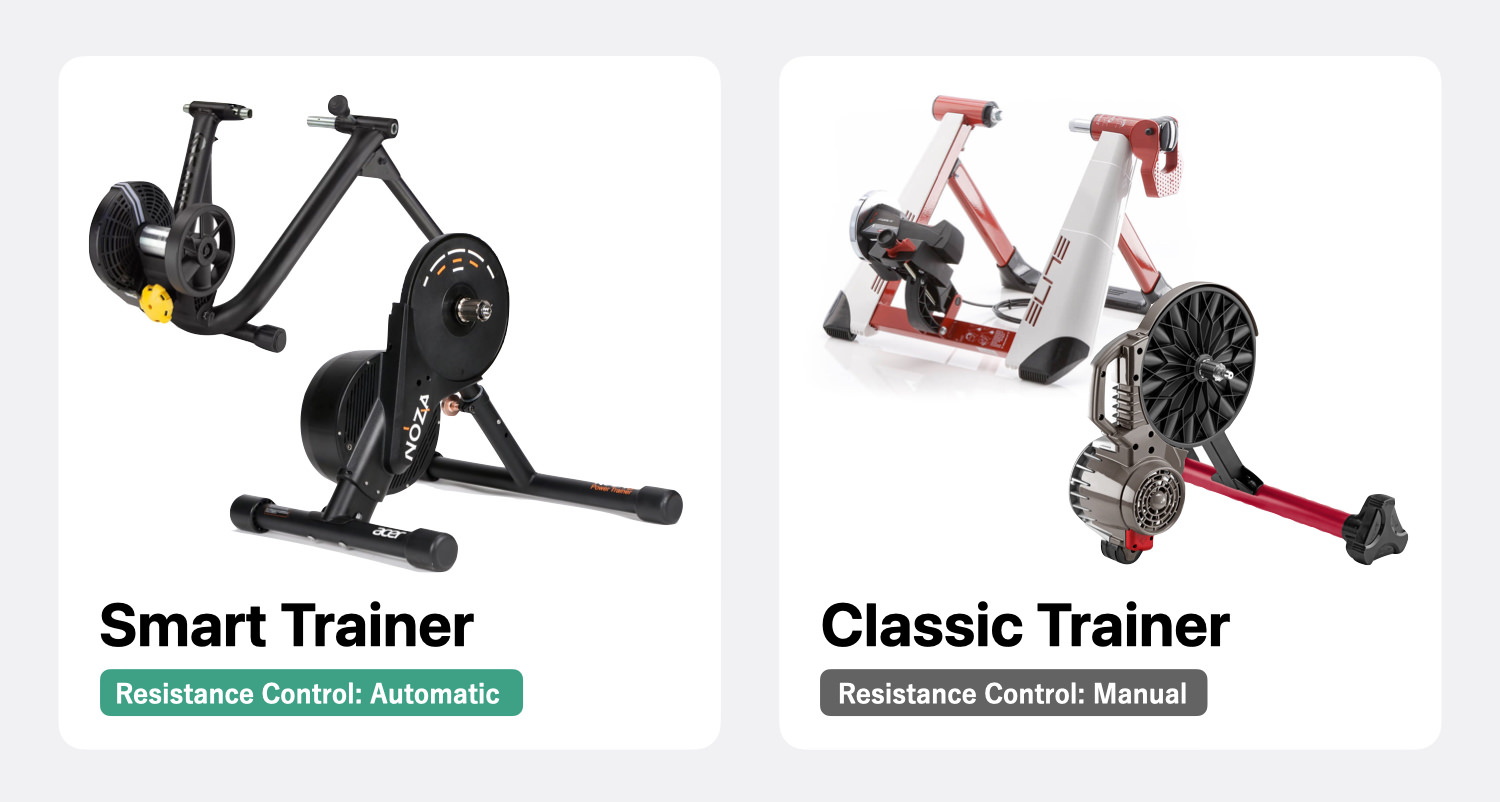 The Smart Trainer is a trainer that communicates with an app on a virtual ride to automatically adjust resistance. The advantages of automatic resistance adjustment are that the undulations on the course are reproduced, increasing the immersion of the ride, and the resistance is applied according to the training menu, allowing for more efficient training.
In contrast, the manual resistance adjustment type is now called the Classic Trainer with the advent of smart trainers.
While you can still Zwift on a classic trainer by adjusting the resistance yourself, the smart trainer is the best choice if you are looking for a more immersive and effective indoor ride with a higher training effect.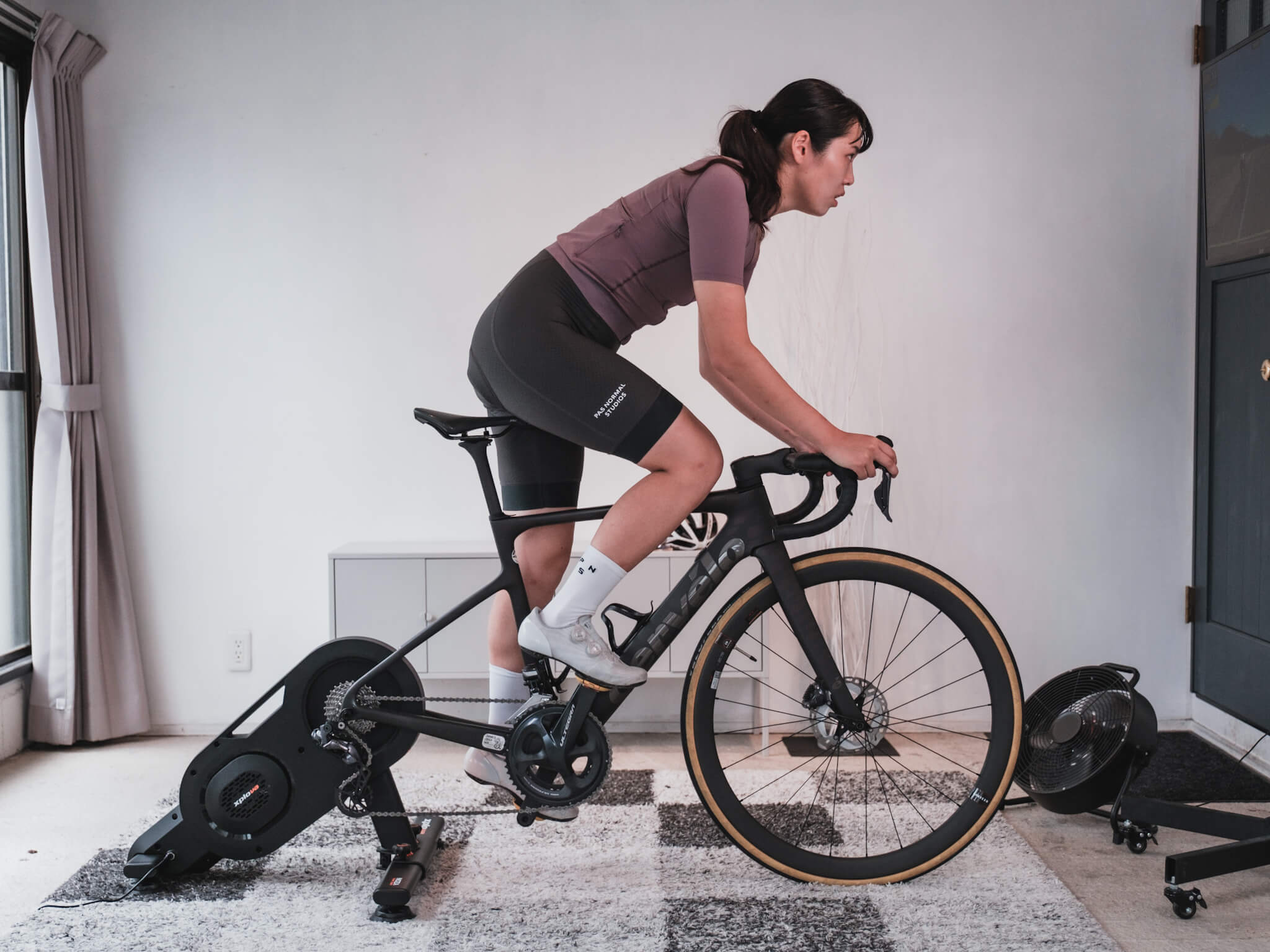 Smart trainer for immersive training
Two types of trainers + α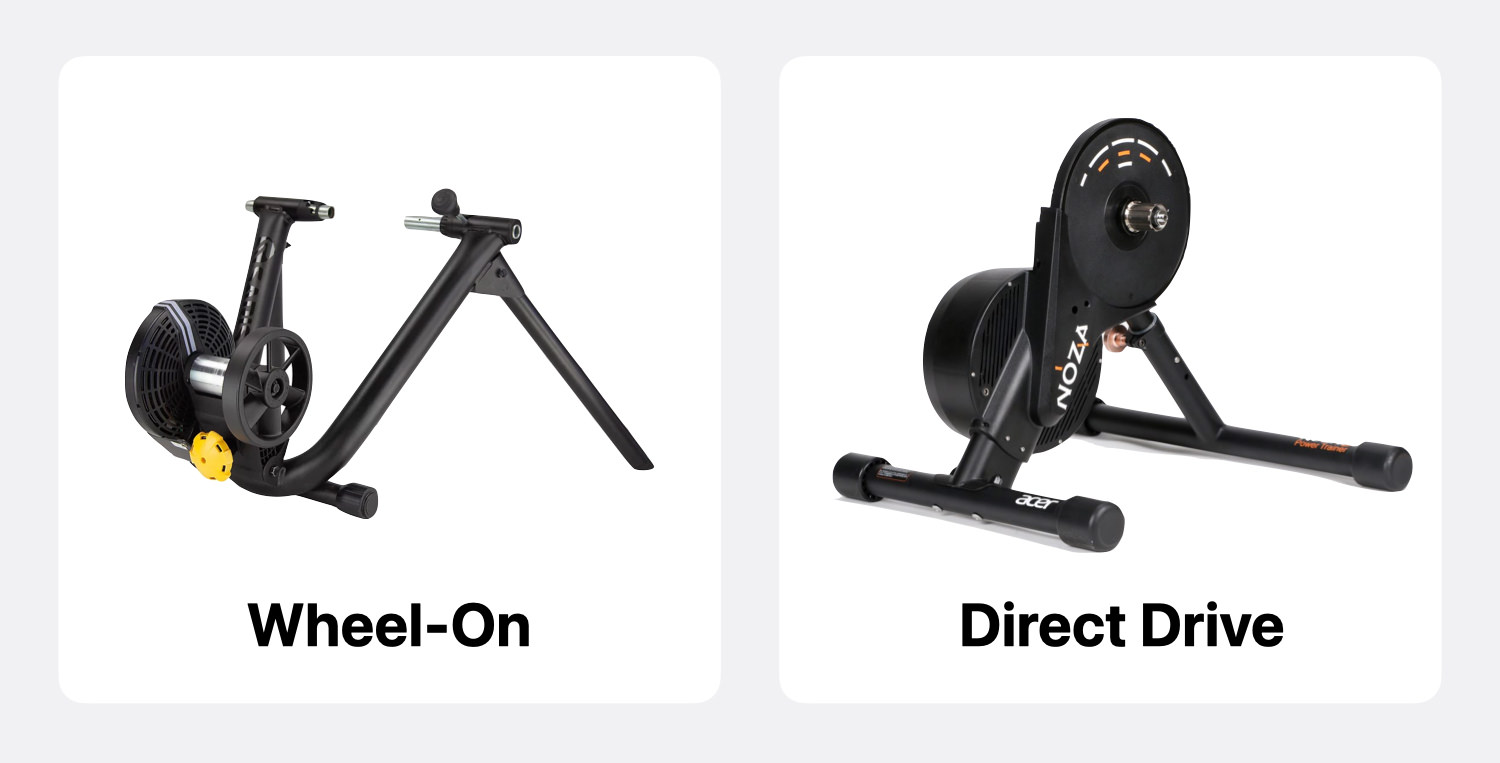 The two main types of Smart Trainers are "Wheel-on" and "Direct-drive".
(1) Wheel-on type: Fixed by a shaft on the rear wheel, and uses magnets and oil to apply resistance to the tire. This type can be installed for as low as $300, making it an ideal entry-level machine.
(2) Direct-drive type: The rear wheels are removed and set, and resistance is applied by the resistance unit.
This type is the most suitable for training-oriented virtual rides because of its quietness, high measurement accuracy, and built-in power meter. Most models are expensive, costing more than $1,000 due to their high functionality.
Each has its advantages and disadvantages, but the direct-drive type is the most popular because of its real-world driving feel and high power accuracy. In recent years, entry-grade models have been introduced one after another, lowering the barrier to introduction.
On the other hand, the tire drive type has a weak point in power accuracy, but its advantage is its low price. However, the number of models is shrinking, and the trend is clearly toward direct-drive models.

A third option is the "Smart Bike," which is a spin bike type.
The Smart Bike allow users to change saddle height, reach, setback, and crank length, and to install their own pedals, saddle, and handlebar.
The ability to optimize your position without having to go to the trouble of setting up the bike is the ideal form of virtual riding, but the price tag of $3,000 or more may give rise to other concerns.
2. Five major smart trainer brands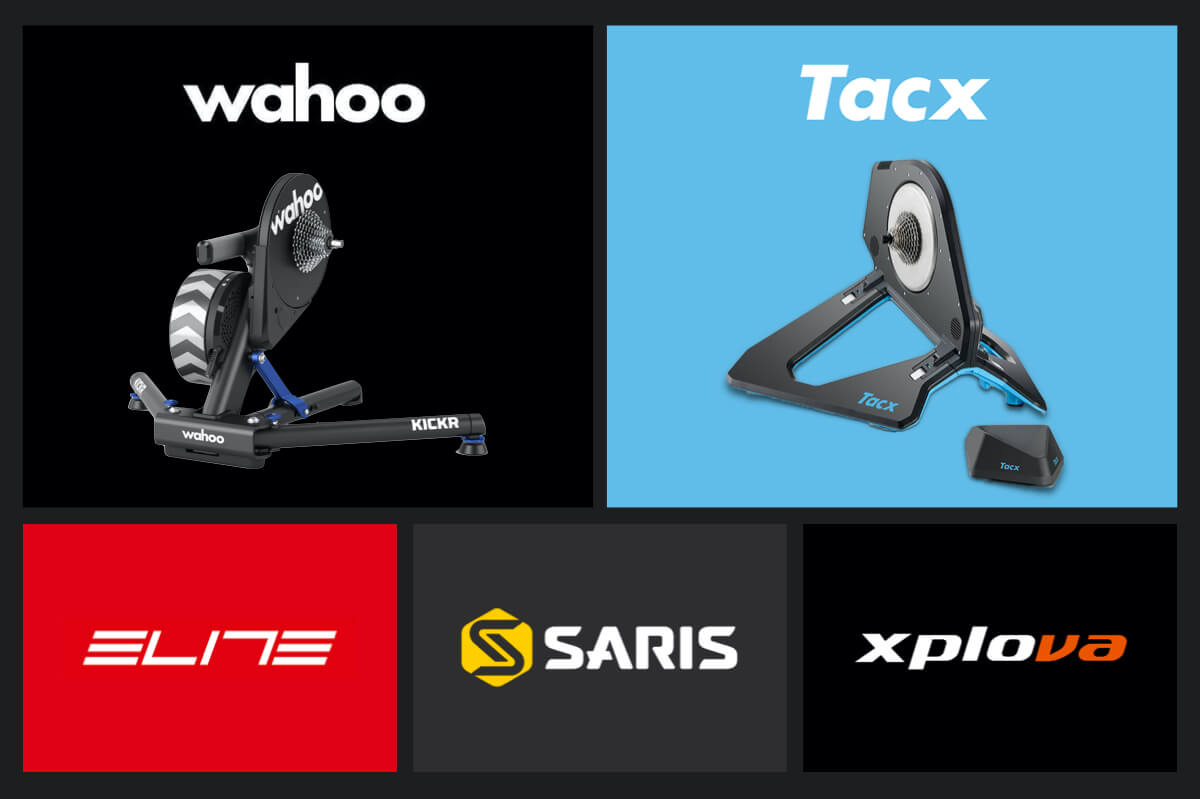 Wahoo (U.S.), Tacx (Netherlands), and Elite (Italy) have long been well-known brands of smart trainers. In recent years, Saris (U.S.) and Xplova (Taiwan) have also risen to prominence.
Here we pick up the features and popular models of each of these five brands.
Wahoo – A lineup that excels in comprehensive strength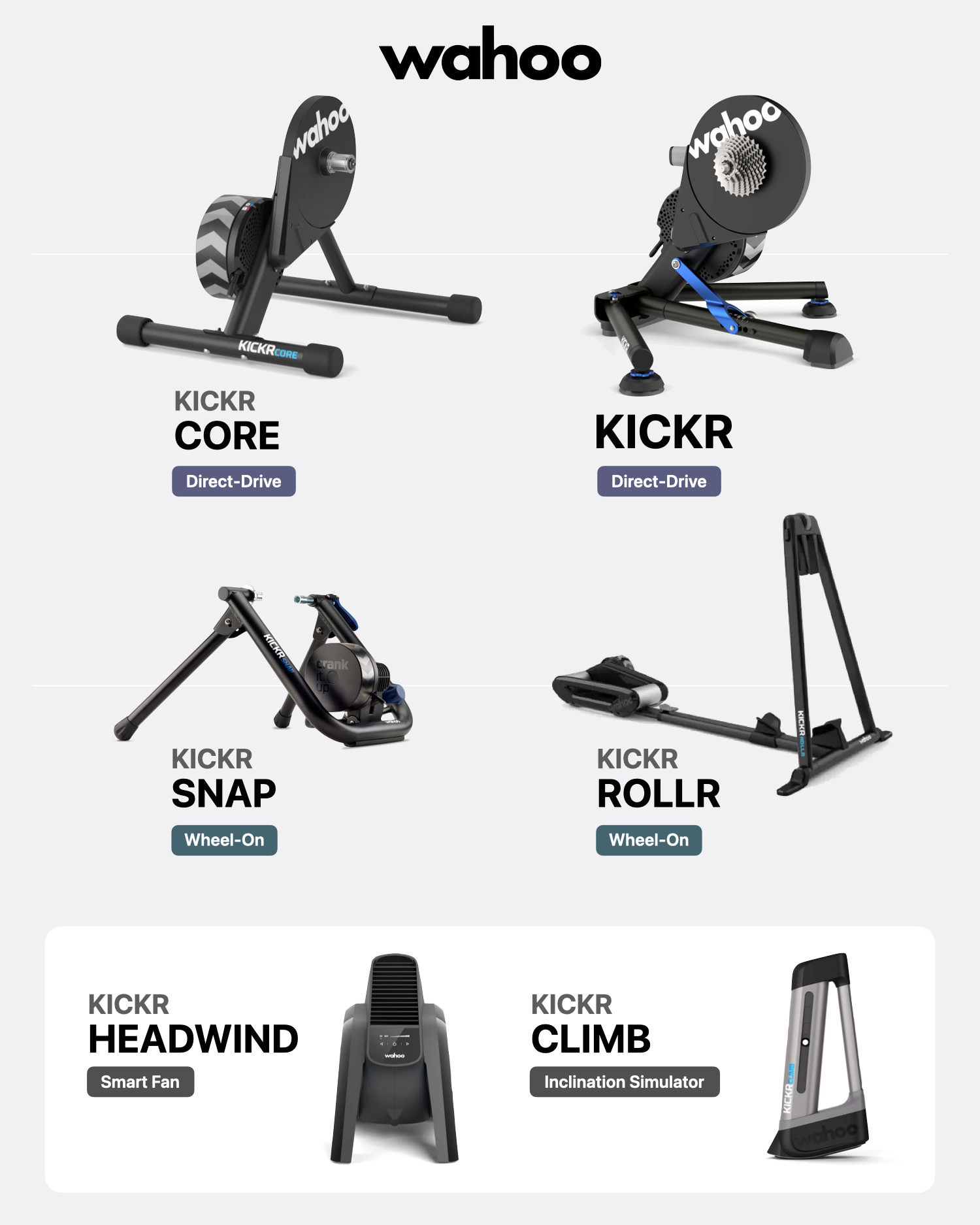 Wahoo has the most presence with a generous lineup.
The KICKR series of smart trainers includes two wheel-on and two direct-drive models.
The new KICKR ROLLR was launched in 2022. It is a great choice for cyclists who want to switch seamlessly between indoor and outdoor riding, featuring the natural comfort of a roller and the convenience of being able to set up the bike quickly. However, a power meter is required for power training.
Wahoo also has the advantage of expandability, especially the KICKR CLIMB, which reproduces gradients, and the KICKR HEADWIND option, a smart fan that reproduces wind.
When used together, the KICKR CLIMB becomes a smart trainer that can faithfully reproduce slopes of +20% ascent and -10% descent, enabling training that is even closer to actual running.
Together with the high airflow KICKR HEADWIND, this is the perfect manufacturer for cyclists who want to update their indoor environment.
Tacx – Highest measurement accuracy and quietness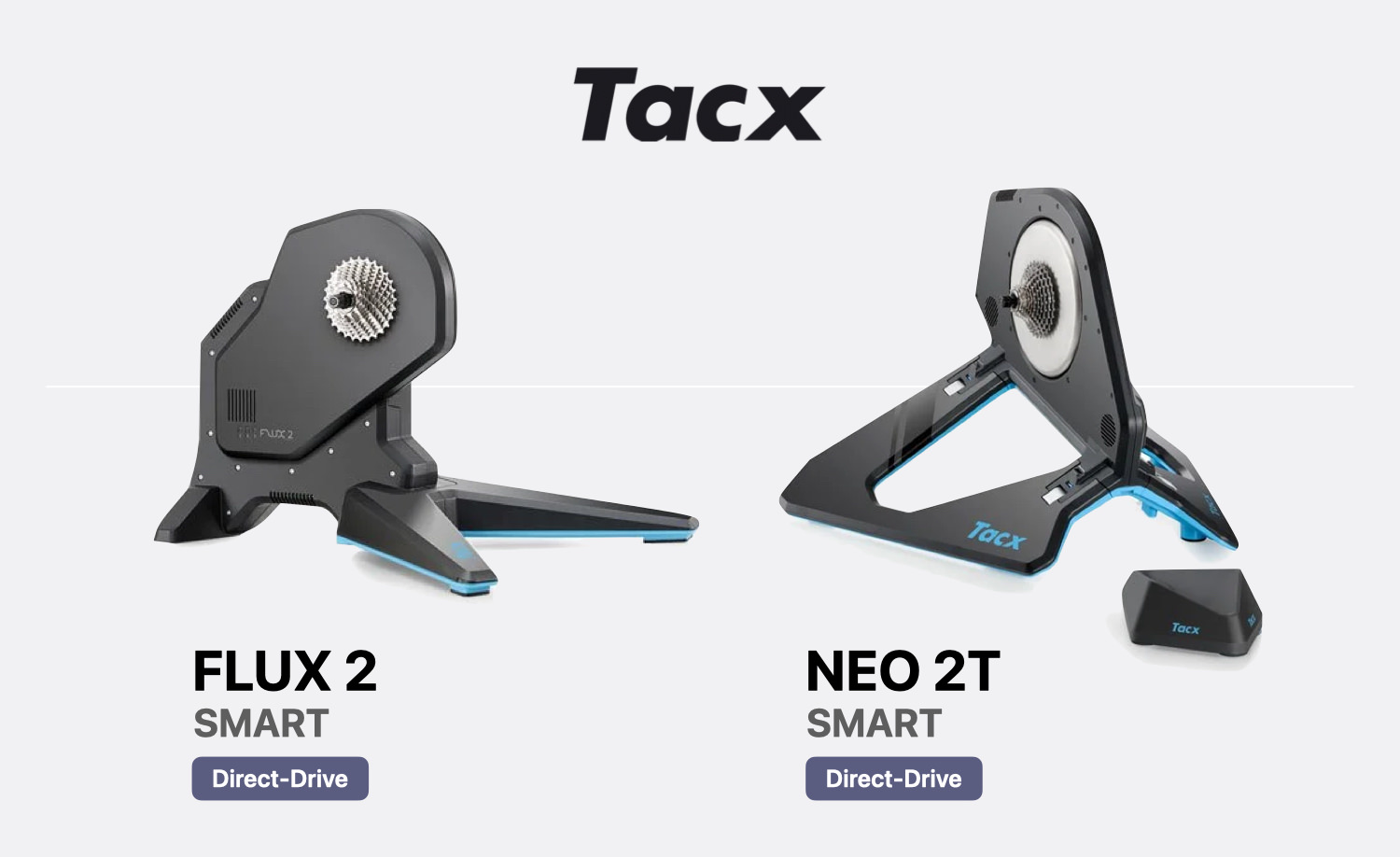 Tacx, a Garmin subsidiary since 2019, is a Dutch manufacturer that developed the world's first trainers that can connect to a PC.
The direct-drive "NEO" series is equipped with a computer-controlled virtual flywheel, and its measurement accuracy is tops among all smart trainers. The quietness and low vibration of the trainers also make them highly popular among cyclists who care about their living environment.
Xplova – Excellent cost performance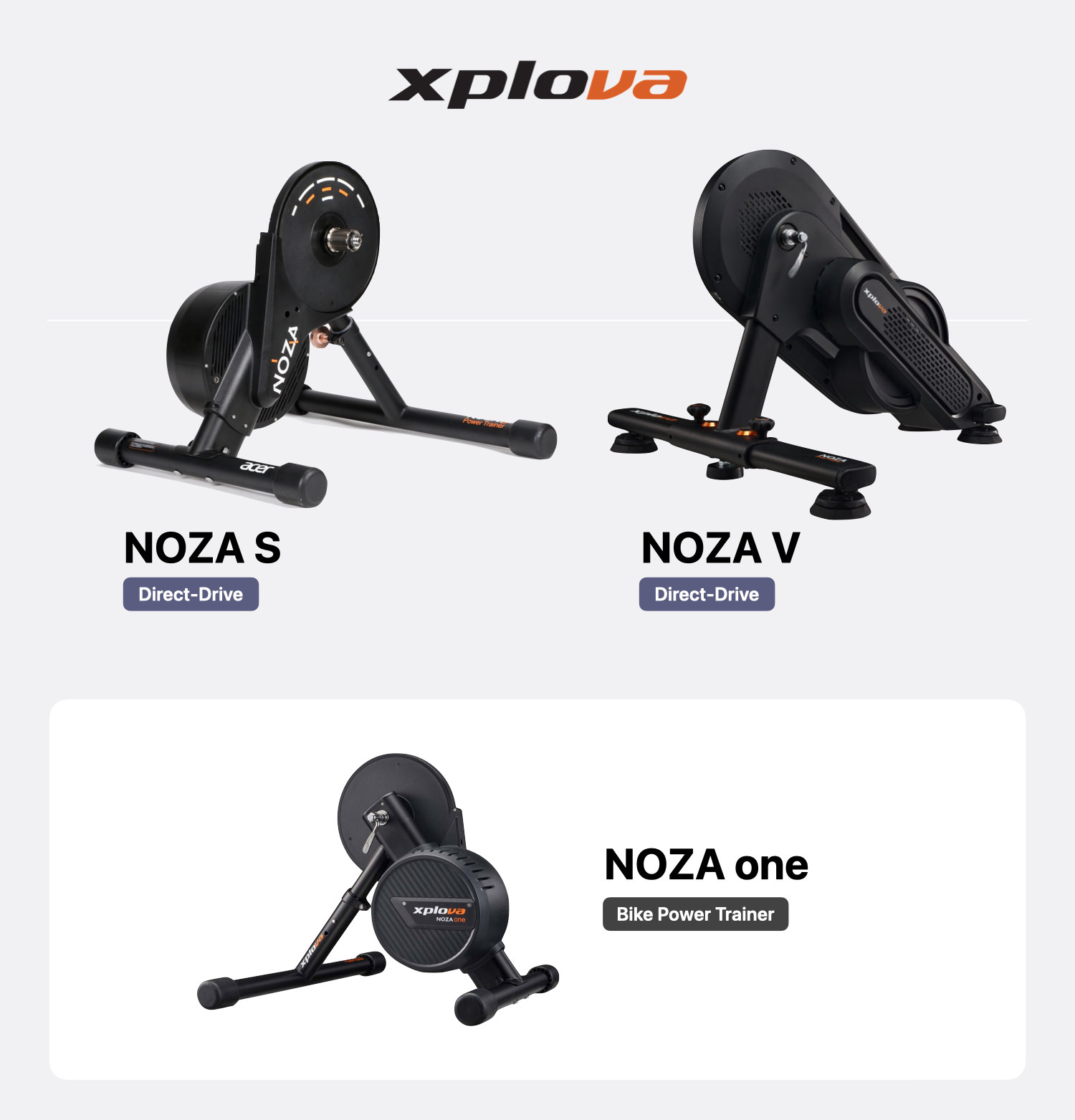 Xplova is a Taiwanese brand with 100% Acer capital.
Its basic model NOZA S is a product that greatly lowers the threshold for smart trainers with its high performance and $800 price tag.
The NOZA V, released in 2022, has been upgraded in terms of measurement accuracy, actual running feel, and portability, and has performance comparable to high-end models from other manufacturers.
The NOZA one, a direct-drive trainer without automatic load adjustment, was also launched in 2021. The NOZA one is a model that responds to users who say "smart trainers are too expensive" and "automatic resistance adjustment is sufficient without it. It is an exquisite unit that fits the indoor style of fitness while watching Netflix or a quick ride during work.
Elite – Superior in storage and design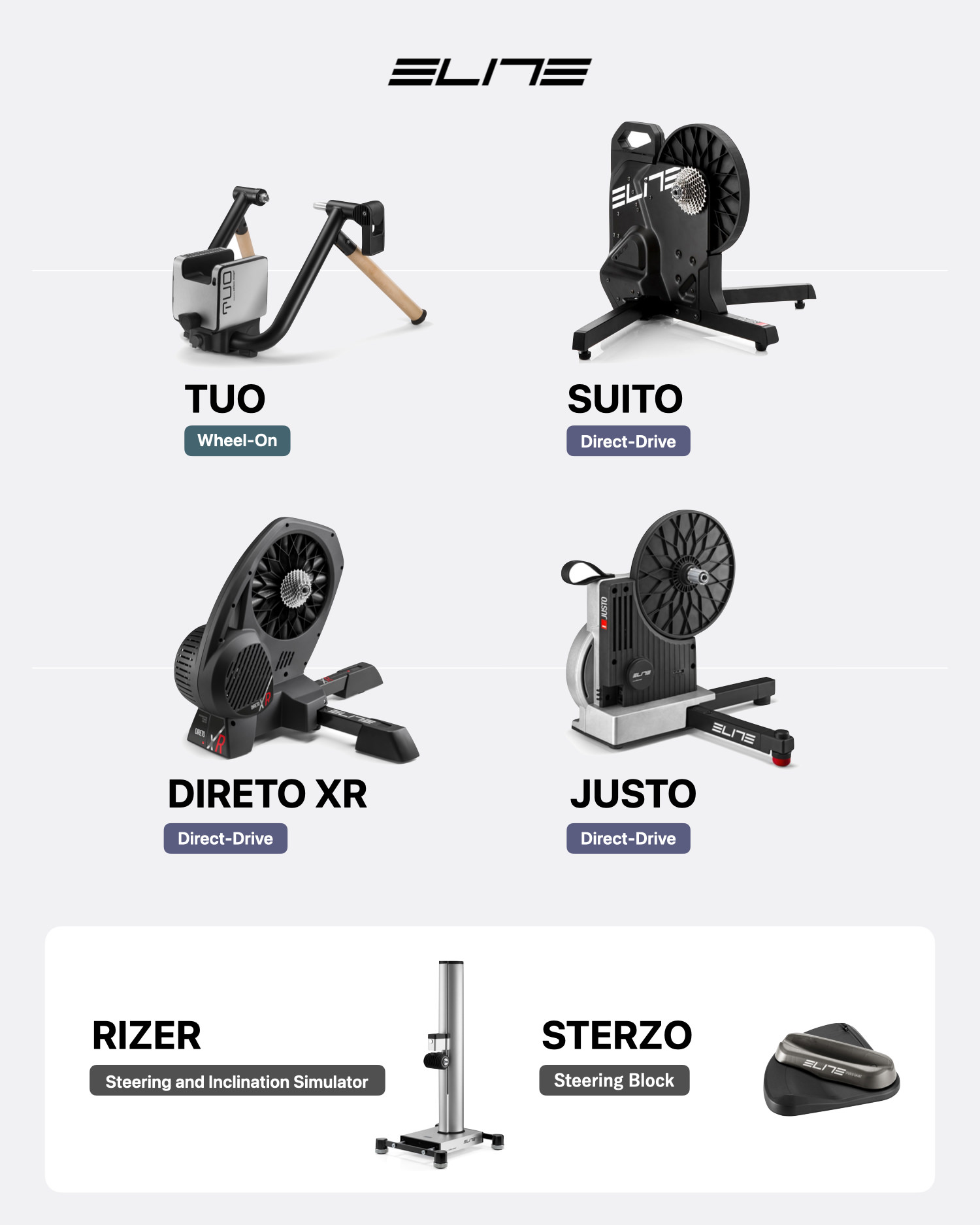 Elite is a prestigious Italian brand that is No. 1 in the abundance of its lineup, including classic trainers. Elite offers many products with excellent storage and design features.
Also attractive is their ecosystem for enjoying virtual rides, such as the STERZO SMART riser with steering function and the RIZER with steering function and gradient reproduction function. In particular, ELITE is the only extended product with a steering function, making it the only choice when you want to enhance the feeling of actual riding around the handlebars as well.
Saris – Strength of the original platform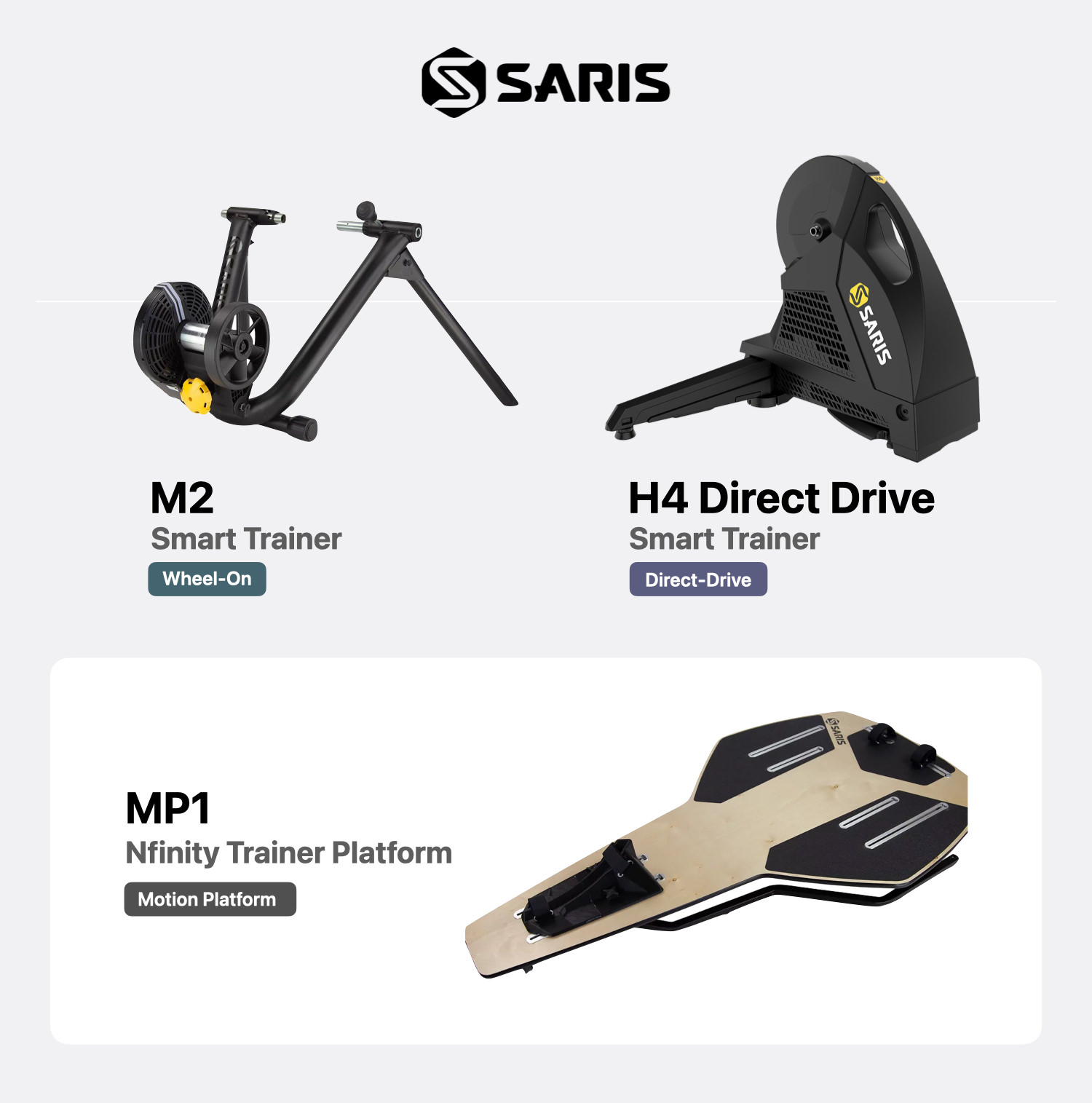 SARIS originally had two separate brands: SARIS, an in-vehicle carrier, and CycleOps, a smart trainer. However, due to a change in marketing policy to "seamlessly connect indoor and outdoor activities," they were all integrated under the "SARIS" brand.
Although the brand name may seem new, the brand has inherited CycleOps' technology and has developed products that are second to none, centering on the wheel-on M2 and direct-drive H4.
In particular, the MP1, called the "Motion Platform," is a one-of-a-kind extension product. By placing a smart trainer on top of the MP1, it can reproduce the back-and-forth swaying of the trainer, which is not possible with a trainer alone, and further enhance the feeling of actual running (can also be used with smart trainers other than Saris).
3. Wheel-on Models ($350 – 800)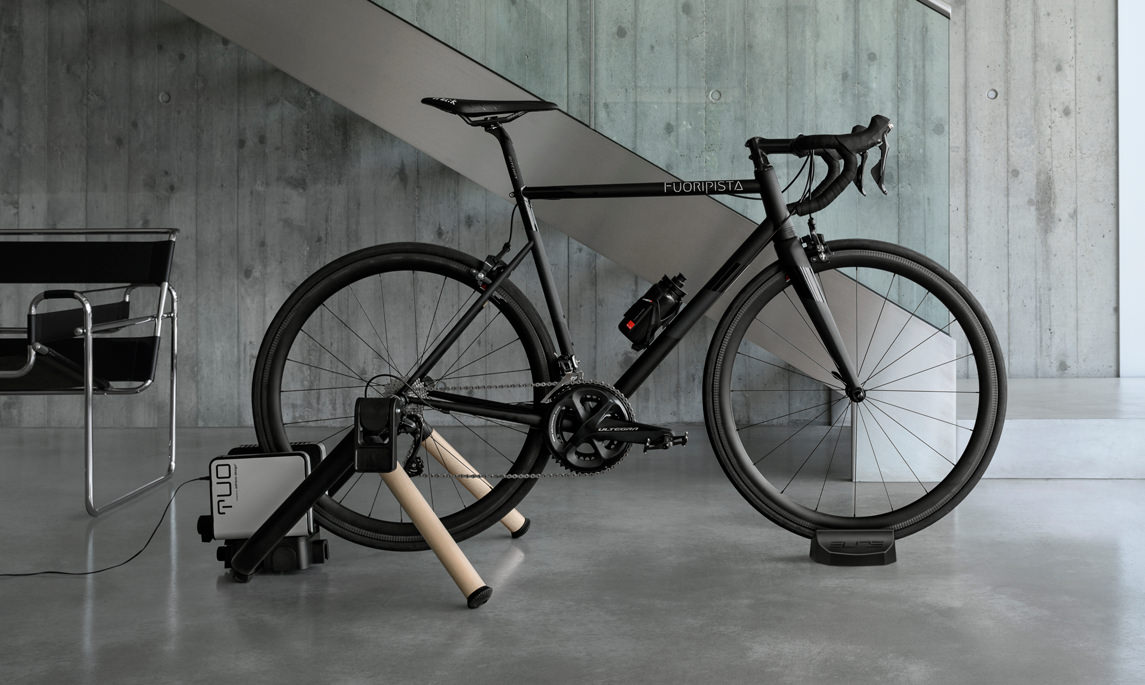 Elite TUO ©Elite
This wheel-on smart trainer can be used for a wide range of applications, especially fitness. It should be noted that it is not suitable for racing or serious power training due to large blurring in power accuracy (+/-3-5%).
 

Wahoo

Saris

Elite

Model


KICKR ROLLR

KICKR SNAP

M2

TUO

Accuracy

*

+/-3%

+/-5%

+/-5%

Max Power

*

1500W

1500W

1200W

Max Incline

10%

12%

15%

10%

Weight

22.6kg

17.2kg

9.0kg

10.3kg

Price

$799.99

$349.99

$449.99

$449.99

Link

Wahoo
Amazon
 Amazon
Amazon
※KICKR ROLLR requires a power meter on the bike side
Wahoo KICKR ROLLR: The KICKR ROLLR from 2022, featuring natural riding comfort and the convenience of simply loading the bike and setting it up, is a great option for cyclists who want to seamlessly switch between indoor and outdoor riding. However, a power meter is required on the bike side for power training.
Wahoo KICKR Snap: It has the top performance among wheel-on types, with tire-slip-free stability, low error power measurement, and excellent quietness. Solid design and easy to carry with foldable legs are also good points.
It can also be used in combination with "KICKR CLIMB" to simulate gradients.
Saris M2: The M2 can reproduce a 15% slope, the largest among wheel-on types. It also has the advantage of being lightweight at 9.0 kg, making it easy to carry around. With a noise level of 69 dB, it is as quiet as direct-drive models, which average around 60 dB.
ELITE TUO: This design breaks away from the rugged appearance of previous Turbo Trainers. The beech wood legs fold down to create a sleek appearance that blends in with any interior.
Which model is the best choice?

If you have the budget and the space to install it, KICKR ROLLR is the most convenient among all smart trainers.
Among wheel-on type trainers, KICKR Snap is the best choice because of its excellent balance of price and functionality. However, it is heavy, so if you are thinking about carrying it around, consider M2 or TUO. TUO is also an interesting choice in terms of interior design.
4. Direct-Drive Models – Middle Grade ($600 – 1000)
Middle grade with sufficient functions and accuracy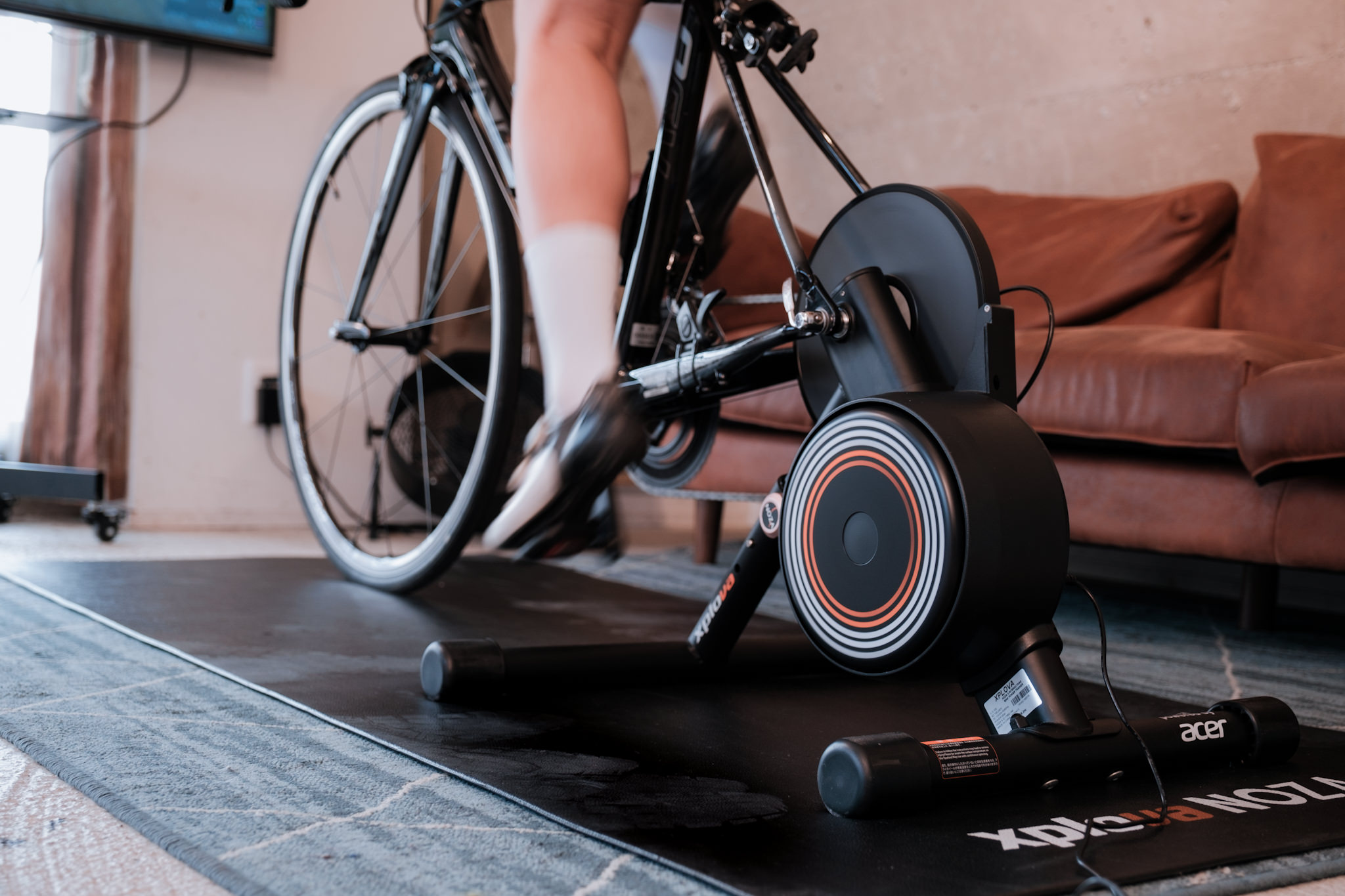 Direct-drive models are divided into middle grade ($800-$1000) and high-end grade ($1200+).
The differences between the two companies include measurement accuracy, max power, max incline, and accommodations. For most cyclists, middle grade features are sufficient, but many models cannot be folded, so installation space is also a consideration in narrowing down the model.
 

Wahoo

Tacx

Xplova




Elite




Model


KICKR CORE

FLUX2

NOZA S

NOZA V


SUITO

Direto XR

Accuracy

+/-2%

+/-2.5%

+/-2.5%

+/-2%

+/-2.5%

+/-1.5%

Max Power

1800W

2000W

2500W

2200W

1900W

2300W

Max Incline

16%

16%

18%

N/A

15%

24%

Weight

18kg

23.6kg

17kg

18kg

14.5kg

15.8kg

Flywheel

5.4kg

7.6kg

5.9kg

3.4kg
*Motor
reinforcement

3.5kg

5.1kg

Price

$899.99

$899.99

$599.99

$896.00

$999.99

$949.99

Link

Amazon
Amazon
Wiggle
Wiggle
Amazon
Amazon
Wahoo KICKR Core: The main differences from the higher-end KICKR are that it cannot be folded and has lower measurement accuracy, max power, and Incline. Still, the specifications are sufficient, making it a good choice among direct-drive models if you have the space to place it. the KICKR CLIMB's expandability and quiet operation are also excellent points.
Tacx Flux 2 Smart: Although less accurate than the higher-end NEO2 model, it is a significant upgrade over the previous Flux S model, which is sold together, with a measurement accuracy of 3% to 2.5%, max Incline of 10% to 16%, and max power of 1500W to 2000W. The specifications are close to those of the higher-end models. The legs cannot be folded, so more space is needed to place it.
Xplova NOZA S: The larger flywheel than the first-generation NOZA gives it a more realistic feel, and the improved belt and pulleys make it quieter. This is unquestionably the No. 1 performance model, with many areas where it outperforms the same grade models numerically. Folding is not available.
Xplova NOZA V: The "V" incorporates the requests received for the popular "NOZA S" model and further evolves the actual riding feel and accuracy, and also features a left-right oscillating mechanism similar to the KICKR and NEO 2T models. The "S" is still a universal model with excellent cost performance, but the "V" is also an excellent cost-performance model, considering the fact that for a price difference of $200, you can upgrade the accuracy of measurement, the feeling of actual riding, and the portability.
Elite SUITO: SUITO is characterized by its compactness when folded. While the top model DIRETO XR is 30 cm wide when folded, SUITO is 15 cm wide, nearly half the width of other models. It is the most suitable model for cyclists with small housing conditions.
Elite Direto XR: The XR model is the third generation of Direto. The XR-T model has an 18% to 24% reproduction gradient, 2100W to 2300W max power output, and the highest measurement accuracy in the same price range. The "DIRETO XR-T" model without sprockets is also available.
Which model is the best choice?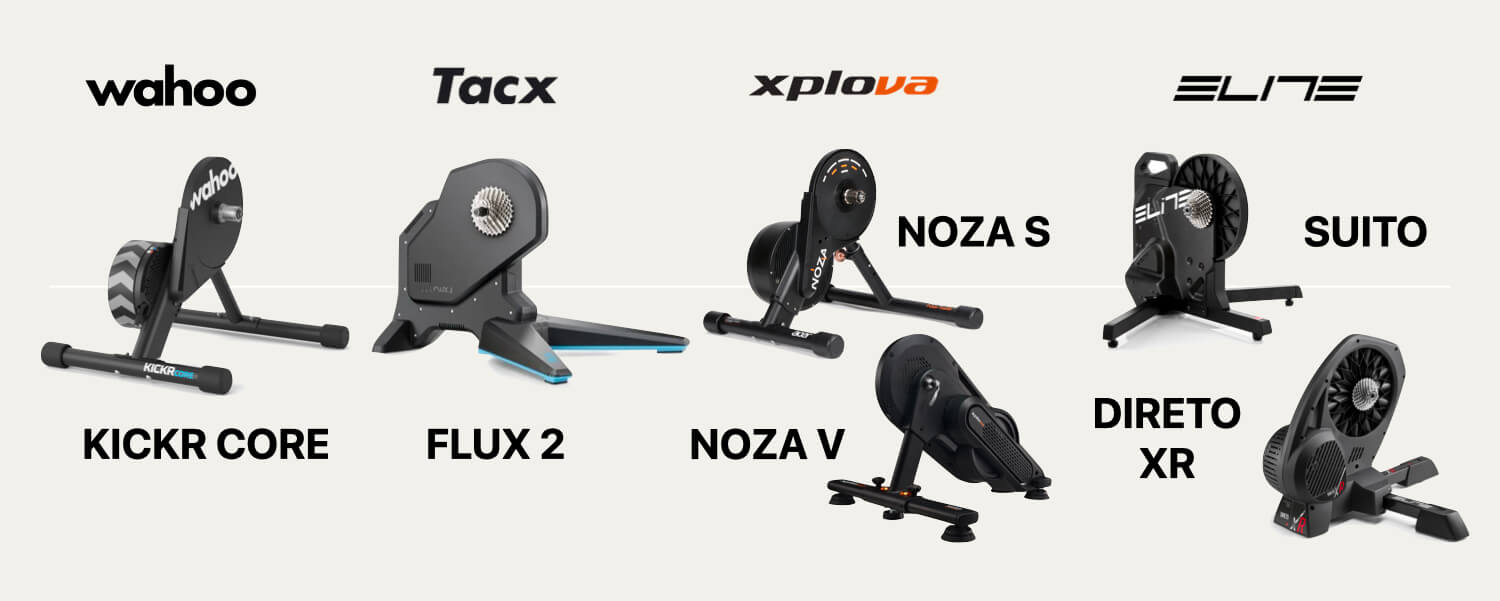 The NOZA S and NOZA V models stand out among the middle grade models in terms of price and functionality, and the NOZA series has a proven track record of popularizing smart trainers, especially the latest model, V, which is equipped with a mechanism that reproduces the left-right tilt of the trainer, which is found in the high-end grade, and offers the most natural riding experience.
However, the KICKR Core is superior in terms of expandability and the SUITO is superior in terms of storage, so choose the model that best suits your purpose and situation.
5. Direct-Drive Models – High-end Grade ($1000 – $1400)
For precision power training and virtual racing purposes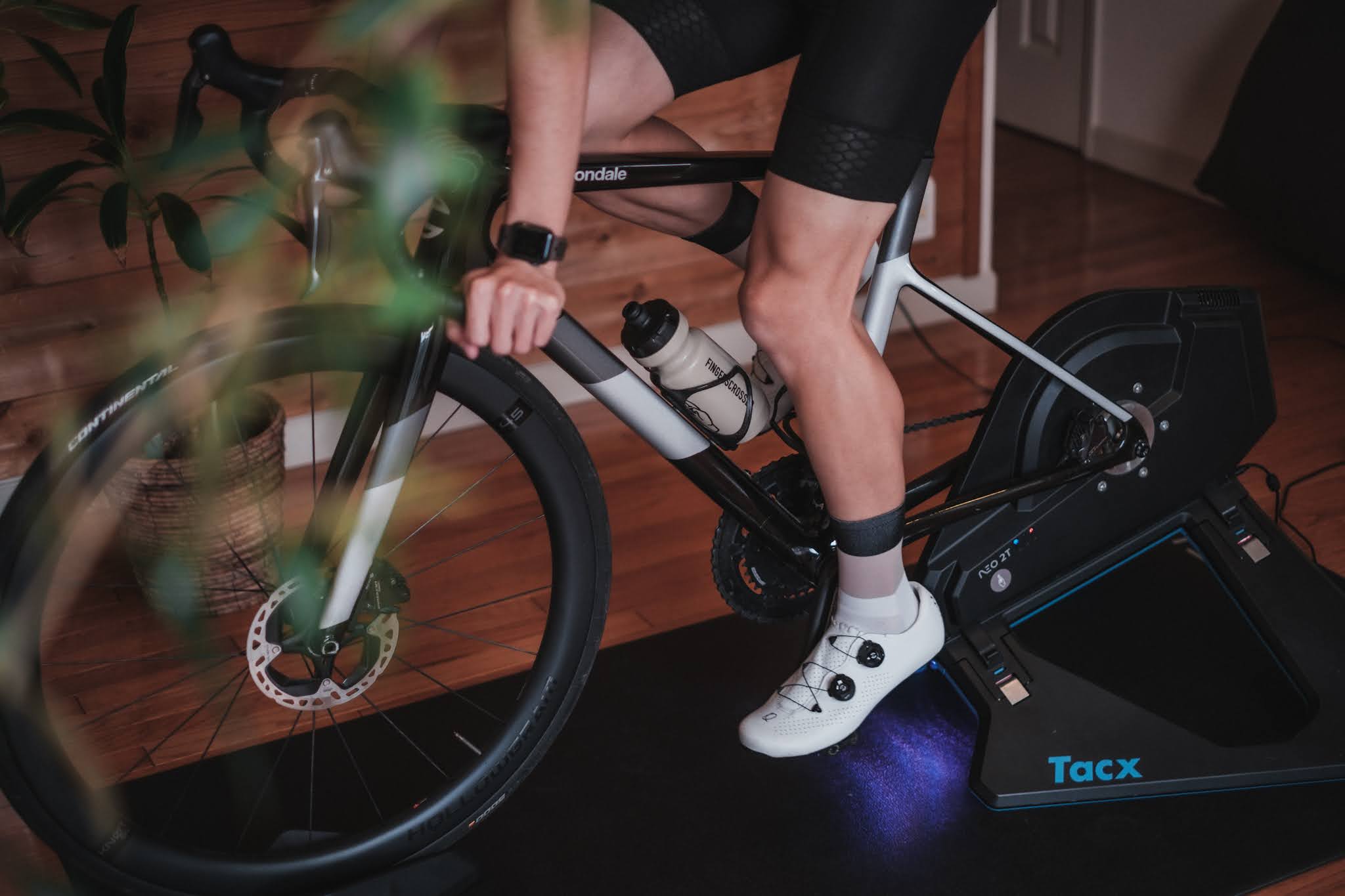 High-end grade used by top professionals. Although the price is commensurate, this grade is recommended for virtual riding mainly for training and Zwift races, as it has reliable measurement accuracy (+/-1%).
| | | | | |
| --- | --- | --- | --- | --- |
|   | Wahoo | Tacx | Saris | Elite |
| Model | KICKR | NEO 2T | H4 | JUSTO |
| Accuracy | +/-1% | <1% | +/-1% | +/-1% |
| Max Power | 2200W | 2200W | 2300W | 2300W |
| Max Incline | 20% | 25% | 25% | 24% |
| Weight | 21.5kg | 21.5kg | 21.3kg | 17kg |
| Flywheel | 7.25kg | Virtual | 9kg | N/A |
| Price | $1299.99 | $1399.99 | $999.99 | $1199.99 |
| Link | Wahoo | Amazon | Amazon | – |
Wahoo KICKR: The mainstay of high-end models. It is a model that reigns supreme not only in terms of top-class measurement accuracy and max resistance level, but also in terms of overall strength, including expandability and quietness. The AXIS Action Feet also comes standard, reproducing left and right tilt. Furthermore, from the 2022 model, it is possible to build a stable environment with not only Bluetooth/ANT+ but also WiFi connection.
Tacx NEO 2T Smart: Equipped with a computer-controlled virtual flywheel, the measurement accuracy is top among all trainers. The max power, pedaling feel, and quietness are also specifications worthy of a top model. The NEO 2T also features a "natural swaying mechanism" that is unique to the NEO 2T. It can also be used for warming up before a race because it operates without a power supply.
Saris H4: The latest 2022 model is a brushed-up version of the H3. It has the same measurement accuracy, power, and incline as the competition and features a heavyweight flywheel (heavier than the KICKR at 9 kg). Combined with the MP1, it offers the best real-world running experience.
Elite JUSTO: Just is the new model from 2022. The measurement accuracy has been further improved from ±2% to ±1% from Direto XR, which was Elite's top model so far. It is also equipped with a left-right oscillating mechanism similar to KICKR and NOZA V. The rugged industrial design has a different appeal from the KICKR.
Which model is the best choice?

Since there is little difference in specifications between the models, the Wahoo KICKR is the most promising for its overall strength and expandability, while the Tacx NEO 2T is the most promising if measurement accuracy is important.
6. Smart Bike Models ($3000 – $4000)
Happy cyclists with no upper limits on budget and space have only one option: Smart Bike. It allows for easy position adjustment and can be shared with family members who live with you. We invite you to create the best virtual riding environment.
| | | | |
| --- | --- | --- | --- |
|   | Tacx | Wahoo | Stages |
| Model | NEO Bike Smart | KICKR Bike | Stages Bike |
| Accuracy | <1% | +/-1% | +/-1.5% |
| Max Power | 2200W | 2200W | 2200W |
| Max Incline | 25% | 20%/-15% | 25% |
| Weight | 50kg | 42kg | 62.5kg |
| Price | $3199.99 | $3999.99 | $3149.99 |
| Link | Amazon | Wahoo | Amazon |
Tacx NEO Bike Plus: The first smart bike on the market. It is similar to the NEO 2T in terms of measurement accuracy, etc., and can also be used wirelessly; it comes with a 4.5″ monitor and a small fan, making it easy to create an indoor environment (though the small fan alone will not keep up with the cooling).
Wahoo KICKR Bike: The measurement accuracy is the same as that of the KICKR, and like the KICKR CLIMB, the bike can be raised and lowered to reproduce the downhill position, a feature unique to Wahoo. The virtual shift can be set to SRAM, Shimano, or Campagnolo gear ratios and shifting methods, and the app can also be used to take a picture of your bike for easy positioning. This is truly a luxury bike with all the bells and whistles.
Stages Bike: The smart bike from the brand of power meters is an all-in-one model with all the features needed for indoor riding. The chunky chassis is stable and user-friendly, with a smartphone and tablet mount. It does not have tactile feedback, but you can set your preferred shifting method.
Which model is the best choice?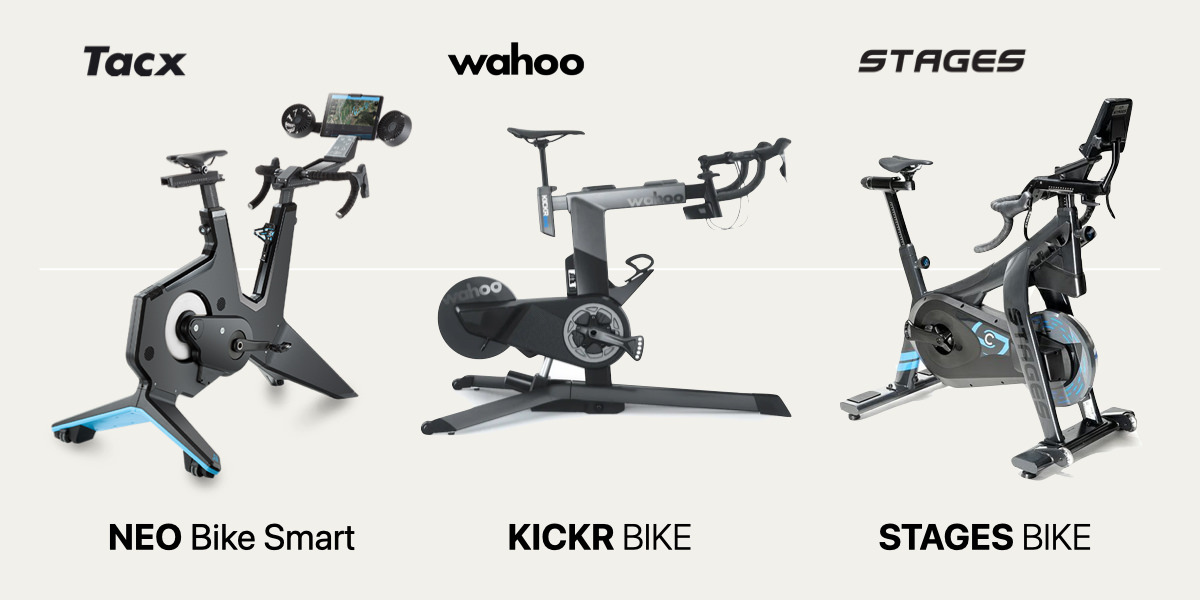 Although Stages Bike is slightly cheaper, KICKR Bike is the only smart bike available given its specifications. We expect the "NEO Bike Smart" to cut costs by omitting the small fan and monitor.
7. Required Environment for Zwift Ride
Zwift App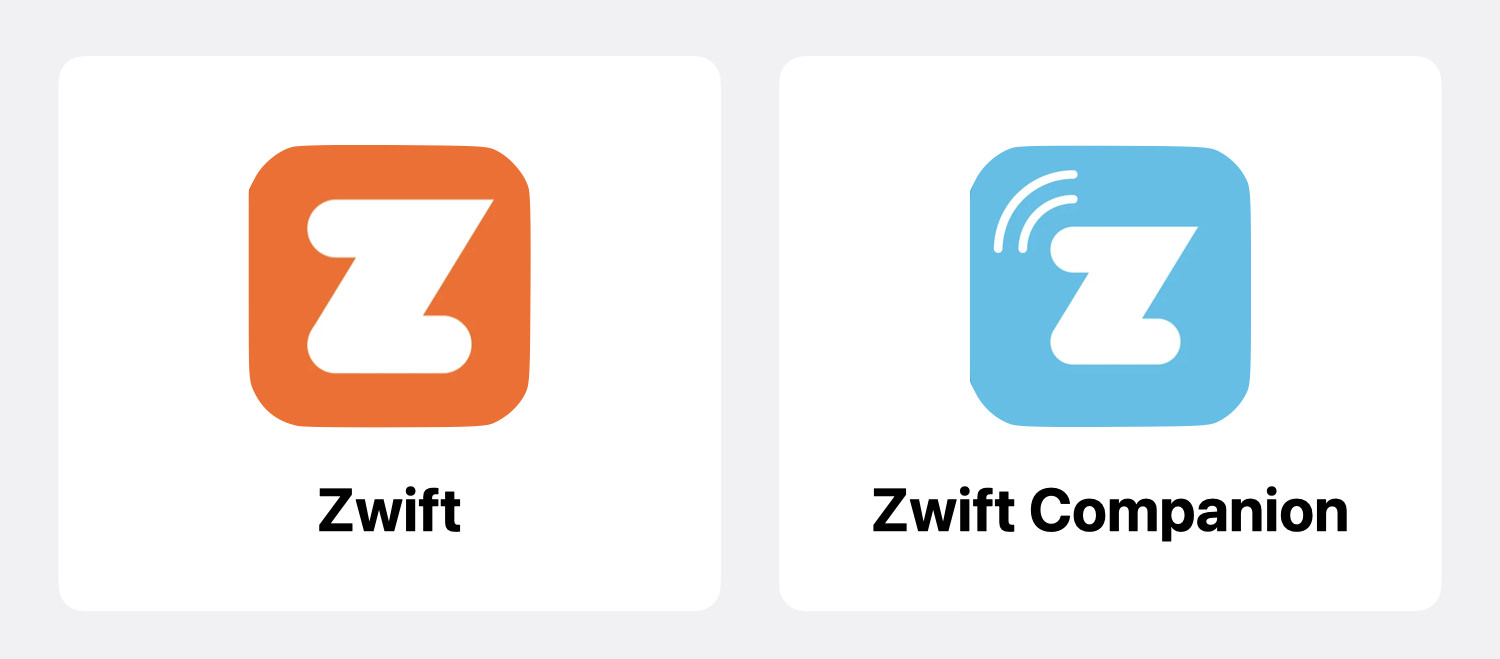 ●Zwift App: The Zwift app is available for iOS/Android, Windows/Mac, and AppleTV. The monthly fee is ¥1,650 per account (7-day free trial available).
●Zwift Companion App: Zwift has a companion app (iOS | Android) that acts as a bridge between the smart trainer and the PC via Bluetooth and allows users to exchange messages and select courses on Zwift.
Zwift Compatible Devices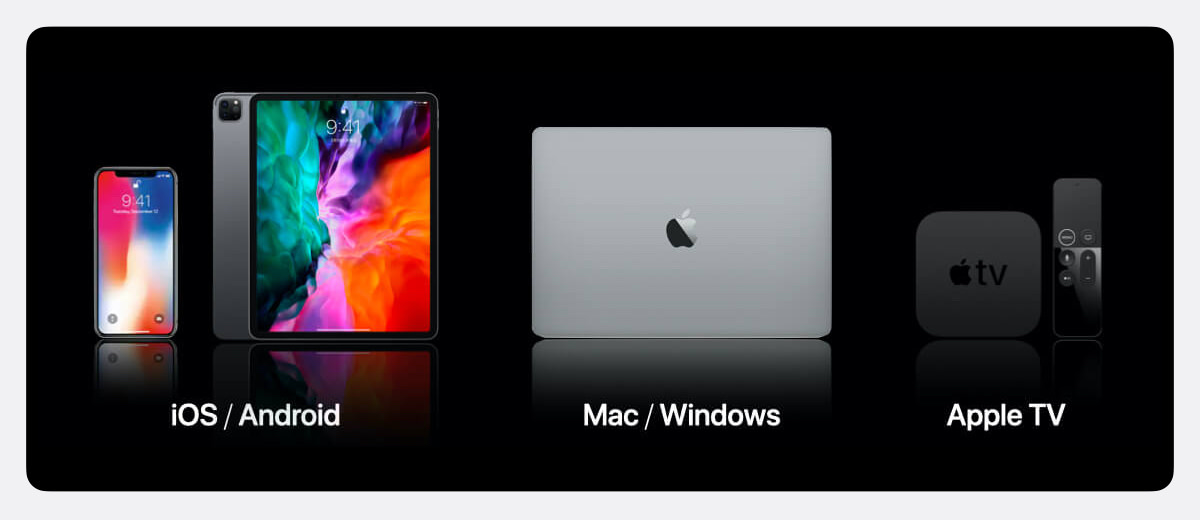 The Smart Trainer and compatible devices (iOS/Android, Mac/Windows, Apple TV) are connected via Bluetooth or ANT+. Basically, Bluetooth is used for iOS/Android and Bluethooth or ANT+ for PC.
Prepare the communication environment for the app and sensor according to the device you have.
*When connecting an ANT+ speed sensor or power sensor to a PC, a dongle must be provided on the receiving end.
Wheel & Sprocket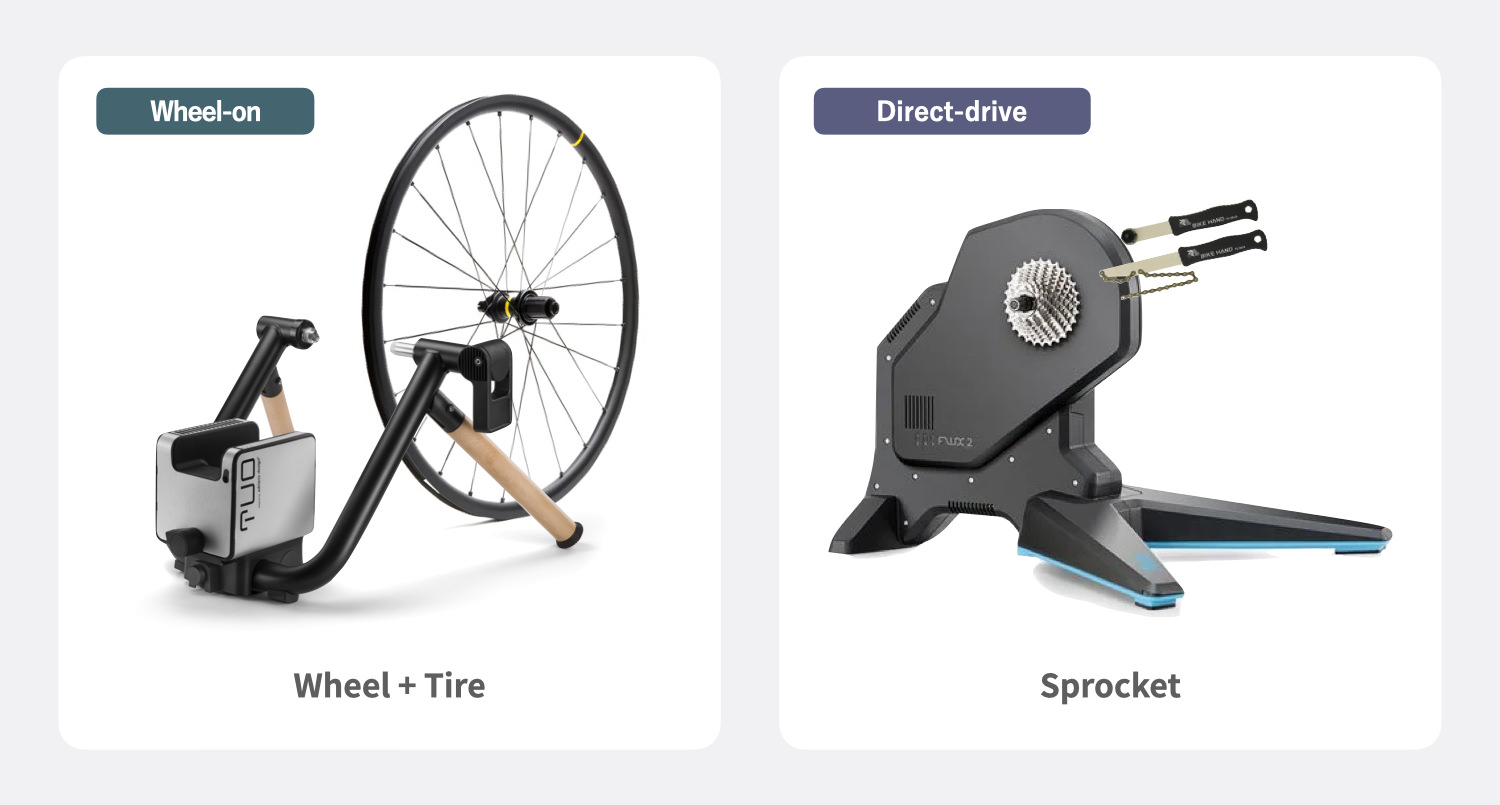 Wheel-on type: tires wear out and the wheels are subjected to more stress, so it is common to have a hard-wearing rear tire + inexpensive wheels for training purposes.
Direct-drive type: A sprocket must be purchased separately. Since this is for training, you can use a lower grade or a different number of teeth than you normally use. However, some Wahoo and Elite models come with sprockets.
*Campagnolo users must also purchase a Campagnolo free body separately.
Indoor Environment Building Goods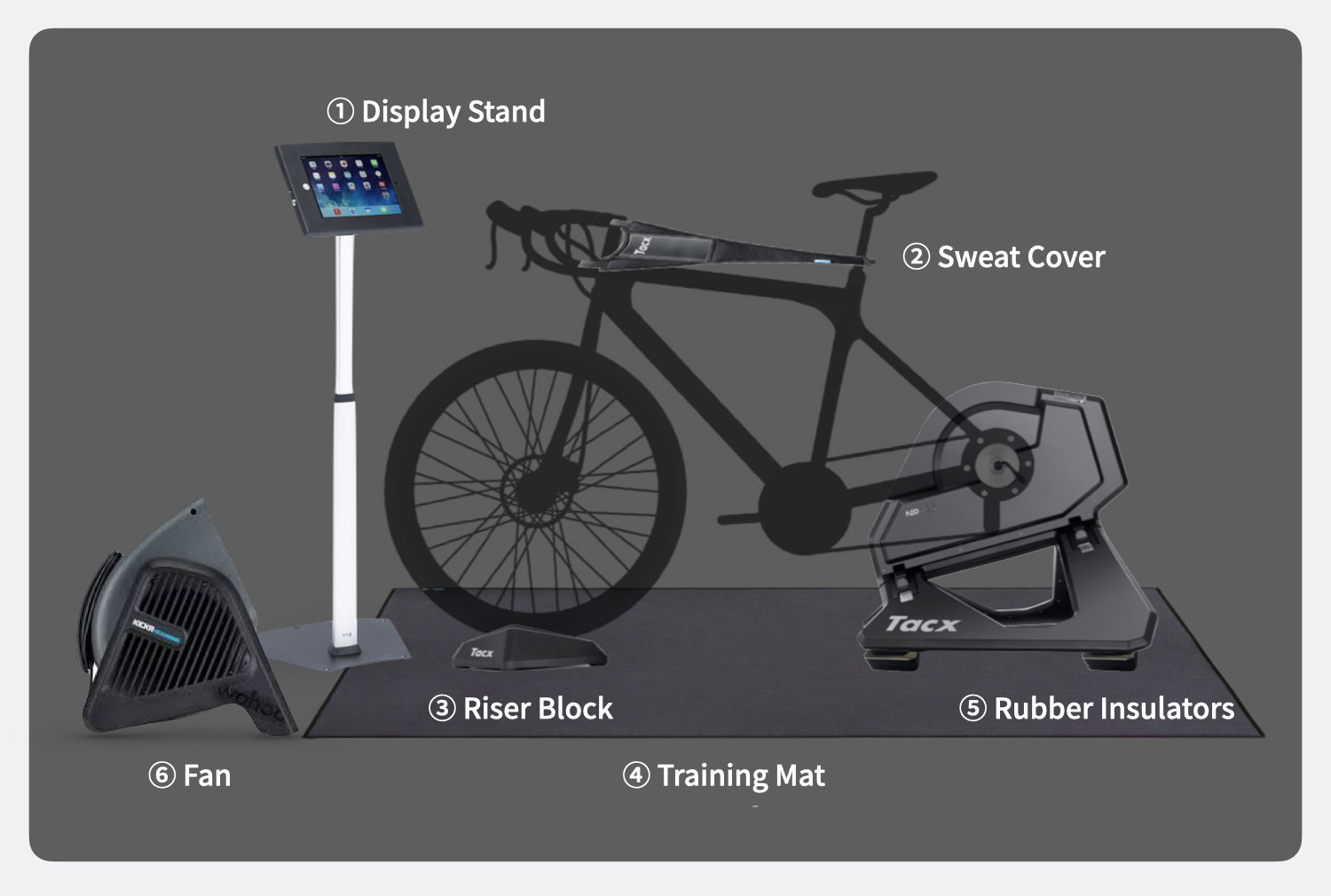 (1) Display stand: If using a smart phone or tablet, provide a stand or holder so that the display can be placed in front of you.
There are stands available exclusively for indoor use, but a music stand can be substituted.
(2) Sweat covers: Sweat covers are a necessity to protect the top tube from sweat. In addition to this, it is best to protect the bike with a T-shape by hanging a hand towel over the handles.
(3) Riser blocks: Riser blocks are used to keep the bike level, but they are basically unnecessary for direct-drive type because the rear height can be adjusted. However, riser blocks that can be adjusted in height are useful when training to recreate the hill-climbing position.
(4) Trainer mat: A mat to catch sweat and prevent damage to the floor. It also has a slight anti-vibration effect.
A yoga mat or similar mat is also acceptable, but you will need to check the size in advance as it may not be the right size.
(5) Rubber Insulators: For apartment complexes where neighborhood considerations are important, the use of anti-vibration materials can help minimize vibrations transmitted to the floor as much as possible.
(6) Fan: A fan is indispensable in a windless room. There are industrial fans with strong wind power, but you may want to try a fan at home and buy a more powerful one if you feel it is not enough.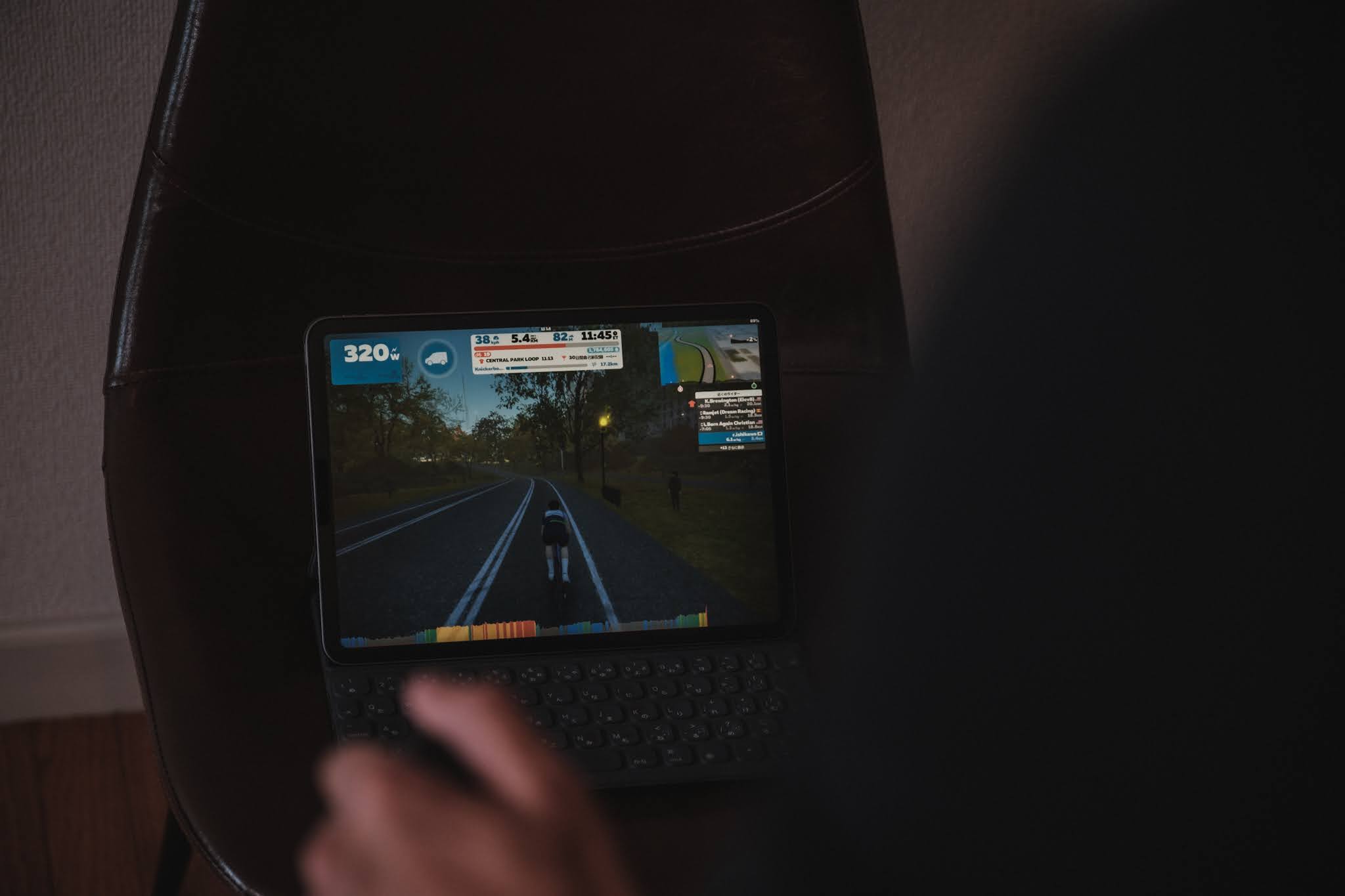 Even though virtual rides are hard to get bored with, the "why am I having such a hard time?" feeling sometimes comes up when you are doing a training menu or a race. Still, the exhilarating feeling you get when you persevere and complete a run is unbelievable.
Yes, no matter how much you may fool yourself with Zwift for virtual ride boredom, the Smart Trainer is for someone who enjoys being teased. Let's have a spicy and fun Ride On with Zwift together!
Author
Tats Shimizu(@tats_lovecyclist)


Editor in Chief. Having been riding sports bikes for 10 years. He likes to unravel the trends in the sport bike industry, especially road bikes, from a marketing perspective. At the same time, he has extensive friendships with cycling apparel brands from around the world and proposes various styles through the media. His main bikes are Factor O2 (road) and LS (gravel).