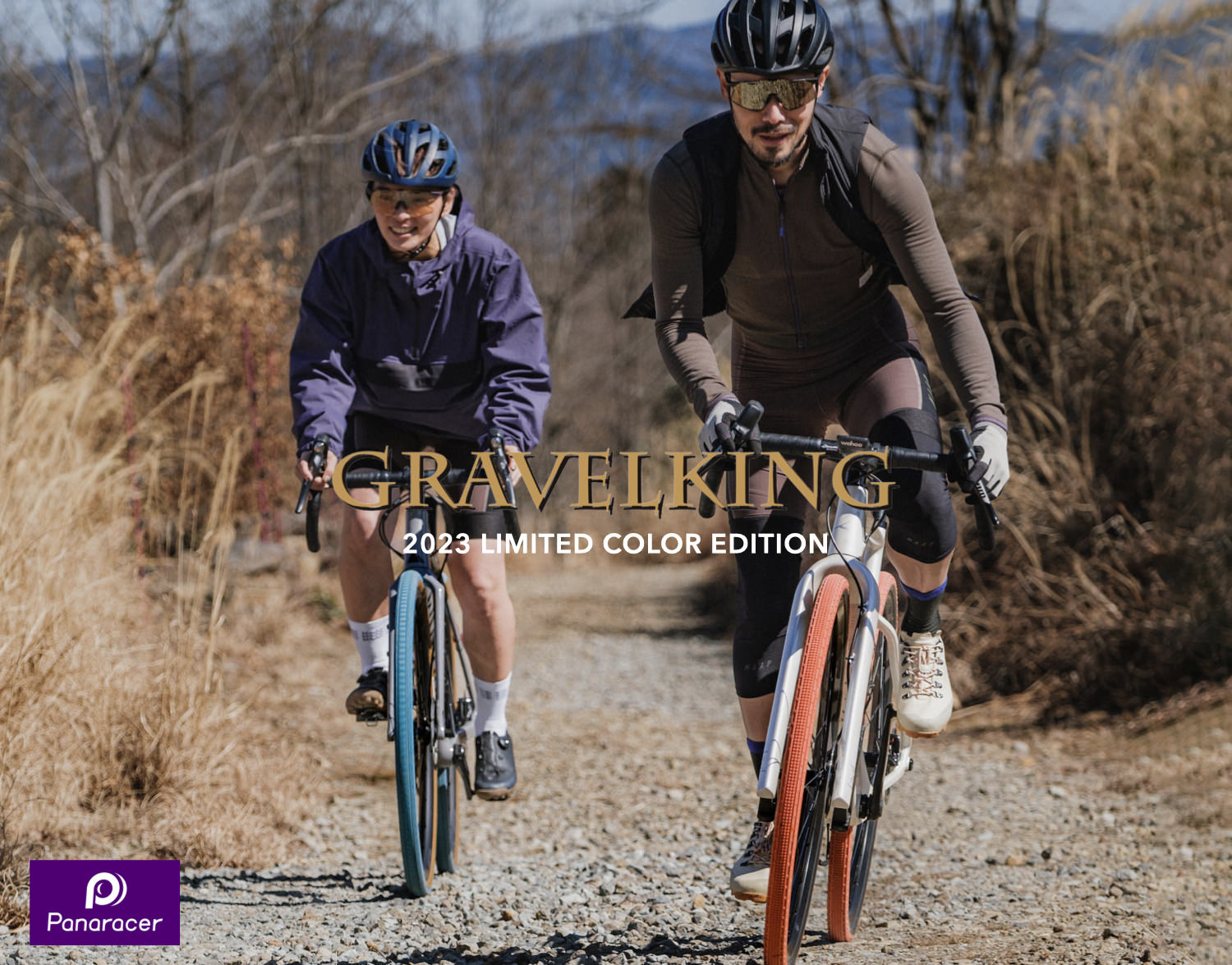 Panaracer's Gravel King, which has become the standard model of gravel tires around the world, is now available in two limited edition colors for 2023.
We thought that if the tires had such a strong presence, the overall styling, including clothing, would be fresh, so we carefully considered the outfit and tested the tire's performance and "appearance" on a hard gravel road.
Reviewers
Atsushi (@a2c_nice_san)
Worked for a major automobile manufacturer. While stationed in Nice, he became a model for a clothing brand, and as a result of shooting local photos and riding in France's towering mountains, he fell in love with hill climbing. Fashionable and fast is his motto.
Ran (@31_ran_)
Basically a cyclist and sometimes a doctor, she is involved in a wide range of bicycle-related activities, including serializing her column in FUNRIDE, the #InoTadataka project to draw a map of Japan using GPS, and running "Pedamimi," a radio show that pursues ways to enjoy bicycles.
Review / Atsushi & Ran 
Photo / Rin
Text & Edit / Tats [PR]
1. Limited Colors for 2023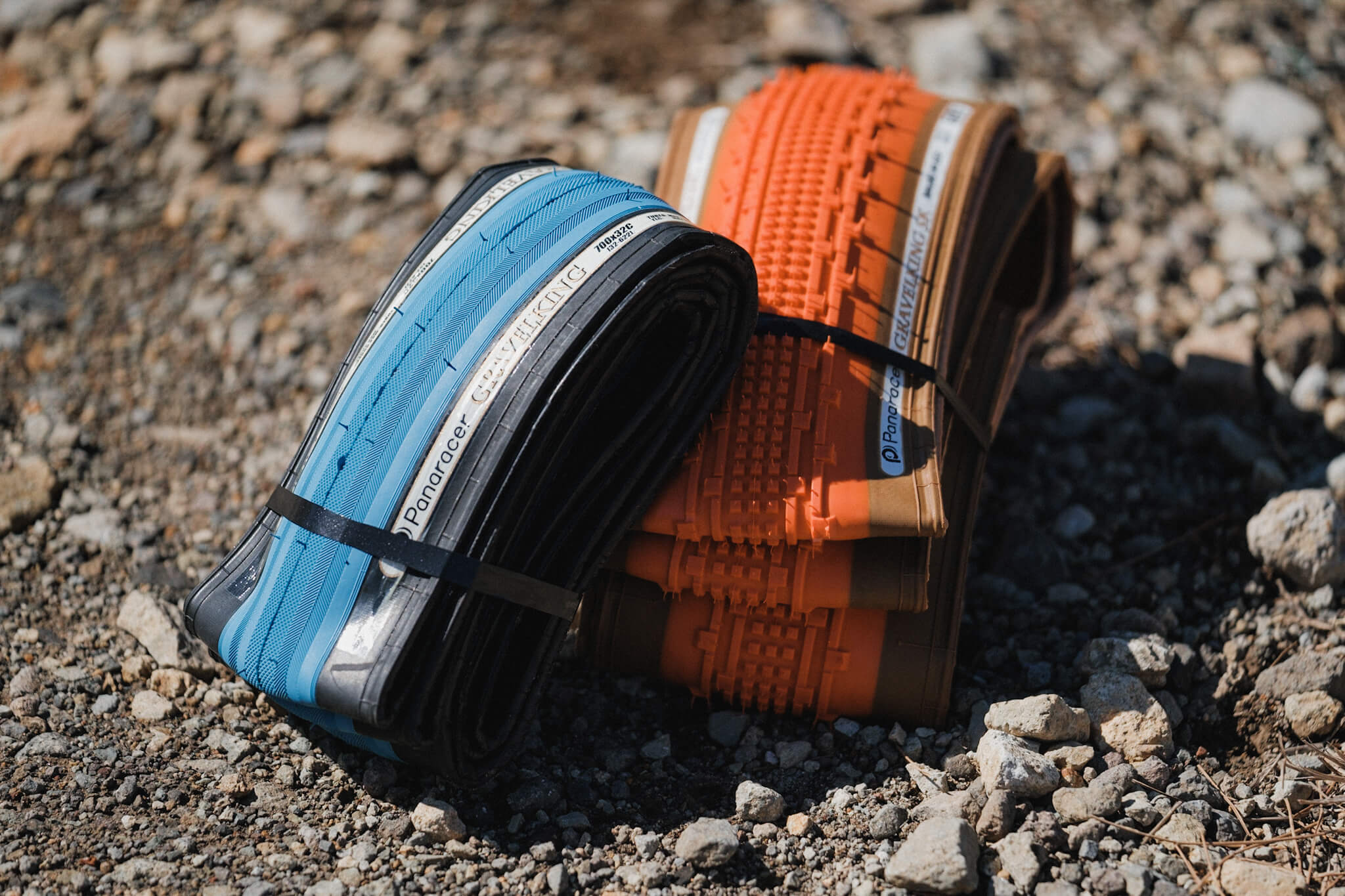 GravelKing is released in limited quantities every year, and this year's colors are "Turquoise" and "Sunset Orange" ($59.99).
These two colors will be available in three models: GravelKing SK / GravelKing SS / GravelKing Slick.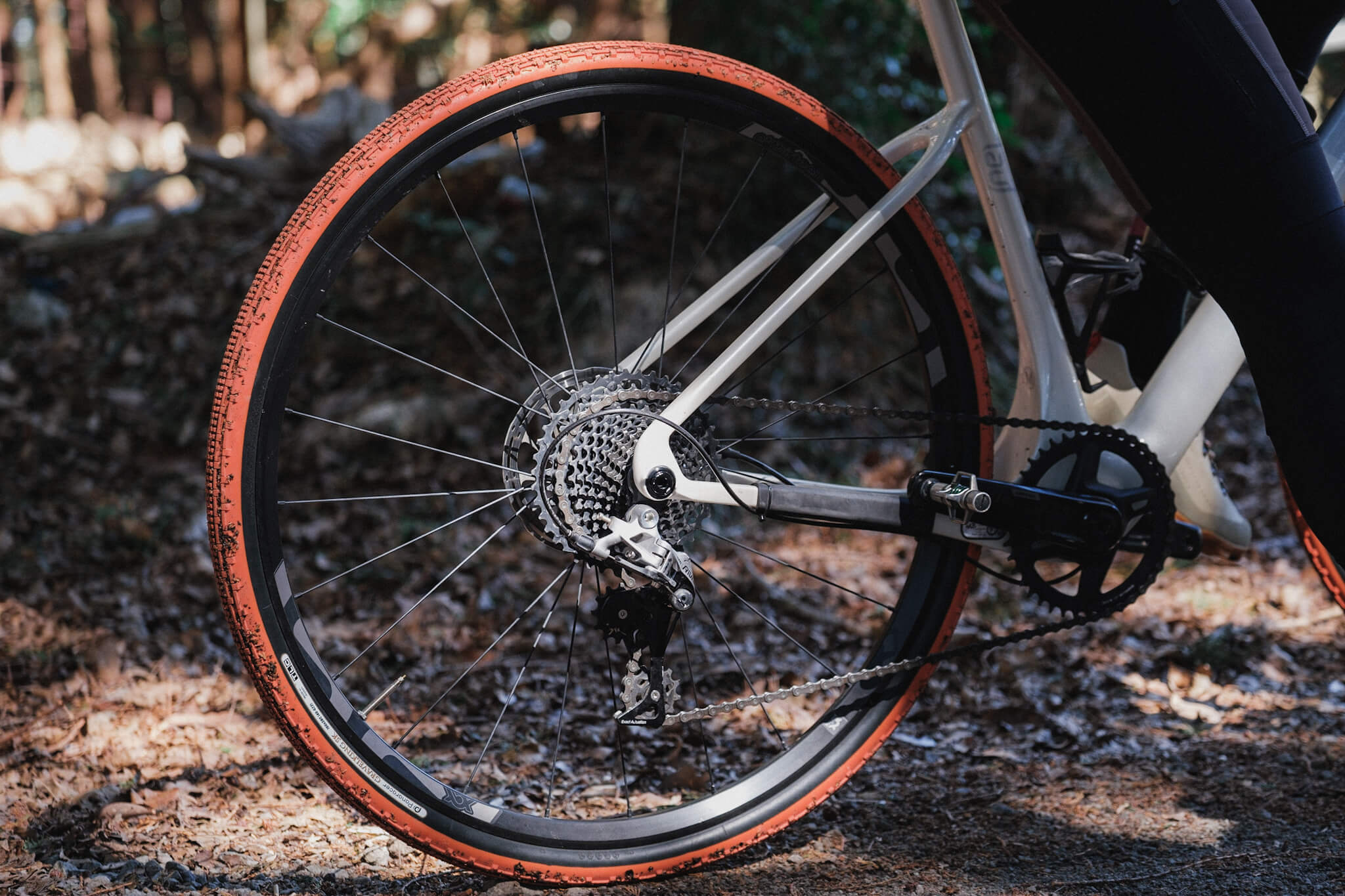 "Sunset Orange" like a sunset is a powerful shade with a gentle touch.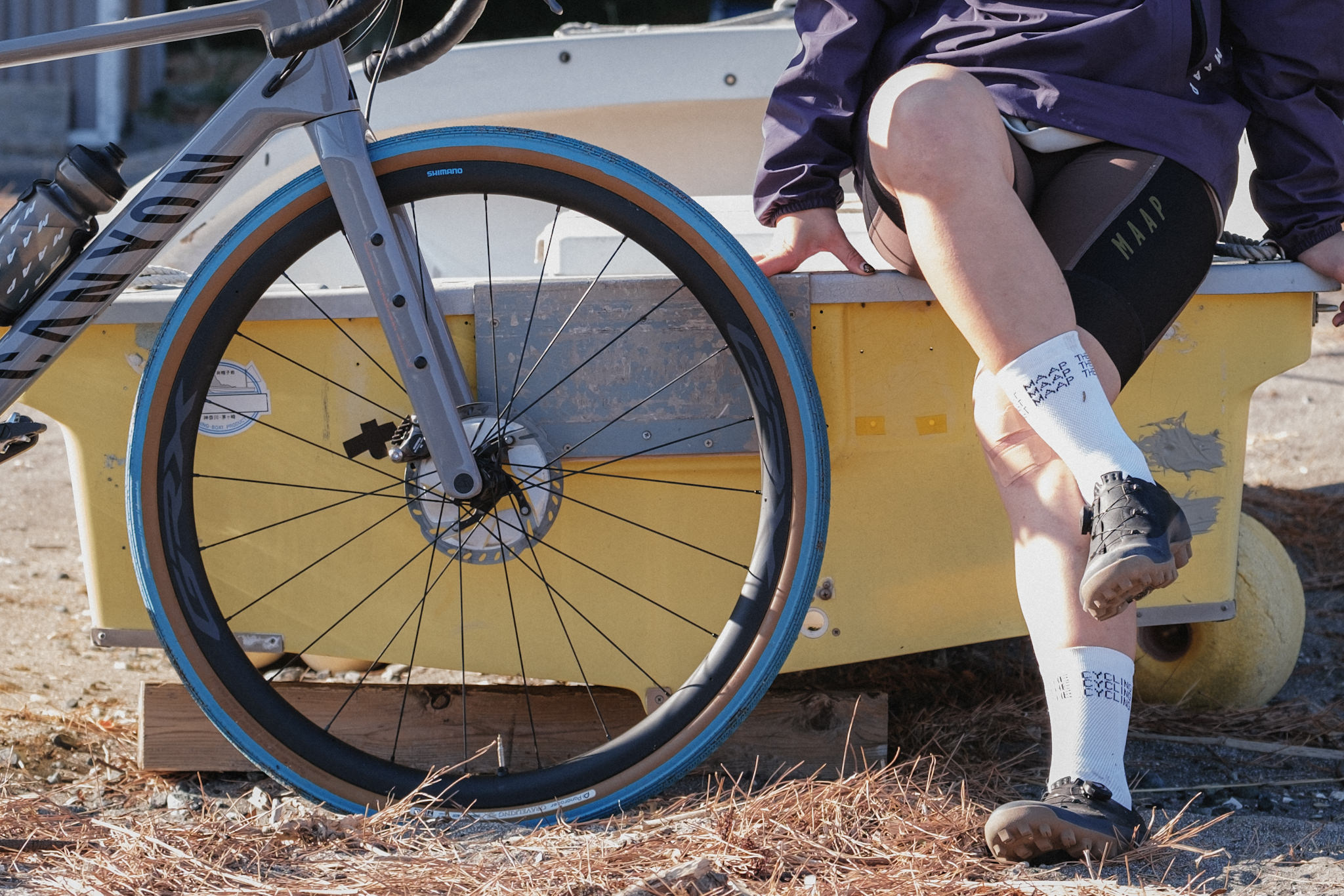 Reminiscent of the beauty of the sky and sea, "Turquoise" is a color that stimulates intellectual curiosity.
Limited Color Lineup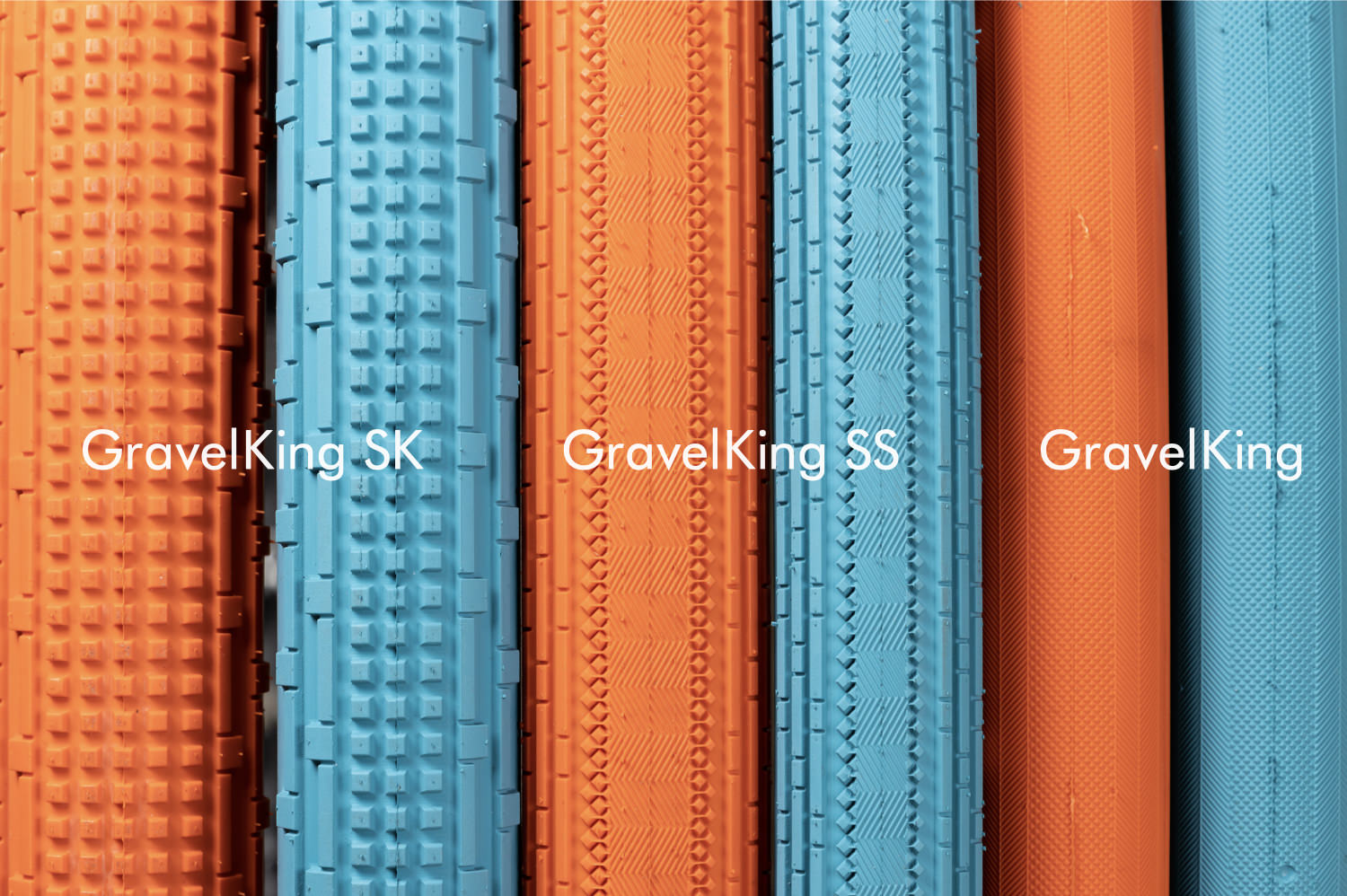 | Model | Tread | Road |
| --- | --- | --- |
| GravelKing SK | Block | Gravel |
| GravelKing SS | Semi-slick | Gravel + Tarmac |
| GravelKing Slick | Slick | Gravel + Tarmac |
*Two side colors are available: black/brown
*Limited edition colors have the same specifications as the current product: "TUBELESS READY" can be used as tubeless by using sealant together, and can also be used with a tube. "ZSG Natural Compound" for durability and wear resistance, "AX-α Casing" for light weight and shock absorption, "Anti-Flat Casing" effective against side cuts and rim strikes.
2. Styling of Colors to Match Tires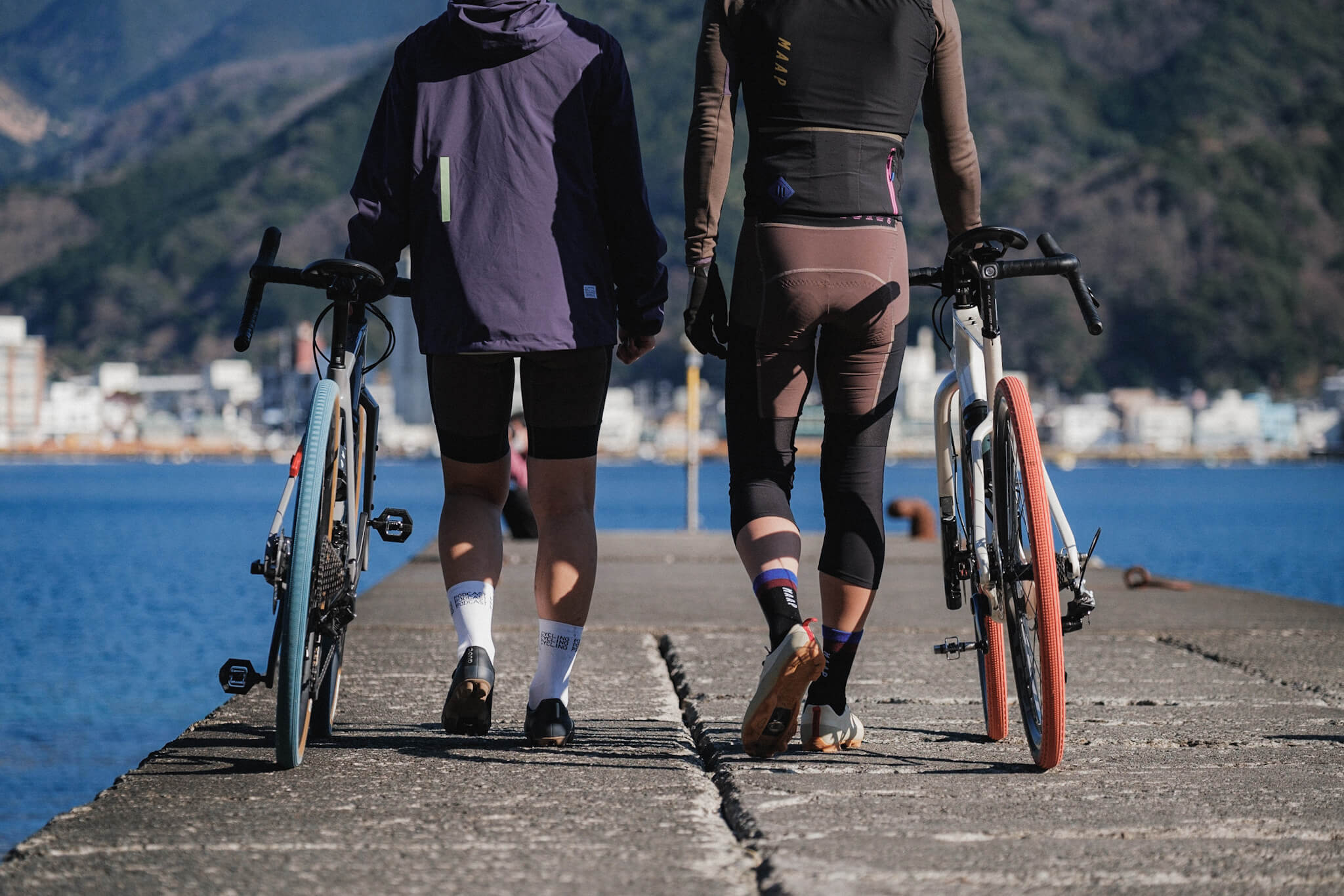 GravelKing x MAAP Alt_Road
We chose MAAP's gravel collection "Alt_Road" series to coordinate with Gravel King's limited edition colors.
The coloring and functionality that harmonizes with the atmosphere of unpaved roads is just the right combination with the presence of the tires.
Sunset Orange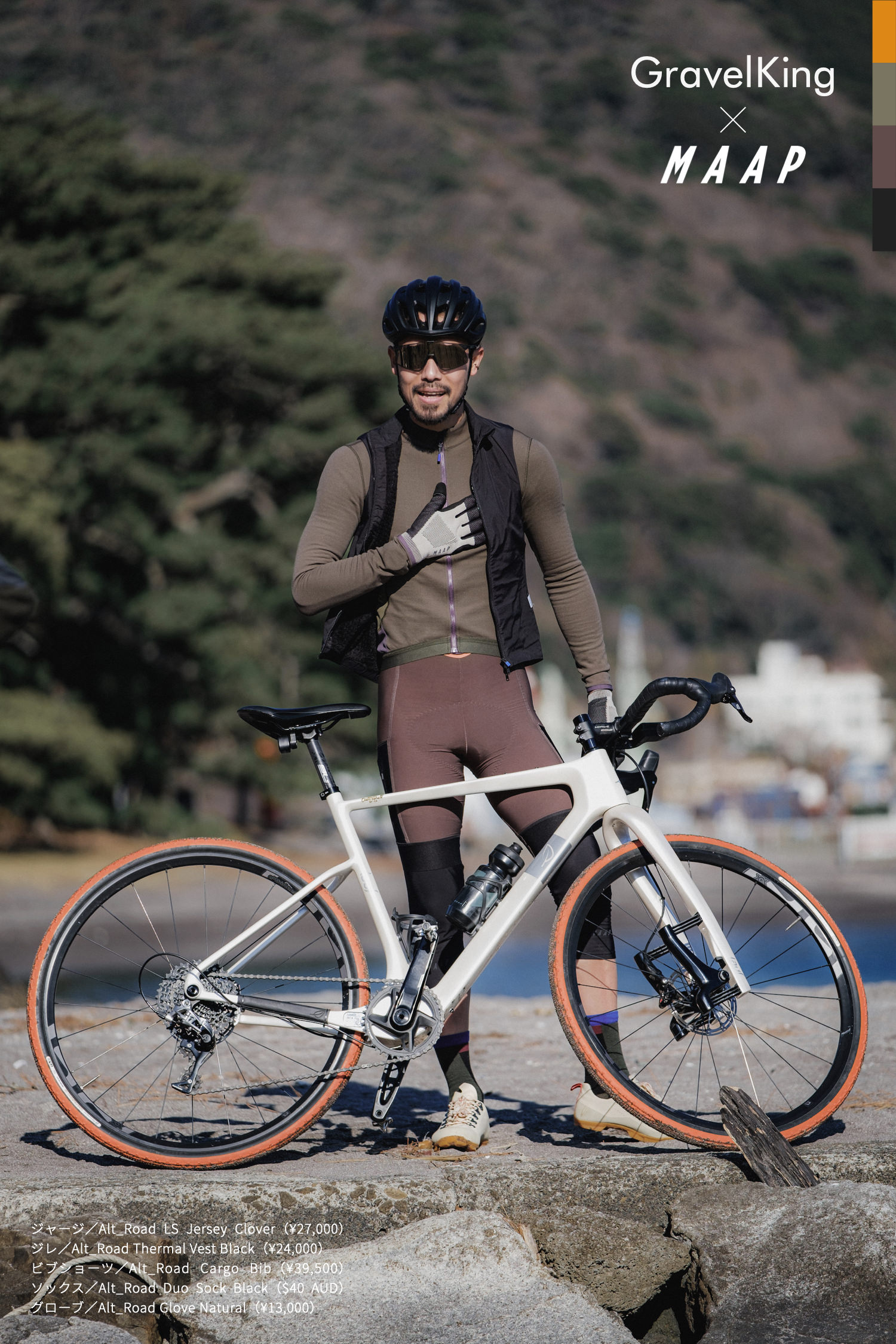 Tone-on-tone to stand up to the presence of the main character
The powerful hue of sunset orange is best combined with a tone-on-tone earth color scheme centered on khaki and brown. Adding black to the gilets and helmets also makes the whole look much tighter and the orange more distinct.
Jersey / Alt_Road LS Jersey Clover, Gilet / Alt_Road Thermal Vest Black, Bib Shorts / Alt_Road Cargo Bib Coffee、Socks / Alt_Road Duo Sock Black、Gloves / Alt_Road Glove Natural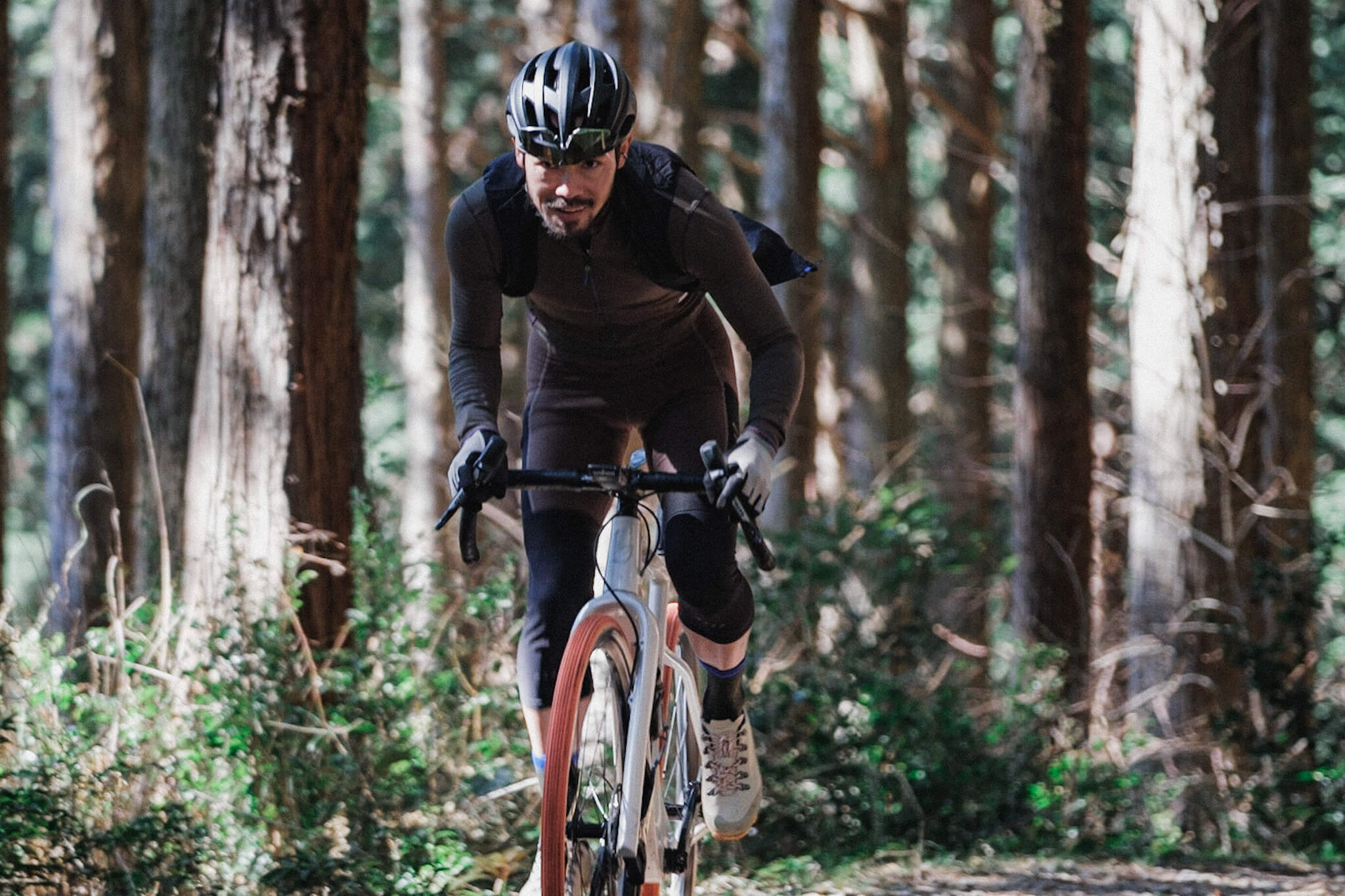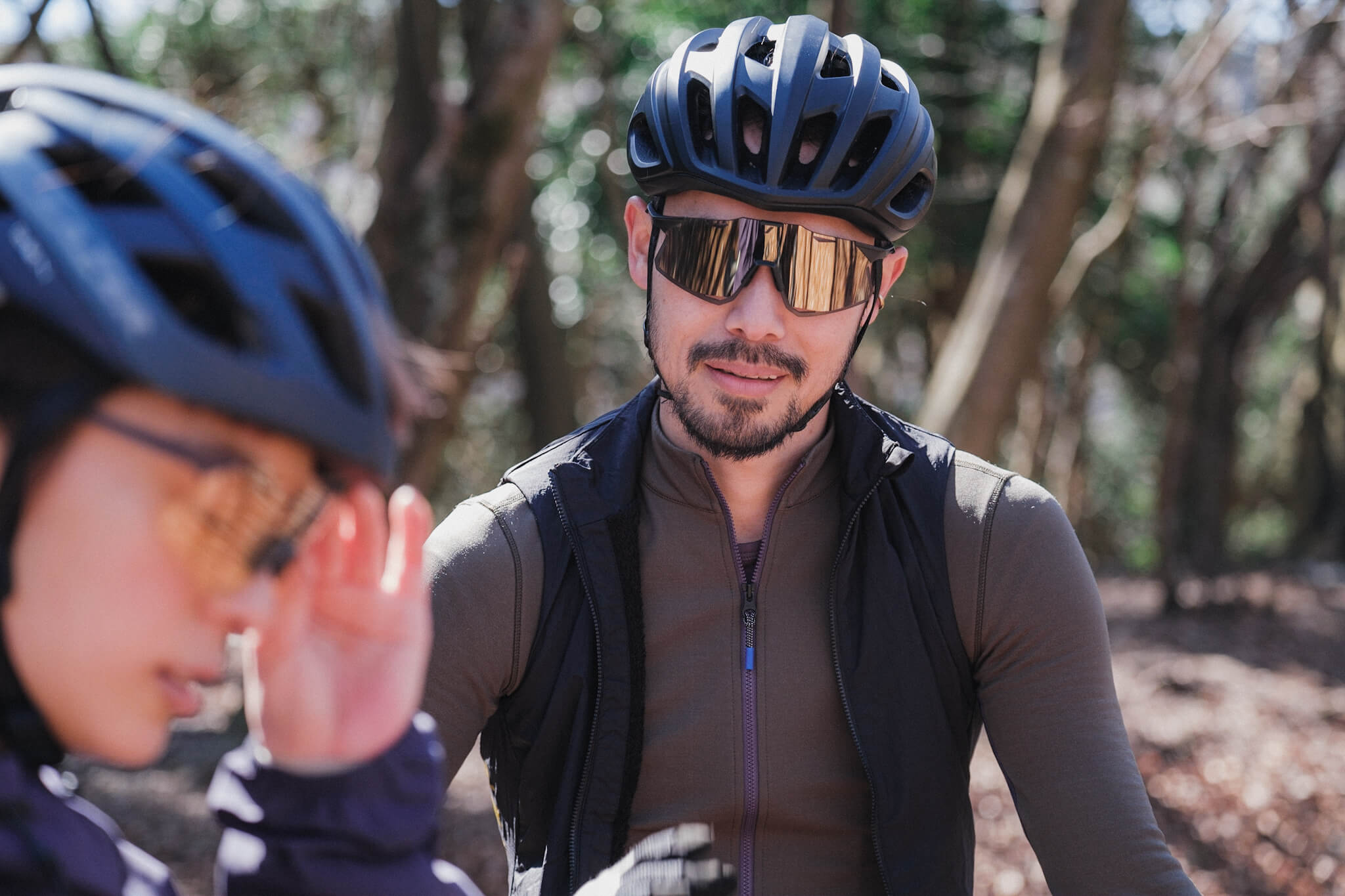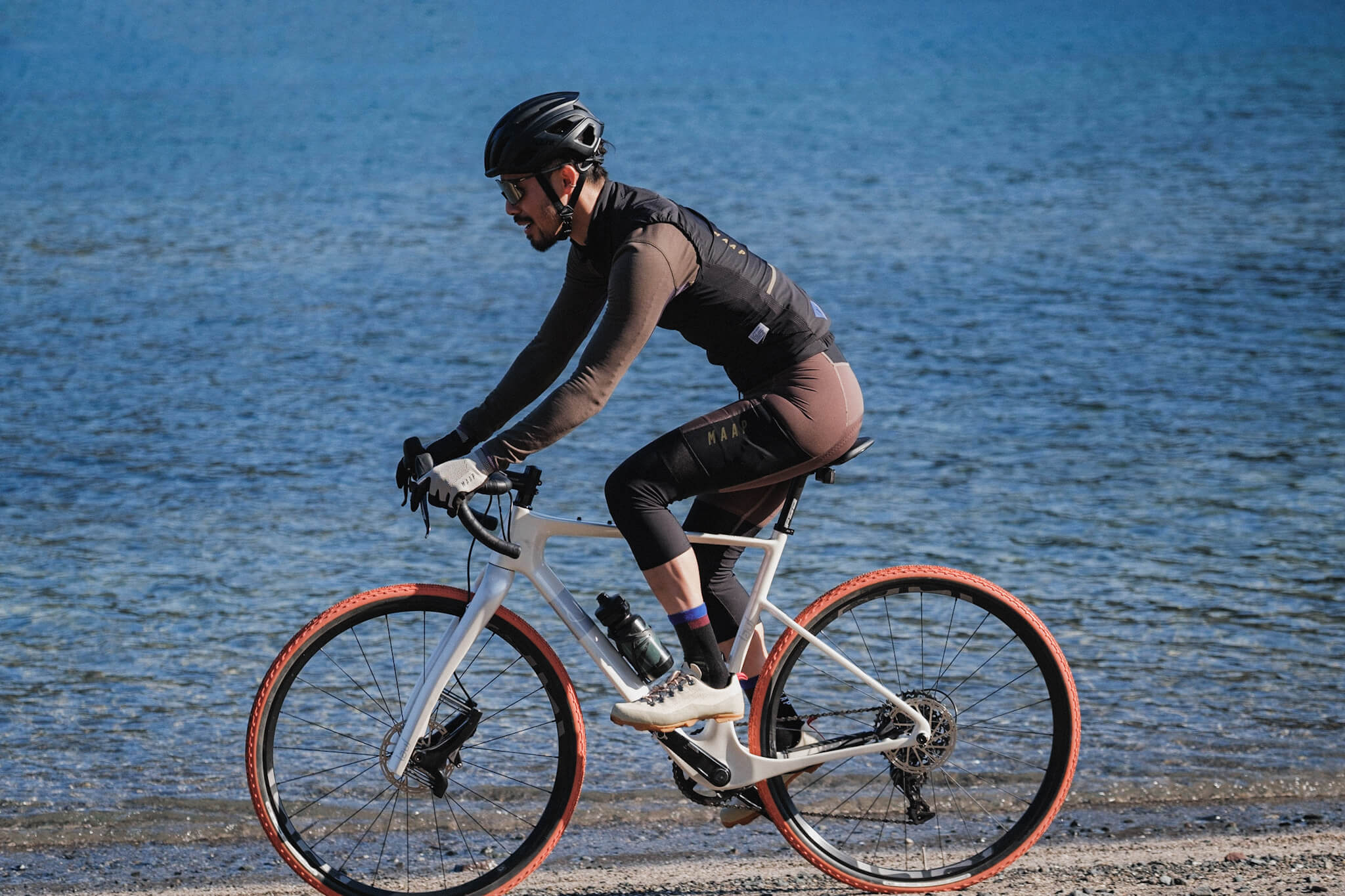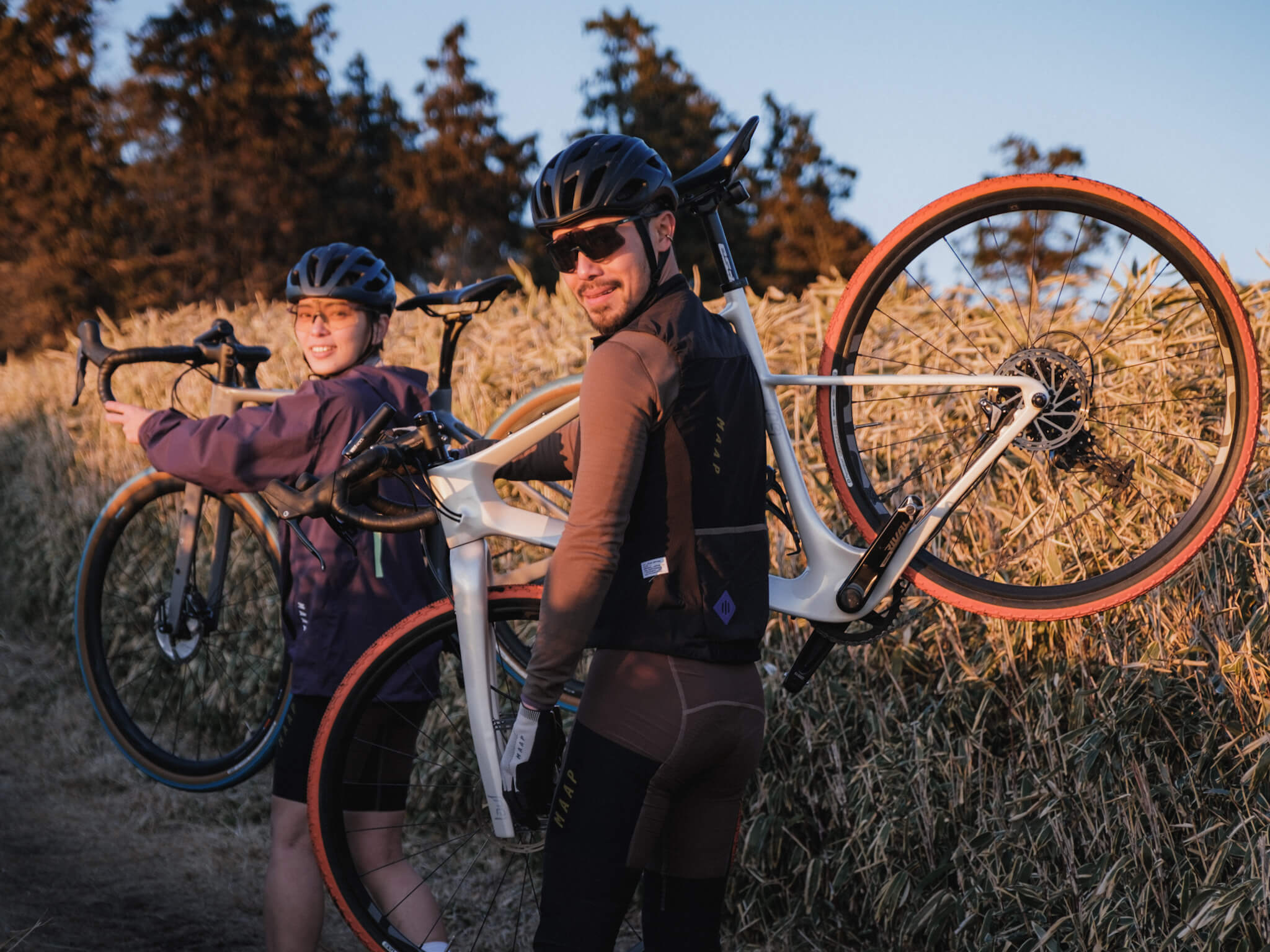 Turquoise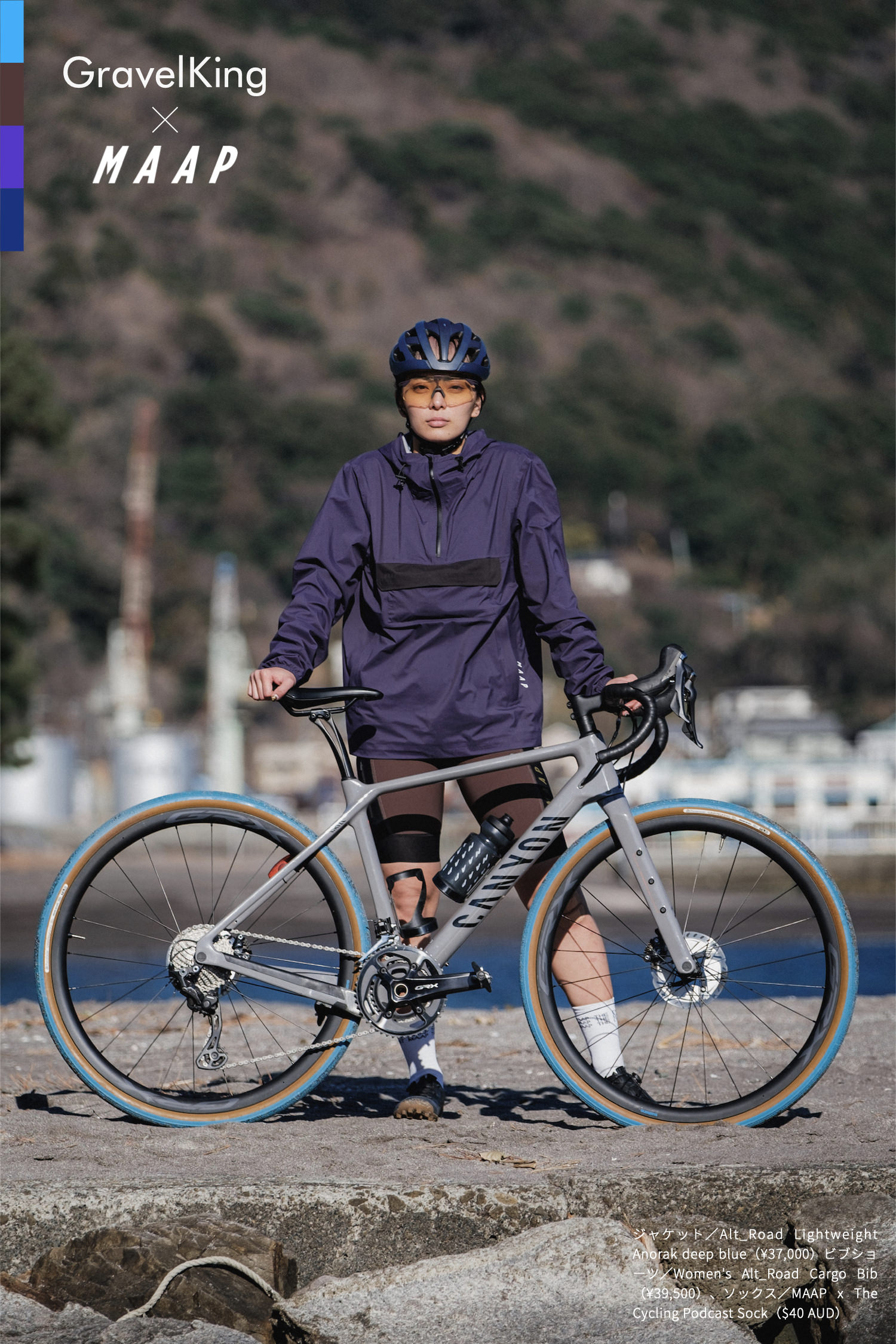 The blue color scheme is bright and beautiful with depth.
The elegant turquoise blue is a perfect match for intelligent, clean colors such as navy and perv.
The side color of the tire is matched with the color of the bib shorts for overall cohesion. The fluffy top and tight bib shorts also give the overall silhouette a sense of fullness.
Jacket / Alt_Road Lightweight Anorak deep blue, Bib Shorts / Women's Alt_Road Cargo Bib Coffee, Socks / MAAP x The Cycling Podcast Sock($40 AUD)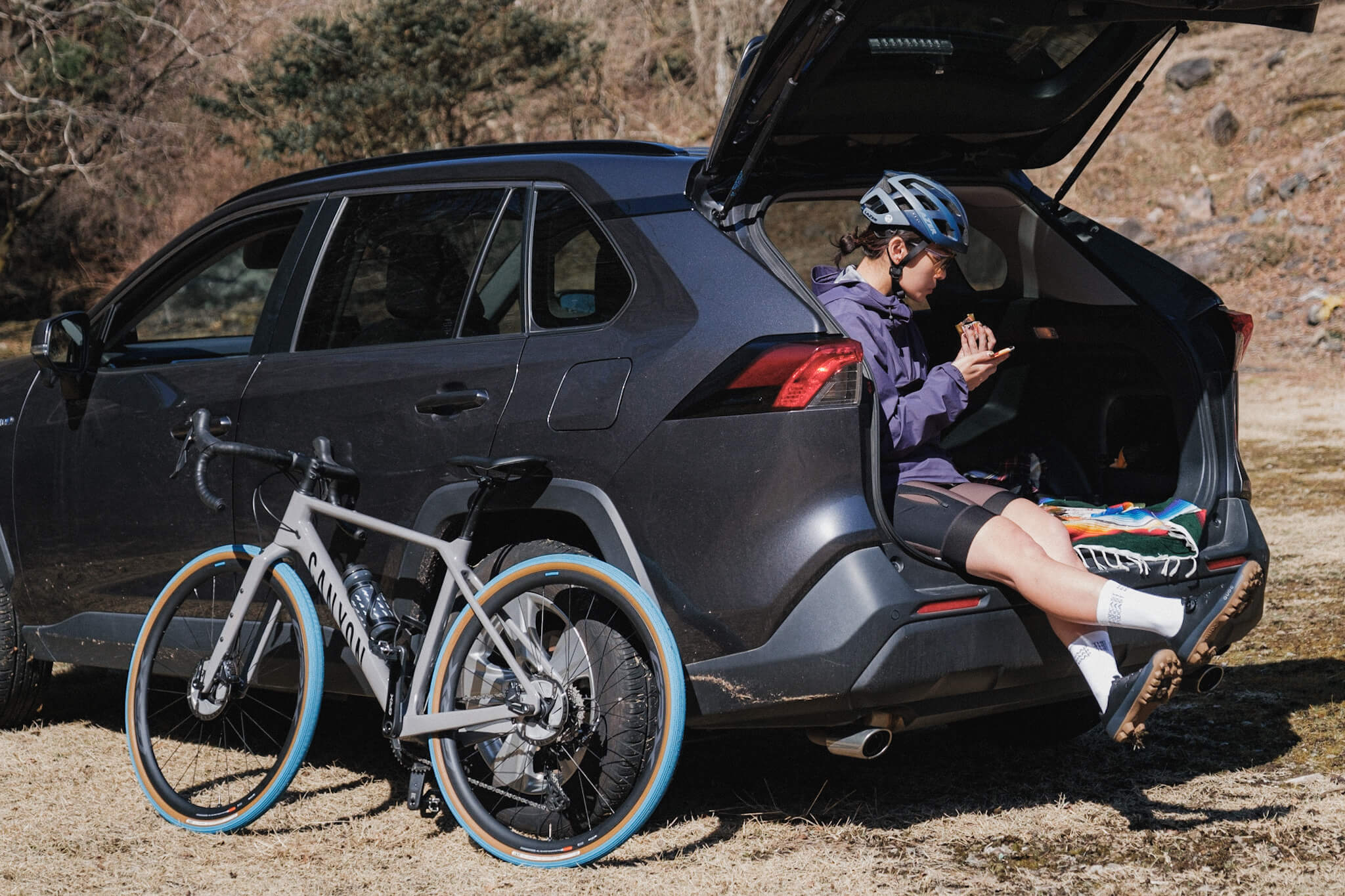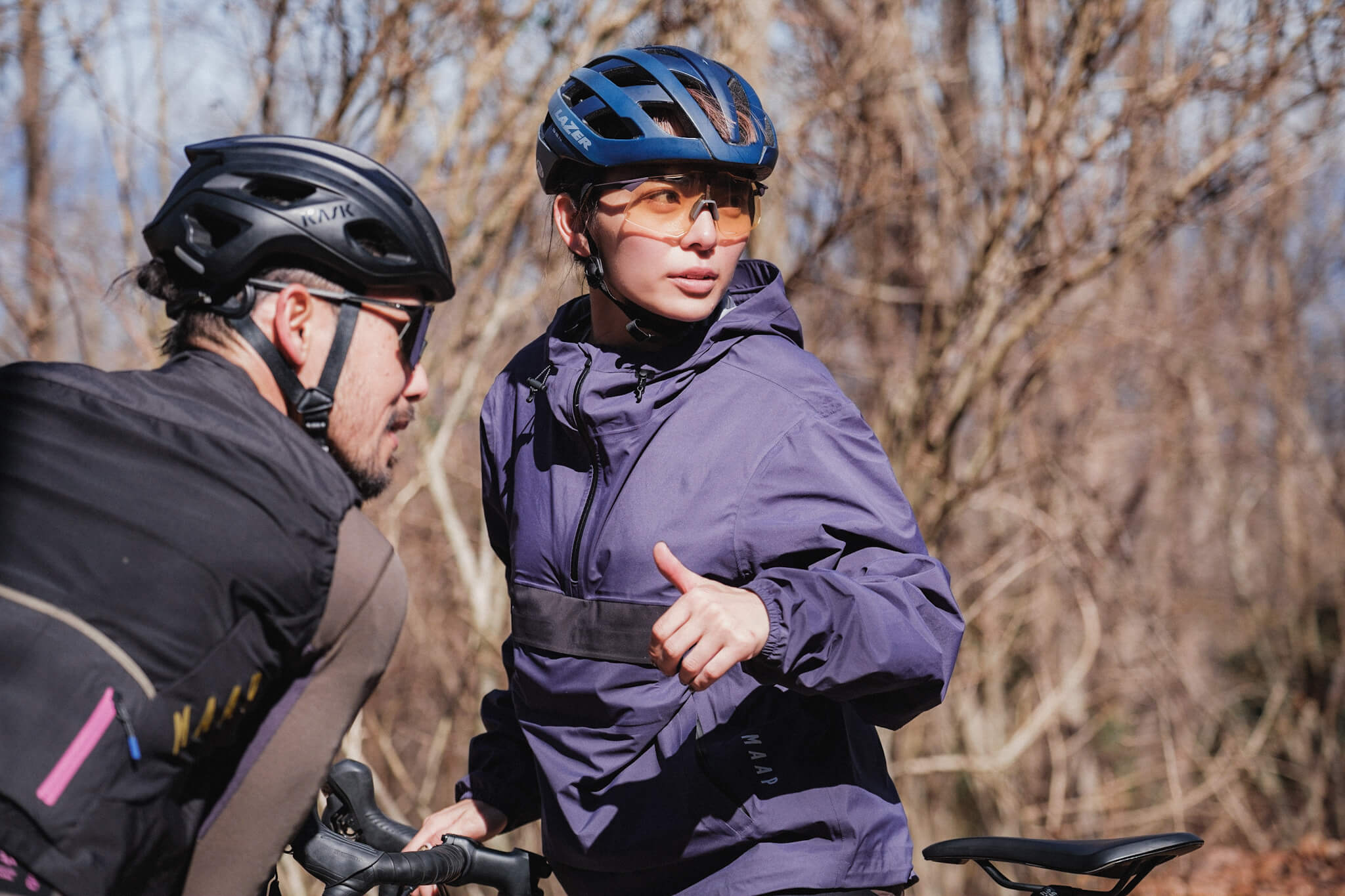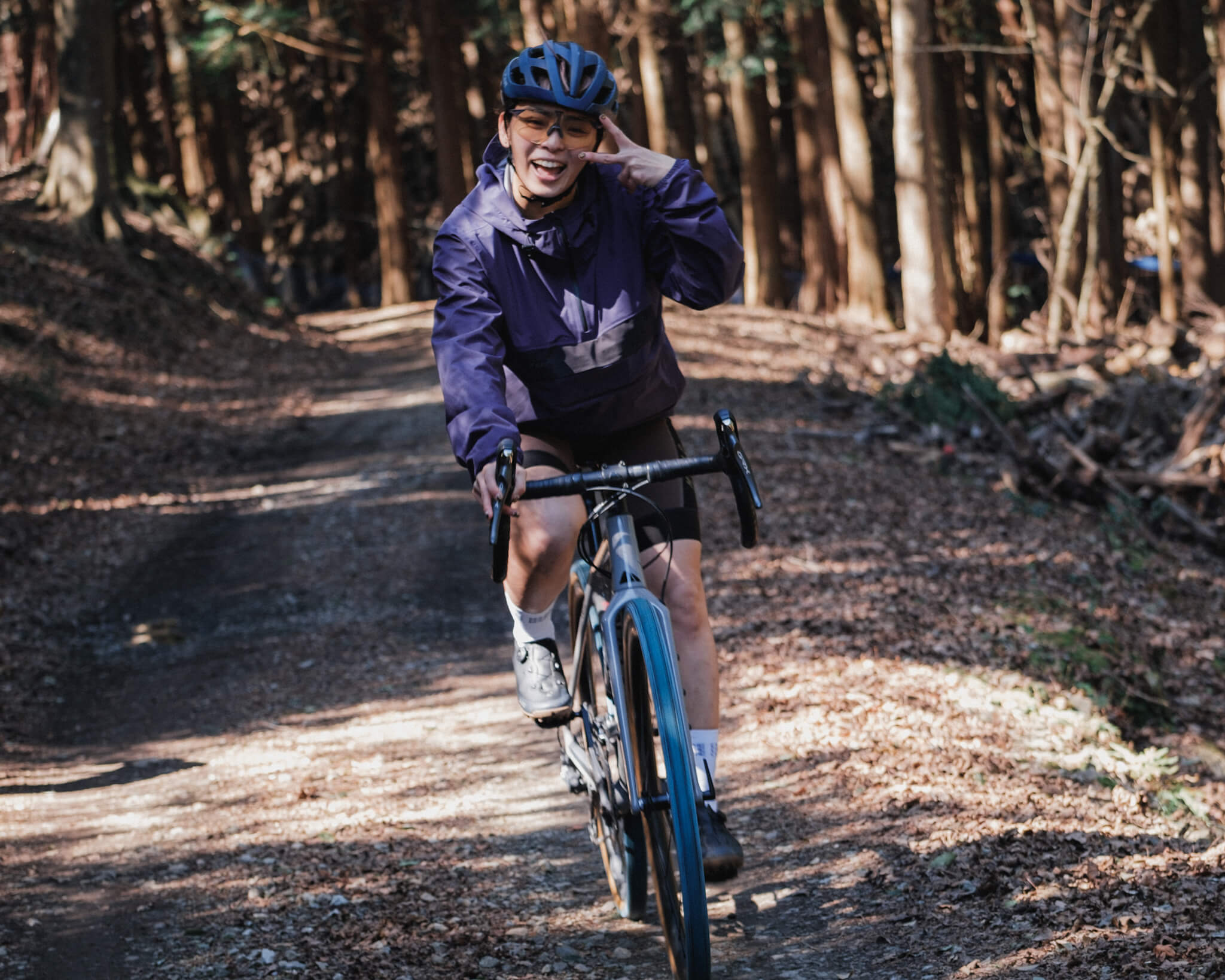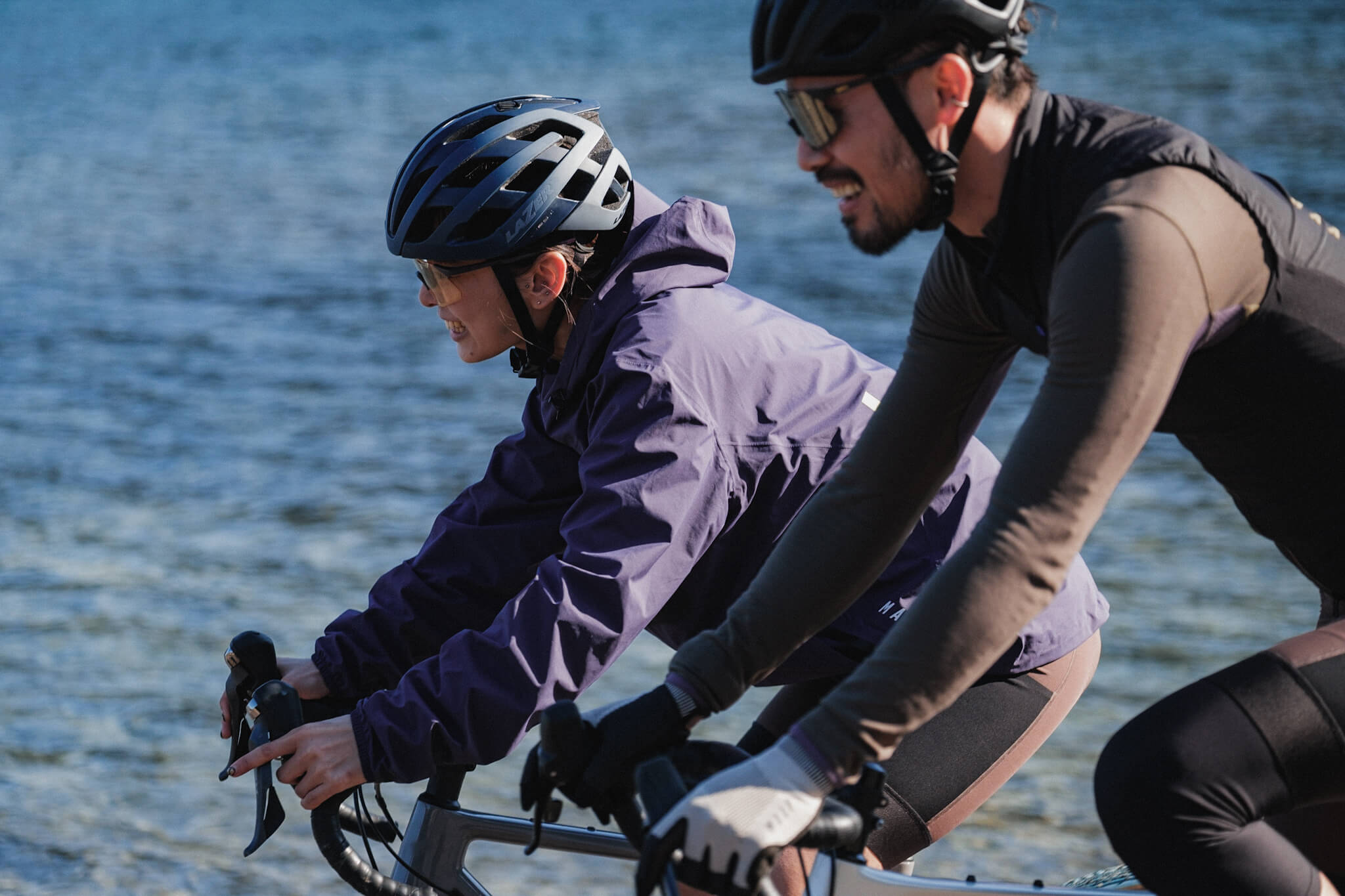 3. Gravel King SS and SK In-Depth Review
←GravelKing SK / GravelKing SS→
The two tires tested this time were the Gravel King SK 700x38c (tubed) and the Gravel King SS 700x38c (tubed).

SK and SS have different tread patterns
The two have different tire tread patterns, with SK having a block pattern and SS having a semi-slick + side knob shape.
SK for strong dirt roads and SS for wide coverage
GravelKing SK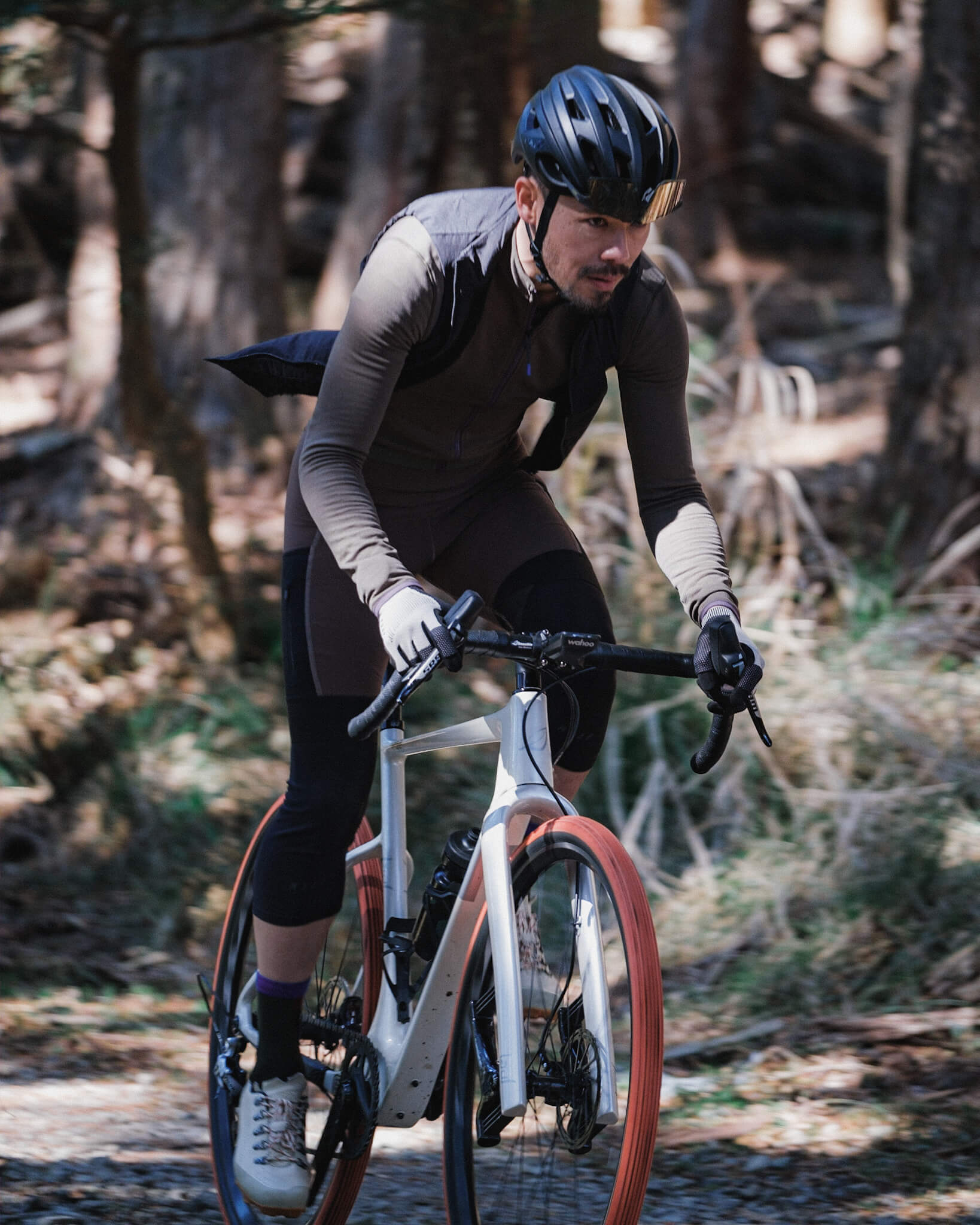 The grip of the SKs is high, and they can withstand a reasonably low air pressure on unpaved roads without swaying (air pressure 2.0 / body weight 62 kg).
Even on slightly rough terrain, the SKs feel as if they are firmly on the surface of the road, including uphill and downhill, and can be ridden with ease. However, due to the low knob, it tends to lose grip on muddy or sandy sections.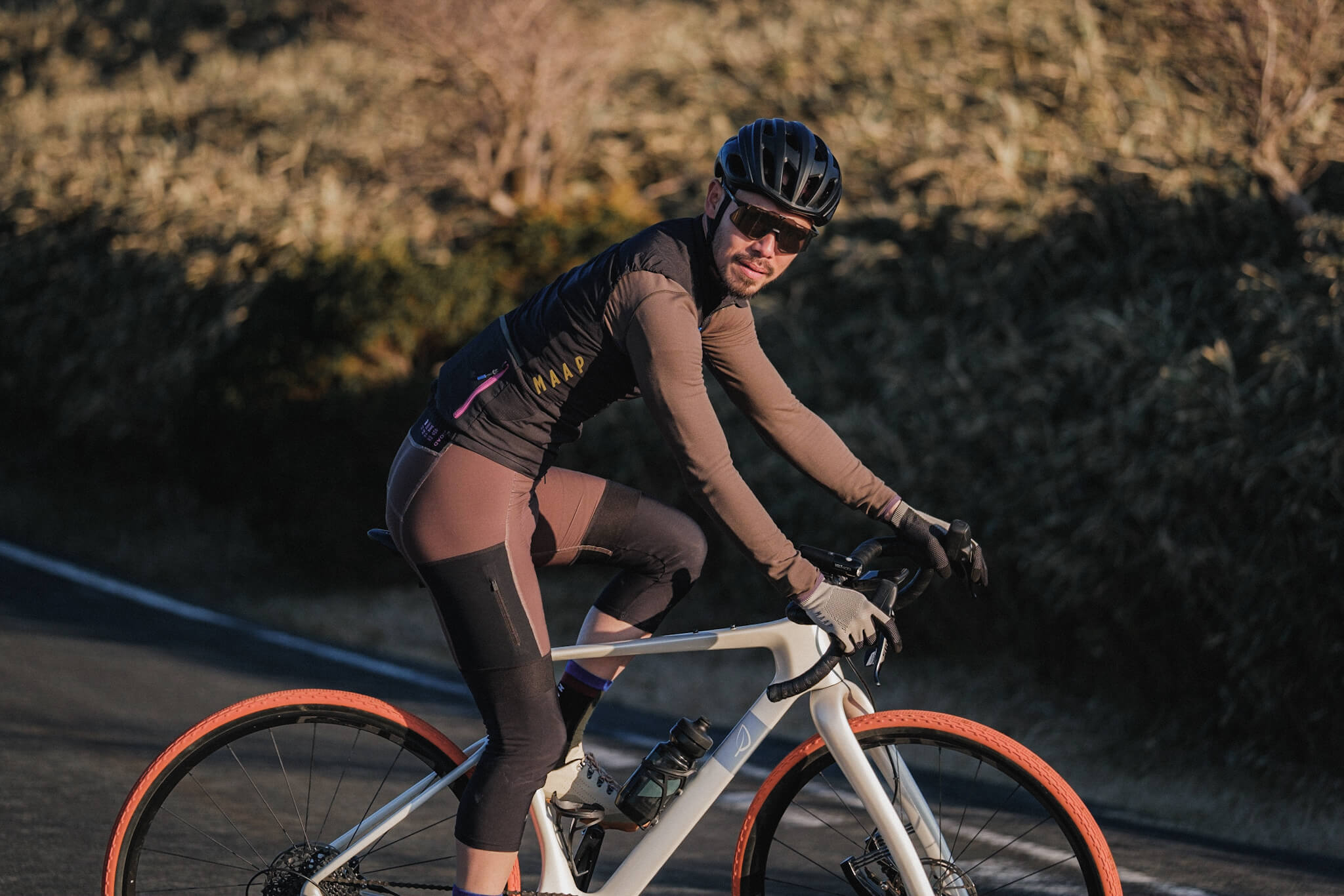 On the other hand, on paved roads, since it is not a center slick and is a 38c tire, rolling resistance is inevitably felt compared to the 28c slick tires that are usually used on roads. However, if the air pressure is increased, it is not a problem when riding at my own pace, and I hardly feel the road noise and vibration characteristic of block tires, probably due to the unique tread pattern (air pressure 3.5 / weight 62kg).
GravelKing SS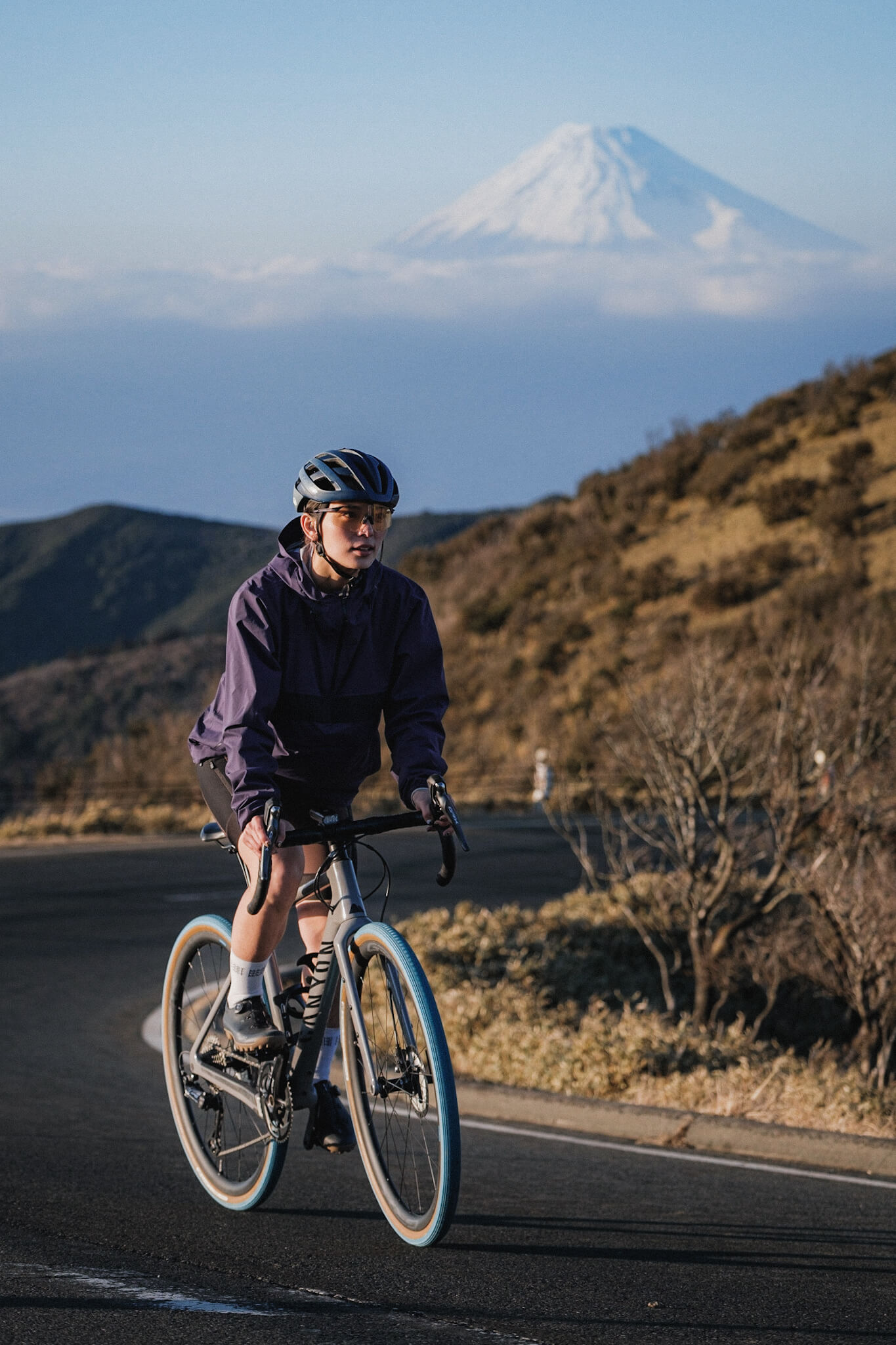 The SS has a center slick pattern, so it feels as light as a road tire when driving on paved roads and has no road noise.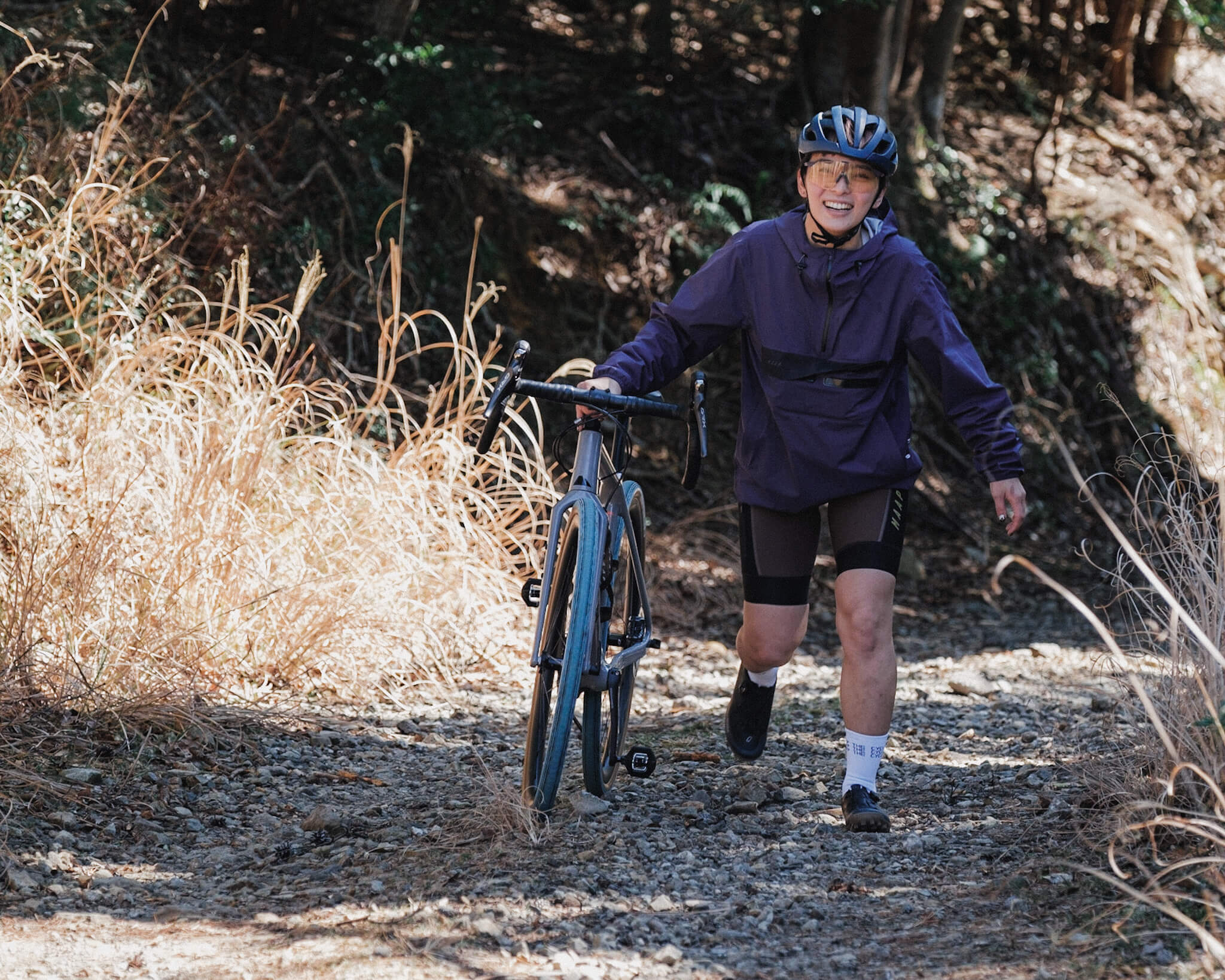 It's important not to overreach on rough roads.
On unpaved roads, the tires rolled lightly and easily at speed when traveling on flat, pebble-strewn surfaces. However, on slopes and rough terrain, the tires lost grip on several occasions, so it was necessary to drive with caution.
I feel that the SS is best suited to a style of driving mainly on paved roads, with the occasional unpaved road included.
Uphill & downhill feeling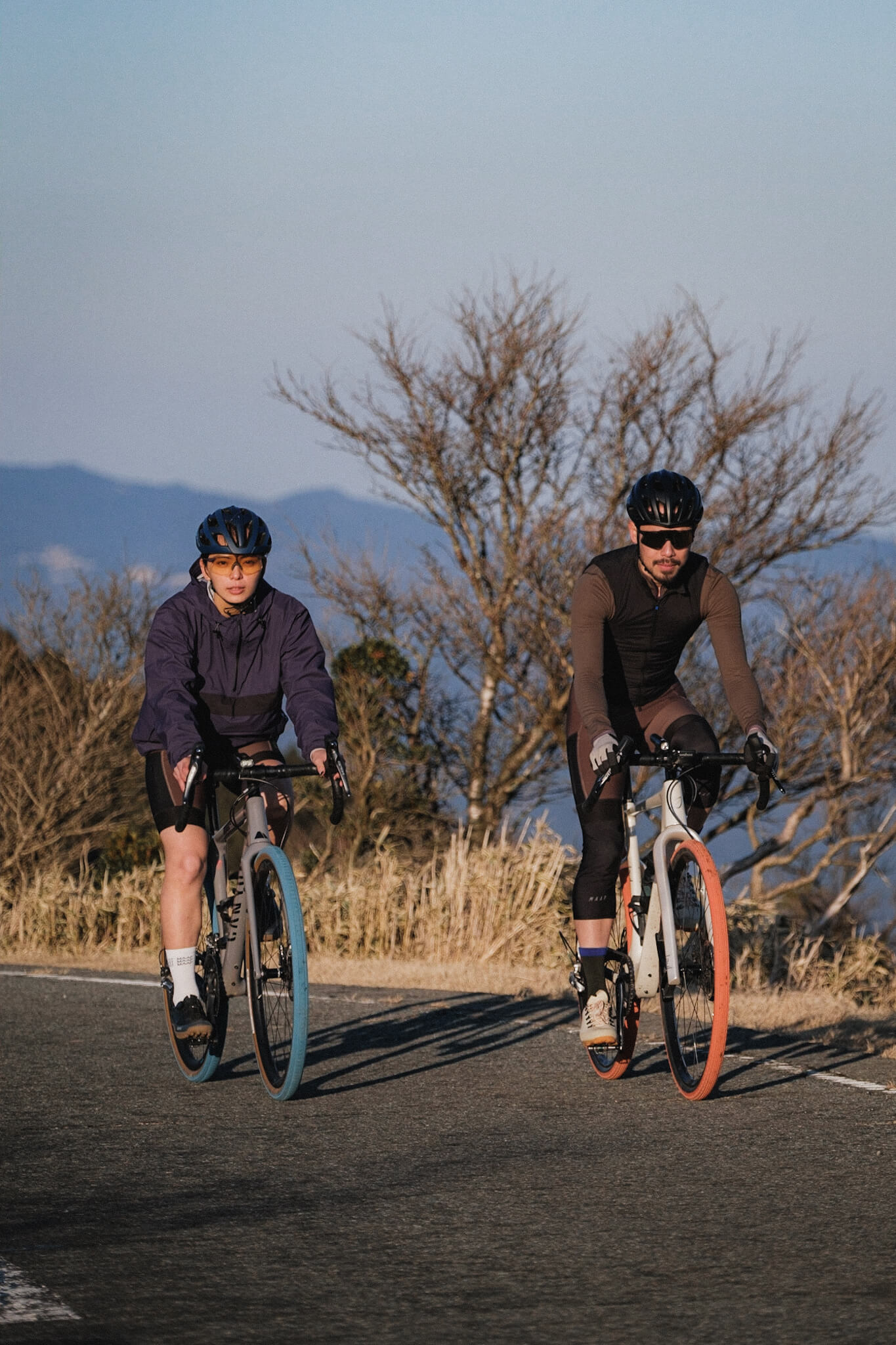 Climbing is lighter than it looks, and even SK climbs more smoothly than expected due to the tread pattern mentioned above. However, when accelerating quickly, it seems to lag a little (I think this is the fate of 38c).
The downhill ride was wonderfully stable, partly due to the larger tires. The side knobs have just the right amount of bumps and unevenness, so even when the vehicle is tipped over in a corner, it does not rattle or disrupt the behavior, allowing the driver to attack technical downhills with confidence.
Be an exquisite color when riding on gravel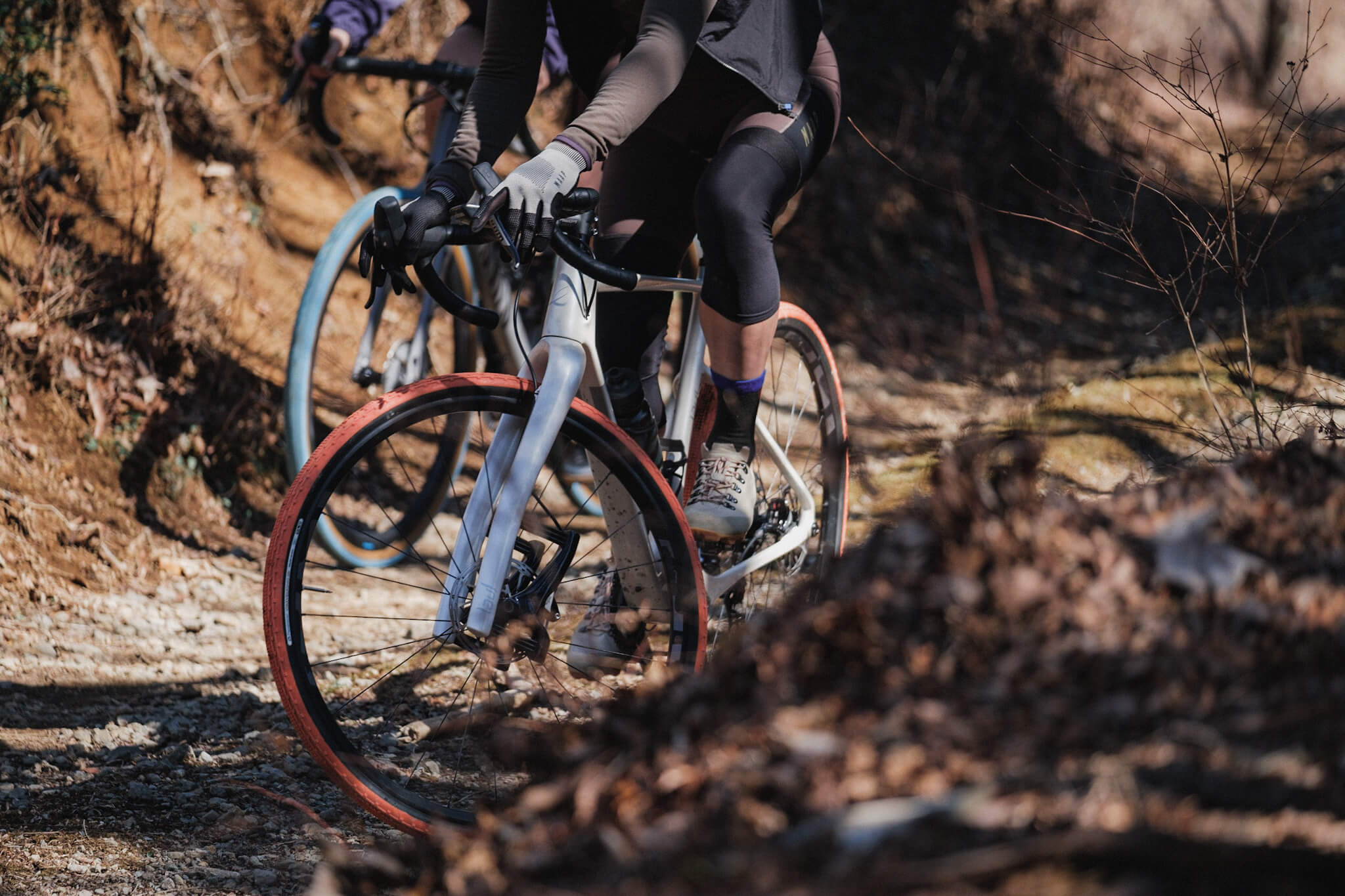 The limited edition color looks a little too flashy when new, but as it gets dirty from riding on gravel, the vividness of the color settles down and becomes exquisite. The overall balance of the color is improved, so if the coloring was intended to be this good, Panaracer is amazing..! I think.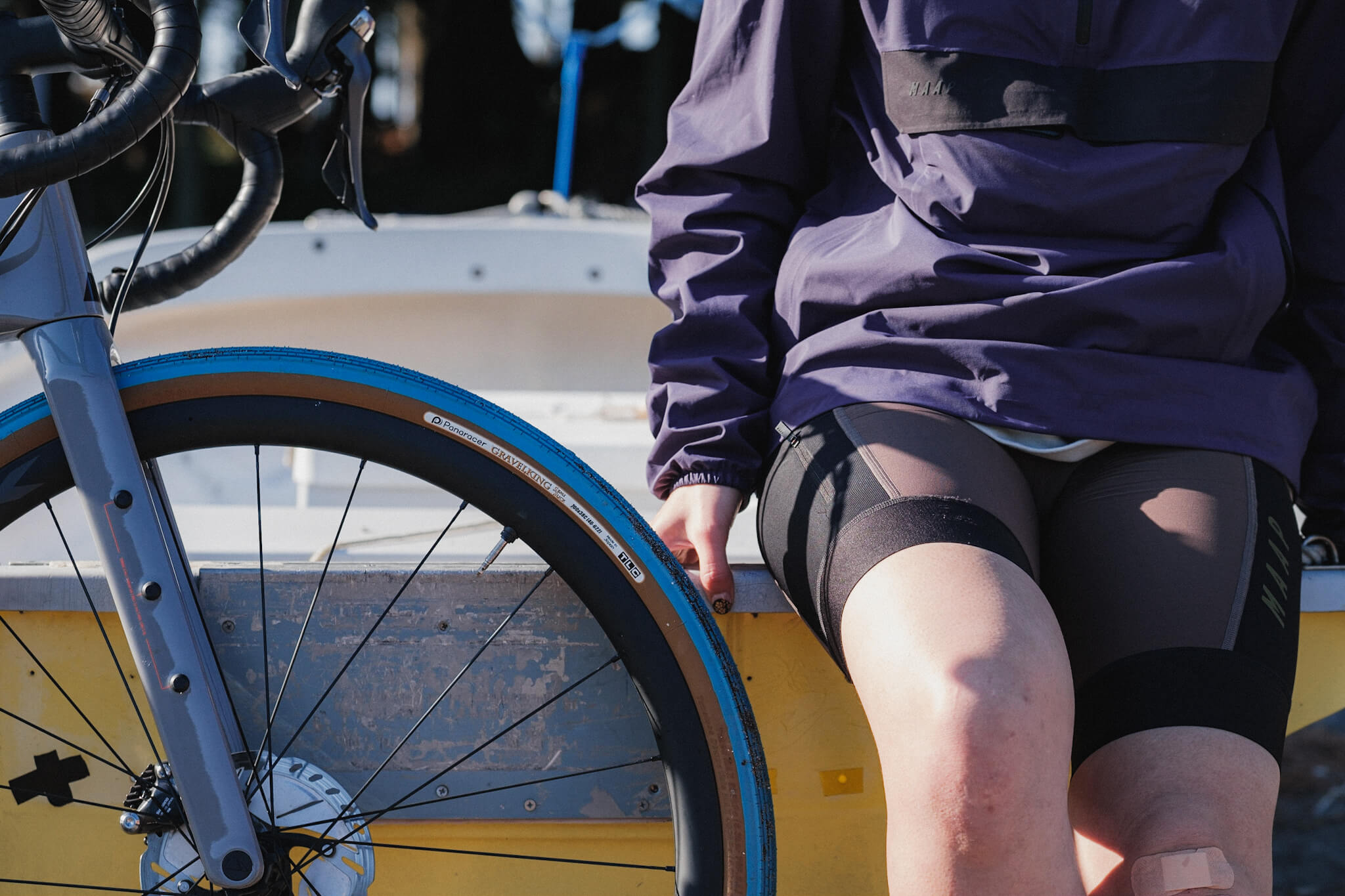 Stains create exquisite color tones.
4. Anywhere on paved and unpaved roads with GravelKing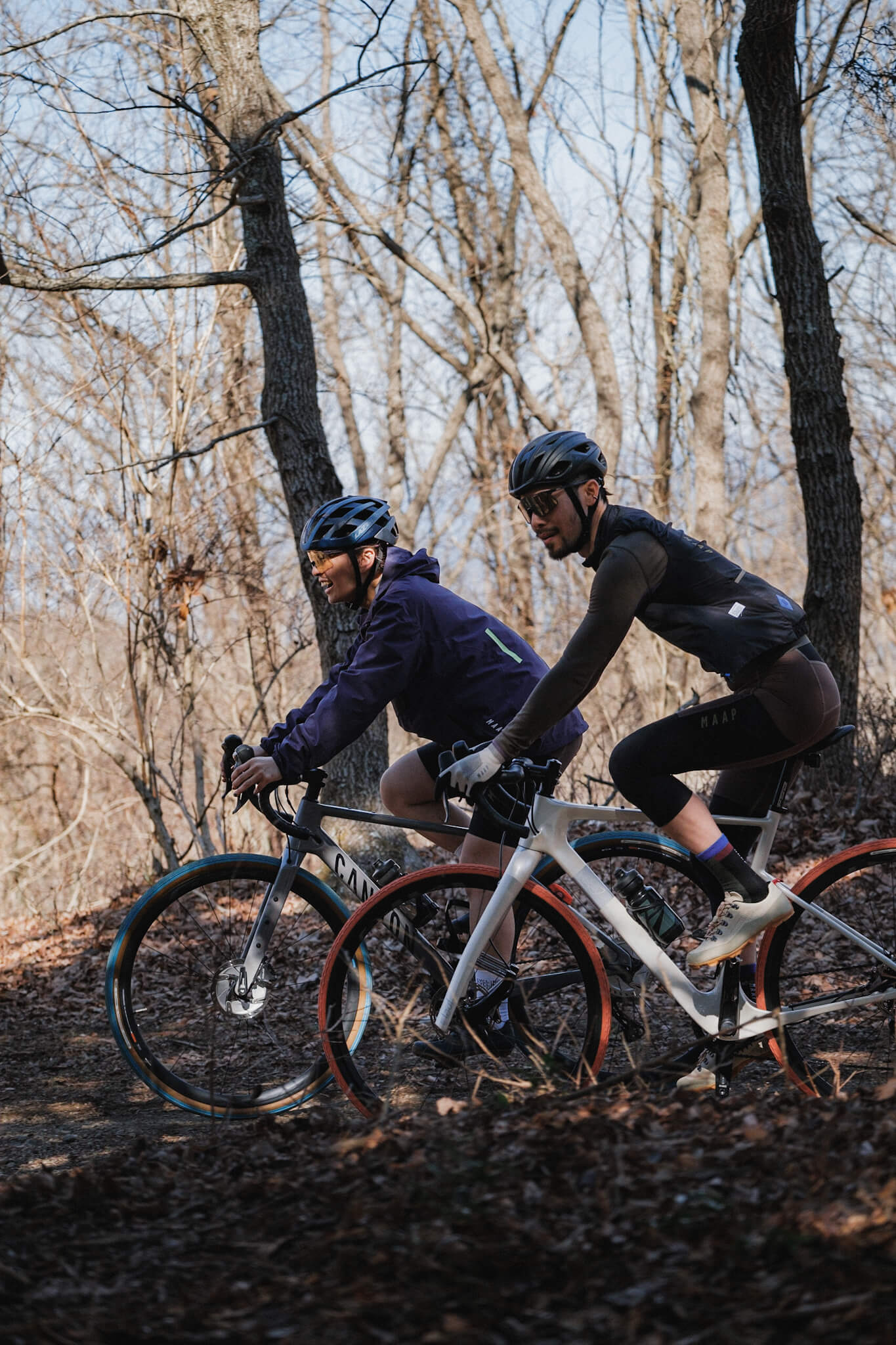 One of the essential elements for enjoying the styling of daily rides is the use of color.
The Gravel King's limited edition colors combine the beauty of color and functionality to make gravel rides feel even more inviting.
Take advantage of the two new colors and enjoy fresh color combinations that will make you look forward to your next ride.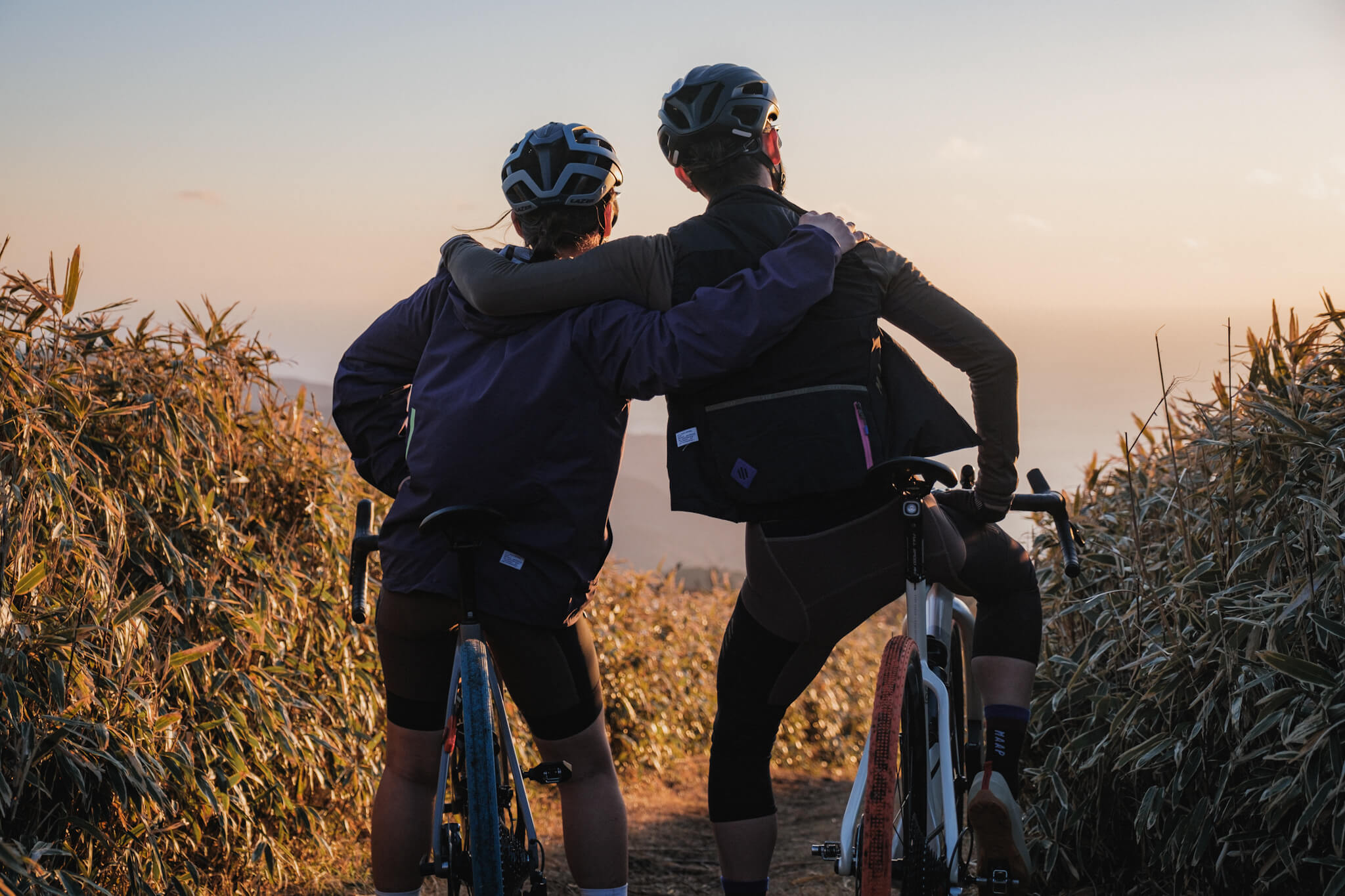 GravelKing 2023 Limited Editions (Amazon)
Model / Atsushi & Ran 
Photo / Rin、Text & Edit / Tats
Powered by Panaracer
Clothing provided by MAAP
関連記事