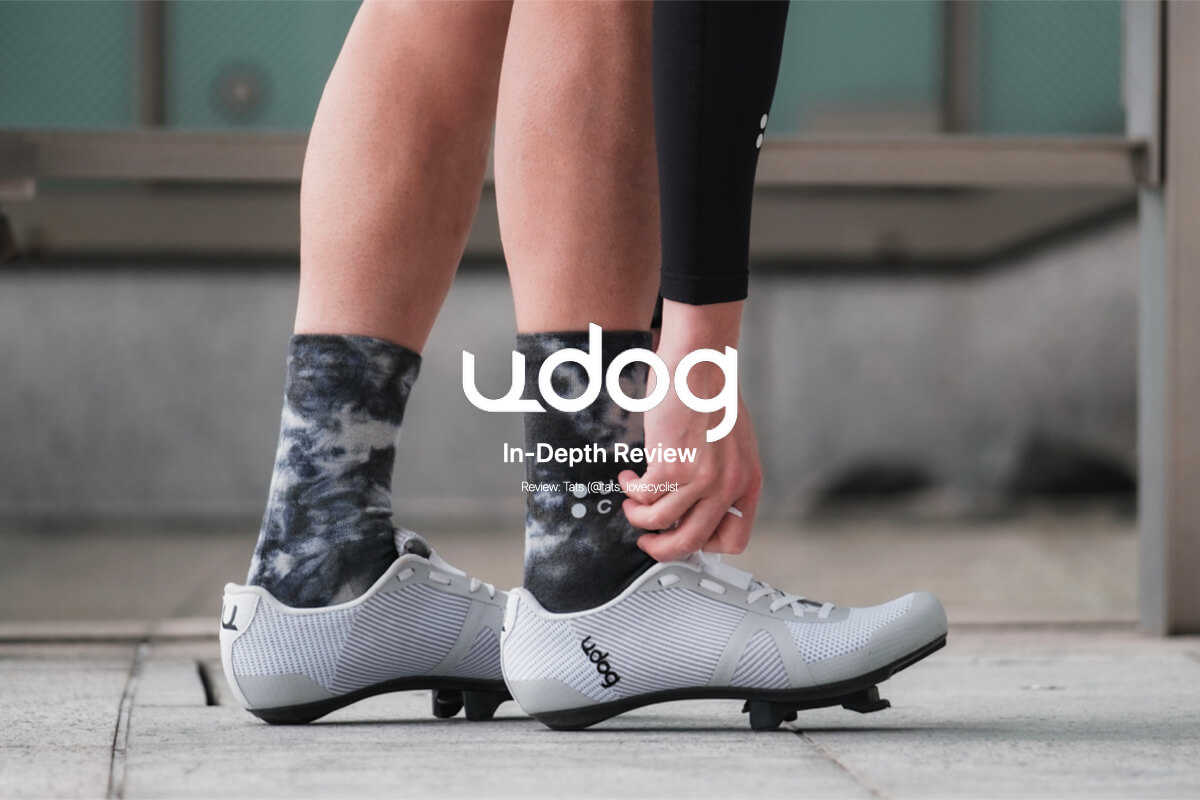 In February 2022, a new Italian shoe brand "UDOG" made its debut with its first model "Tensione". The second model, "CIMA," was released in March.
The reason why I wanted to feature this brand as soon as possible was because I felt that "a new value of cycling shoes was born" at first glance. So in January of this year, as soon as I heard about the release, I contacted the founder, Alberto Fonte, and asked for an opportunity to interview him and test the product.
In this post, I will review in detail what makes UDOG different from other shoe brands and how CIMA is made.
text / Tats (@tats_lovecyclist)
1. Distance itself from tradition
"I have never bought myself shoes that cost over $400. Maybe top racers need them, but $200 is enough for me."
In an era when cycling shoes are being sold for over $400, UDOG's first model, the Tensione, was priced at $200. In an online conversation with owner Fonte, when asked about his intention to be the first to offer a model in that price range, he replied with the above.
While many brands develop high-end shoes first, and then launch entry-level and middle-grade models, UDOG starts with middle-grade shoes that are "good enough" from the beginning. His story shows that UDOG started by updating the existing market concept.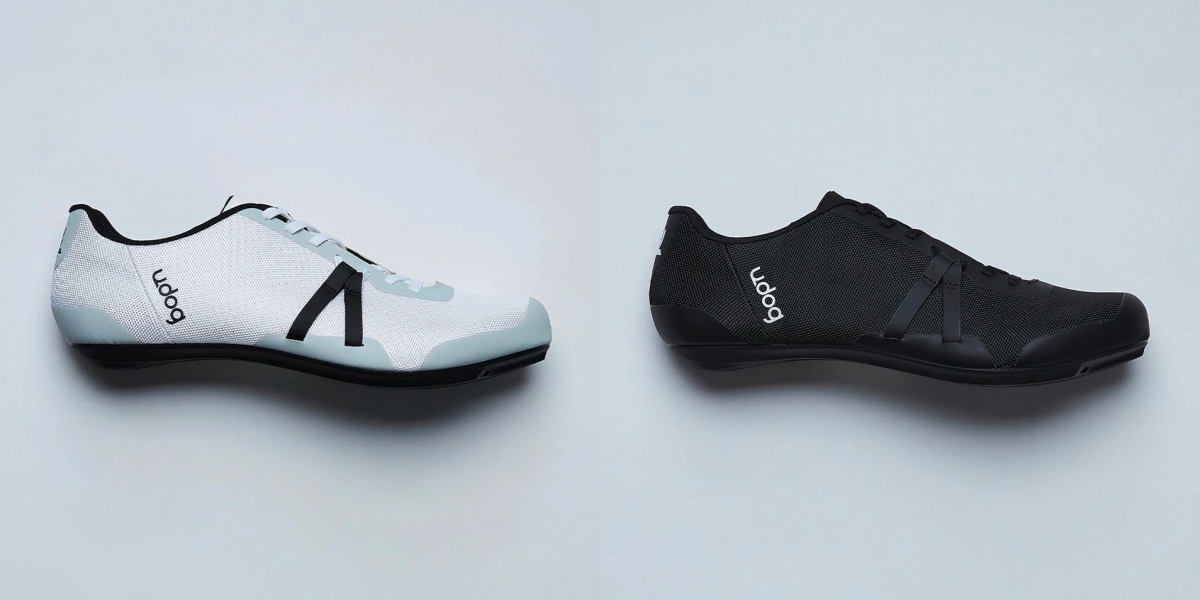 Tensione is equipped with an original adjustment mechanism, the "Tension Wrap System," and is positioned as an all-around middle grade.
Fonte's career in the bicycle industry has been spectacular: he was brand director of Fizik, sales director of Pinarello, and marketing director of KASK before launching UDOG.
The brand name "UDOG" is derived from "underdog," which refers to a dog that has no chance of winning in a competition. Generally, if the underdog should win, it is a great upset that attracts people.
He likens the concept to the brand itself and says it encompasses the mentality of the cyclist.
"UDOG was originally a cycling club that began as a community. Just as a dog can be a barker if it has the drive and effort to succeed, UDOG is a club for those who embrace cyclists who are looking to grow and win."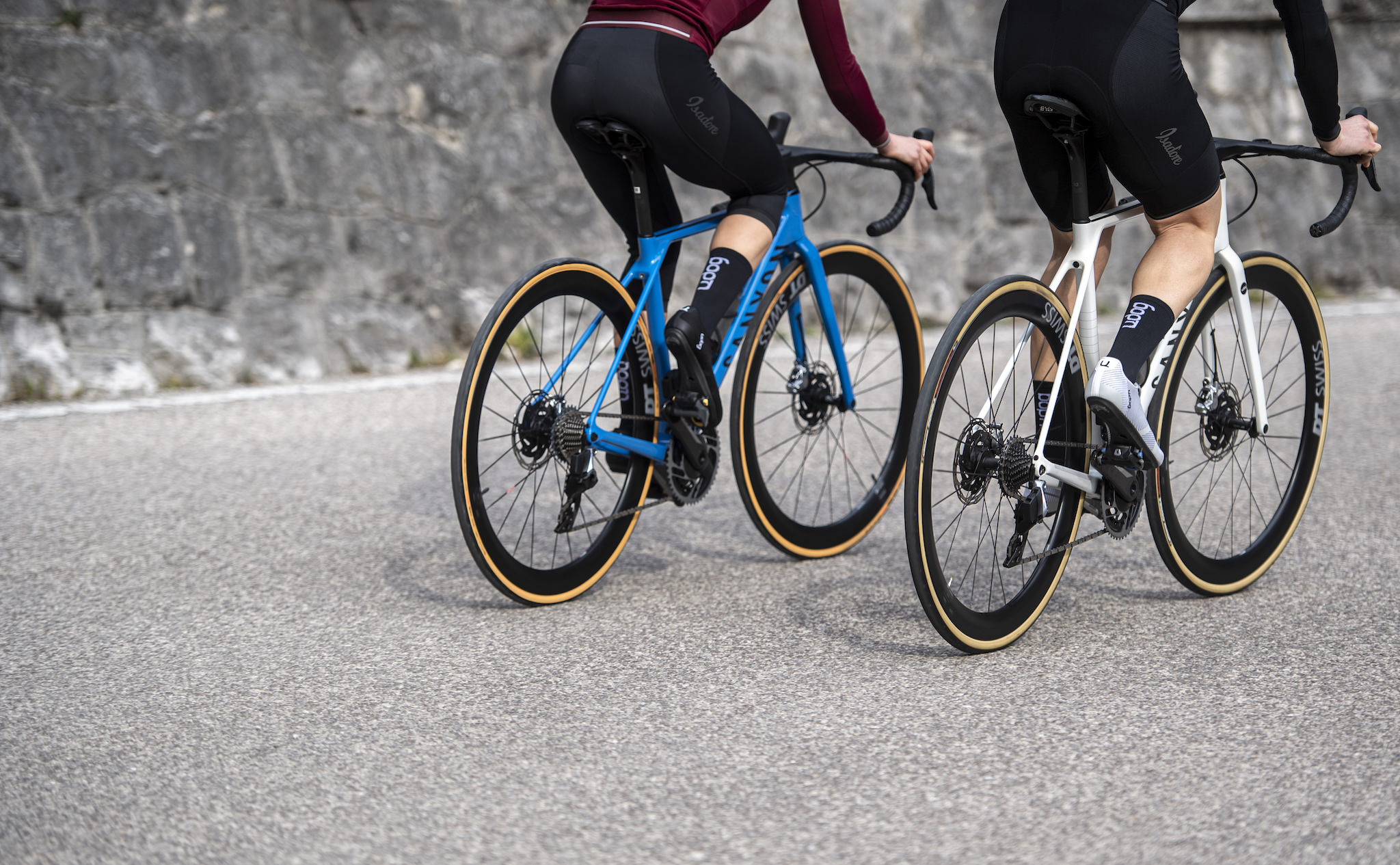 A brand born from the community ©Udog
The community now has over 100 members worldwide. In the midst of this growth, they created a website, produced T-shirts and other off-bike clothing, and then developed cycling shoes. This approach is the opposite of the conventional brand approach, which is to first develop a product, create a website, and then build a community while expanding sales channels.
"The existing brands had a strong culture of valuing tradition, and it was difficult to take on challenges. UDOG incorporates new values in both marketing and manufacturing approaches."
In Italy, there are a number of traditional shoe brands that everyone knows, including Fizik, where he worked, but UDOG seemed to fully understand them and dared to keep a little distance from them.
The story of the emergence of a brand style that fits the current era from Italy, a country that places great value on tradition, is truly an "underdog" story, and the beginning of a tale that is worthy of our attention.
2. Filled with ideas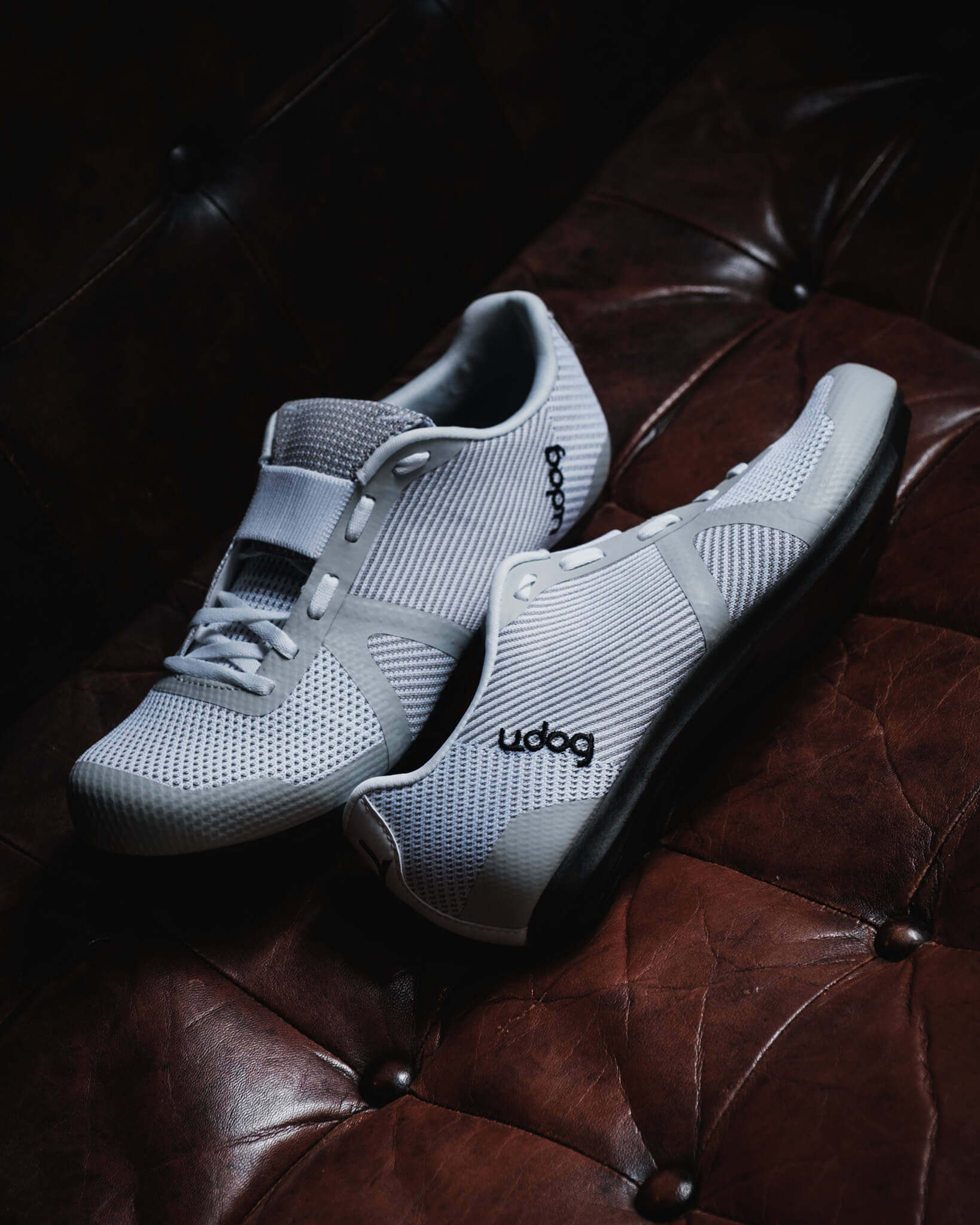 CIMA ($300) means "peak" in Spanish. Although it is a category of climber's shoes, it covers a wide range of activities.
While the Tensione has a carbon and nylon composite sole, the CIMA has a full carbon sole and is aimed at cyclists who are more performance oriented.
When Fonte talks about the development concept of these shoes, there is a distinct user feel included.
"Most of what is on the market right now is a combination of white shoes and BOA dials. They all look the same, and they are all expensive. What cyclists like me need is a comfortable shoe at a fair price."
To begin with, road shoes in the existing market tend to have a similar destination, as if aiming for the summit, because their value is enhanced by their success in professional races, so all manufacturers' products tend to end up at a similar destination.
In contrast, UDOG, because it originates from the cyclist community, includes a strong perspective of what the general user needs. So, in developing the product, they are not only using existing road shoes as a benchmark, but also taking inspiration from products in more general user categories, such as running shoes and soccer shoes. Just as cycling apparel has deepened its ties with the fashion industry, it is inevitable to crossover with other categories to incorporate new values.
When we look at CIMA, which was created in this way, we find that it contains a number of ideas that are not found in traditional road shoes.
Particularly creative is the patented PTS (Pocket Tongue System).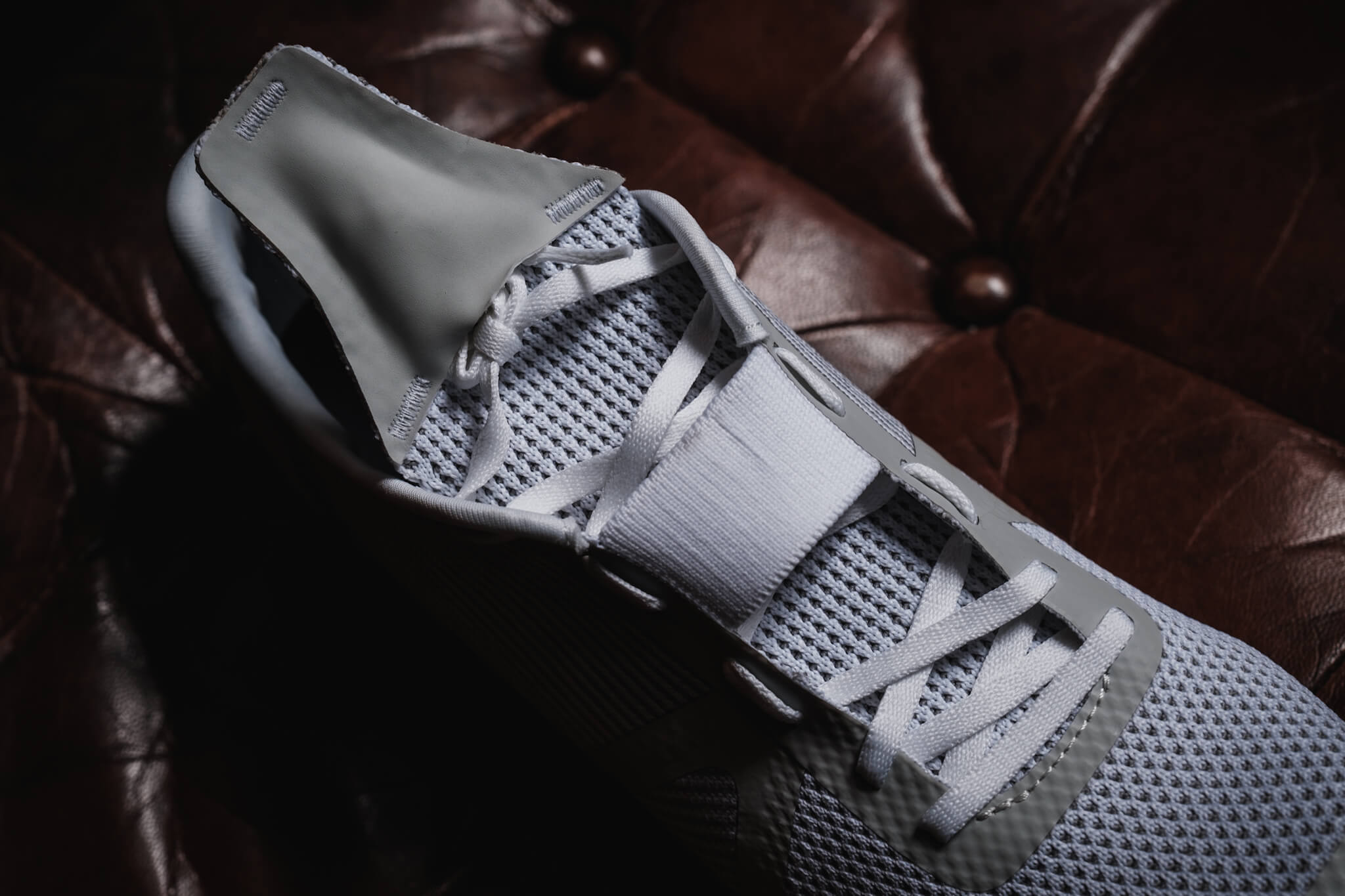 PTS with internal pocket to accommodate laces
The shoe's tongue can be folded back, and there is an inside pocket for storing the laces. By inserting the tongue into the rubber bridge in the center of the shoe, this mechanism hides the laces for a clean look.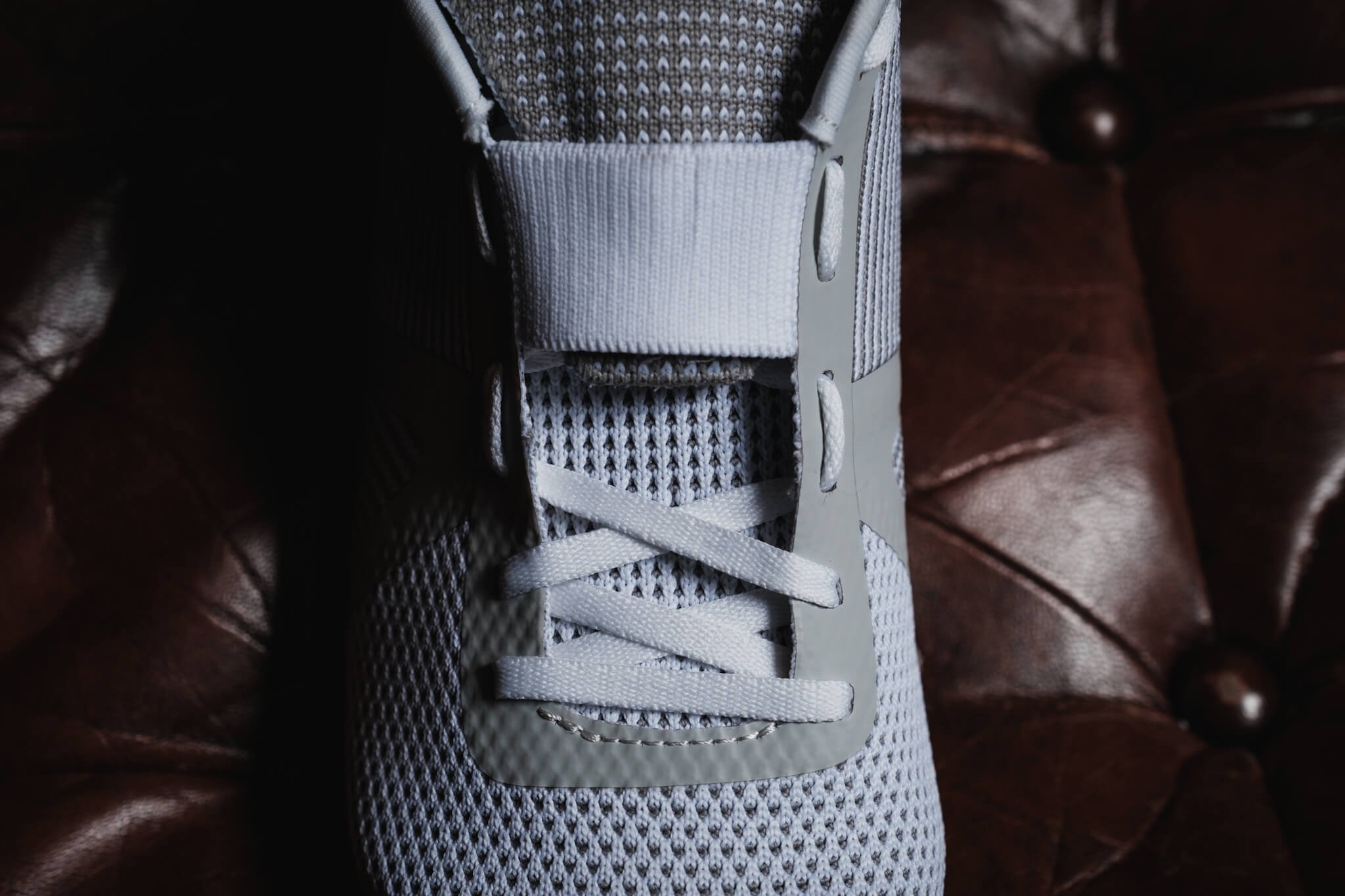 The folded tan is inserted into the bridge.
A more interesting point is that the PTS performs the same function as an aero cover. When using lace-up shoes in competition, a sleeve-type or other aero cover may be attached, but the PTS makes this unnecessary. The aesthetic sense of wanting to use the shoes in their bare form and the competitive orientation of wanting to increase performance are well balanced.
This balance between "aesthetics" and "performance" is a key point in UDOG shoes.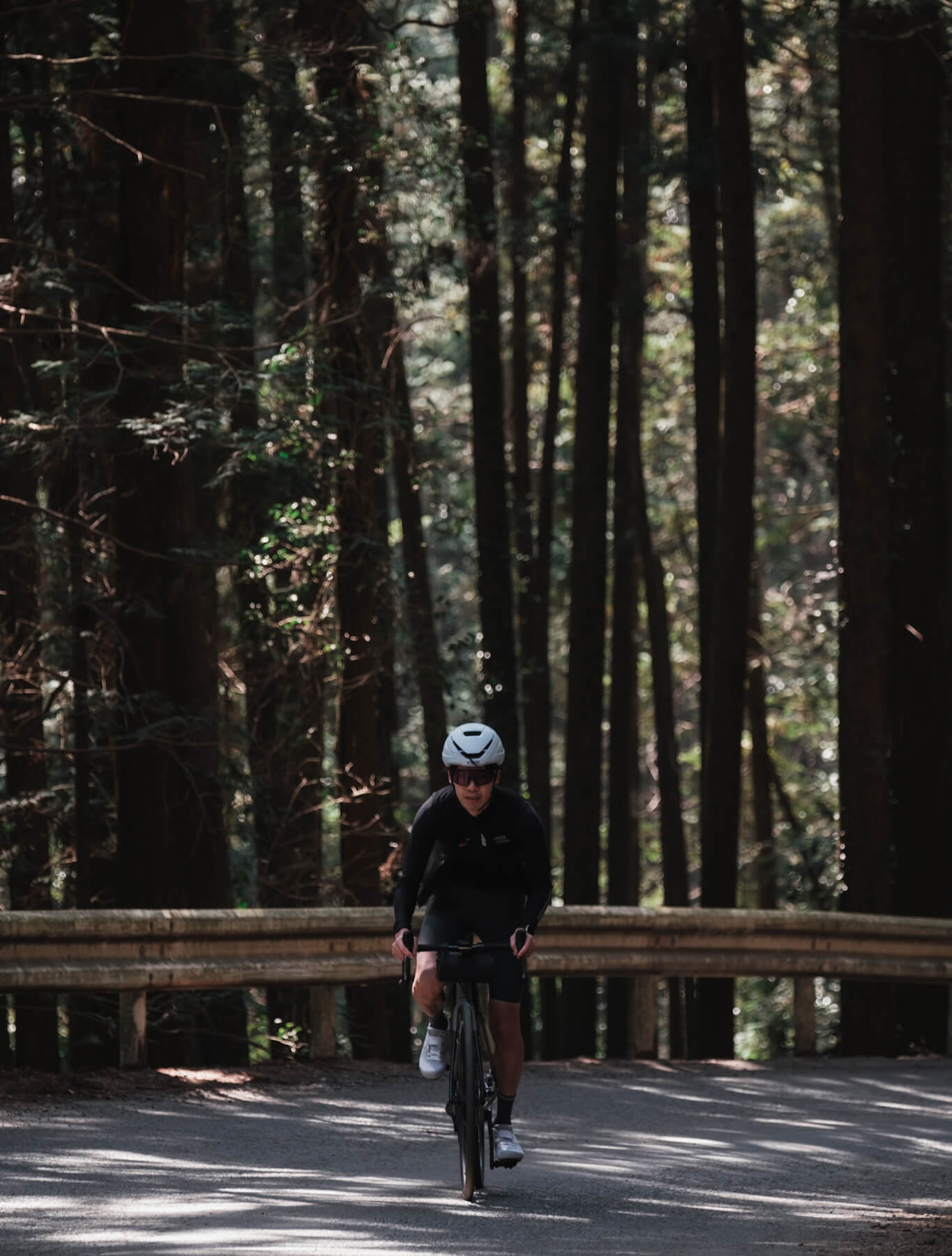 3. Sneakers, not Italian shoes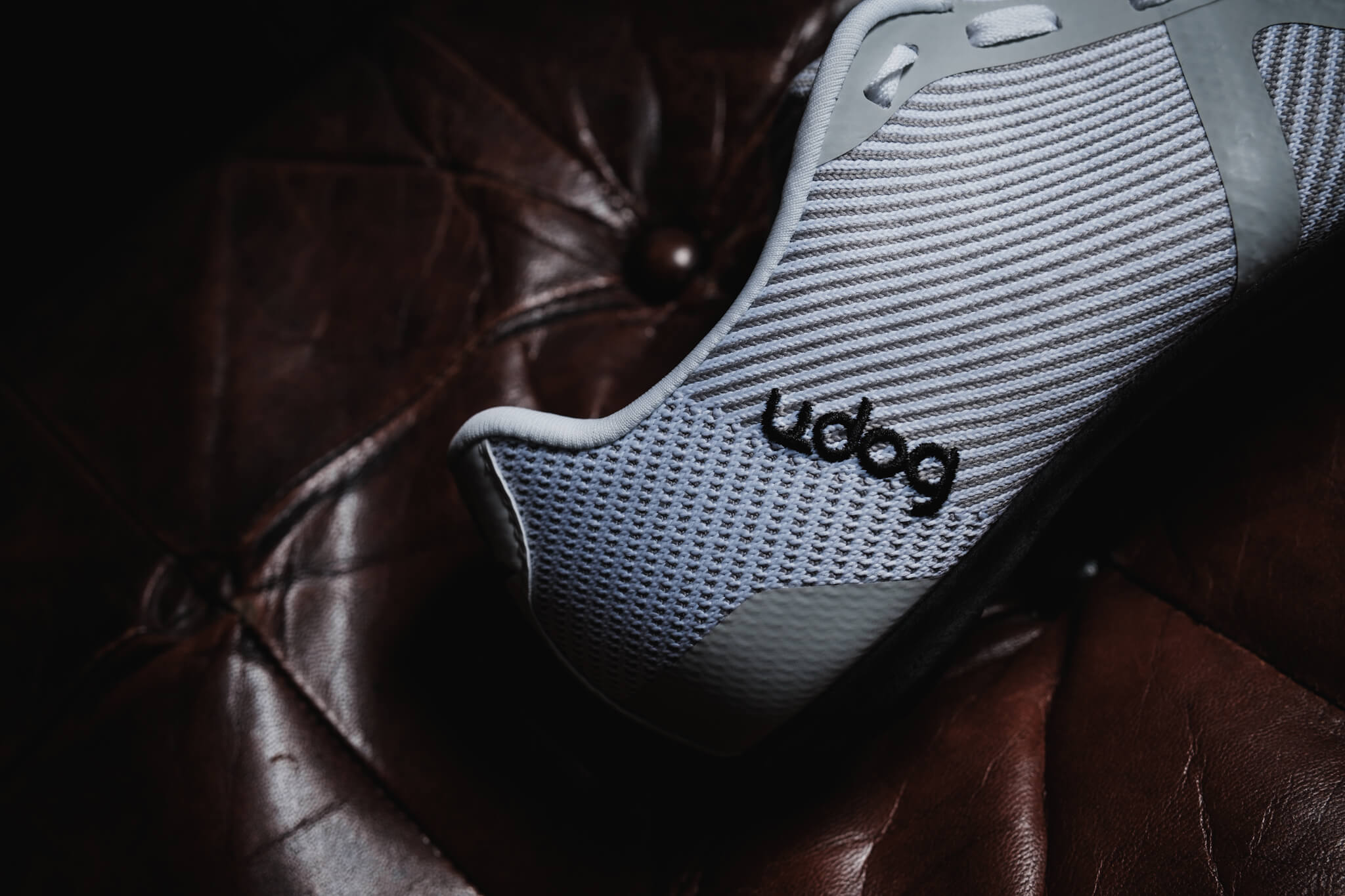 The upper of CIMA is made of knit material. Shoes made of woven fabrics are recently associated with Rapha's professional team shoes, but the comfort of these shoes is different from that of Rapha's shoes. To take an extreme analogy, the same woven fabric is as different as a knitted sweater and a Persian carpet, with CIMA being more flexible.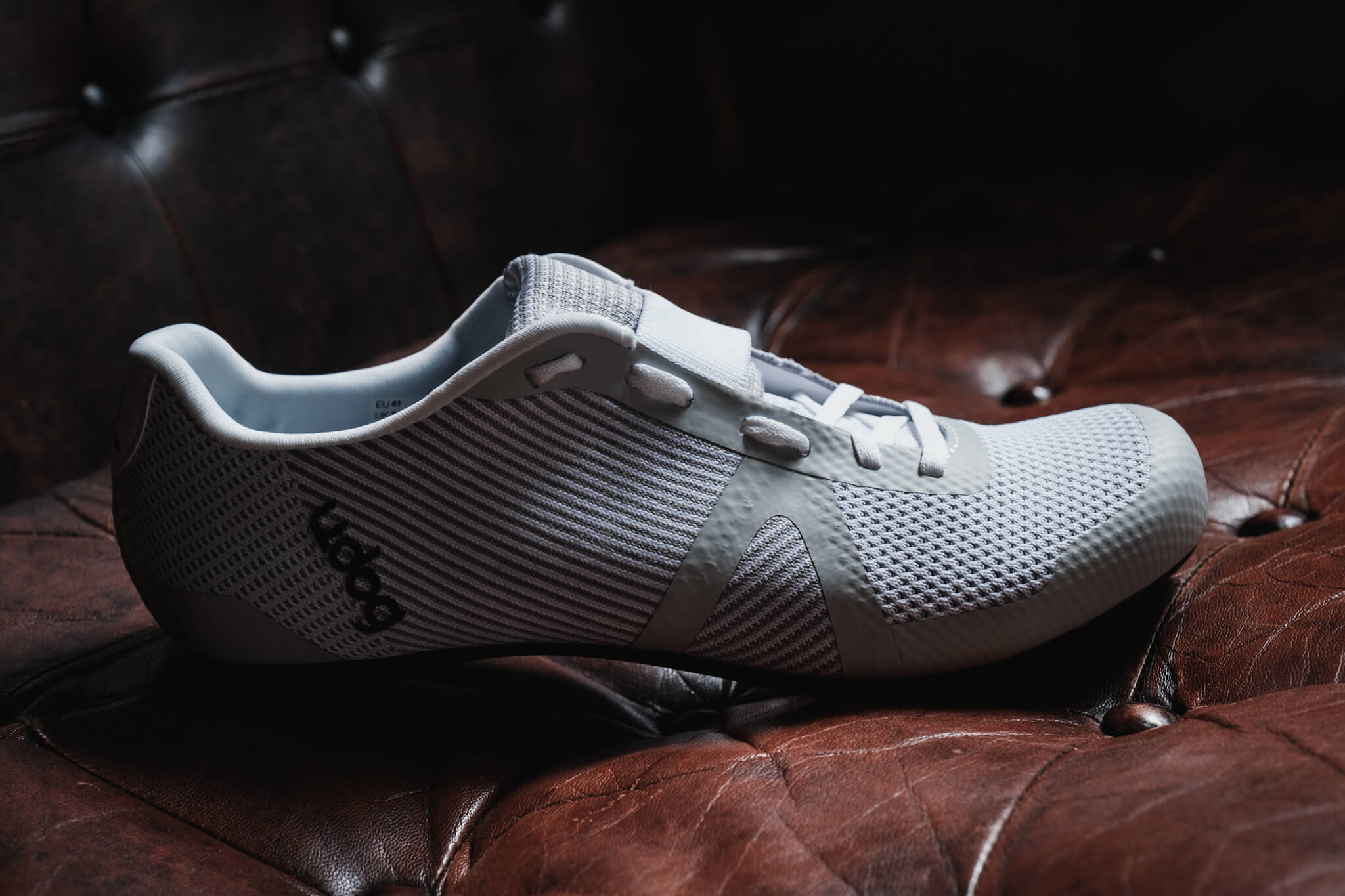 Different knit patterns are used in the integrated upper material, with a softer front section and a stiffer vertical section in the center to prevent force from escaping
Like Specialized and Shimano shoes, the heel cup is narrow and high, holding the heel firmly in place.
In contrast, the toe box is wider than one might expect, and even wide feet do not press on the toes. Cycling shoes now tend to have wider toe boxes overall, and CIMA is no exception. This shape and CIMA's knit work very well together, and although I wear a size 41, the same size as my other shoes, I feel as if I am wearing one size up (not that they are loose or squishy of course).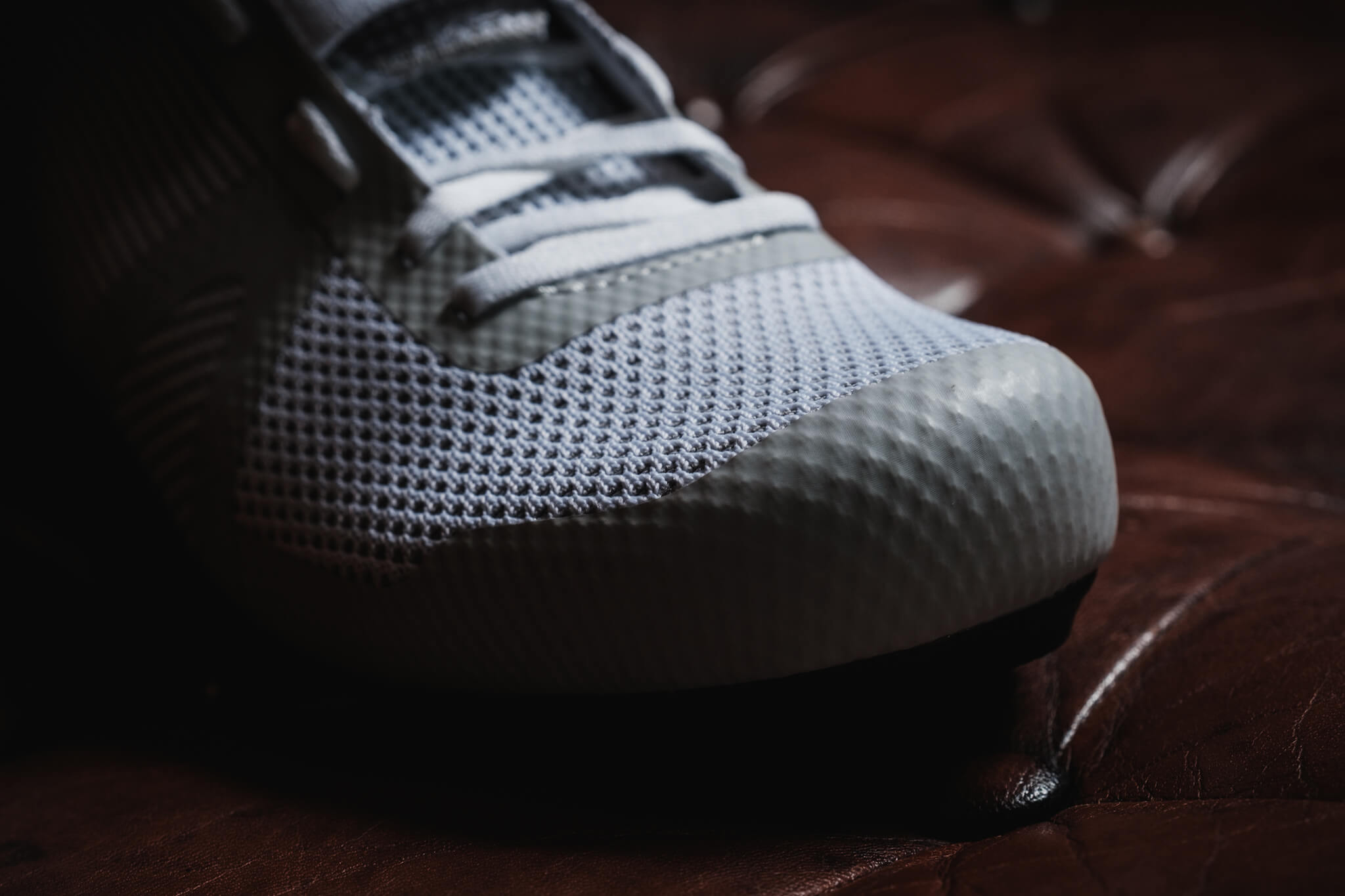 Toe box encompassing any foot shape
I believe that UDOG moved away from tradition because it wanted to fundamentally change its approach to shoemaking.
Many road shoes I have worn in the past were labeled with the instruction, "They may feel tight at first, but after a few uses you will get used to them." This is a similar approach to that of high-end leather shoes, but it inevitably causes the user a period of pain at first, and in rare cases, there is a risk that the shoes will not break in.
The experience that CIMA gives is that the user is comfortable with their feet from the start and can continue to use them comfortably for a long time. This seems to me to be an approach similar to that of making sneakers.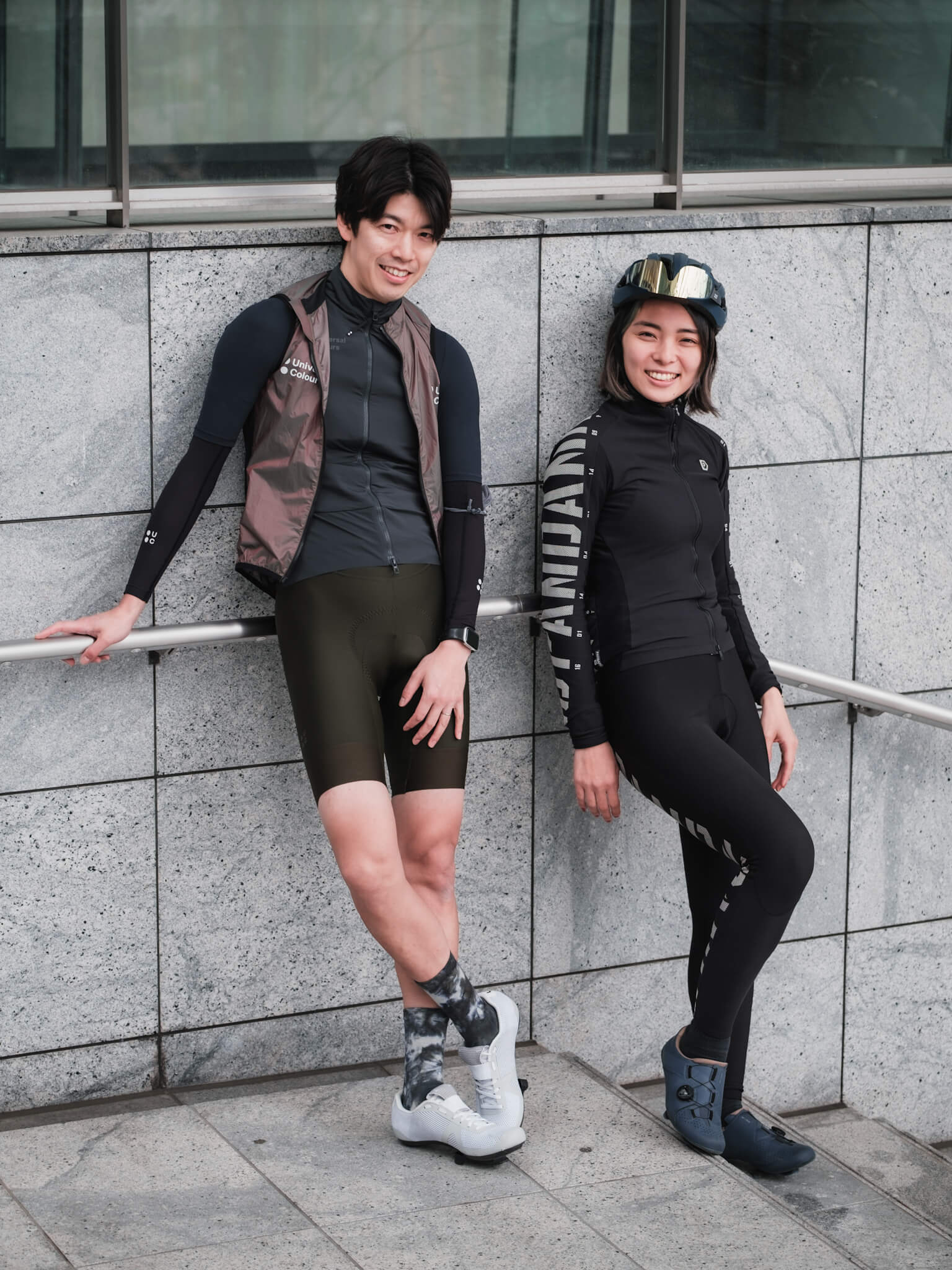 Easy to style like sneakers.
The only drawback of knit material is that dirt can easily get into them. Since these shoes have a clean look, we want to keep them as clean as possible.
Once when I drove on a gravel road after rain, they became very dirty, but most of the dirt was removed by washing them in water while gently brushing them with a mild detergent.
4. Lace-ups are "Aesthetic"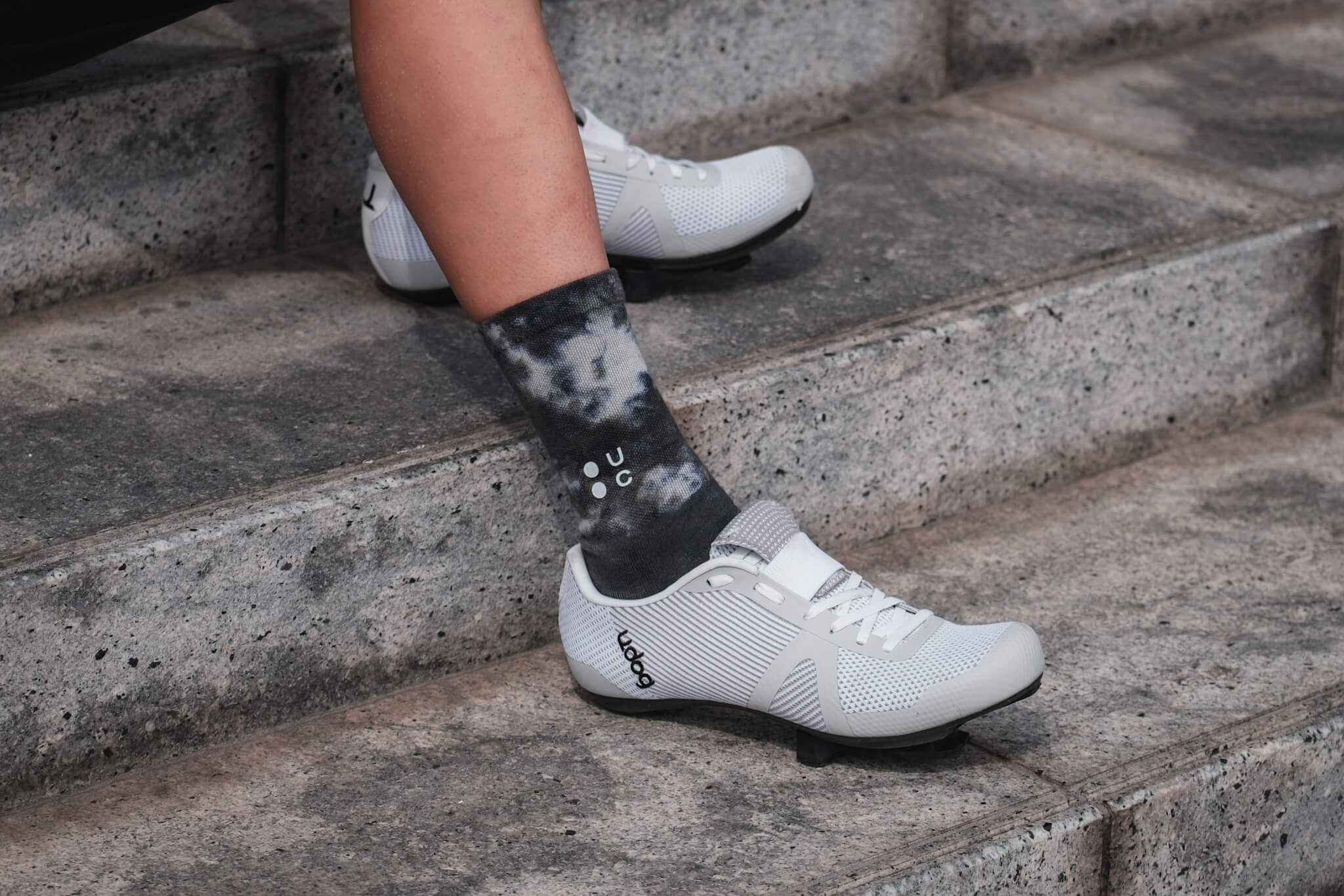 In response to the adoption of lace-ups at a time when BOA dials were in full swing, Mr. Fonte quipped, "Because lace-ups are aesthetic. I can only shake my head vigorously in the vertical direction at this.
Even though there are negative elements such as "troublesome to put on" and "hard to adjust after putting them on," the aesthetic appeal of lace-up shoes makes us want to accept them and wear them.
Of course, it is not only aesthetics, but they also have the great advantage of being lighter than dial-up shoes, distributing pressure evenly, and fitting easily even for a high instep.
In particular, CIMA's knit upper conforms to the instep of the foot and is held in place by the laces.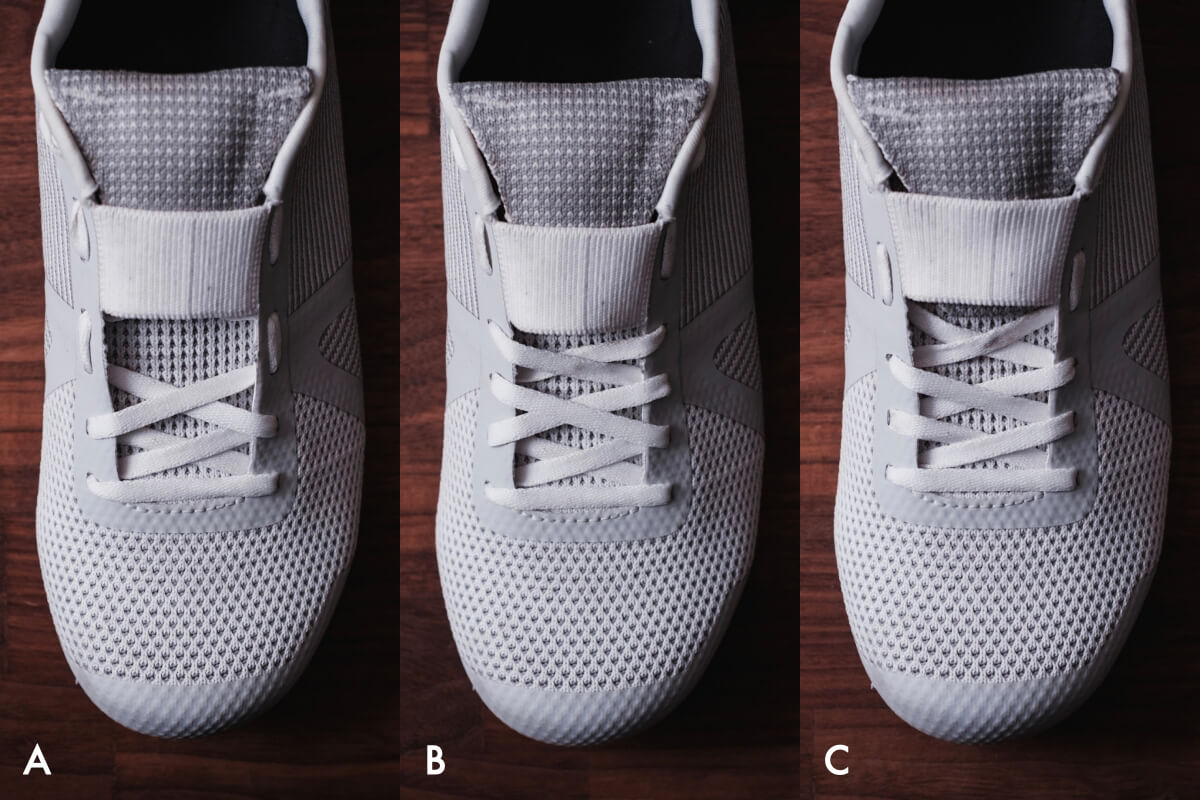 Three routing patterns. The attached laces are flat and shaped to prevent loosening.
In addition, CIMA can be laced in three different ways.
A at the time of purchase, but B and C patterns are possible depending on the shape of the instep.
Personally, after trying all of the ABC's, I feel that B is the option that fits the best and shows the beauty of the lace-up the most.
If you have purchased the product, please refer to the above image to try the lace routing that best fits your needs.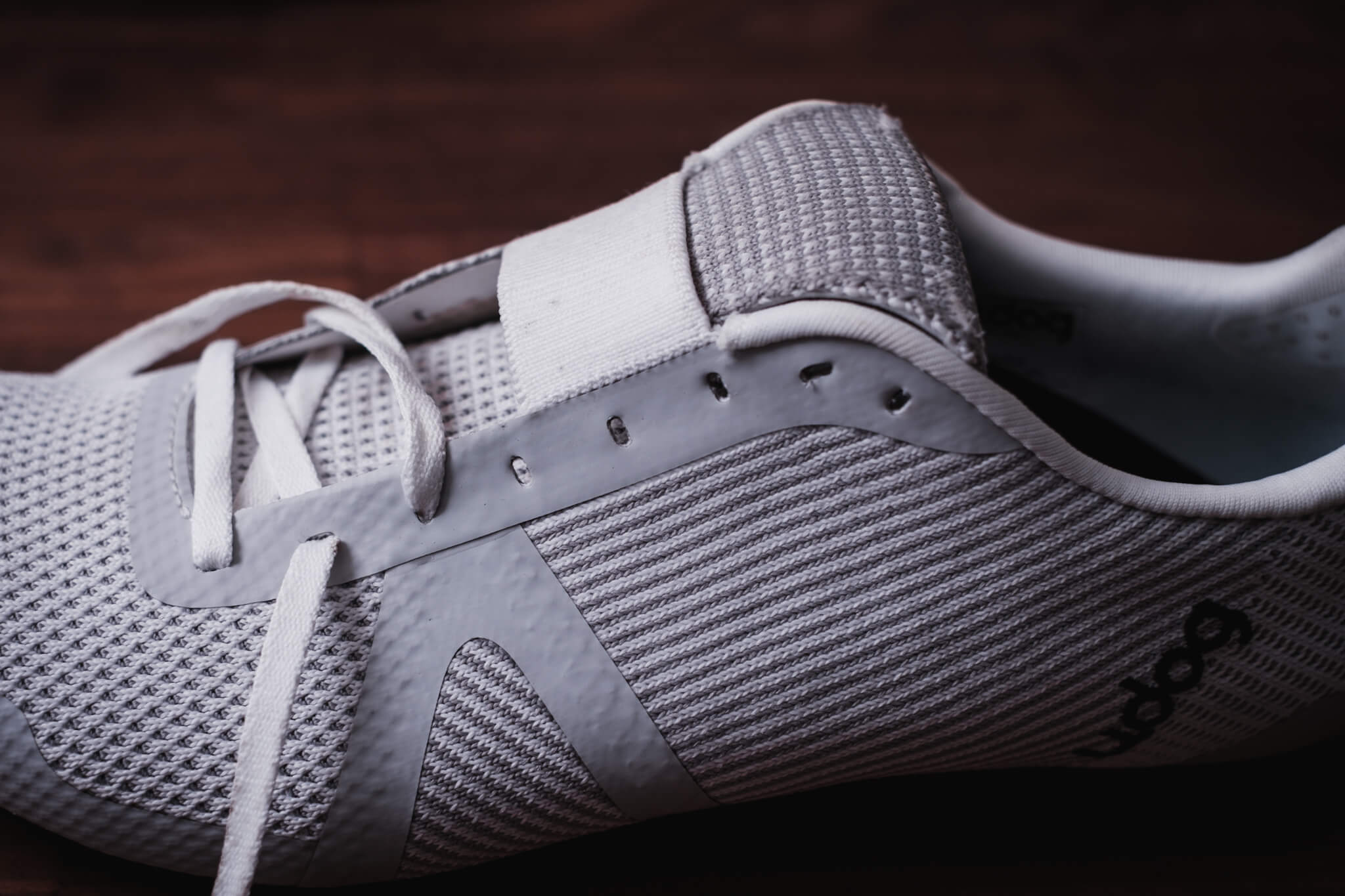 The special shape of the hole through which the cord is threaded makes it easy to thread the cord in a number of different ways.
5. Relationship between upper and outsole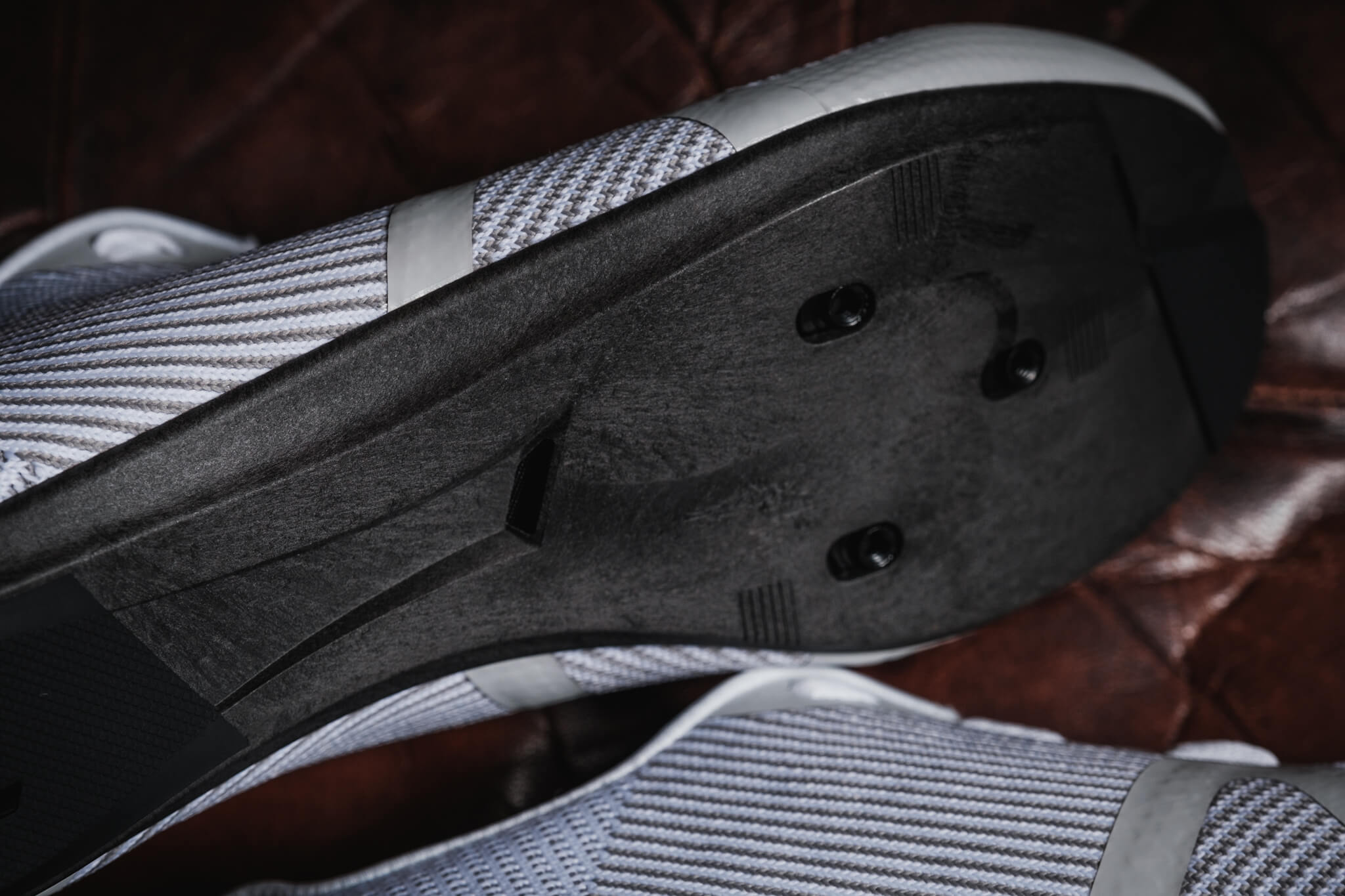 While the upper maximizes fit and comfort, the outsole is high stiffness carbon with a stiffness index of 11*. Looking at the stiffness indexes of other companies' models, Shimano's RC9 is 12 and RC7 is 10, so CIMA is somewhere in between. It transmits power in a straightforward manner, and the stiffness index of 11 does not feel soft.
*Stiffness index: a value measured from the amount of flexure that occurs when 40 kg is applied to a plate.
The upper ensures comfort, and the hard sole does not leave an unpleasant feeling on the sole.
The relationship between the upper and sole provides a balance that can handle both high-impact and gentle rides.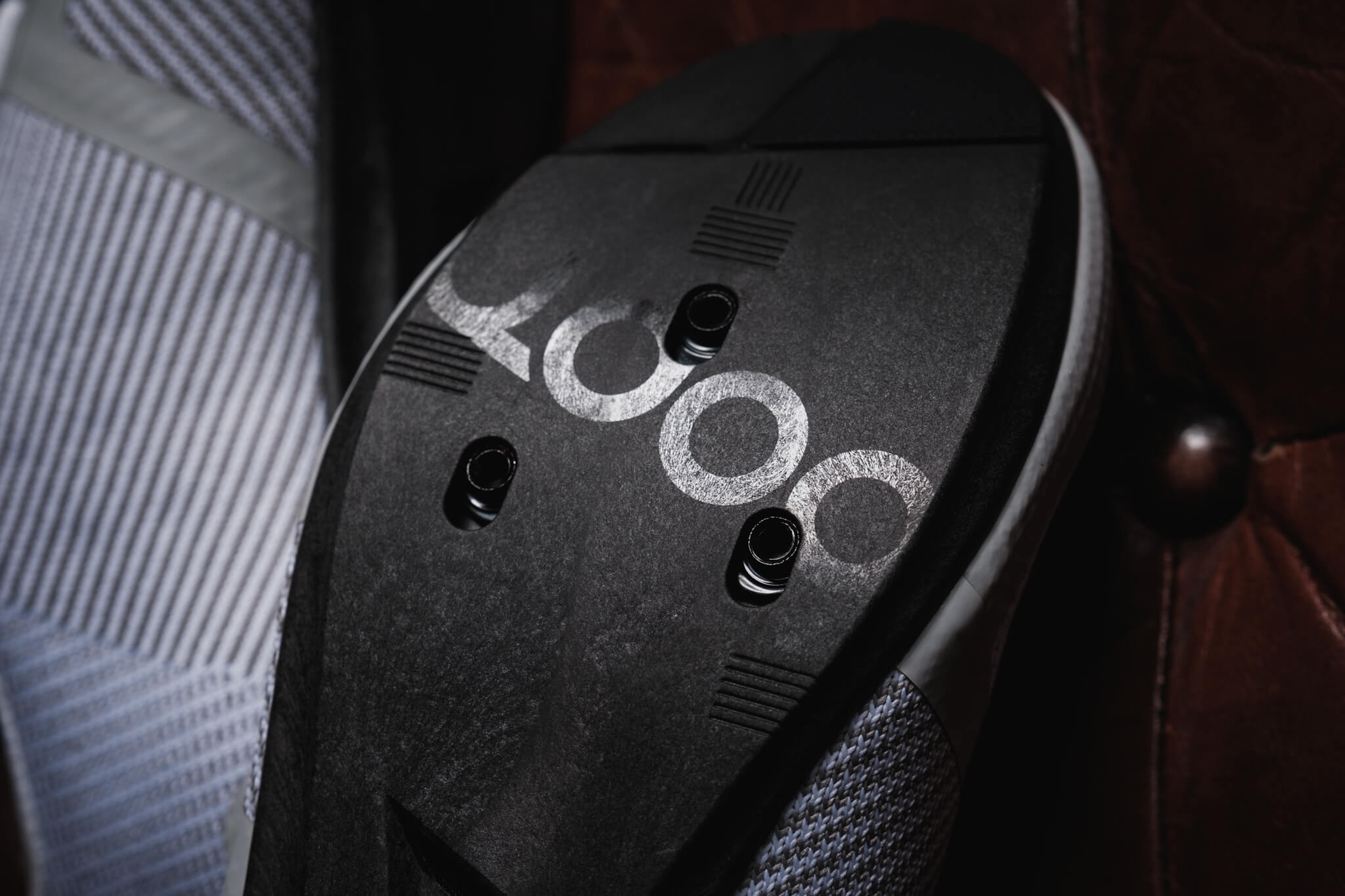 Bolt holes are wide enough to adjust back and forth for greater fitting allowance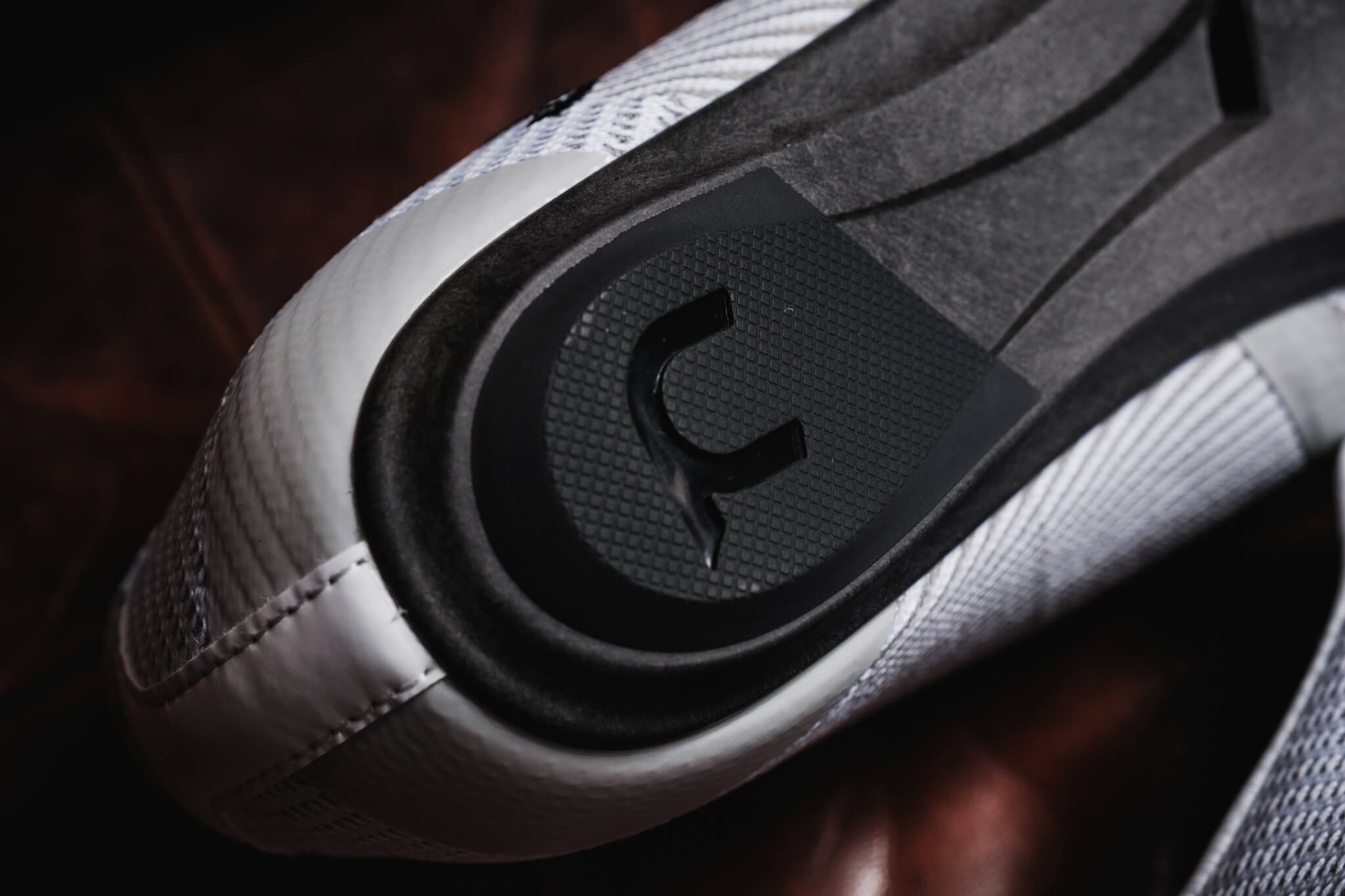 Rubber heel and toe caps are integrated and not interchangeable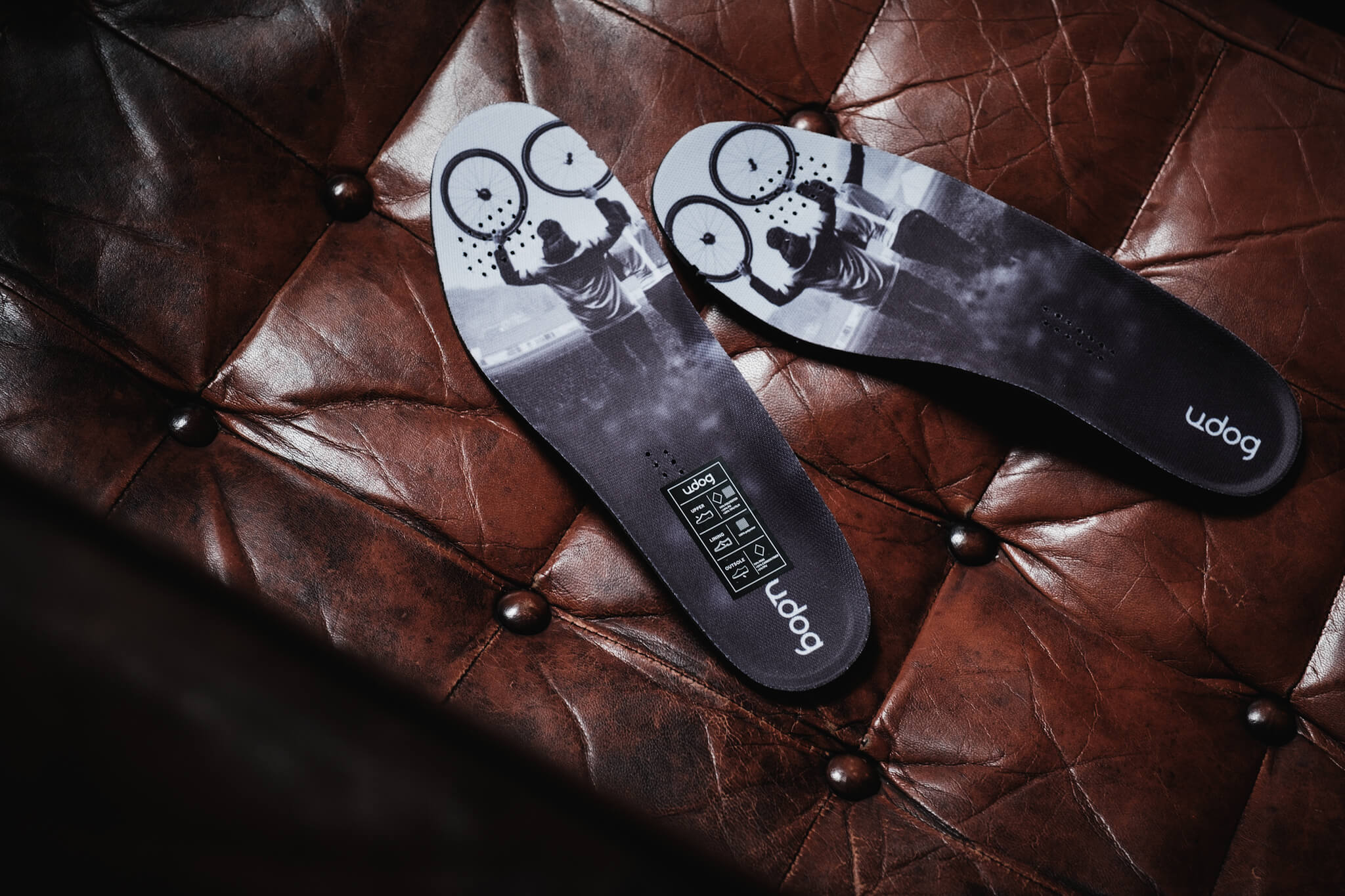 The insoles that come with them are beautifully printed and don't want to get dirty. Personally, I replace them with Solestar as I do with other shoes.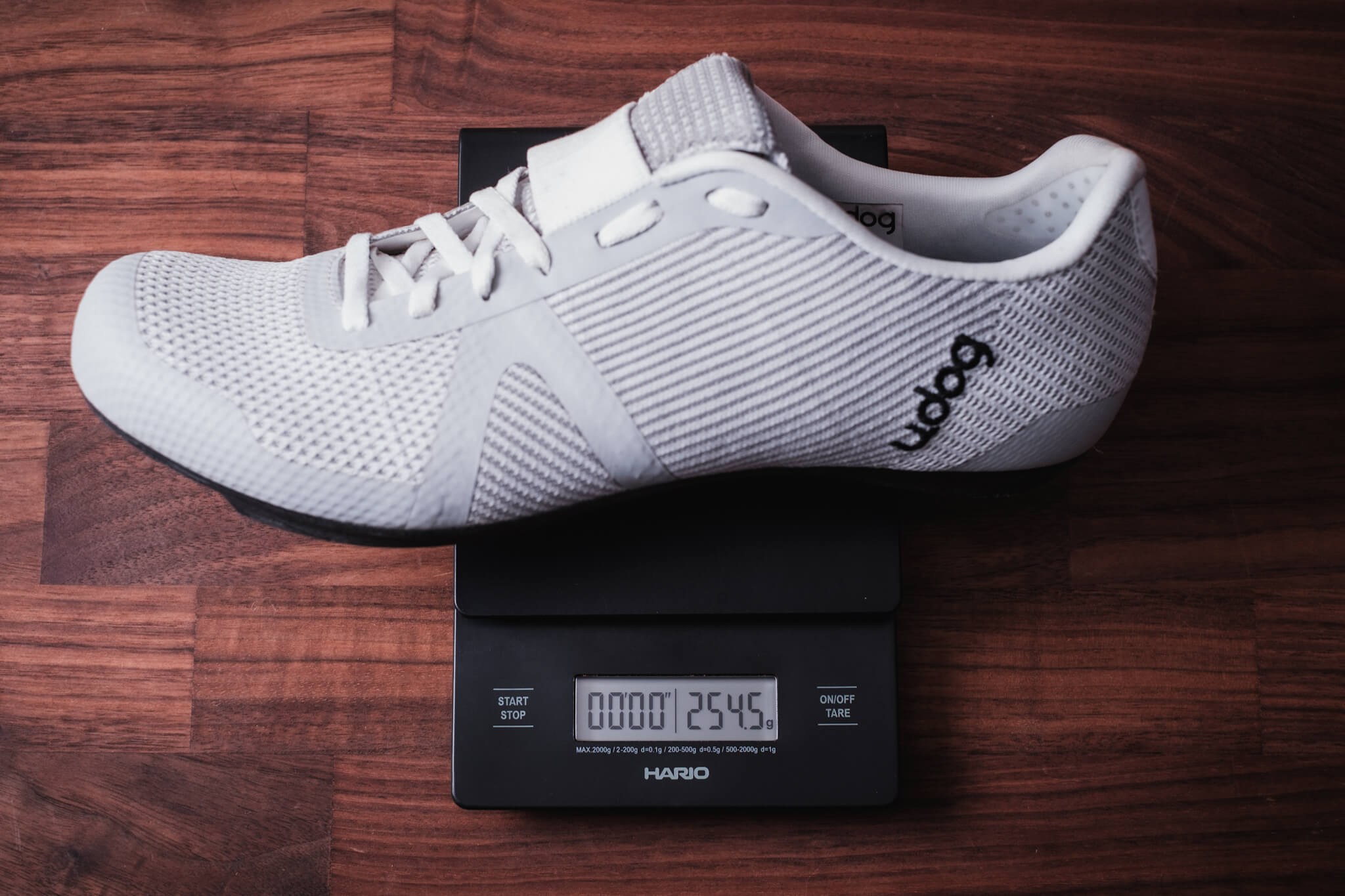 Actual weight 254.5 g. Although billed as a climber's shoe, average weight for a road shoe (similar to Rapha's Pro Team shoes).
6. Size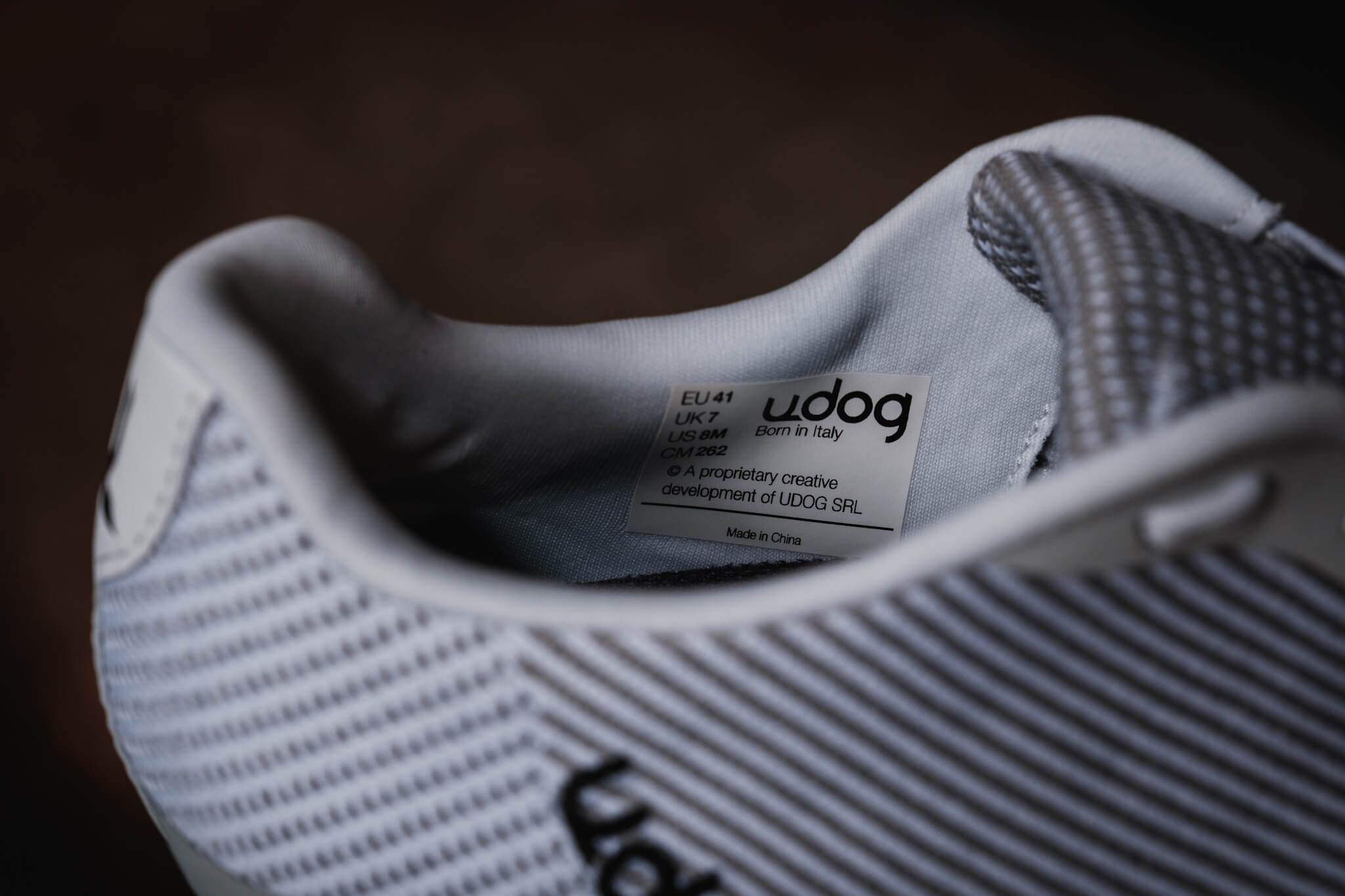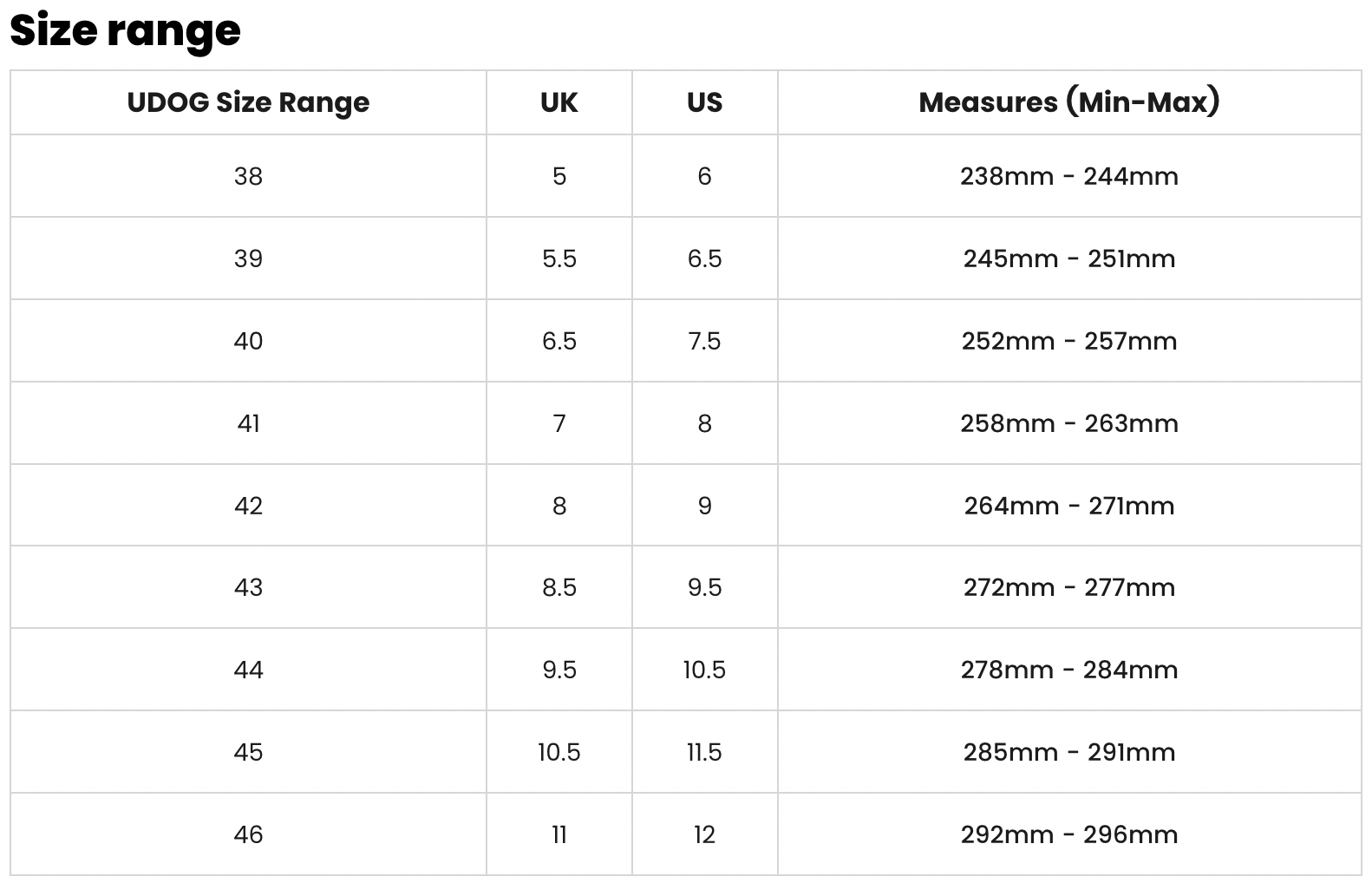 [Table 1] Size range (also shown on product page)
[Table 2] Size comparison of other brands (original page)
CIMA is available in 11 sizes from 38 to 48 (no half sizes). There are two ways to select your size.
(1) Measure the length of your foot with socks on and select the corresponding size from [Table 1].
*Refer to the PDF file published by UDOG for how to measure the length of your foot.
2) Select the UDOG size from [Table 2] that corresponds to the size of the brand you are currently wearing.
7. Conclusion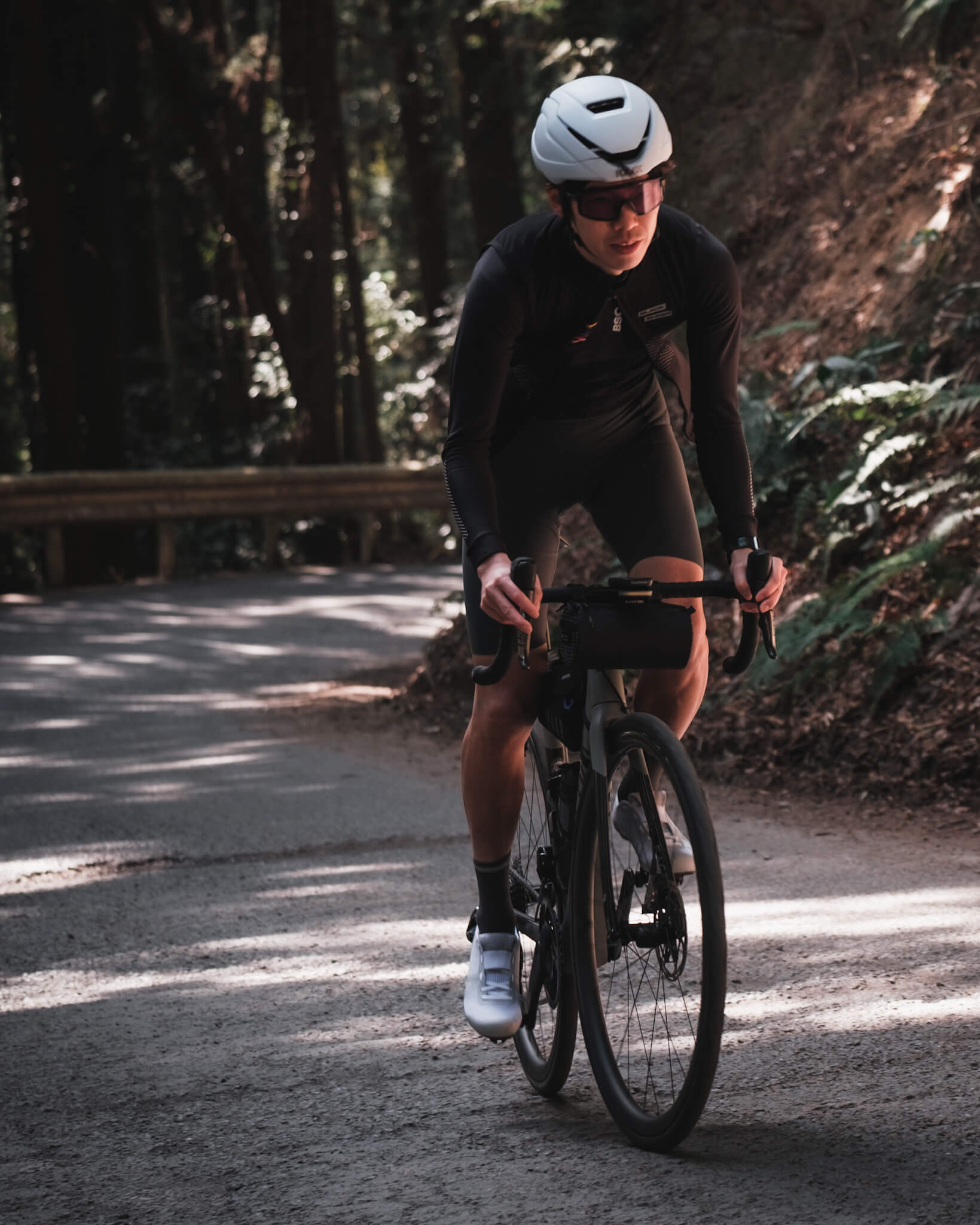 After several rounds of product testing, there was nothing negative to say about CIMA. Although it is a new brand, the owner's career with other brands has given him a good understanding of what is essentially needed in a road shoe, and it is indeed a very good shoe.
The design and fit are a styling delight, and when in doubt, the attractive price tag of $300 (with free shipping) is a powerful boost.
Summary of Reviews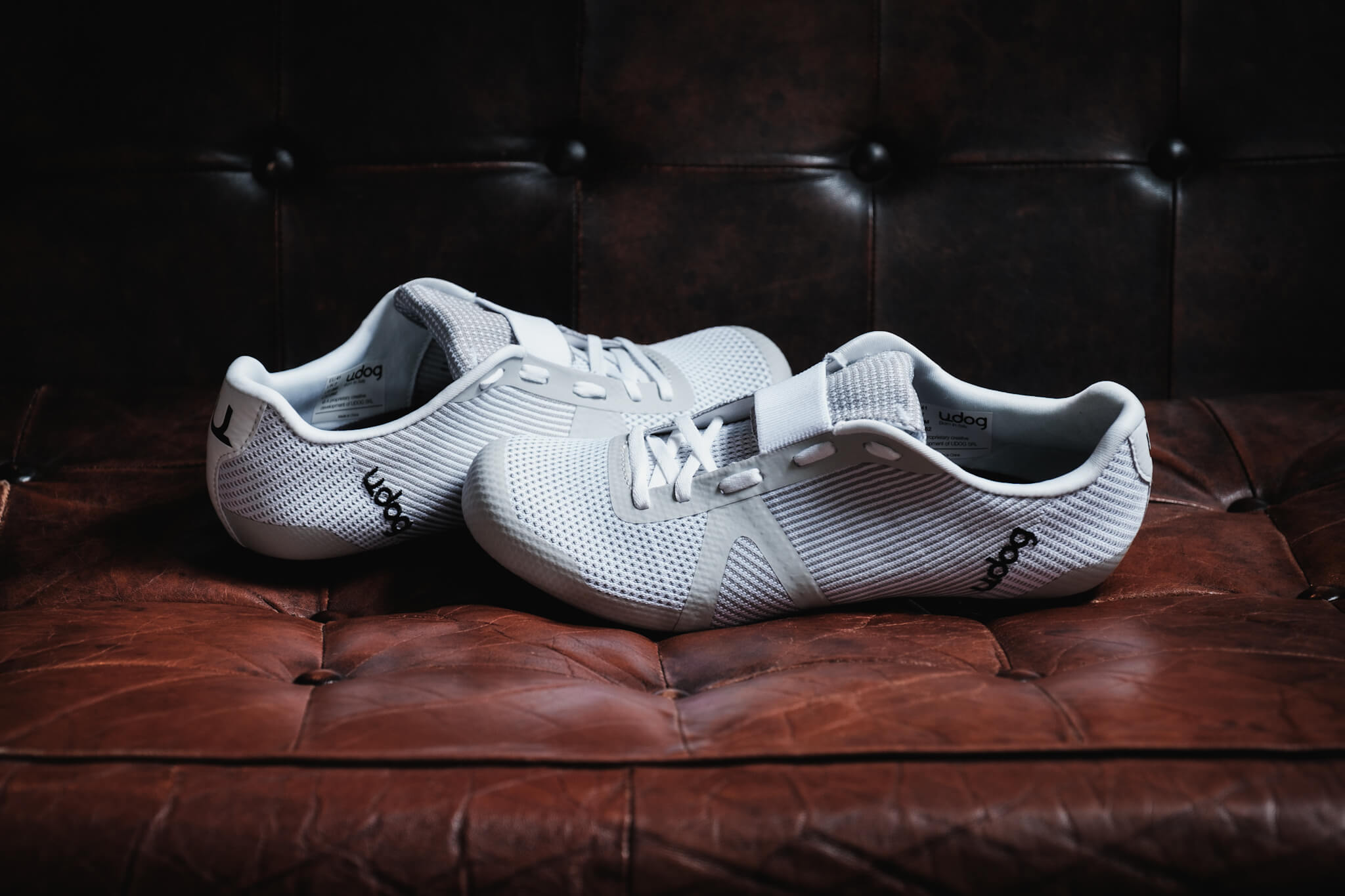 Suitable for cyclists like these
– Want to own a completely new sense of value and design of cycling shoes.
– No need high-end shoes that are stiff and stiff.
– Love clean looking shoes.
– Want to support brands with aesthetics, ideas and ambition.
The feeling of fitting
– Unlike conventional shoes that are hard and take time to fit in, these shoes fit like a sneaker from the start.
– The wide toe box provides room even for wide feet.
– The knit material has different hardness for different parts of the foot, making it easy to fit in even with a high instep.
Shoelace and Pocket Tongue System
– Flat laces are not easy to loosen.
– Three different lacing options allow for individualized lacing for each instep shape.
– PTS is creative in appearance and easy to store laces.
Feeling of solidity
– Full carbon composite outsole with stiffness index of 11 is rigid enough.
– Balanced for both high and low strength.
Other
– Weight is not extremely light, but normal.
– Heel and toe rubber caps are not replaceable.
– When dirt is easily visible, wash with water while brushing gently.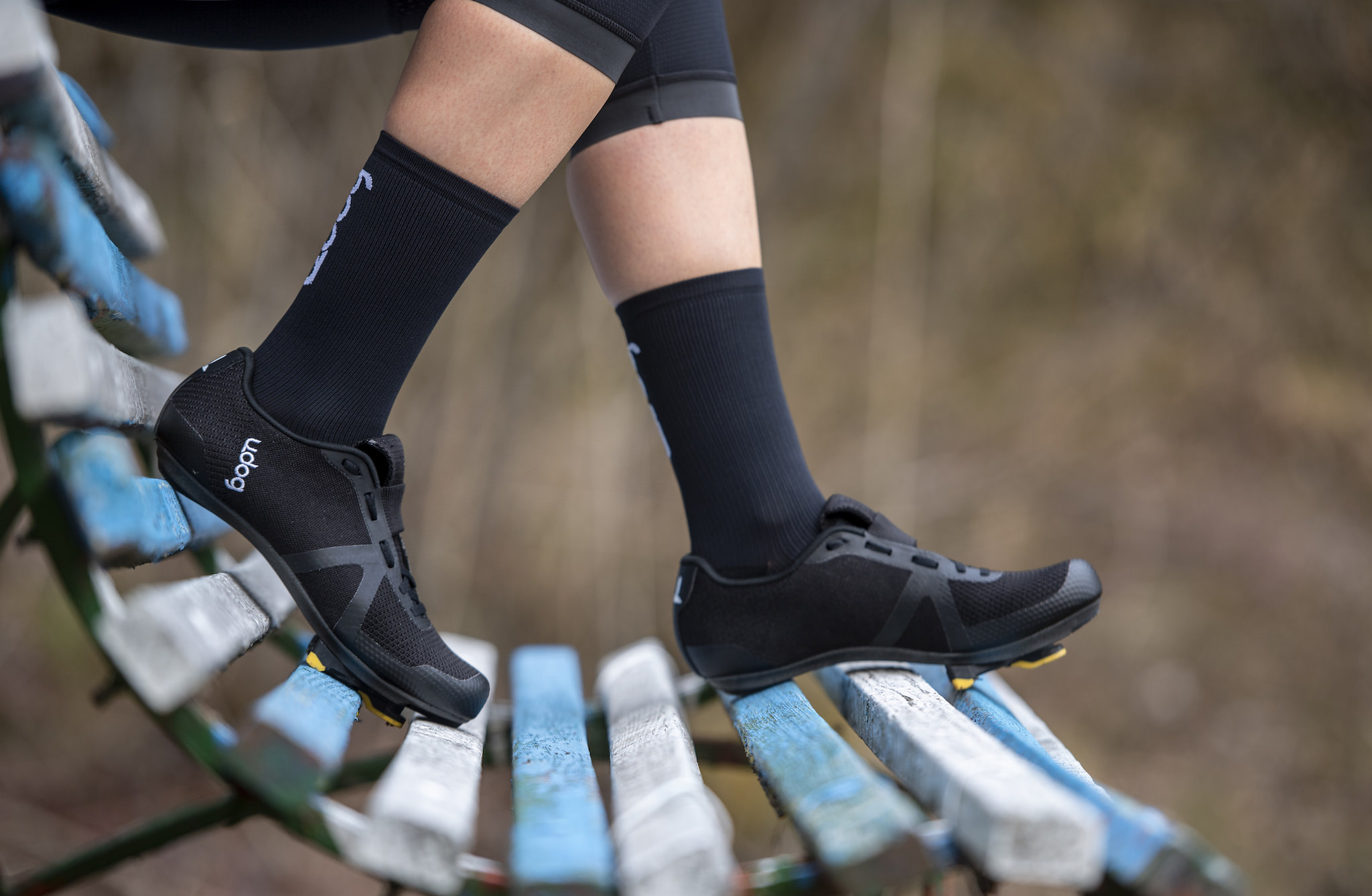 Black is also very stylish
Author
Tats Shimizu(@tats_lovecyclist)


Editor in Chief. Having been riding sports bikes for 10 years. He likes to unravel the trends in the sport bike industry, especially road bikes, from a marketing perspective. At the same time, he has extensive friendships with cycling apparel brands from around the world and proposes various styles through the media. His main bikes are Factor O2 (road) and LS (gravel).
Related Post