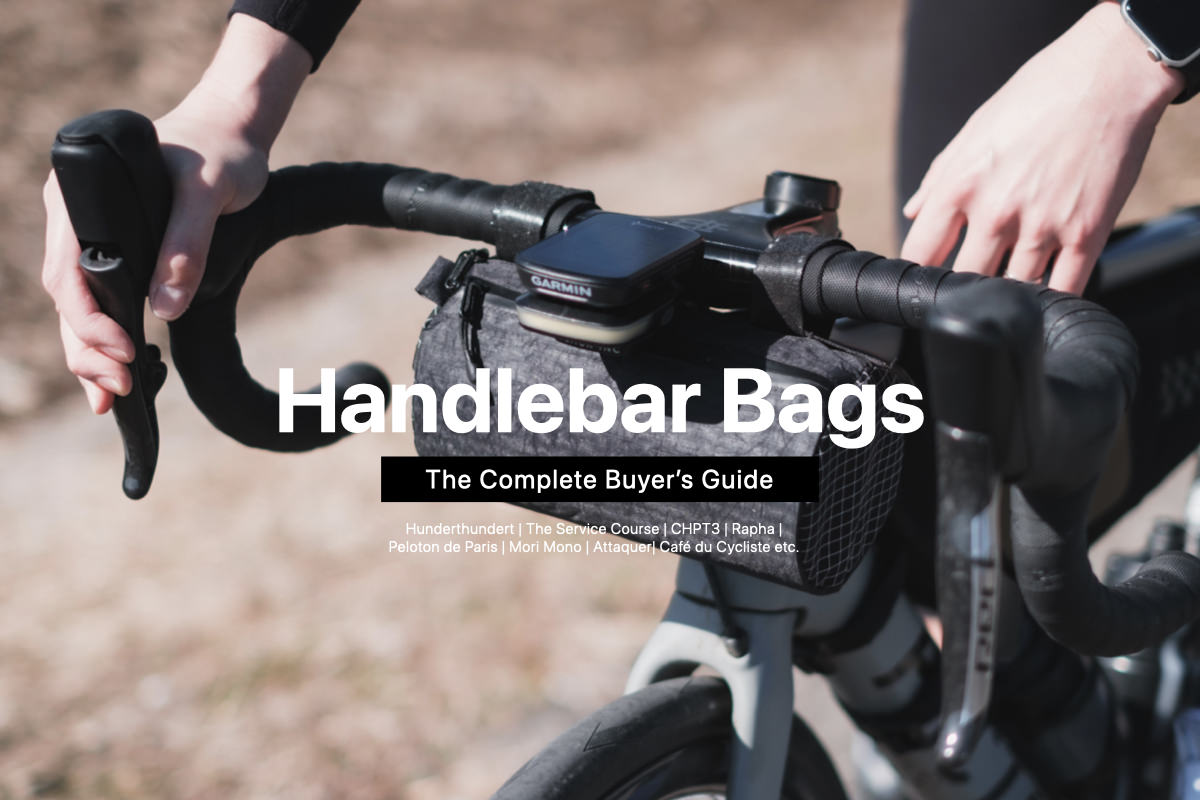 Handlebar bags became popular with the spread of gravel bikes. Of course, they can also be used on road bikes, allowing riders to carry extra items on their regular rides in a way that was not possible before.
Once you use it, you will never want to take it off your bike.
Here we introduce the key points of introduction and pick up style-oriented models that can be attached to road bikes.
text / Tats (@tats_lovecyclist)
1. Guide to Your First Bar Bag
Why handlebar bags?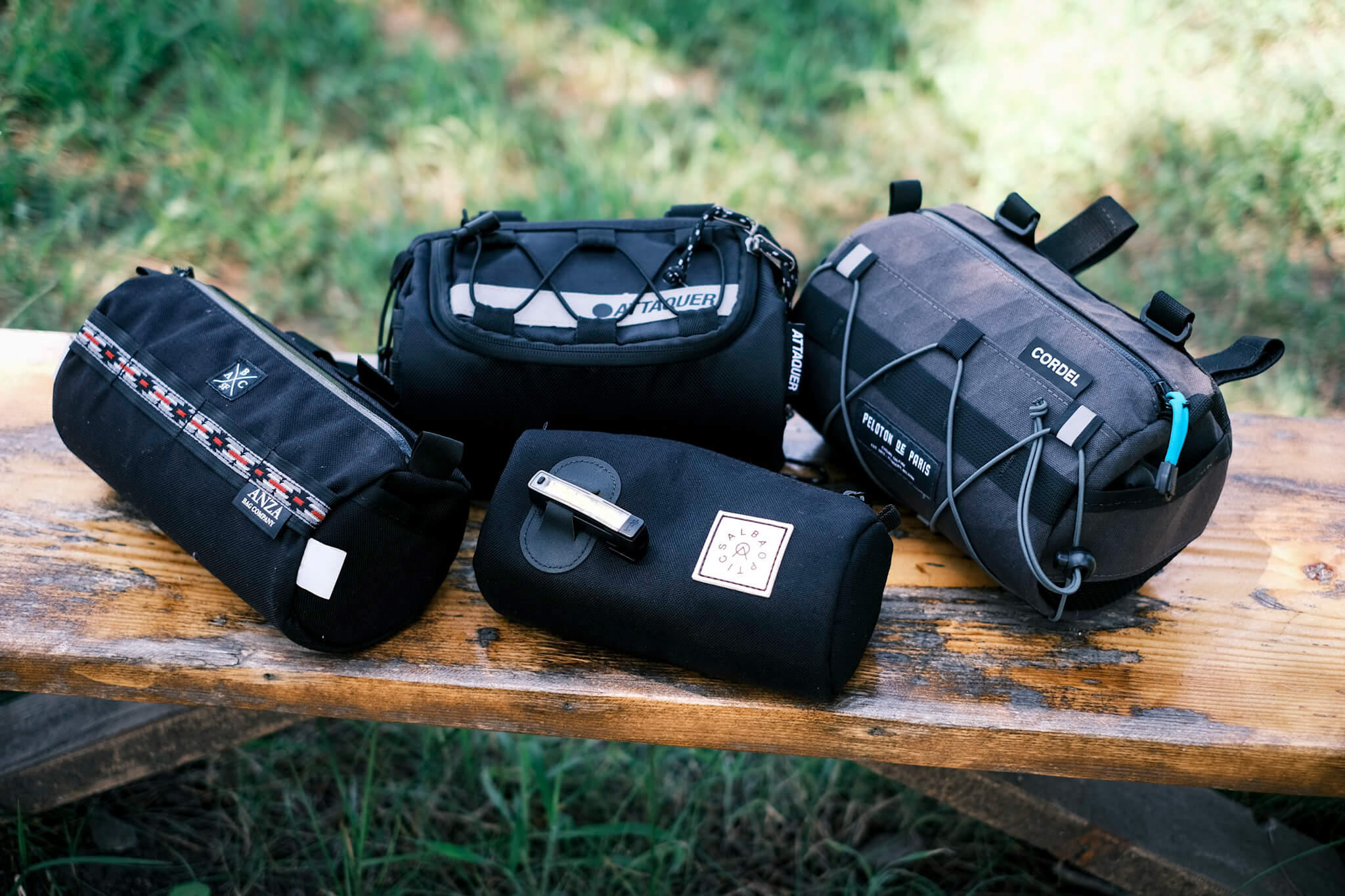 There are a variety of bags that can be attached to a bicycle, such as saddle bags, frame bags, and pannier bags, but handlebar bags and top tube bags are the ones that are less likely to interfere with your ride.
The bar bag in particular has a large capacity, making it easy to carry items that you may have wanted to carry but could not before.
Another advantage of the bar bag is that it makes the bike look lighter than other bags.
This is why many brands have added bar bags to their lineups over the past few seasons. They are a seasonal item that should be actively introduced for the new season.
What do you put in it?

Always have a bike snack, a mobile battery, and warm clothing (warmer, jacket, etc.) with you to extend the distance of your ride and give you more freedom of choice on the road.
You can also pack a hand pump, a camera, skin care products, and other items of your choice depending on the nature of your rides.
Be careful not to pack too much weight, as it will affect handling.
What size do you need?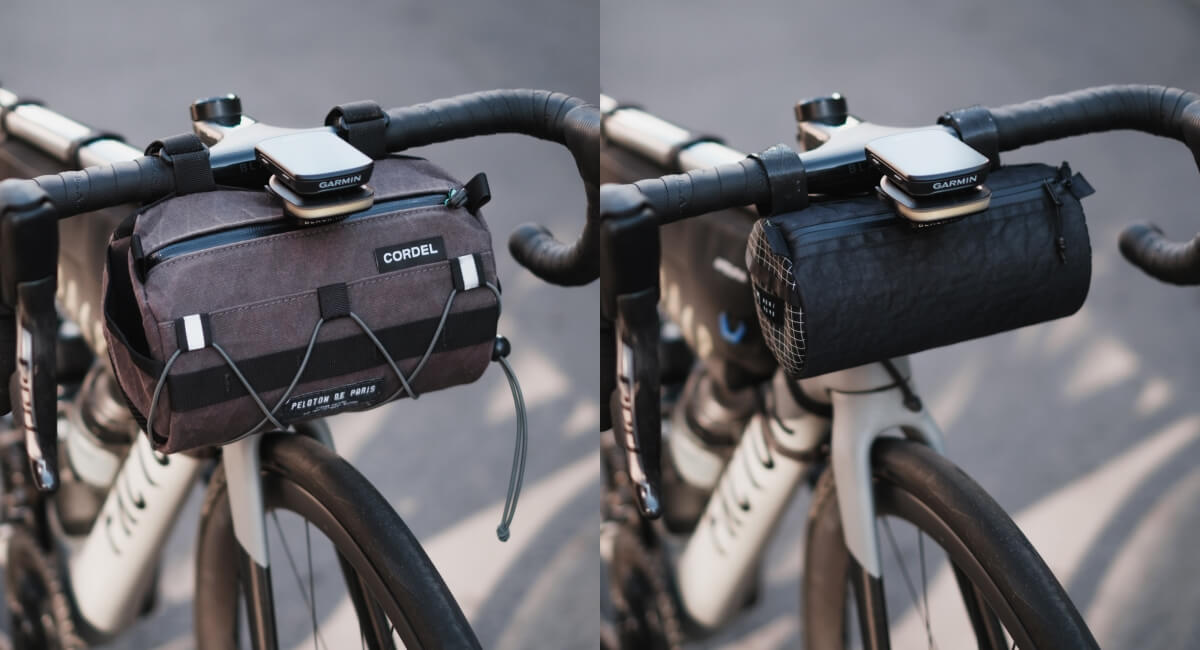 ←2L | 1.5L→
The choice of a bar bag is first determined by capacity.
Because of the limited space under the handlebars, most models range from 1 to 2.5 liters.
Around 1 liter is compact and fits well on a road bike, but the capacity is limited (about bike snacks + mobile battery).
On the other hand, 2 liters or more will provide more storage capacity, but will have a stronger visual presence.
The best balance is around 1.5 liters, but please select the appropriate size according to what you want to carry.
Installation Notes
Check for interference with other accessories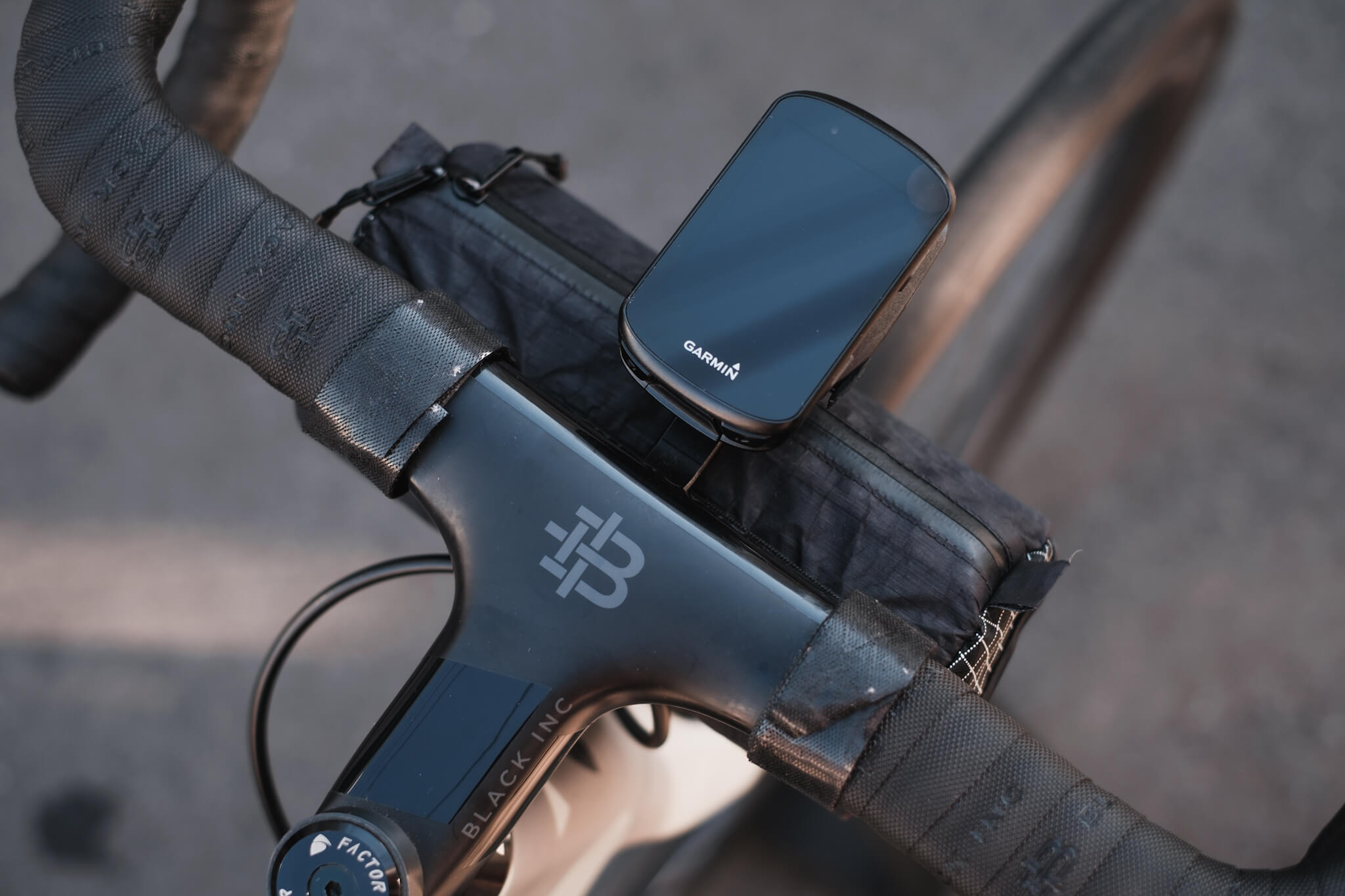 Since a light and computer mount is also mounted on the handlebar, there is a possibility of interference depending on the combination with the bar bag.
The drum-type bar bag introduced in this post can basically coexist with the light and computer mount alone, since it is mounted under the handlebars, but it cannot be used together if the light or other items are mounted under the handlebar.
Also, please keep in mind that it will be difficult to take out the contents of the bar bag if you put a large-sized item inside (this makes it troublesome to take out a hard, voluminous item such as a compact camera).
Is there space under the handle bar?
Since it is mounted under the handlebar, pay attention to the space from the handlebar to the tire.
Especially when installing a larger bar bag on a bike with a short head tube, measure the space in advance, as it may interfere with the tire. You will need at least the height of the bar bag + 3 cm.
2. The 8 Best Bike Handlebar Bags
We have selected the best model for when you want to match the styling with your clothes and bike. Please look for one without compromise in both design and function.
hunderthundert – Bar Roll 201 (€96.00)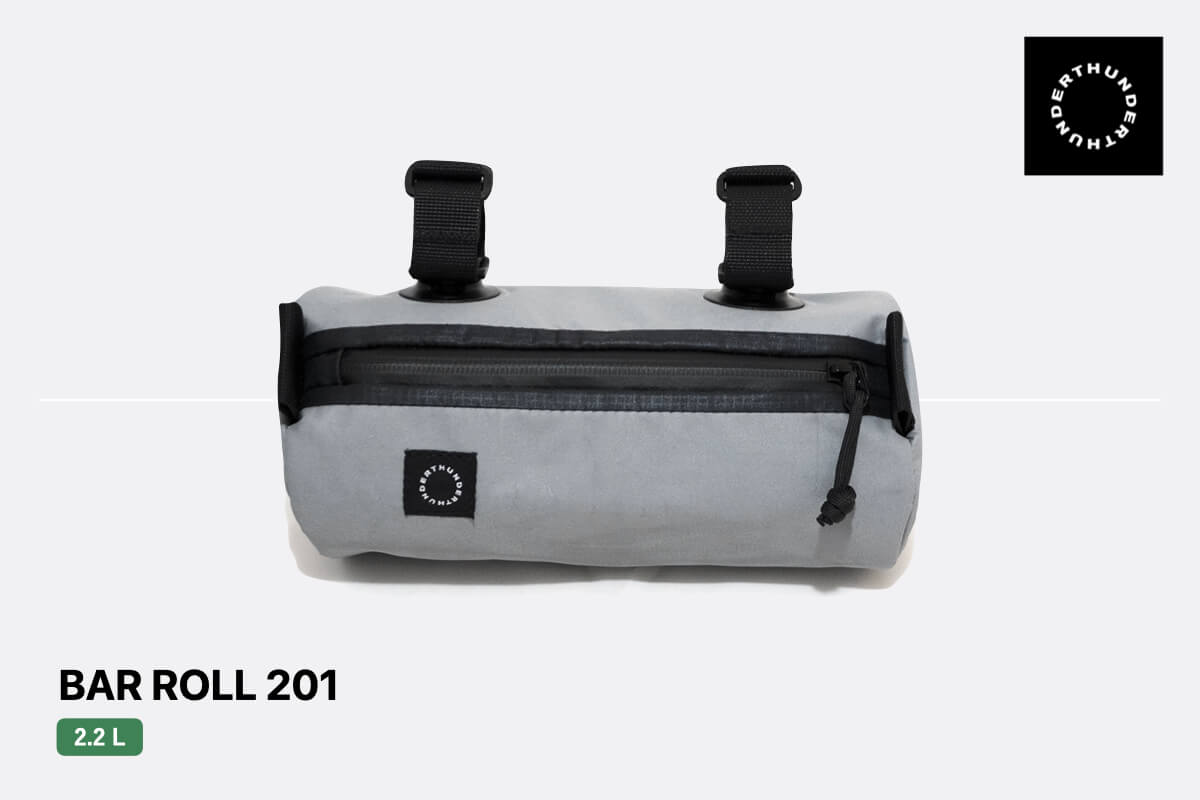 | | | | |
| --- | --- | --- | --- |
| Size | 230×110 | Capacity | 2.2L |
Hondart Hondart is an Austrian bicycle accessory brand.
Bar Roll 201 features a magnetic quick-release mechanism. Easy to install and remove, this model is ideal for cyclists who want to quickly carry it with them when taking a break. Waterproof and available in three colors.
Rapha – Bar Bag ($70.00)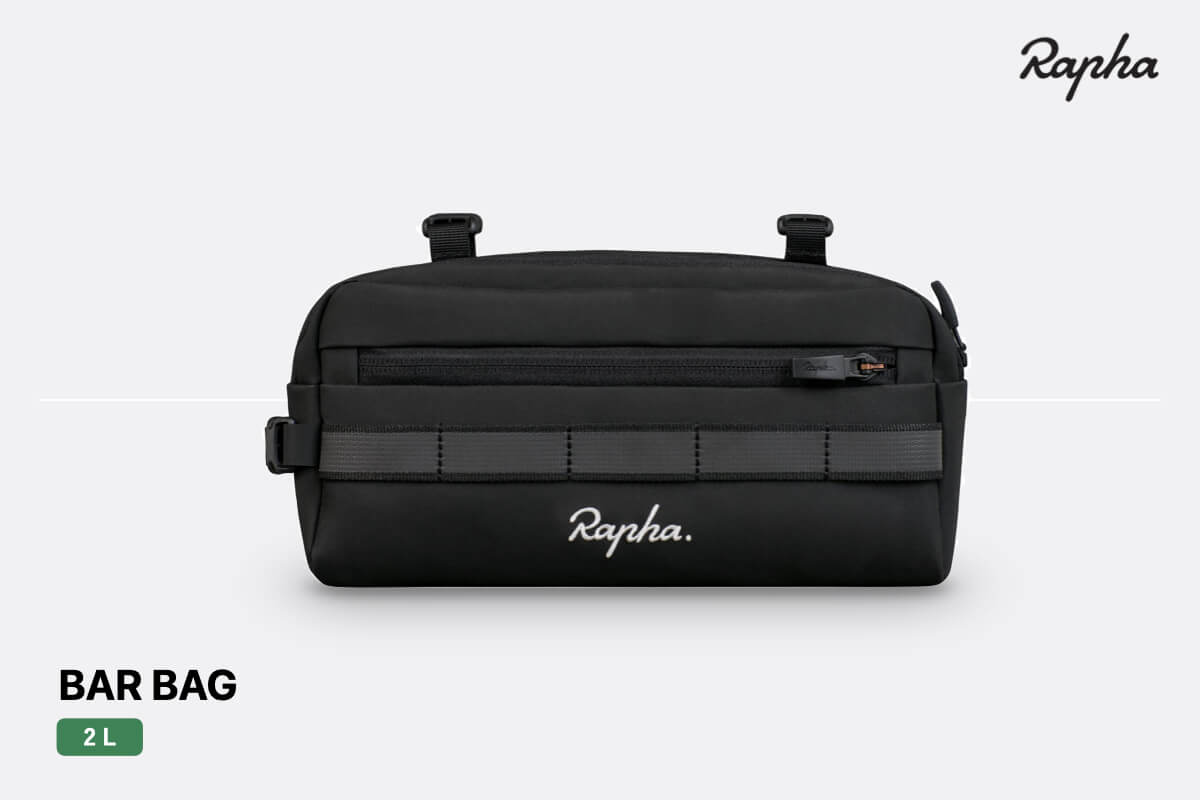 | | | | |
| --- | --- | --- | --- |
| Size | 235 x 110 | Capacity | 2L |
It is no exaggeration to say that it was Rapha that popularized bar bags widely.
The quick-release buckle makes it easy to attach and remove. With waterproof fabric, two pockets, and the ability to convert into a frame pack or shoulder bag, Rapha's bar bag is packed with all the convenience elements that only Rapha can offer.
Fingerscrossed – #Leather Handlebar Bag (€140.00)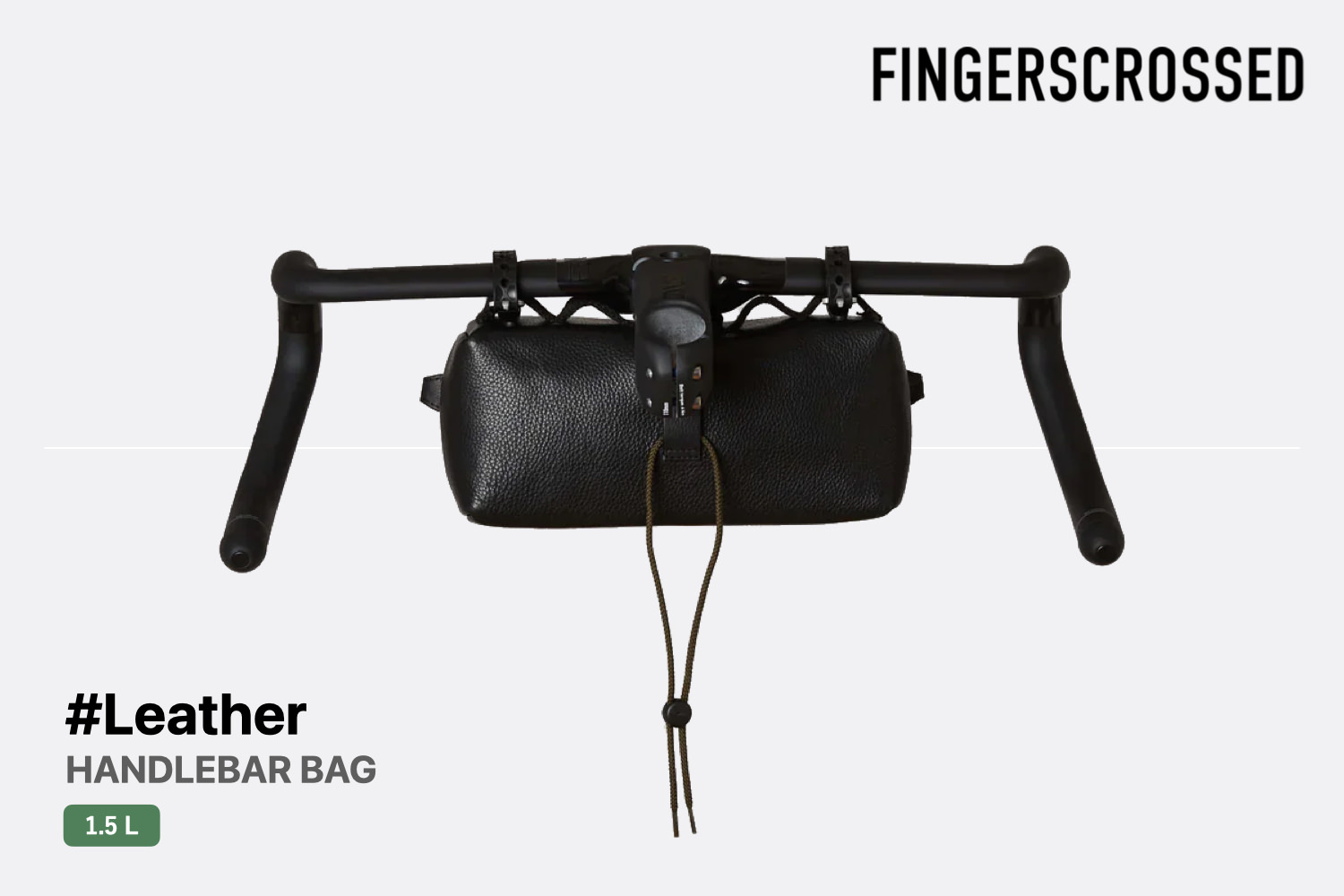 | | | | |
| --- | --- | --- | --- |
| Size | 220 x 100 | Capacity | Not disclosed (about 1.5L) |
Premium accessory brand FINGERSCROSSED released a new bar bag in 2023. Made of highly durable leather with specifications that allow it to age well.
Three-point fastening system with rubber strap and drawstring cord for excellent stability. There is an inside pocket for a cell phone, wallet, keys, etc. separately.
Fingerscrossed #Leather Handlebar Bag
ORUCASE – Smuggler ($44.00 / $59.00)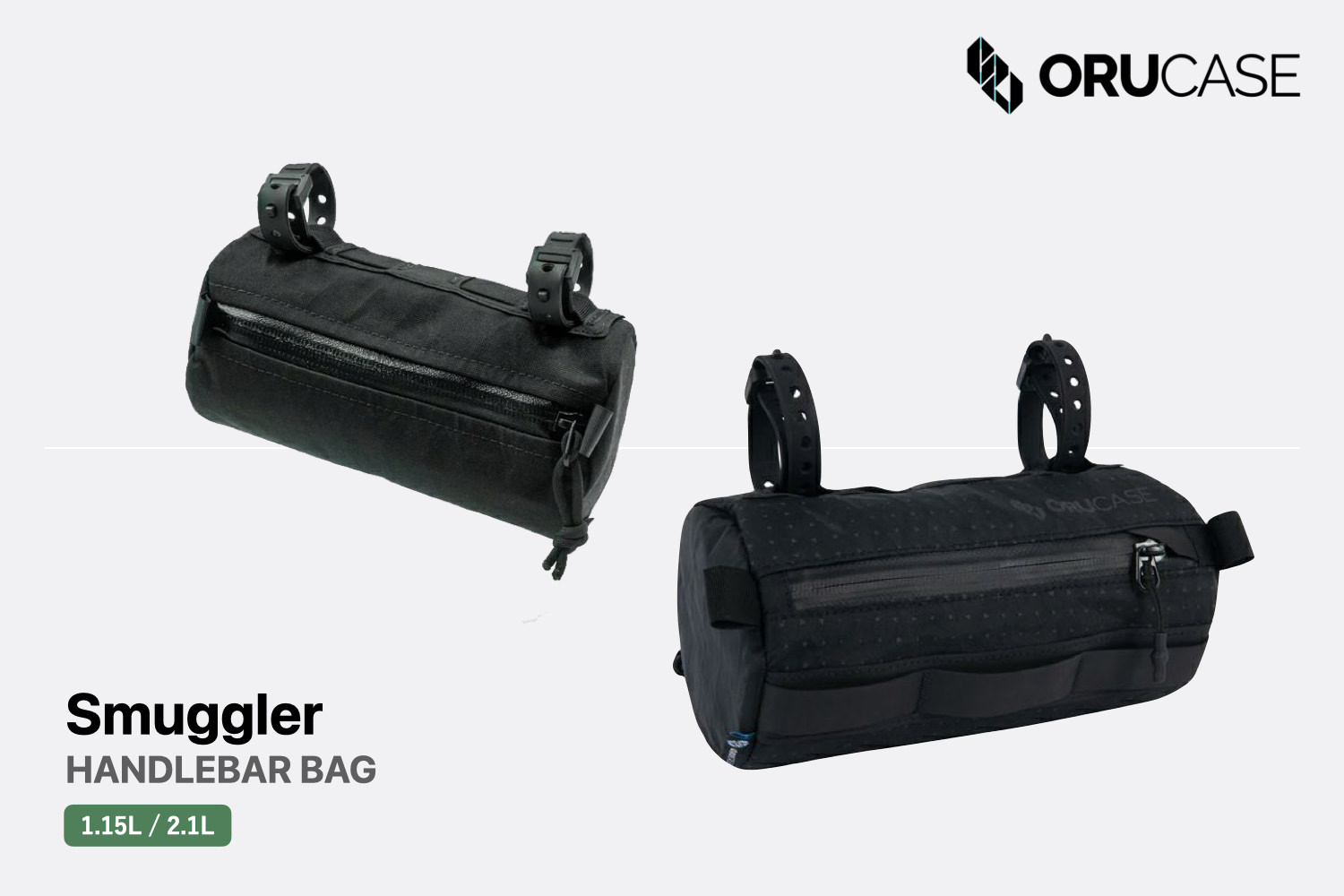 | | | | |
| --- | --- | --- | --- |
| Size | 190×90 / 200×100 | Capacity | 1.15L / 2.1L |
ORUCASE is a California brand that began when two professional road racers created a case (ORU means fold in Japanese) to fold and store bicycles compactly to save overcharging for airplane rides.
The 2.1L model comes with foam blocks that create space between the handlebars and the bar bag, making it easier to grip the handlebars and preventing interference with cables and the computer mount. The inside is made of insulated foam, and the straps are made of easy-to-remove rubber.
Attaquer – Handlebar Bag Square ($70)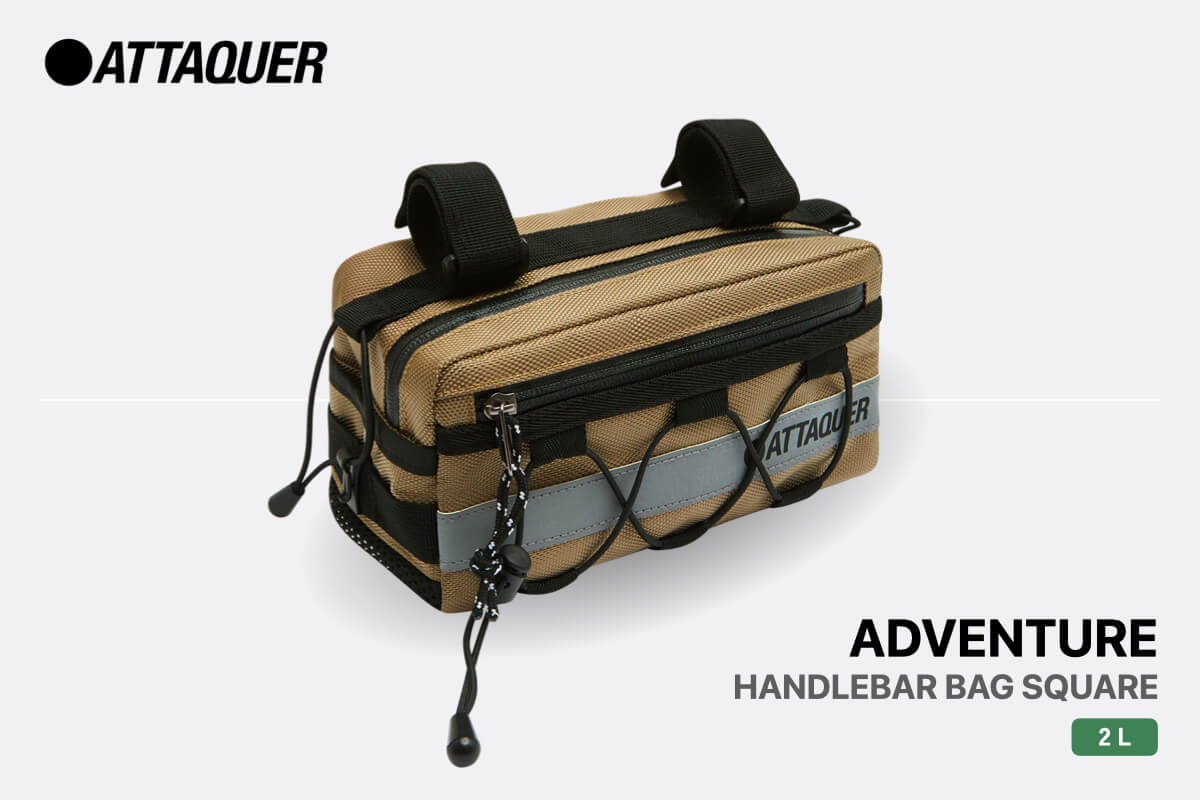 The bar bag from Australia's Attaquer is a square shape that makes the bike look sleek. The U-shaped zipper makes it easy to take out the contents. Side pockets and bungee cords are included.
Café du Cycliste – Waterproof Bar Bag ($90)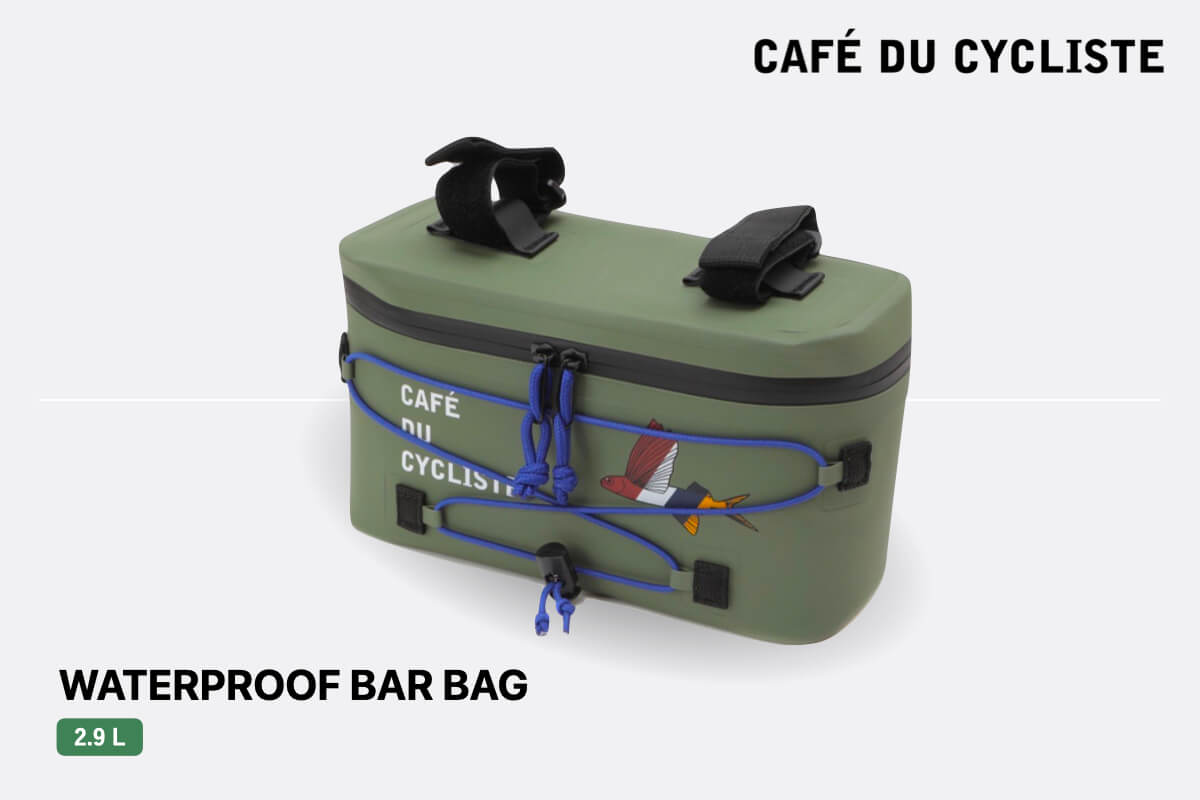 | | | | |
| --- | --- | --- | --- |
| Size | 240×115 | Capacity | 2.9L |
The French "Café du Cycliste" bar bag is completely waterproof. It is square-shaped with an excellent capacity of 2.9L.
The three-point fastening provides a high degree of stability when worn, and this model is designed for adventurers who ride longer and farther.
Café du Cycliste Waterproof Bar Bag
CHPT3 – Upcycled Canister Handlebar Bag ($79)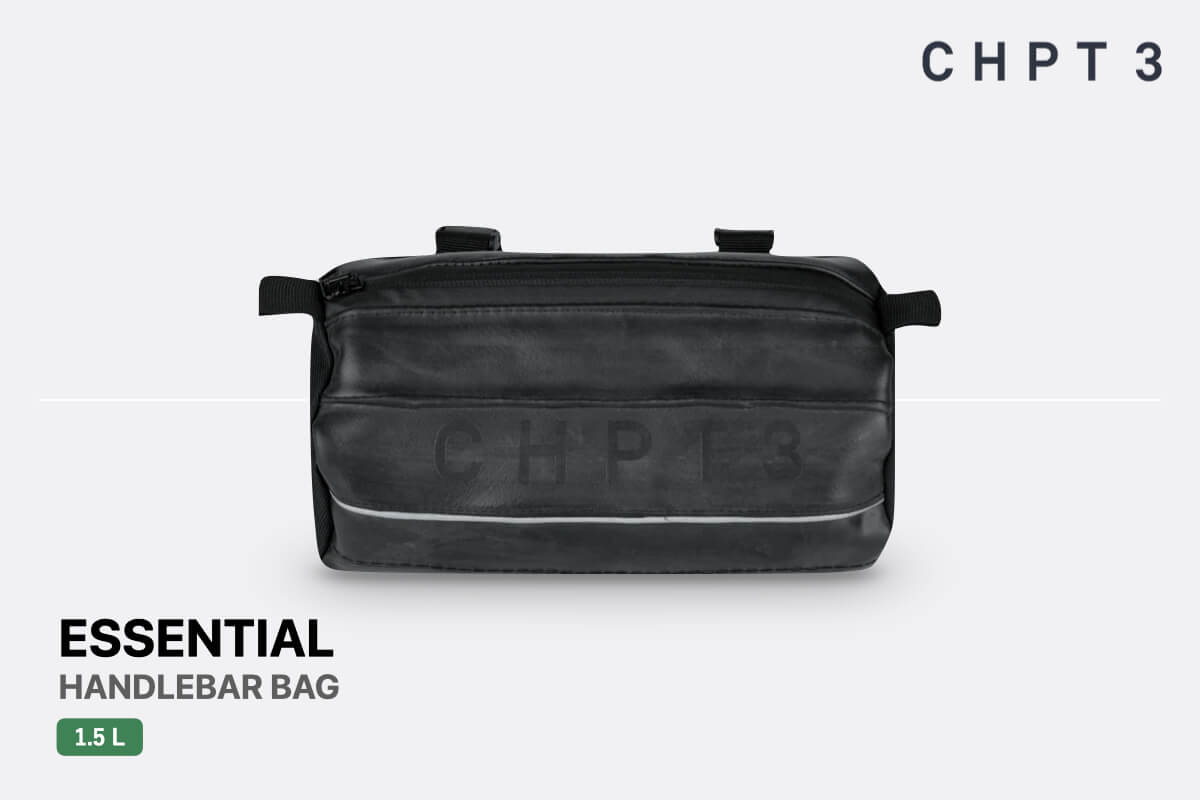 | | | | |
| --- | --- | --- | --- |
| Size | 200×120 | Capacity | 1.5L |
CHPT3 is a British company founded by former top racer David Miller. These sustainable bar bags are made by upcycling disused tubes and are water-resistant and robust.
The laser-etched CHPT3 logo is casually cool.
Mori Mono – Essential / Speed Barbag (¥9,500/8,000)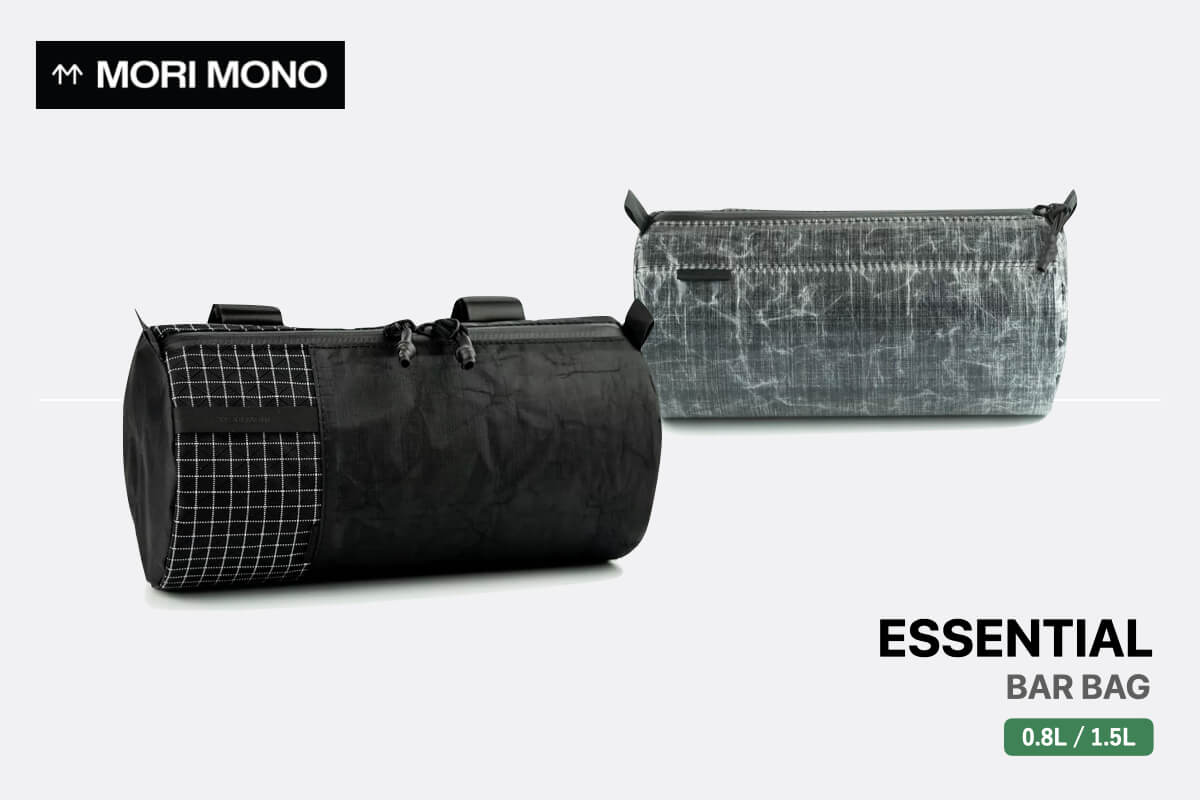 | | | | |
| --- | --- | --- | --- |
| Size | 190×100 / 160×80 | Capacity | 1.5L / 0.8L |
Bar bag by Morimono, a handmade brand based in Toyama, Japan. Made of lightweight and waterproof fabric Dyneema, the simple design is full of special touches.
Every time a new model is introduced, it sells out in an instant, so if you are interested, check the sales status on their Instagram account.
Author
Tats Shimizu(@tats_lovecyclist)


Editor in Chief. Having been riding sports bikes for 10 years. He likes to unravel the trends in the sport bike industry, especially road bikes, from a marketing perspective. At the same time, he has extensive friendships with cycling apparel brands from around the world and proposes various styles through the media. His main bikes are Factor O2 (road) and LS (gravel).