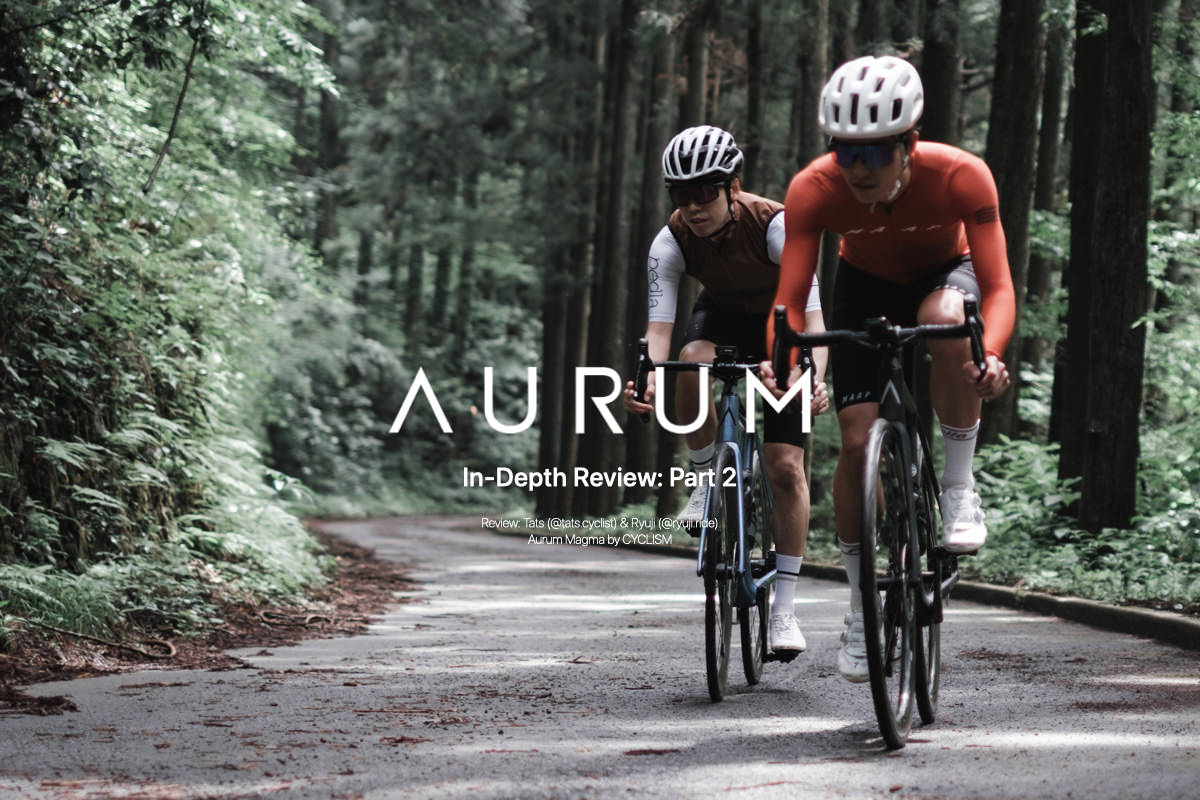 AURUM is a bike brand founded by Alberto Contador and Ivan Basso, two Grand Tour champions. In Part 1, we learned that Magma created by these two all-rounders who specialize in climbing has the beauty that road bikes of "their era" had.
In Part 2, we will discuss the characteristics of Magma and what kind of cyclist it is suited for.
*The Magma used in this review was loaned to us by CYCLISM, an authorized AURUM distributor in Japan.
text / Tats(@tats_lovecyclist)
photo / Tats & Ryuji(@ryuji_ride)
Test Riders
Tats(@tats_lovecyclist)
Height 177cm / Weight 60kg
AURUM Magma size: 54
Owned bike: Factor O2
Road bike experience: 8 years

Ryuji(@ryuji_ride)
Height 169cm / Weight 58kg
AURUM Magma size: 52
Bike Owned: Cannondale Supersix EVO Hi-Mod
Road bike experience: 13 years 

1. Thinking back to Contador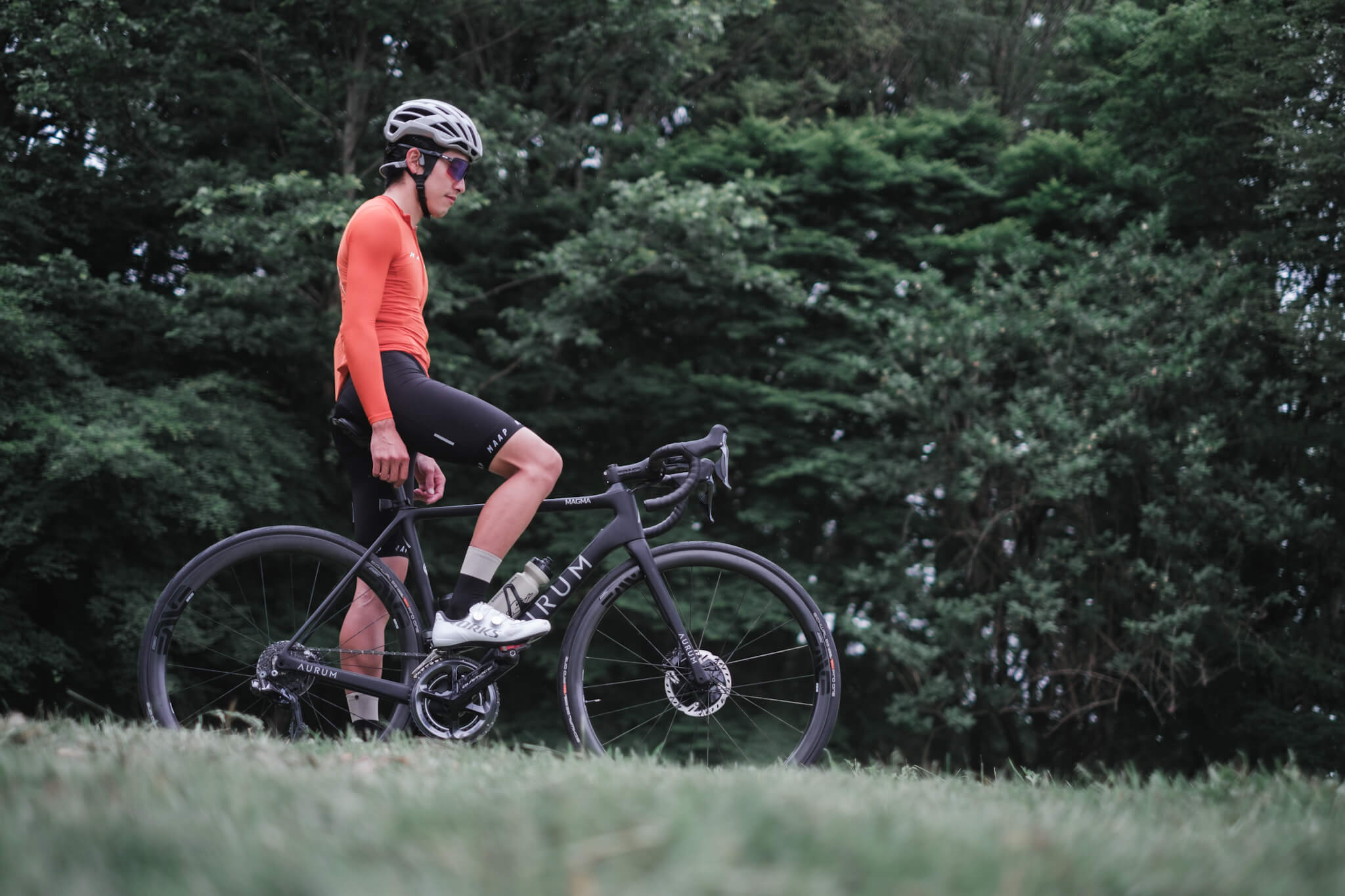 Ryuji: When I rode this bike, I felt a bit nostalgic. It felt like I was riding a high-end bike from the heyday of rim brakes, unlike the current trend of bikes like the Tarmac SL7 or Supersix Evo after the transition to disc brakes. That's also the case with the bikes at the end of the Contador era around 2017.
This may sound misleading, but it does not mean that Magma's performance is inferior to other modern bikes, it is just that the "flavor" is the same.
Tats: I was a bit nervous about the price. Knowing the flashy ride quality of North American bikes in a similar price range, I thought they would have a similar feel. In that sense, I was surprised.
Ryuji: Because of this, it took me a little time to understand the characteristics of Magma. It may be that I could not get a perfect position on the test bike, but it is a completely different bike from the Supersix Evo that I usually ride, so I could not take advantage of its inherent characteristics by riding it in the same way.
But after riding it a few times, my impression changed and I naturally felt that "Magma is fast…! I naturally started to feel that "Magma is fast…!"
Tats: So I'm really glad that we had more time to test it this time.
As for Magma and my regular Factor O2, the geometry is almost the same, but the ride quality is very different.
I think it would have been difficult to do a proper review after just one ride.
Ryuji: At first we were saying, "It's stiff, so stiff," as we ride.
Tats:  Ha ha… that's my first impression. That's exactly what you said, it has the stiffness of the climbing bikes that were around not so long ago that placed extreme emphasis on stiffness and light weight. So when I was riding the flats with my usual gusto, I noticed that my legs were exhausted.
Ryuji: Yes, on the first ride after switching to Magma, I couldn't get a feel for it, and my legs were finished in the middle of training.
However, on my second ride, a 170km course with 7 friends of similar riding ability, we rode through several 4 to 5km mountain passes, and I was able to ride much better than my friends. I was able to conserve more energy than on the Supersix. So I now have the impression that this bike is not only for hill climbs, but also for flat, uphill, and downhill riding, and I can feel its speed.
Tats: It is difficult to feel the advantages of this bike only on flat terrain. From the design concept, we know that the bike is designed to compete in the Grand Tours, so we think it will show its true value on long courses with ups and downs and climbs.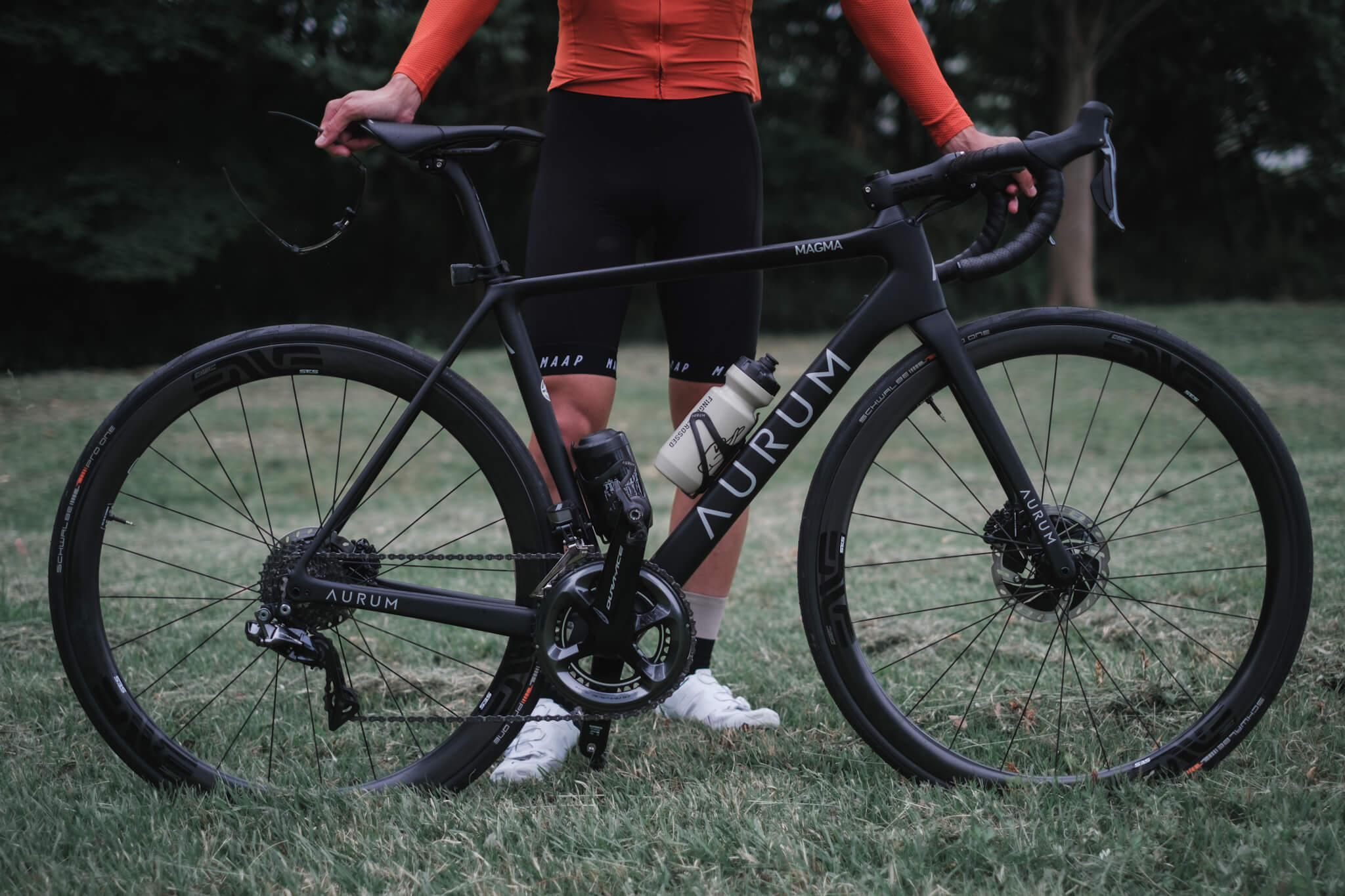 Ryuji: Contador and Basso were all-rounders, closer to climbers, and their performance values are evident in their bikes. Above all, as a Contador lover, I was happy to see that the bike was the one Contador wanted to ride.
Tats: There aren't many bikes in the current lineup that have been publicly produced by former top professionals.
Ryuji: It is rare. Brands launched by players of a slightly earlier generation include COPPI, CIPOLLINI, and Eddy Merckx. Recently, it is well known that David Miller is involved in Factor and Eric Zabel in Canyon, but I think AURUM is the only brand produced by a former professional athlete. And it's Contador. He started working after Lance retired and was leading every stage race from 2007-2015 until the Froome era came along.
Tats: So we can see that this is why it was made to be this rigid. The Contador's style of accelerating uphill by dancing and outpacing rivals can be shown at its best. AURUM says, "We balanced ride comfort and rigidity," but honestly, the rigidity is more strongly expressed in the character.
Ryuji: This must have been completely intentional. When Fortunato won the Zoncolan in this year's Giro, he was able to push hard, with a mix of dancing, to push away Tratnik, who was running ahead of him, on a very steep hill. I think this is the kind of bike that was made for this kind of thing.
Tats: That victory was symbolic.
2. Handling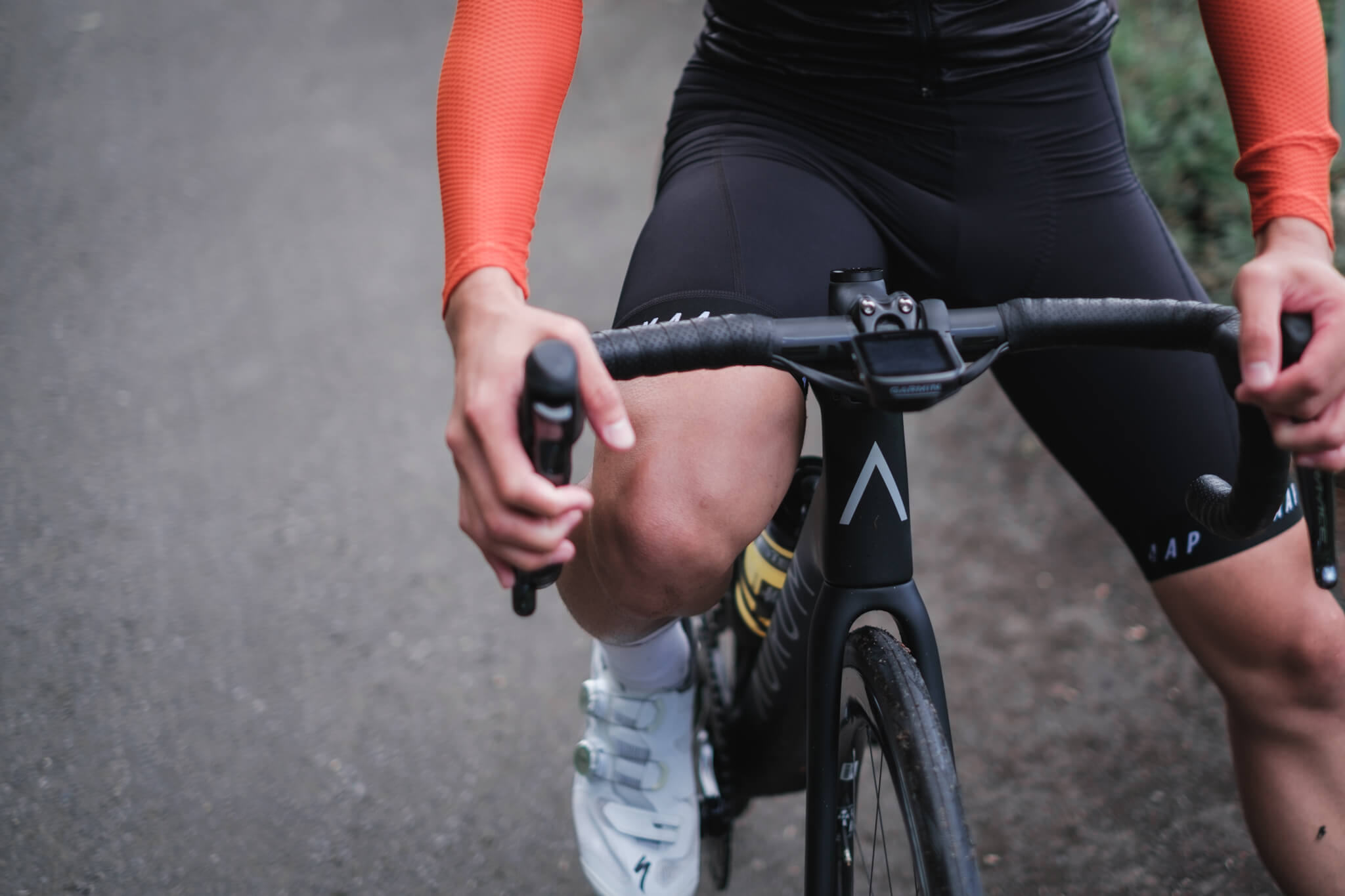 Tats: It was clear that Magma was strong in climbing, but there were other areas where it was strong and other areas where it was weak, so we would like to delve into Magma's characteristics.
Ryuji: What I found particularly good was the handling.
Tats: Magma is designed from the handling, and its features are agile and smooth. It is very easy to handle. There are bikes that are too quick or too sluggish, but Magma does not lean either way. It reflects the rider's intentions in a straightforward manner.
Ryuji: It's just the right amount of salt, stress-free and natural. I thought the lightness of the dancing swing was as good as it could be.
Tats: It doesn't seem to have the stiffness or imbalance that was common in disc brake road bikes of a while ago.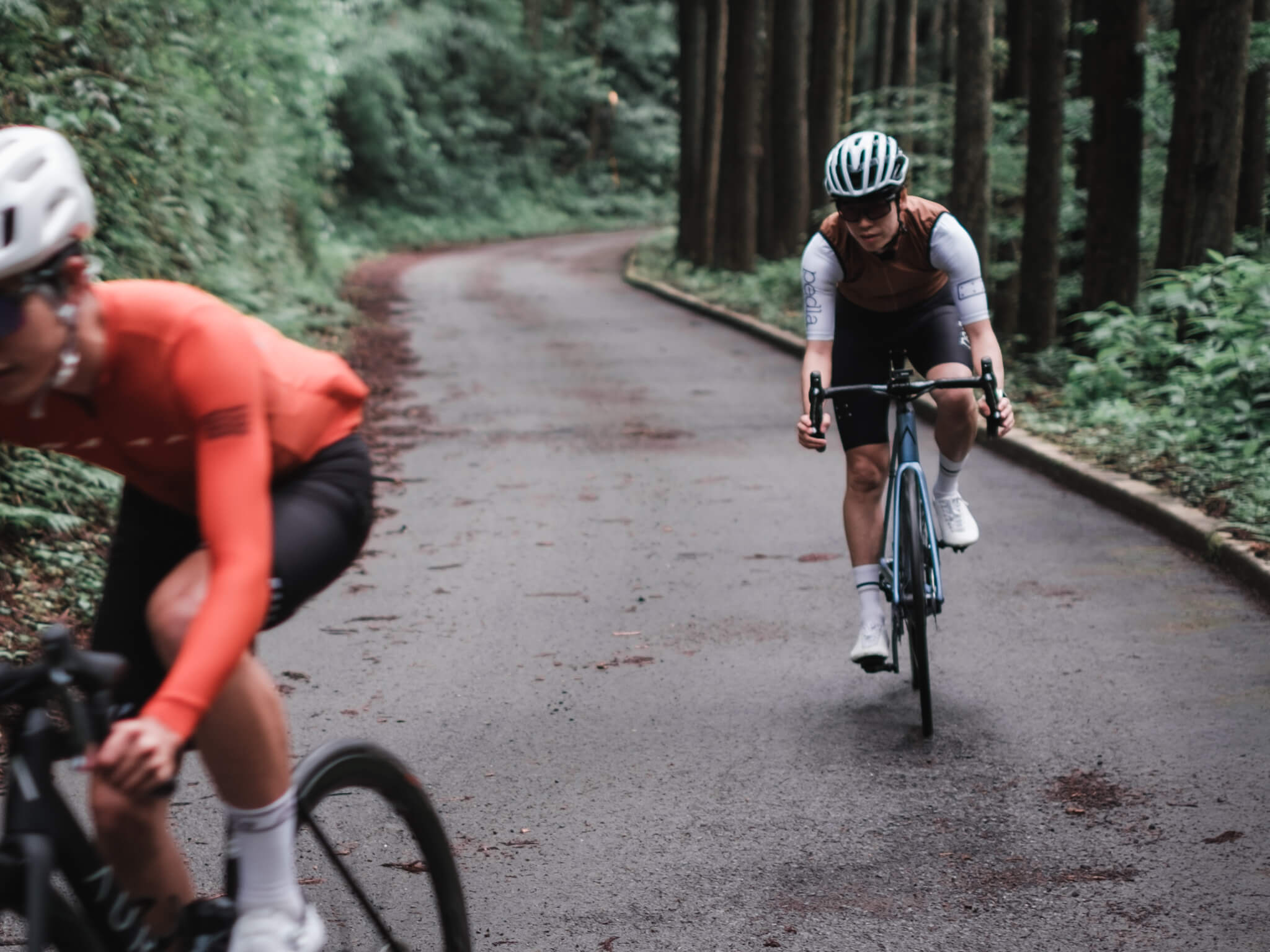 Ryuji: Downhill cornering is not scary because it does not understeer or oversteer too much; with Supersix, I had to be conscious of handling inward because it understeers, but with Magma, I don't need to be conscious of that. It follows a good line while sticking to the road surface moderately.
Tats: Downhill is fun too. You have to go down after going up anyway, so if you are going to ride long distances, you have to consider the downhill performance as well. I feel that Magma is not dangerous because of this steering finish.
Ryuji: I did not feel the forks flexing under hard braking, so I felt generally secure on downhill descents.
3. Weaknesses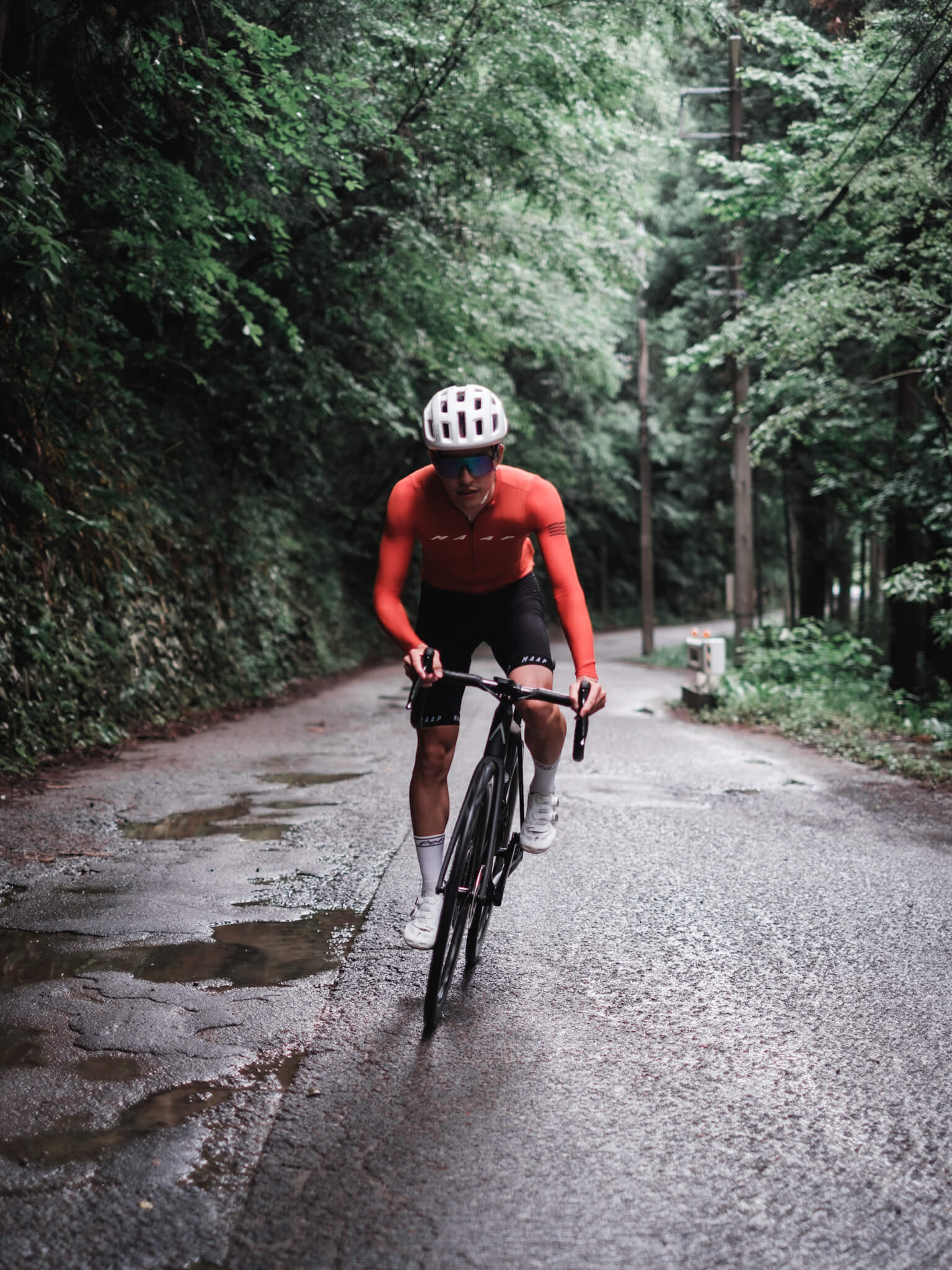 Ryuji: Regarding acceleration performance, I feel that its strength is its low-speed extension. It extends at once when stepping on it with dancing.
Tats: The acceleration is sharp. This must be completely intended for hill climbing attack.
Ryuji: Even on the flat, it is quite easy to get up to speed from a signal stop. And how about from there, it is hard to extend the speed when it gets close to 40km/h.
Tats: I agree, and feel that the comfortable speed range is up to the upper 30 km/h range. I don't know how much difference there is between the aerodynamics of the bike and other companies' bikes, since wind tunnel test data is not publicly available, but at high speeds, a bike with an aero road-like shape and a longer wheelbase has more propulsive power. So, as I mentioned earlier, on a flat course, the advantages of this bike would be spoiled.
Ryuji: I think it is. I don't mean that you can't go faster, but that I feel that the high speed range is sluggish compared to the crispness of the low speed range. And when I tried to push harder to get more out of the bike, my legs would end up dragging.
So, with Magma, I prefer to drive without pushing too hard at high speeds, and to push hard on the uphill sections.
Tats: When I rode with you, I was stepping on the flat for more than an hour, trying my best as usual, and by the time we reached the pass, my legs were shaking (laughs). I learned then that when you ride long distances, you need to manage the rest of your legs more than on other bikes….
Ryuji: The key is to pull out a bit of flatness when long.
4. Difference by wheelset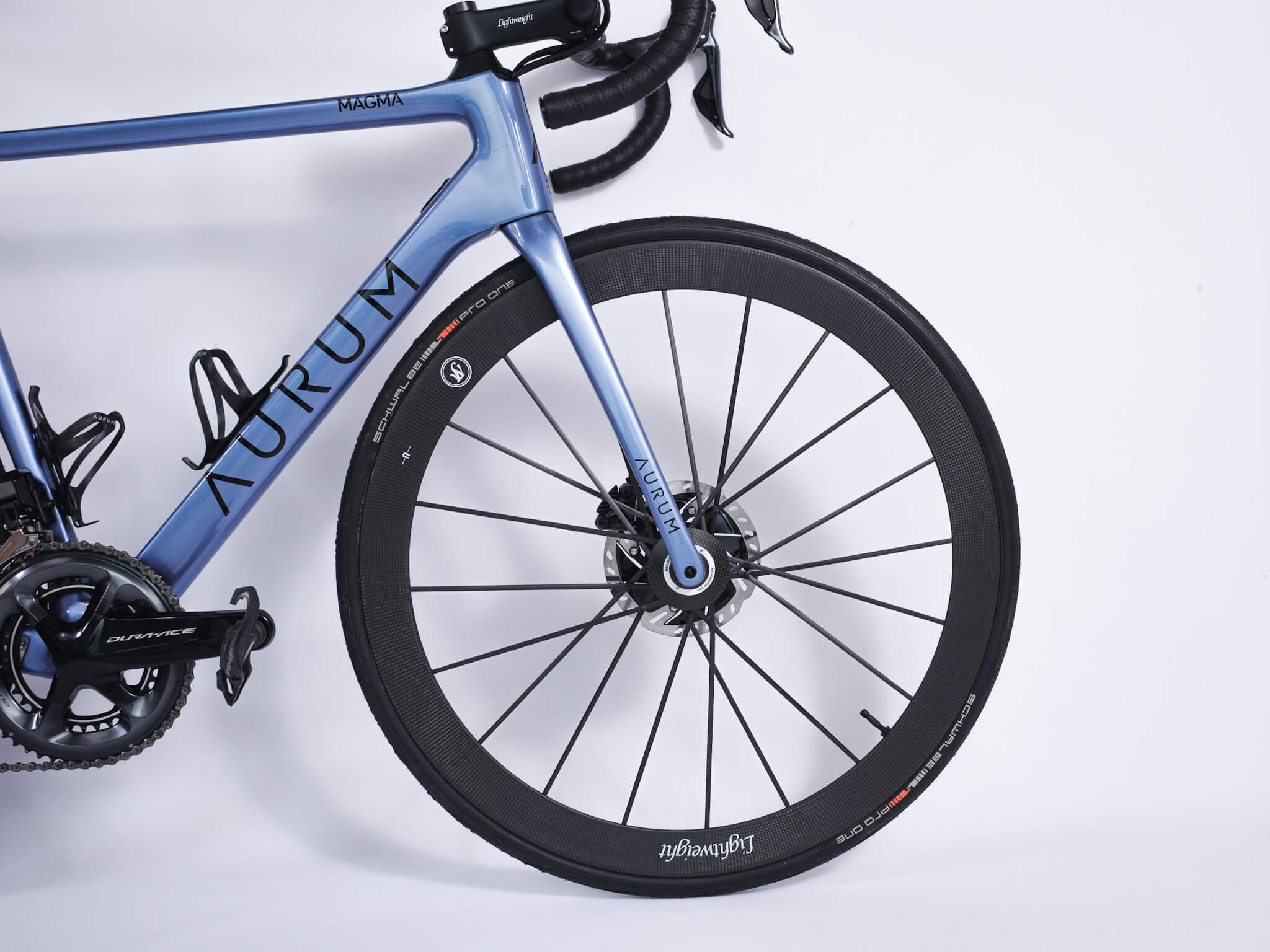 Tats: I think the wheels that are assembled on complete bikes also have different characteristics, so I will look into that as well.
Ryuji: The combination of wheels changes quite a bit, you know.
Tats: My test bike was the "Lightweight Myrenstein Evo Disc TL" and yours was the "Enve SES 3.4 Disc".
As for the Lightweight, the feeling was similar to the rim brake version of the Mairenstein that I had ridden for a while. It is characterized by a strong direct feeling and a stiff feeling in the vertical direction. It has a very strong sense of lightness and acceleration performance.
Ryuji: I have ridden the rim brake version as well, and had the same impression about Lightweight.
Tats: However, its specific weight for ride comfort is quite low. This time, the tubeless tires are low-pressure, so they should be more comfortable than conventional models, but they are noticeably stiffer than other tubeless wheels.
In terms of compatibility with Magma, I have the impression that Magma has solid lateral rigidity, so when combined with the high vertical rigidity of Lightweight, it has a crunchy racing feel.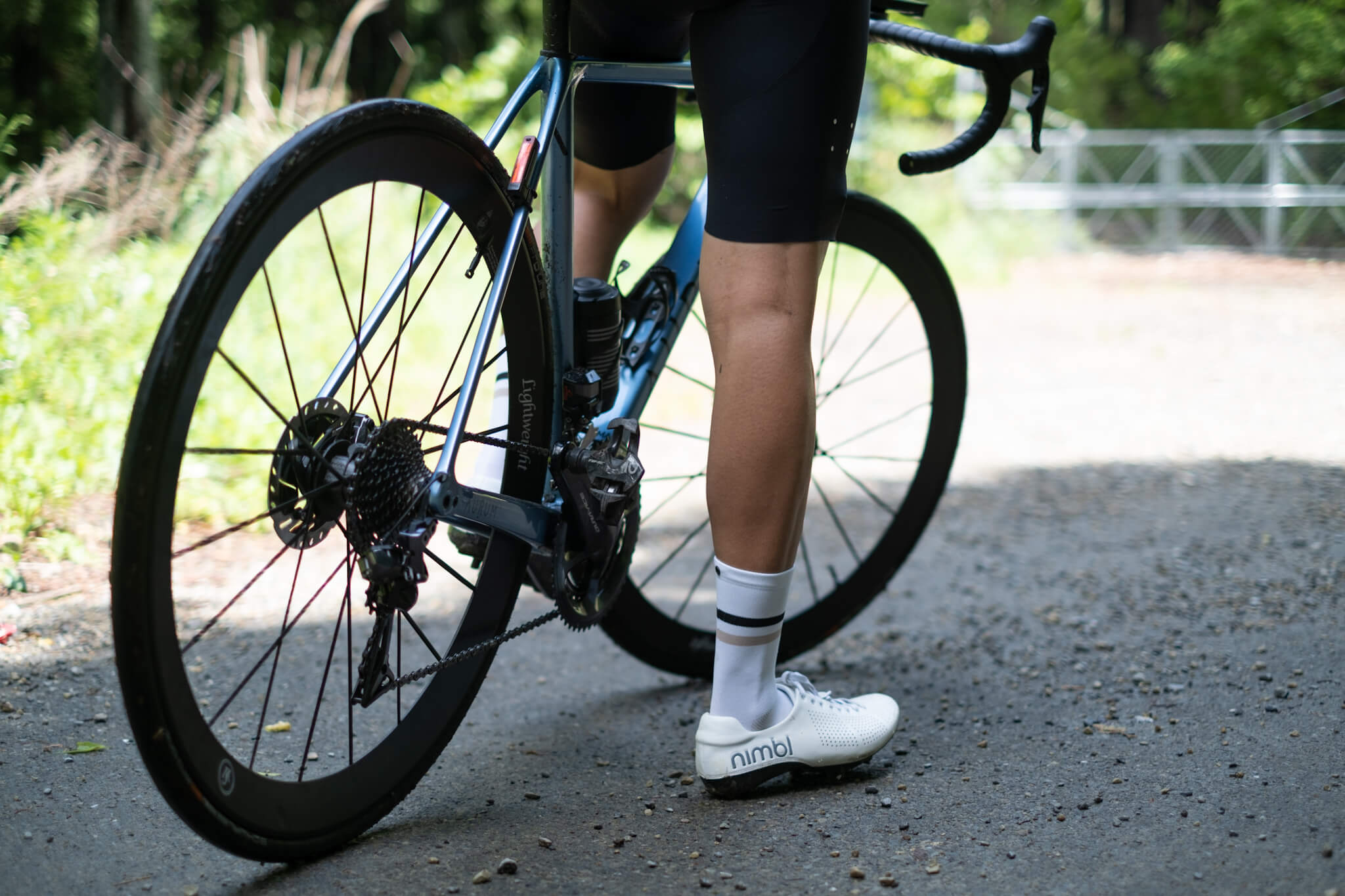 Ryuji: I wanted to accurately feel the characteristics of each wheel and frame separately, so after riding with the Enve wheels, I compared the ride with my usual "Hollowgram SL 45 Knot" wheelset.
Tats: It will be interesting to feel the difference.
Ryuji: When I changed the wheel, I could easily feel the character of the frame, and I was able to reconfirm that the "light initial speed" that I talked about earlier was due to the frame.
What I found out about the wheel characteristics is that the directionality of Enve and Magma is similar and sharp.
Hollowgram is a wheel that excels at high speeds and is a bit sluggish in the initial speed range, while Enve is the opposite, excelling in the initial speed range and only to a certain extent at high speeds. So, I found the Magma and Hollowgram easier for high speed cruising.
If you want to broaden the range of your bike, you should choose a wheel like the Hollowgram, which is specialized for high speeds, and you will have a bike that complements the Magma, which is good at high speeds, and balances each other out.
But with Enve, the hill climb speed range is further enhanced, so I would choose Enve if the course has a lot of climbs.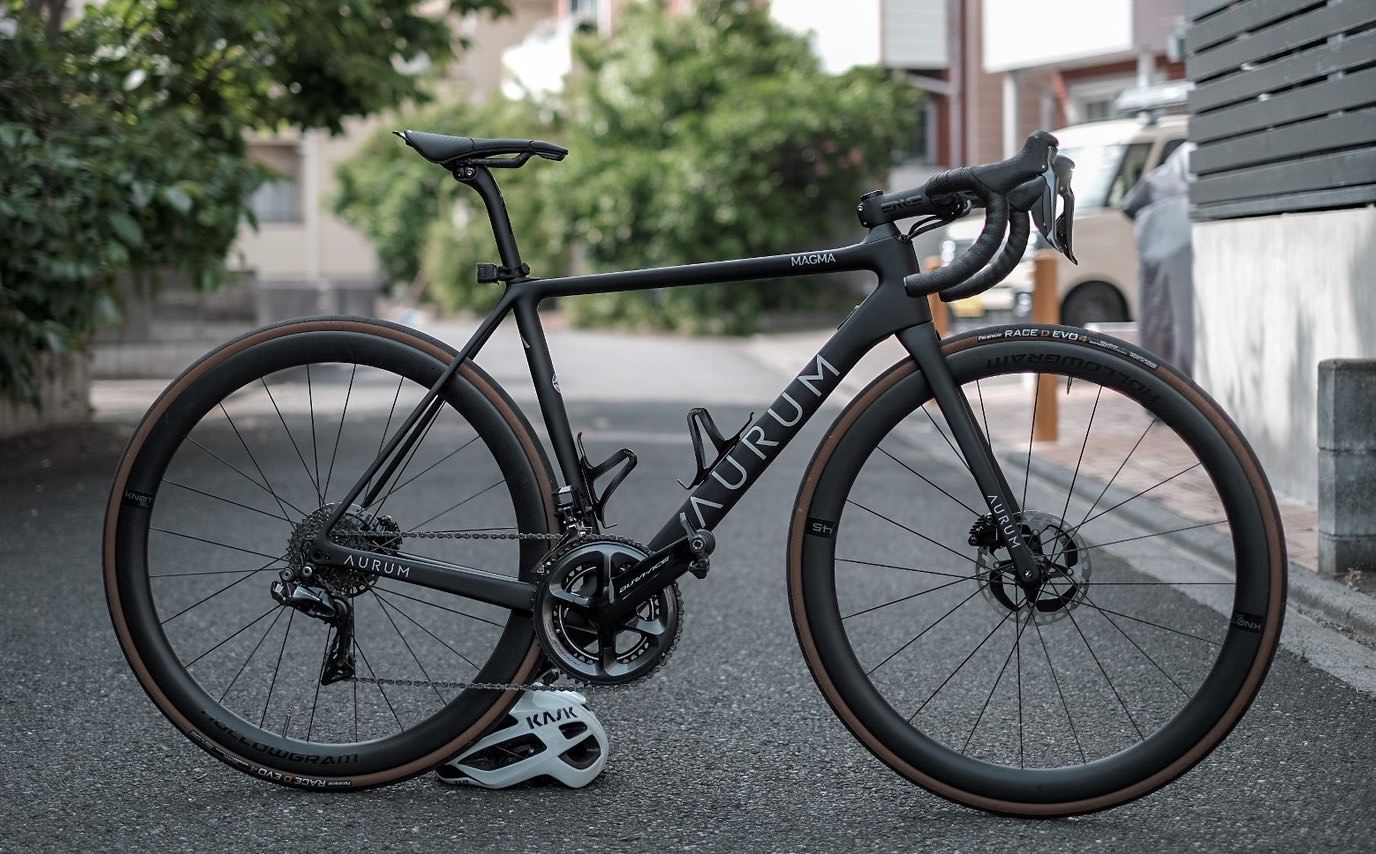 Magma with Hollowgram
5. The aesthetics of a chic bike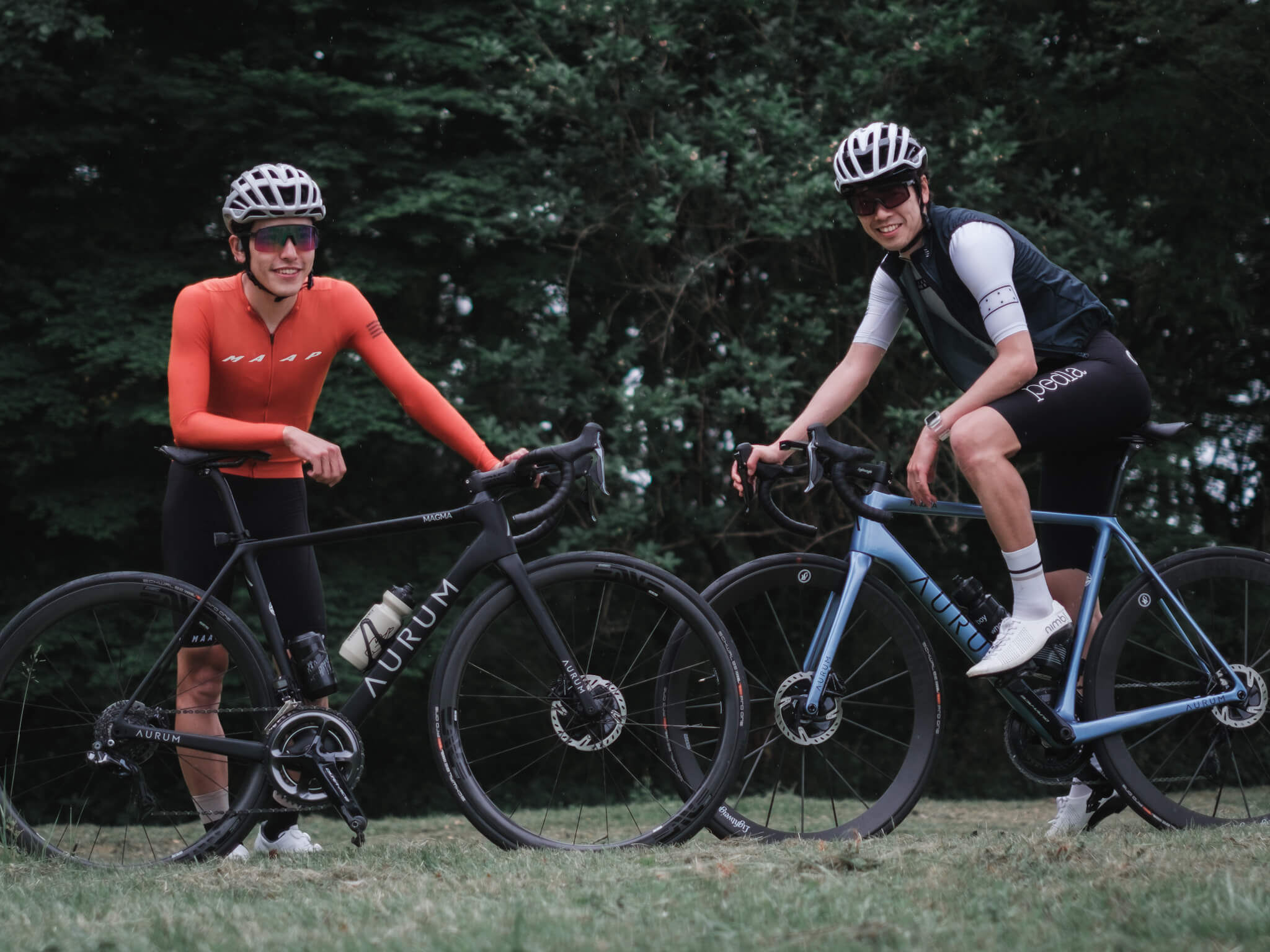 Tats: Once we know the characteristics of Magma in this way, we will understand what kind of riding style cyclists are suited to.
Ryuji: Of course Magma is used as racing equipment, but most cyclists don't buy Magma just to use it for racing. Most cyclists do not buy a Magma just to use it for racing. Therefore, rather than using it hard, I think it is better to enjoy the acceleration and rigidity of the bike and make it your own over the long term. It is more suited to the style of rider who likes climbing than riding on the flat, who wants to enjoy long-distance riding, or who occasionally enjoys riding with friends on a mountain pass.
Tats: For a while there was a phenomenon that everyone was riding Venge at hobby races, but this is not that kind of "I'm riding the latest bike," kind of thing. In this era when big brands are at the height of their popularity, AURUM dares to inherit the nostalgic ride quality of the previous generation, optimize it for disc brakes, and raise it to a level where it can compete in races with the bikes of big manufacturers.
It is because of this "chic" design concept that I felt AURUM was so good during the test.
Ryuji: That's the point. I think that the users who are interested in AURUM are attracted by its nostalgic design, not by its speed or comfort.
Tats: I agree. Some may say they are avid fans of Contador, but Magma has the visual pull that attracts many more cyclists than that.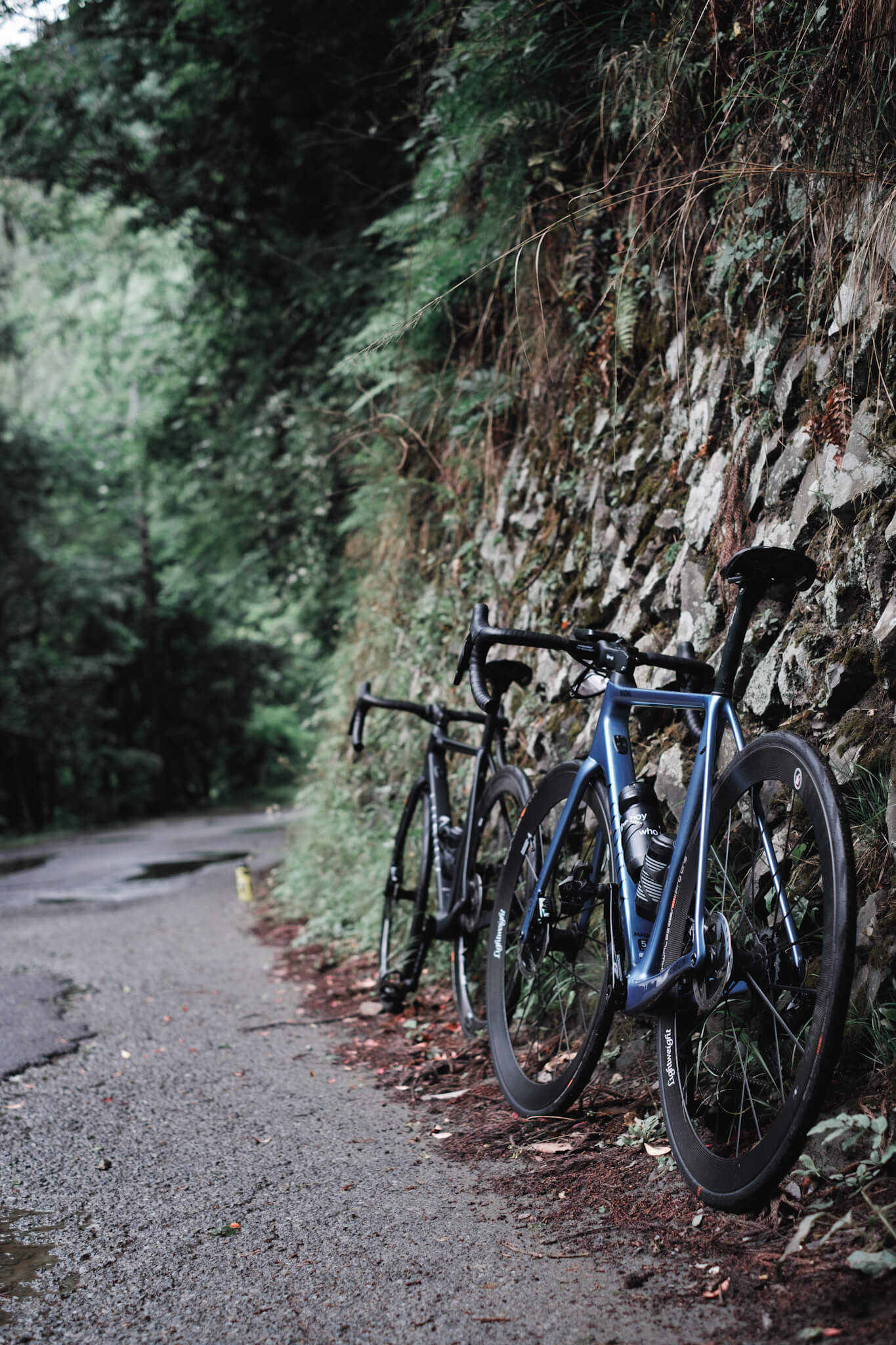 Ryuji: As written in Part 1, the aesthetics of "what is a beautiful road bike" is packed into this shape. I personally think that the shape of the Factor O2 is so beautiful among all kinds of bikes, and I feel the same thing in the Magma. The geometry is almost the same, and I even think the same person designed it.
Tats: As an O2 rider, I can only sympathize…. That is why I was so happy when I found out that we could borrow Magma, and during the test period, I had a special feeling of riding something special, more so than any other bike I have ever ridden.
If you feel that kind of sympathy, you can decide on ride comfort and rigidity later.
Ryuji: And that's the whole point of choosing a bike.
Tats: Yes, yes, yes.
As for the colors, both look luxurious in person. Carbon black was described by Contador as a "racing color," and it has a cool, taciturn atmosphere focused on running. Glacial blue is an elegant but not flashy, mature color that can be matched with any kind of wear.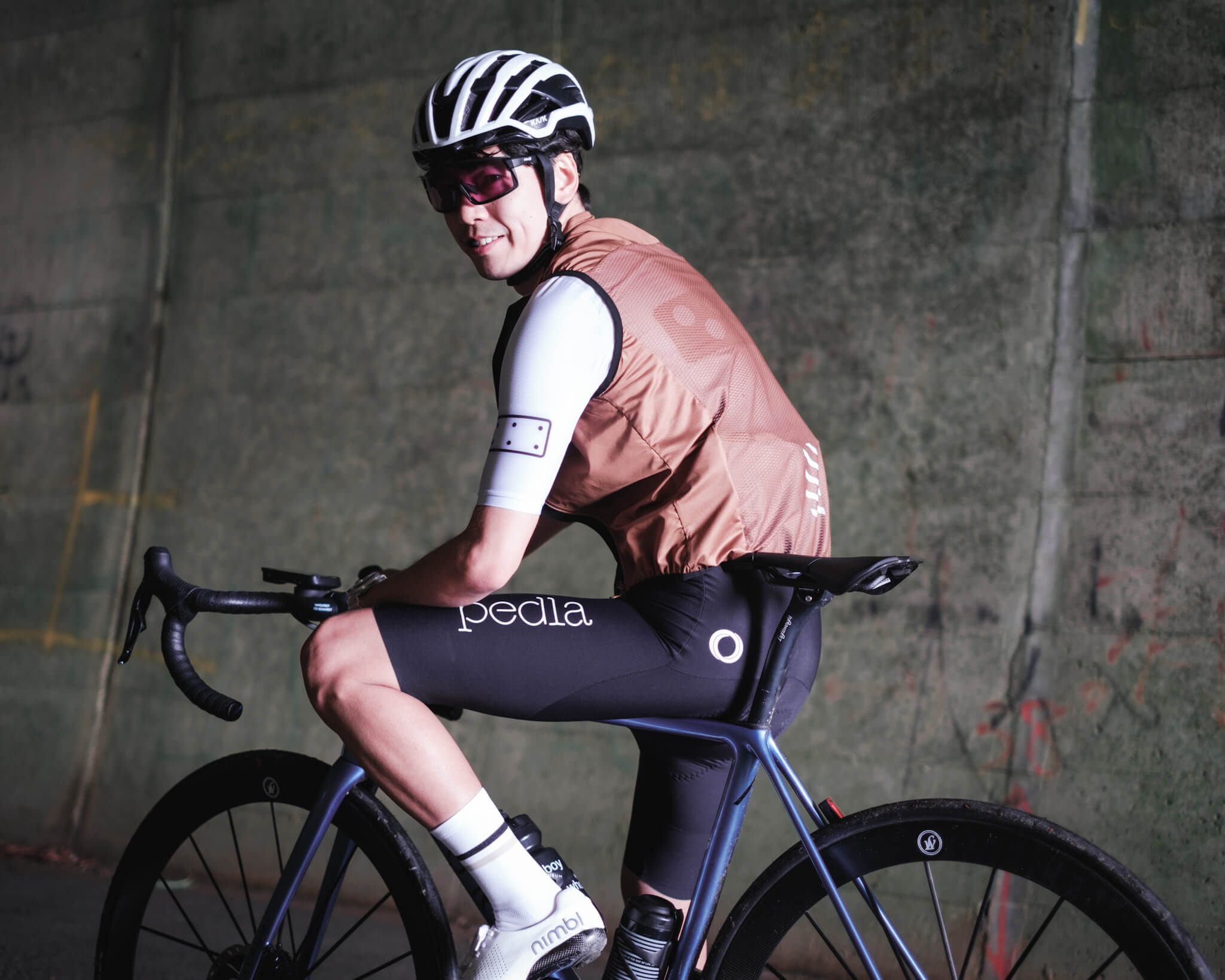 text / Tats(@tats_lovecyclist)
photo / Tats & Ryuji(@ryuji_ride)
Part1