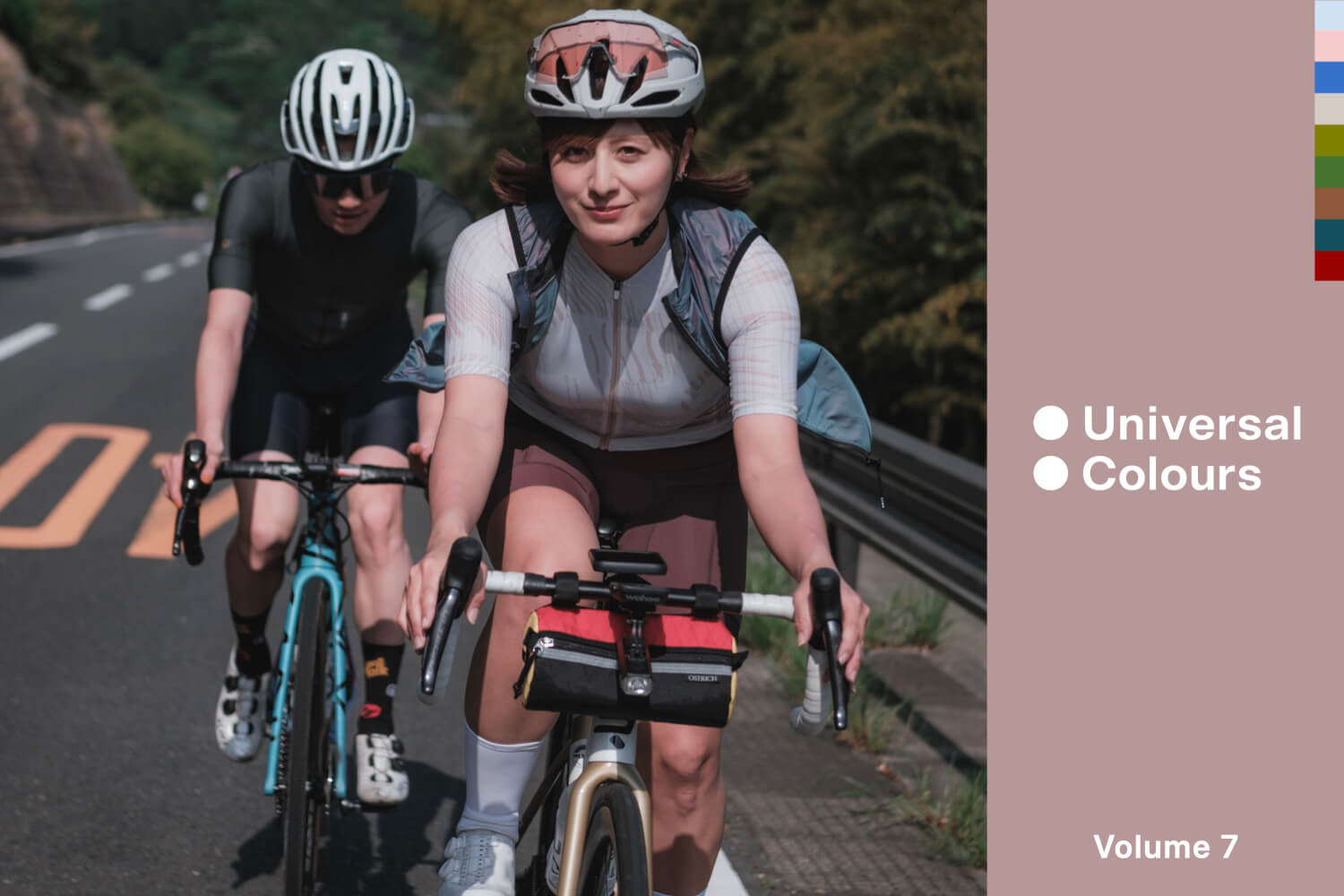 Since its launch in 2020, the UK-based Universal Colours has established a significant global presence as part of a new generation of brands.
While fresh collections are launched each season, what makes Vol. 7 for the spring/summer 2023 season stand out is its rich color lineup using trendy colors. The flexible use of colors in any combination will further lift our spirits as we welcome the new season.
Reviewers
Yukari(@hii_road)
Ridley ambassador in Japan with 5 years of experience in sports biking. While studying abroad in London, she became hooked on "Wimpy Pedal" and immediately bought a road bike after returning to Japan. She has traveled to 18 countries in Europe by backpacking, and is involved in a wide range of bicycle-related activities, drawing on her sensitivity to fashion from her work experience.

Tats(@tats_lovecyclist)
Editor in Chief. Having been riding sports bikes for 10 years. He likes to unravel the trends in the sport bike industry, especially road bikes, from a marketing perspective. At the same time, he has extensive friendships with cycling apparel brands from around the world and proposes various styles through the media. His main bikes are Factor O2 (road) and LS (gravel).
Model / Yukari, Tats, & Rin
Photo / Tats & Rin

*The clothing worn in this review was provided by Universal Colours.

[ads]
1. Riding with Volume 7
Let's go with summery full bloom.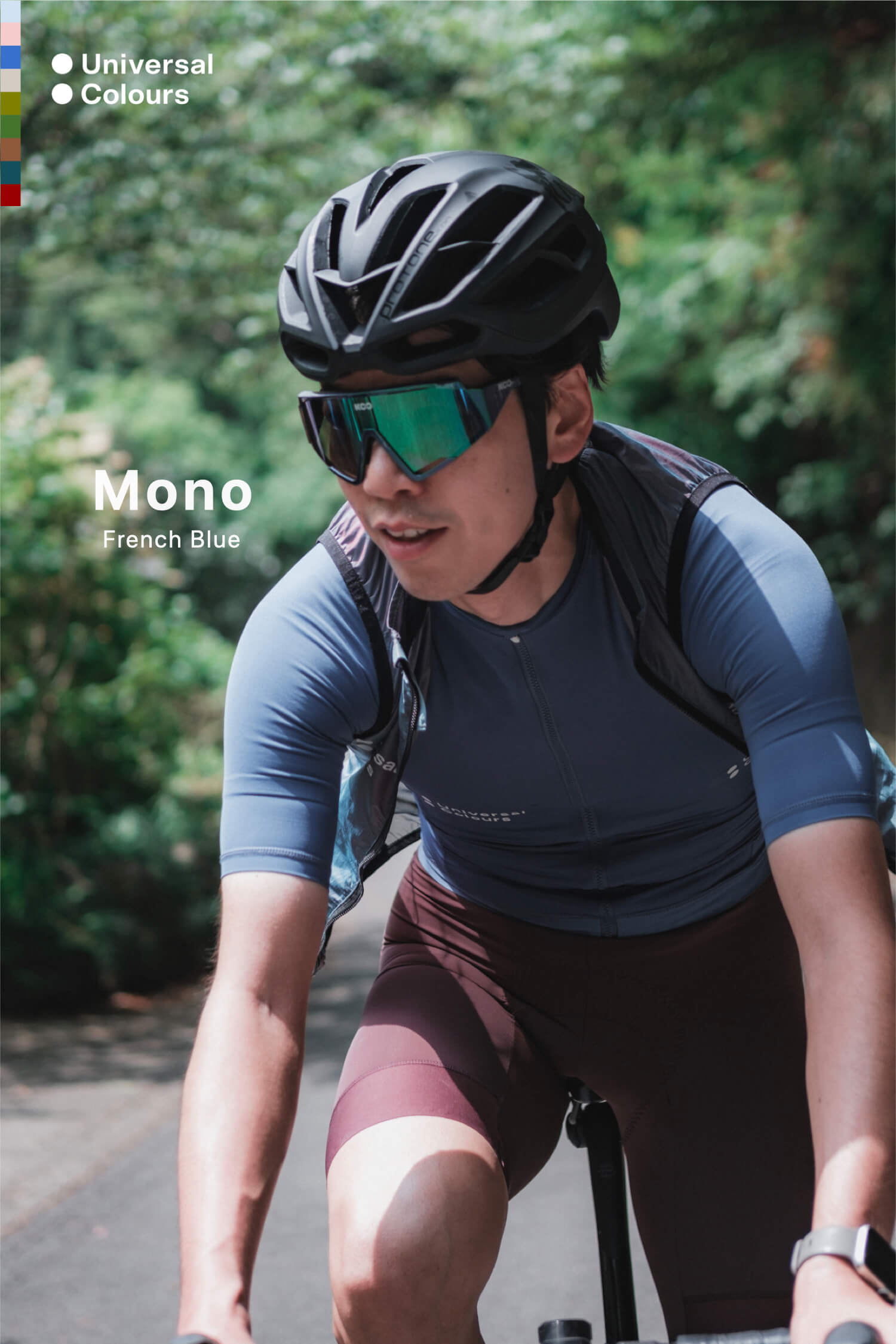 Jersey: Mono Men's Short Sleeve Jersey
Gilet: Spectrum Lightweight Unisex Gilet 
Bib Shorts: Mono Men's Bib Short
The rich French blue hue is full of summery charm.
The thin Mono Jersey fabric is so soft and comfortable that you may forget you are wearing it, and together with the blue hue, it elegantly wraps around your body.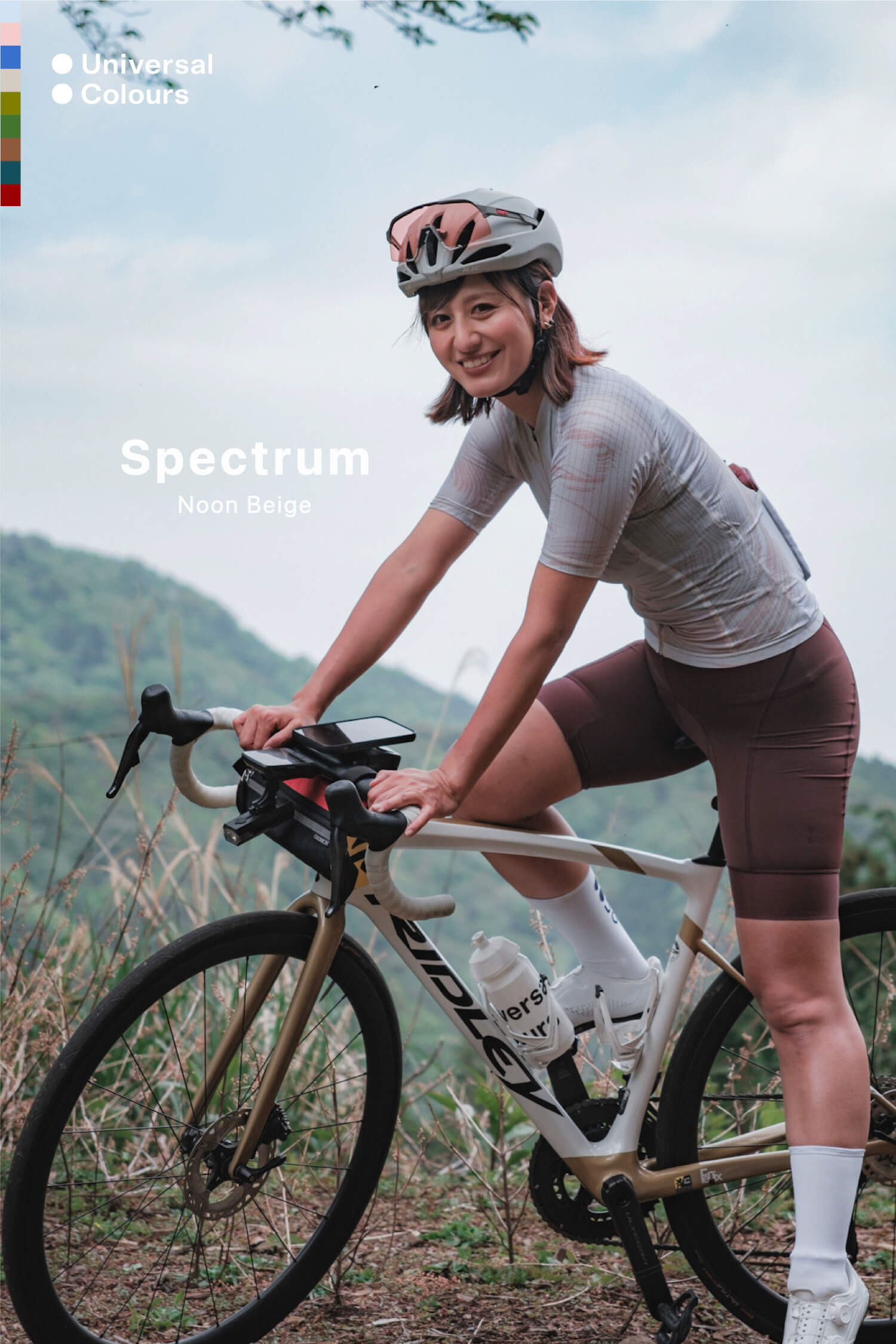 Jersey: Spectrum Light Women's Short Sleeve Jersey
Bib Shorts: Mono Women's Bib Short
Inspired by the cross-section of alpine sedimentary rocks, the beige jersey is exquisitely nuanced in texture and color, while the Spectrum jersey is also soft, airy, and smoothly fits the body.
Surrounded by fresh greenery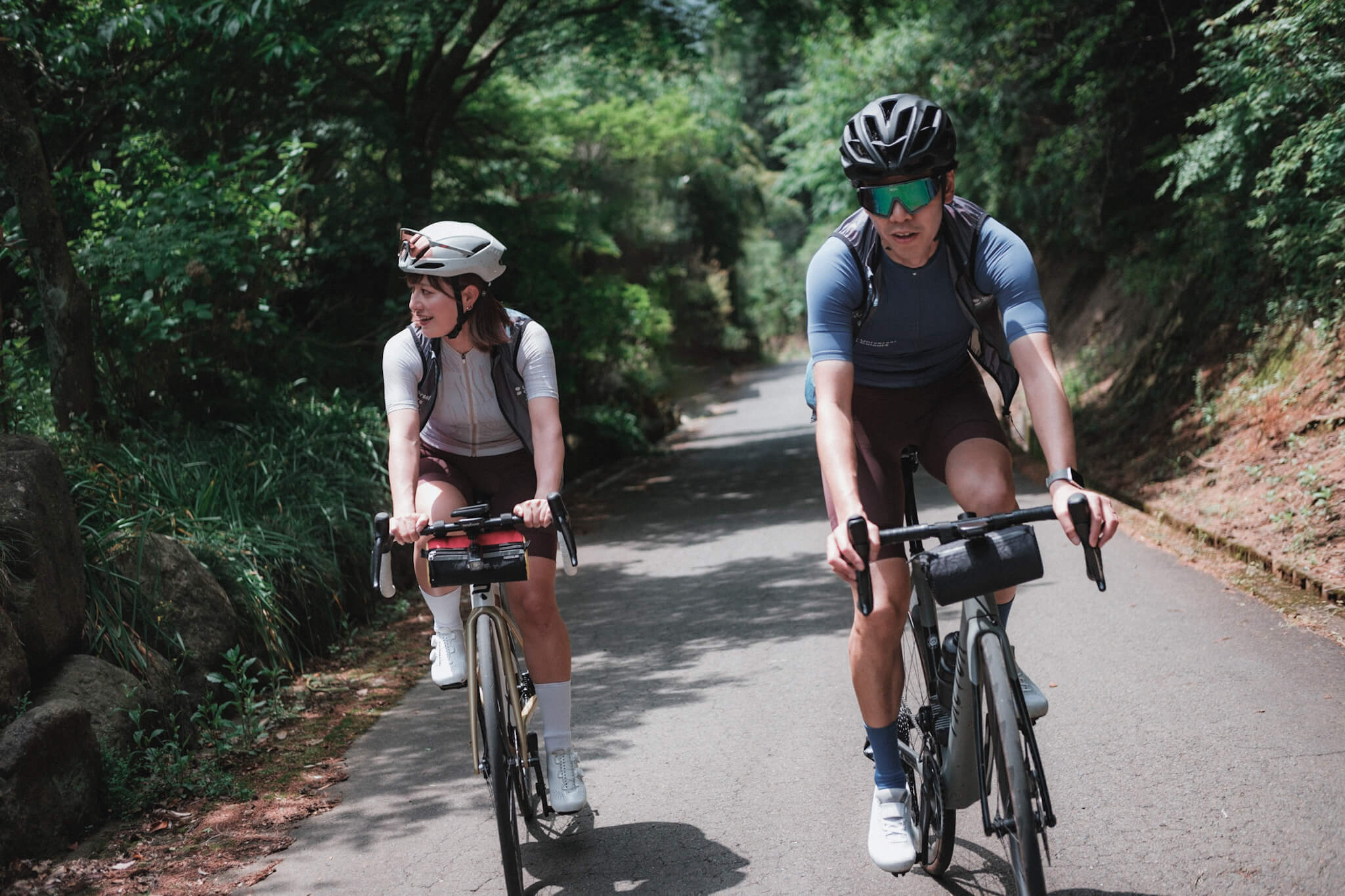 The cool forest roads with almost no traffic are ideal for summer riding. You can simply lose yourself in the path, listening to the birdsong and the sound of the wind.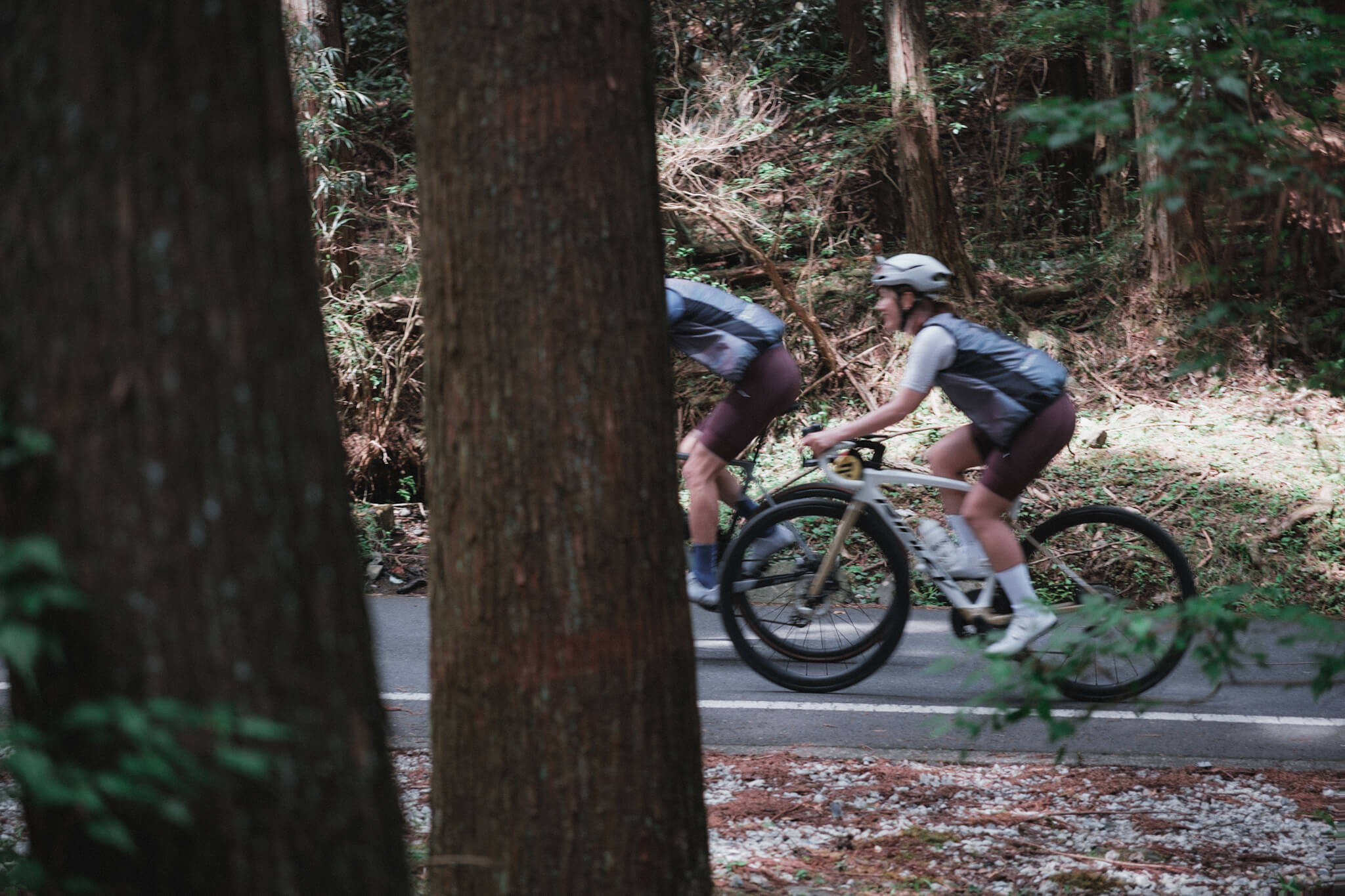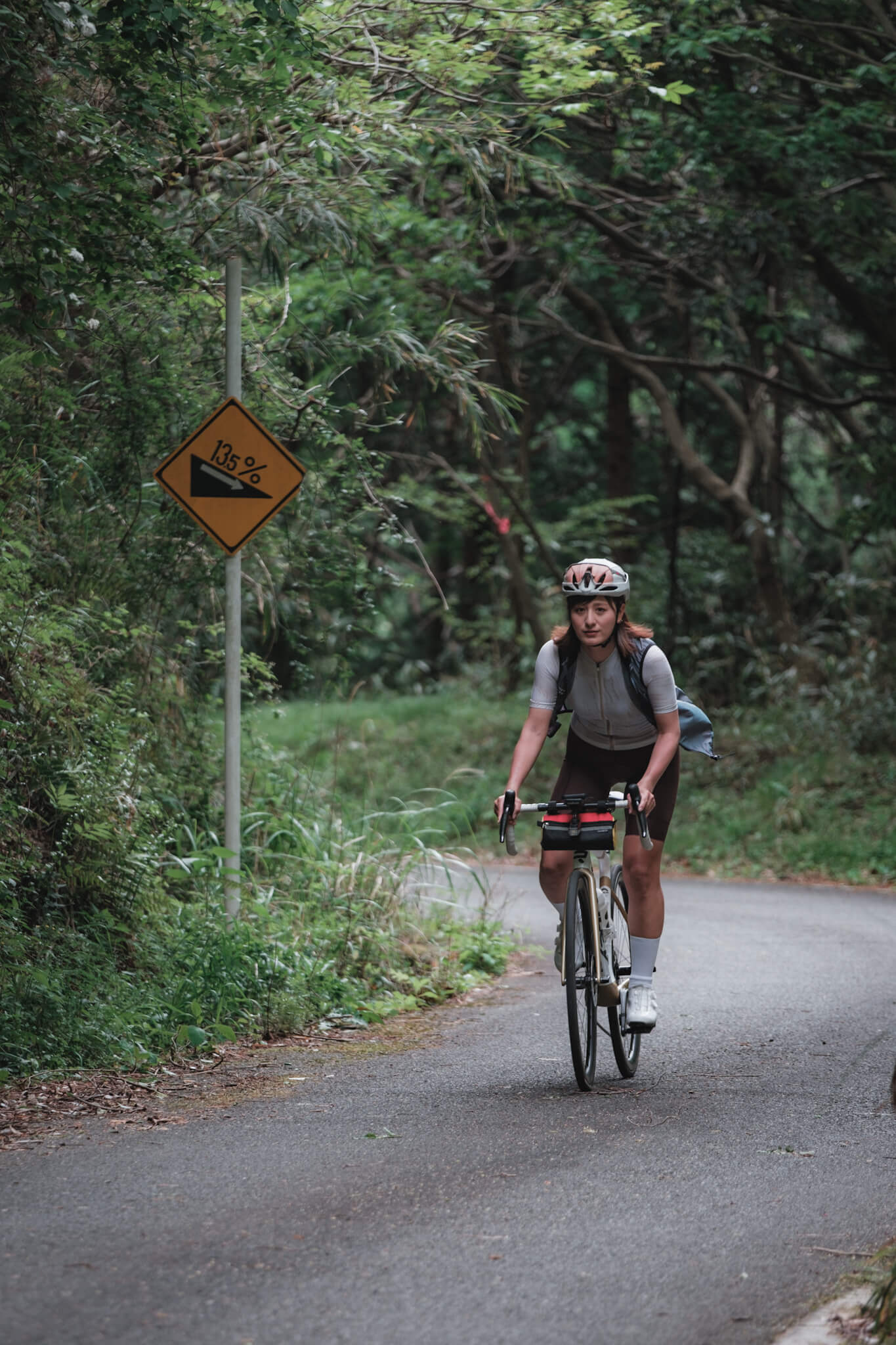 A forest road with a sign indicating the grade puts pressure on cyclists.
Universal Colours' soft fabric feel does not restrict movement in the saddle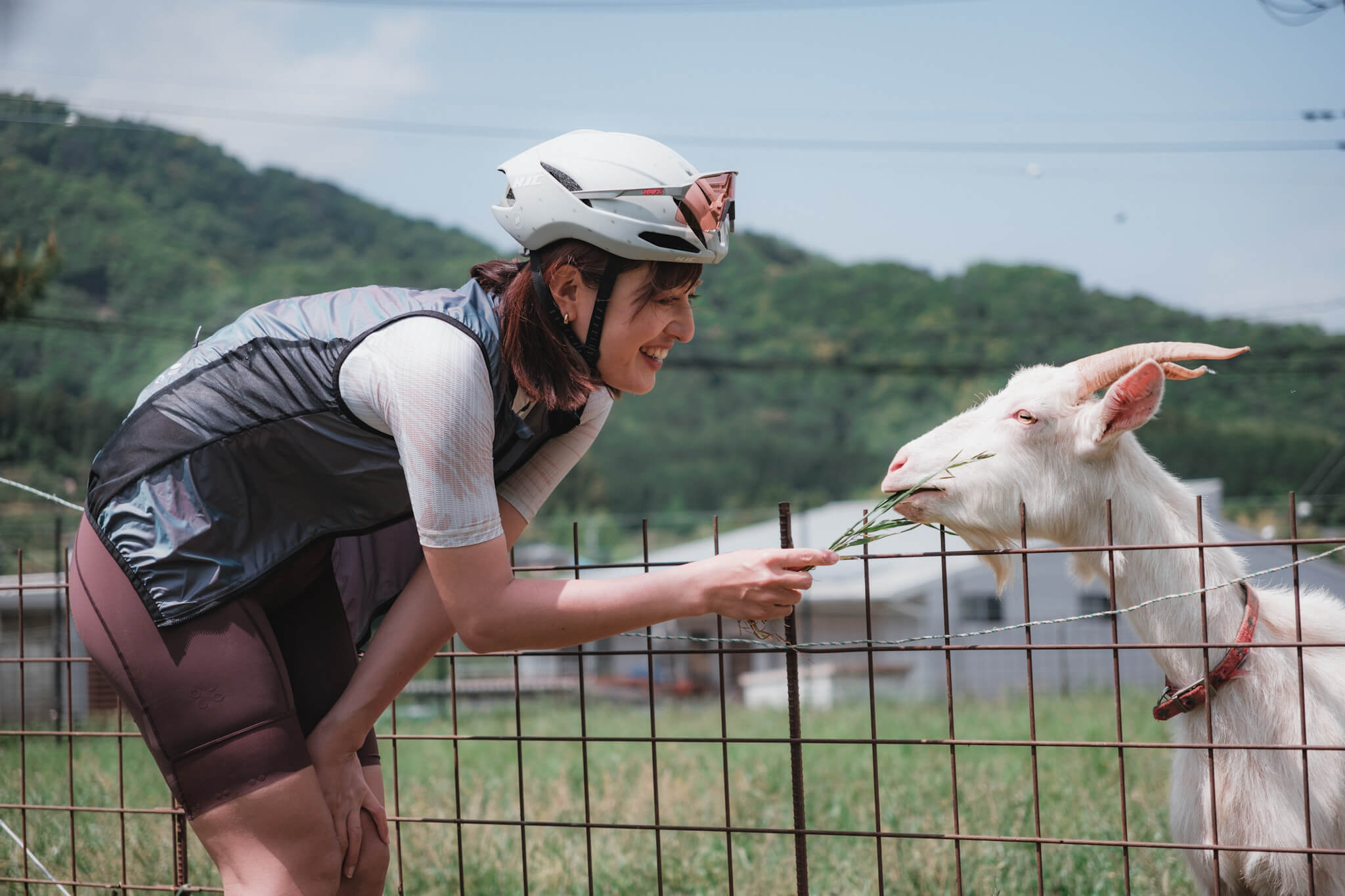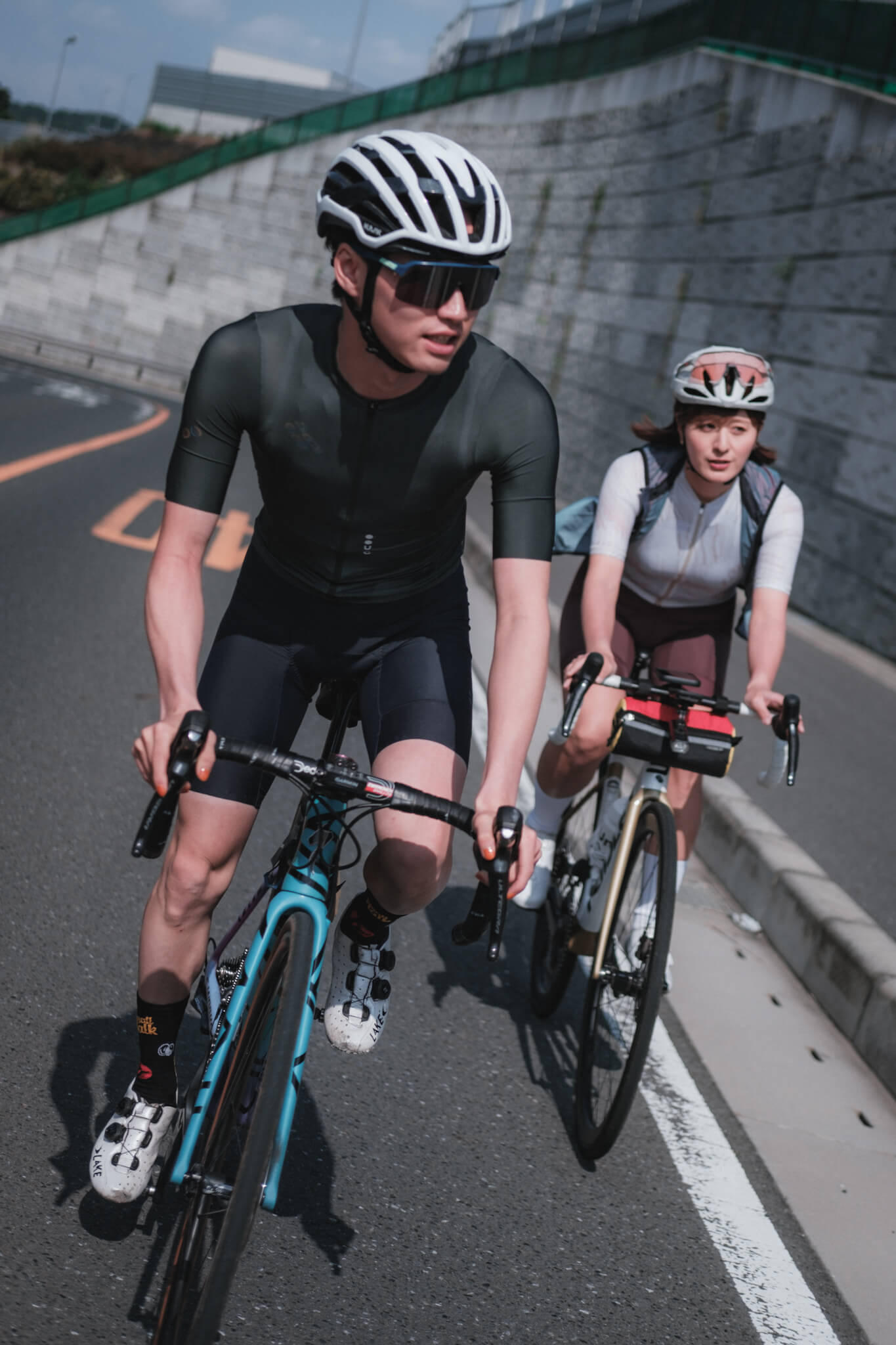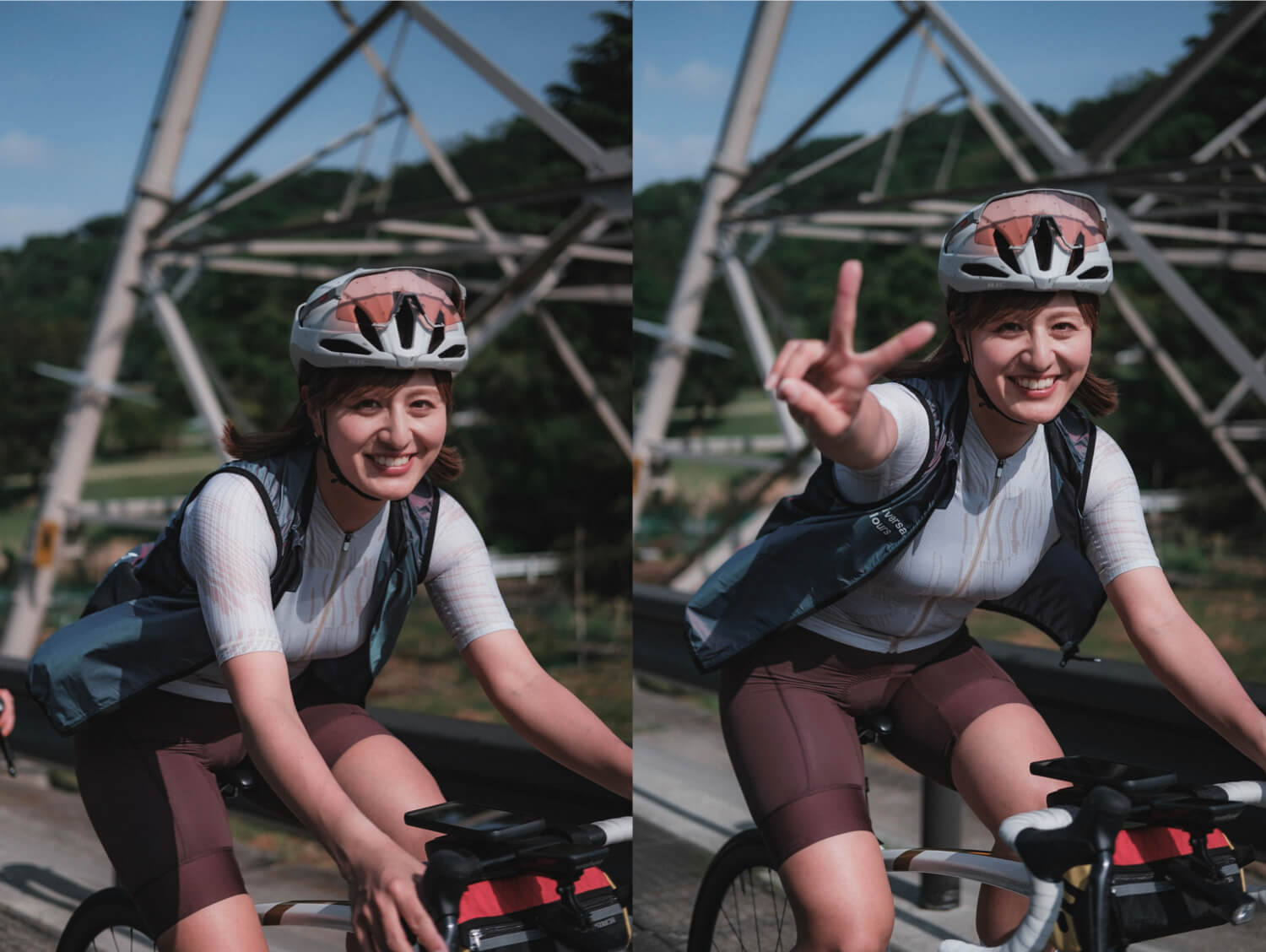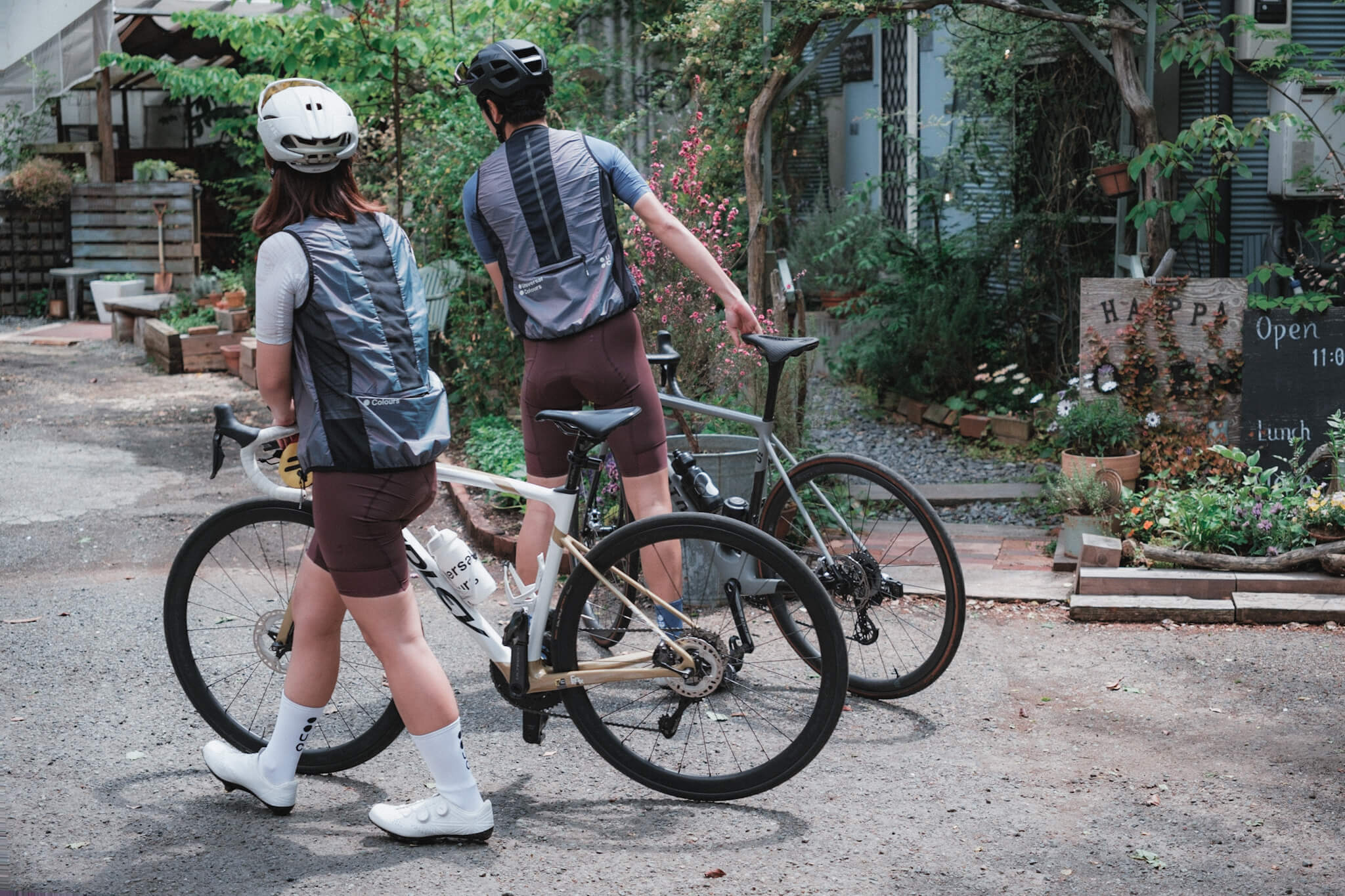 Lovely tag on socks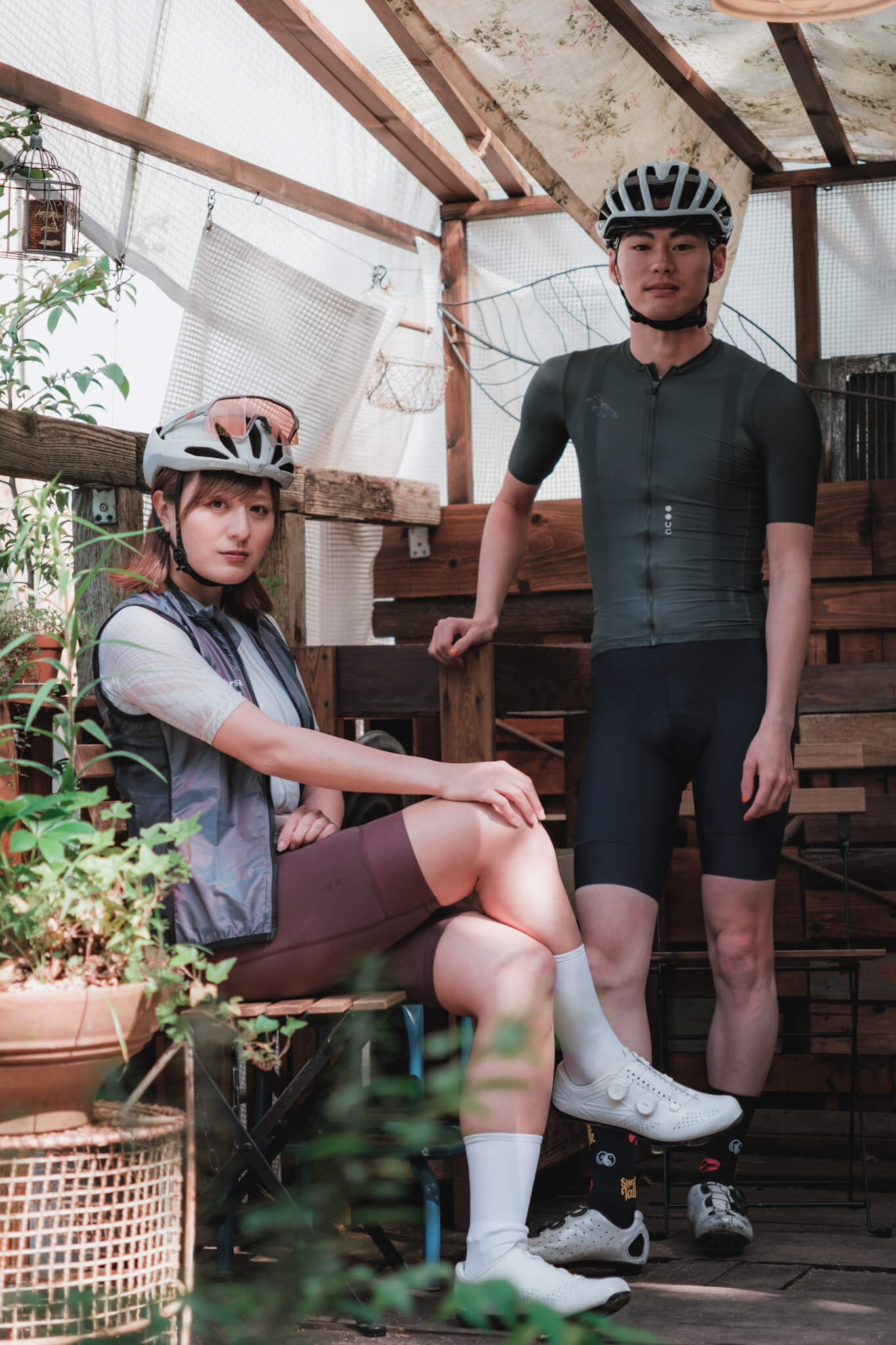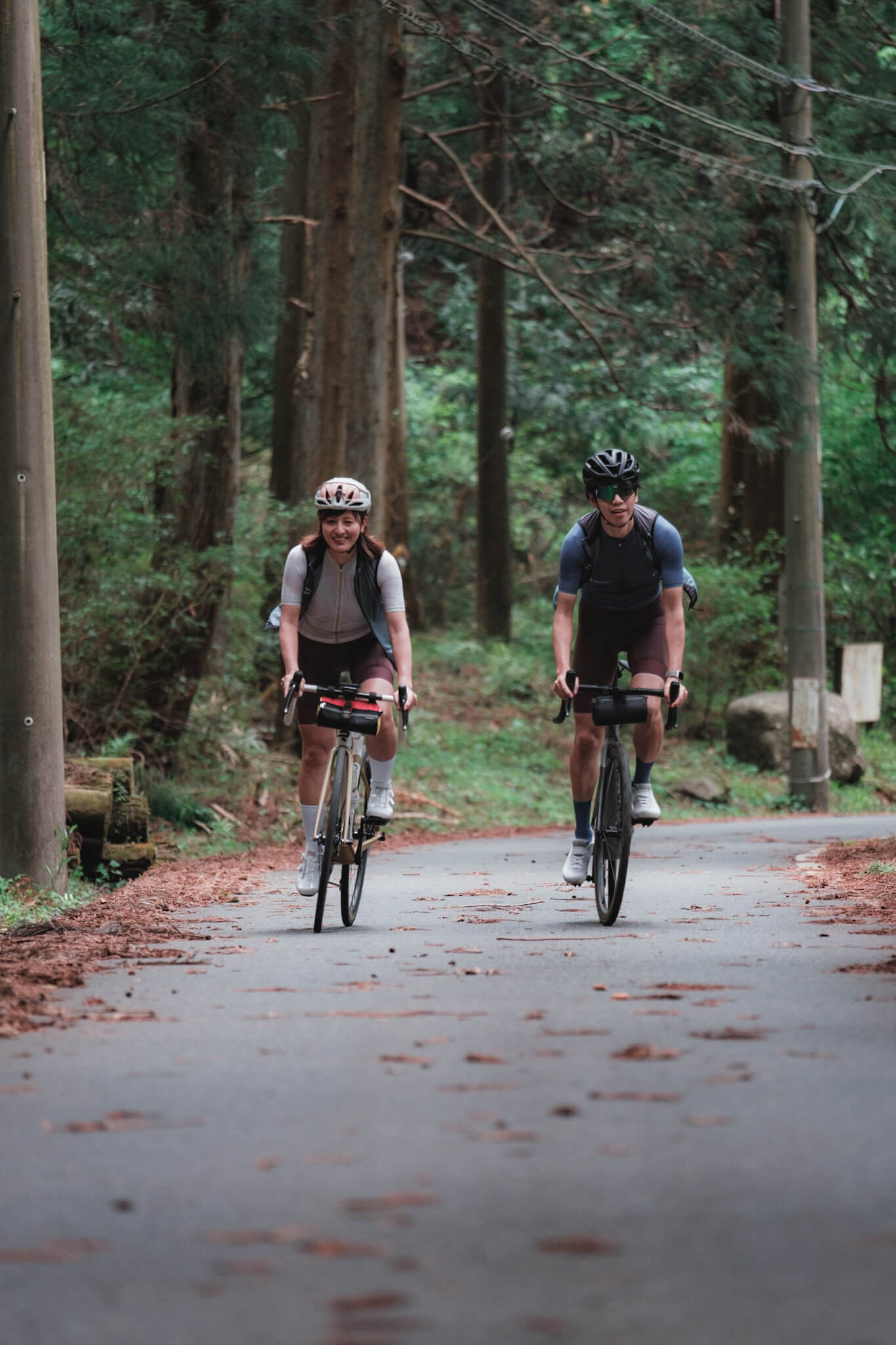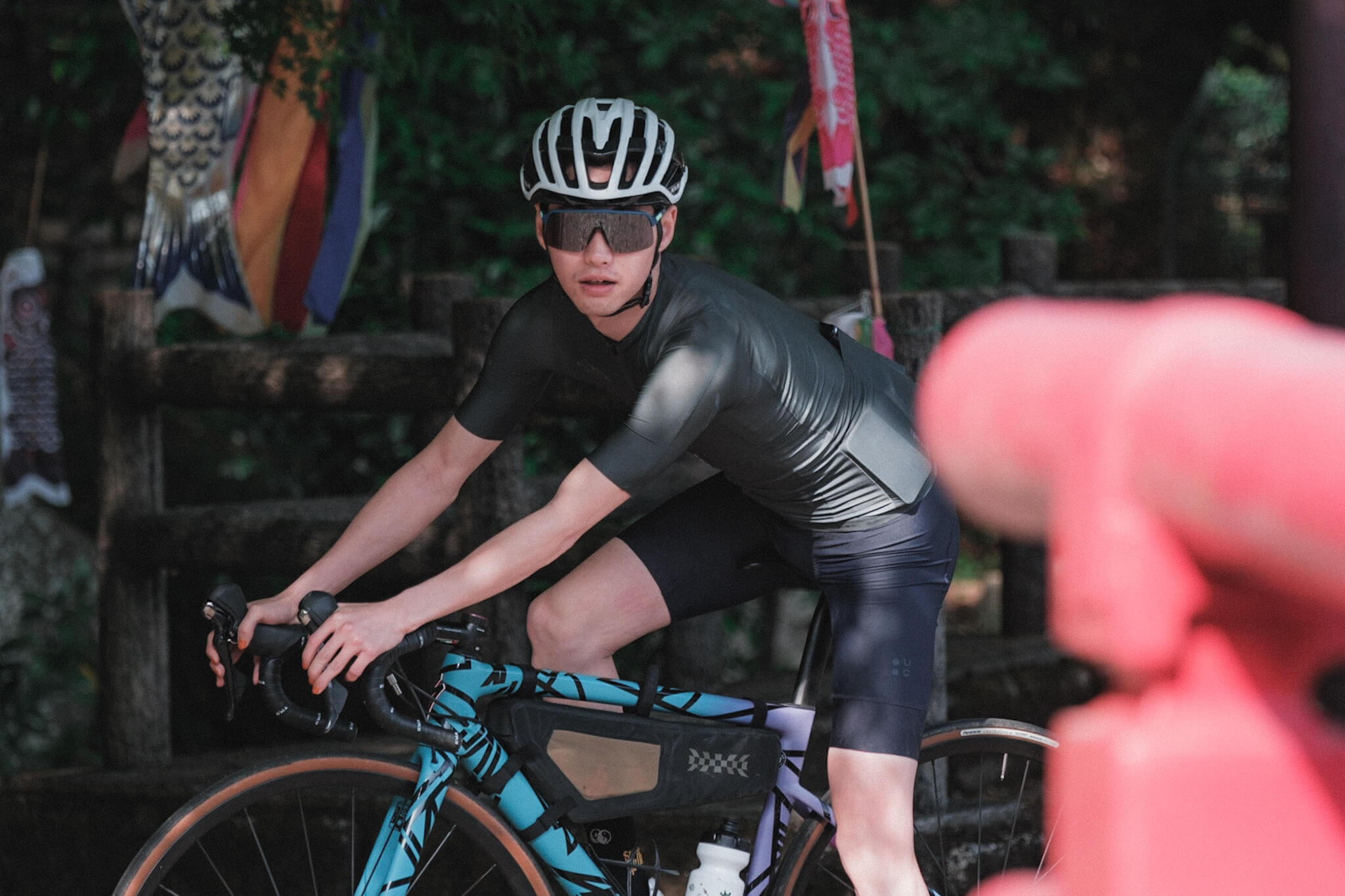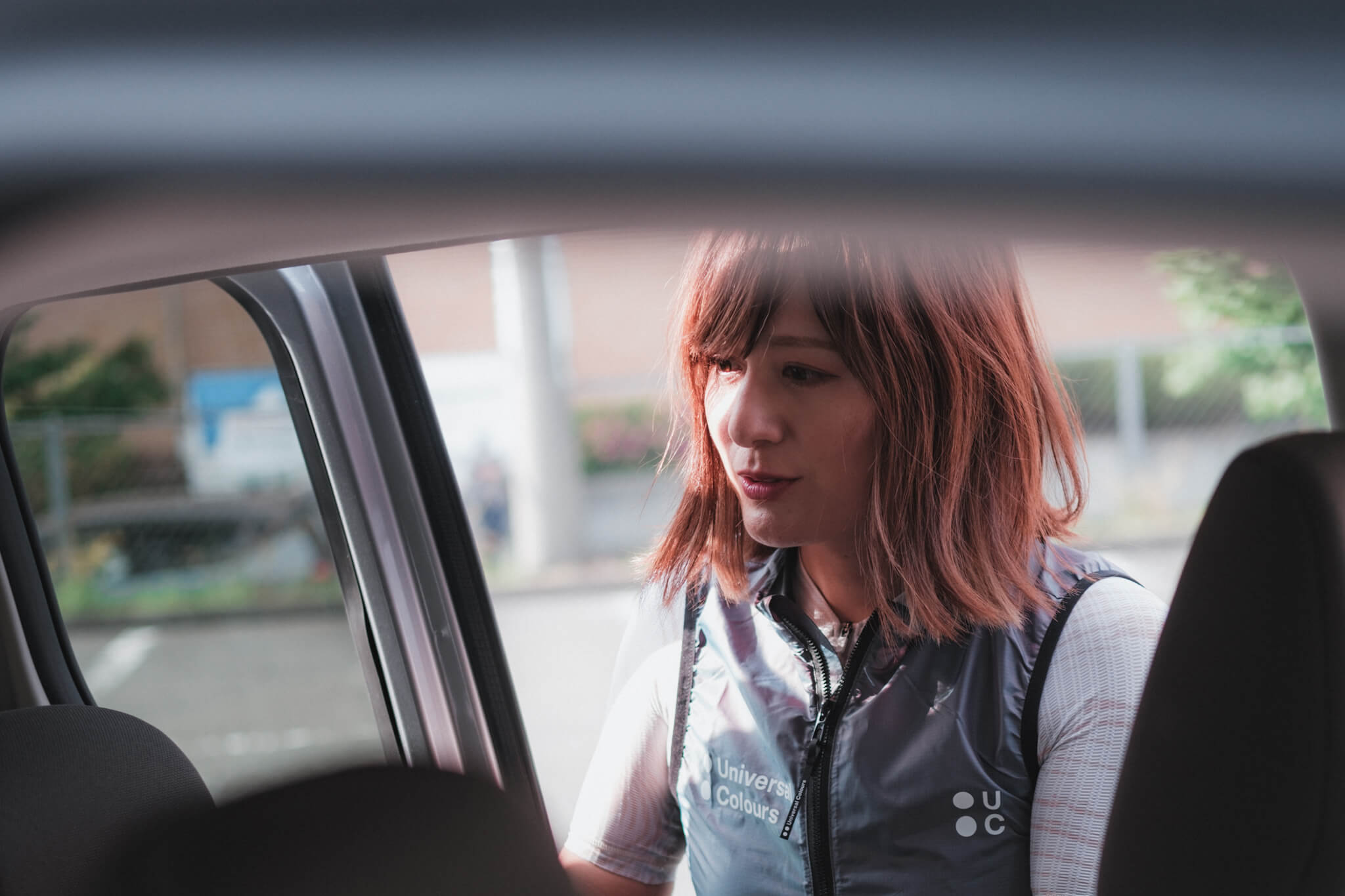 2. Volume7 Lineup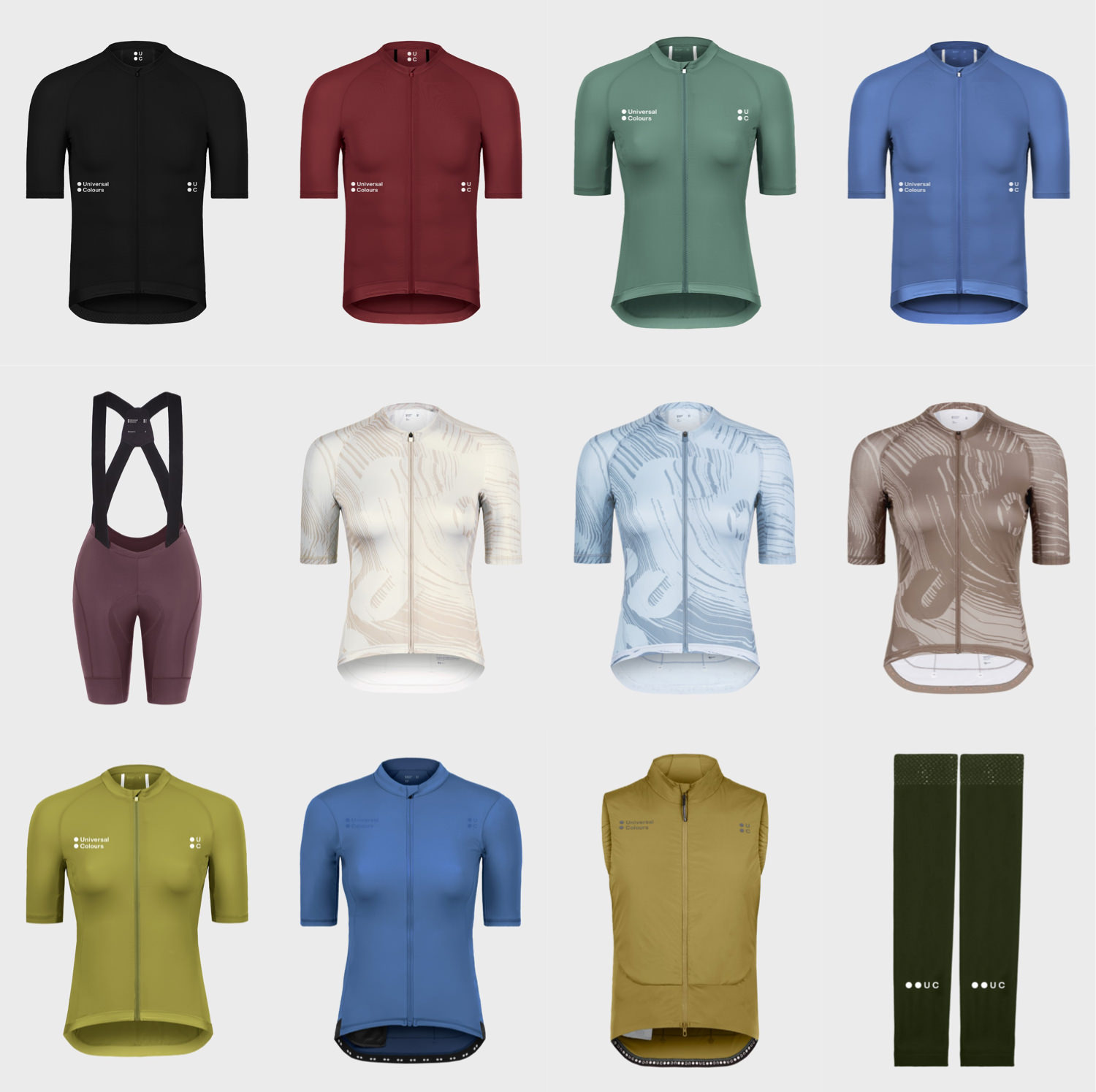 The lineup is richer than ever, with energetic blacks and reds, French blues and greens full of spring and summer excitement, and timeless pale tones, all of which show that UC is growing even more as a global brand.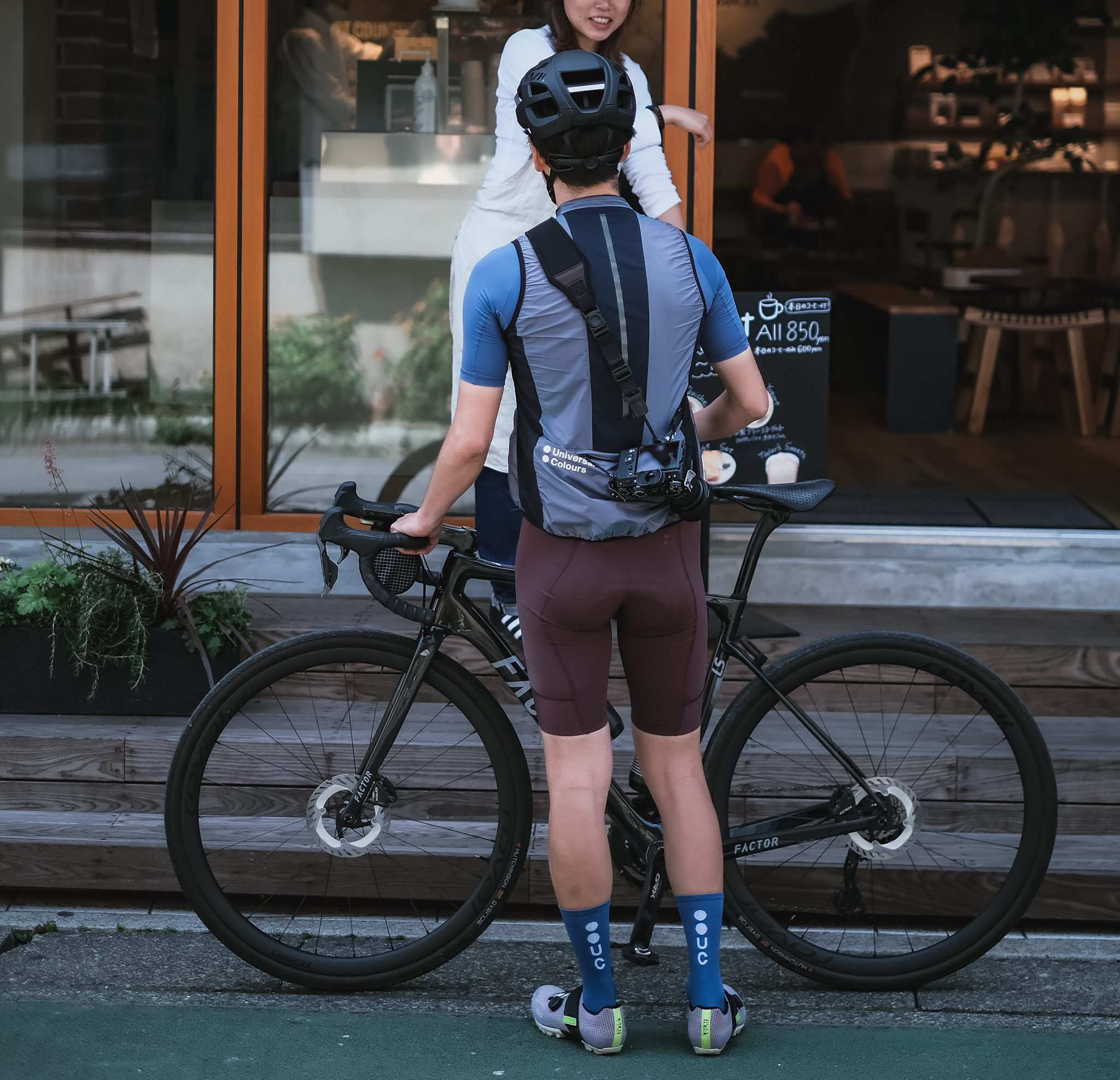 The new deep red color of the bib shorts is pleasant to wear with any of them. While colored bibs have become the norm, these colors add even more freshness to the styling.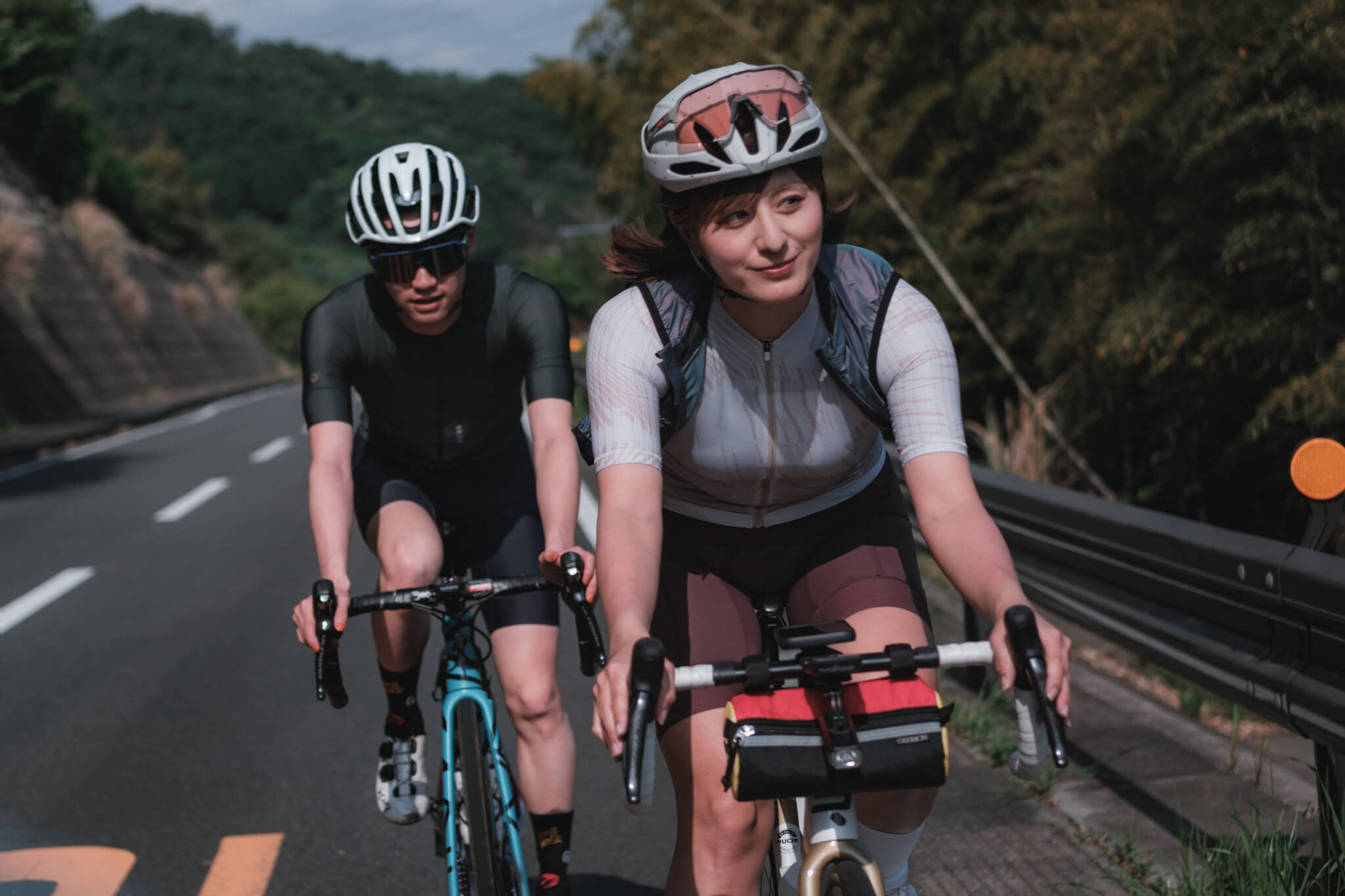 One of the reasons we love Universal Colours is that when we add new pieces to our wardrobe each season, the colors match perfectly when paired with past garments. The color palette seems to be carefully chosen, and each ride adds to the joy of styling.
Not only the universality of the design, but also the gender-neutrality and consideration of manufacturing methods, which are values not found in traditional cycling apparel, are the reasons why we always want to include them as an option among the many brands available.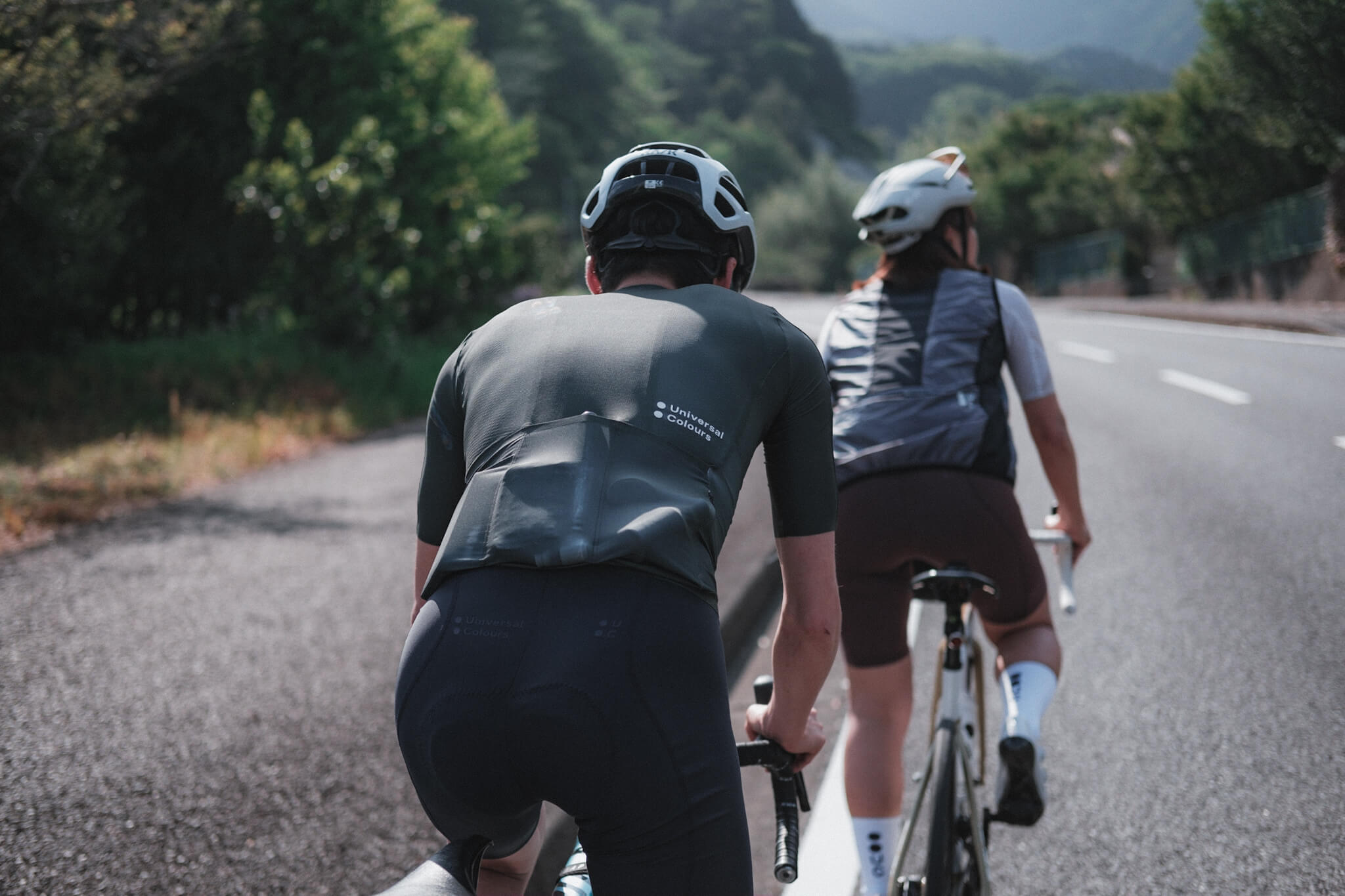 Bib shorts are naturally thickly padded for long distances
3. How to choose Universal Colours Spring/Summer Kits
There are three categories of UC clothing: Mono / Spectrum / Chroma. Each has its own characteristics in fit, fabric, and design, so we will look at the differences and sizing for each category.
**Prices listed are as of May 2023.
Short Sleeve Jersey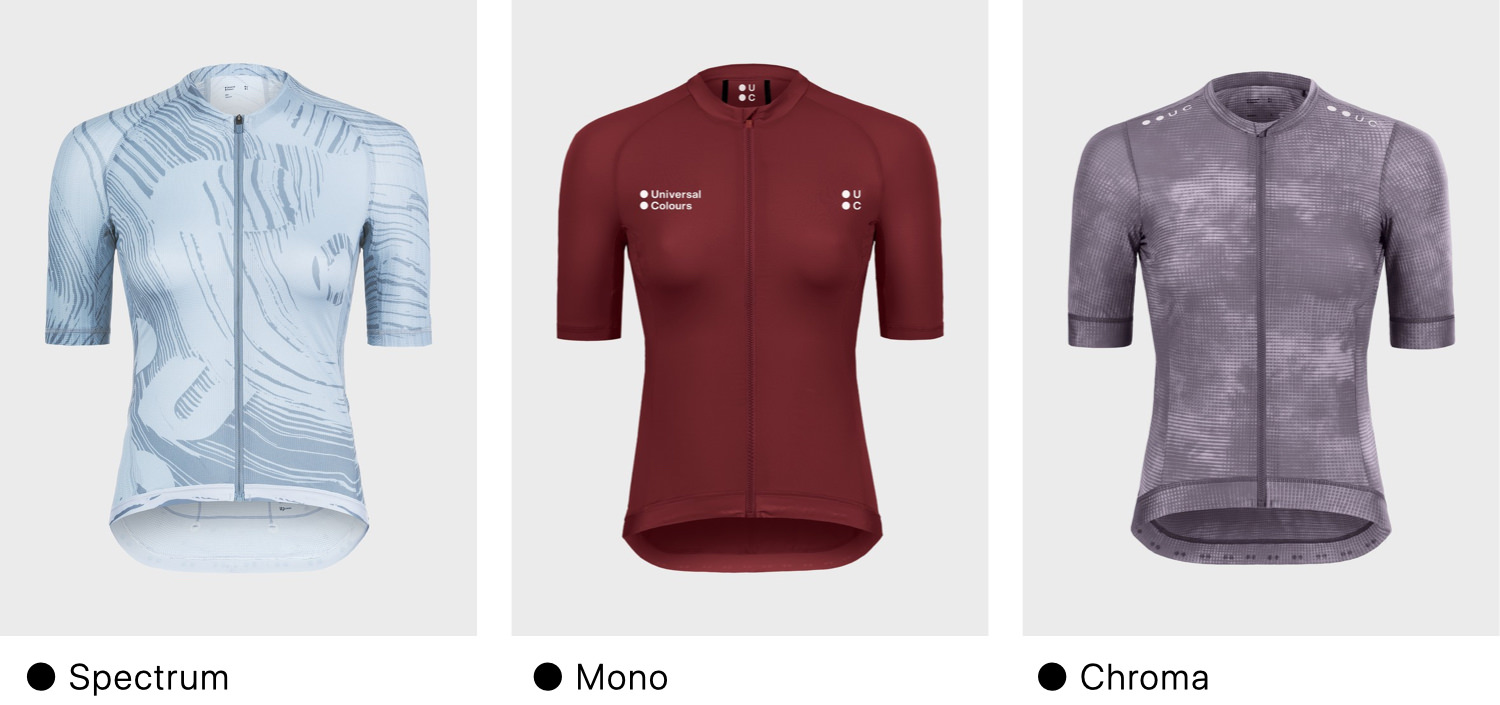 Spectrum Jersey (£140): Tight fit in soft recycled fabric. Eye-catching stylish design.
Mono Jersey (£120): Soft recycled fabric tight fit. Monotone design for easy color matching.
Chroma Jersey (£150): Durable OekoTex®100 certified fabric. Stiff but lightweight. Most functional and luxurious finish.
Gilet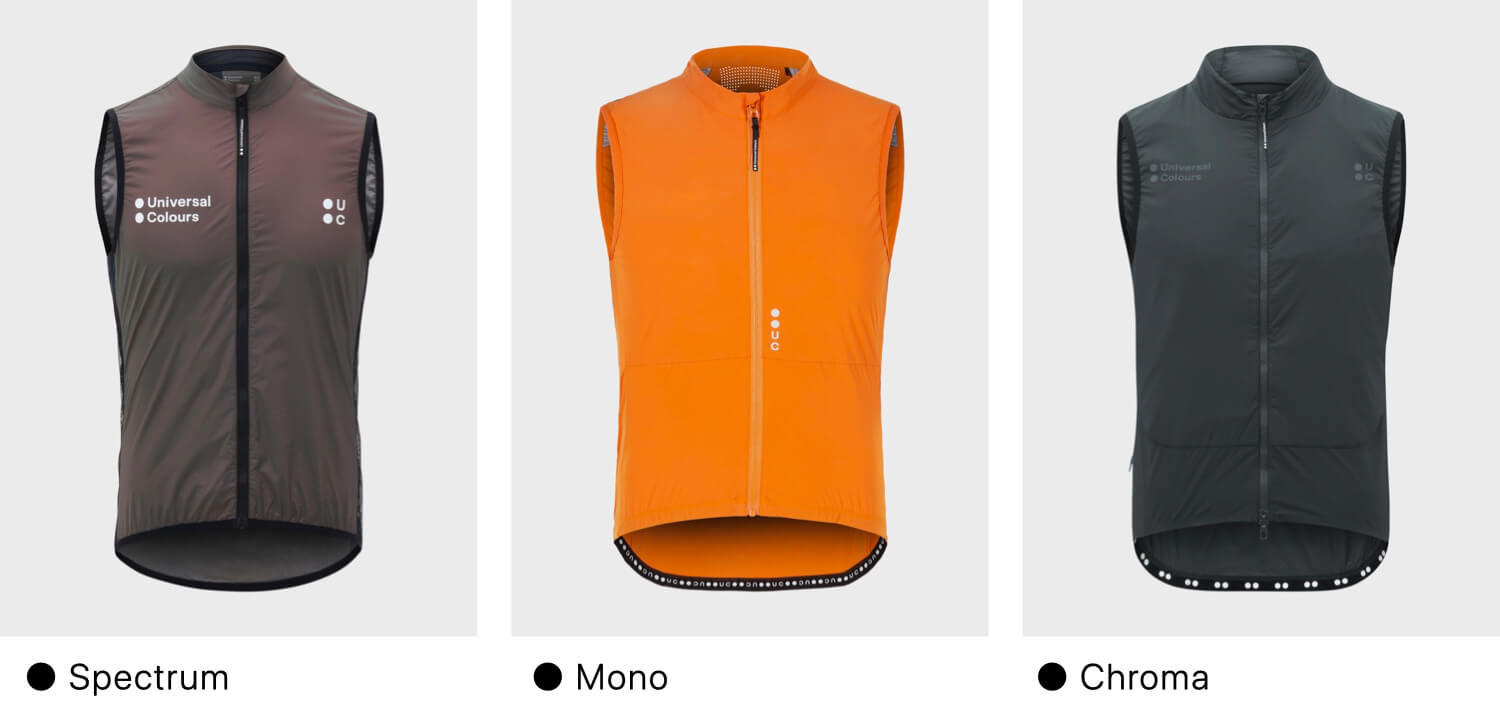 Spectrum Gilet (£100): Packable, lightweight, windproof and waterproof material. Beautiful iridescent color. Suitable for all seasons.
Mono Gilet (£100): Packable, lightweight, wind and water resistant material (not waterproof unlike Spectrum). Suitable for all seasons.
Chroma Gilet (£155): Warm gilet with windproof and insulated material on the front. Back pockets. Suitable for winter season.
Bib Shorts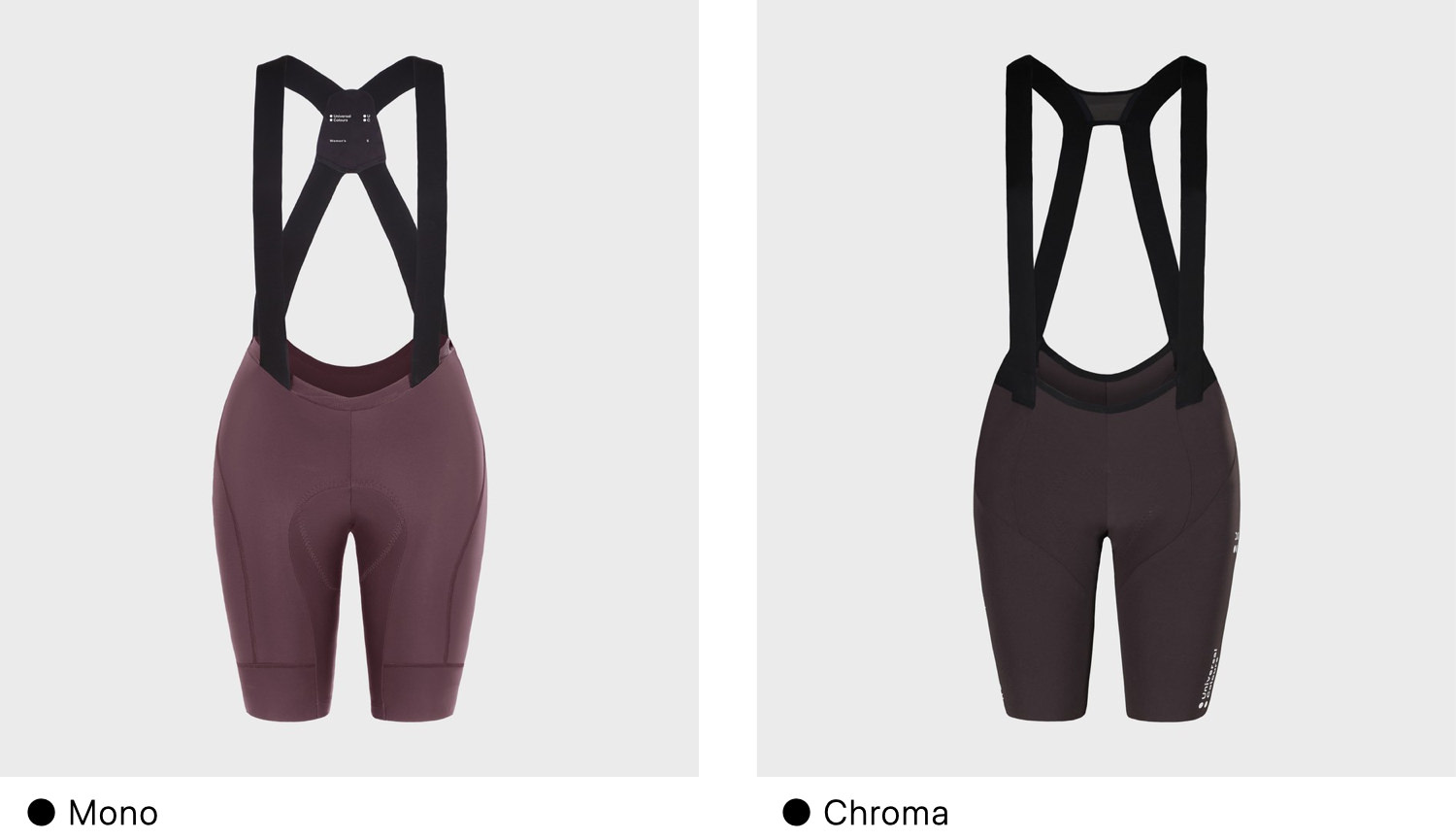 Mono Bib Shorts (£125): Soft and warm recycled nylon fabric. Padding for long distances with a wide range of support. Mesh shoulder straps.
Chroma Bib Shorts (£165): Merino wool + stretch nylon fabric for warmth & durability. Thin padding for racing except in the center. Suspender-type shoulder straps.
Size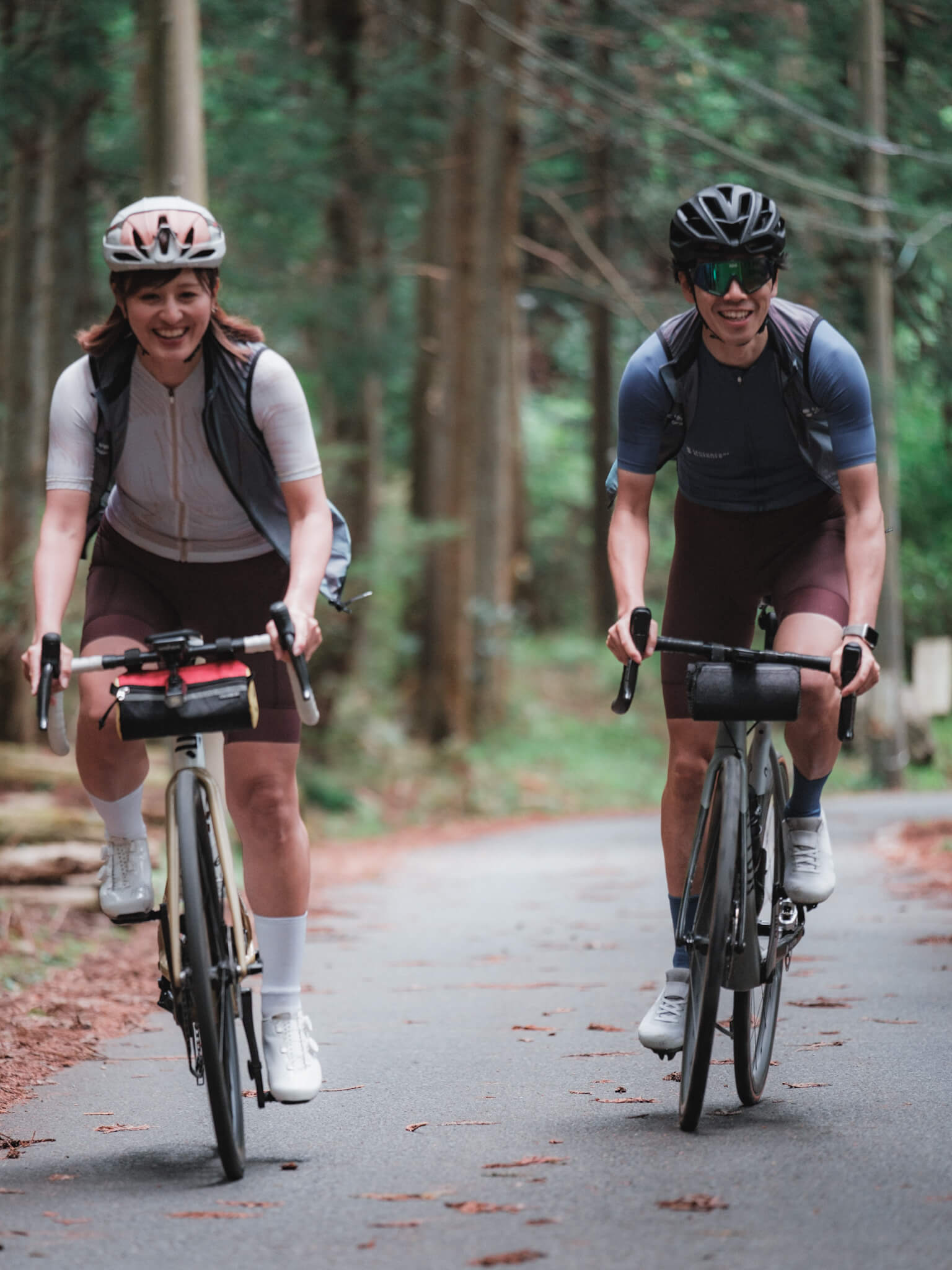 ←Yukari (162cm)
Jersey: Womens XS、Bib Shorts: Womens XS
→Tats (177cm / 60kg)
Jersey: Mens XS、Gilet: Unisex XS、Bib Shorts: Mens XS
Please refer to the wearing sizes above and the size guide on the product page to make your selection.
Universal Colours(Sigma Sports)
Model / Yukari, Tats, & Rin
Photo / Tats & Rin