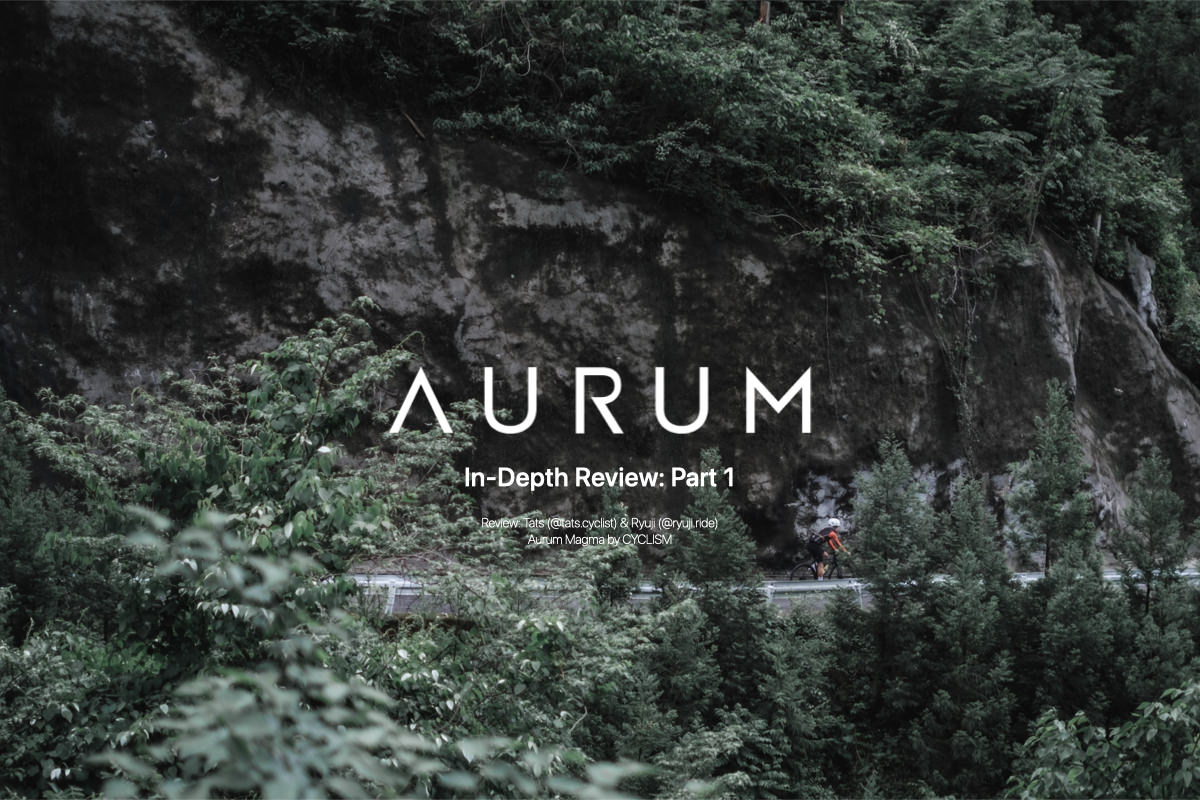 The big news that Alberto Contador and Ivan Basso, two reigning Grand Tour champions, are launching a bike brand has excited many cyclists, not just fans of modern road racing.
The significance of the involvement of Contador, who was "unbeatable" in all stage races about 10 years ago, before the Froome era. What would the contours of the bike shaped by the top riders look like in comparison to the latest all-around bikes from the big brands that currently dominate the market?
In the fall of 2020, after much anticipation, the brand name AURUM will be announced. It was clear that they had developed a high-end pure racing bike, as it was named after the metal for winners, "AURUM" (=gold).
At the same time, the first AURUM model, the Magma, is the latest bike to combine the beauty of the road bikes of "their time" at a glance.
In Part 1, we analyze the concept and design of the AURUM Magma.
*The Magma used in this review was loaned to us by CYCLISM, an authorized AURUM distributor in Japan.
text / Tats(@tats_lovecyclist)
photo / Tats & Ryuji(@ryuji_ride)
1. Contador and Basso
Before the finish of stage 14 of the Giro d'Italia 2021, Contador gave an astonishing scream on his InstaLive that seemed even greater than when he won the Giro himself. It was the memorable moment of the first Grand Tour victory by Eolo Cometa and AURUM Magma.
— Cycling out of context (@OutOfCycling) May 22, 2021
Screaming Contador (volume warning)
Eolo Kometa, founded by the Fondazione Contador, was promoted to UCI Pro Continental this season and participated in the Giro for the first time with Magma as a wild card entry. Stage 14 was a difficult stage with the goal at the end of a run up the magical Zoncolan mountain. Lorenzo Fortunato attacked on the final 3km of the stage with a maximum gradient of 27% to win the stage.
This stage, along with Fortunato's first professional victory, left us with a vivid memory of Magma's "winning bike in the Zoncolan".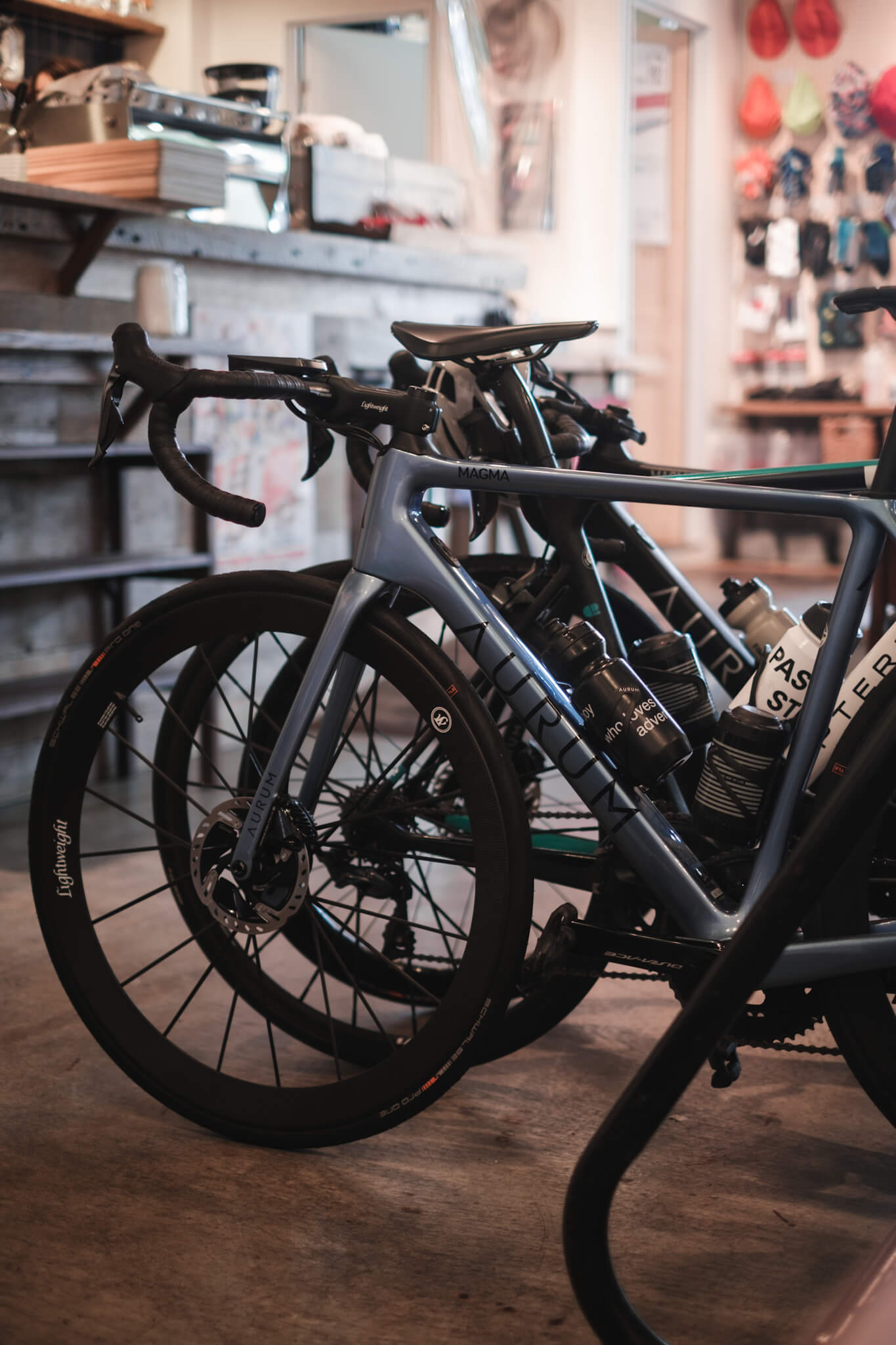 Magma has been a success from the very beginning of the race scene, and the AURUM brand has made a spectacular international debut with ample exposure as a promotional tool for an emerging brand. This "victory in a mountain stage" seems to be a direct reflection of Magma's character.
To understand its design philosophy, I would first like to look back on the footsteps of Contador and Basso. They were both successful professional road racers who had won multiple Grand Tours, as well as U23 and stage races, and had experienced so many different road bikes in so many different races.
Alberto Contador
Overall winner of the 2007 and 2009 Tours, overall winner of the 2008 and 2015 Giro, and overall winner of the 2008, 2012, and 2014 Vuelta – Contador is one of only seven riders to win a complete Grand Tour, and one of the most successful, respected, and recognized riders in history.
Standing at 176 cm tall and weighing 62 kg, Contador was feared as a climber, and his most iconic scene was a sharp attack on a steep slope with clean-form dancing.
What makes him stand out are his qualities as an all-rounder: his tactical moves, his downhill attack, his time trial ability, and his tenacity that extends from the second half of stage races.
From his debut in 2003 until his retirement in 2017, he was a member of top-level teams such as Discovery, Astana, Saxo-Tinkoff, and Trek-Segafredo (he and Basso were teammates at Discovery and Saxo) and rode for S-Works Tarmac, Trek Emonda / Madone and other bikes.
Contador rides up the hill on his Emonda
Ivan Basso
Basso is known for his two overall Giro victories in 2006 and 2010. His career began with a second place podium finish at the Junior World Championships in 1995, and since his U23 win in 1998, he has followed a successful path to Giro victory, including a Maillot Blanc at the Tour, stage wins, and overall competition.
A strong mountain rider, Basso is taller and heavier than Contador (182cm/70kg), but his legs are similar to Contador's, making him a highly capable all-rounder outside of climbing.
In the 20 years he rode bikes such as the Cannondale Supersix Evo and S-Works Tarmac before retiring in 2015 due to treatment for testicular cancer.
He is currently the sport director of Eolo Kometa, where he is involved in training young riders and developing AURUM.
Basso in Liquigas riding Supersix
*
Throughout their careers, the two have achieved more results in stage races than in one-day races.
The fact that their mutual passion for cycling has not waned since their retirement is evident in the fact that they decided to develop AURUM with a team of like-minded, experienced professionals.
It is an environment that allows them to develop their "dream bike" freely without being tied down by sponsors after they retire from professional racing. In other words, they can pursue with the development team what they really needed based on their racing experience during their active years.
AURUM's mission is to "create the ultimate racing road bike," and when we consider where the "ultimate" would be based on the style of their active racing days, we can see that it would be a bike that is "more like a climber's bike," and "more like an all-rounder's bike that can win in stage races. When we think about where "the ultimate" would come from, we can imagine that they tried to create "a bike for all-rounders who are more like climbers to win in stage races".
Contador said of TREK's Emonda (2017 model) during his active career, "When you attack in the standing, when you run away from your rivals, it is good that the bike reacts from that moment on. That is the decisive moment when you can widen the gap to your rivals. "
His sharp-attacking climbing style requires a bike that is "light and responsive" at its core. In addition, the bike must be able to hold its own on the flats before reaching a mountain pass, and must be comfortable during long stage races.
What kind of bike will be made when they build a frame based on these requirements with the current technology?
From the next chapter, we will look at the details of Magma's design.
2. Interpret Magma from geometry
Magma is available in six frame sizes, from 50 to 61. They are touted to fit almost all riders between 152 cm and 195 cm in height, but since there are individual differences in torso and limb length, the correct size should be selected after comparing the geometry with the current bike.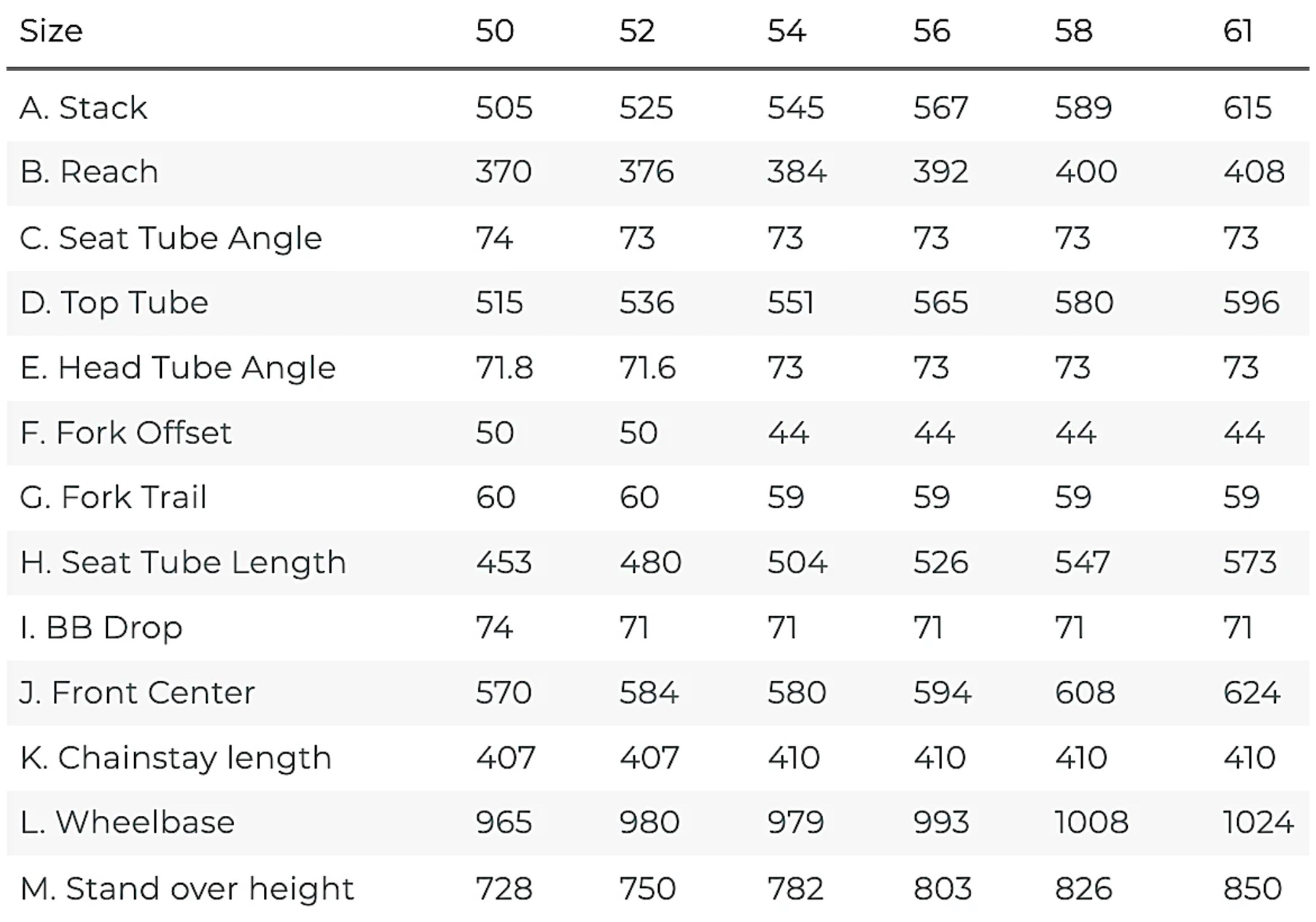 Geometry of Magma
Looking at the stack and reach, the figures are close to those of the TREK Emonda SLR and Factor O2, which are climbing-oriented all-rounders, but in a slightly more relaxed position than the Specialized Tarmac SL7, which has a lower center of gravity and rides more forward. It also reads as quicker handling than the Cannondale Supersix EVO, which is more straight-line based on wheelbase and other factors.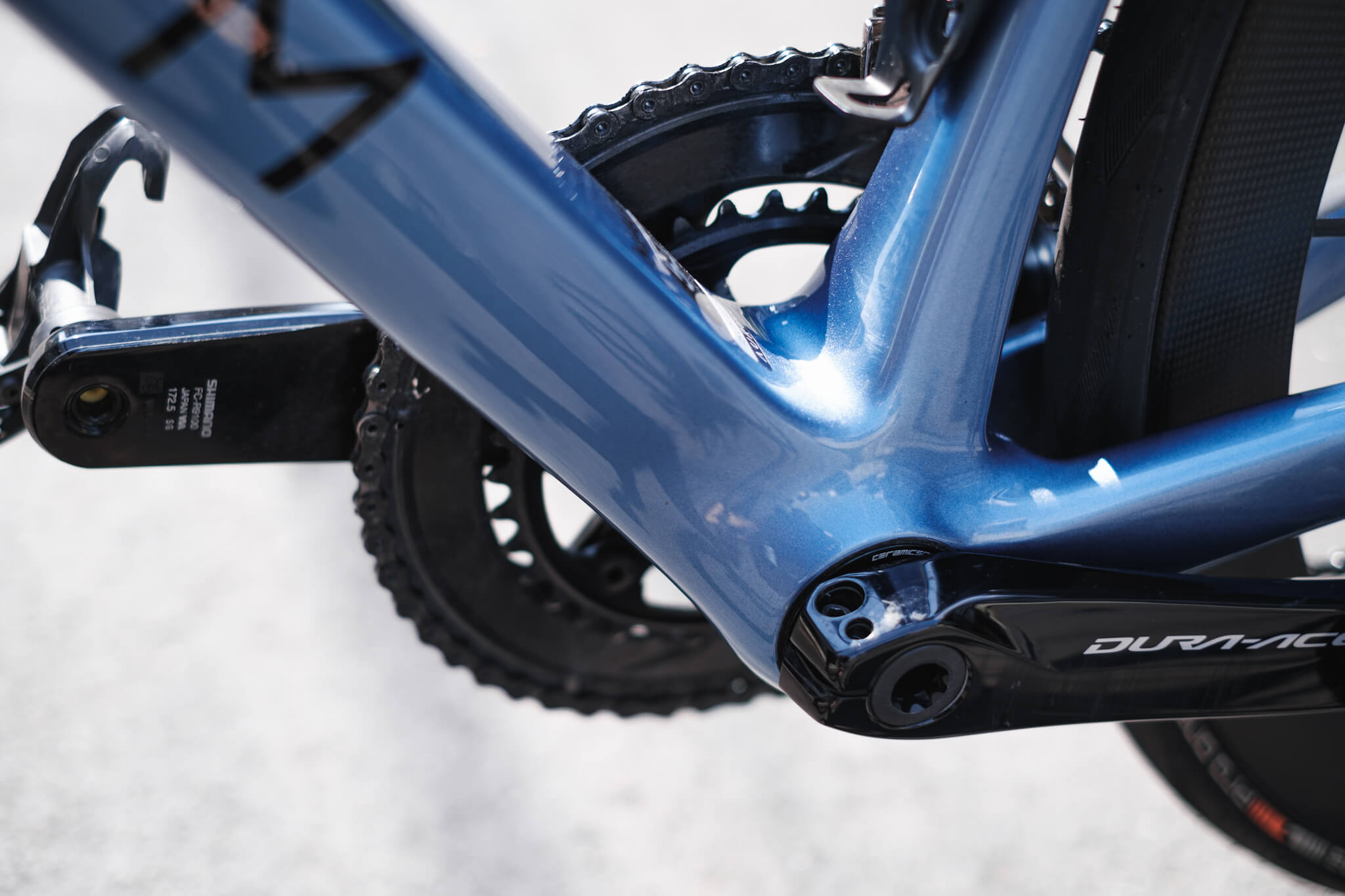 The BB drop is 71 on all but the 50 size, which is in the range of 70-72, the trend being a low center of gravity. Also, the BB seems to have been designed with high lateral rigidity to maintain speed when dancin' uphill.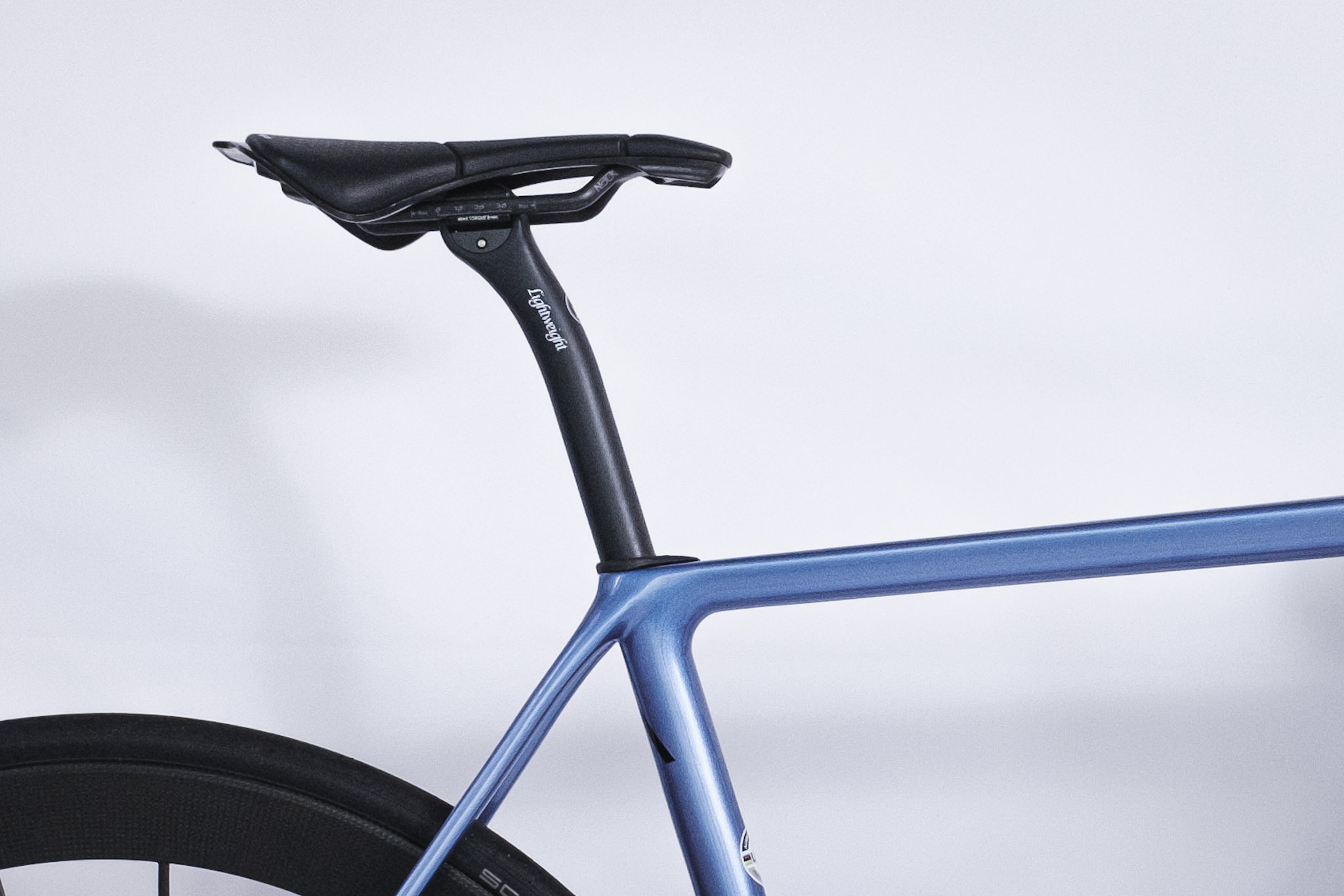 The seat angle is 73°. This is in line with the standard of a generation ago, as the latest bikes have been angled at 73.5-74°.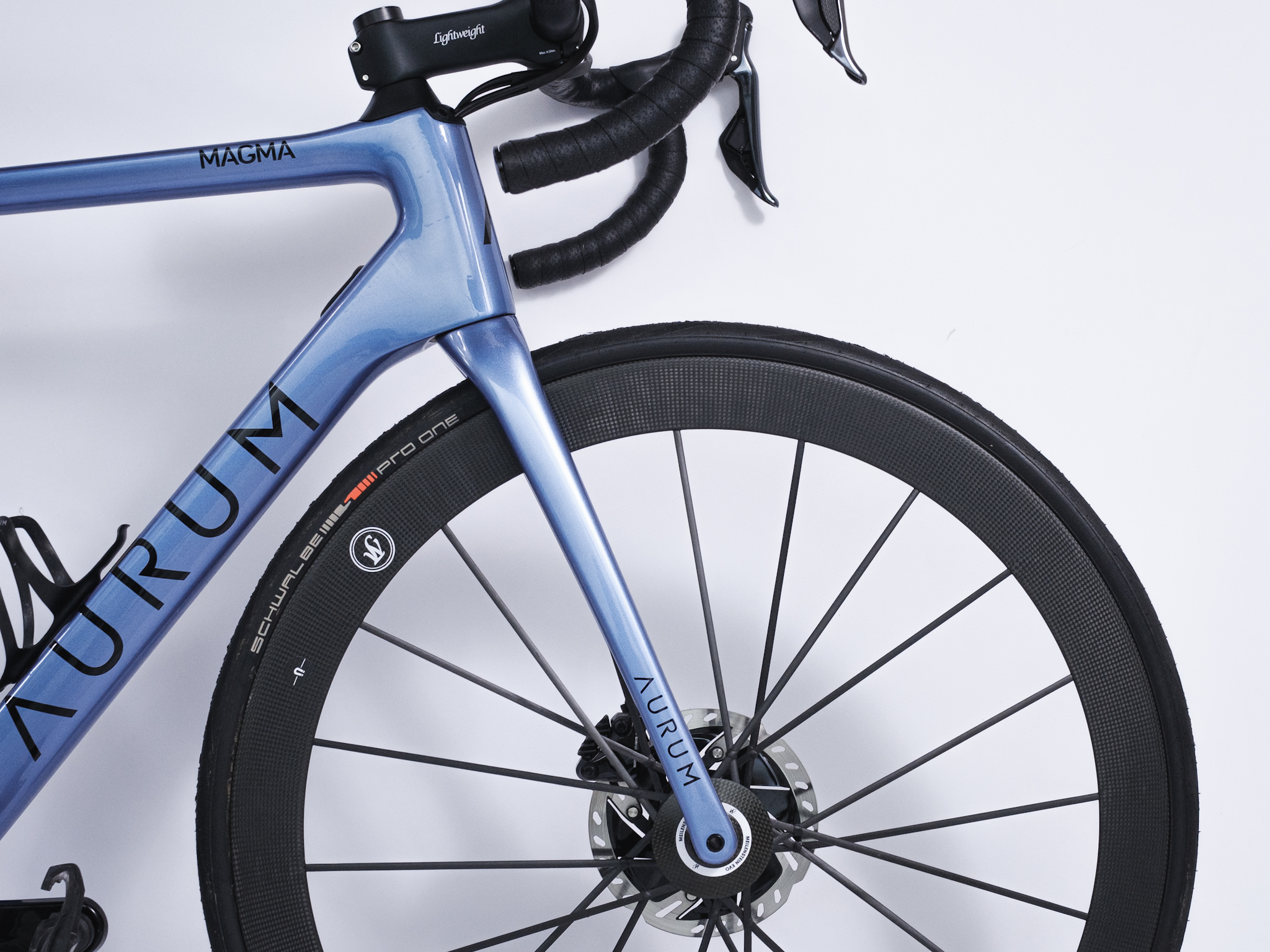 Magma is said to have "started with the design of ideal handling.
With a 73° standing head angle and a tight 44mm fork offset, the same numbers as the Tarmac SL7, one can imagine that quick control is replicated. Two fork offsets were also used for all frame sizes, depending on size, to ensure the same handling.
This configuration allows for what Contador and Basso would consider to be the ideal combination of "quick steering" and "high-speed stability.
3. Modeling and Design
Seat stay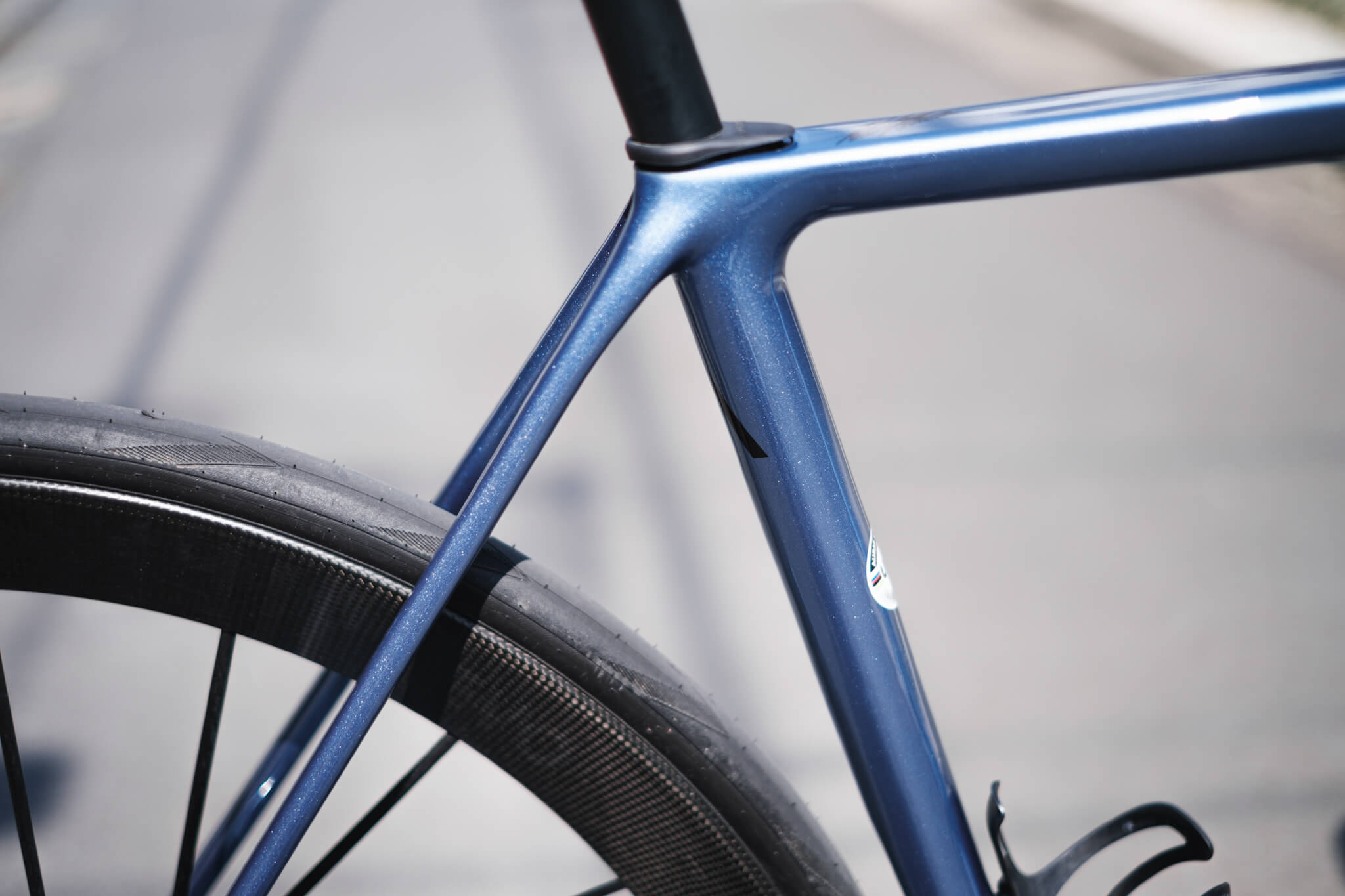 While many companies are changing to drop the seat stay shapes, Magma has bucked the trend by joining the seat stay at the very top of the seat tube. While the move to drop the seat stay is for the benefits of improved aerodynamics, weight reduction, and increased stiffness and comfort, Magma has taken a different approach to its design.
Higher seat stays require less reinforcement than drop stays, resulting in a rear triangle that is less prone to torsion. The narrower, longer seat stay also allow for more flexibility in absorbing road vibrations.
Although the two approaches are opposites, they aim for the same effect. Magma's style is not a trend-setting approach, but it is influenced by a pure "aesthetic" of road bike form.
It is clear that many cyclists, not only the designers, but also those of us who ride, share this aesthetic (just as we sometimes prefer the Emonda SLR to the Tarmac SL7), and Magma is definitely a sculpture that appeals to us in a way that data can't.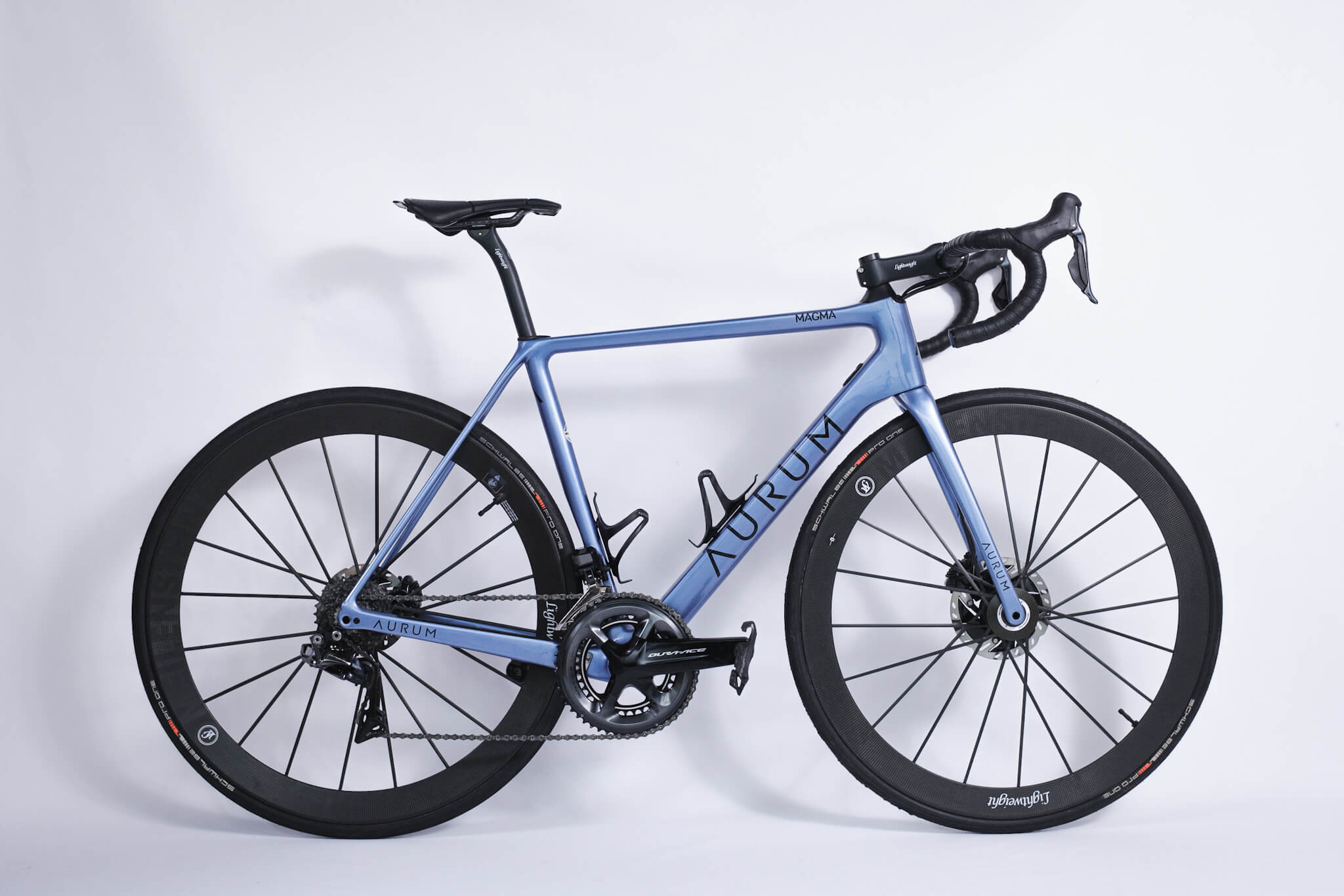 Needless to say, I sighed at the beauty of the modeling when I saw the test car in front of me.
Cockpit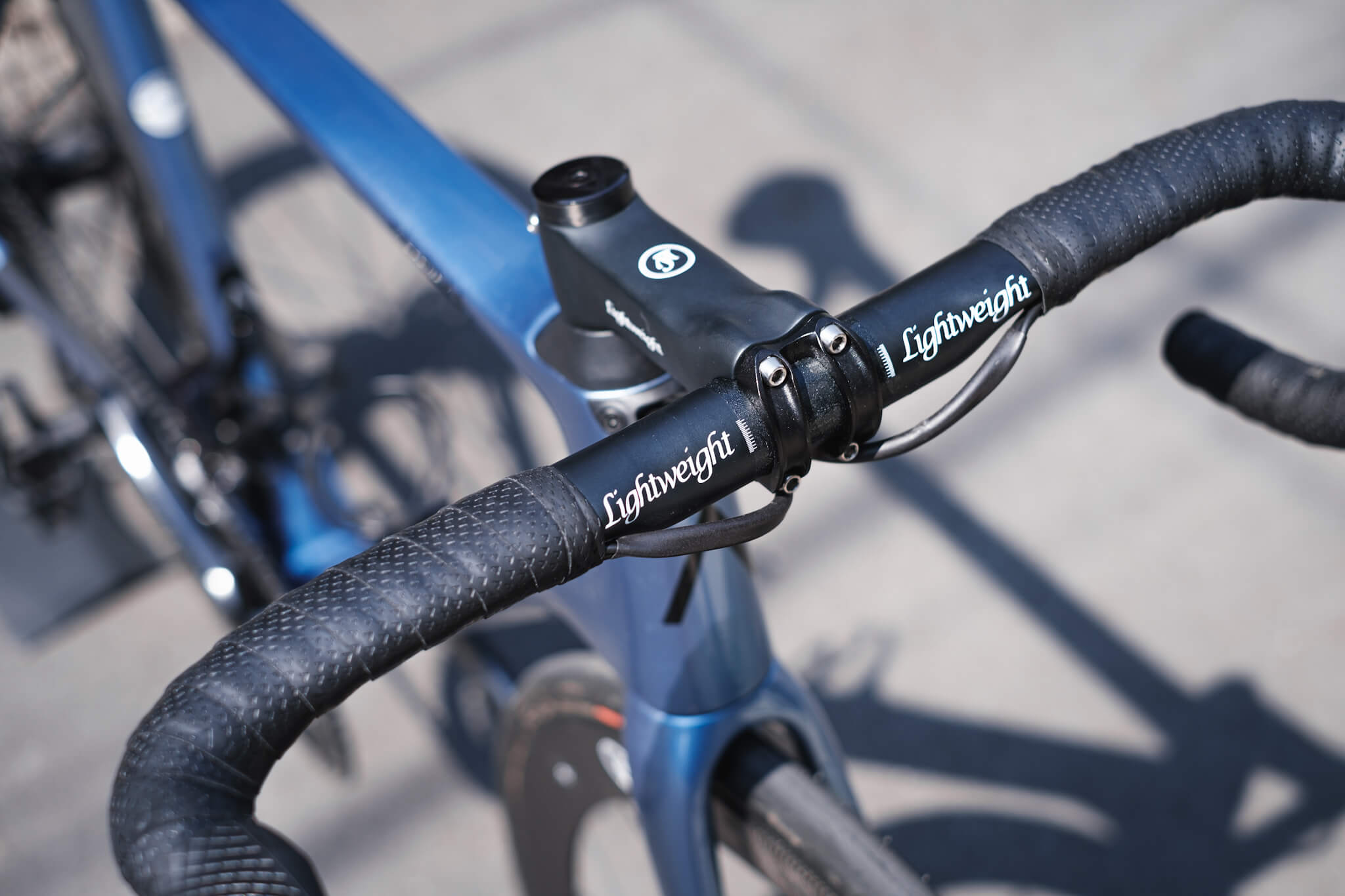 While integrated components with cable interiors are the norm around cockpits, Magma allows the use of standard stems and handlebars that are in circulation.
Contador himself was negative about integrated cockpits, believing that the limited size options were not ideal for all riders. And while it is true that an integrated cockpit looks better with no exposed cables, it has the disadvantage of requiring more assembly and maintenance work.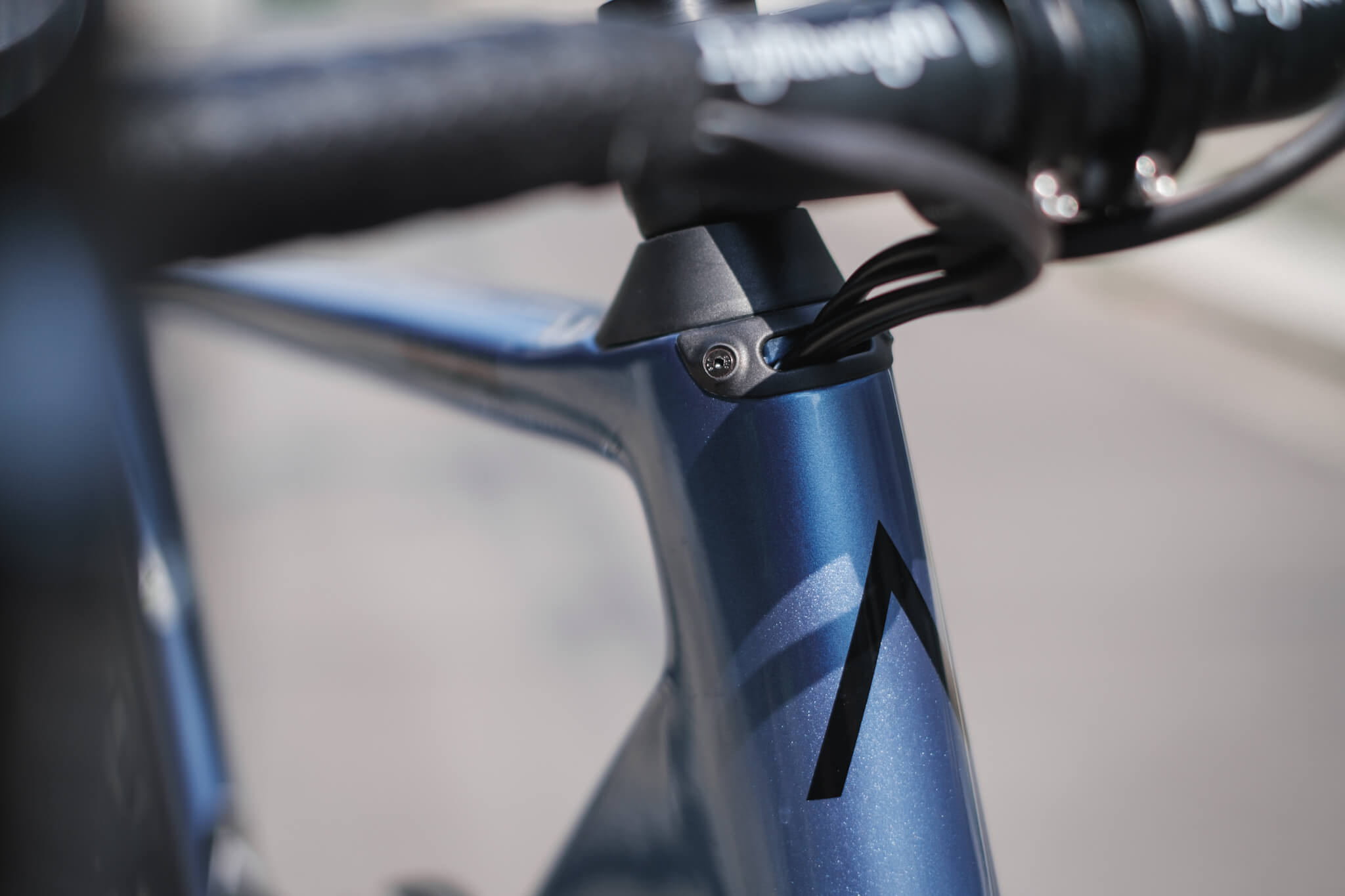 The brake lines and Di2 wiring are routed through holes built into the head tube. The idea of keeping the frame structure as simple as possible to make it lightweight and strong is evident.
Aerodynamics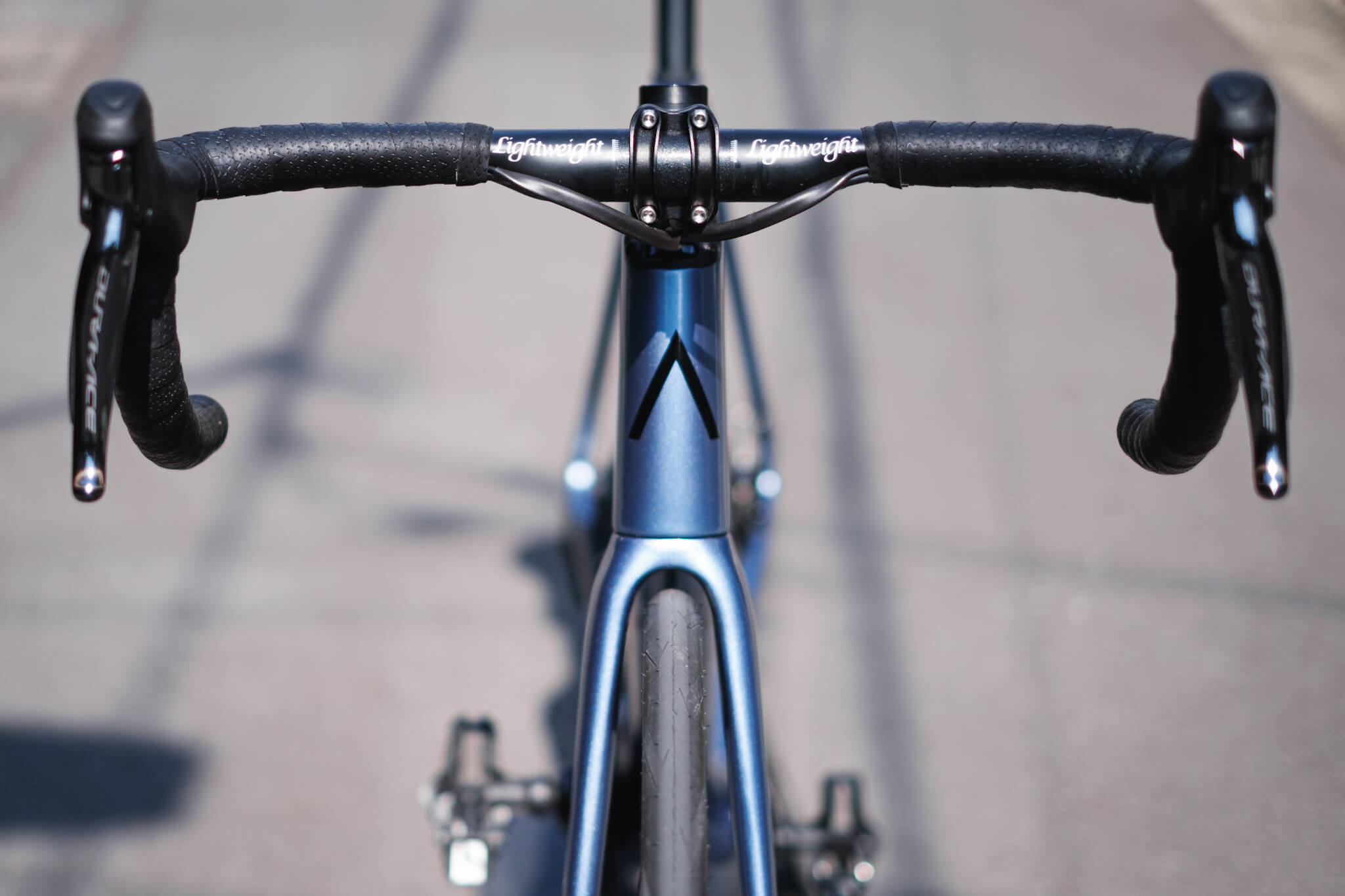 Magma also focuses on aerodynamics, but since no wind tunnel test data is disclosed and no comparison data with other companies is available, it is not possible to quantify how aerodynamic it is.
Looking at the shape, the front side (head tube, down tube, and front fork) uses the NACA profile, while the back side is not aerodynamic. Since this is not a bike that swings flat like an aero road bike, it is conceivable that the rider tried to balance lightness and aerodynamics by focusing on aerodynamics on the front side and stiffness, comfort, and weight reduction on the back side.
Weight
The frame weight is 805g for the size 54, and the developer's statement that the initial development target was 850g or less and that "shaving off the last few grams could result in a loss of structural strength and ride comfort" indicates that Magma was not only aiming for lightness in their development. While there are ultra-lightweight frames such as Aethos that weigh 585g, now is not the time when extreme lightness is the only appealing point (Tarmac SL7 weighs 920g), so the frame is made within a range that does not sacrifice the stiffness and stability they seek.
Tire clearance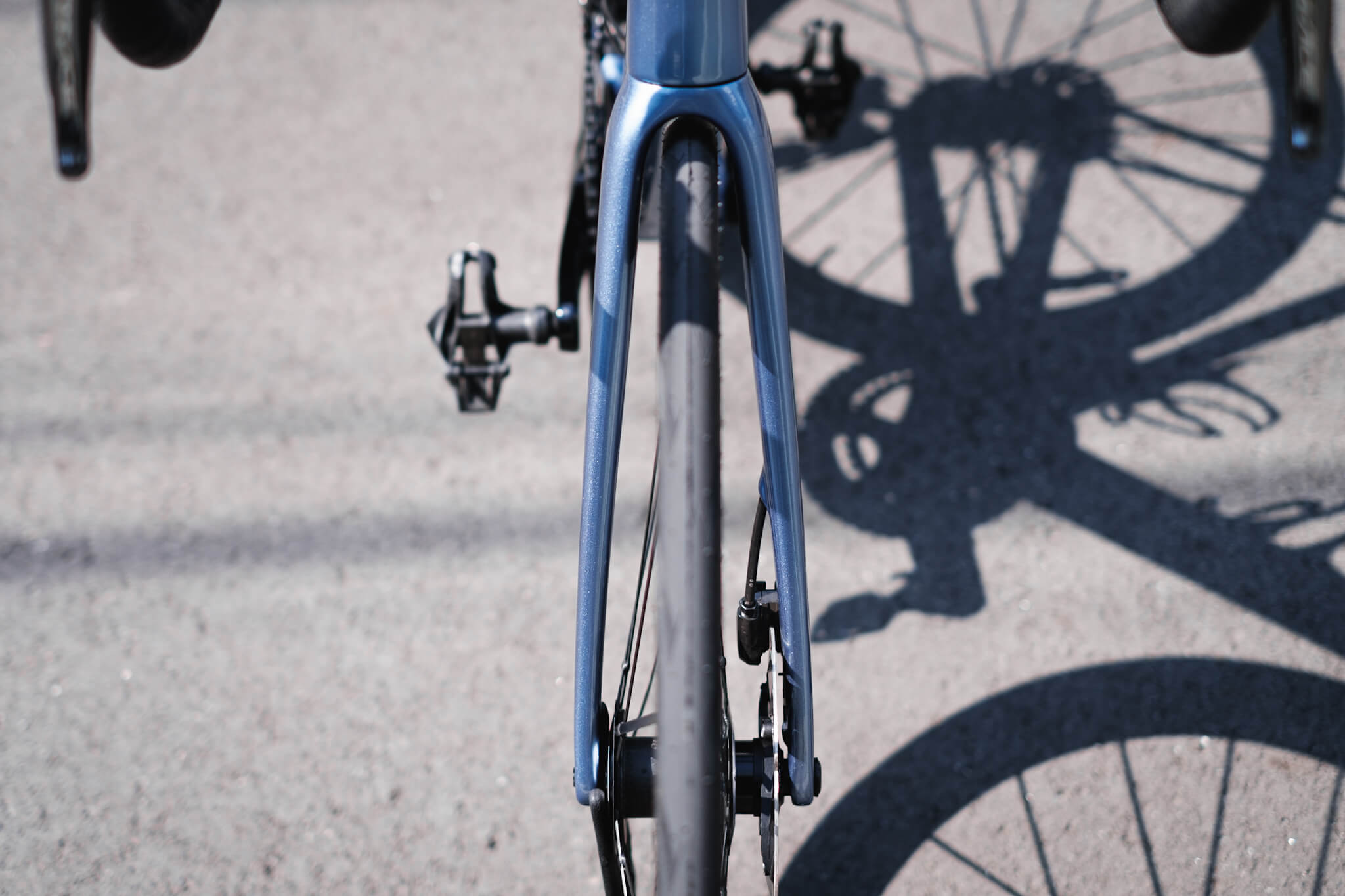 Tire clearance is optimized for 25-28mm (test bike is 25mm). Officially, the maximum is 30mm. As far as I measured, there is room for probably up to 32mm, but I don't think any cyclist would combine wide tires that would spoil the characteristics of this bike.
Detail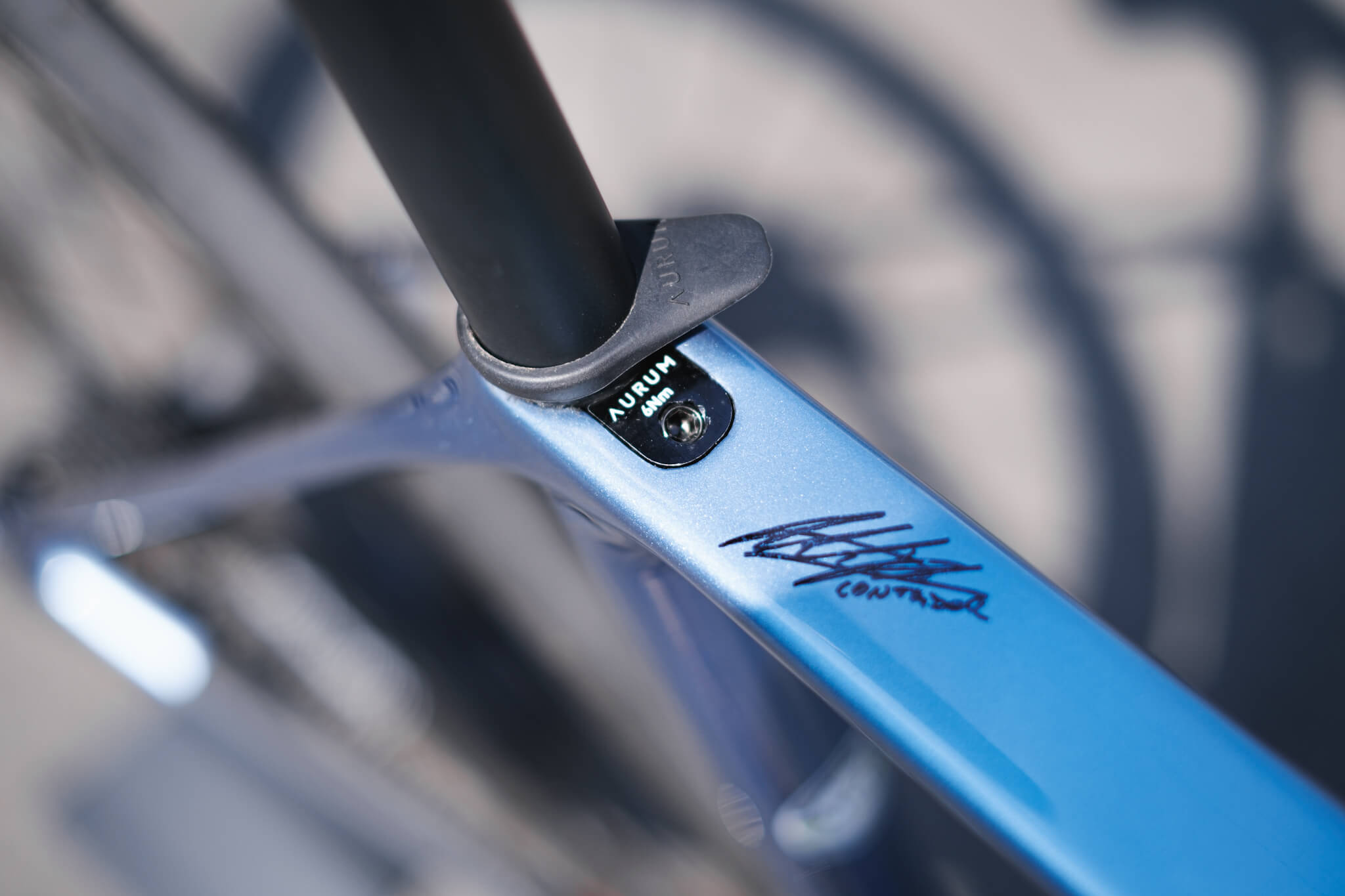 Uses standard 27.2mm seat post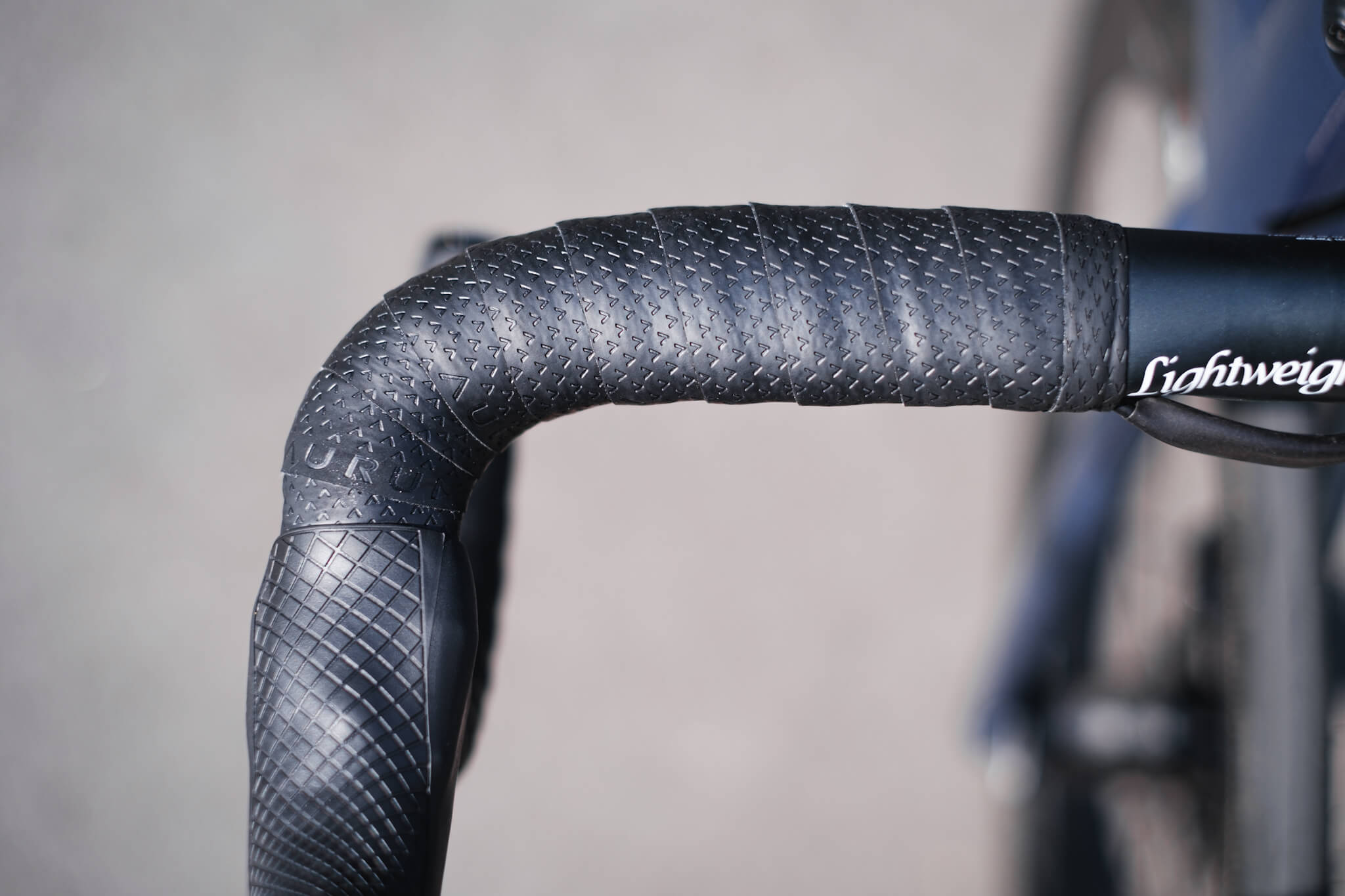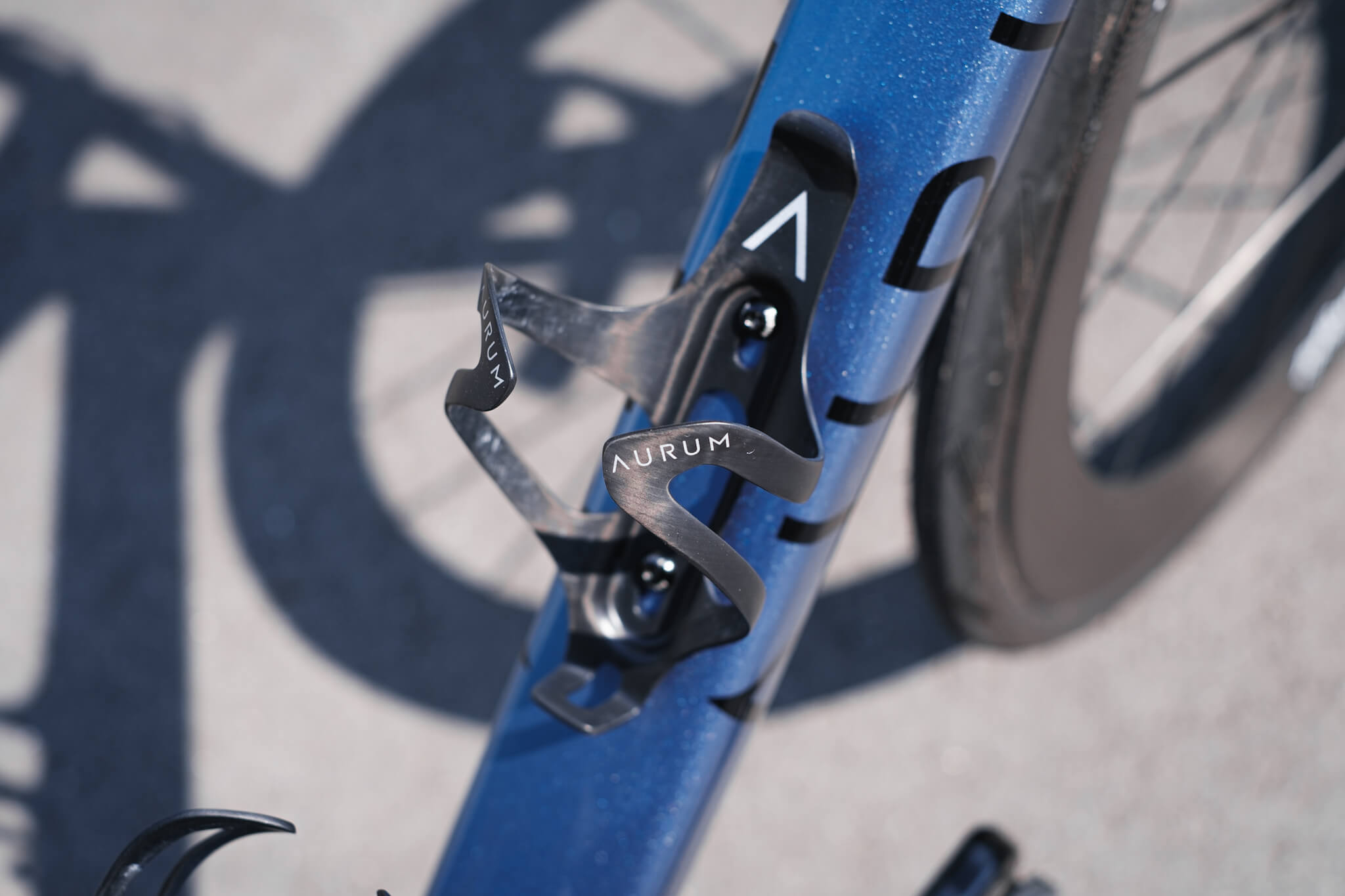 Even the bar tape, bottle cage, and screws attached in various places are original with AURUM logo.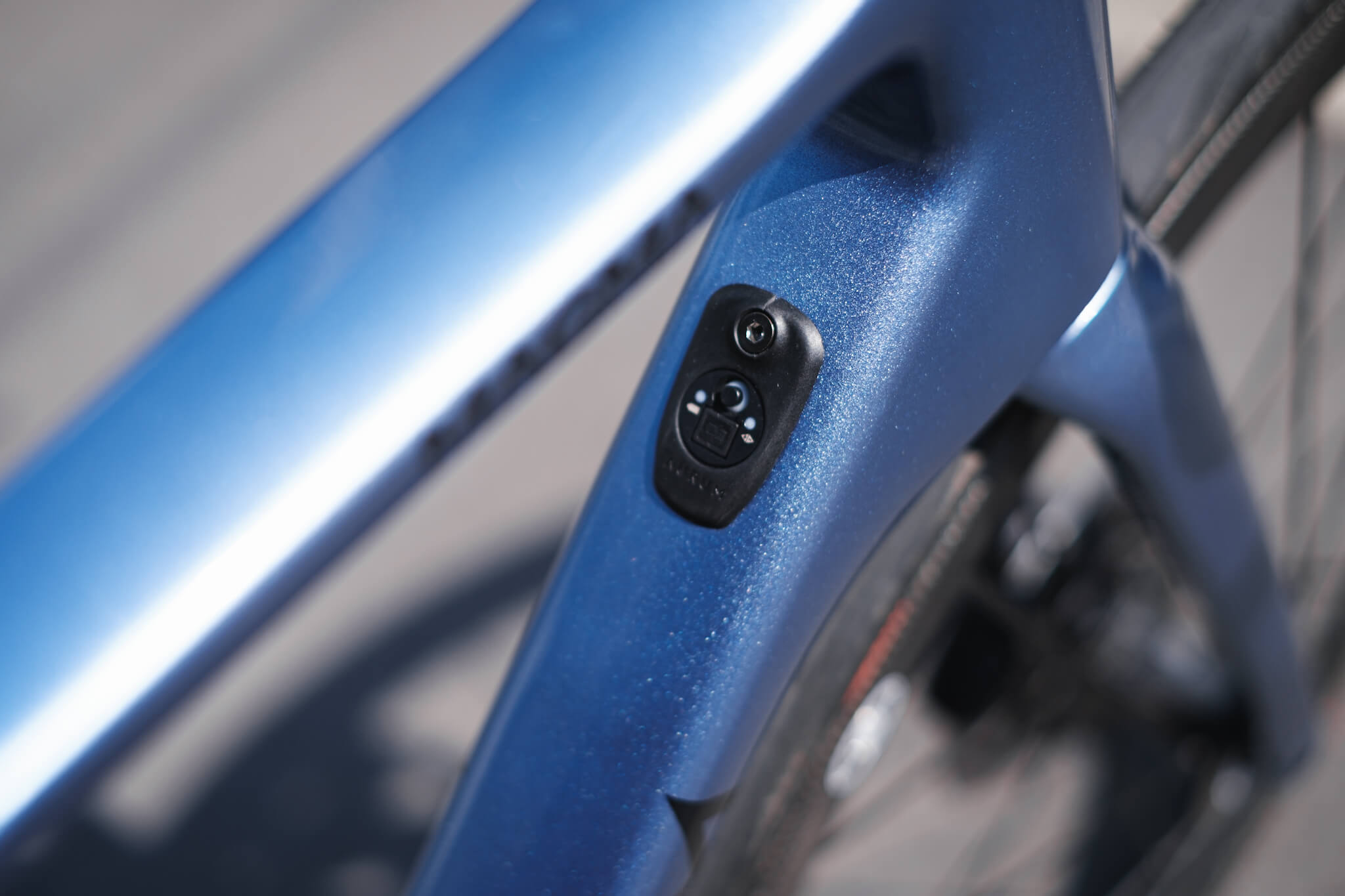 Di2 junction mounted on down tube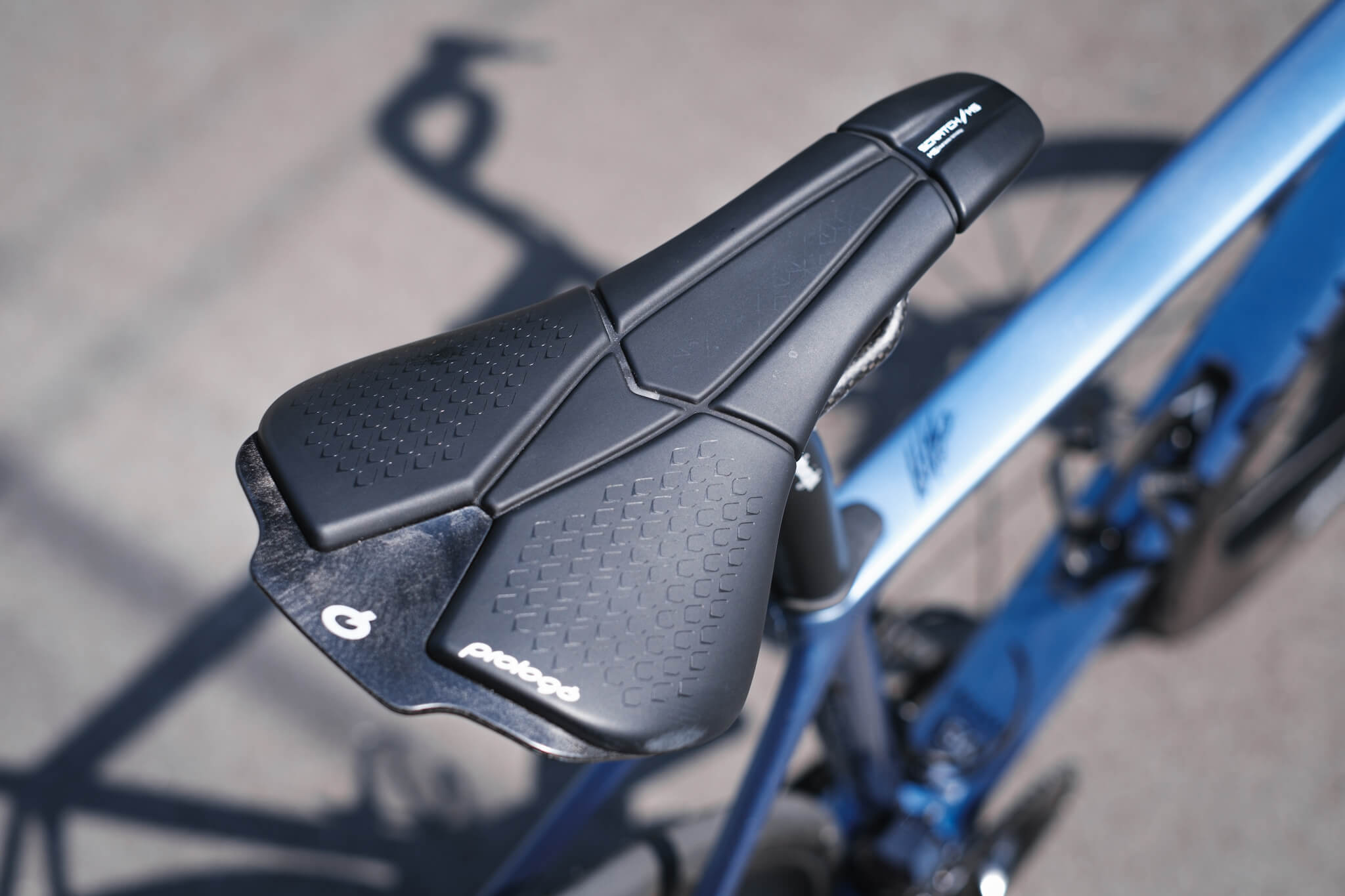 Complete bike comes with Prologo Scratch M5 Nack
4. Magma Line-up
The AURUM Magma is available as a frame set as well as three complete bikes. As with other newer bikes, only disc brake models are available.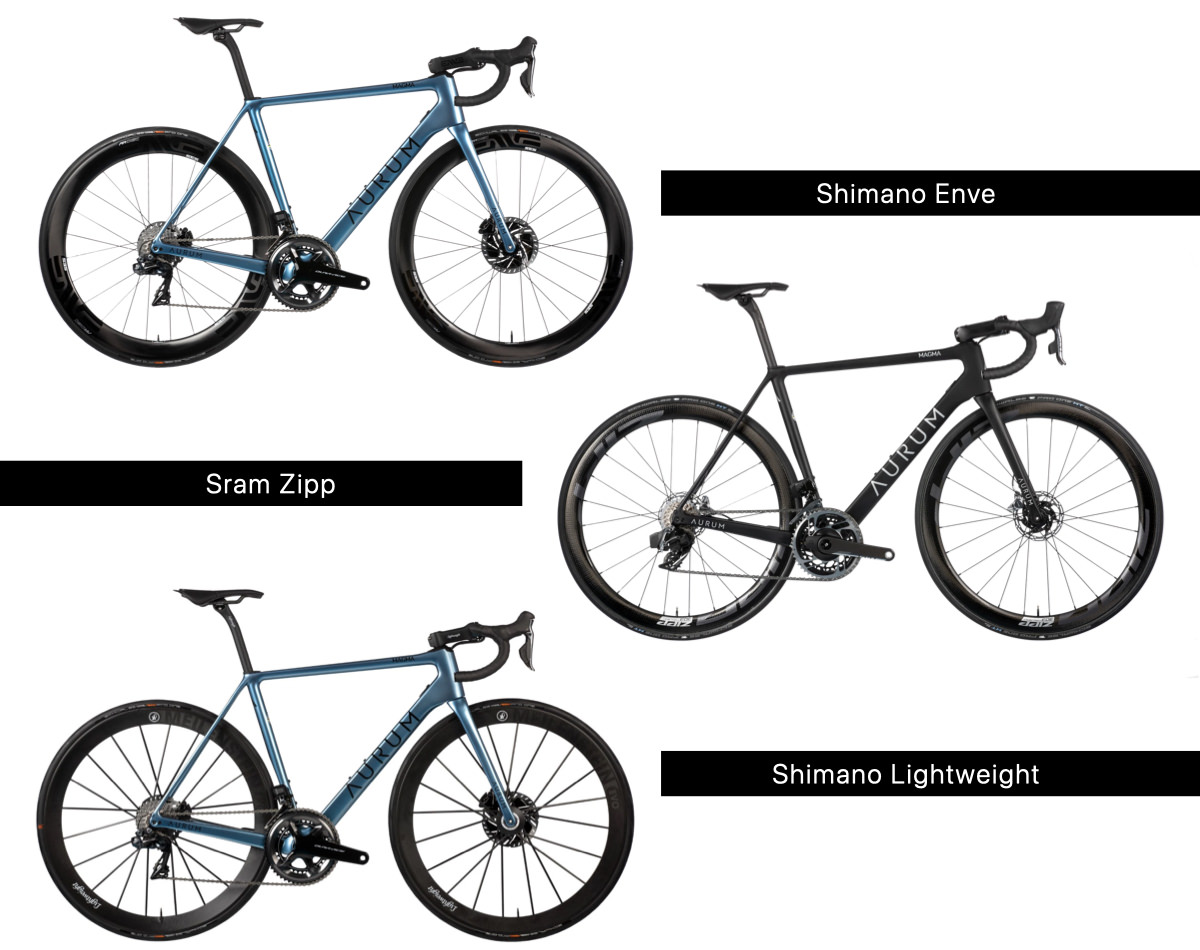 | | |
| --- | --- |
| Option | Price |
| Shimano Enve | €10.999,00 |
| SRAM Enve  | €10.999,00 |
| Shimano Lightweight  | €13.199,00 |
| フレームセット  | €4099.00 |
Two of the complete bikes are equipped with Shimano Dura-Ace Di2 and a choice of Enve SES 3.4 Disc or Lightweight Meilenstein Evo Disc TL wheels. The other is a Sram Red e-tap AXS with Zipp 404 NSW Tubeless Disc wheels. If you want to choose Campagnolo, start with the frameset.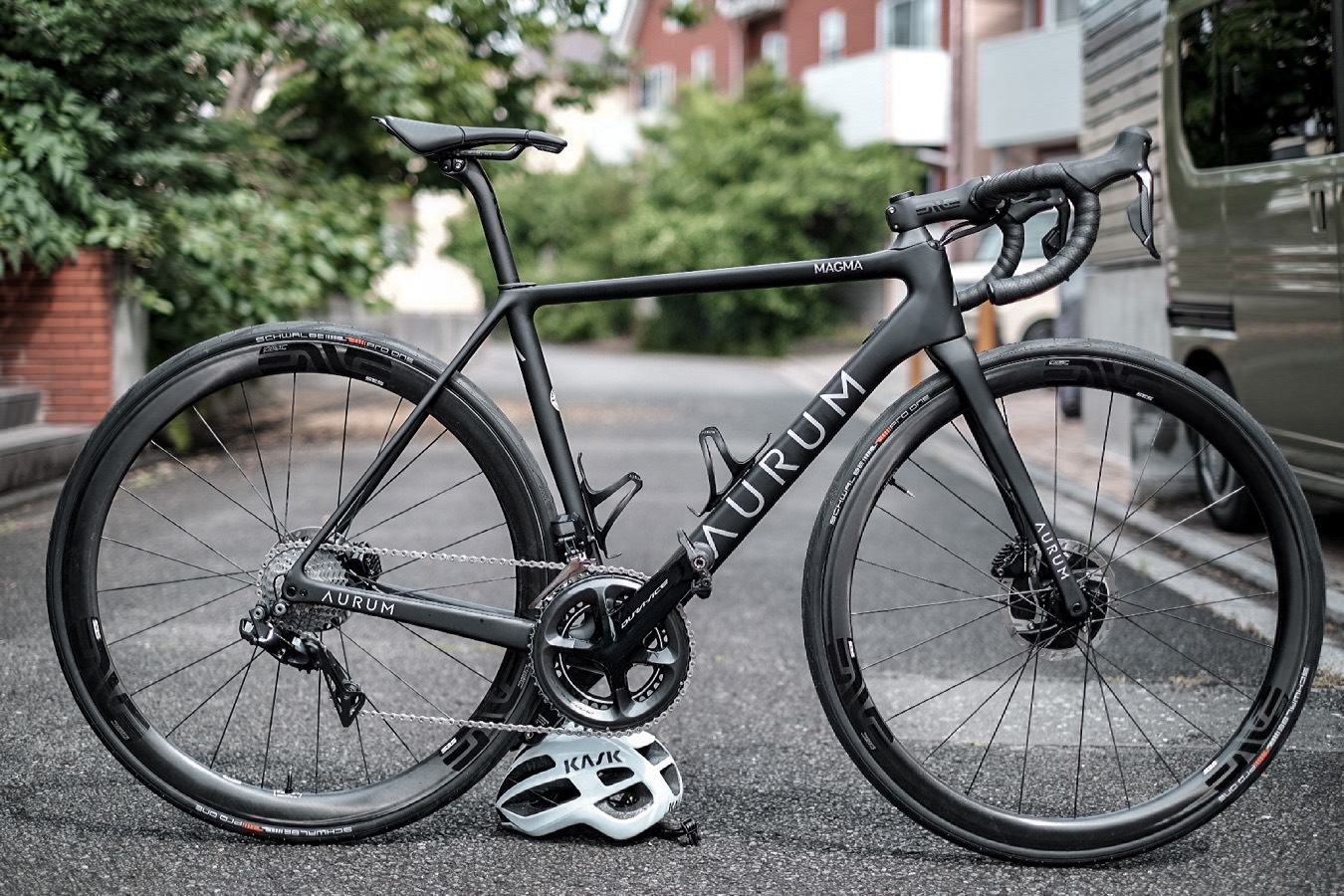 As for price, we are no longer surprised by the "gold" price tag, as there are other manufacturers offering similarly expensive options, but with top models such as Specialized, Cannondale, Trek, Cervelo, and Scott in the same price range, the performance of a racing bike compared to its rivals is undeniably required, However, with top models from Specialized, Cannondale, Trek, Cervelo, Scott, and others in the same price range, there is an undeniable need for performance as a racing bike compared to the competition.
With this in mind, we tested two models, the Shimano Lightweight (54 size) and the Shimano Enve (52 size).
In Part 2, we will discuss our impressions of these bikes.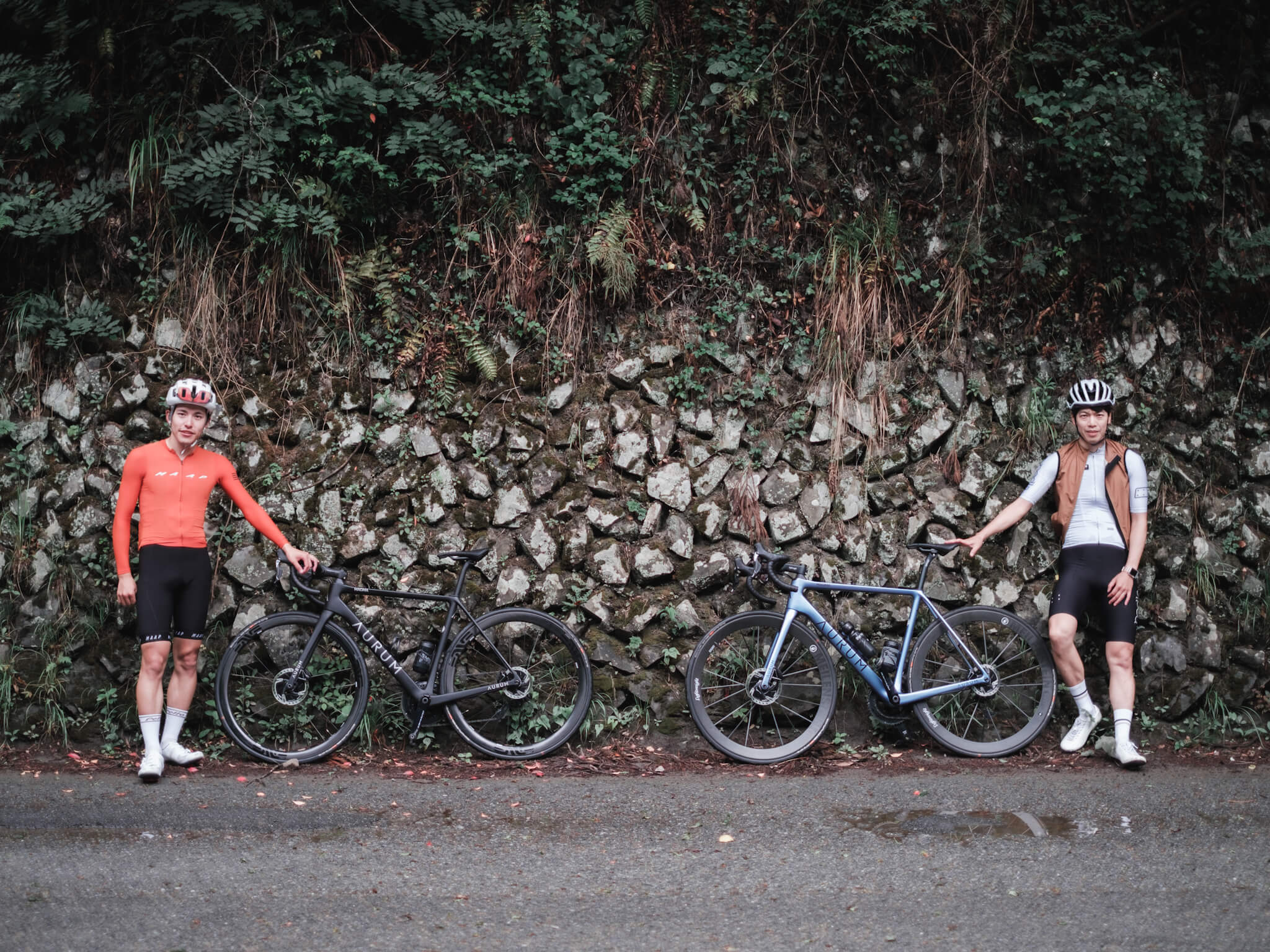 text / Tats(@tats_lovecyclist)
photo / Tats & Ryuji(@ryuji_ride)
Part2