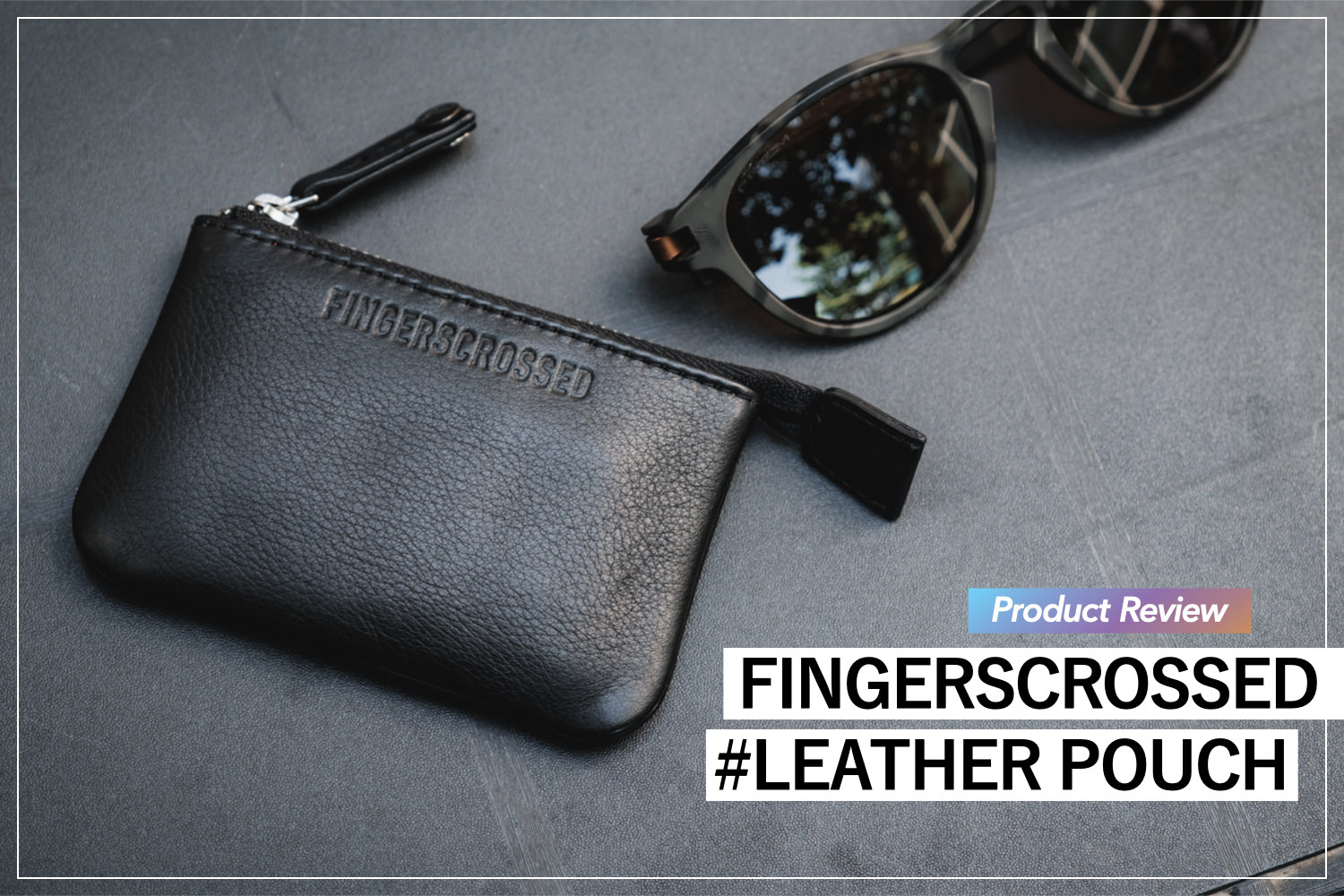 The #LEATHER POUCH is from the premium accessory brand Fingerscrossed.
The #LEATHER POUCH is from the premium accessory brand "Fingerscrossed".
It was released some years ago, but was re-released in March 2023 and I immediately bought it as I was just looking for a wallet. Here is an honest review of the good points / concerns I have with the actual operation.
review / Tats(@tats_lovecyclist)
1. Overview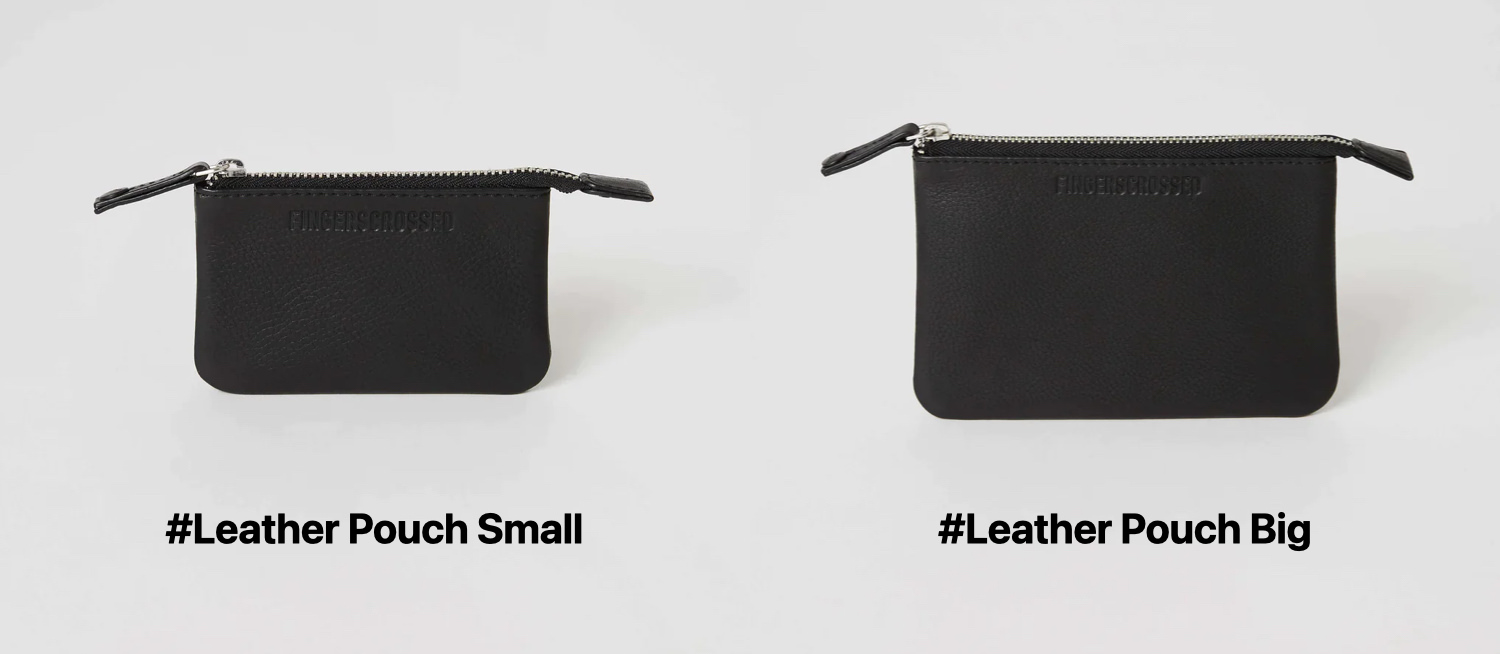 Made of cowhide leather, the #Leather Pouch comes in two sizes, Small and Big. Both can fit in a back pocket, but the Big one is just the size of a pocket. The one I purchased this time is Small.
 

#Leather Pouch Small

#Leather Pouch Big

Material

Genuine Leather




Polyester lining

Size

11x7x1cm

15x10x1cm

Price

€45.00

€50.00
2. Purpose of Purchase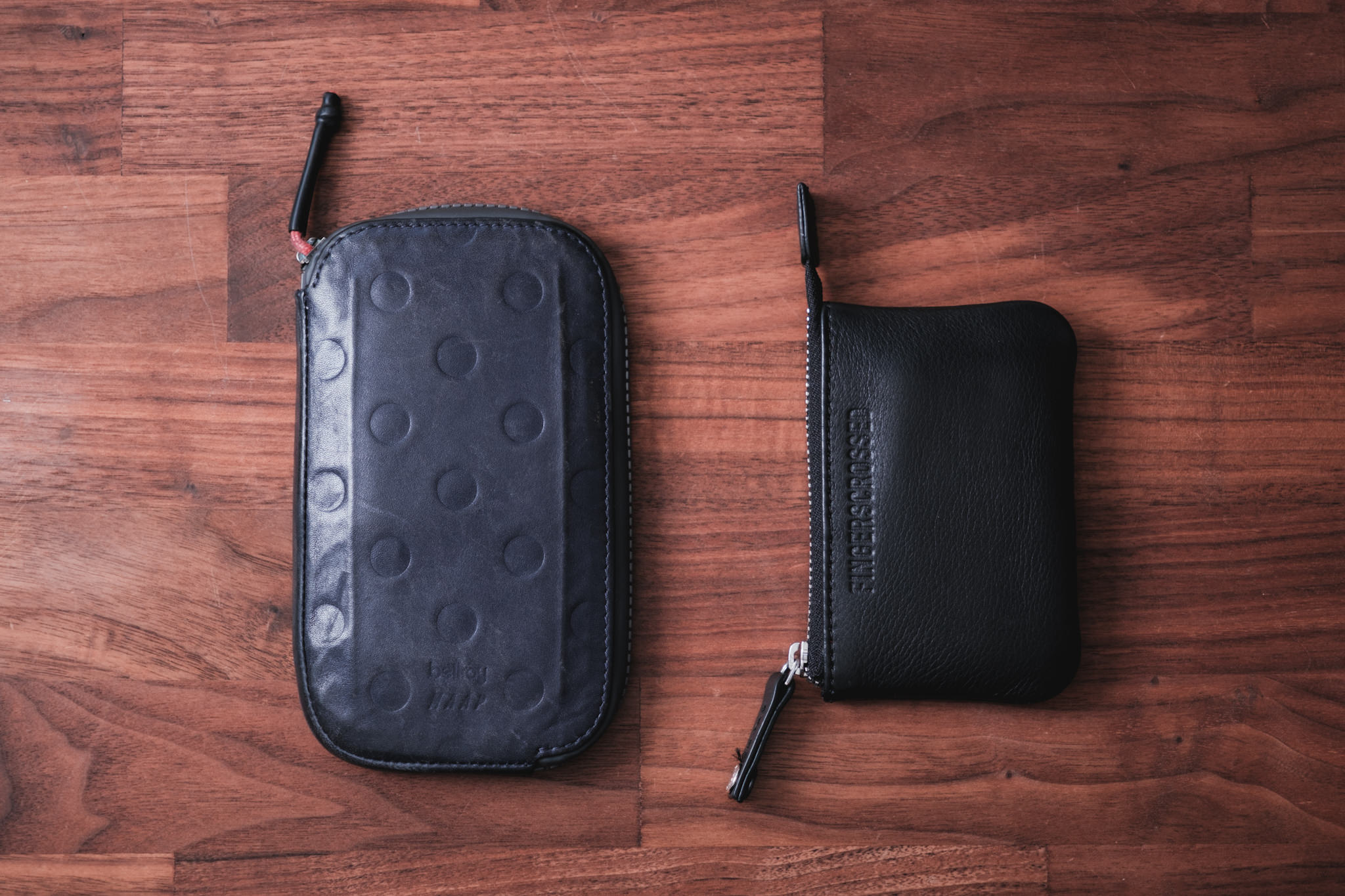 <- Bellroy Phone Pocket / Fingerscrossed #Leather Pouch ->
I wanted to use the same wallet for my ride and everyday use and had been operating with a Bellroy phone pocket.
Bellroy was such a good wallet that I bought a second one, but this model has been discontinued and there are no similar models available from other brands. Also, cashless is much more prevalent now than it was 6 years ago when I started using Bellroy, so I felt that a smaller sized wallet would be fine. So I chose this #LEATHER POUCH as my transition destination.
Compared to before, I have narrowed down what I carry in my wallet considerably (5 cards + a little cash).
I think many people feel the same way about not wanting to carry cash, but there are situations where it is absolutely necessary, so cards + minimal cash is the minimal configuration at this point. If this is all you have, you can fit it in the size of a #LEATHER POUCH.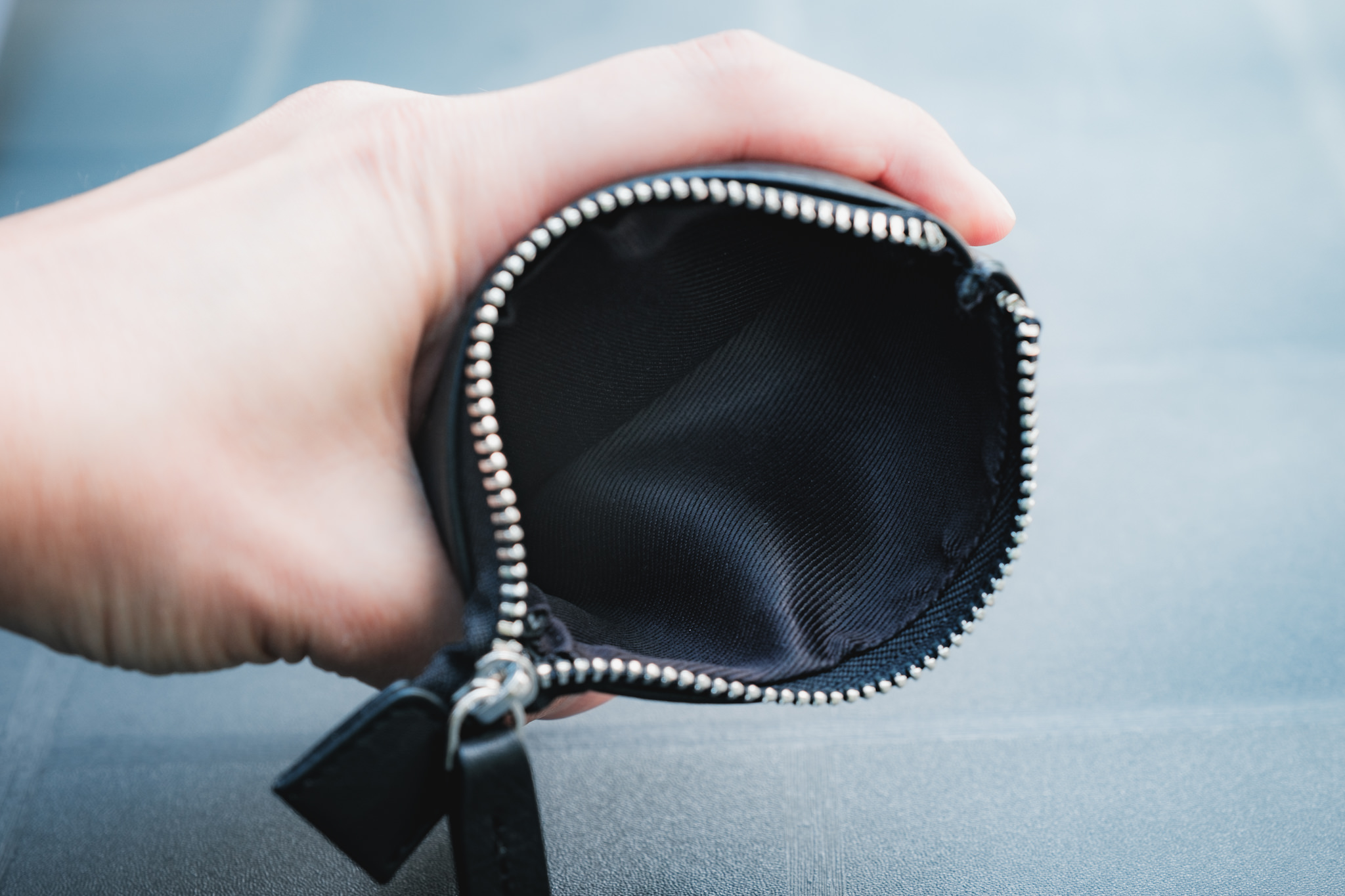 Simple design with no inside pocket
3. Pros/Cons
Pros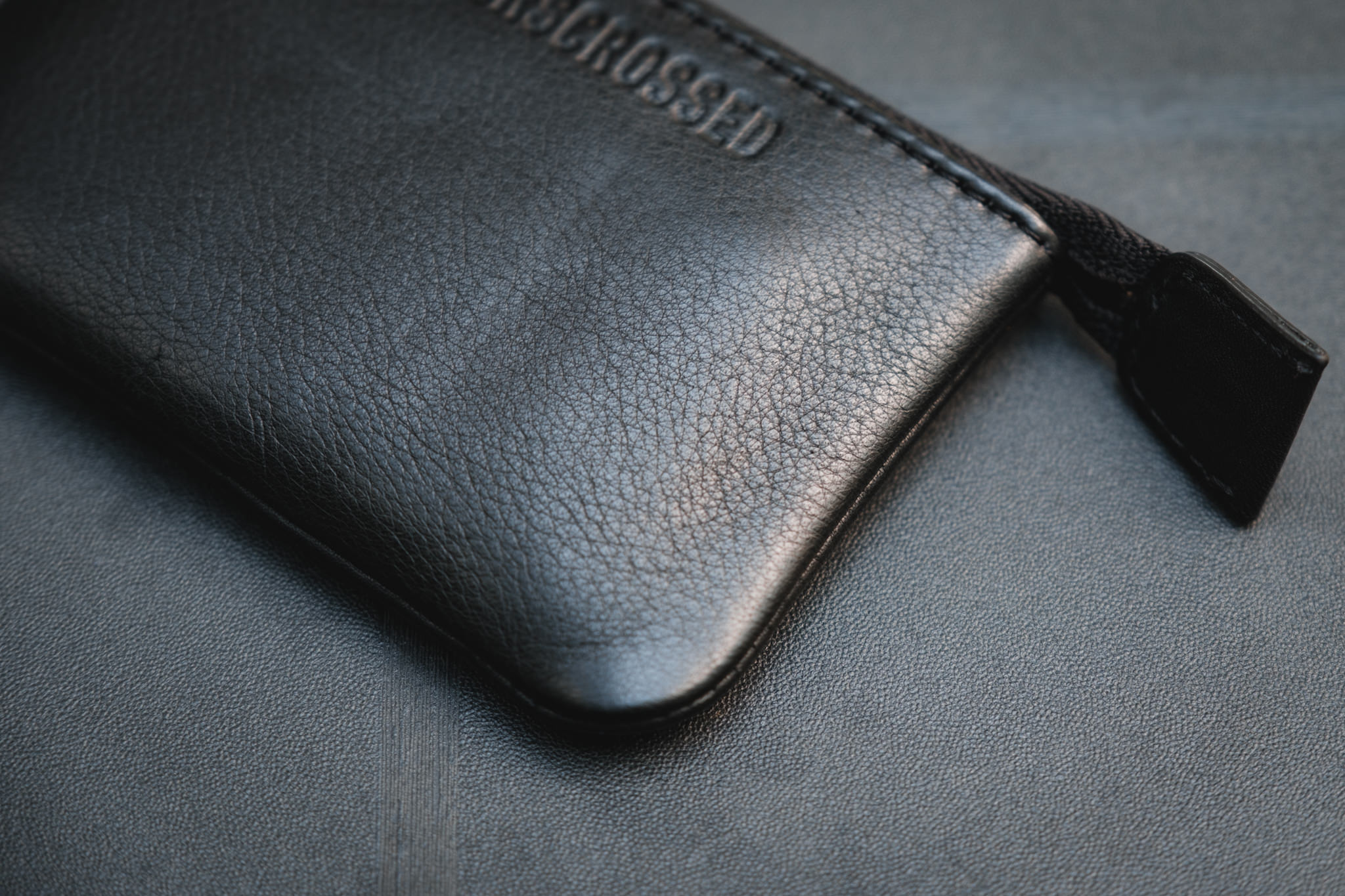 Soft leather texture that feels very comfortable in the hand
Comfortable to the touch: Made of soft cowhide leather, it feels good in your hand and makes you feel a little richer every time you hold it in your hand. The leather is also easy to brush and change over time.
The size is just right: I have been gradually reducing the size of my wallets from long wallets to Bellroy to #LEATHER POUCHS, and this size even seems cute. It doesn't get in the way of my personal pockets either, so I feel like the boundary between ride and everyday life has become more seamless.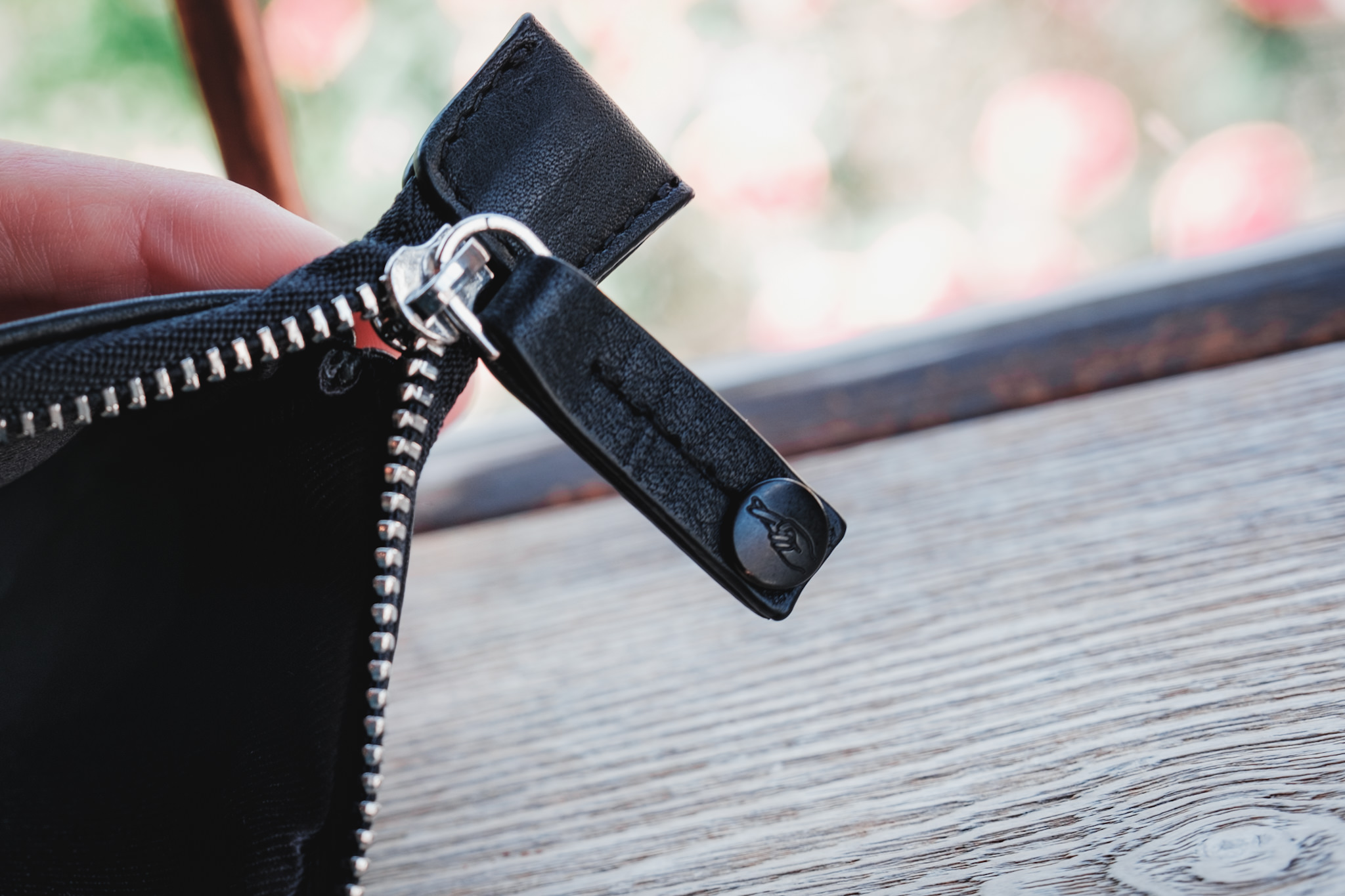 The Fingerscrossed symbol on the tip of the zipper tab is also cute
Fit easily in a back pocket: With the Bellroy I used to use, my back pockets were so full that the camera would get stuck when I carried it on my back, so the #LEATHER POUCH fits nicely in my pocket. It's a subtle difference, but it reduces minor stress when riding.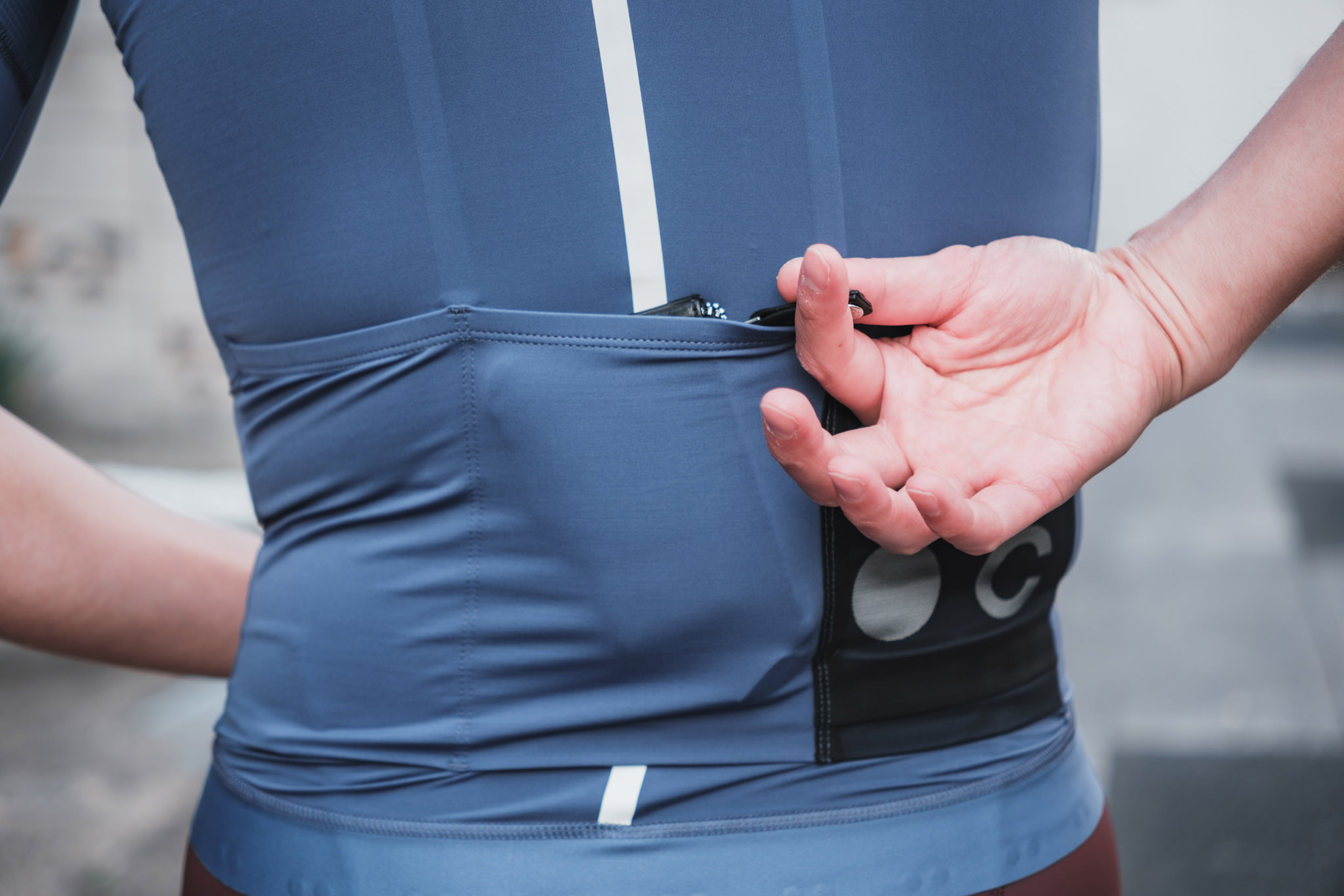 Sized to fit easily in a back pocket
Cons
Sometimes it's too small: it fattens up when you put receipts and such in it, so you have to organize it every time you get home (although it's good to get in the habit of organizing it). This is completely a trade-off with the size.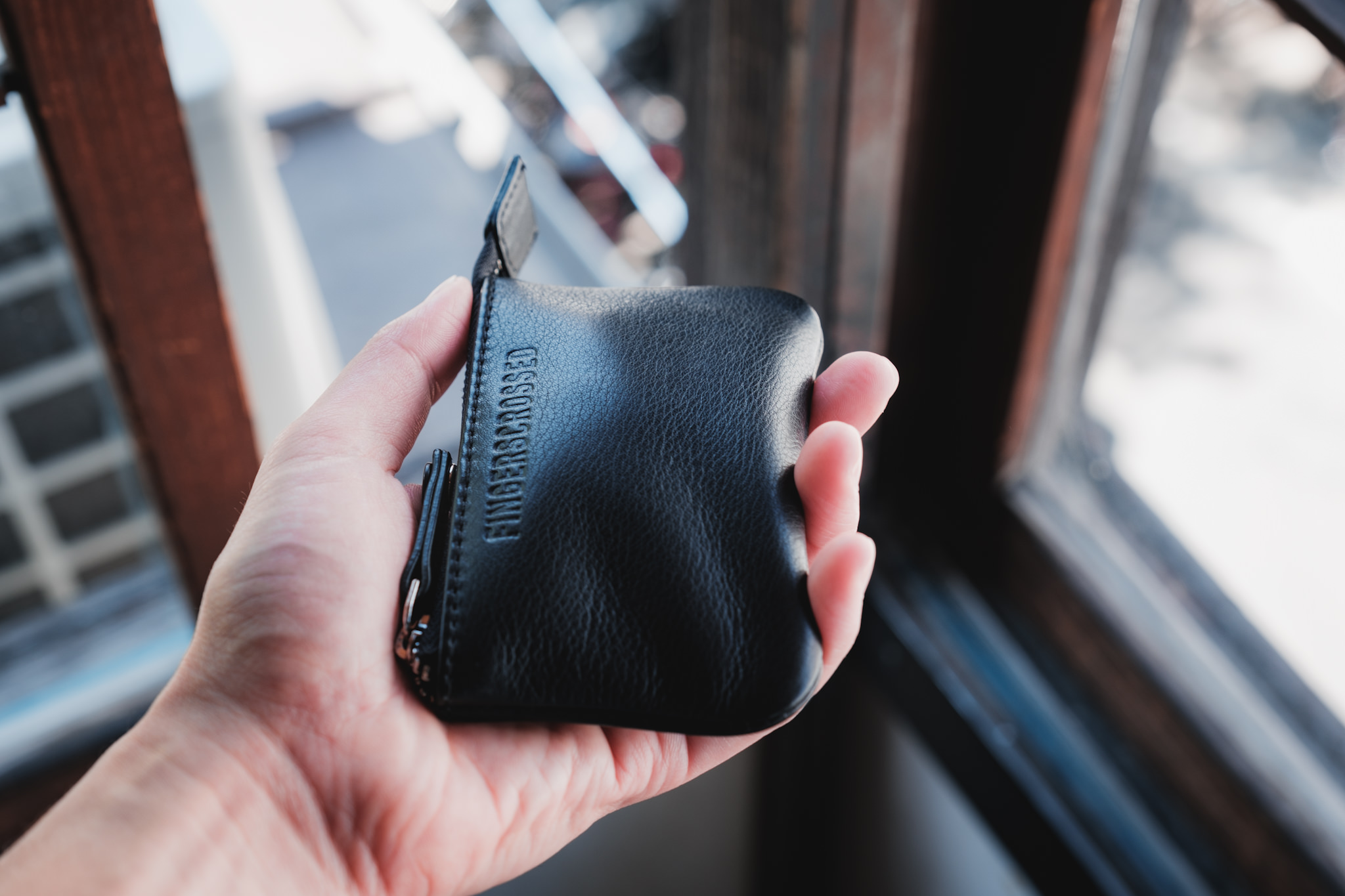 Wallets that get fatter as receipts accumulate
Not waterproof: There is no waterproofing, and if left in a back pocket, the contents will get wet. It's fine for bills, but you can't put anything in it that you don't want to get wet.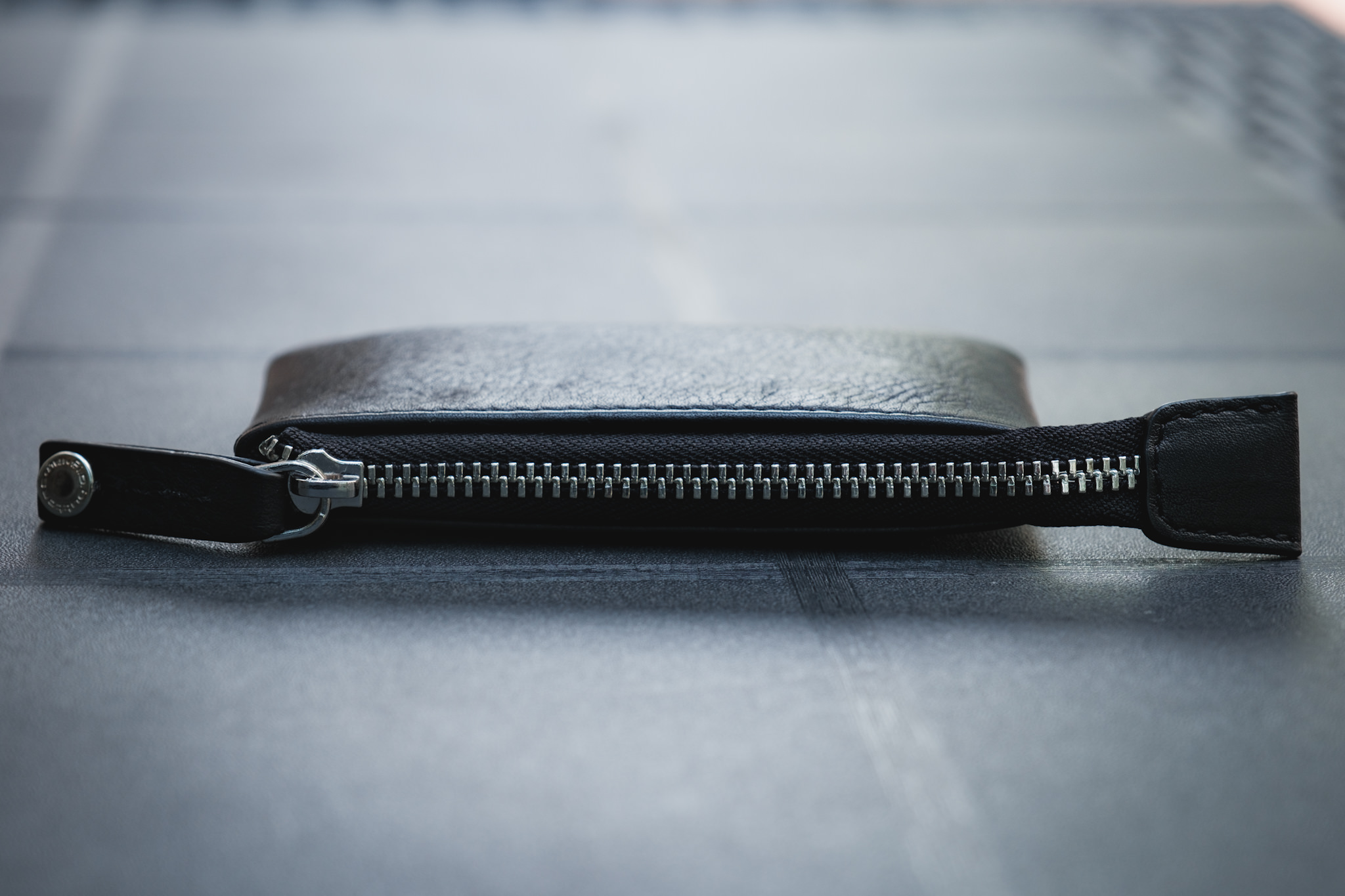 Zipper is easy to open and close but not watertight
4. Conclusion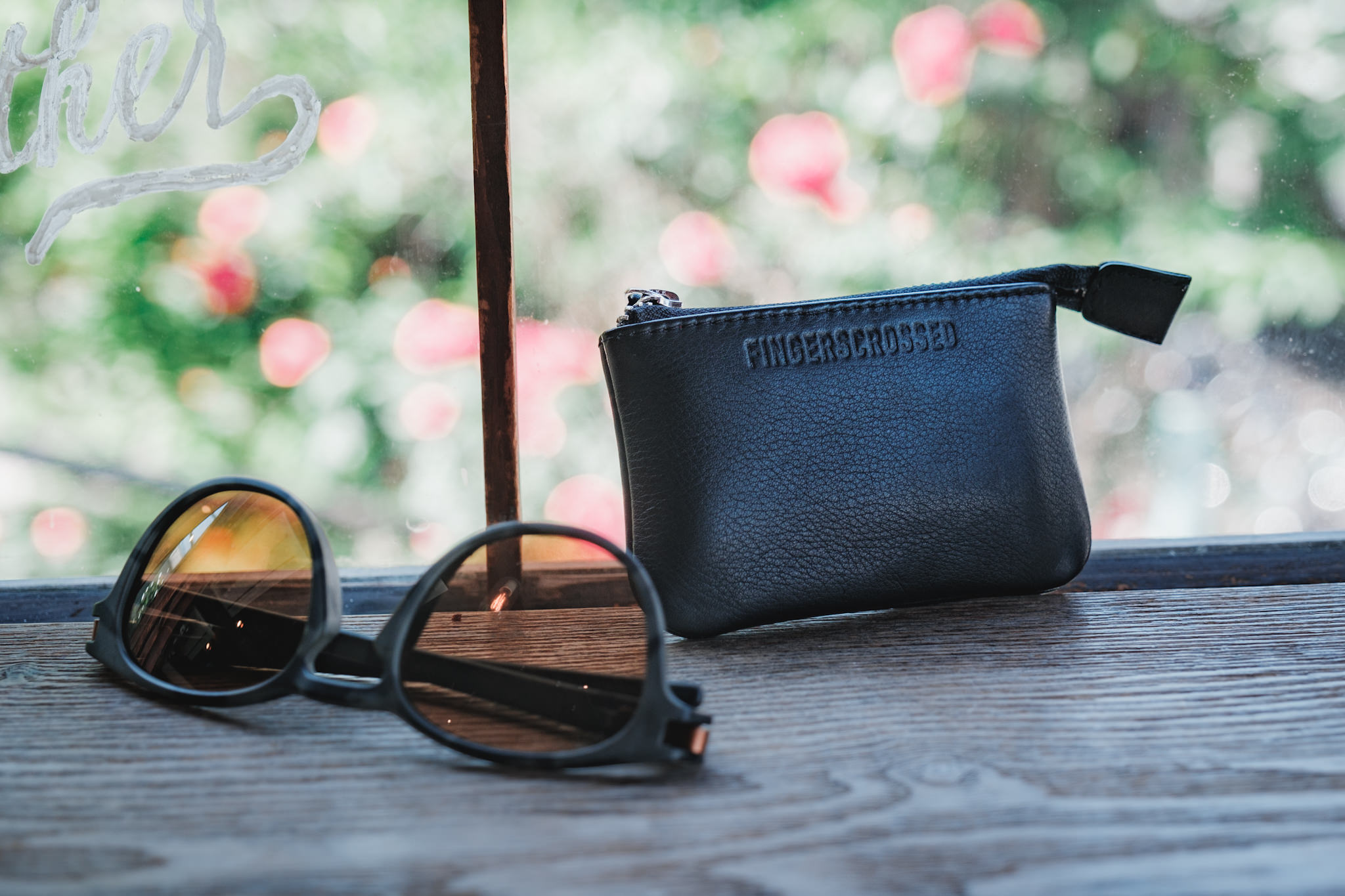 Today, people are spending less cash and spending less money on wallets themselves.
Against this backdrop, if you are looking for a wallet that is high quality and can be used for both riding and daily use, the size and price of #LEATHER POUCH best matches your needs.
No matter what the occasion, as long as you have your phone and #LEATHER POUCH, you can handle the rest.
Author
Tats Shimizu(@tats_lovecyclist)


Editor in Chief. Having been riding sports bikes for 10 years. He likes to unravel the trends in the sport bike industry, especially road bikes, from a marketing perspective. At the same time, he has extensive friendships with cycling apparel brands from around the world and proposes various styles through the media. His main bikes are Factor O2 (road) and LS (gravel).