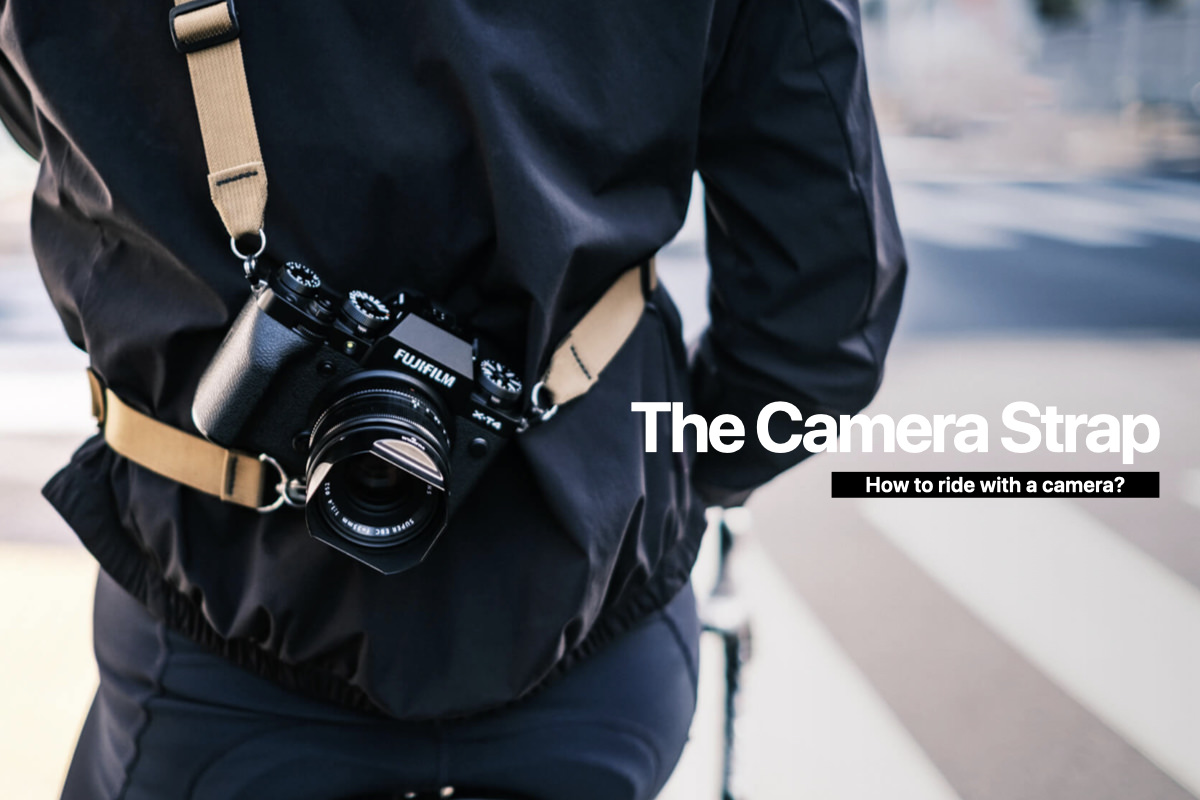 When you want to take good pictures on a ride, of course the latest smartphones are the simplest solution, but if you are more concerned about quality, you will eventually end up carrying a camera.
This is where cyclists have to worry about finding the best strap.
Whether it is a compact or mirrorless camera, the option of carrying a delicate camera in a sweat-filled jersey pocket is not ideal. The basic method of carrying the camera is to carry it diagonally with a strap.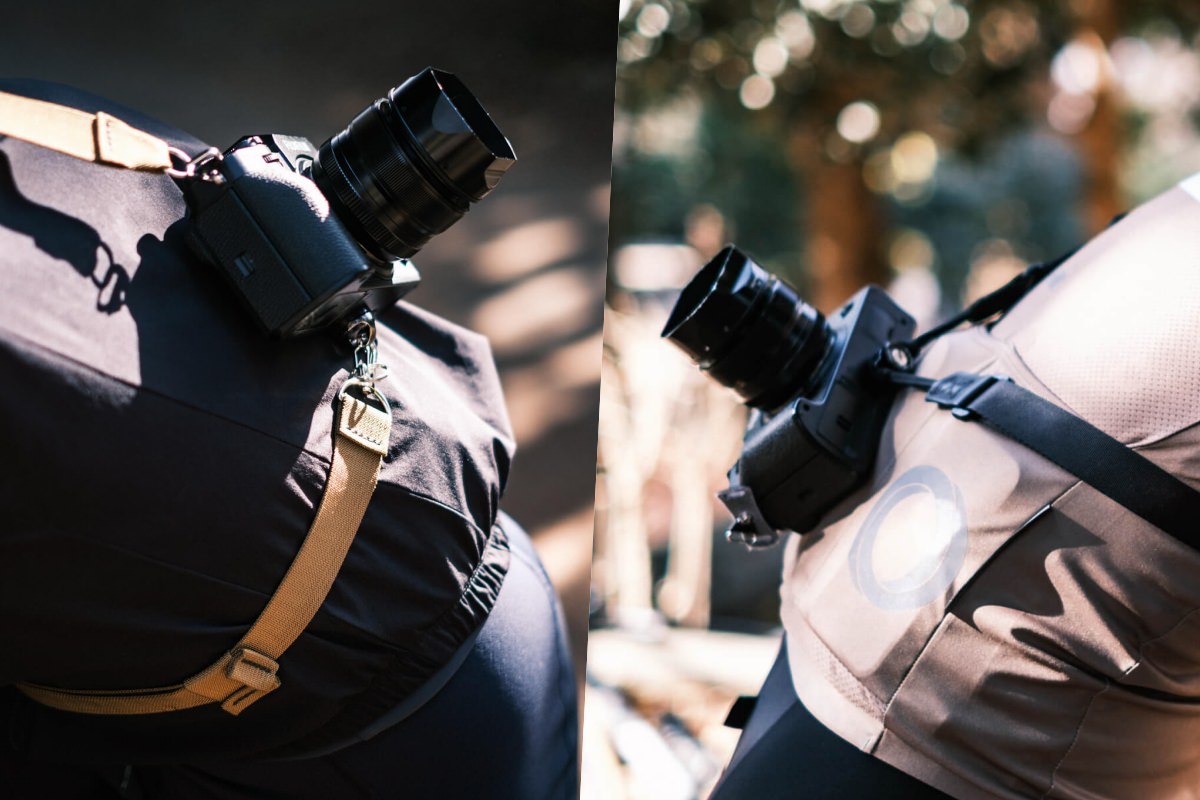 I, Tats, and my colleague Ryuji use the same camera, but we prefer different straps to match our shooting styles.
If you are a cyclist reading this and are having trouble choosing a strap, I thought these two straps with different characteristics that we use might help you decide which one fits your style better.
text / Tats (@tats_lovecyclist)
1. PS Bagworks: Easy-to-ride strap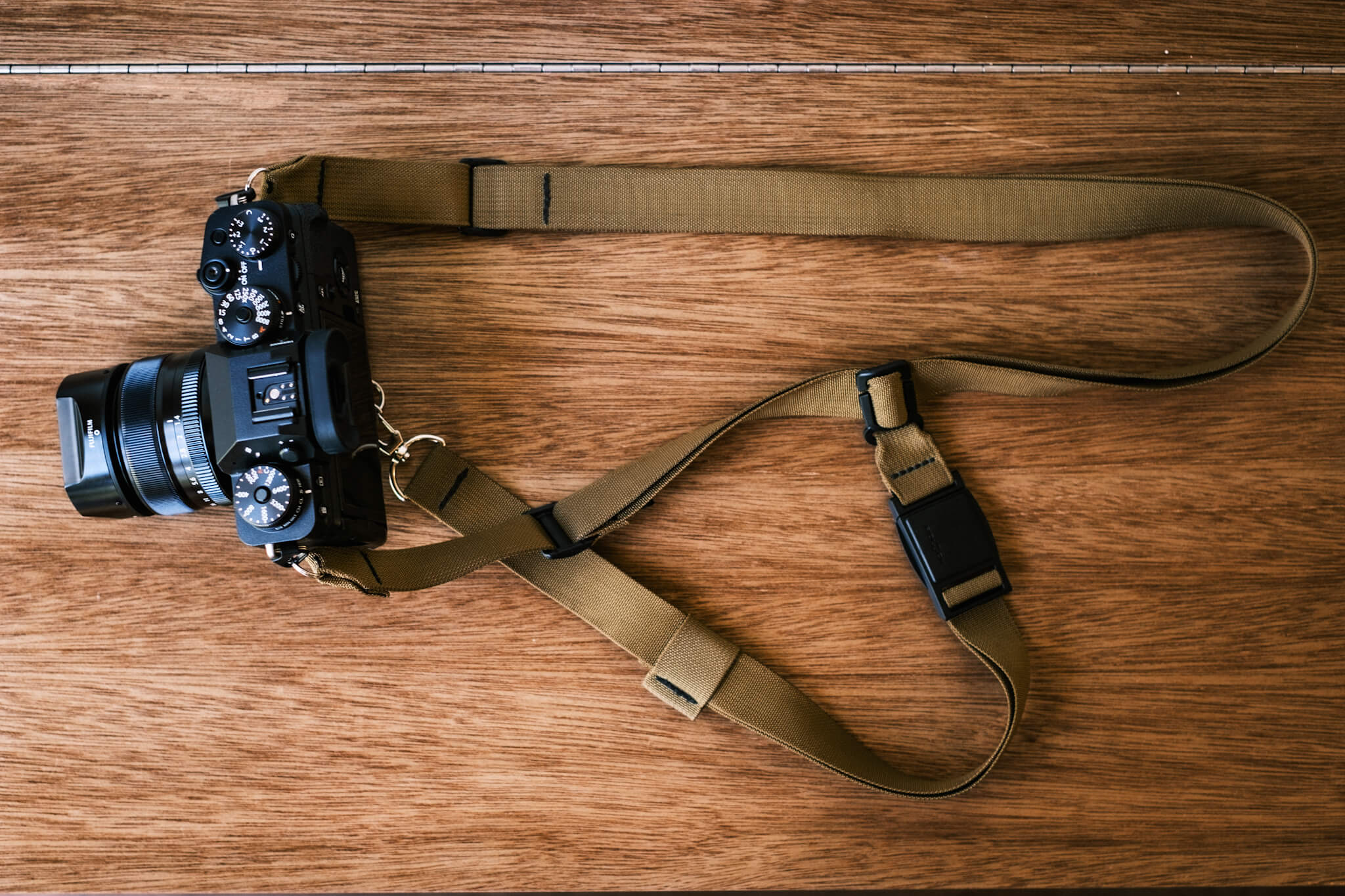 PS Bagworks – Rider Strap ($55.00)
Ryuji uses the "Rider Strap" by PS Bagworks. As the name suggests, it is a strap designed for cyclists to take pictures while riding a bicycle.
The camera doesn't shift.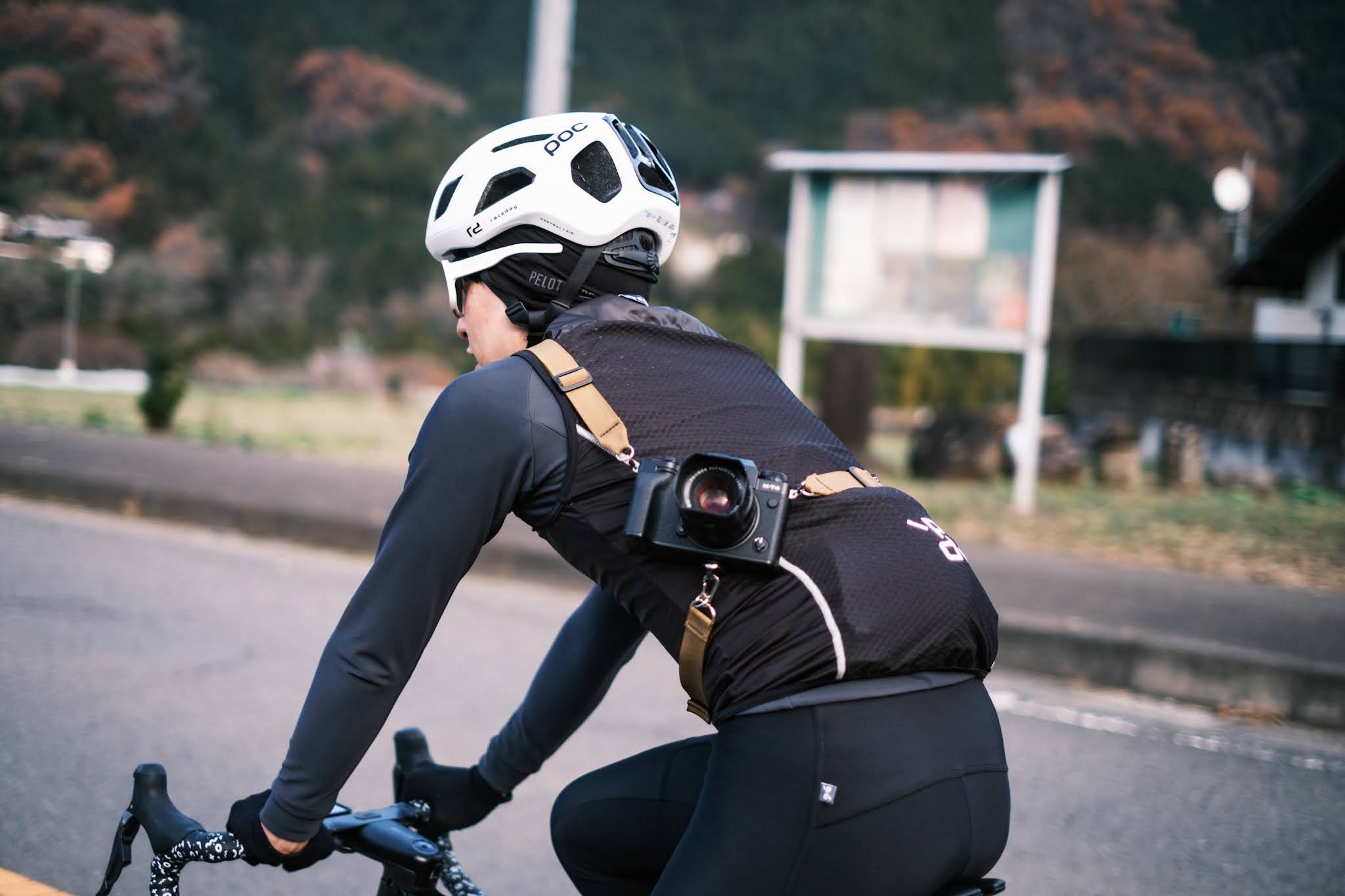 Its unique feature is the stabilizer, which prevents the camera from moving position during the ride. The diagonal strap and stabilizer hold the camera in place from three directions, so there is no need to worry about the camera shifting even if you move violently during the ride.
For training-oriented rides, including sprints, the stabilizer is by far the most convenient.
Easy to attach and remove the stabilizer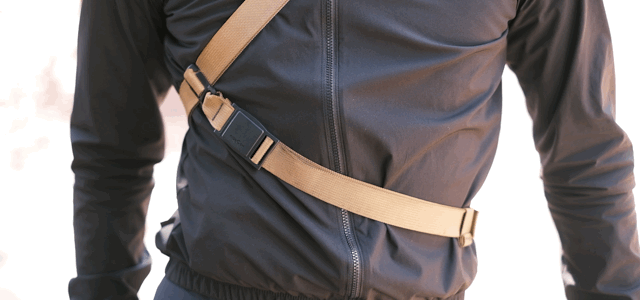 One-touch detachable stabilizer
When you want to take a picture, remove the stabilizer, grab the camera, and bring it forward.
The stabilizer has a magnetic buckle so it can be removed with one hand. It takes some getting used to at first, but once you learn how to use it, the process of taking pictures becomes smooth.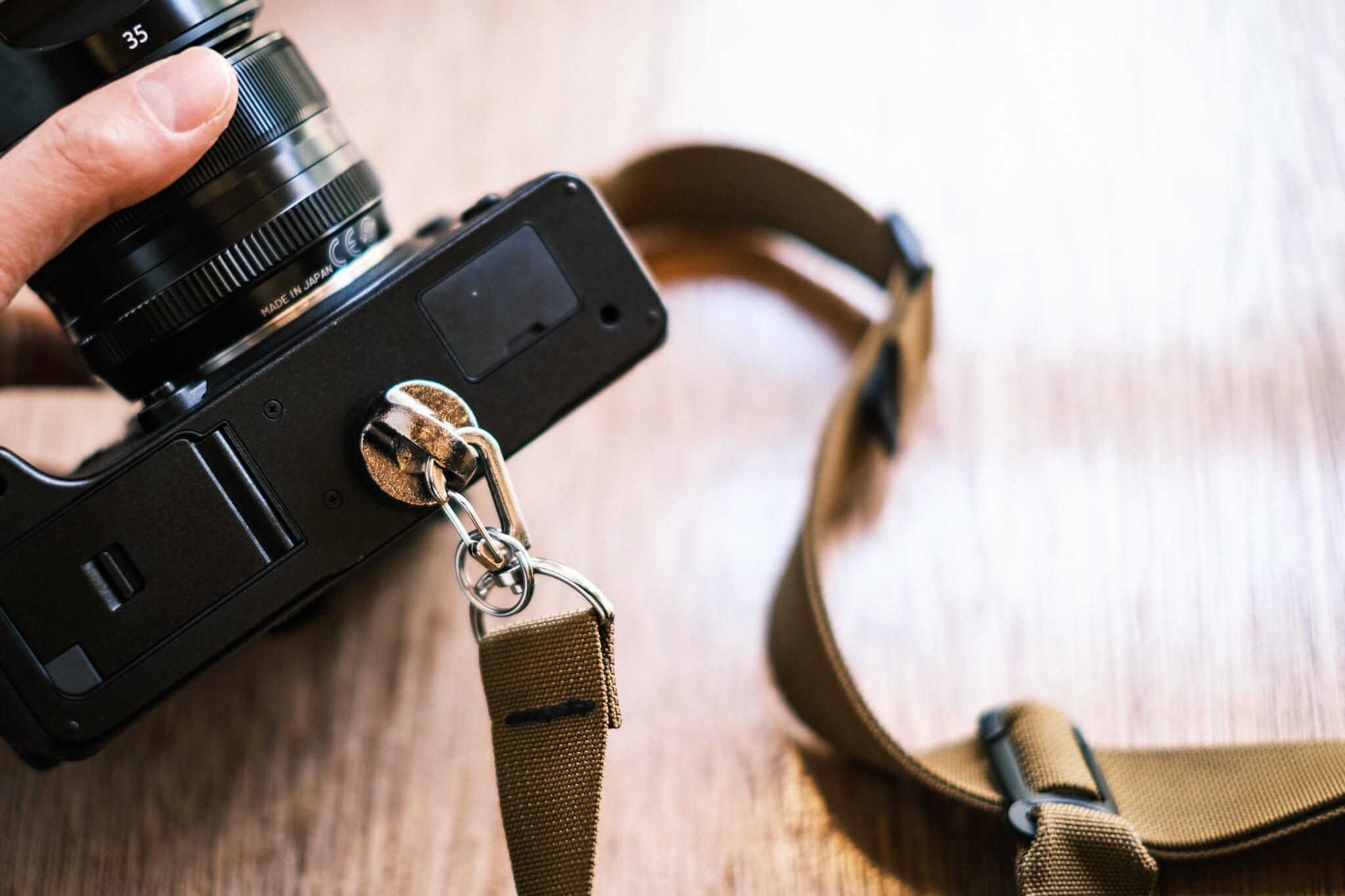 Stabilizer strap attaches to tripod hole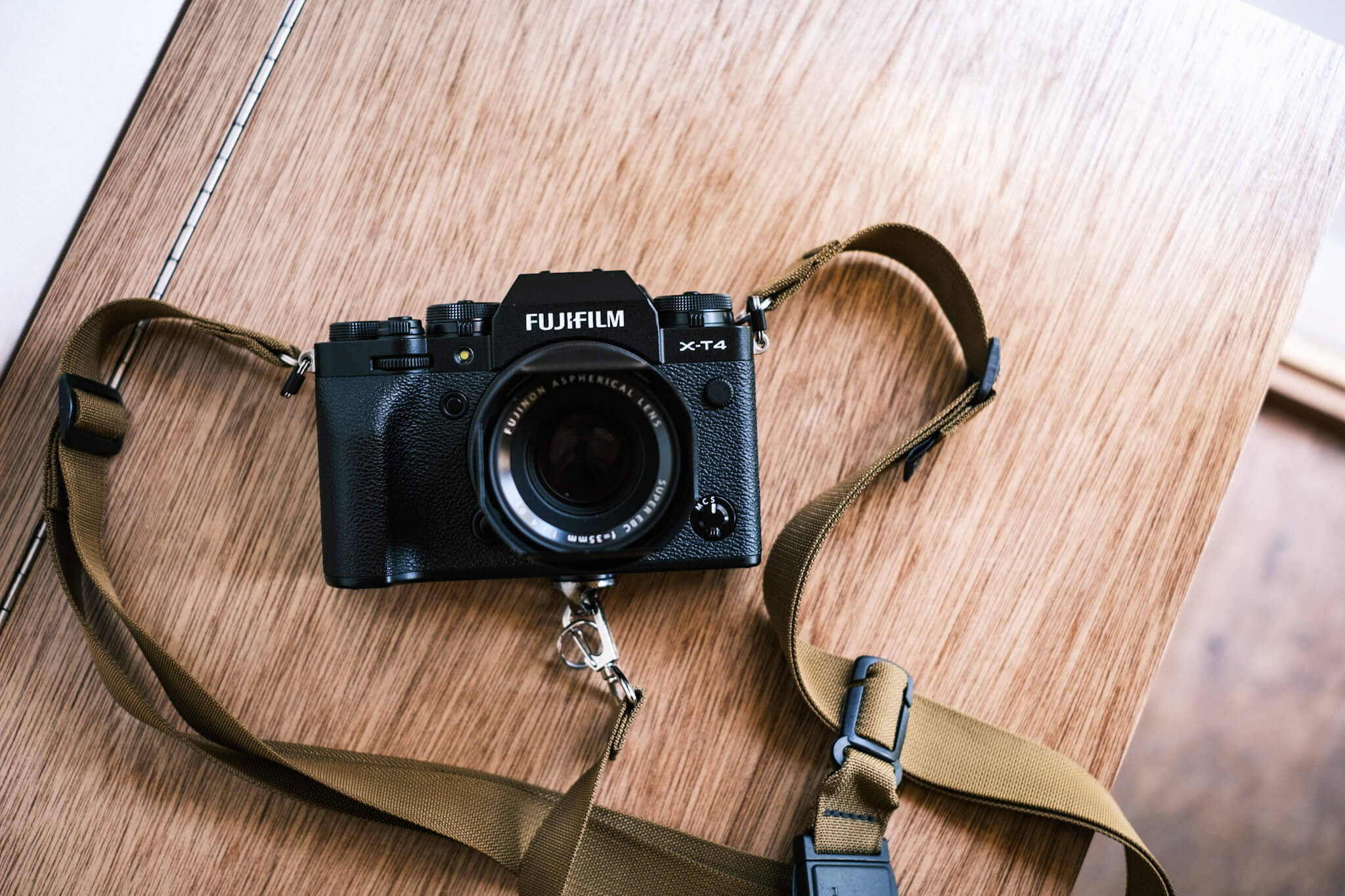 At the time of purchase, there are three strap attachment options to choose from, but he opts for the more common and secure "split-ring" type.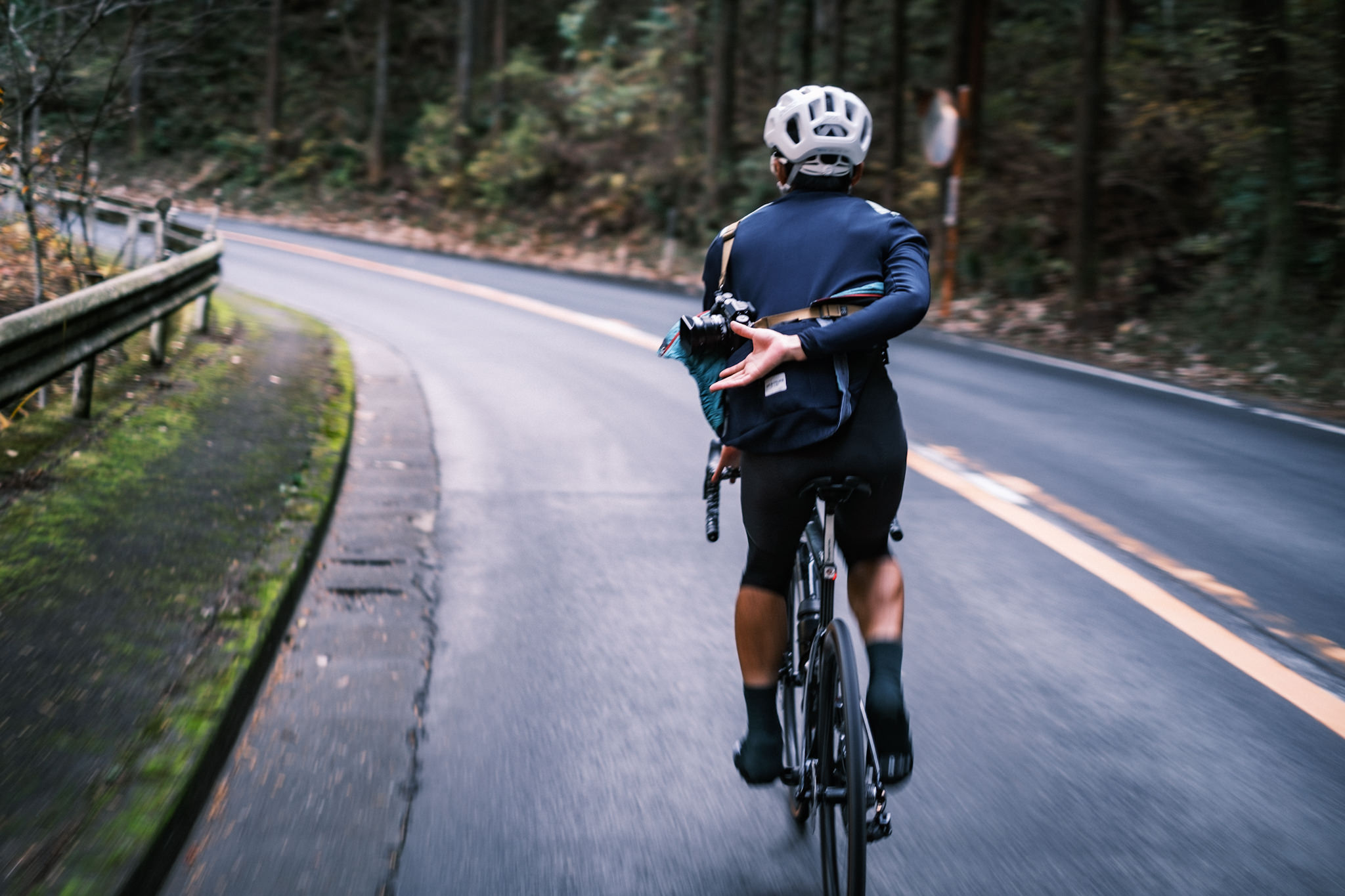 With a wide selection of colors to choose from, the design blends in with both the city and nature in a way that only PS Bagworks, with its emphasis on style and function, can offer.
What style is best suited for?
– Want to enjoy a good balance between riding and shooting.
– Looking for a strap that will not move during the ride.
– The design of the strap is important to you.
2. Custom SLR: Quick-take strap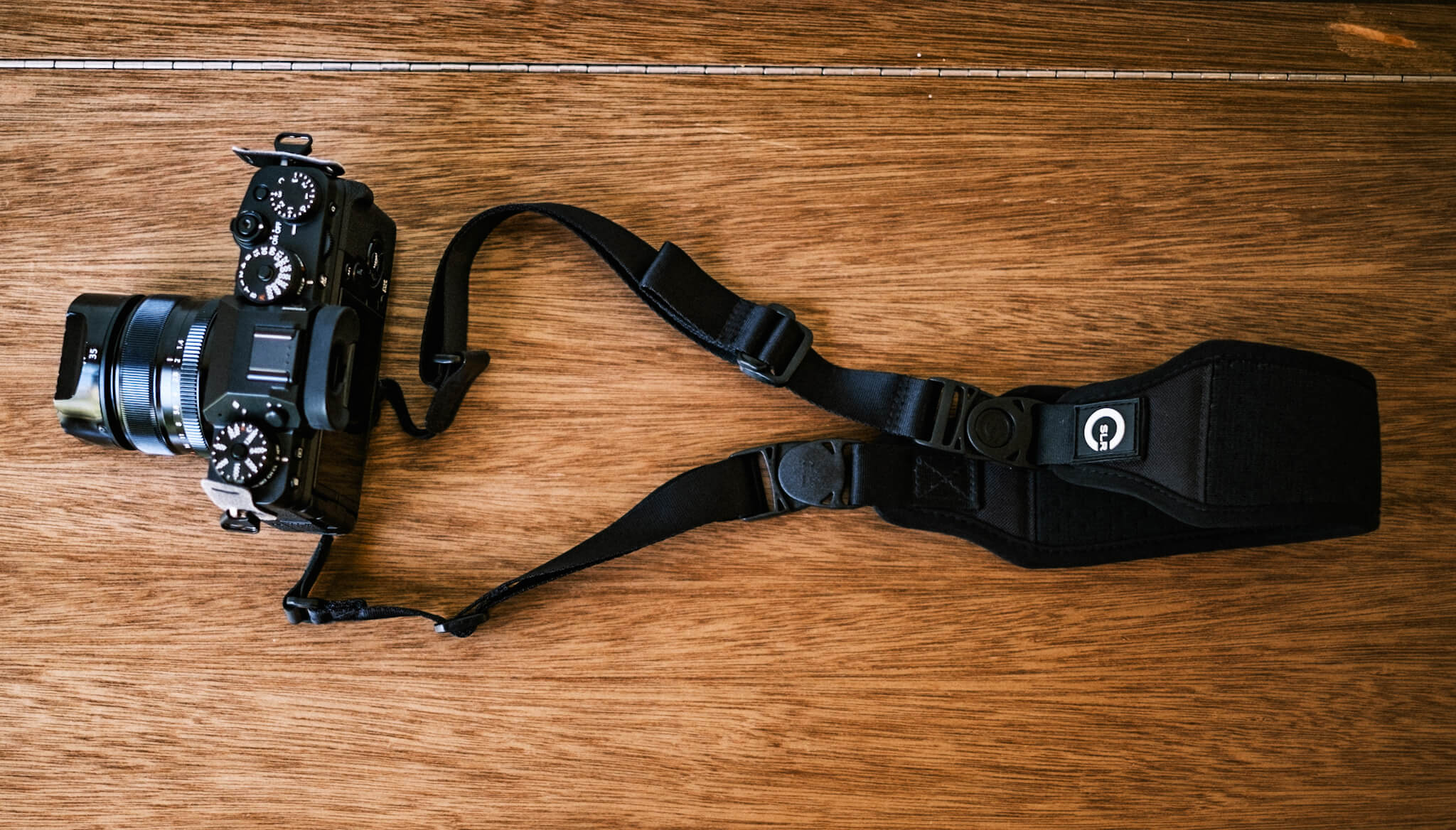 Custom SLR Air Strap ($19.95) and C-Loop mini ($24.95)
In contrast, I use a combination of Custom SLR's "Air strap" and "C-Loop mini".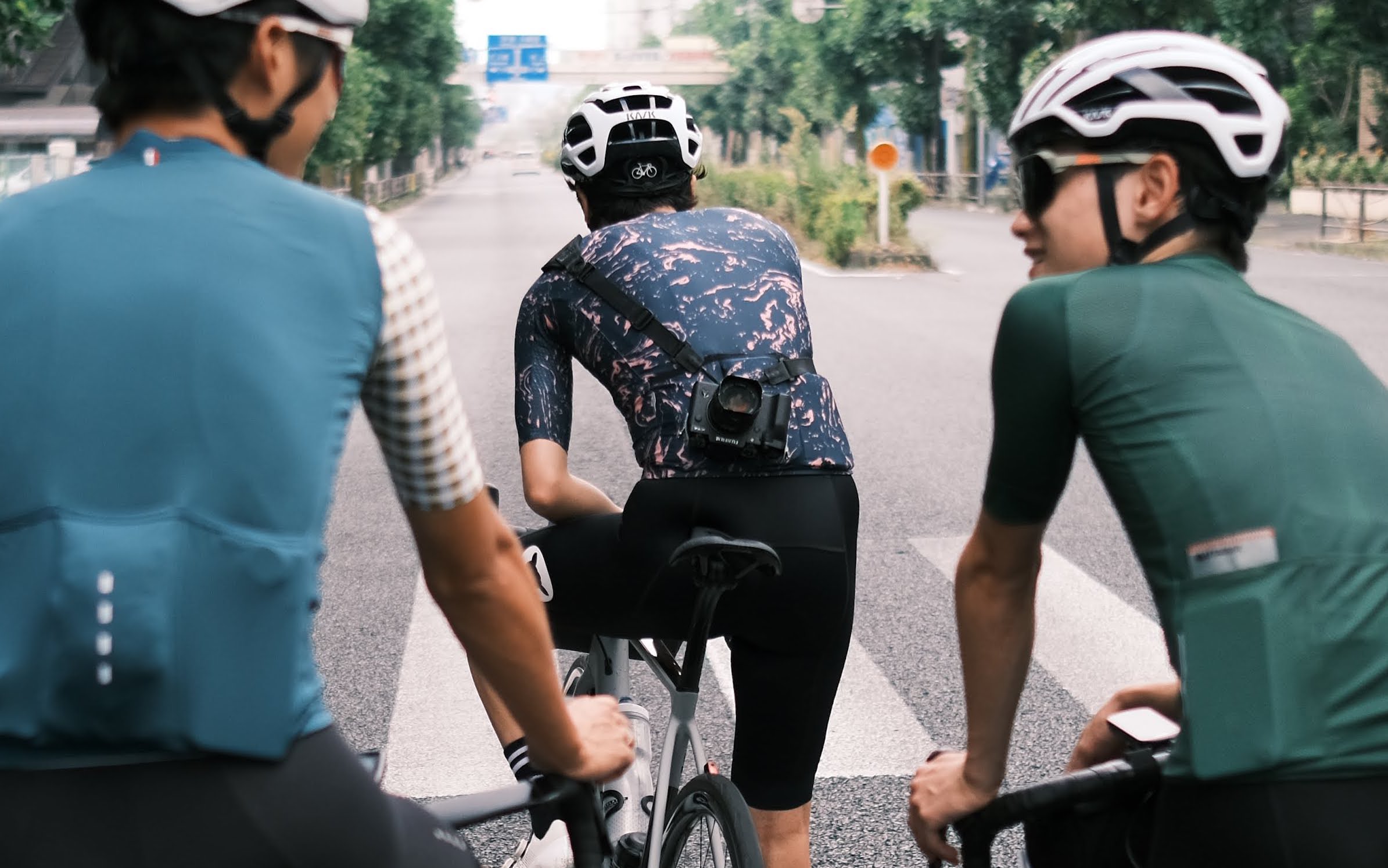 Strap I've been using for over 4 years.
Can be ready in an instant.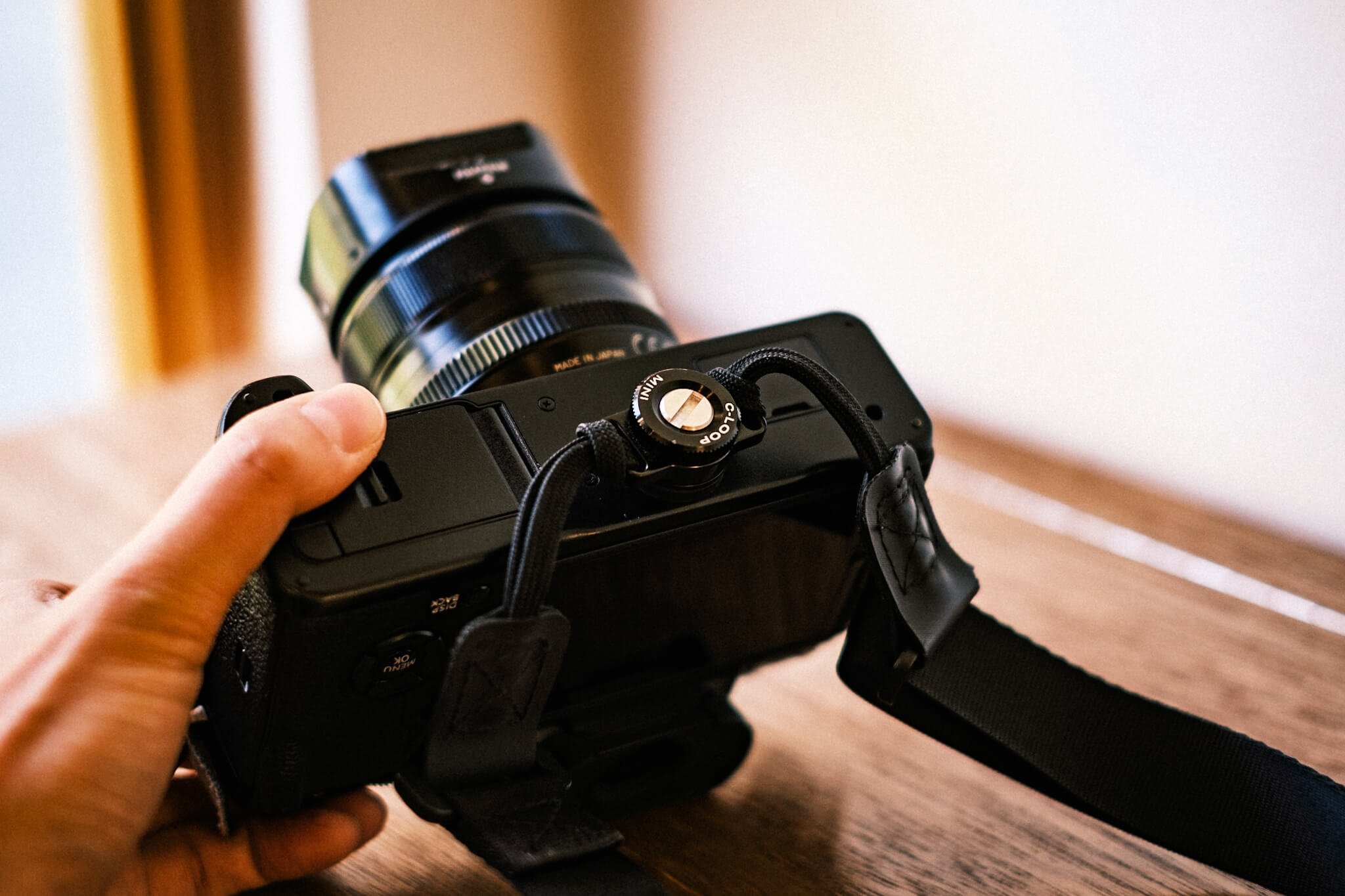 The key to this combination is the "C-Loop," a mount that allows the camera strap to be attached to the tripod hole.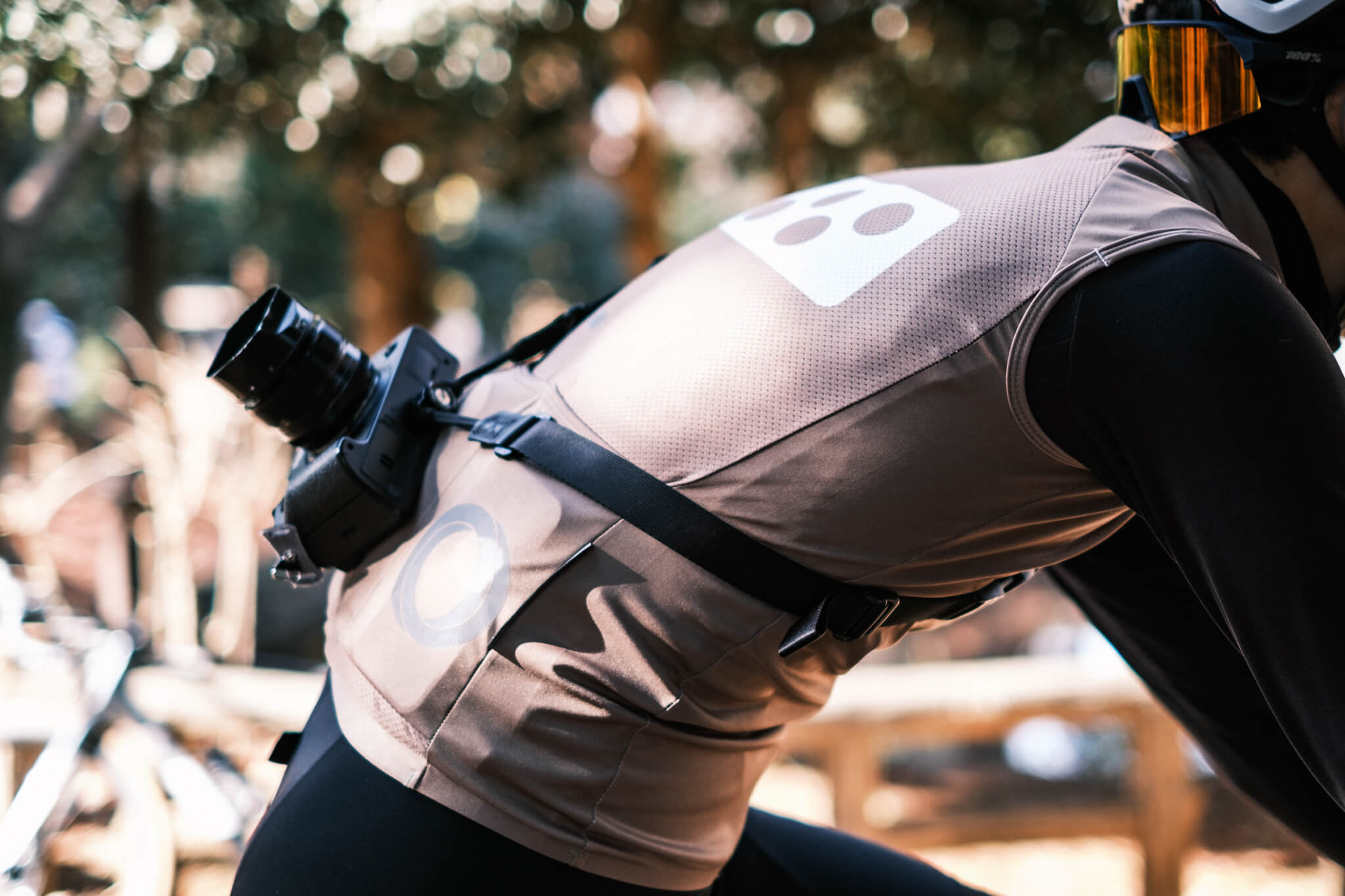 The tripod screw hole is at the bottom of the camera, so the camera is upside down when turned to the rear, but if you grab the camera in that position and turn it to the front, the camera will be in the upright position.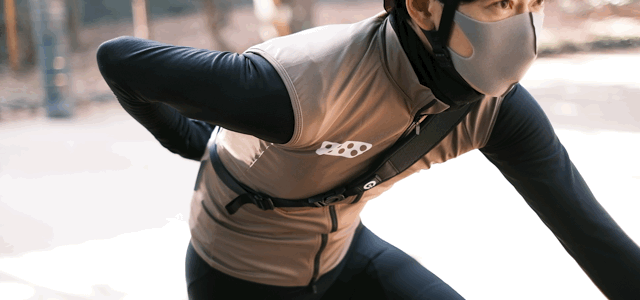 So when you want to release the shutter, you can instantly hold the camera with only one hand.
A 3-point fastening strap like the Rider Strap requires multiple actions: removing the front stabilizer -> bringing the camera to the front, but with the C-Loop, only one action is required. In comparison with Rider Strap, a difference of 5-6 seconds is created before the camera is ready to be set up.
This is ideal for cyclists like me who focus on shooting speed and do not want to miss a shutter chance as much as possible.
Camera position is easily displaced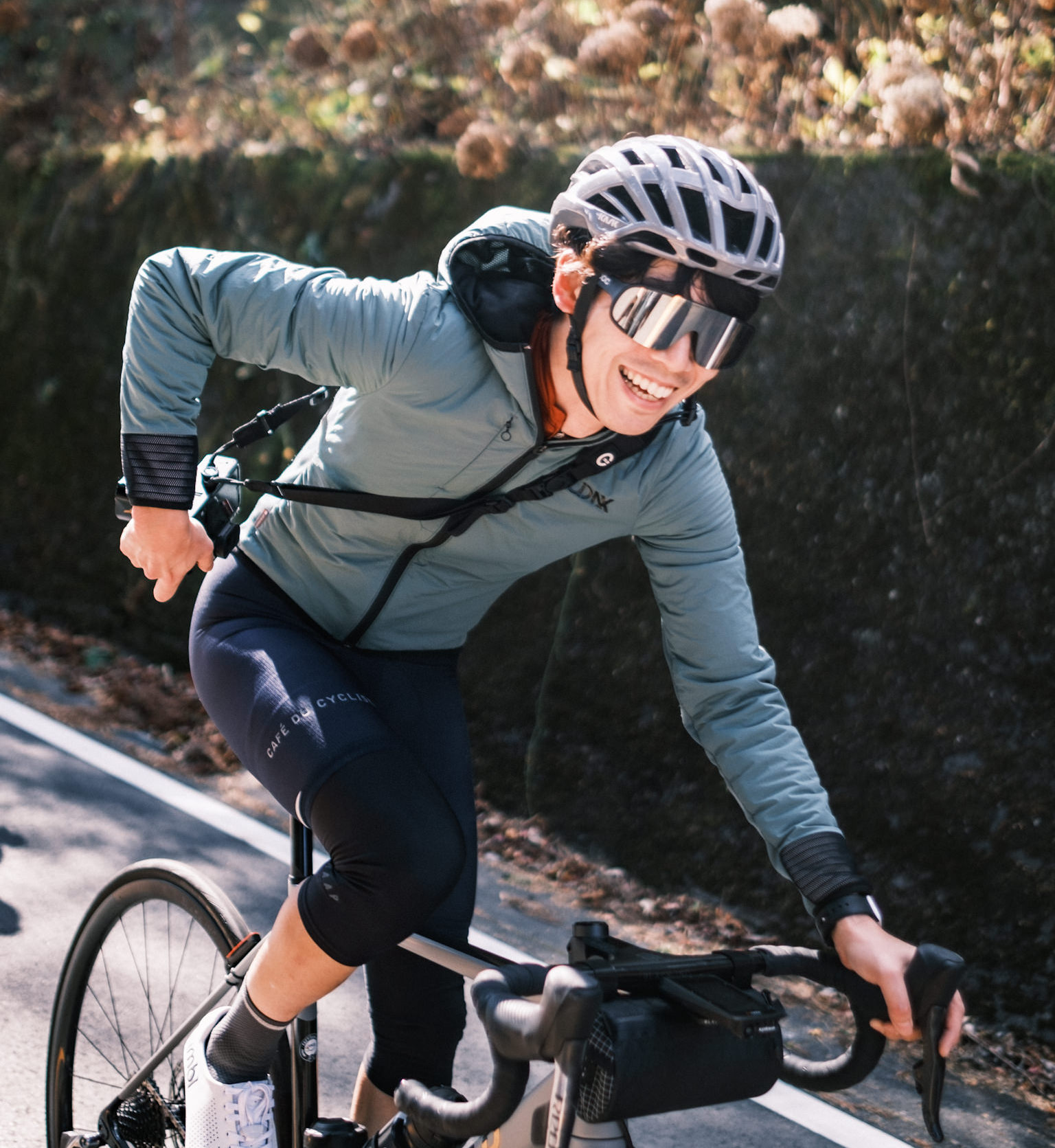 However, the ease of positioning means that it is easy to shift during the ride. This is a disadvantage of C-Loop.
Not only does it get in the way as the camera sways when rowing from a standing position, but it also shifts a little each time you move your body, such as when stopping and starting, so you have to put your hand behind you each time to move it back into position.
If ease of use is important, the Rider Strap is the best choice.
Wide straps that do not burden the shoulders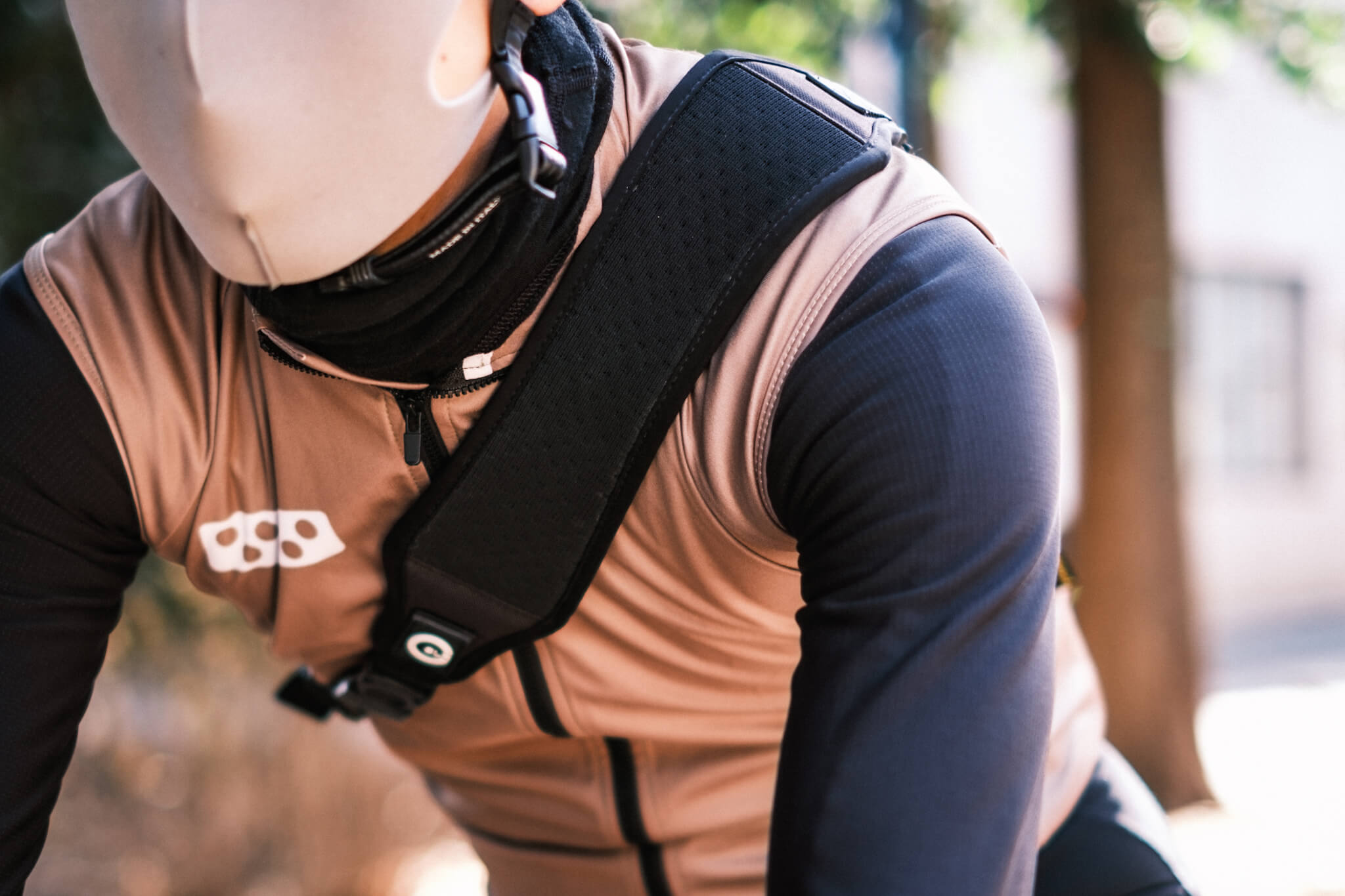 The "Air Strap" features a one-touch changeable strap length.
However, since shortening it requires the use of both hands, it is almost impossible to change the length of the strap while riding (this feature is useful for everyday use).
More importantly, the wide, soft shoulder pad is excellent. I carry a camera weighing about 800g all day long, including the lens, and the shoulder pad greatly reduces the load on my shoulders (the slim strap I used to use stiffened my shoulders).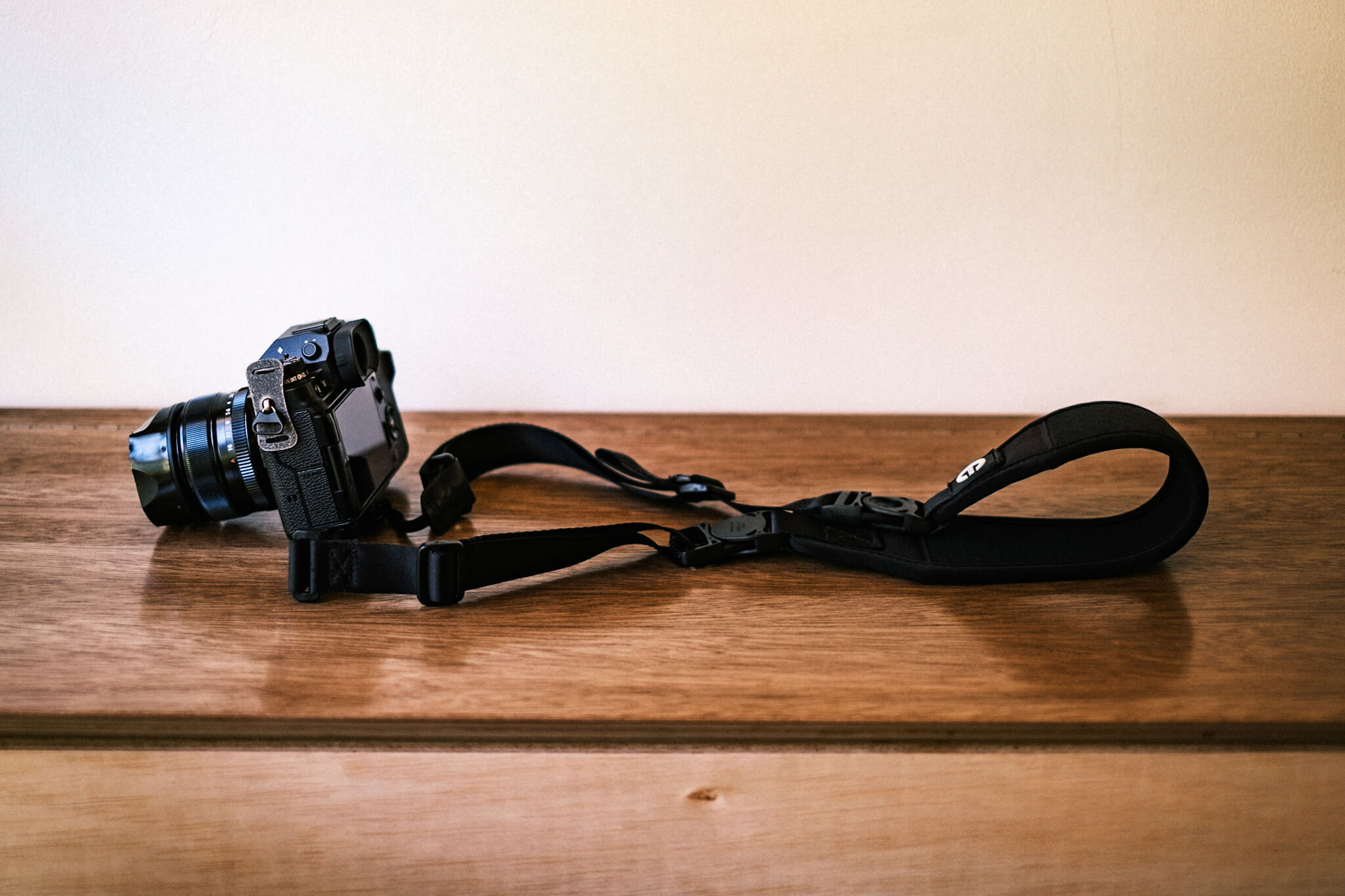 However, the minimum circumference of the strap is 108cm, which is long, so when combined with the C-Loop, the camera will be positioned toward the waist and will be quite an obstacle if you are not of a certain height.
*As a guide, if you are under 170 cm, we recommend a strap with a slightly shorter circumference.
What style is best suited for?
– Want to take a picture quickly.
– Don't want to put too much stress on my shoulder.
– Want to use the camera for other purposes than bicycling.
Custom SLR Air Strap ($19.95)
C-Loop mini ($24.95)
3. Prioritize safety and enjoy shooting.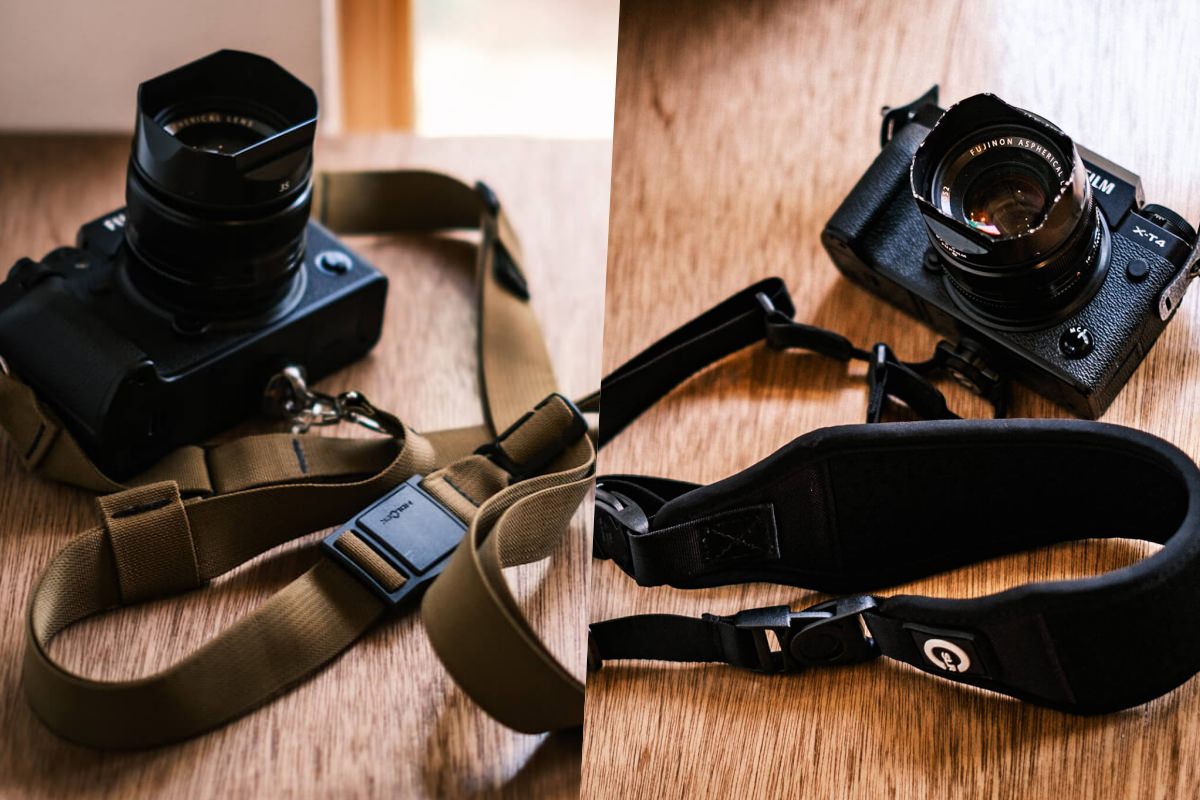 Thus, you can choose "PS Bagworks for balance" or "Custom SLR for speed of shooting".
These straps are designed to allow you to carry your camera on a ride, but be very careful to hold the camera in a clear view of your surroundings.
If you are not used to riding or operating a camera, do not try to force yourself to take pictures, but rather enjoy the ride itself.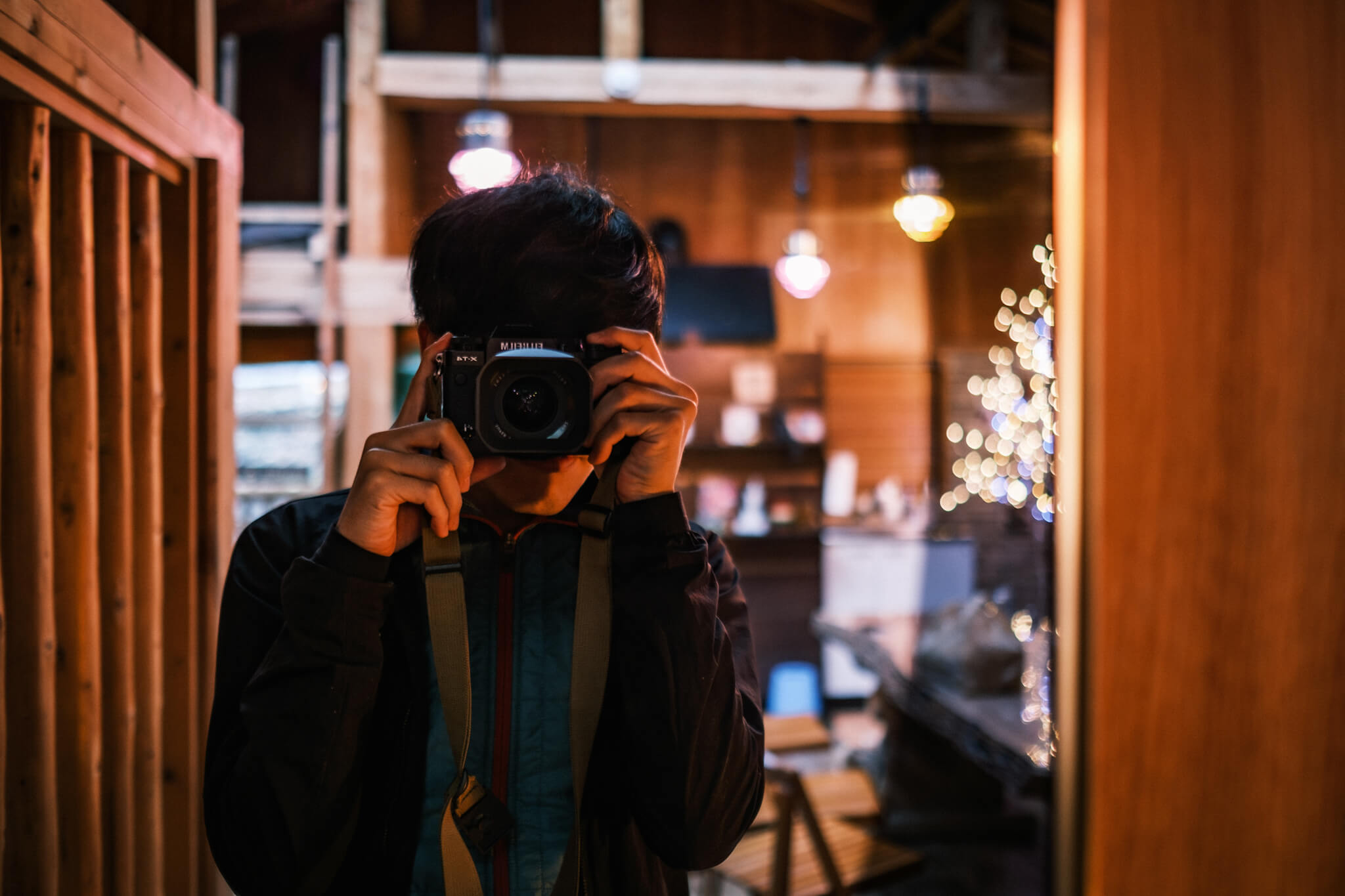 On top of that, the riding style can be greatly expanded by realizing a bicycle x camera style of riding. Cameras and bicycles are both profound hobbies, but they are also a perfect match for each other.
Let's preserve the world of bicycles we love with great photos.
Author
Tats Shimizu(@tats_lovecyclist)


Editor in Chief. Having been riding sports bikes for 10 years. He likes to unravel the trends in the sport bike industry, especially road bikes, from a marketing perspective. At the same time, he has extensive friendships with cycling apparel brands from around the world and proposes various styles through the media. His main bikes are Factor O2 (road) and LS (gravel).