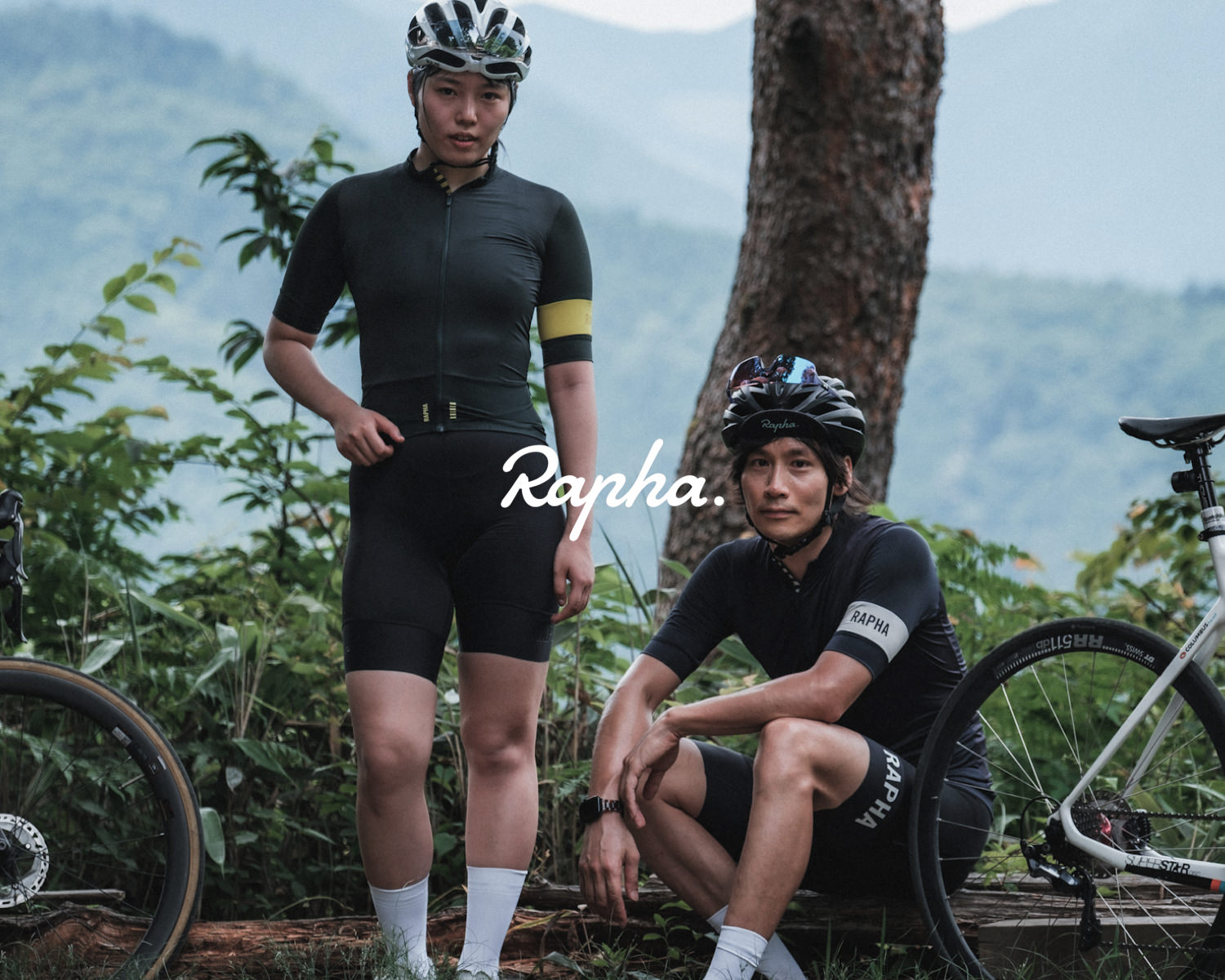 Rapha is not just an apparel brand, it is a brand that has formed one of the largest cycling communities on a global scale. The strong community framework around the clubhouse and RCC is such a prominent success story that sportswear brands in other industries have taken it as a reference.
We have analyzed the Rapha brand in the past, and several years later, even with the rise of competing brands and beyond COVID-19, it remains at the forefront of a new style of cycling. So we wanted to shine the spotlight on Rapha once again, and this time, for the first time, the project will include a product review with the cooperation of Rapha Tokyo.
The reviewers will be Ryo, a member of RCC, and Mei, who has worn a variety of brands including Rapha. The two will follow the stories that weave the relationship between each of them and Rapha, and trace the current state of the brand and its products.
Reviewers
Mei (@meisan_no_yakata)
Love Cyclist Associate. She is a businessperson who also works for a digital marketing company. Having been exposed to various ways of enjoying bicycles, such as ultra distance riding and hill climbing, she has now established a riding style of "One climb, One café".
 Ryo (@hxsx_ryxhxx)
RCC Member. He likes to ride hard, and rides with other RCC members on hard trails every week. As a solo rider, he is into long rides and hill climbs on single speed bikes. His bikes include Open Cycle U.P , Cinelli Superstar disc.

Review / Mei & Ryo
Edit & Photo / Tats [PR]
1. Bearing the word "Pro"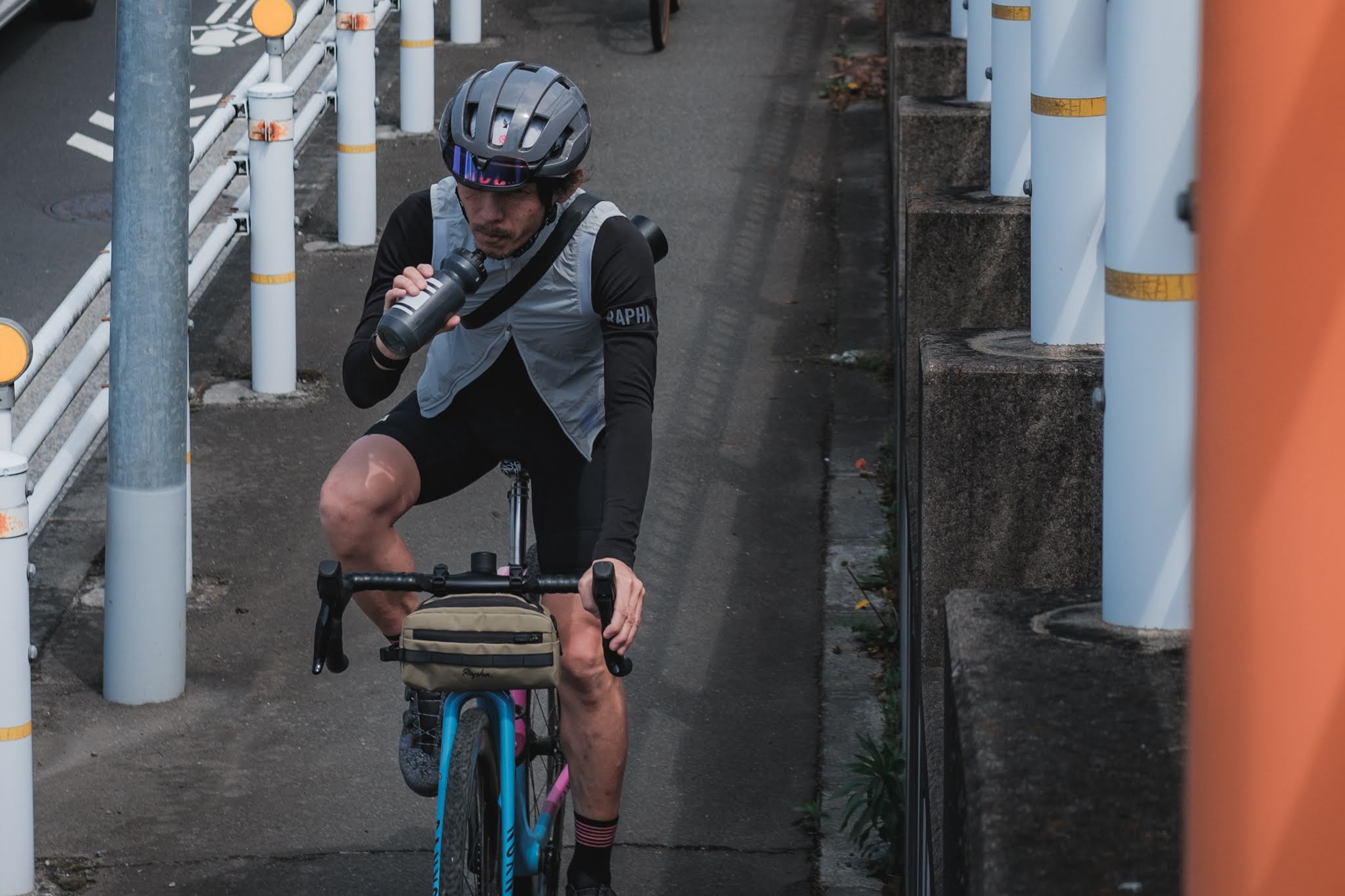 Mr. Fukuda, Clubhouse Manager
"If you choose Rapha, I still want you to wear Pro Team," says Mr. Fukuda, Rapha Tokyo Clubhouse Manager.
Rapha has always been at the forefront of racing, so we are constantly researching and developing to win. That is why the mainstay Pro Team collection is not just a name, but is designed to be accepted in the world of fierce competition.
"Many people choose the Core series*, but the comfort is still totally different."
*All-round model for entry-level customers
There may indeed be many cyclists who wear only the Core and decide that this is what Rapha clothing is all about. However, Core is a latecomer to the collection to broaden the purchasing base, while Pro Team is a lineup that has been around since the brand's early days.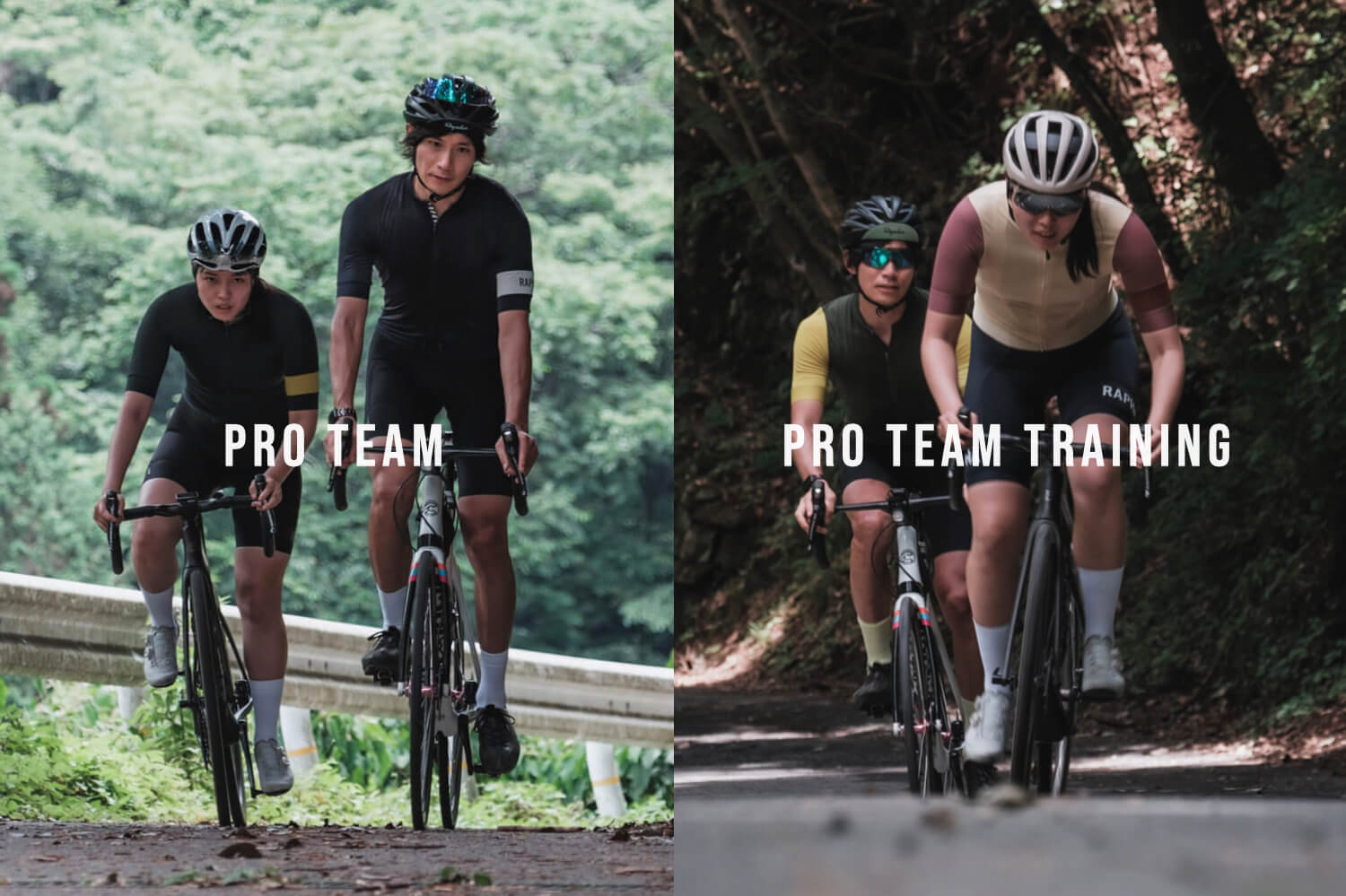 There are currently two broad categories of ProTeam jerseys. The new and improved "Pro Team" and the "Pro Team Training" based on the previous Pro Team.
Mei and Ryo's comparative reviews will help you decide which fits better.
*While the two men's evaluations of the garments did not differ greatly, the review expressions are presented as they were felt by each of them to convey a sense of the garments.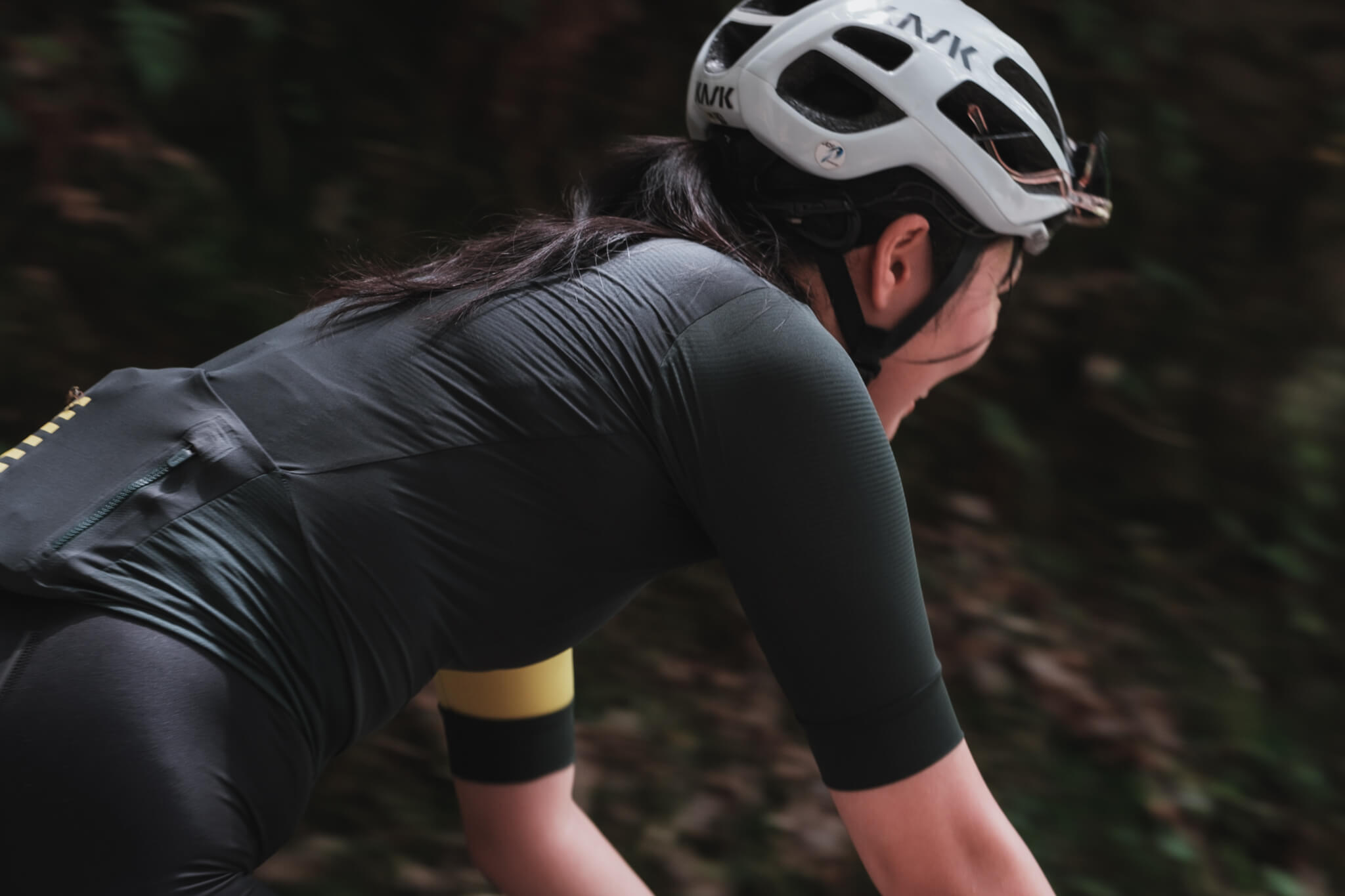 2-1. Relationship between Mei and Rapha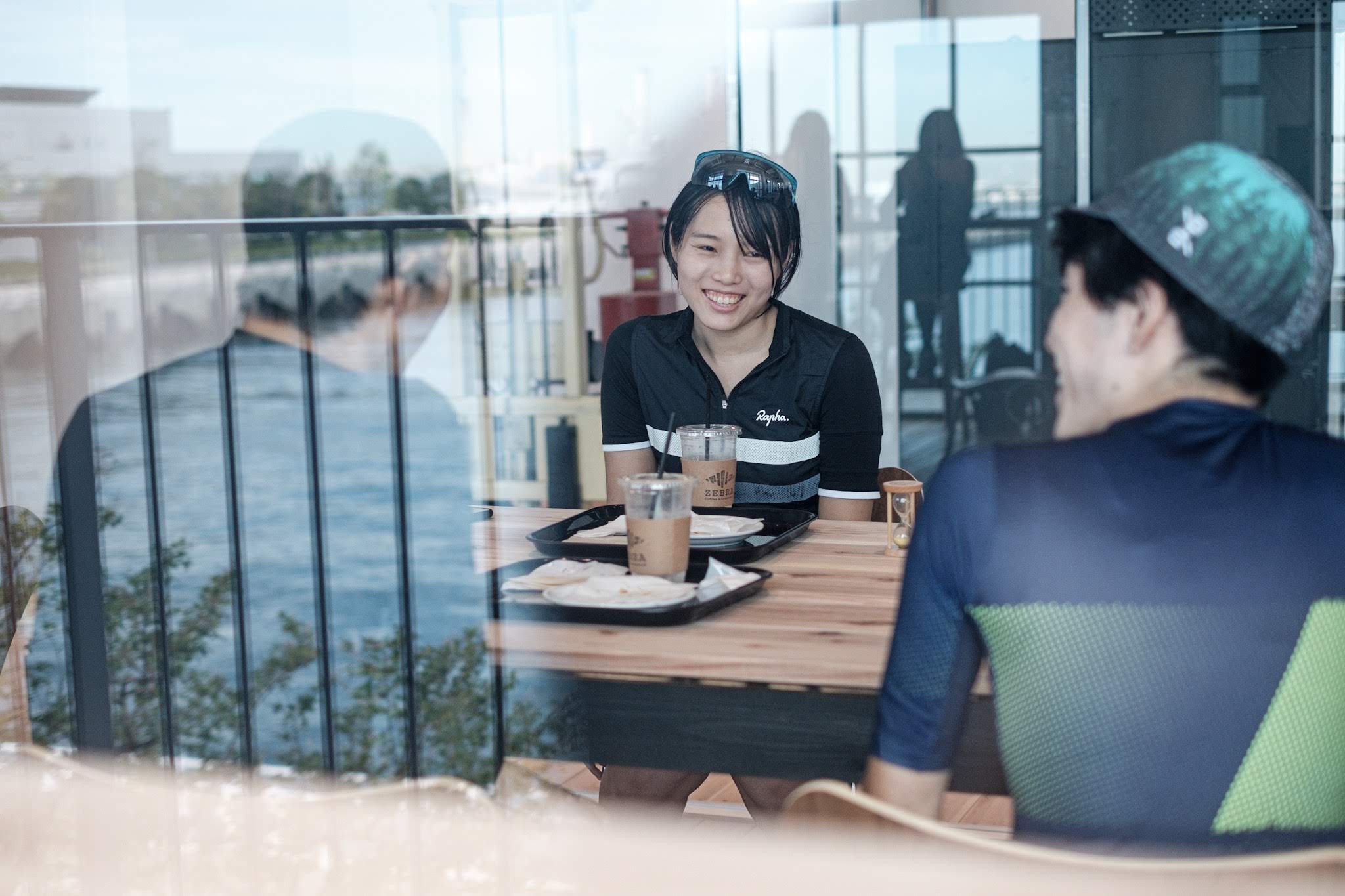 The Brevet jersey was her first encounter with Rapha.
When Mei became a cyclist eight years ago, when she went to the store to look for cycling clothing, she had no choice but to shop with the mindset of how to pick something better. This was at a time when the choices were that limited.
She continued to ride in what she thought was good clothing for a while, until one day she discovered Rapha. She thought she had found what she was looking for, so she took the money she had saved from her part-time job and bought a blubbe jersey, and that was the beginning of her relationship with Rapha.
At the time, she was a student and thought, "I don't need to add any more cycling clothing to my collection," but the more she looked at the Rapha lineup, the more a colorful world opened up before her eyes, and she gradually became addicted to the deep swamp of clothing.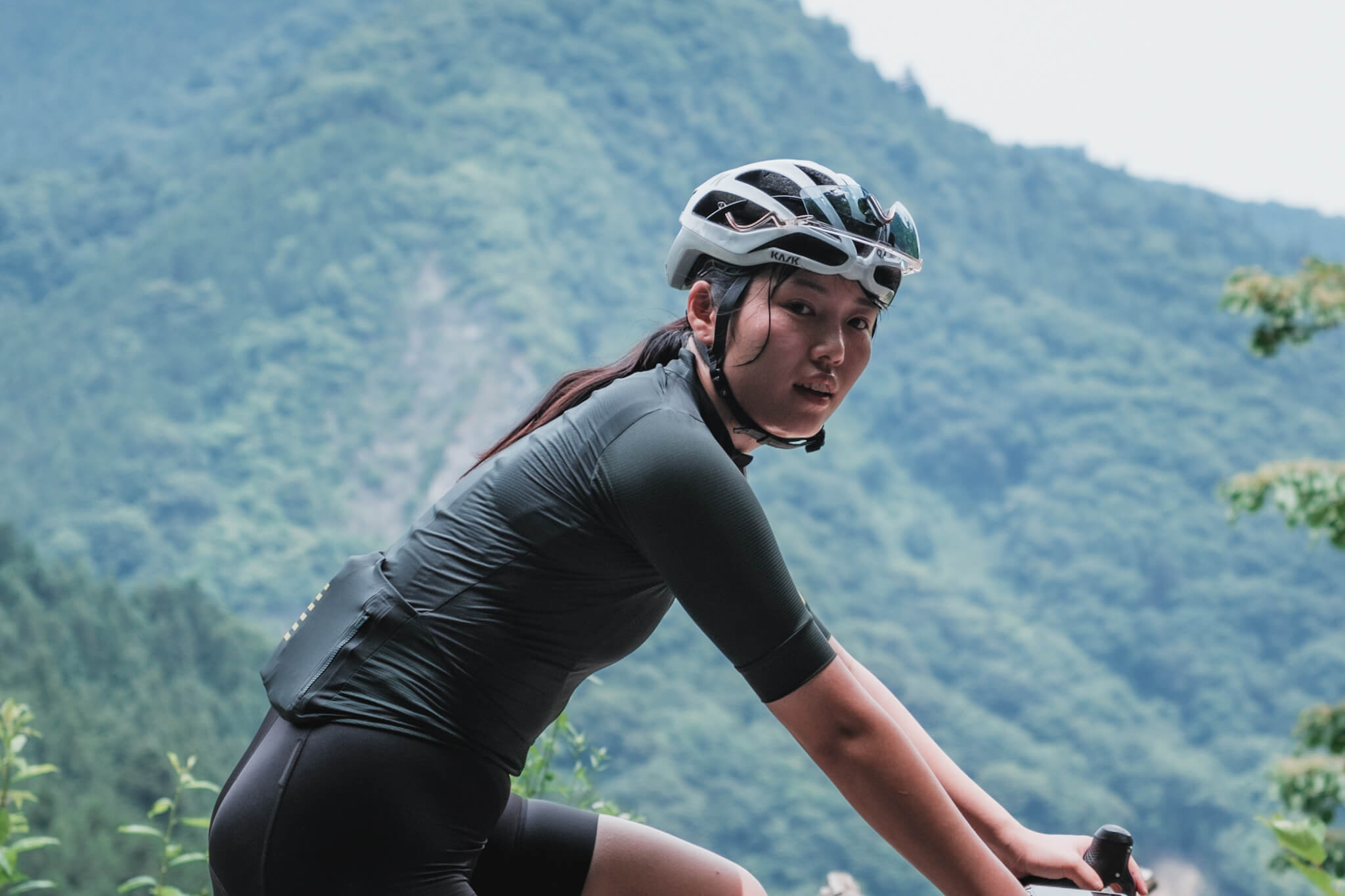 I think there are many cyclists who follow this trend. For us, Rapha was the brand that made us realize that style is more important than equipment. We may continue to choose Rapha, or we may look to other stylish brands.
Although Mei is the latter, her relationship with Rapha continues to this day.
"Even though I now wear a lot of different brands, I still enjoy Rapha mainly for small things like shoes, sunglasses, and wallets, because I like the casual feel that Rapha items have."
"I feel that Rapha listens to a wide range of cyclists. The brand was of course appealing to me when I first started cycling, and now that I've enjoyed it for many years, I understand its appeal even more."
Mei says that her stance on choosing clothing has changed from "I wear Rapha because it's the only choice" to "I want to wear Rapha, so I choose Rapha." Even though there are many different brands out there, Rapha always has a certain appeal that makes you want to choose it.
2-2. Review: Women's Pro Team
Pro Team Training Collection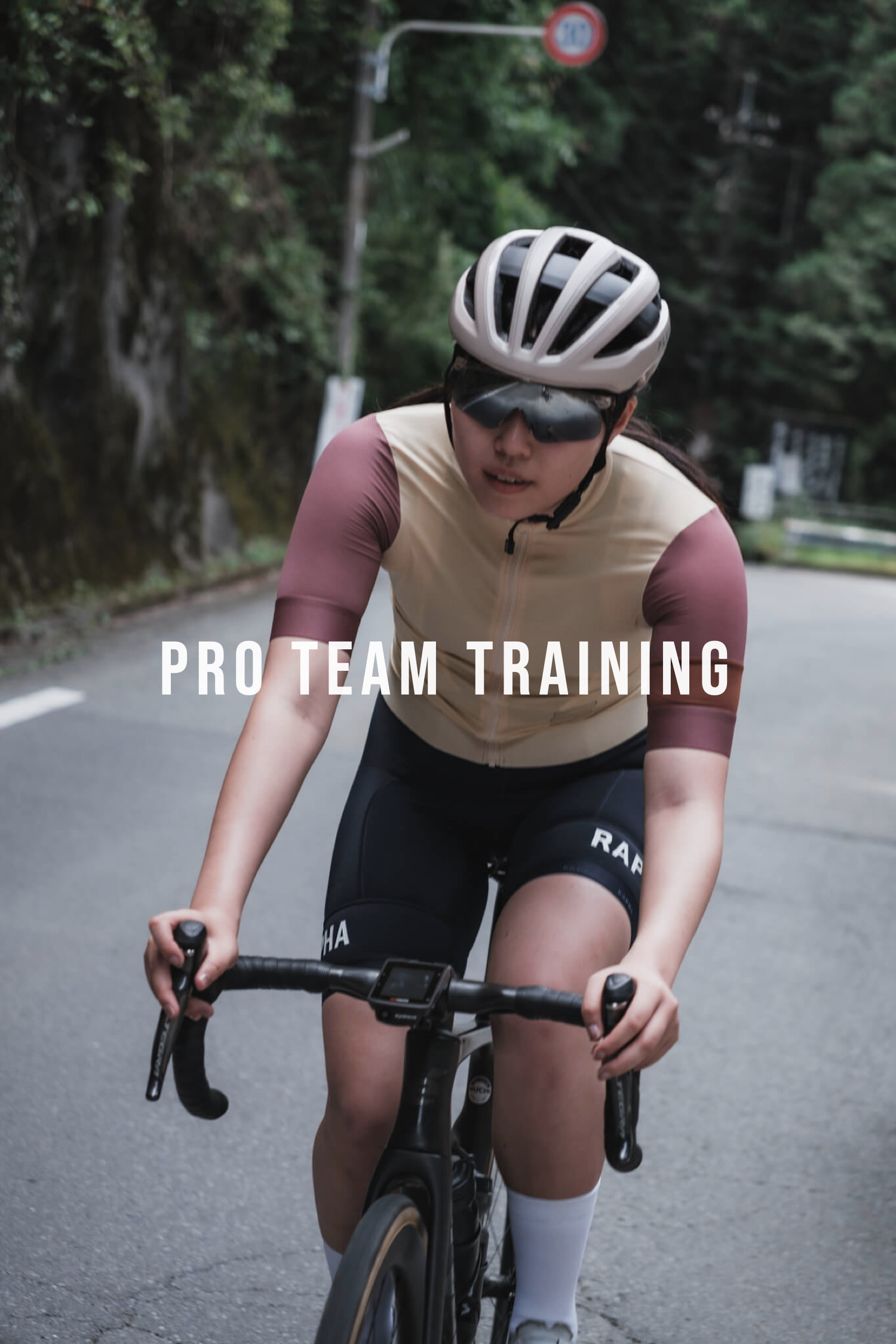 Women's Pro Team Training Jersey ($130)
Women's Pro Team Training Bib Shorts ($210)
The jersey color "Sand/Rose Brown" is a calm tone, but the playful color combination creates just the right amount of cuteness.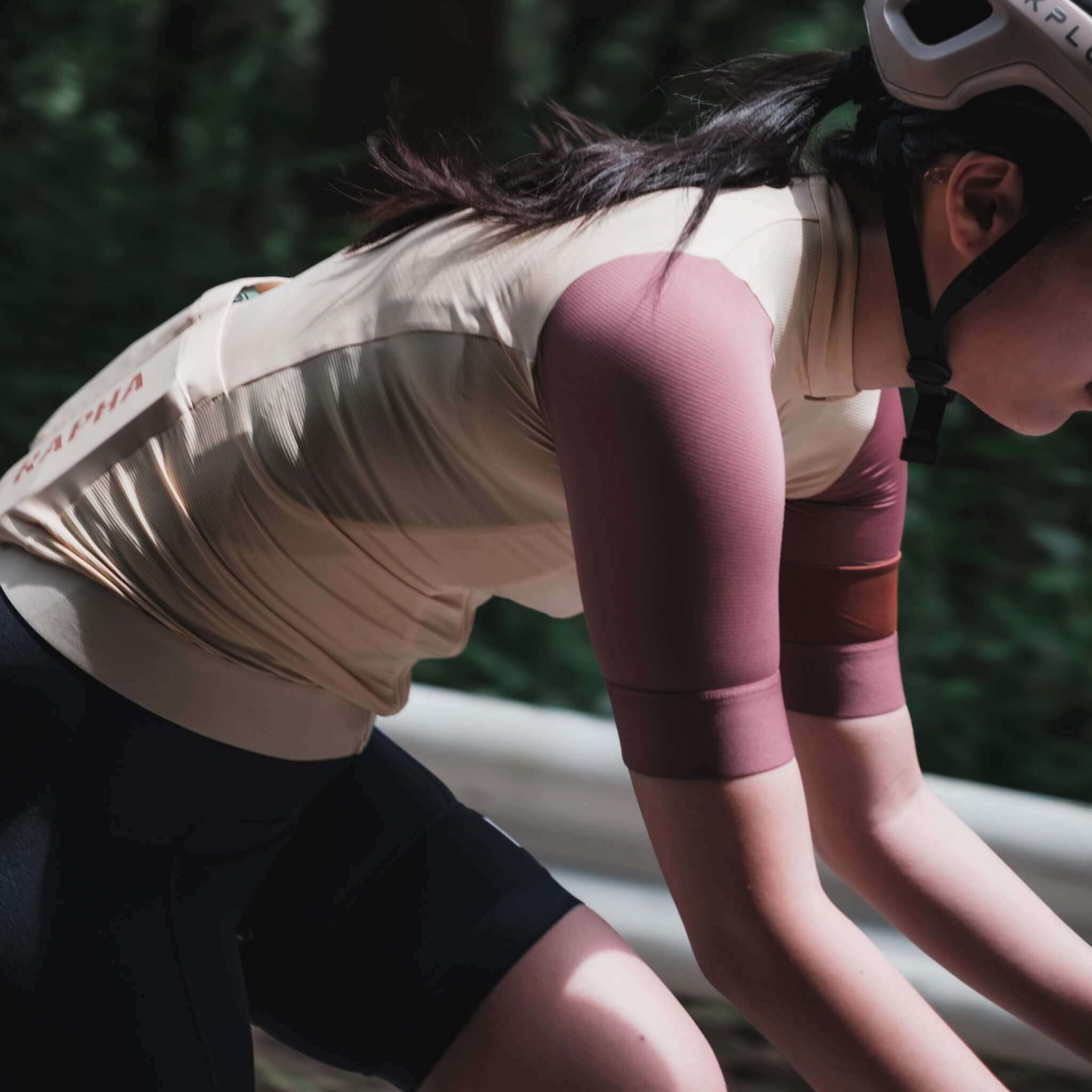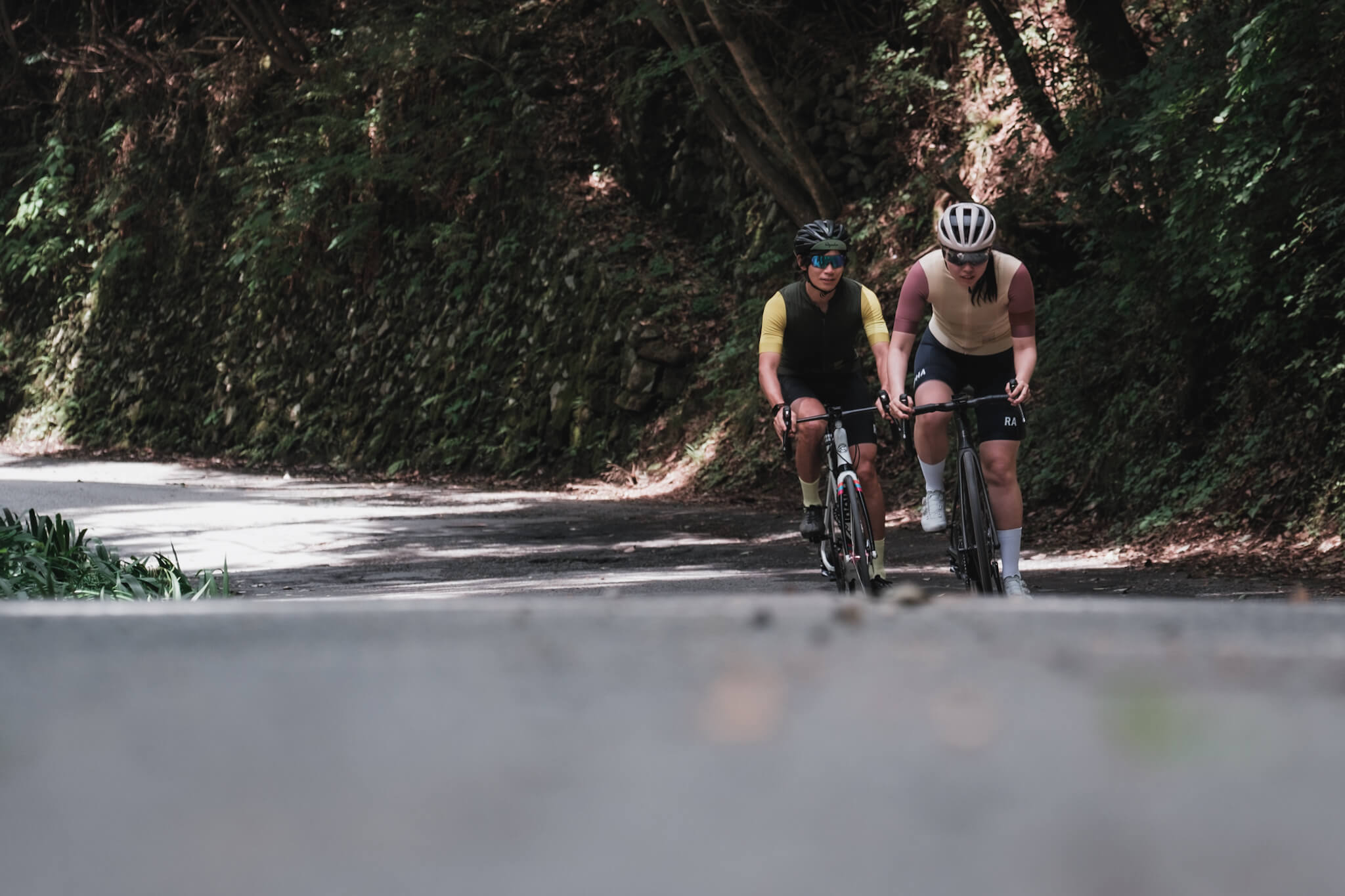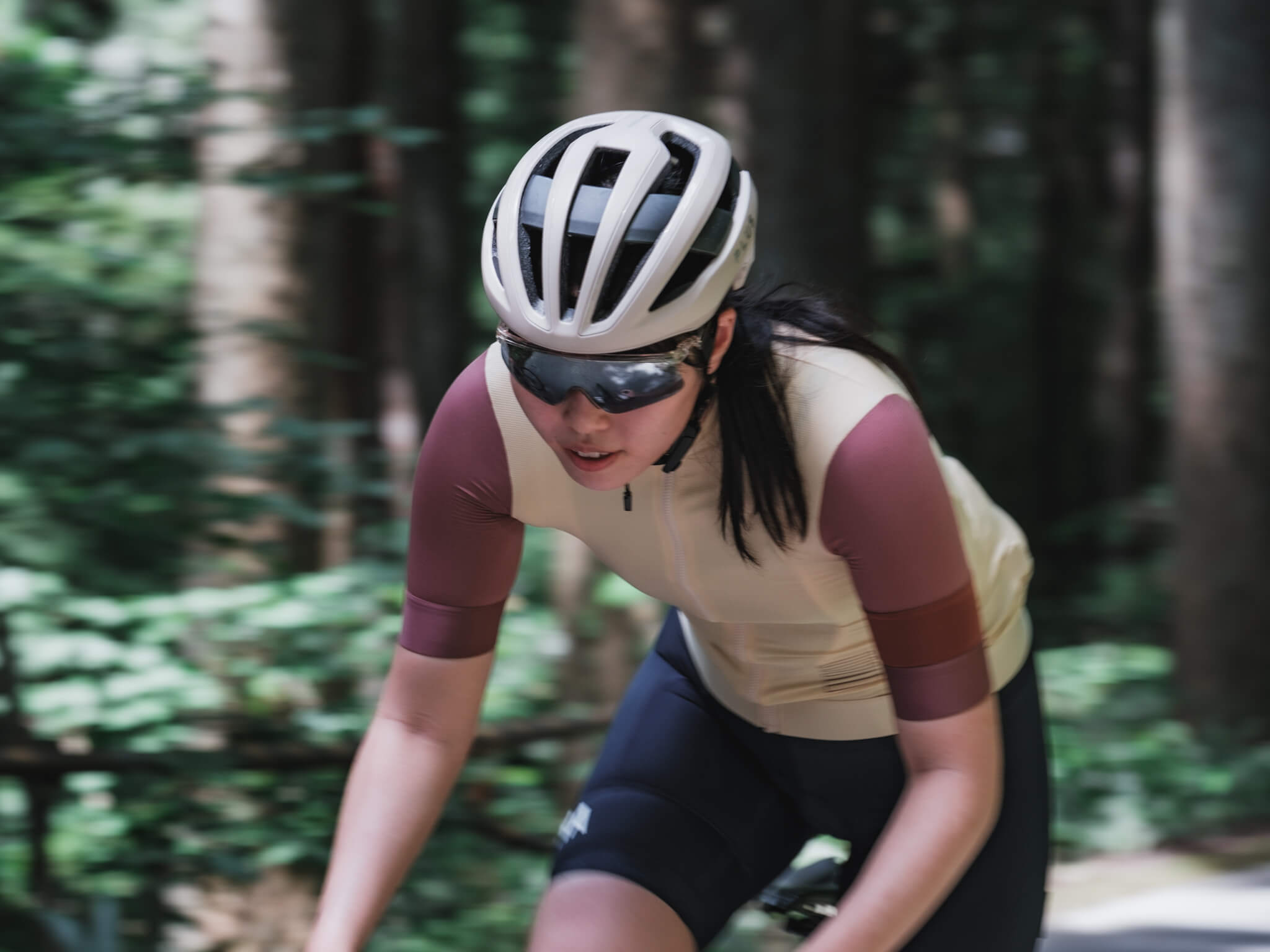 Mei said, "This coloring! Isn't it absurdly pretty…! I love it because it's not too lovely."
Pro Team Collection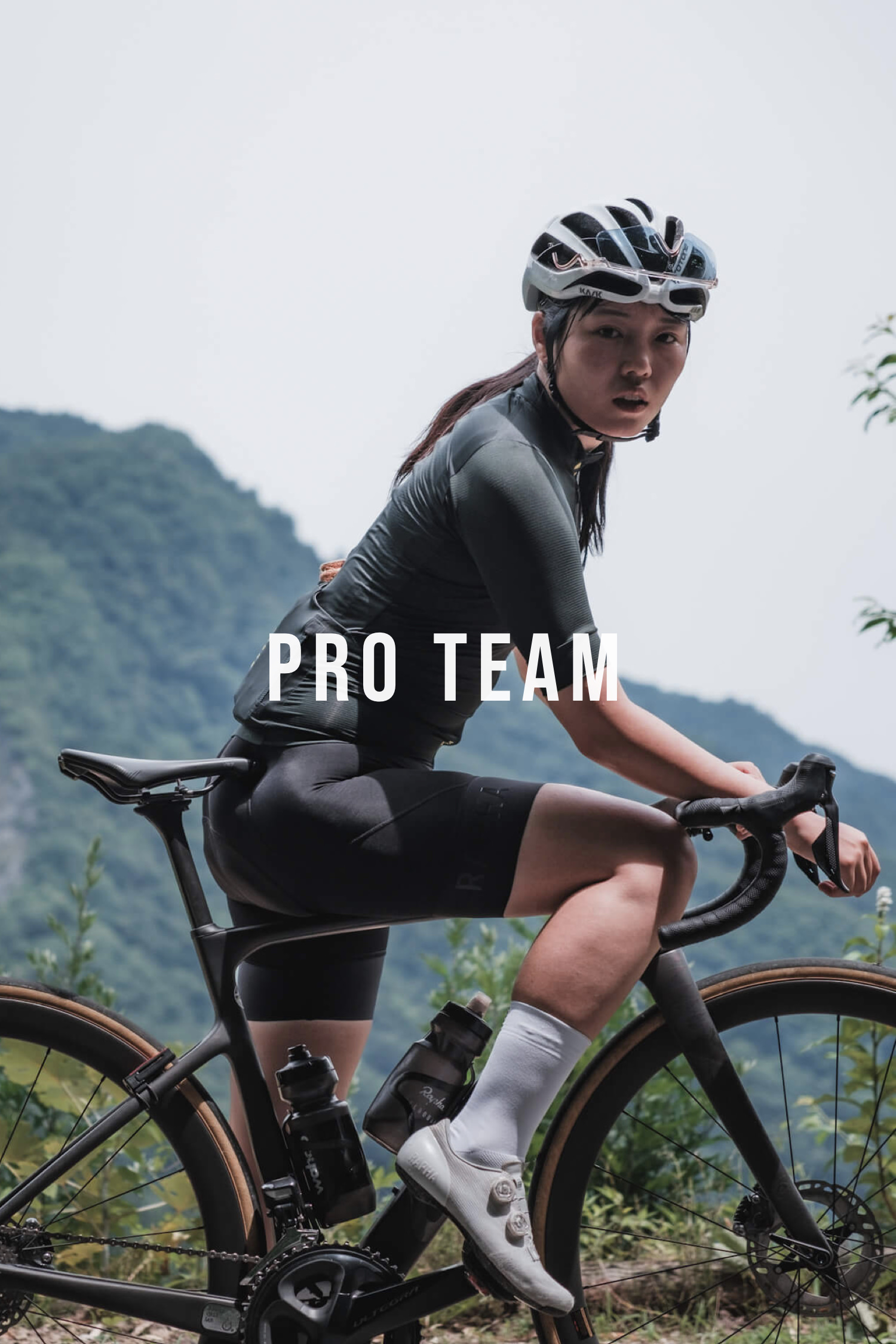 Women's Pro Team Jersey ($190)
Women's Pro Team Bib Shorts ($290)
"I chose green because it's a top grade garment and I wanted a swooshy look and a little bit of a slouch." The Pro Team jersey is a mature green with a nice yellow color. The stripes on the collar also add an accent.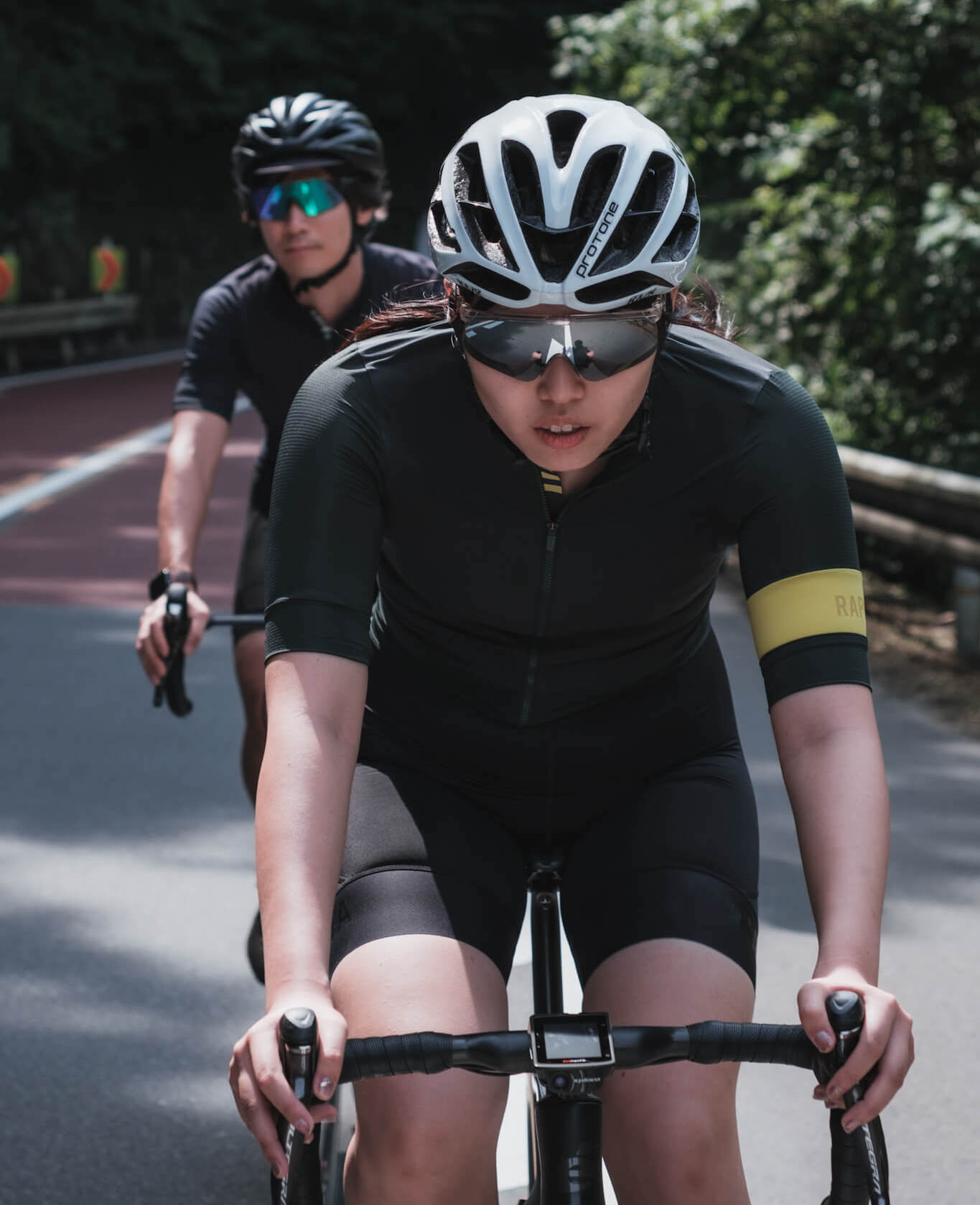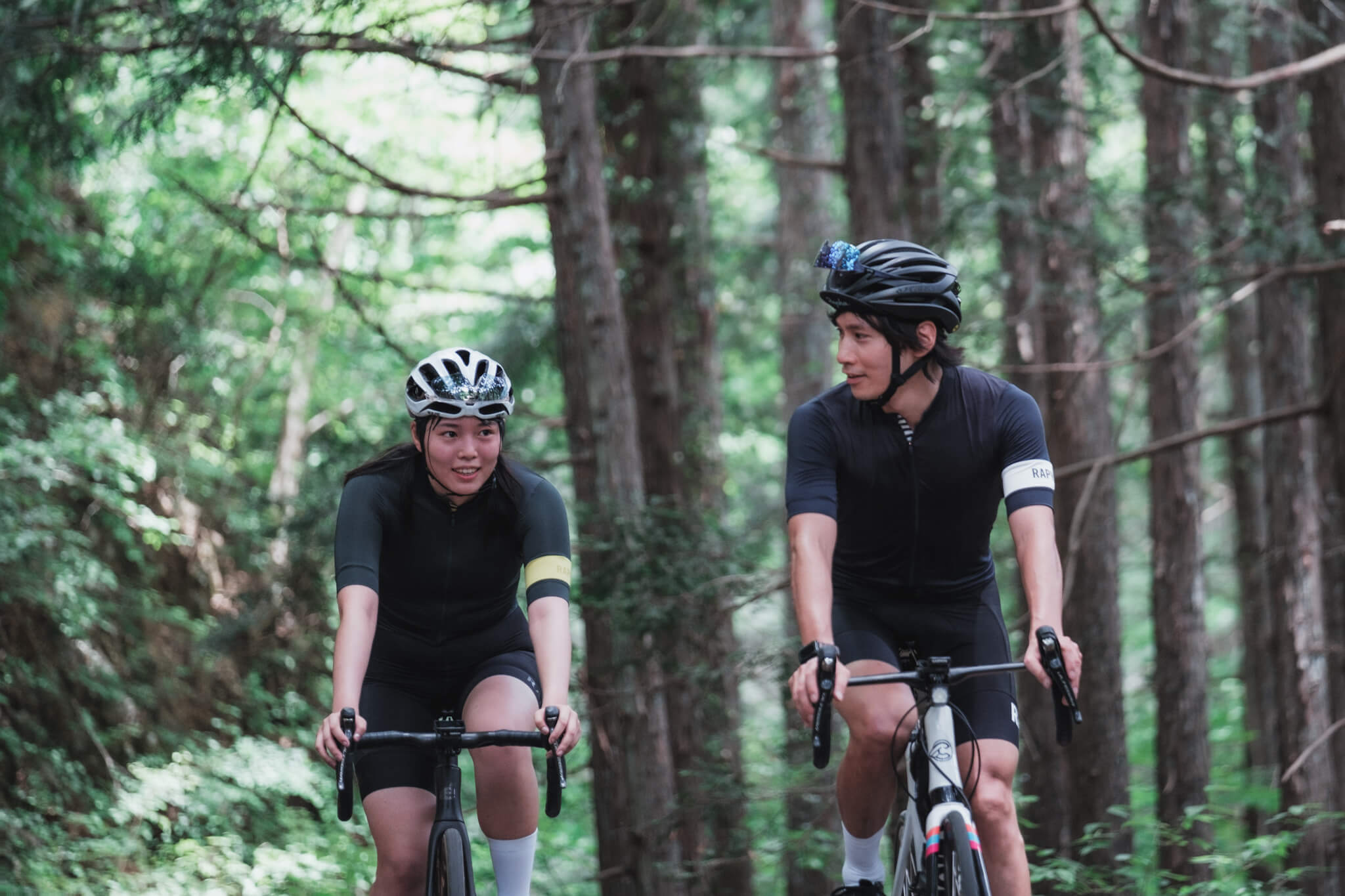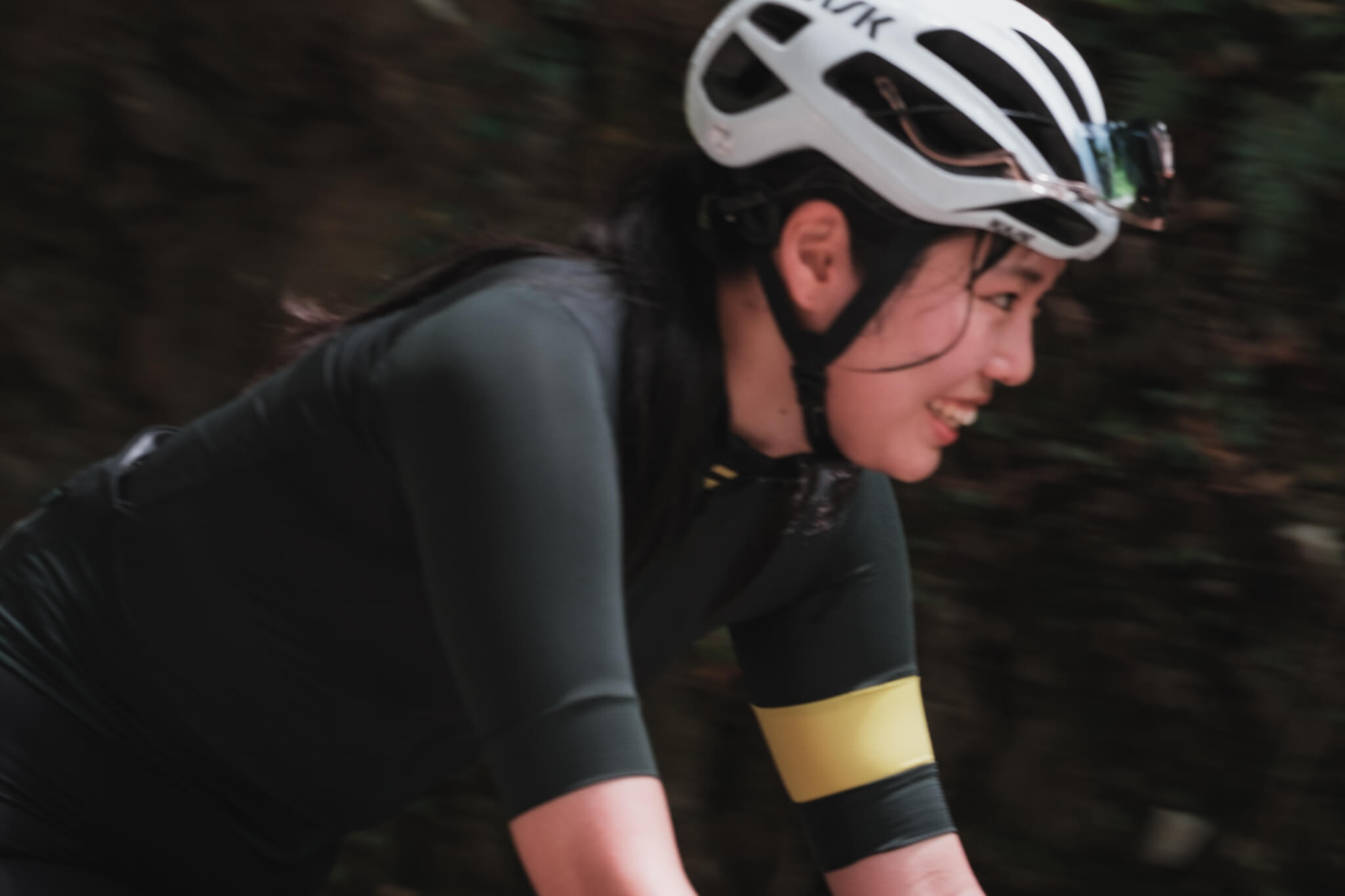 Jersey Features Comparison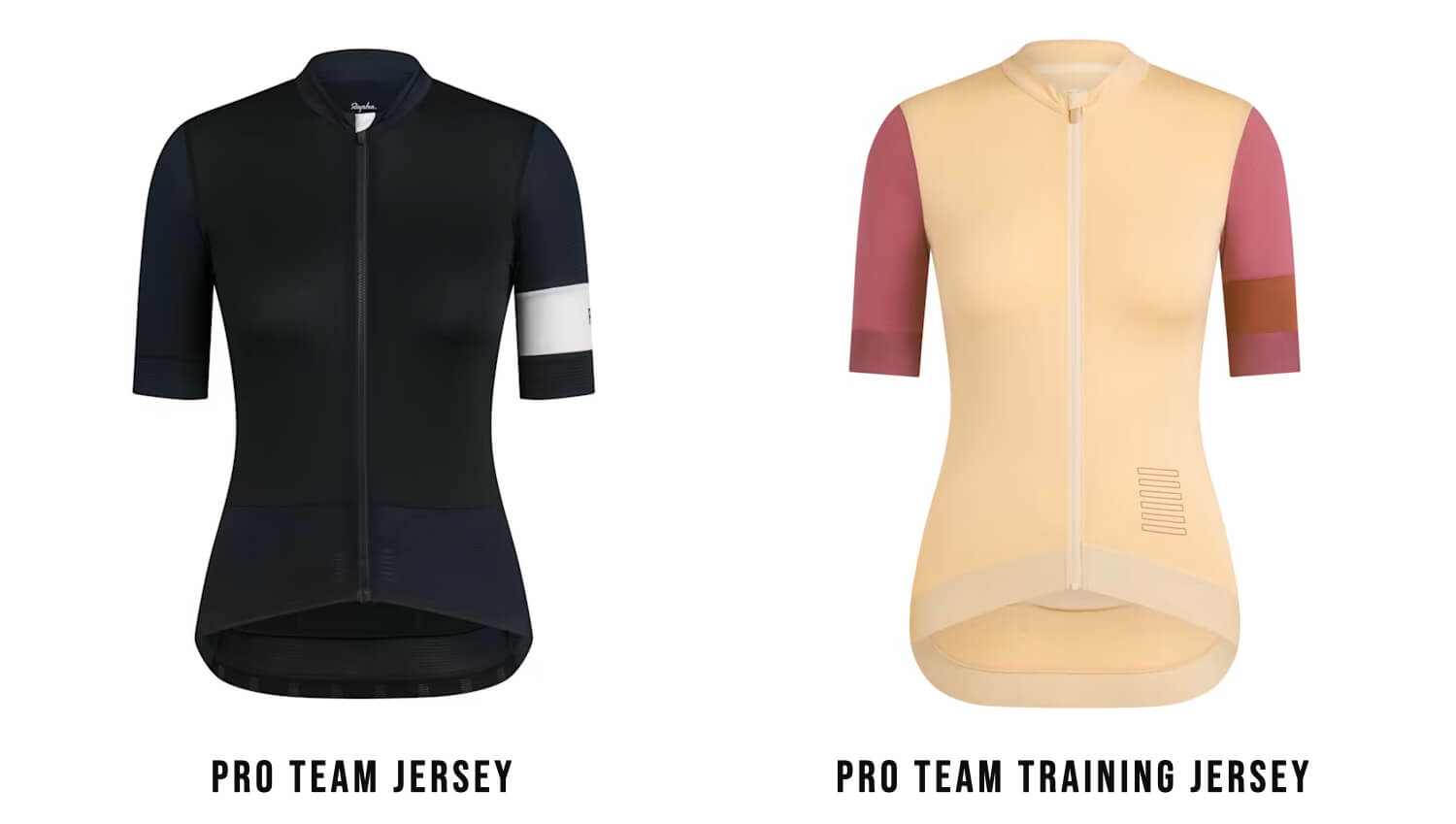 Pro Team Jersey

Pro Team Training Jersey

Fit

– Fits the body
– Feels like it conforms to the body as a whole

– Fits the body




– Feels like a waist and arm band to fit.

Fabric

– Thin, high-density fabric on both front and back
– Lightweight.
– Mesh front, regular fabric back
– Overall firmness

Moisture wicking

– Both are smooth, silky, and comfortable to wear.

Pockets

– Mesh material inside to prevent heat buildup

– Easy to use due to the depth
The "Pro Team" is made to fit better, feel better, and breathe better. The "whole body feel" is exactly what should be the standard for cycling clothing today.
If you want a higher quality experience, "Pro Team" is the way to go, but "Pro Team Training" is also professional grade and comes in a variety of colors, so if you want to play with colors, this is a good option as well.
Bib Shorts Features Comparison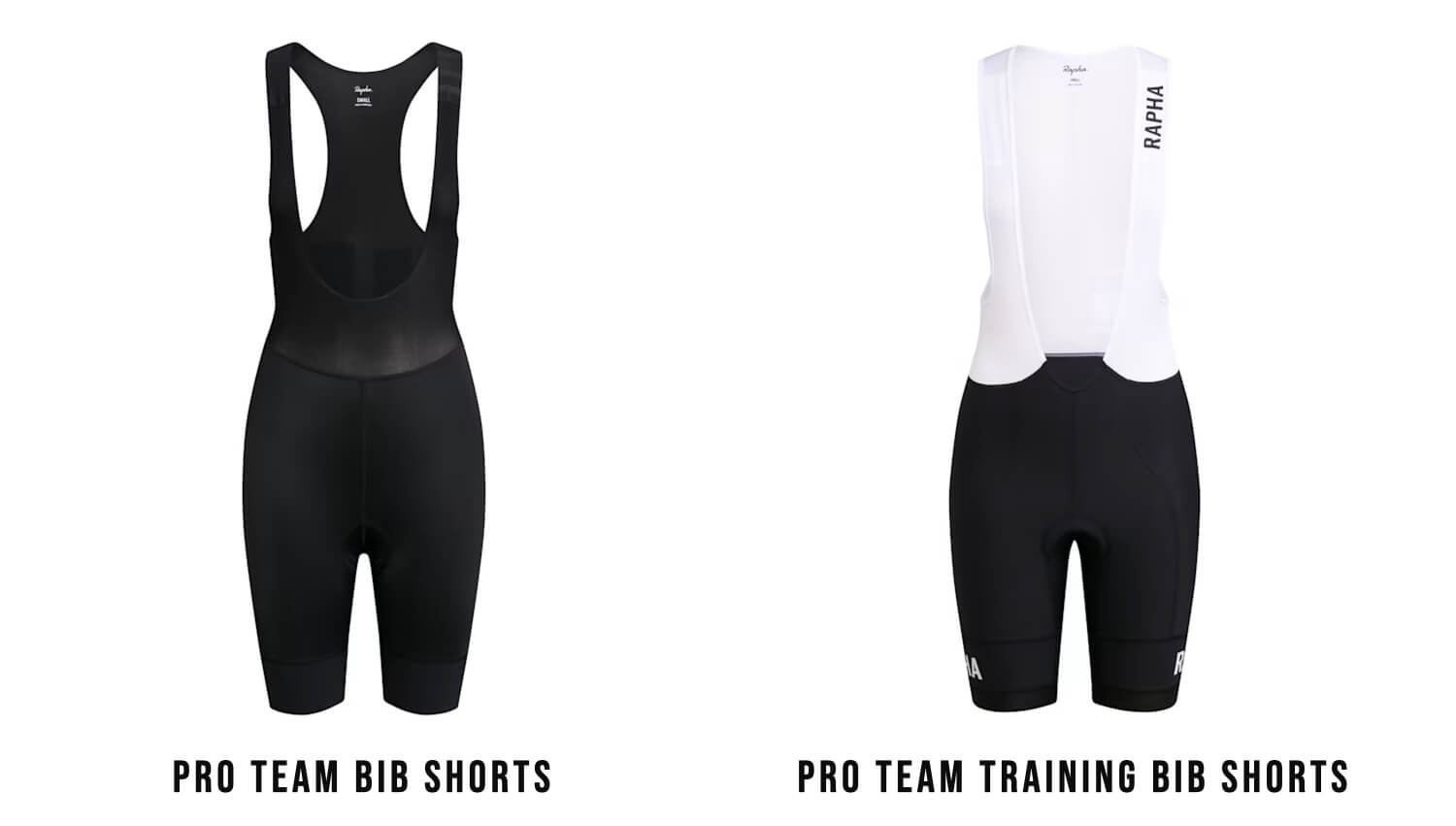 Pro Team Bib Shorts

Pro Team Training Bib Shorts

Fit

– The whole body feels cinched and wrapped.
– The length is short and gives you a good look
– The grip at the hem is just right and does not restrict movement
– Thick and tough.
– The hem grip tends to be a bit sausage-leg
– The length is short and gives a good style
– Grips at the hem are a little tight

Fabric

– Pleasant to the touch and quick drying

– Thick and tough enough to be worn for a long time

Straps

– Fabric is thin but wide enough to feel secure
– Wireless pocket on the back
– General strap
– The shoulder strap has the word "Rapha" engraved on it

Chamois pad

– Both are firm, thick and wide.
There is little difference in appearance between the two, and in terms of a more natural fit, "Pro Team" is the better choice, but "Pro Team Training" is also good if you want to wear them for a long time.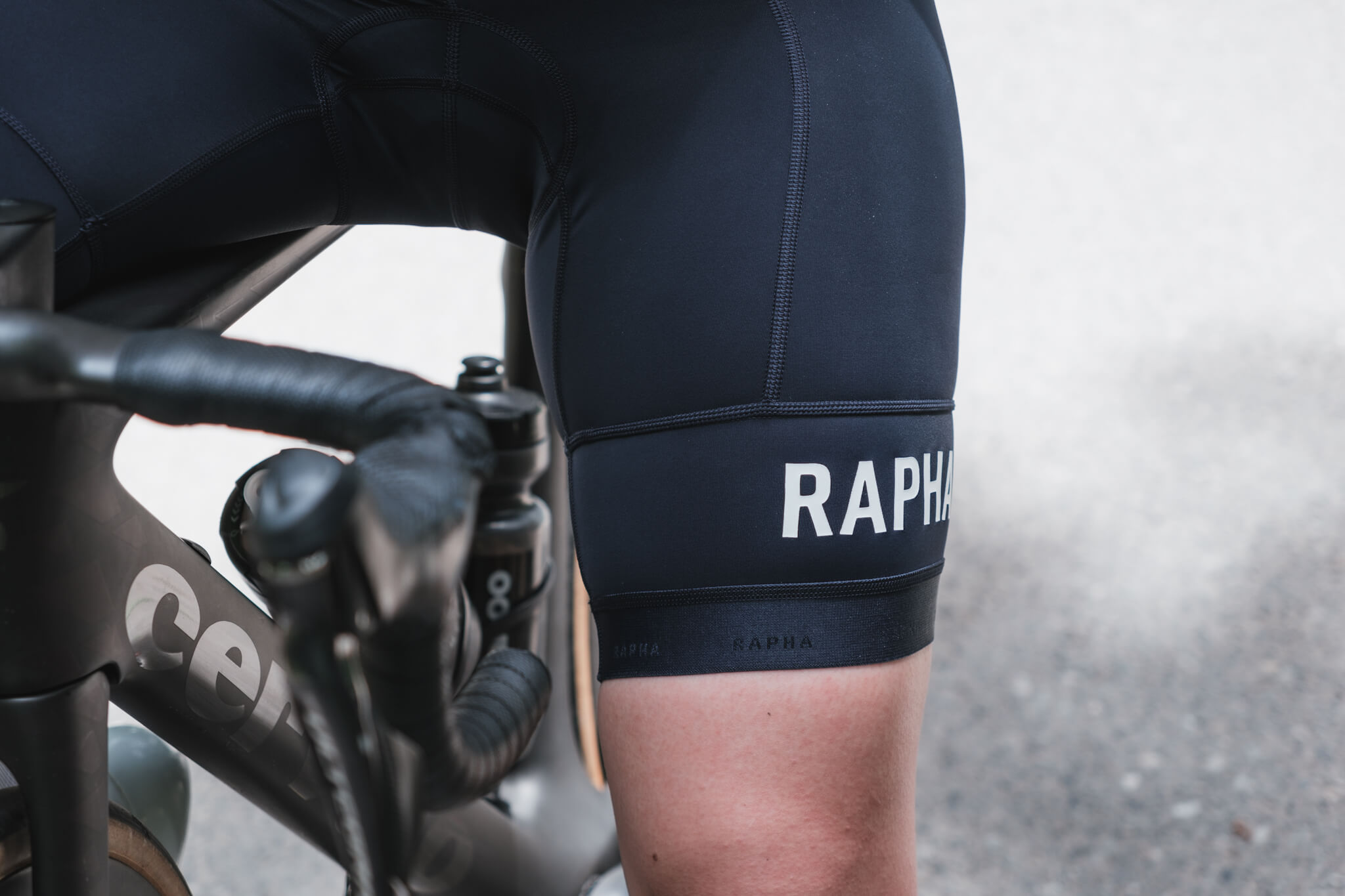 The leg "bump" created by the pro-team training bib may be a concern.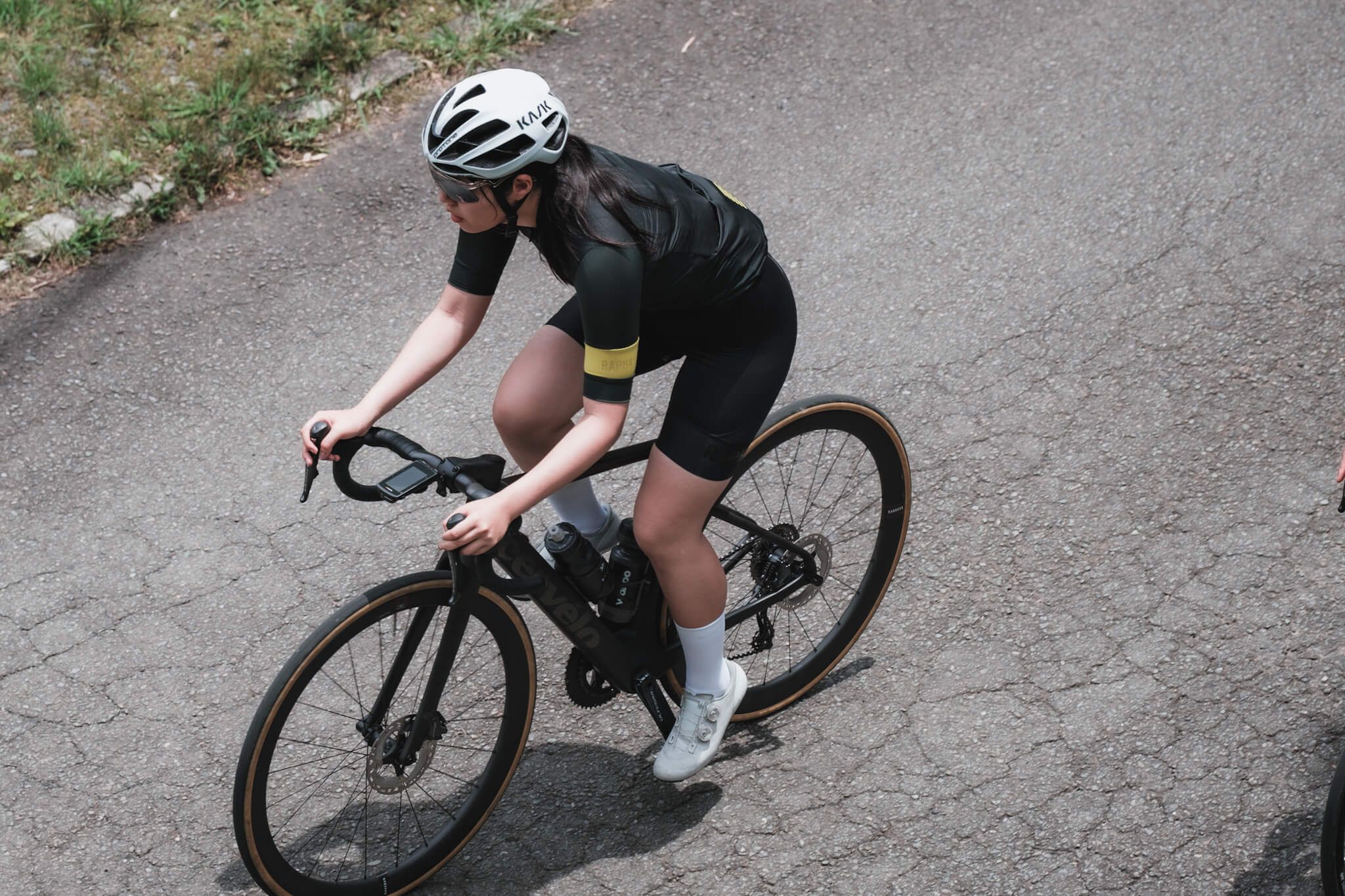 Pro team bib with wrap-around fit and shorter length
3-1. Relationship between Ryo and Rapha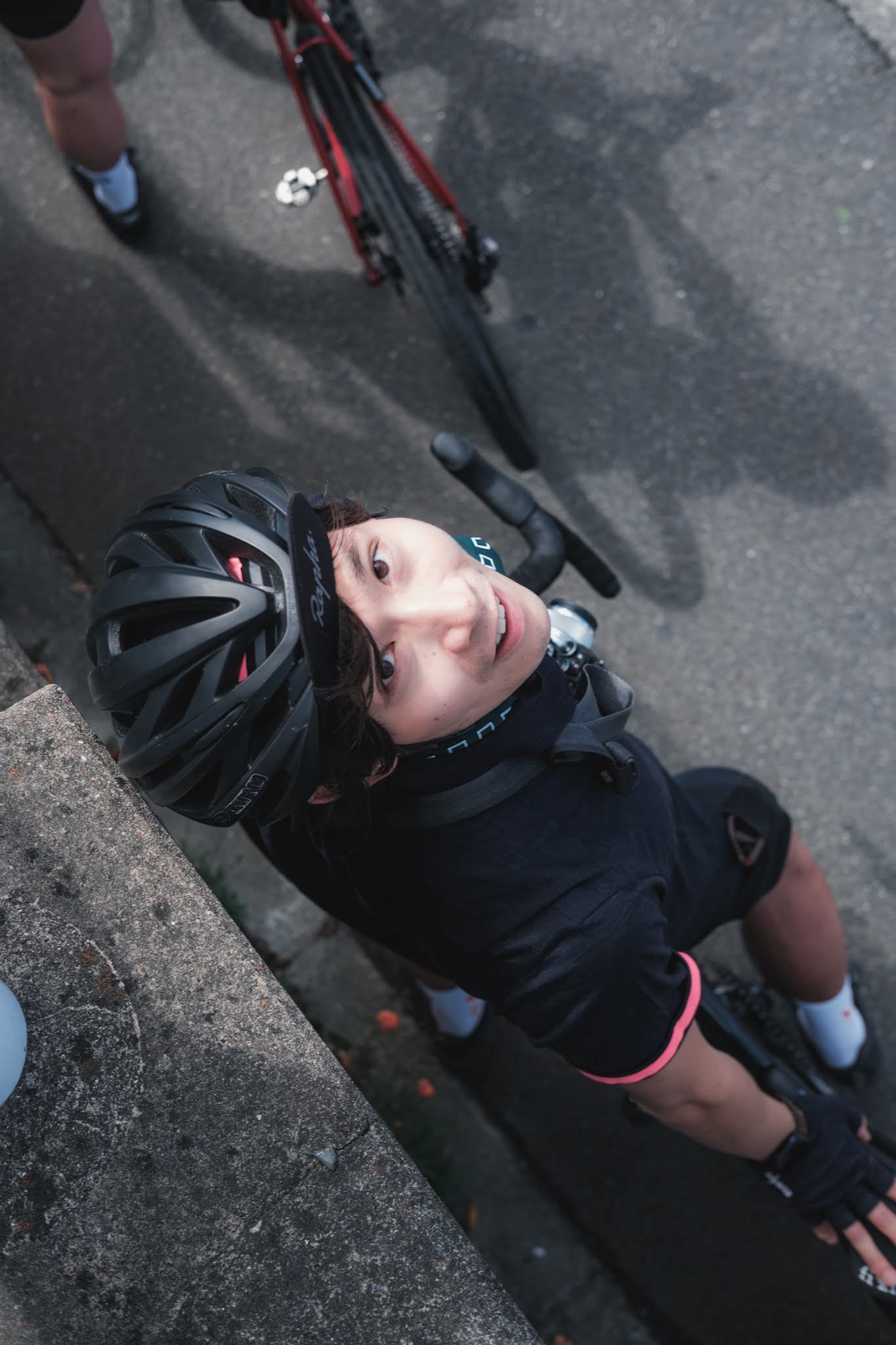 Ryo been a member of RCC for 3 years
RCC member Ryo enjoys riding hard every week with his fellow club members. When I asked him what the advantages of Rapha wear are for him, he thought for a moment and replied,
"I feel they have style and are better than other brands in terms of functionality and quality. However, there are other fashionable brands besides Rapha, and I have to admit that I find it hard to choose between them.
This is something that other RCC members have heard as well. But why do they continue to wear only Rapha?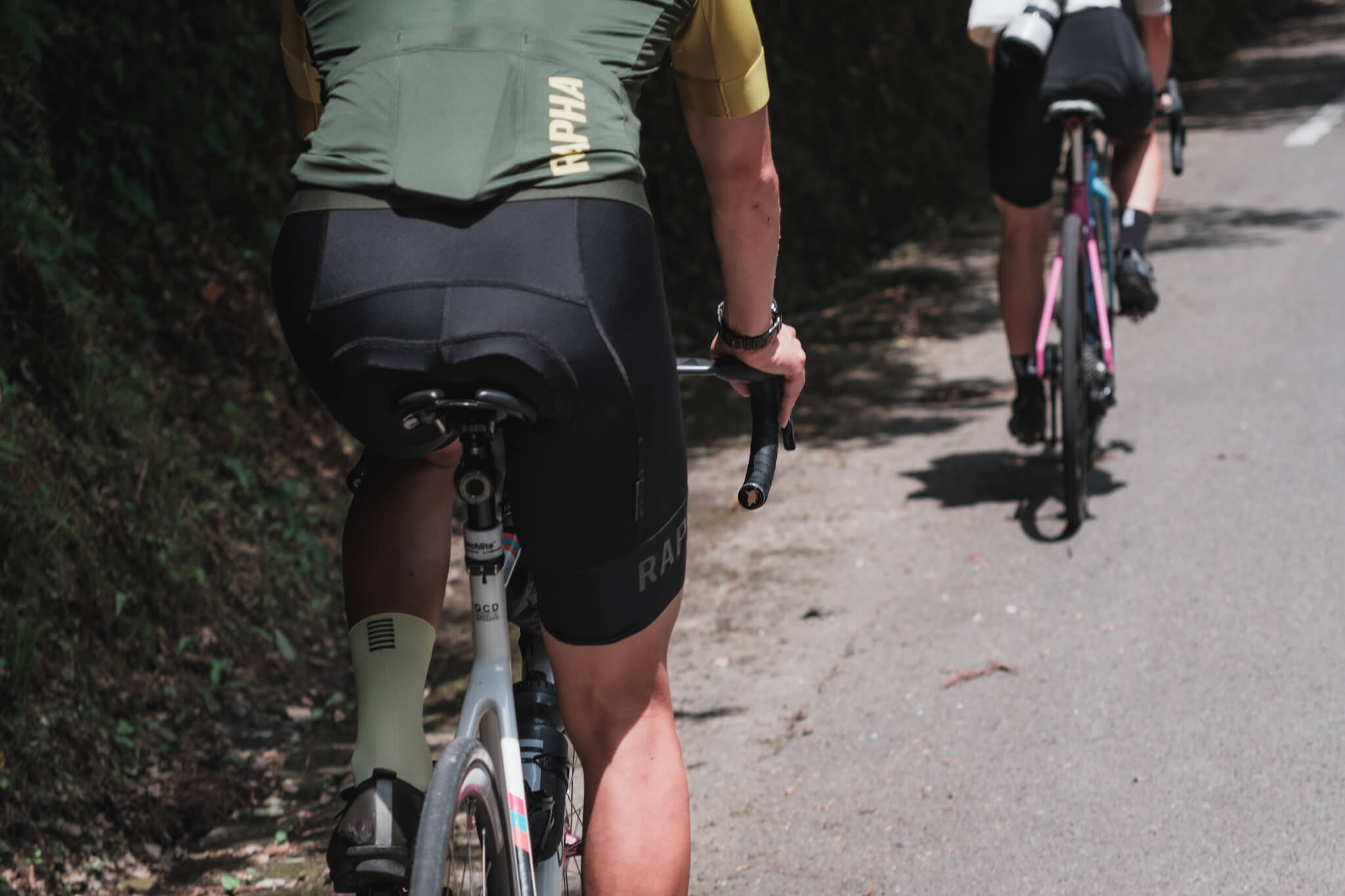 "It's not just the clothing, it's the community members, the fascinating events they put on, and the fact that they support the cycling culture that makes them a brand I'll always want to support."
The fact that Rapha's activities underpin cycling culture is well known to cyclists who are not RCC members.
Ride events organized by Rapha, such as Prestige, Women's 100, and Festive 500, motivate a wide range of cyclists to ride beyond the brand and contribute to the formation of new communities (Mei has also made connections with new female cyclists through the Women's 100).
"Personally, I was very impressed by the launch of the 'One More City' kit, the proceeds of which are donated to metastatic breast cancer research, due in part to my own experience."
Rapha is involved in a wide range of social activities to advance bicycle culture for the better. In addition to "One More City," Rapha is involved in "Ambitious 220," which supports autistic children, and "The Rapha Foundation," which supports cycling organizations around the world.
These activities are enough to convince people to continue to choose Rapha even if they are tempted to go with other brands.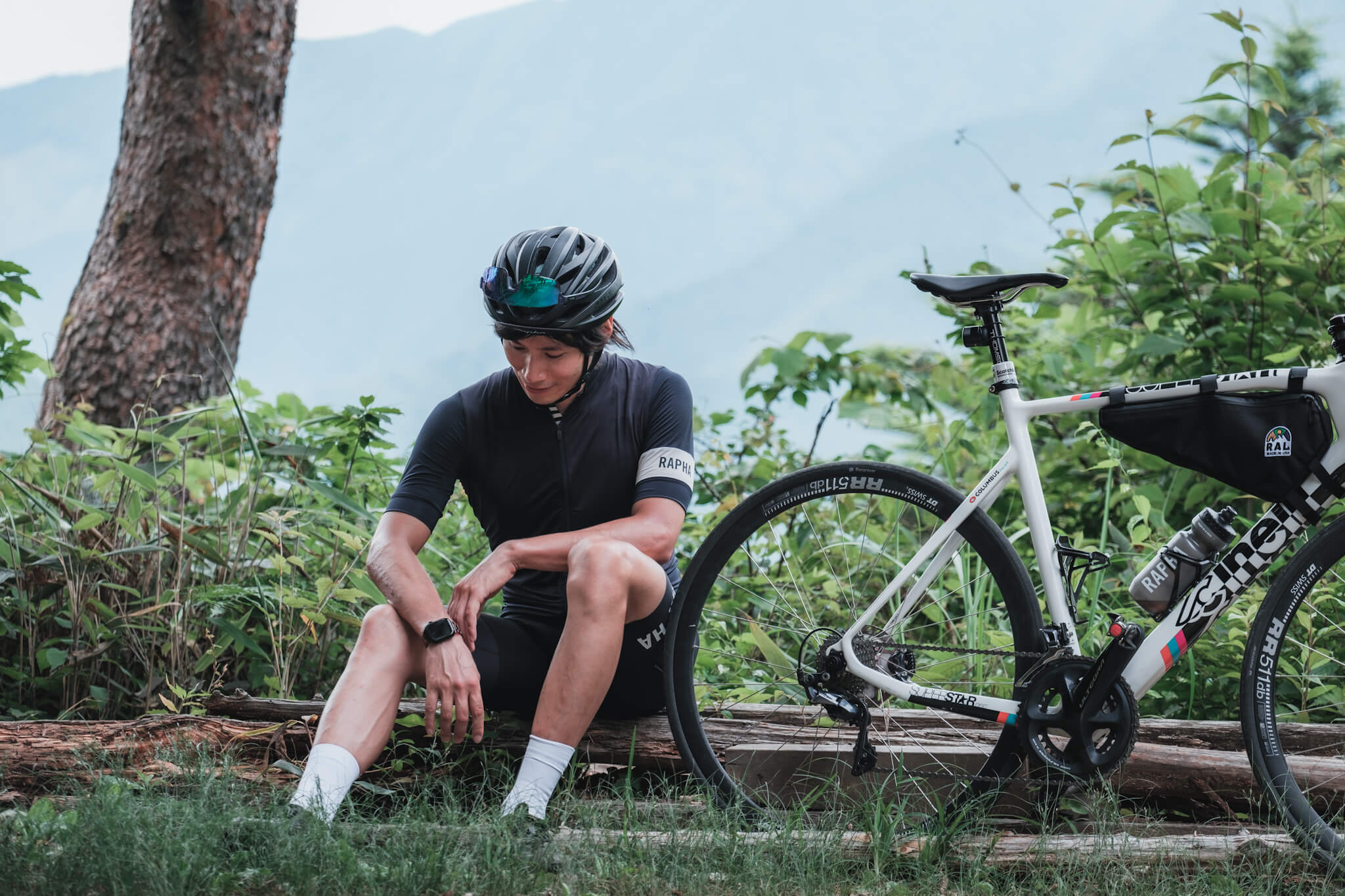 Ryo says he will continue to choose Rapha
Riding with RCC
One thing that cannot be overlooked when talking about Rapha is the RCC, which is the foundation of the community, but from the outside, the RCC seems to be a somewhat closed and unapproachable community (the dark navy RCC kit makes it even more intimidating). Is this really the case?
This year, Love Cyclist members and RCC members began to ride together on a regular basis by chance.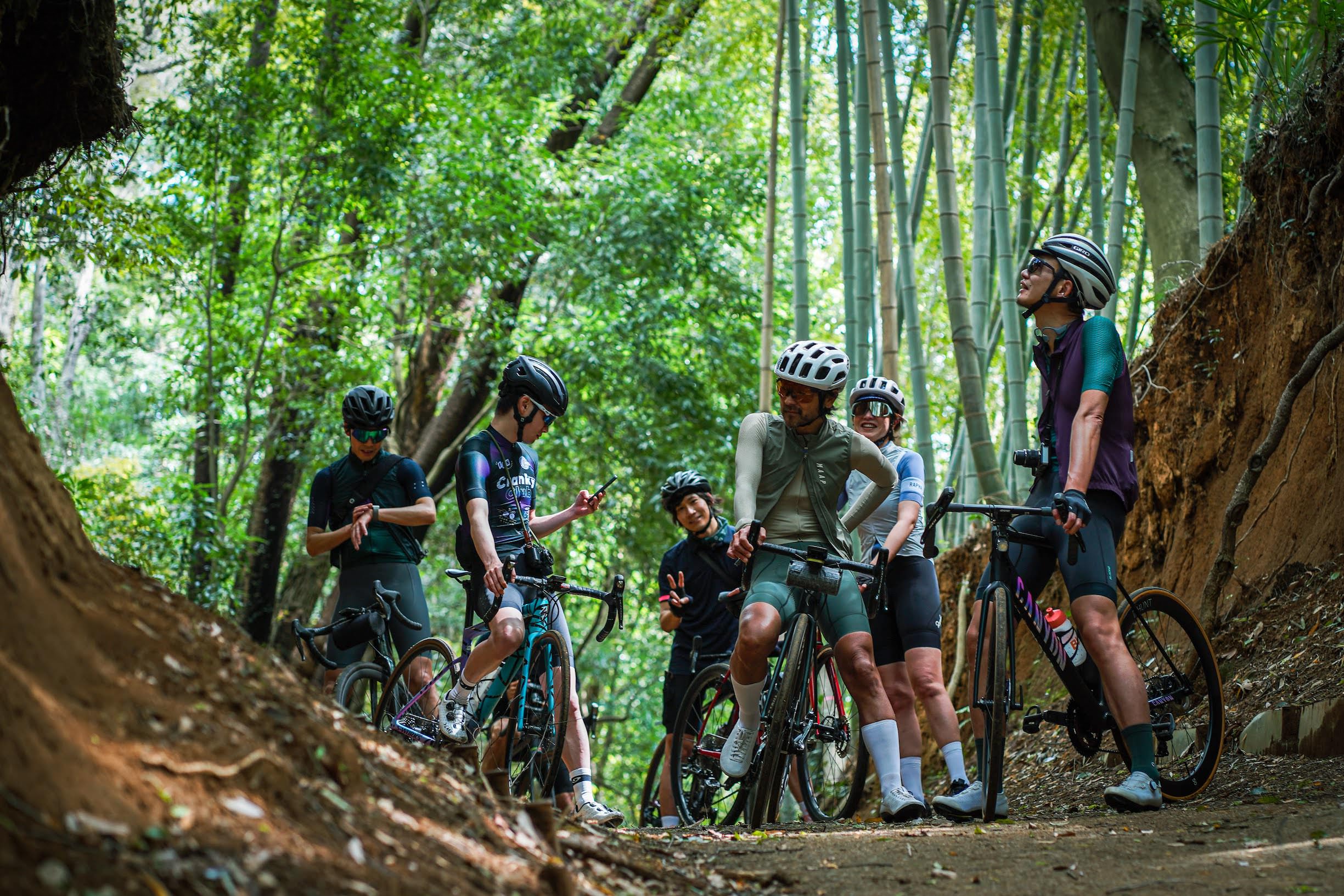 RCC x Love Cyclist ©Satoshi Fukuda
What struck me was the variety of styles possessed by each member and the wealth of knowledge possessed by the community.
RCC has members with a variety of styles within the same brand. Some are serious competitors, while others, like Ryo, prefer to ride in an irrational way. The Rapha clothing lineup provides the groundwork to allow for a variety of styles.
The knowledge of each member is shared among the community on each ride, and is chewed and optimized over and over again on each ride, slowly spreading throughout the community.
The knowledge of rides, equipment, styles, etc. that is created in this way has a breadth and depth that is difficult to reach by a single community like a store alone.
The community that I thought was closed was in fact a place that is more open and offers much more than I had imagined.
When Ryo said that he chose Rapha for "more than just the clothes," it is clear that the reason comes from the multi-layered factors of the activities that support the cycling culture as well as the unparalleled experience value provided by RCC.
3-2. Review: Men's Pro Team
Pro Team Training Collection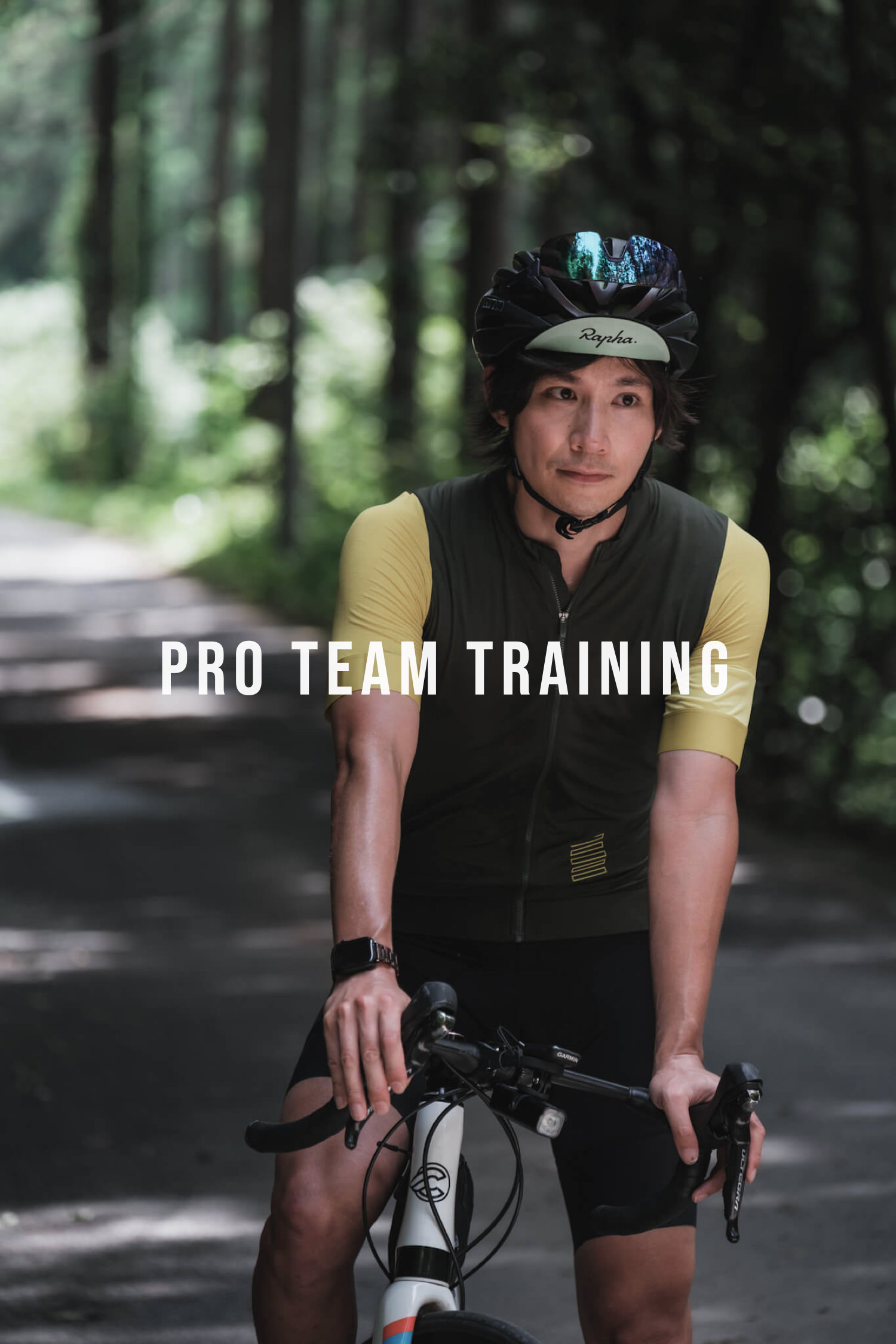 Men's Pro Team Training Jersey ($130)
"I personally prefer the lower case Rapha logo, but I think the capital letter logo is more powerful and robust for a professional team. I think it's a good choice," says Ryo. The yellow color of "Pro Team Training" looks flashy at first glance, but when you put it on, the tone is strangely calming.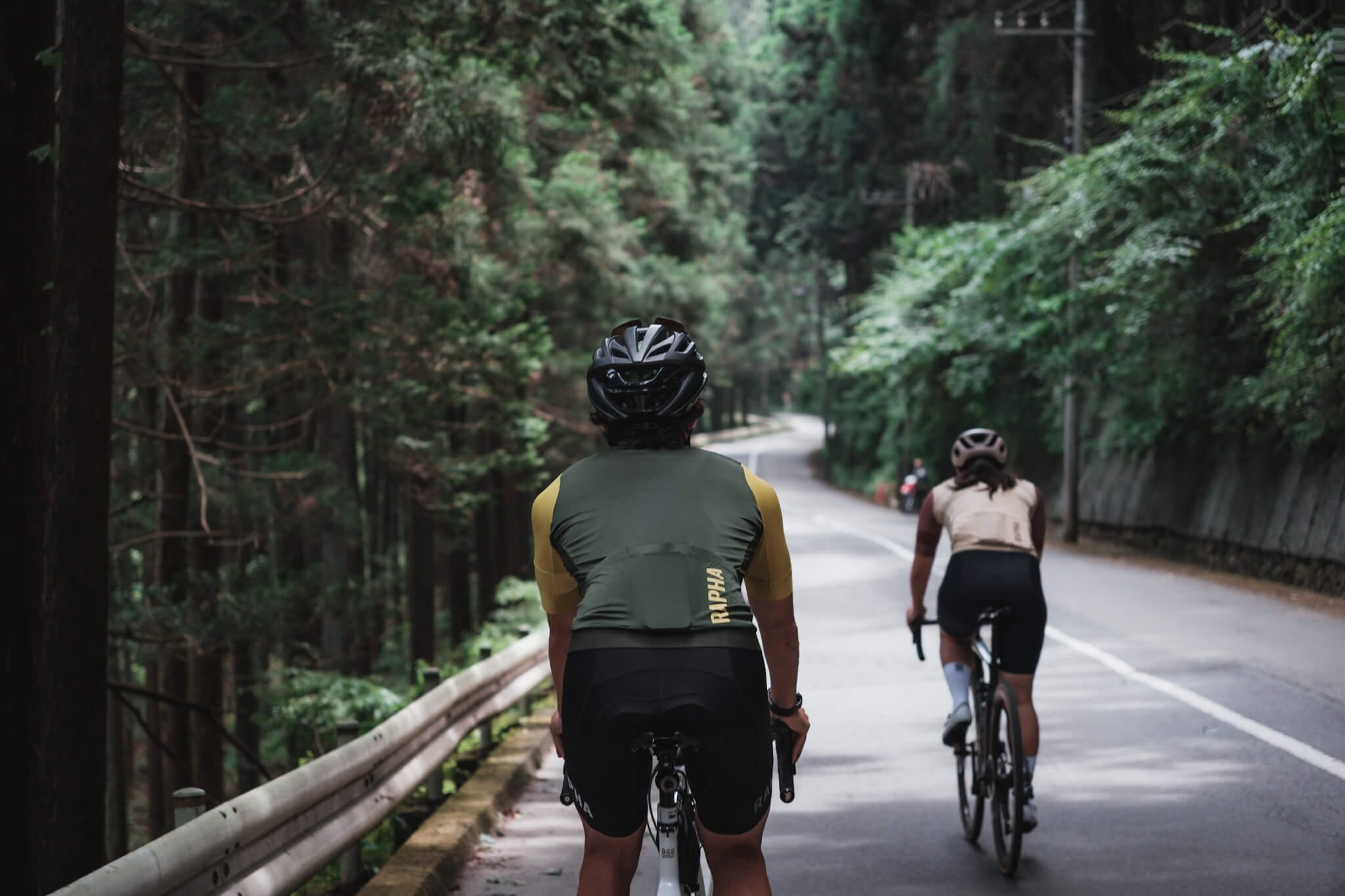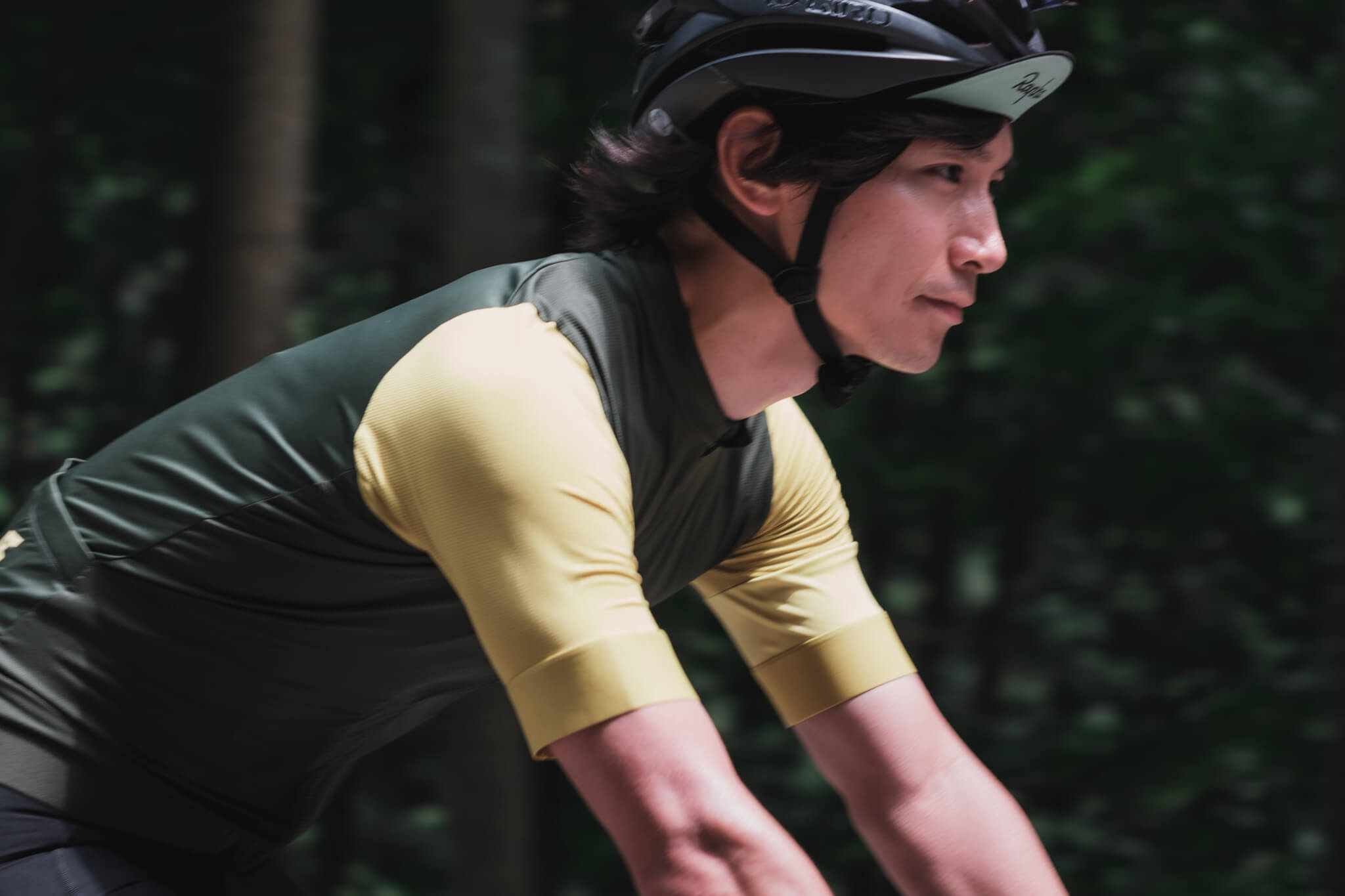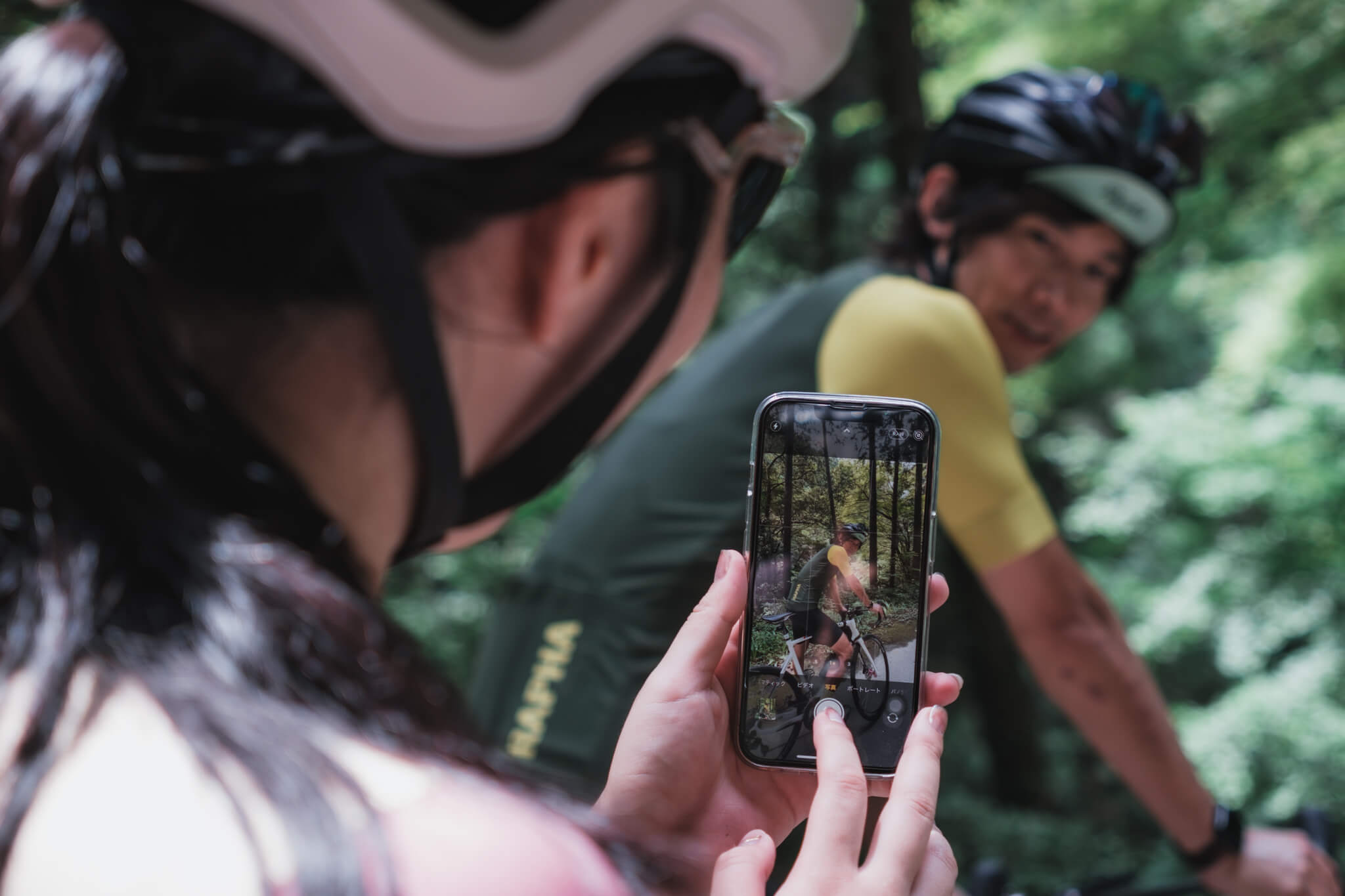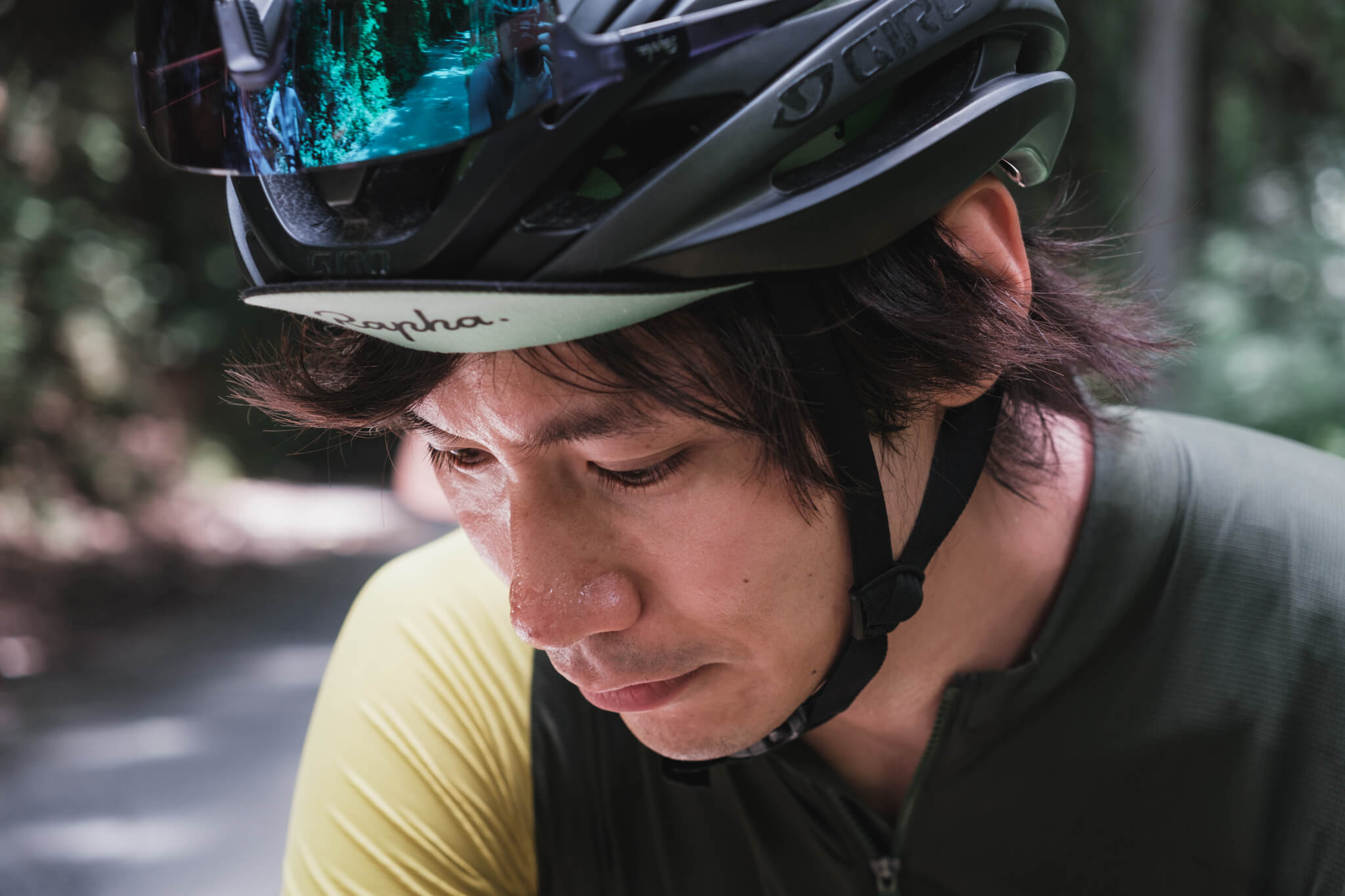 Pro Team Collection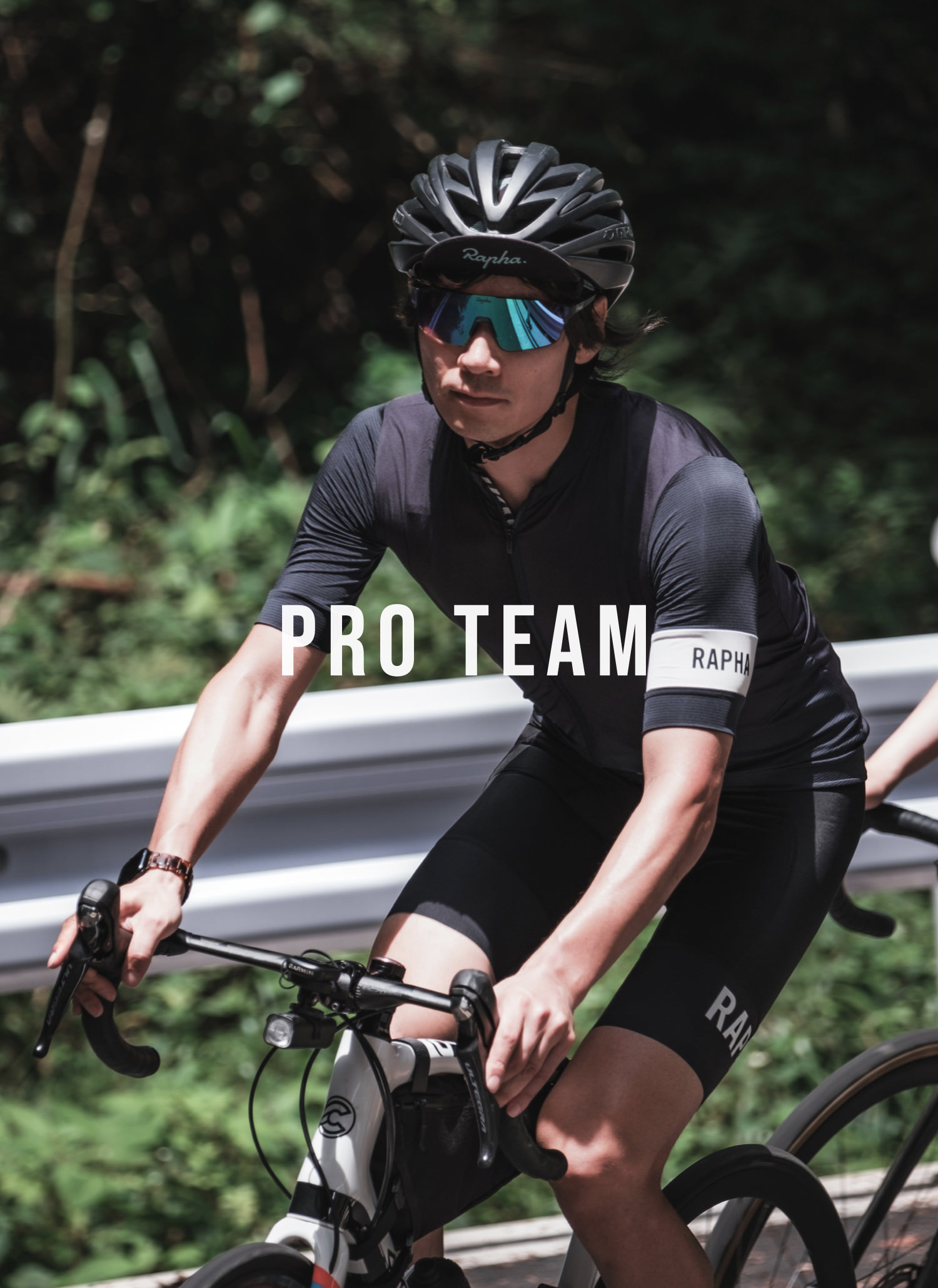 Men's Pro Team Jersey ($190)
Men's Pro Team Bib Shorts II ($290)
The "Pro Team" appears to be a simple navy color, but the sleeves have thin stripes, there is an embossed logo at the hem, and when the zipper at the neck is lowered, a "Forcats de la Route" border can be glimpsed.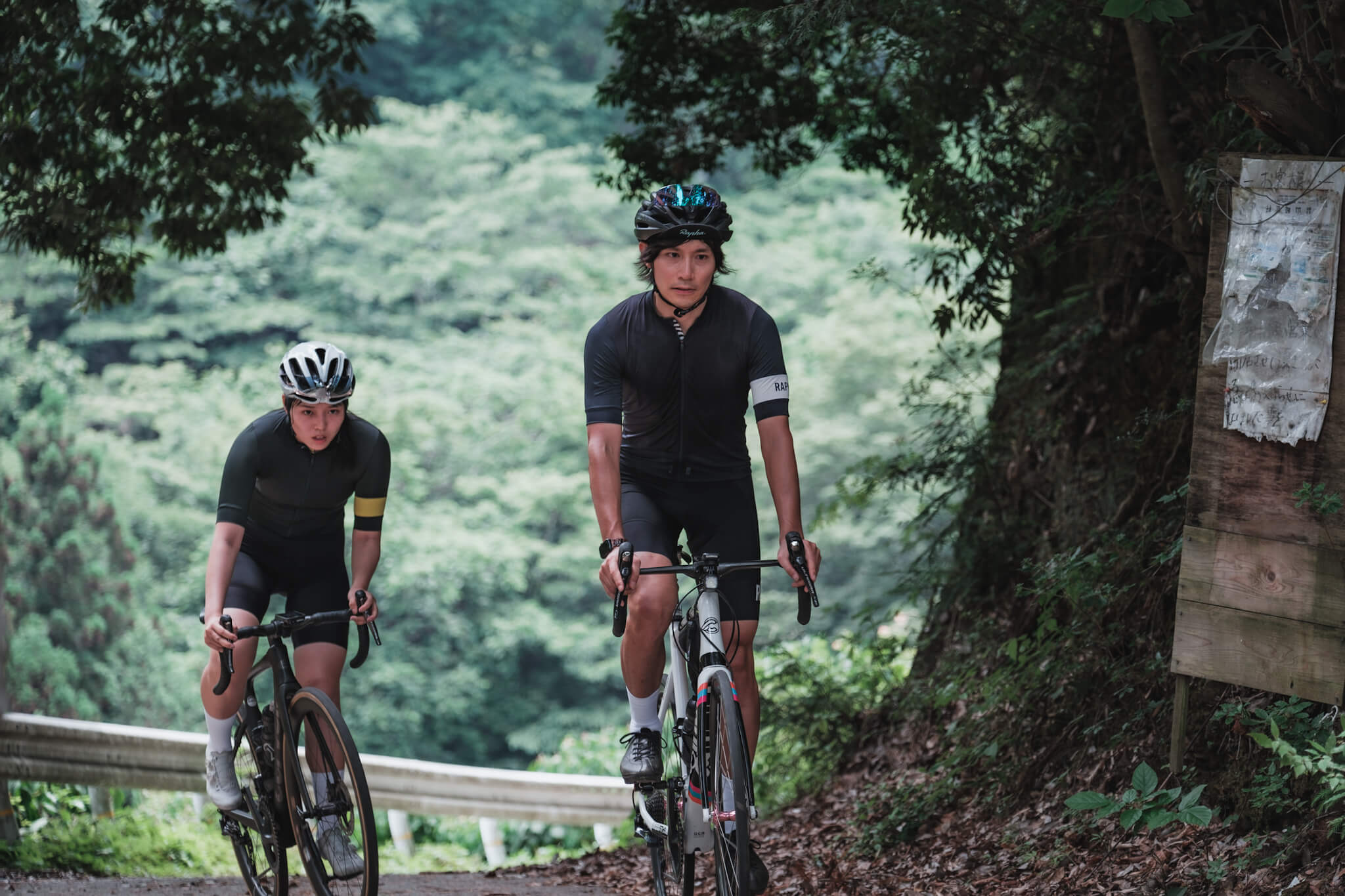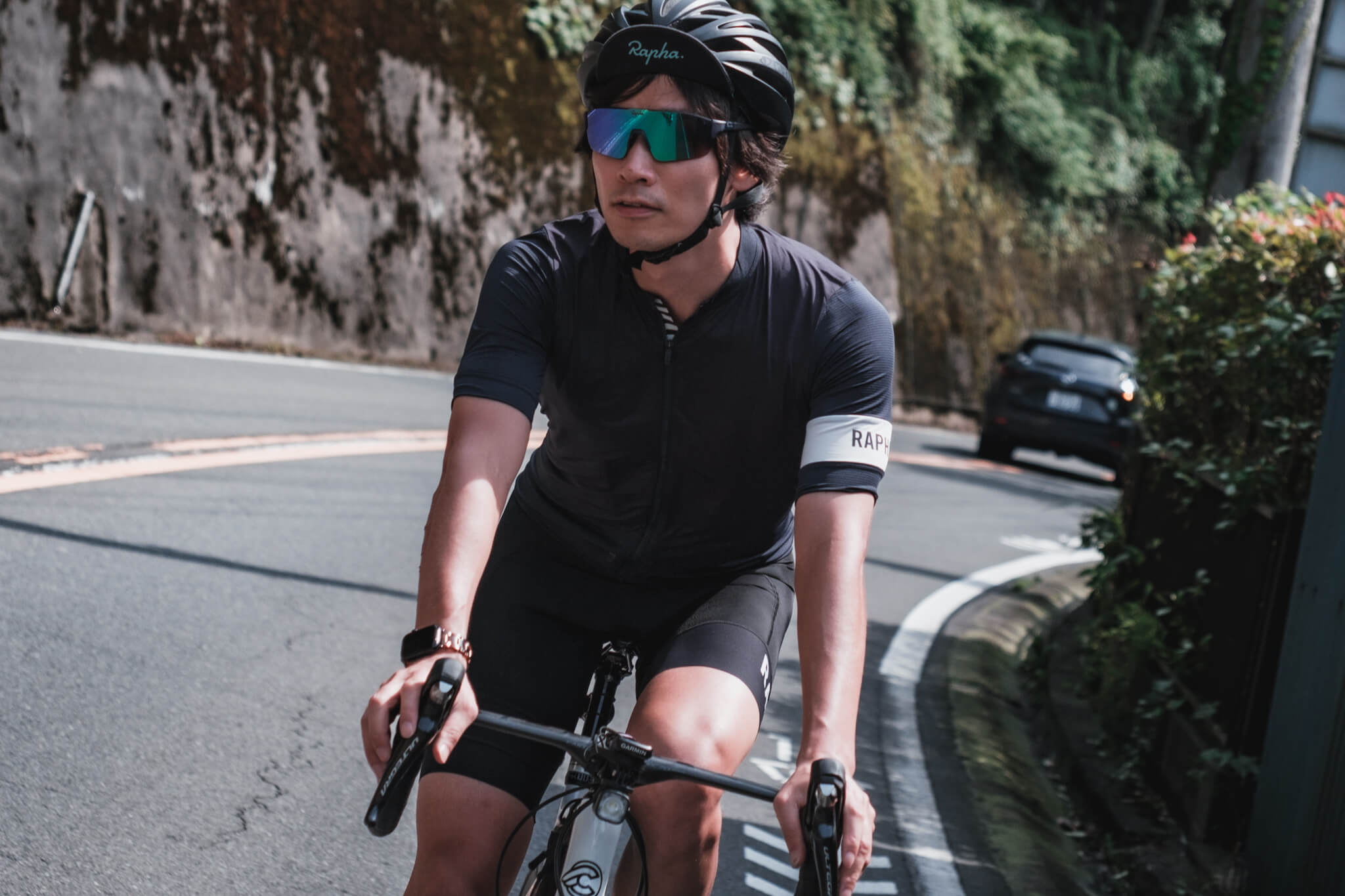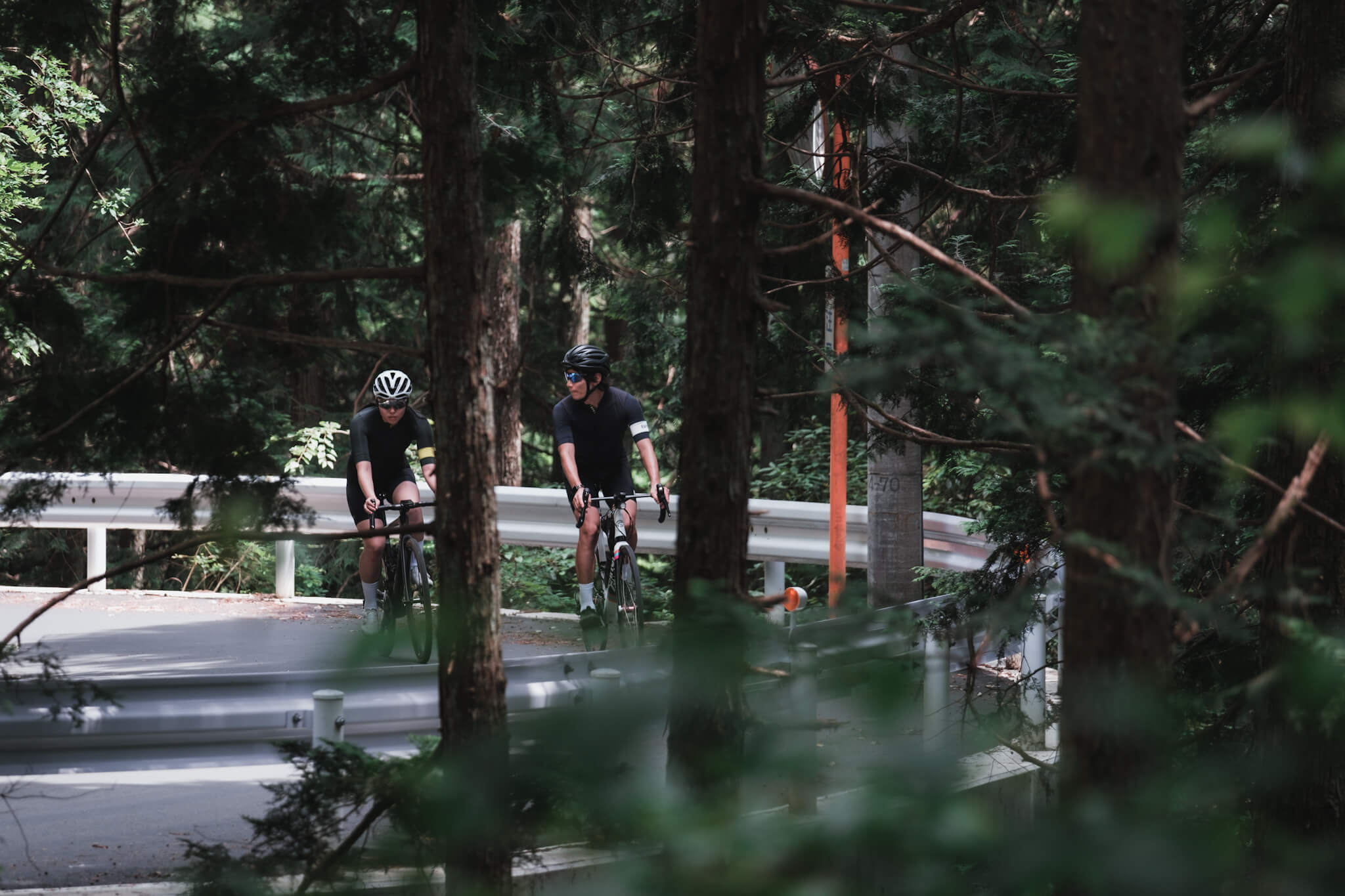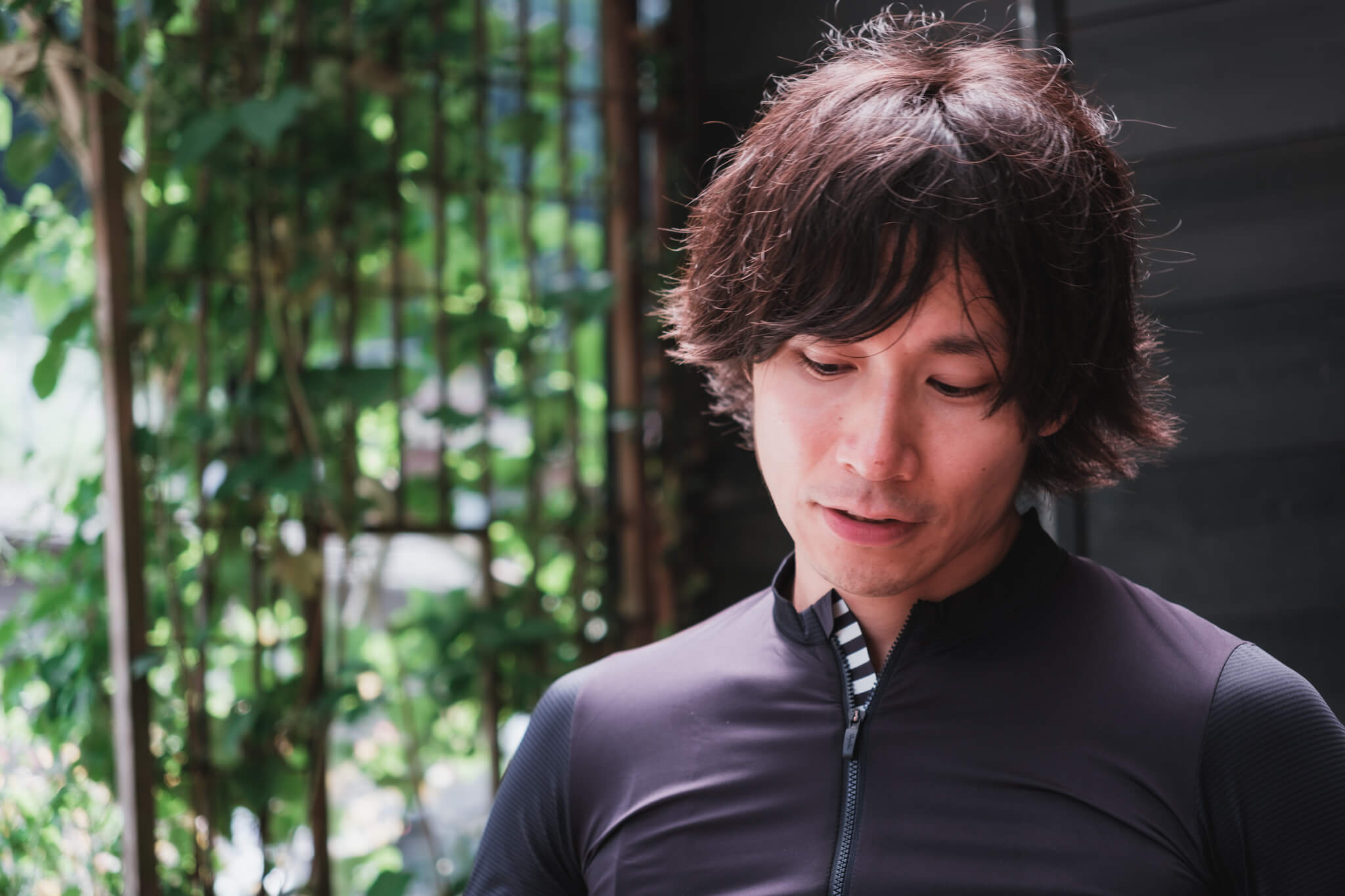 Jersey Features Comparison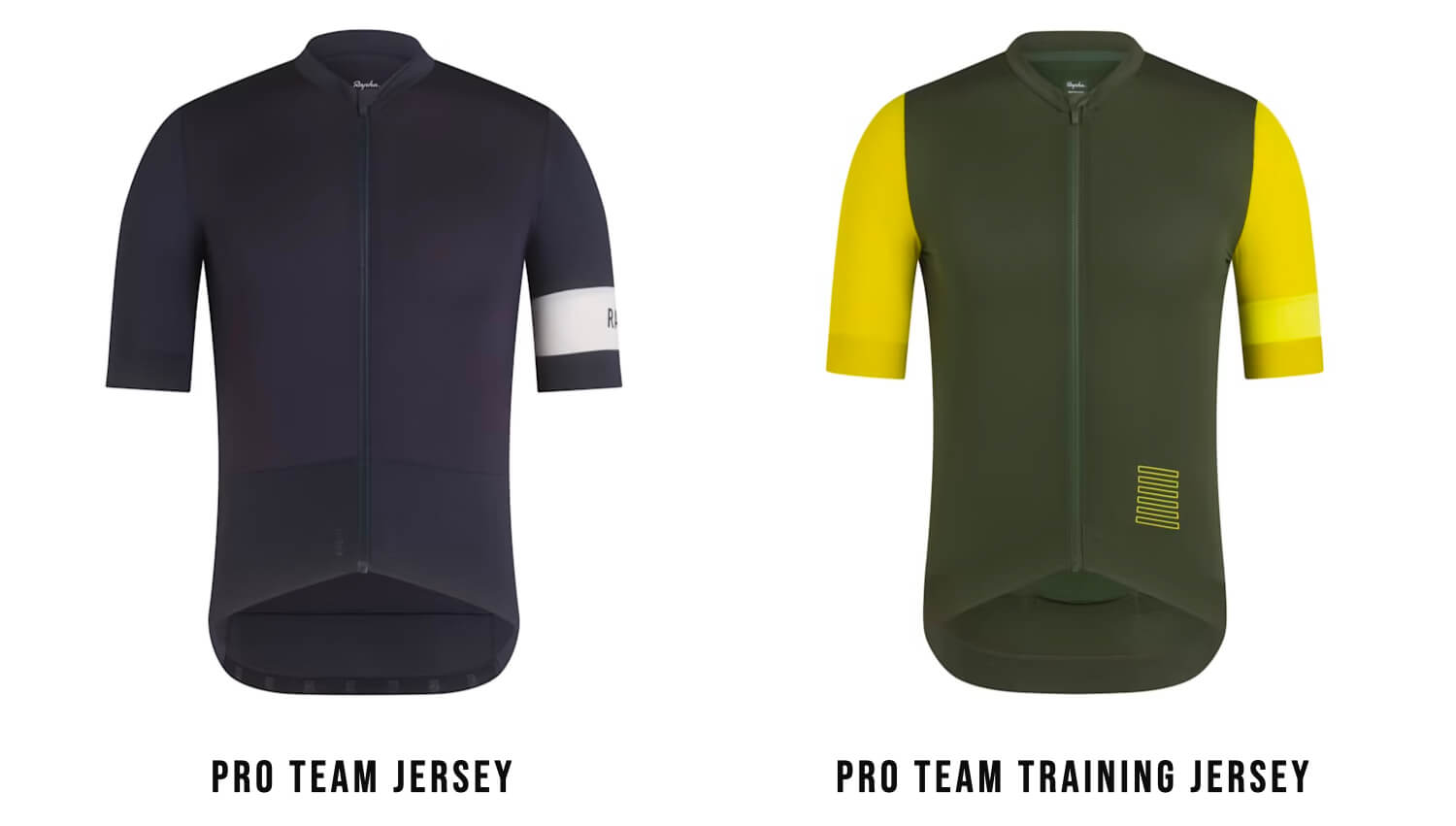 Pro Team Jersey

Pro Team Training Jersey

Fit

– Feels like it is perfectly aligned with the skin
– Sleeve cuffs are soft to the touch

– Feels like it is perfectly aligned with the skin




– Cuffs are stiff and seem to work well with arm covers

Fabric

– Thin, high-density fabric on both front and back
– Elegant texture is irresistible

– Mesh front, regular fabric back

Moisture wicking

– All of them are easy to dry and do not cool down from perspiration

Pockets

– Easy to use
– Doesn't sag when you put things in it

– Easy to use
The difference in feeling between the two is almost the same as with the Mei, and the "Pro Team" in particular feels so comfortable against the skin with its materials and seams that Ryo thinks, "I feel like I don't need to wear a base layer." The shape and cut of the base layer seems to make it natural to lean forward, making riding more enjoyable.
Bib Shorts Features Comparison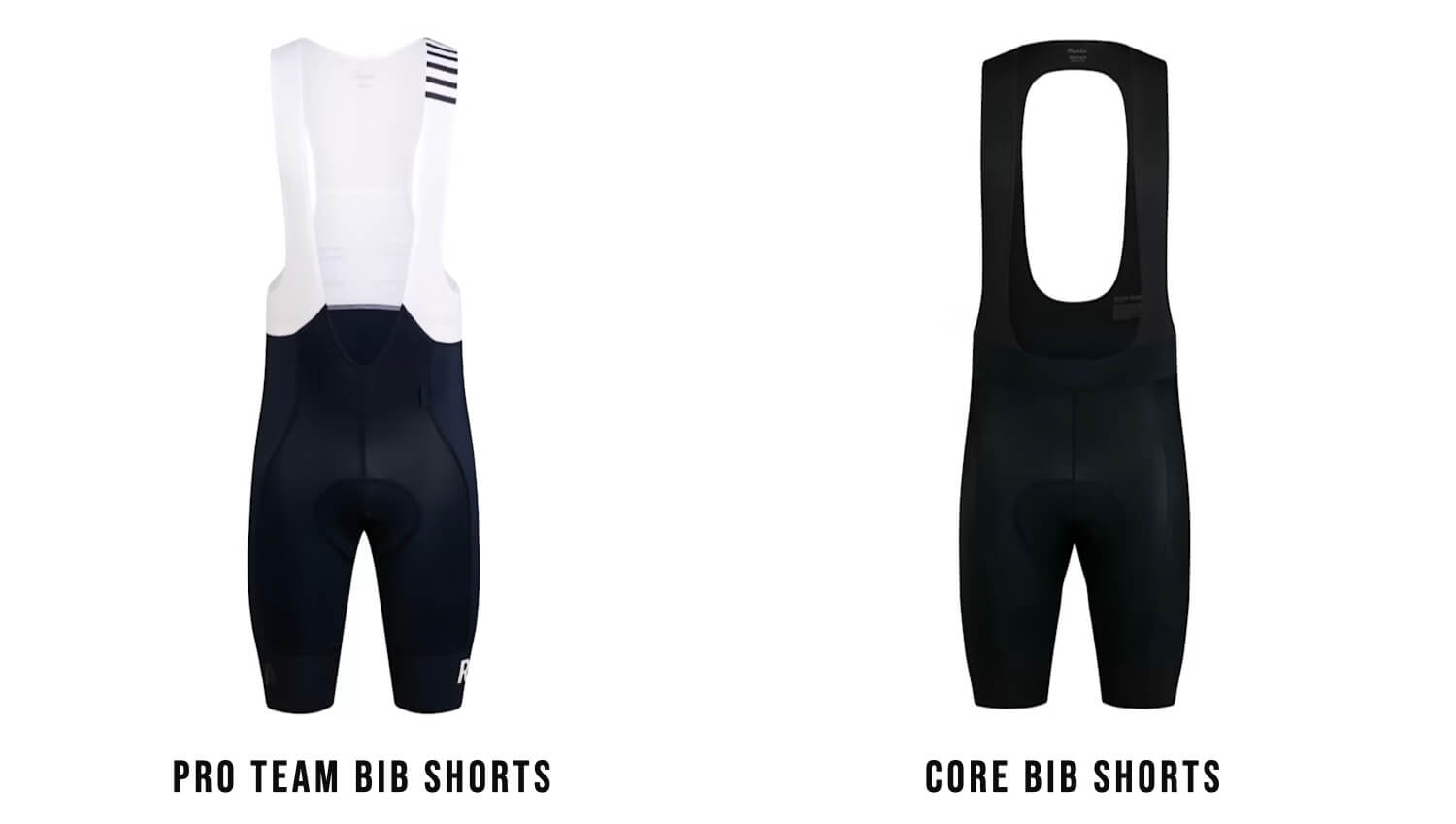 *As only the "Pro Team" was worn during the photo shoot, this is a comparison with the "Core Bib Shorts" that Ryo usually wears.
 

Pro Team Bib Shorts

Core Bib Shorts

Fit

– Same impression as the Core when wearing it
– No conflict with the saddle when pedaling
– Good saddle release when standing pedaling

– Same impression as the Pro Team when wearing them


– Conflicts with the saddle when pedaling
– Easy to get caught when standing pedaling

Fabric

– Fabrics that feel good against the skin
– Breathable and quick-drying

– Normal Fabric

Shoulder straps

– ProTeam has mesh material for quick drying, but different skin feel preferences

Chamois pad

– The thickness is not that different between the two, but the pro team has processed and exquisitely aligned the surface against the skin, so there is no bumpy sensation.
Ryo usually wears "Core" saddles, but when we asked him how he felt after riding in "Pro Team" saddles for the first time, he replied, "I can't go back to the Core series…" which seemed to please the manufacturer.
Although the difference is not so obvious at the moment of putting them on, when riding, the fabric and padding arrangement is well thought out to match the saddle, which should play a role in marginal gains in serious situations such as races. The "Pro Team" is a great advantage in terms of pure enjoyment of riding, even if it is not a race scene.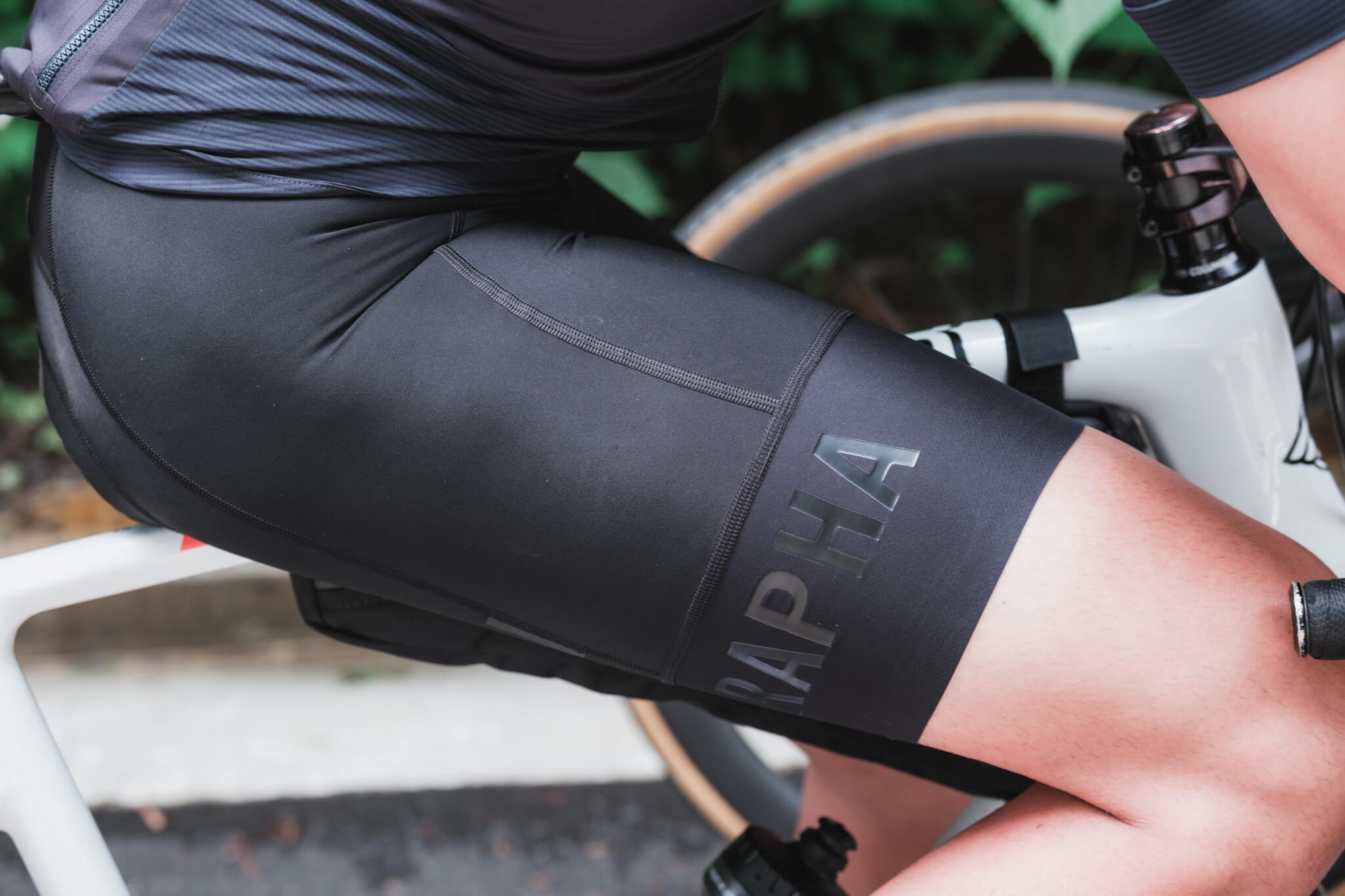 Pro Team to make the stress on the saddle disappear. Smooth boundary between skin and fabric.
4. Always from here.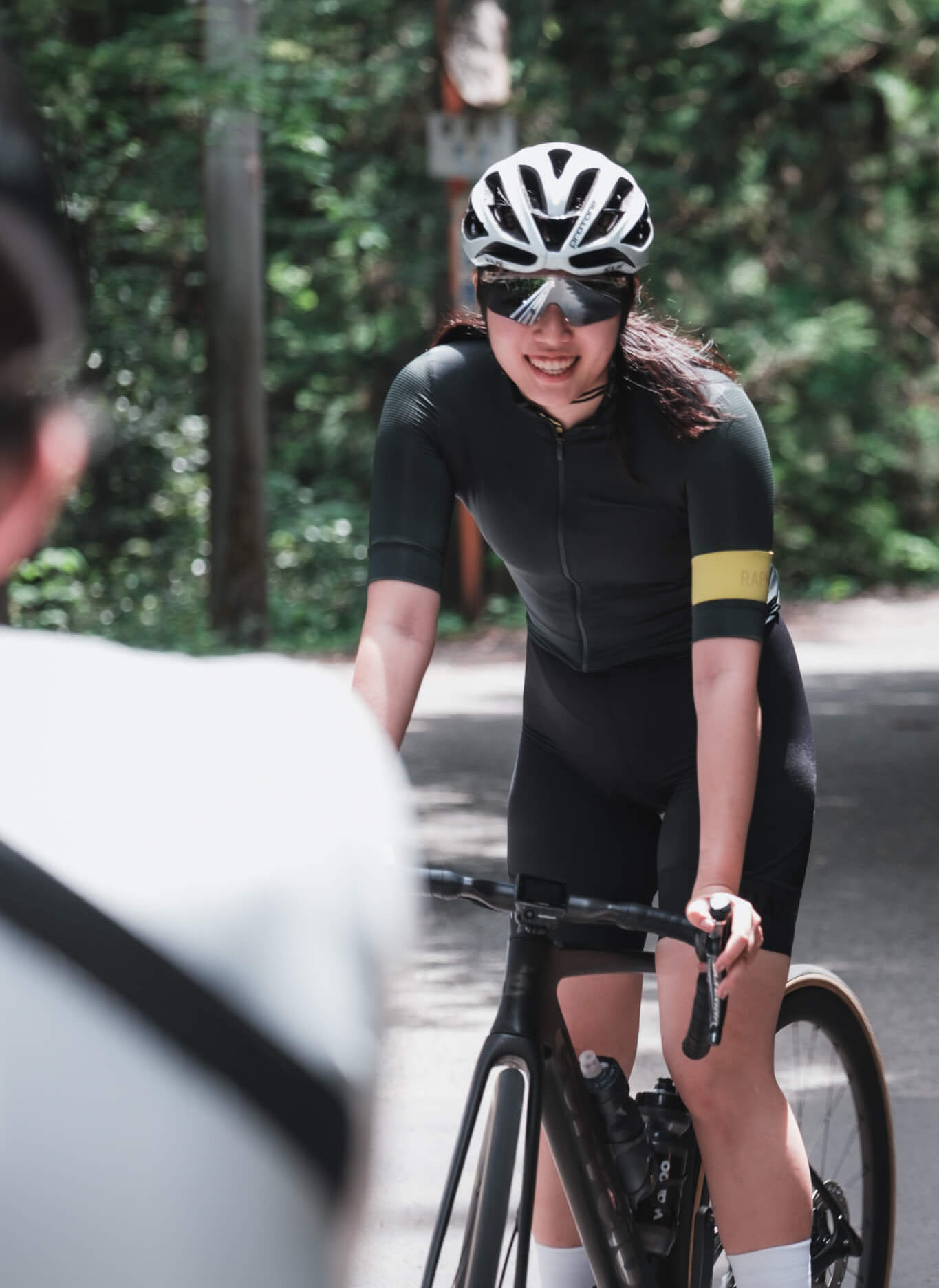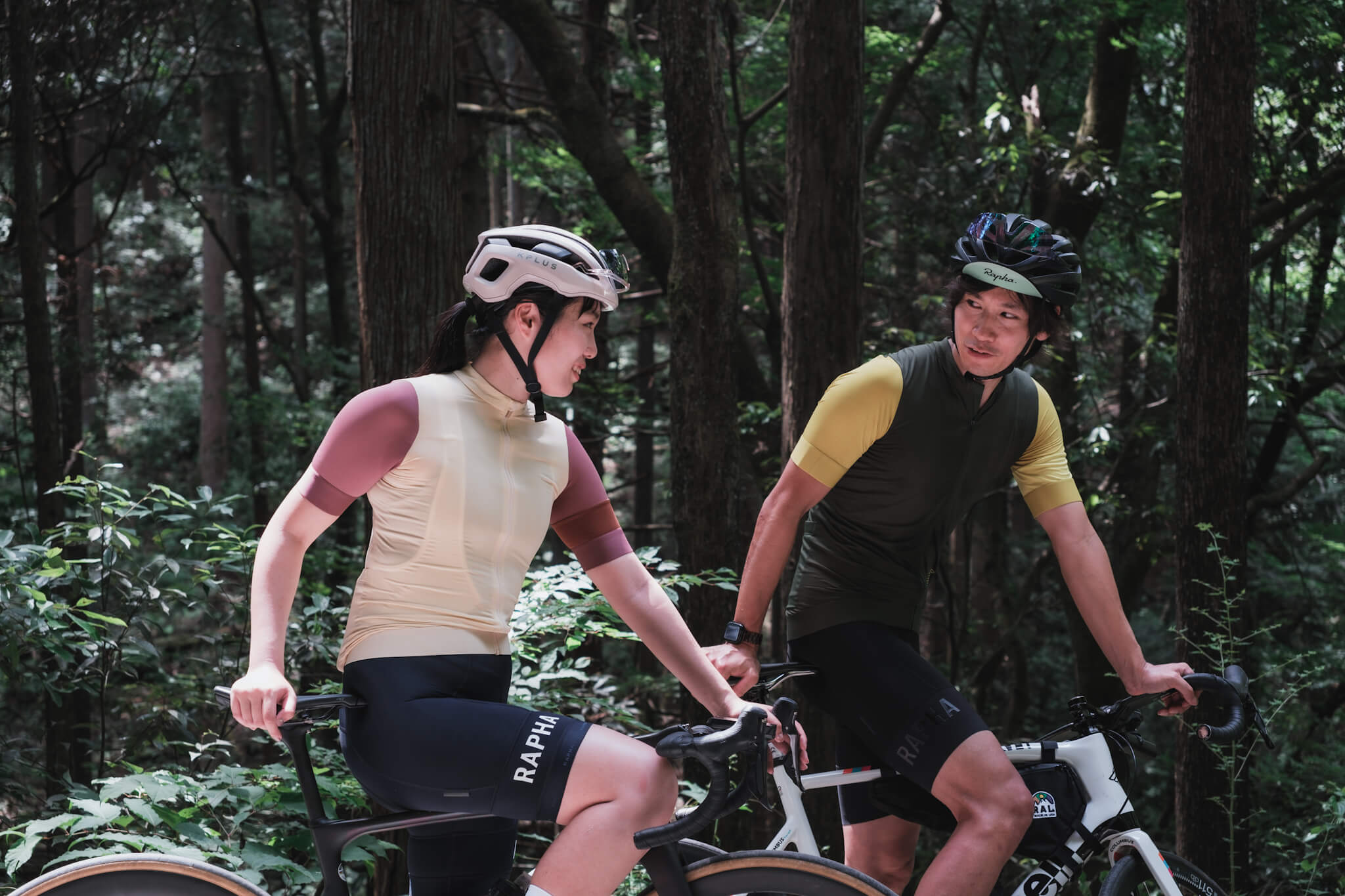 I always feel welcome when I visit the clubhouse at Rapha. The tone of the service is relaxed and comfortable, and the fitting experience is exciting. Even if you are wearing another brand, the staff assures you that you don't have to worry about it at all.
This pleasant experience has not changed since my first visit when I was just getting my first road bike.
This is the origin of the "fashionable wear you've always dreamed of," and although it is the origin, you can touch the forefront every time you go there. Rapha will continue to create new values and excite us cyclists.
The "Pro Team" is the standard by which we measure the end of the line, and we will continue to pay attention to its ever-evolving production.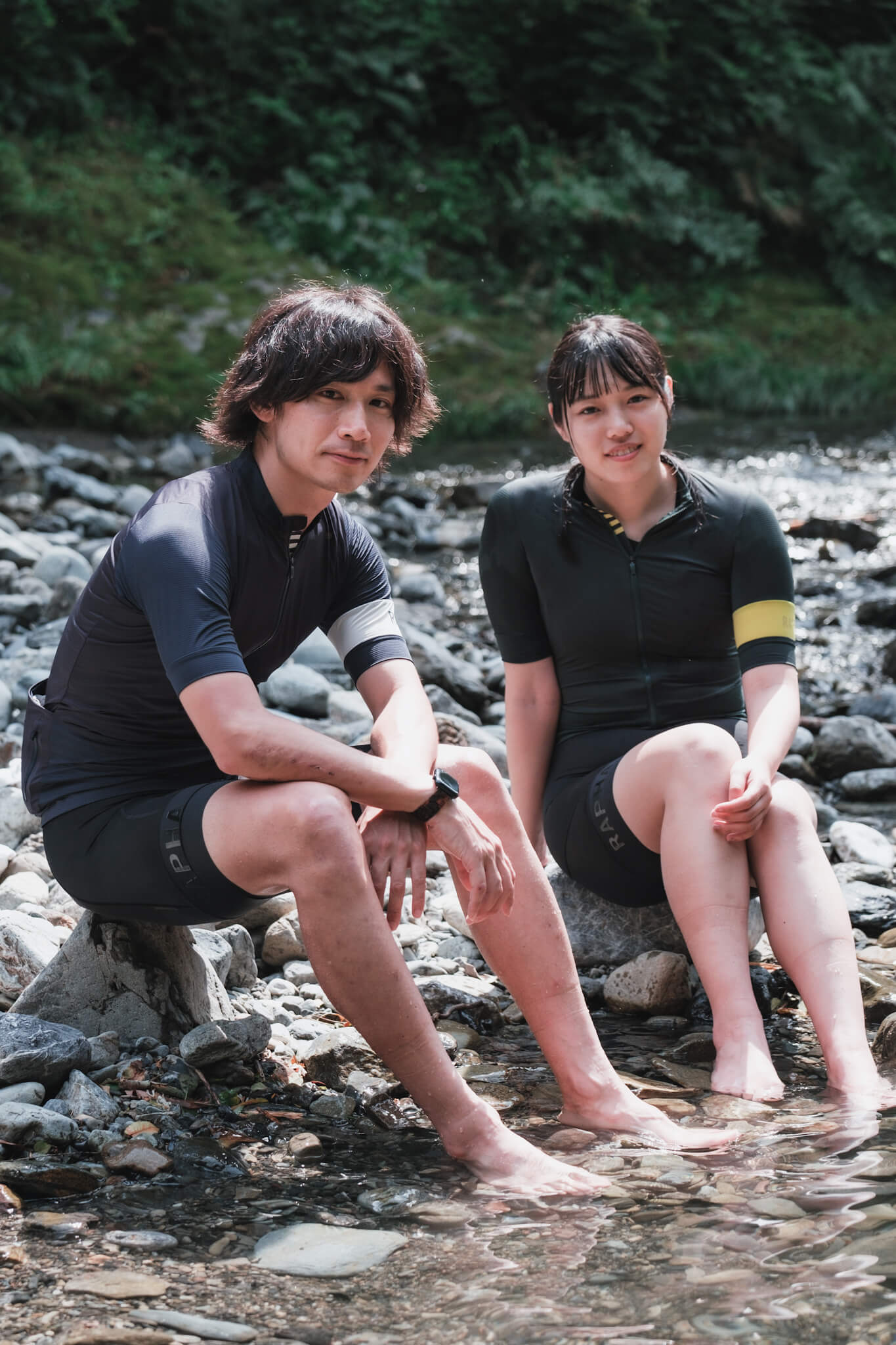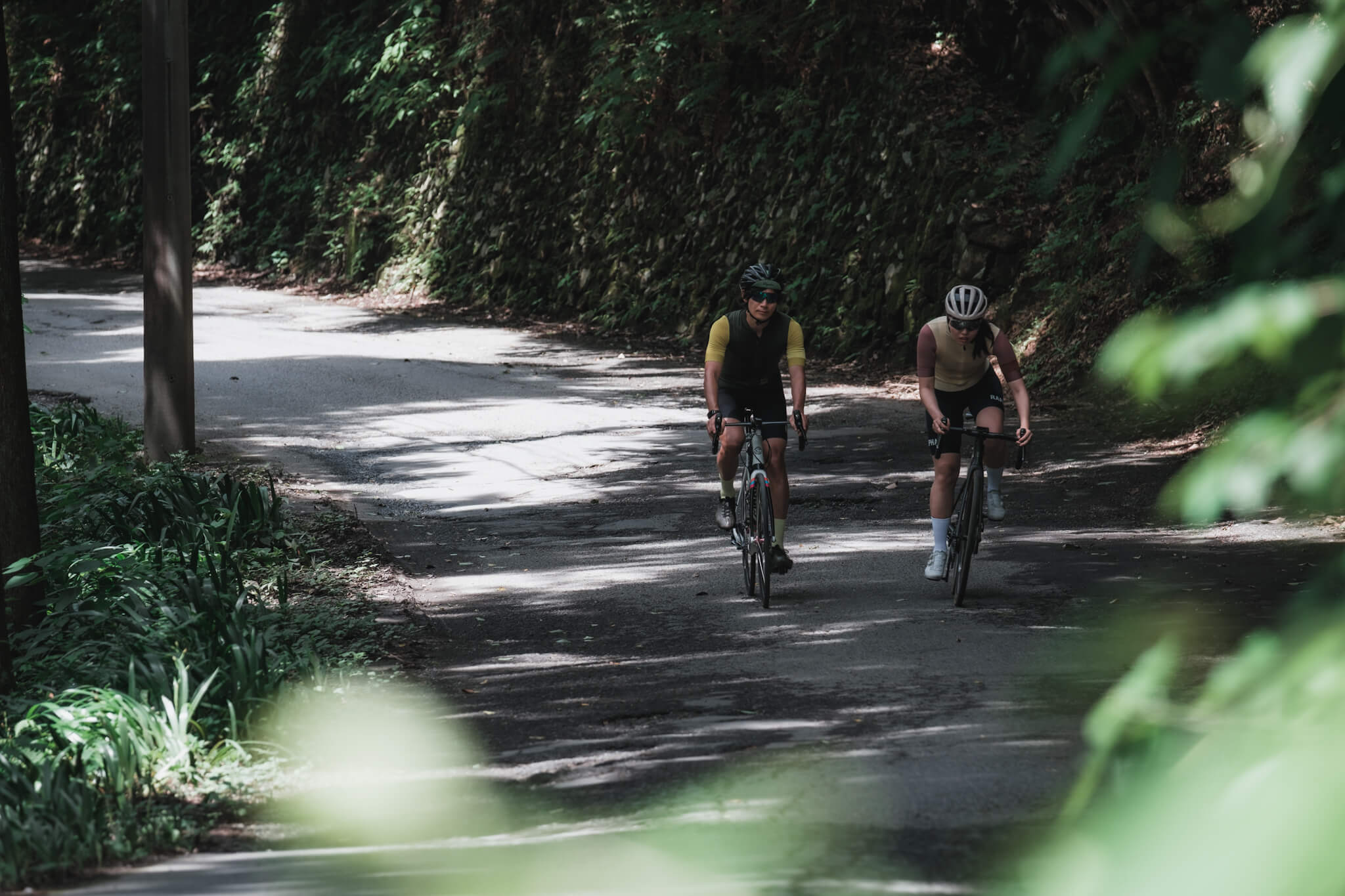 Rapha Pro Team Collection
Mens | Womens
Review / Mei & Ryo
Edit & Photo / Tats
[PR]/ Rapha Japan