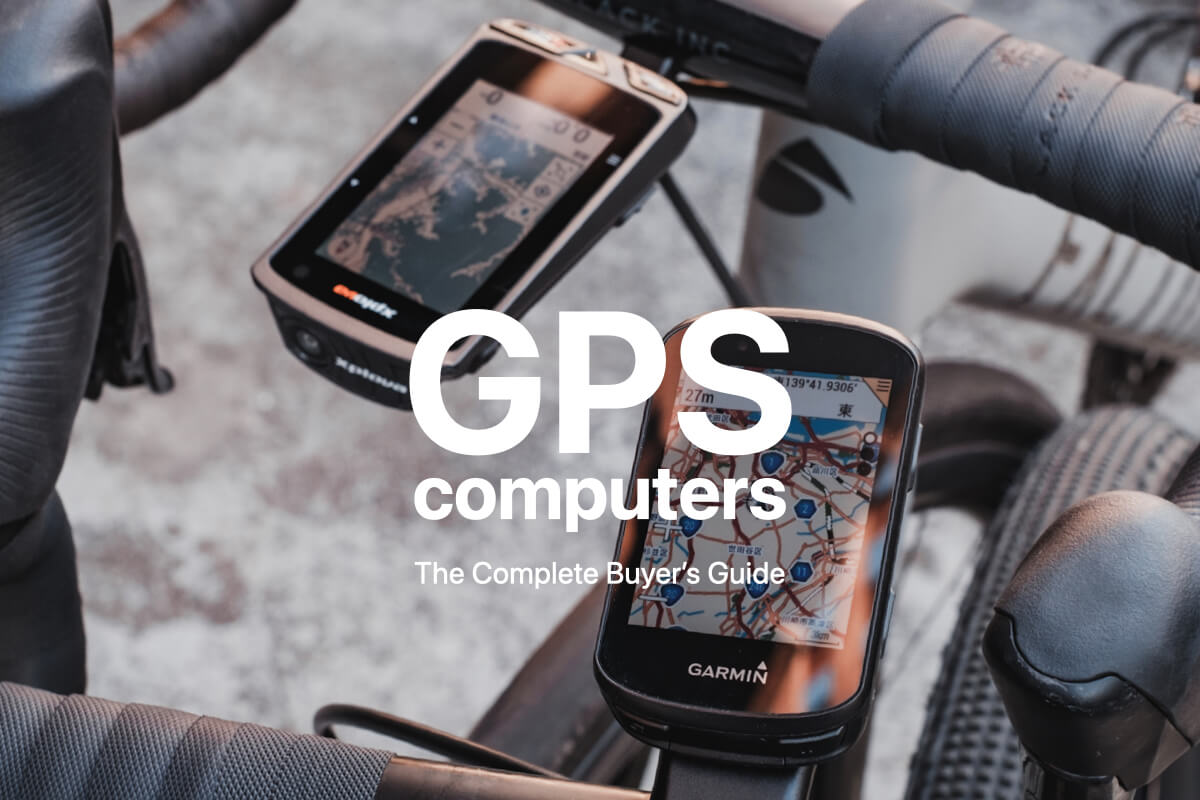 Record and review all rides.
A GPS computer, which quantifies all aspects of your ride data, is essential for enjoying your ride.
In the past, Garmin dominated the market when it came to GPS computers, but in recent years, competitive players have entered the market one after another, creating new options for cyclists.
However, the variety of models available has made it more difficult to narrow down to the one that is best suited for you.
Here is a feature-by-feature comparison of the four major GPS computer players, including Garmin, by class to help you make a milestone in your GPS computer selection.
text / Tats(@tats_lovecyclist)
1. Major GPS computer brands
Garmin still holds much of the market share, but we are also seeing the rise of latecomer brands such as Wahoo and Lezyne.
Garmin – The giant of the GPS computers world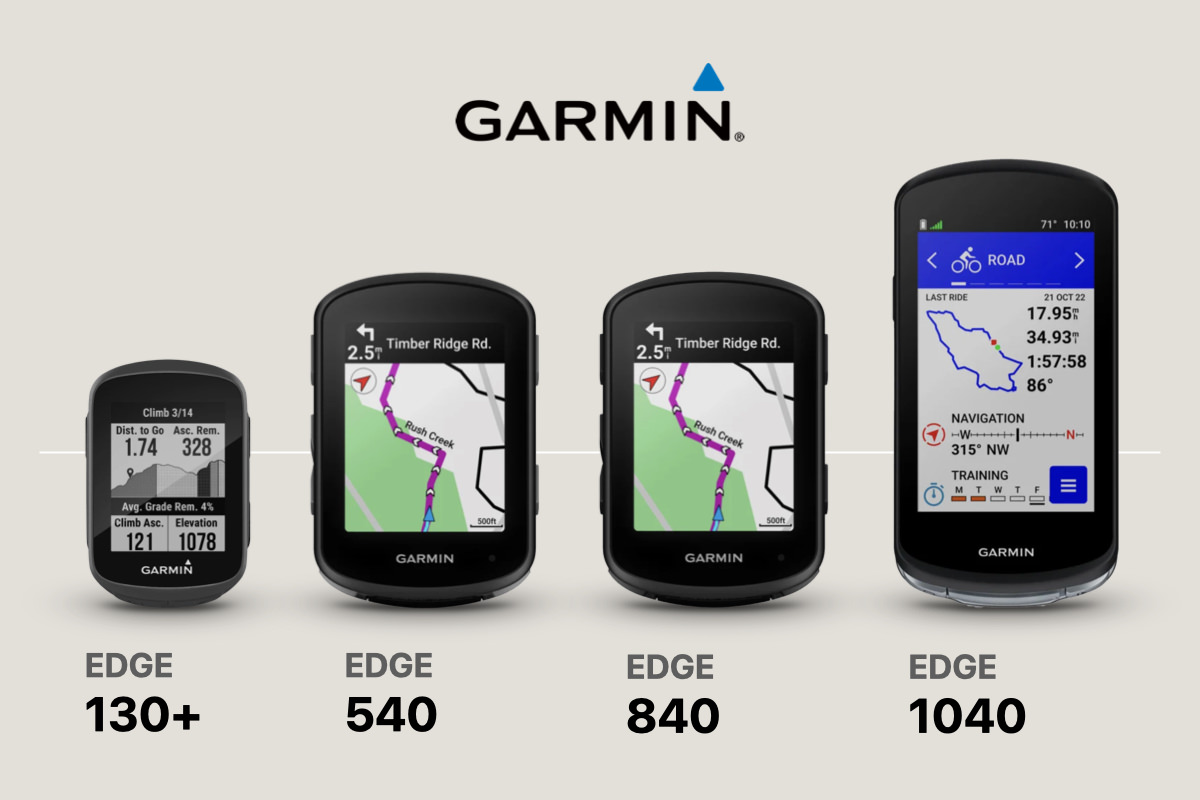 The "Garmin Edge" series is synonymous with GPS computers, and its GPS measurement accuracy is unmatched by any other brand. The oath "I bought a Garmin" is a symbolic line that reminds you that you have climbed one step as a cyclist.
The Edge series is divided into four categories: the entry-level 100 series, the standard 500 series, the flagship 800 series, and the large-screen 1000 series. With a lineup that has no blind spots in all directions, the Edge series has firmly established itself as the standard for GPS computers.
*For a comparison of Garmin models only, see the following post:
Wahoo – Extensibility to defeat the giant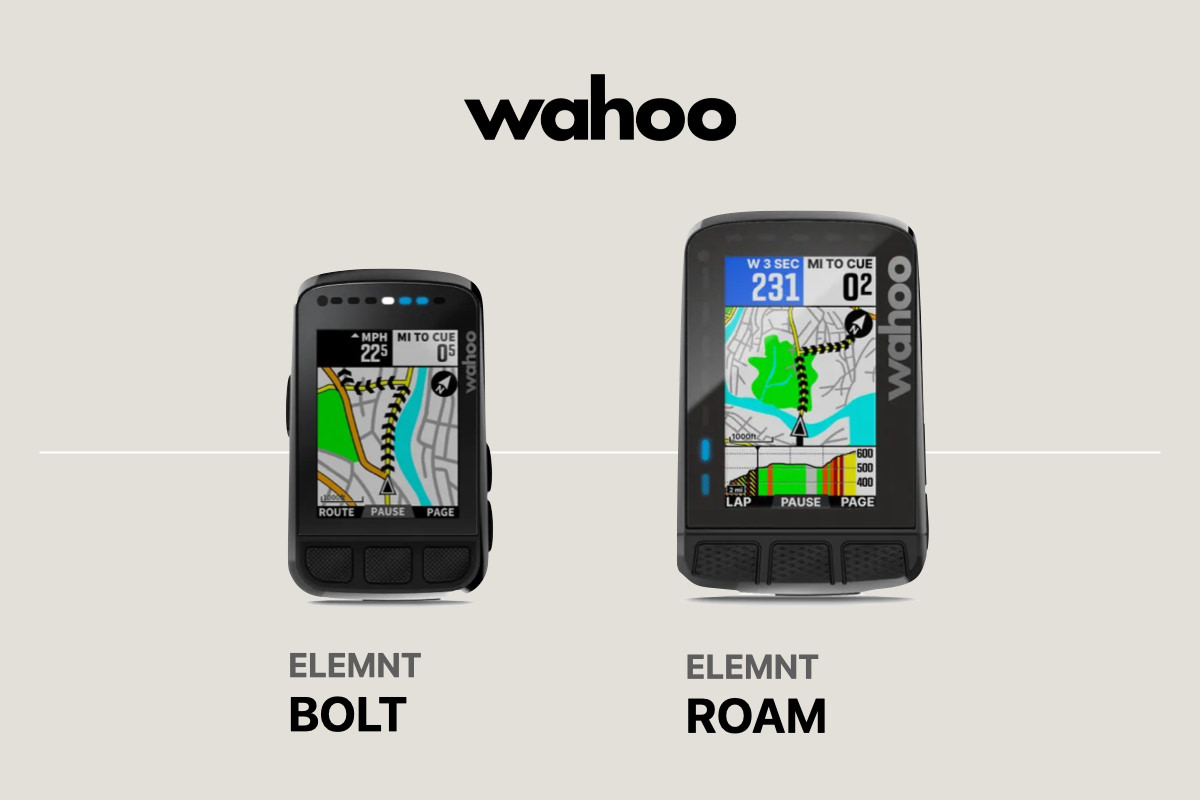 Wahoo's ELEMNT series, which is gaining strength as a post-Garmin product, has two lineups: ELEMNT BOLT and ELEMNT ROAM.
The most important features of ELEMNT are easy-to-understand navigation using light and sound, and smooth smartphone integration. Settings in the smartphone app are immediately synchronized to the ELEMNT side, making it easy to update firmware, maps, and items.
Another major strength of the ELEMNT is its expandability, with the ability to link with the KICKR smart trainer, which boasts the top market share.
Lezyne – Good battery life & competitive price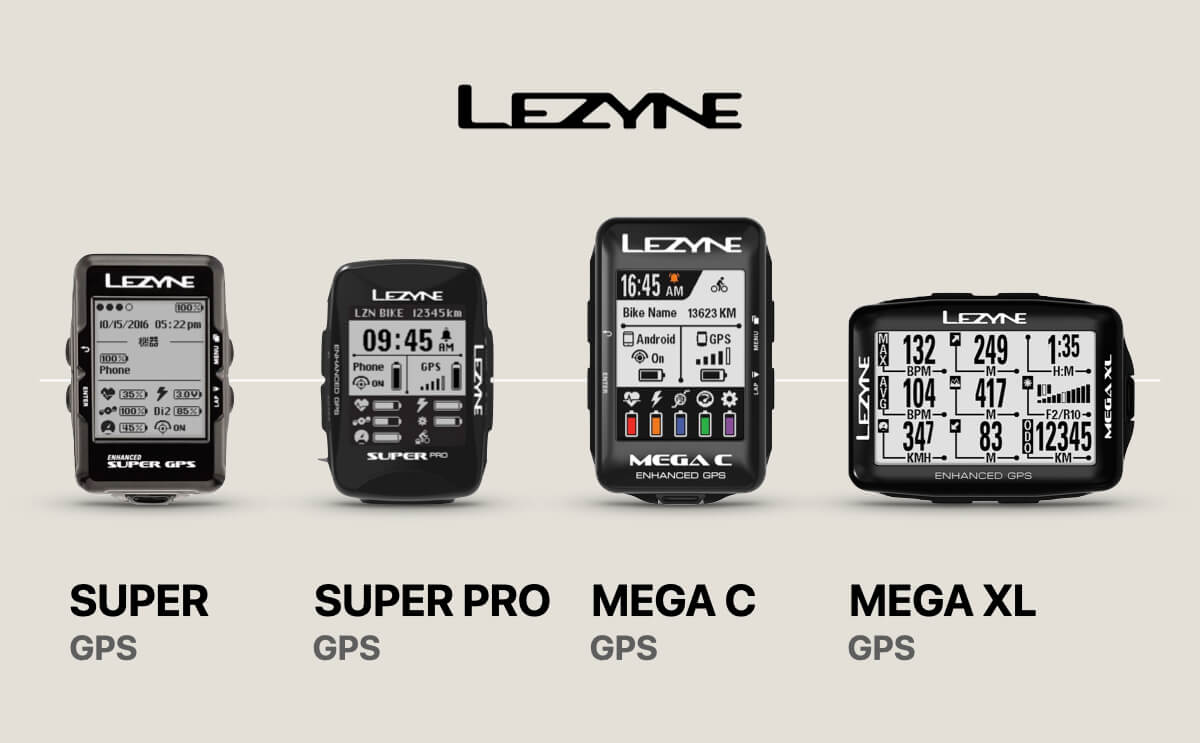 Lezyne's GPS series are divided into the entry-level MACRO series, the standard SUPER series, and the high-capacity battery MEGA series.
These are not only competitively priced, but their most important feature is their excellent battery life when overwhelmed. The MEGA XL, in particular, is the best class, with a battery life of up to 48 hours, which can be used even for ultra-distance rides.
Bryton – Familiar price range lineup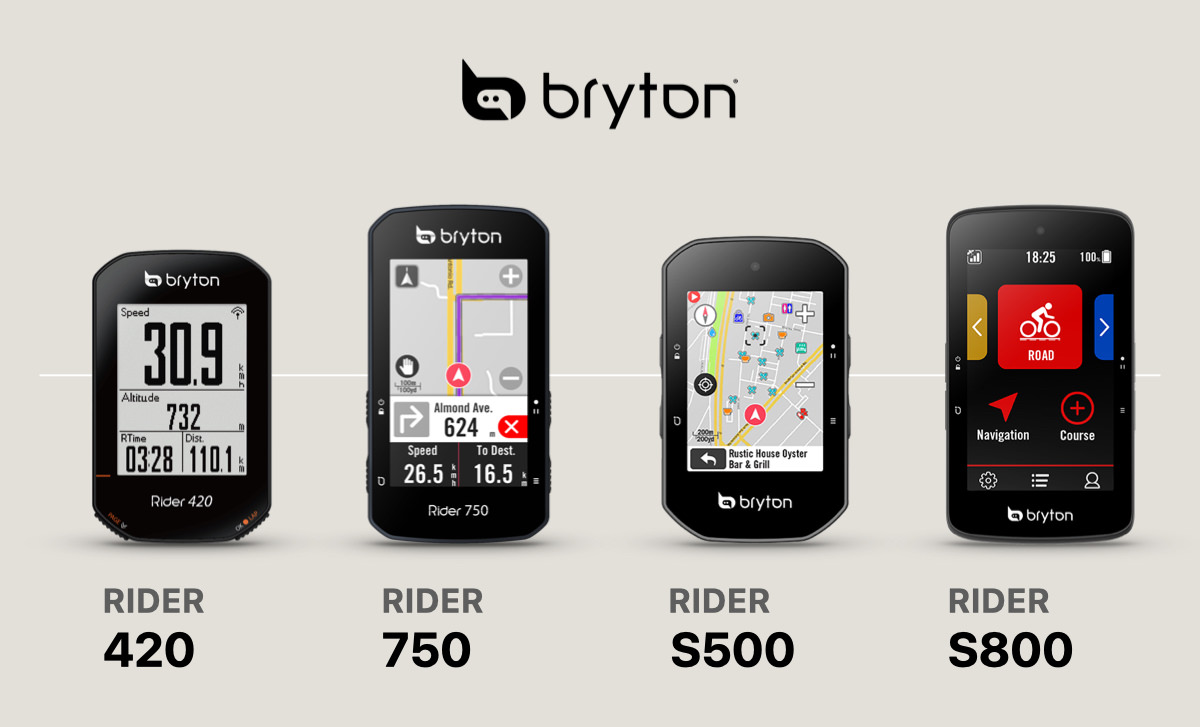 Taiwanese brand Bryton's GPS computers have been priced mainly around $100, which is easy for entry-level users to afford, but in recent years, the company has been expanding its high-end lineup.
The basic model is the Rider420, which is less expensive than other brands in terms of ease of use of the navigation system, but it is functional enough for professional use (the Rider320, which does not include the navigation function, is also available).
In addition to the Rider750, a high-end model, the smaller S500 and the S800 with a large screen and high-capacity battery will be introduced in 2022, which are similar in function to the Garmin 800 series and have an advantage in terms of price.
2. Comparison: Entry-class models
Entry-level models around $200 with the minimum necessary features.
Most models cannot display maps, but they do have navigation, so you can explore new roads to some extent.
Brand
Garmin
Lezyne

Bryton
Model


Edge130 Plus


SUPER PRO
GPS



Rider420

Year of Release

2020

2019

2019

Price

$199.99

$199.99

$159.95

Display Size

1.8″

2.0″

2.3

″

Weight

33g

60g

67g

Battery Life

13hrs

28

hrs



35

hrs

Map

–

Yes

–

Navigation

Yes

Yes

Yes

Forte
Lightweight
Equipped with map
Low price

Link
Amazon

Amazon

Amazon
Features of each model
Garmin Edge130 Plus: There are some limitations in power measurement items, but other than that, it is a stable finish typical of Garmin. The display is quite small, so visibility is not very good.
Lezyne SUPER PRO GPS: Attractive multifunctional features such as vertical and horizontal display, on-board maps, enhanced battery, and light weight.
Bryton Rider420: It has a simple navigation function that was not included in the previous model, and it can also be connected to a power meter, making it a model with specifications that are sufficient for training. This model is what is called the "most cost-effective" model.
Which model to choose?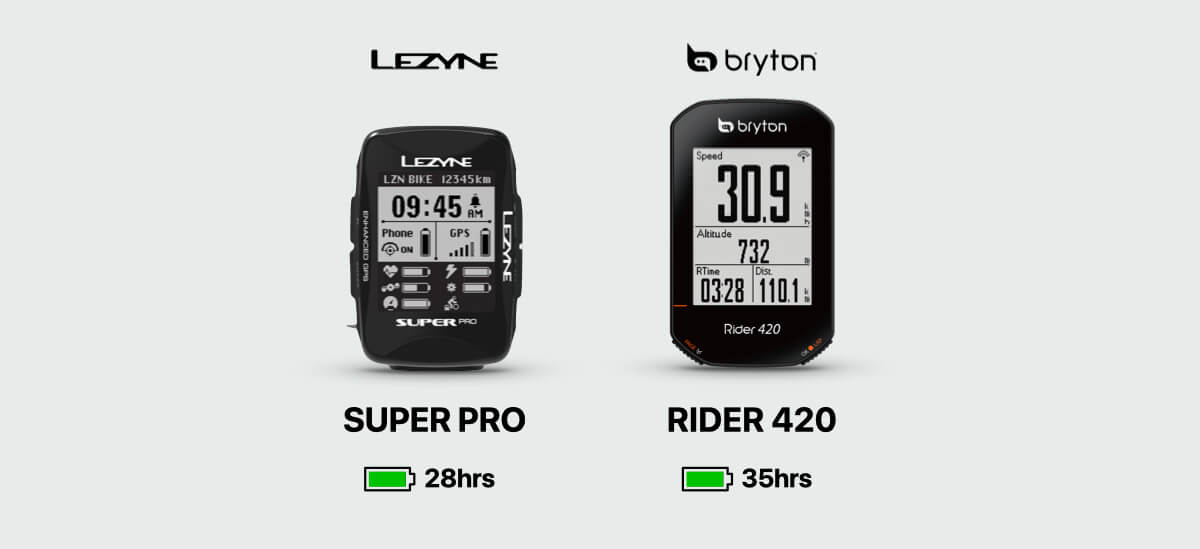 The battery life of the SUPER PRO GPS or Rider420 with monochrome display is outstanding in this class. After all, the longer the battery lasts, the easier it is to use, and the features for the price are considerably more reasonable than those of Garmin.
3. Comparison: Middle-class models
The most popular price range is around $300, where standard models are available. The Garmin Edge540, which is the benchmark for all models, and other multifunctional models are available.
Brand
Garmin
Wahoo
Lezyne
Bryton

Model


Edge540


ELEMNT BOLT


MEGA XL GPS


Rider750


Rider S500

Year of Release

2023

2021


(2nd Gen.)




2018




2020

2022

Price
$349.99
$449.99 w/Solar

$279.99

$299.99

$180.00

$299.95

Display Size

2.6″

2.2″

2.7″

2.8

″

2.4″

Weight

80.3g

68g




83g

93g

 87g

Battery Life

26hrs

15

hrs



48

hrs

20

hrs

 24

hrs

Map

Yes

Yes

Yes

Yes

Yes

Navigation

Yes

Yes

Yes

Yes

Yes

Forte
– Multifunctional
– Benchmark model
– Aero shape
– Connection with KICKR
– LED navigation system
– Ultra long-life battery
– Large screen

– Cost performance

 – Type-C charging
– Workout Menu
Link
Amazon

Amazon
Amazon

Amazon

Amazon
Features of each model
Garmin Edge540 / 540 Solar: Functions, battery, and expandability are all powered up from the previous 530 model. A Solar model with an extended battery is also included in the lineup. The latest features in a compact body, such as navigation functions, power guide, and real-time stamina, solidify its status as a standard model.
Wahoo ELEMNT BOLT: Its strengths include an easy-to-understand color-coded interface using LEDs, aerodynamic aero shape, and expandability such as KICKR linkage.
Lezyne MEGA XL GPS: The overwhelming 48-hour battery is OK for overnight rides.
And with its large display, this new type of computer can be used in either portrait or landscape mode.
Bryton Rider 750: This model is comparable to other flagships and competitively priced.
Bryton Rider S500: It is smaller than the 750 and has enhanced battery life. The LCD is clearer, the touch panel is more responsive, and overall performance has been improved. The workout functionality has also been enhanced, and the Type-C charging system is a welcome addition.
Which model to choose?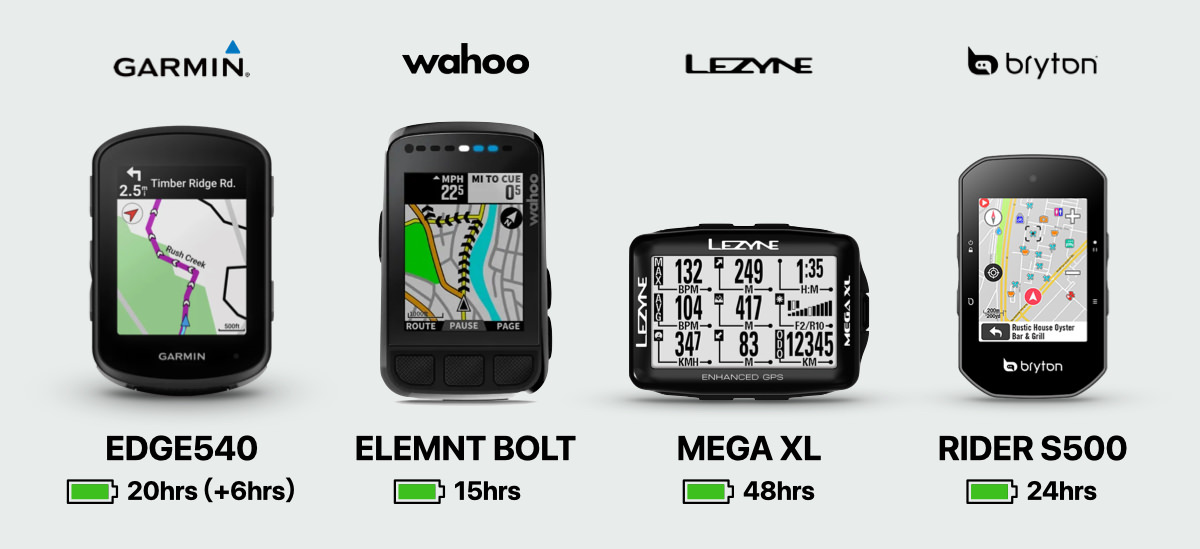 The middle class is difficult to narrow down due to the abundant lineup.
The specifications of the Edge 540 and Rider S500 are particularly well balanced, with the S500 being the stronger choice when looking at price. You can also choose from perspectives such as ELEMNT BOLT if you own a KICKR or if you want to master aero, and MEGA XL if you value battery and cost performance.
4. Comparison: High-end models
This is a high-end class that includes touch-screen models and offers exceptional operability and LCD readability. All are expensive, but offer the added value of convenience.
Brand
Garmin
Wahoo
Bryton
Model


Edge840


Edge1040


ELEMNT ROAM

Rider S800

Year of Release

2023

2022

2022


(2nd Gen.)

2022

Price
$449.99
$549.99 w/Solar
$599.99
$749.99 w/Solar

$399.99

$379.95

Display Size

2.6″

3.5

″

2.7″

3.4″

Weight

84.8g

133g


93.6g

106g

Battery Life

26hrs+6hrs

35

hrs

+10

hrs



17

hrs

36

hrs

Map

Yes

Yes

Yes

Yes

Navigation

Yes

Yes

Yes

Yes

Forte
– Type-C charging
– Route generation
– Training Menu
– Large screen
– Ultra long-life battery
– Type-C charging
– Route generation
– Training Menu
– Aero shape
– Connection with KICKR
– LED navigation system
– Type-C charging

– Type-C charging 
– Long-life battery
– Type-C charging
– Route generation

Link
Amazon
Amazon

Amazon
Amazon
Features of each model
Garmin Edge840 / 840 Solar: Garmin's flagship model with a high-sensitivity touchscreen; no difference in functionality from the 540; smooth operation with a touchscreen that can be used over gloves. Solar-powered model available.
Garmin Edge1040 / 1040 Solar: The model that reigns supreme (mainly in terms of price) in GPS computers. It is almost the size of a smartphone, with a variety of value-added features such as extensive training functions and automatic route generation. Plus, the solar-powered battery lasts up to 45 hours. This is the model for cyclists who want to spend long hours in the saddle and explore unexplored terrain.
Wahoo ELEMNT ROAM: Based on the ELEMNT BOLT, this larger and more colorful model features Wahoo's unique strengths of easy-to-understand LED navigation information and smartphone connectivity. The second generation model features dual-band GPS for enhanced navigation and a Type-C charging port.
Bryton Rider S800: Large screen, large battery, and attractive price. This is a leading high-end model that closely resembles the Edge 1040 in terms of specs.
Which model to choose?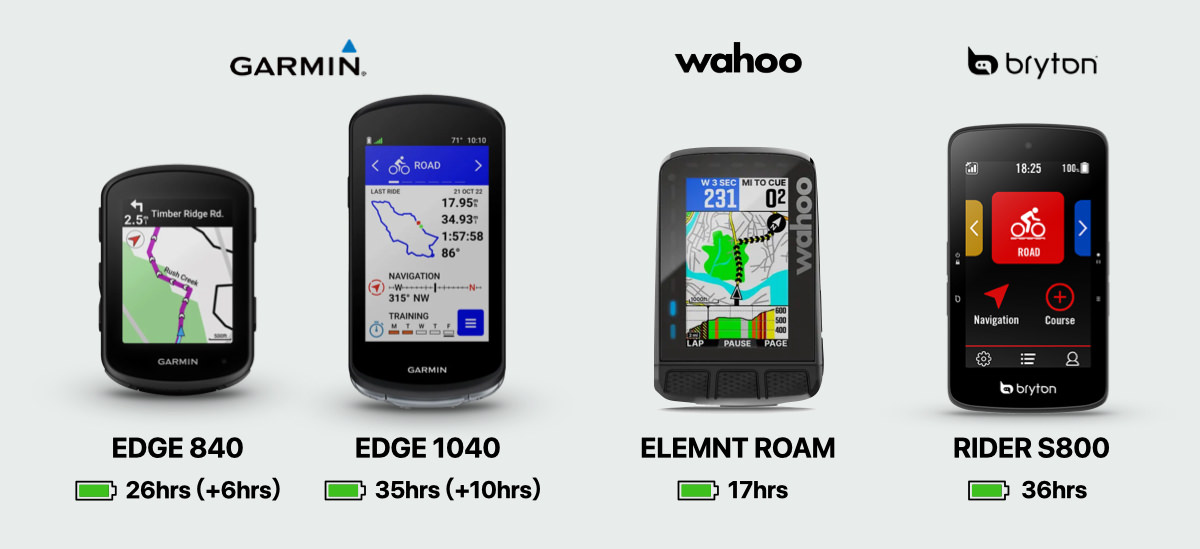 The price range is so wide that it depends on your budget, but you can narrow it down to the Edge 840 if you want a multifunctional model with a touch screen, the ELEMNT ROAM for pioneering riders, the Edge 1040 Solar for training and ultra distance riders, and the RIDER S800 for high-performance and multifunctional models at a lower cost.
5. Why Choose GPS Computers?
Advantages
There are three things that differentiate it from a non-GPS computer.
Accurate data measurement and display
In addition to recording basic data such as speed, cadence, and distance, it can also acquire accurate altitude gained using a barometric altimeter and watts (W) in conjunction with a power meter. By displaying this data on the large LCD screen, the rider can immediately grasp all conditions during the ride. After the ride, the ride data is automatically synced to your smartphone via Bluetooth.
Navigation
It has a navigation function that allows the user to follow a pre-drawn route. All but the entry-level models also include maps (for frequent use of maps, an easy-to-read color LCD is recommended). In particular, Garmin and Wahoo's higher-end models stand out for the ease of use of their navigation functions.
Workout Plans
In addition to viewing Strava Live segments and keeping track of essential training items such as FTP measurements and VO2MAX measurements, you can also create and download workout plans.
Key data viewed on GPS computers
The data is divided into two categories: what is needed during the ride and what is viewed before and after the ride, with "navigation purposes" and "status understanding purposes" items among them.
 Purpose

During Ride

Before and After Ride

Navigation

Map

Routing

Route navigation

Route logs

Grasping Status

Speed

Distance

Cadence

Elevation

Heart rate

TSS

Incline

NP

Power

Strava Connection
The quality of the ride can be improved, especially if the goal is to improve performance, in the process of "measuring with a GPS computer, uploading to a smartphone, and looking back".
The indicators to look at there are mileage if you want to gain distance, elevation gained if you like mountains, TSS and NP if you are in power training, and so on.
By switching from a regular cycle computer to a GPS model, you will be able to enjoy your rides, including when you are out of the saddle.
* * *
Just one GPS computer can make a big difference in the quality and enjoyment of your ride. Use this article as a guide to find the right model for you, and start exploring the depths of cycling.
Compare Garmin Edge Series Only
Author
Tats Shimizu(@tats_lovecyclist)


Editor in Chief. Having been riding sports bikes for 10 years. He likes to unravel the trends in the sport bike industry, especially road bikes, from a marketing perspective. At the same time, he has extensive friendships with cycling apparel brands from around the world and proposes various styles through the media. His main bikes are Factor O2 (road) and LS (gravel).